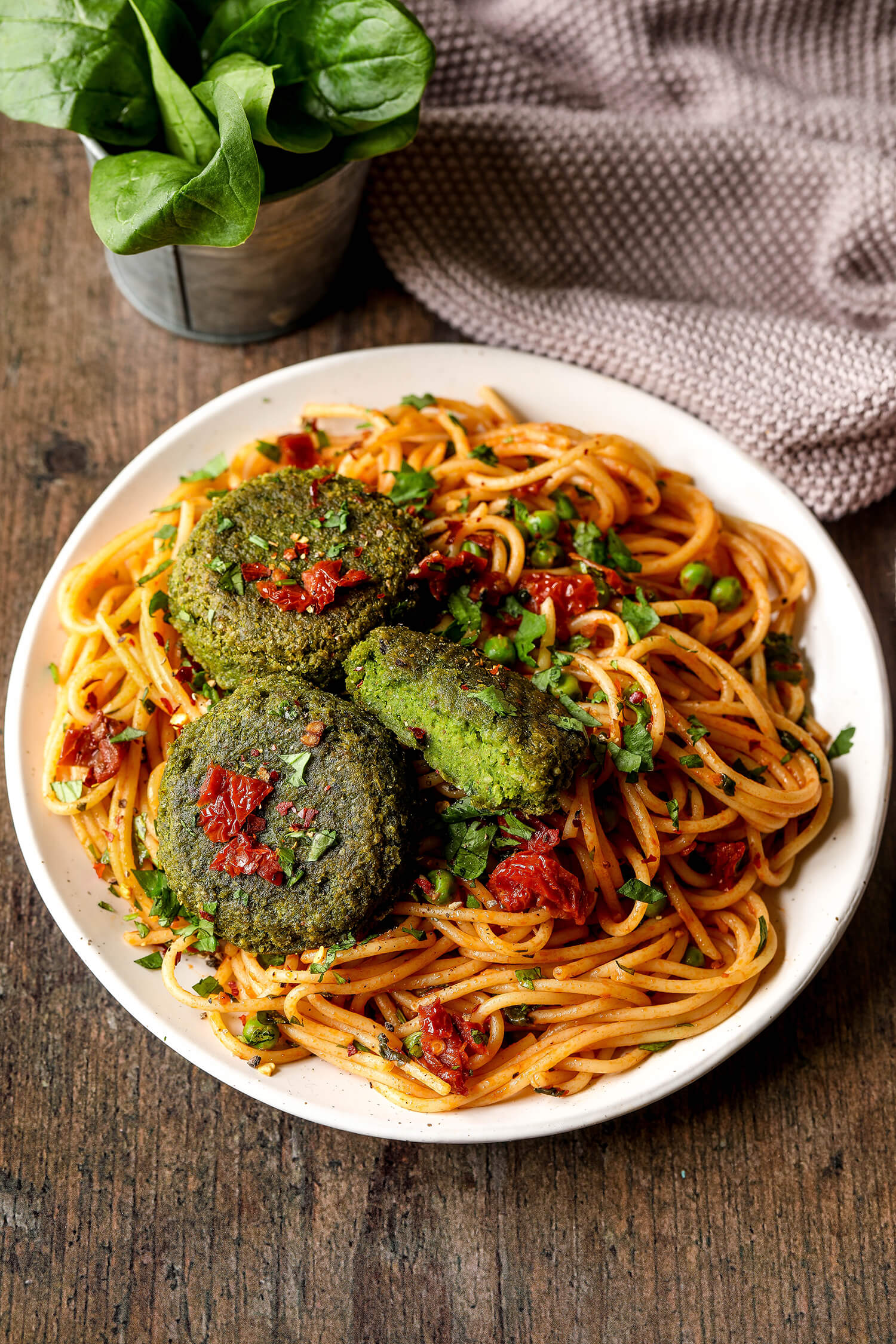 *This post is sponsored by Discover Great Veg*
A delicious, quick and easy meal for the whole family – these spinach patties served with lemon chilli spaghetti are packed with veggies and lots of flavour!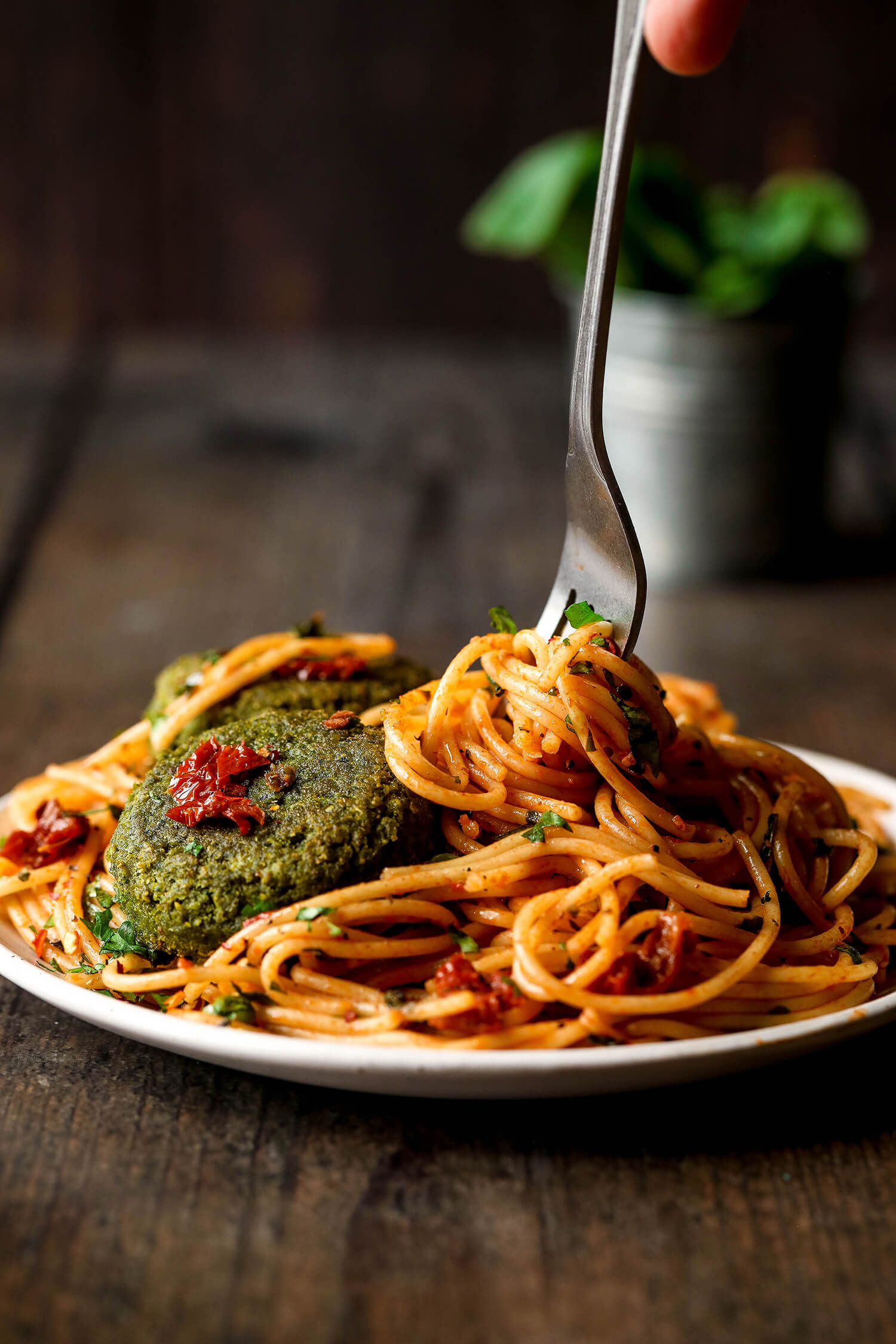 I'm so thrilled to be teaming up with Discover Great Veg to provide you with inspiration on new and exciting ways to Go Green and include spinach, kale, leeks and cavolo nero in your daily diet. The aim to create healthier recipes that anyone can make using easy to find ingredients, with green leafy veg at the core.
Today I'm using spinach as the star vegetable to make these delicious patties and I'm serving them with a simple lemon & chilli spaghetti. I used spinach in both the patties and the spaghetti to get as much of its green goodness into the dish. The recipe is completely plant-based and can easily be made gluten-free if necessary.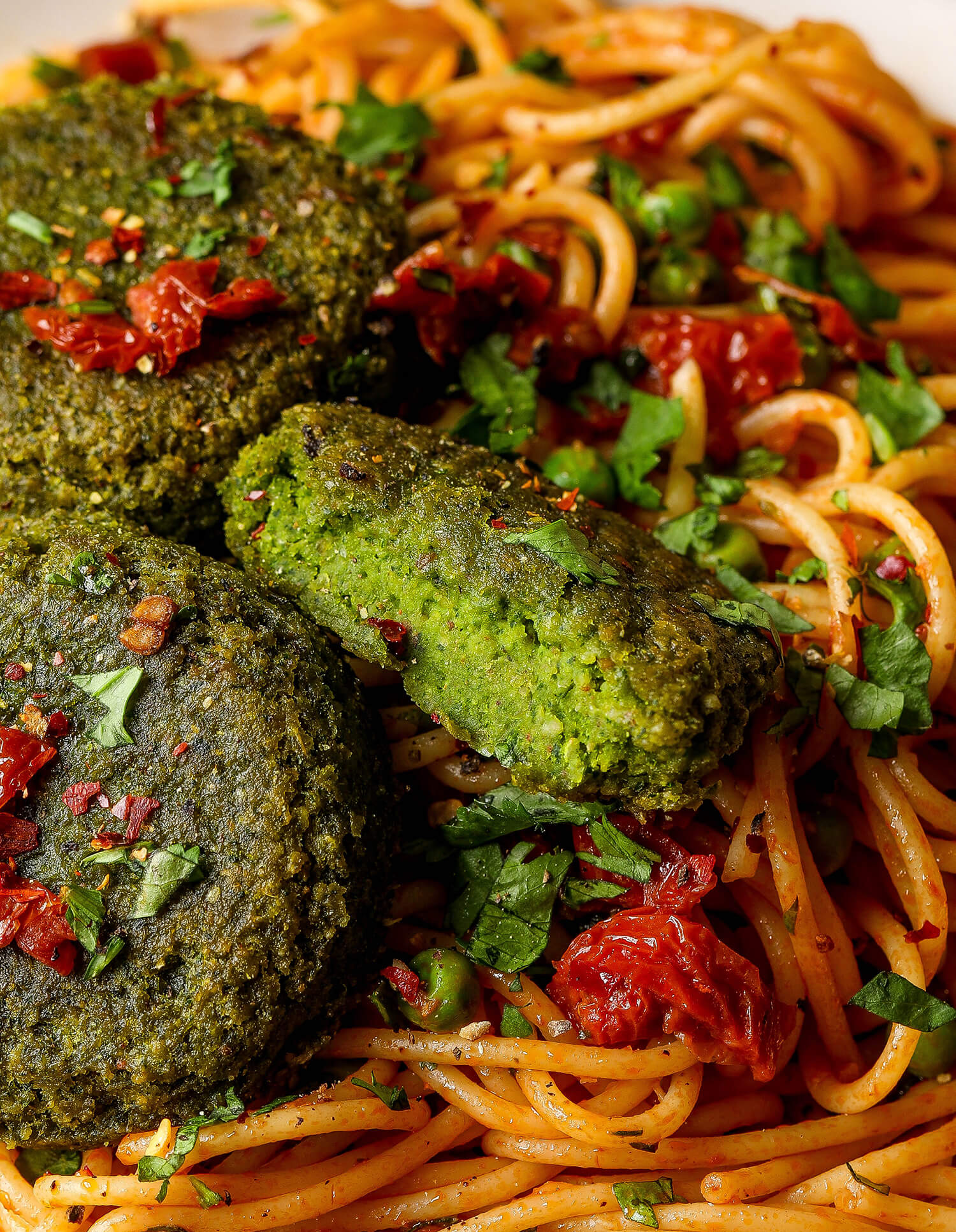 Here's a little more information about spinach and its benefits:
Spinach is renowned equally for its nutritional properties as well as its culinary versatility. Spinach adds nutrients to every dish. Spinach is rich in folate as well as being a source of vitamins A and C. It is also low in calories.
You can eat spinach in a variety of ways – the most important thing to remember is that it needs hardly any cooking at all! You can enjoy it raw in smoothies and salads, use to top pizzas, or stir a handful in at the last minute to pasta or risottos. Spinach is a perfect partner for curries, makes super smooth soups and brilliant breakfasts and brunches when paired with eggs.
To find out more tasty ways and reasons to 'Go Green' this summer, visit discovergreatveg.co.uk
One of the main reasons I love spinach is how versatile it is and how easy it is to incorporate into so many different dishes. Its mild flavour makes it a really good vegetable to use if you're cooking for fussy eaters who shy away from vegetables. Also because spinach wilts when you cook it, you can pack a large amount of it in without it overtaking other flavours.
I hope you enjoy this recipe and keep an eye out for my recipes using kale and cavolo nero coming soon!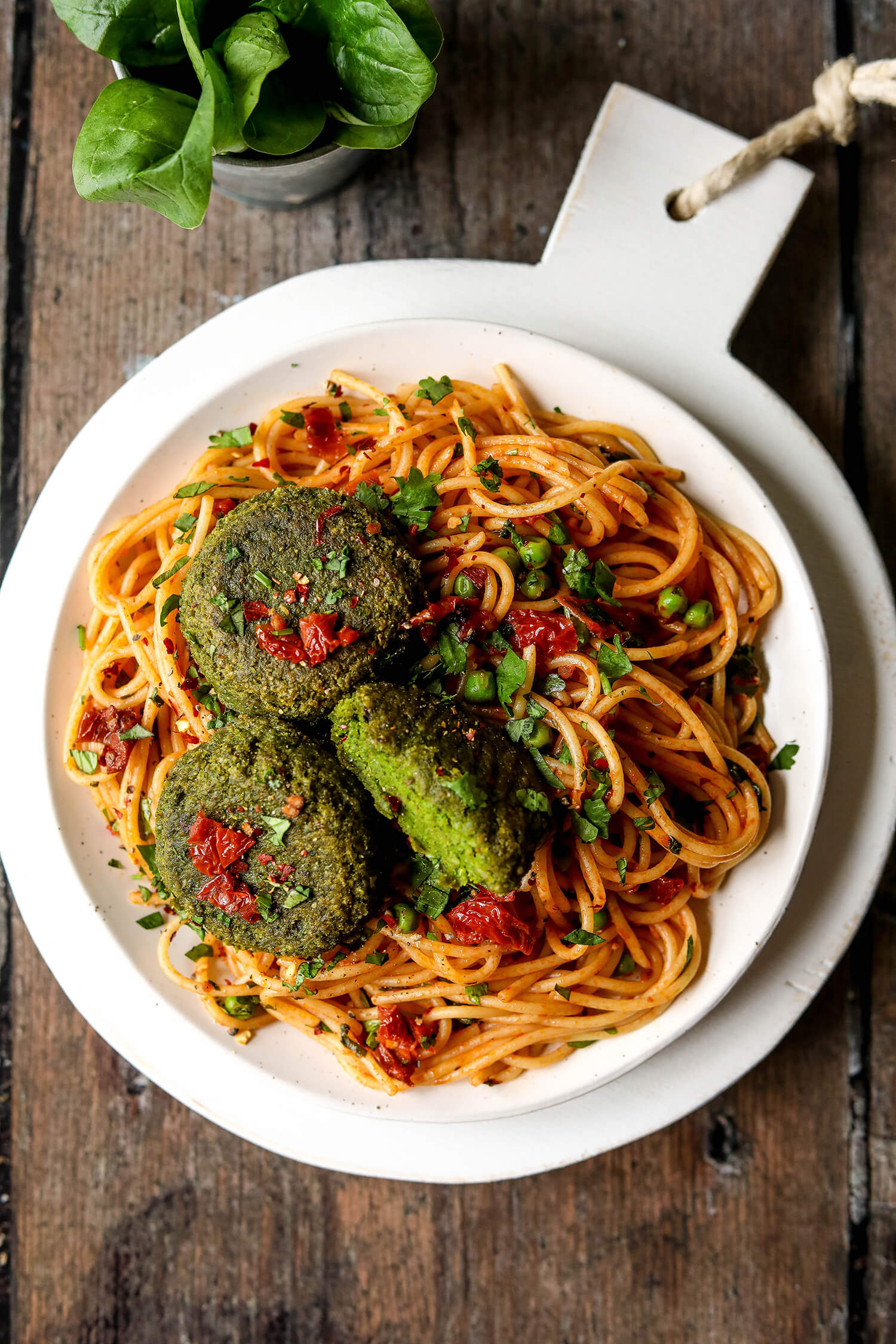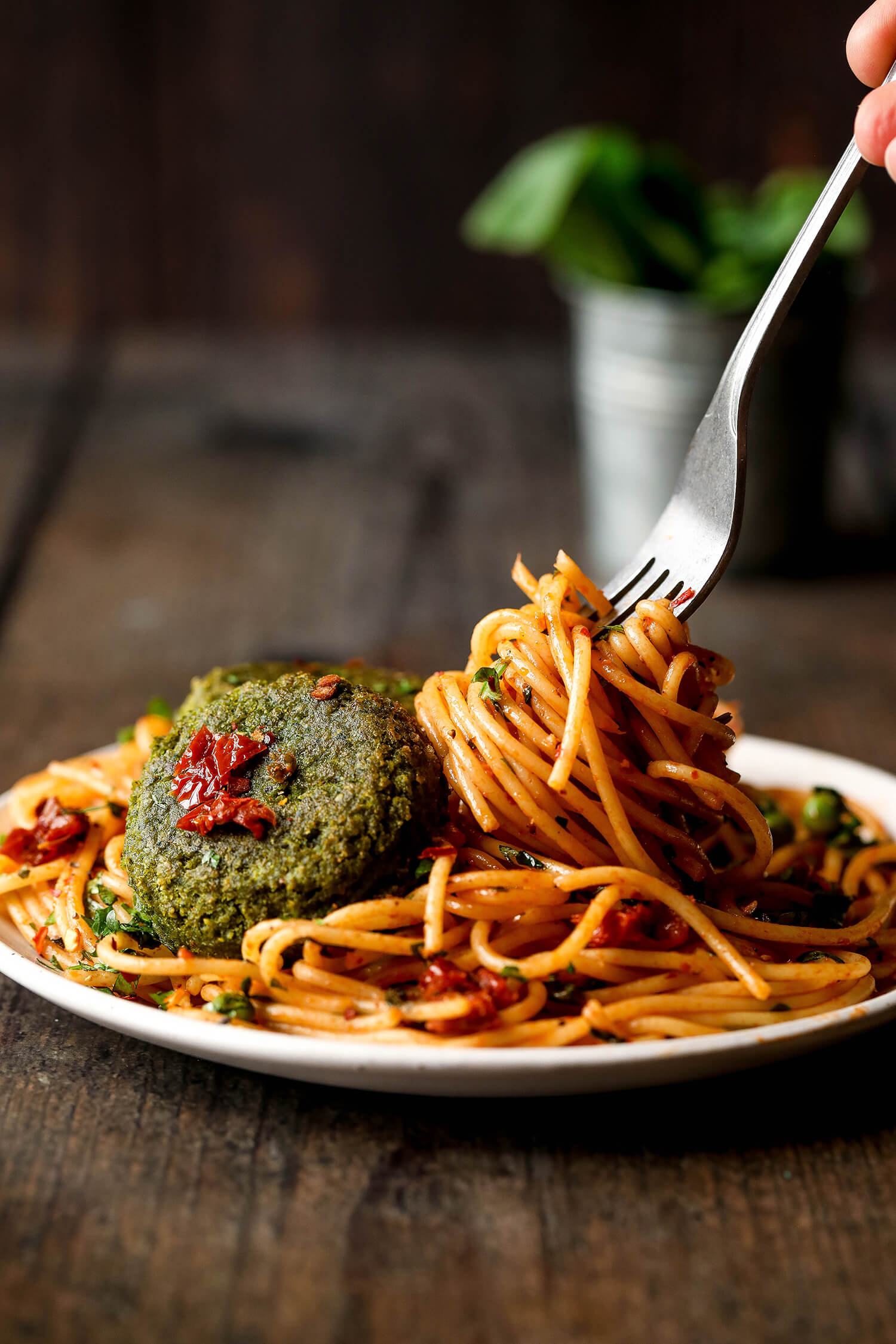 Spinach Patties with Lemon Chilli Spaghetti
Serves – 4
Ingredients
For the spinach patties
1 x 400g can chickpeas, drained and rinsed
100g spinach
15g fresh coriander
100g oats
2 garlic cloves, crushed
1 tsp cumin
1 tsp coriander
1 tsp garam masala
1/2 tsp chilli powder
Salt & black pepper to taste
1 tbsp lemon juice
1 tsp baking powder
Oil for frying
For the pasta
200g Spaghetti, cooked according to pack instructions
1 tbsp olive oil
2 garlic cloves, crushed
1/2 tbsp chilli flakes
Juice of 1 lemon
1 tbsp tomato purée
1 vegetable stock pot
60ml water
50g spinach, chopped
50g peas, thawed
5 sun-dried tomatoes, finely chopped
Handful of fresh coriander, chopped
Method
To make the patties – add all the spinach pattie ingredients into a food processor and blitz until you have a smooth mixture. Shape into 12 patties (I used an ice cream scoop for ease), then arrange on a tray lined with parchment paper and refrigerate for 1 hour.
Heat oil in a large frying pan, and cook the patties for around 4 minutes, then flip and cook for another 4 minutes on the other side. Make sure the patties are piping hot before transferring them onto a plate lined with kitchen towels.
To make the spaghetti – Heat 1 tbsp of olive oil in a pan, then cook the garlic and chilli flakes for 1 minute.
Add in the lemon juice, tomato puree, vegetable stock, spinach, peas, sun-dried tomatoes and water, then cook for another couple of minutes. Fold in the cooked spaghetti and cook until heated through.
Take off the heat and sprinkle chopped fresh coriander on top. Serve hot with the patties.
Enjoy!