These peanut butter & jam oat cake sandwiches are my newfound obsession! They're made with only 6 ingredients and have the perfect balance of sweet and salty with the most satisfying crunch.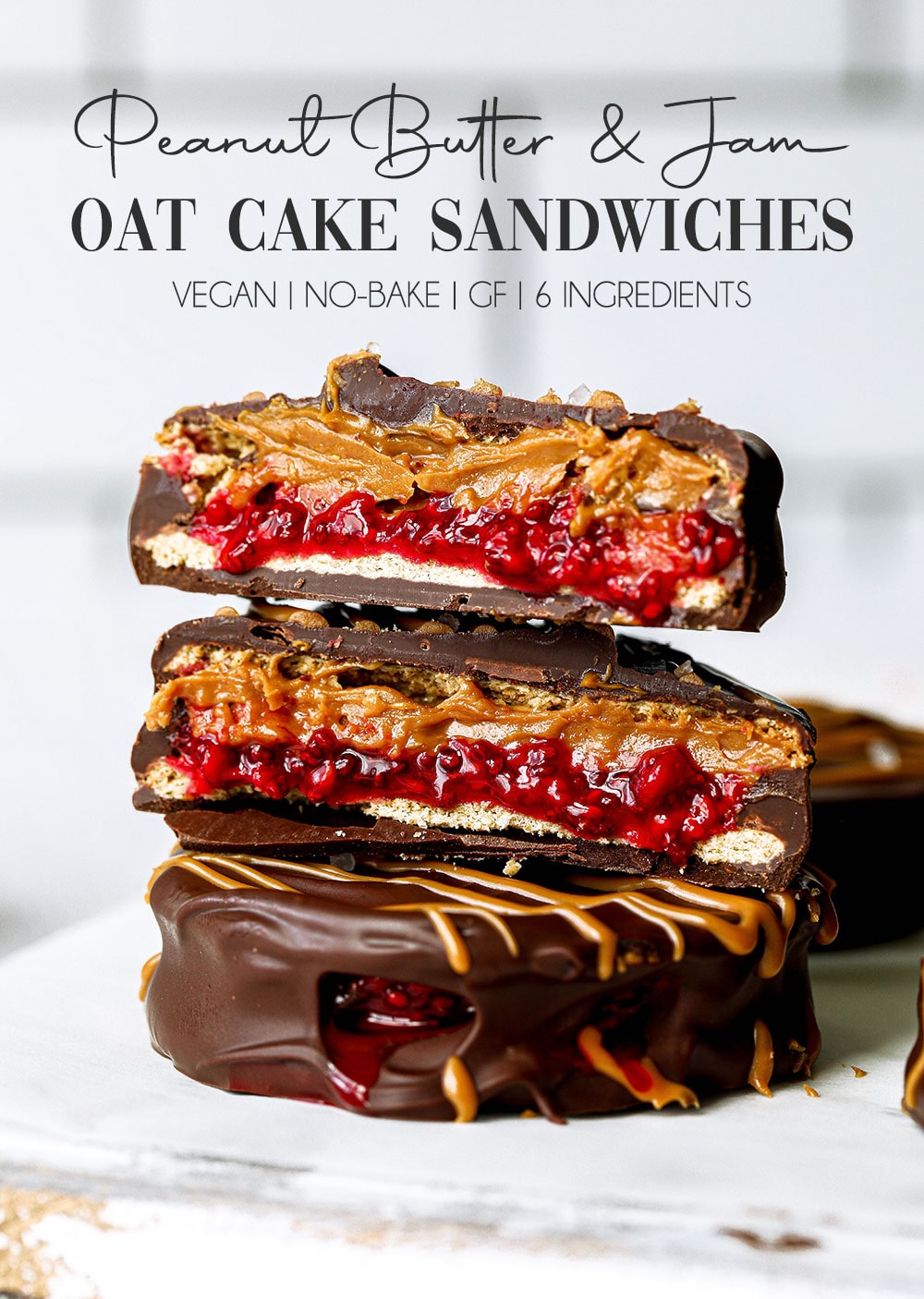 I was struggling to find the appropriate name to call this recipe. I haven't seen anyone make something like this before, yet it's such a simple concept for a healthier recipe!
Ideas come to me when I least expect them. Weirdly enough I usually get them when half asleep – either while falling asleep or waking up. When I sit down and try to think of creative new ideas, they just won't come to me. It's almost like I have to wait for an epiphany.
These peanut butter & jam oat cake sandwiches make such a great healthier dessert. I love making no bake treats with minimal ingredients, and this recipe is exactly that – you only need 6 ingredients to make them. I made my own chia jam since it's so easy to make and better for you than shop bought (with less sugar, more fruit/fibre/antioxidants & healthy fats), but if you're short on time or don't feel like making your own jam, please feel free to use your favourite shop bought jam.
They have the perfect balance of sweet (from the jam & chocolate) and salty (I love topping them with a pinch of salt to enhance all the flavours). They also have the most satisfying crunch from the oat cakes as well as the chocolate shell.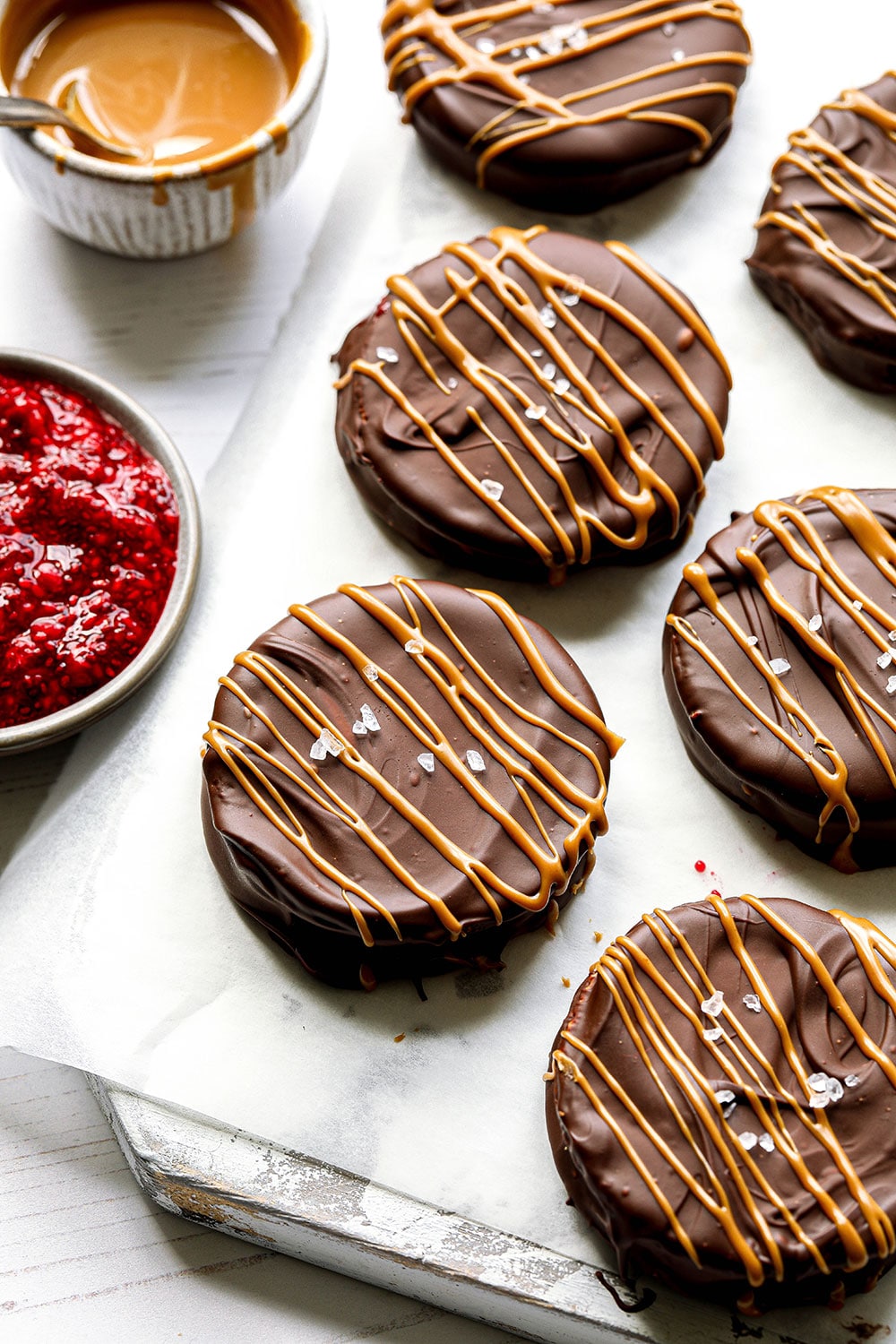 You can easily adjust the recipe to your liking/dietary needs. I've made them with tahini before (for a nut-free option), but really you can fill them with anything you like. Allow your creativity to run wild! The first time I made something similar was when I created these mango 'sandwich cookies' last year. A simple recipe basically made up of oat cakes, mango puree and dark chocolate. You can even create an ice cream version by sandwiching your favourite ice cream between two oat cakes, freezing, then dipping them in chocolate. I need to try that soon!
The recipe makes 6 oat sandwiches, although I find that half a sandwich is just about right for me, so it would make 12 servings for me.
They freeze well, so you can make them in advance, place them in a freezer bag and store for up to 3 months! This is definitely a recipe you'll want to try, or at least play around with and create your own version 😉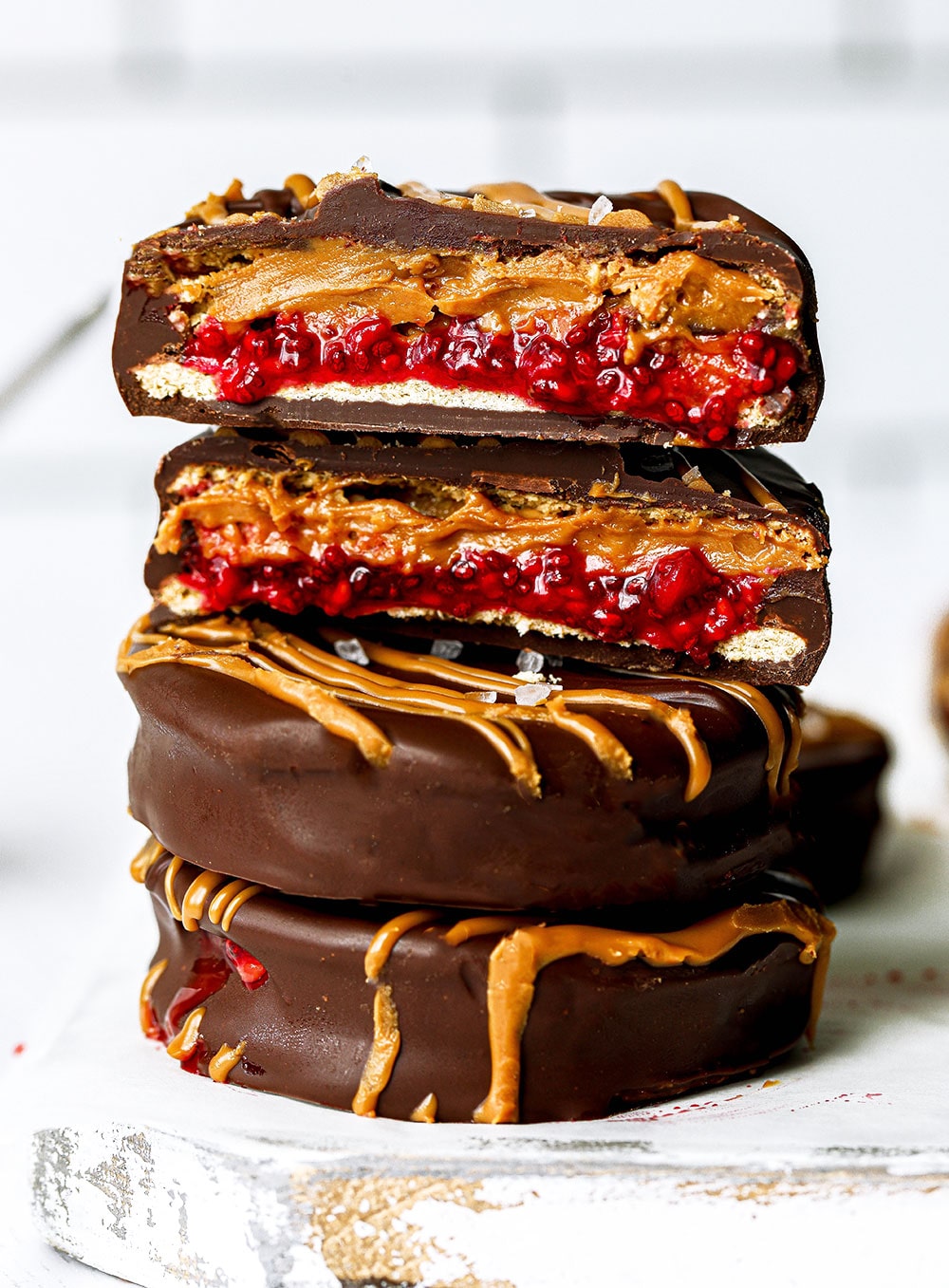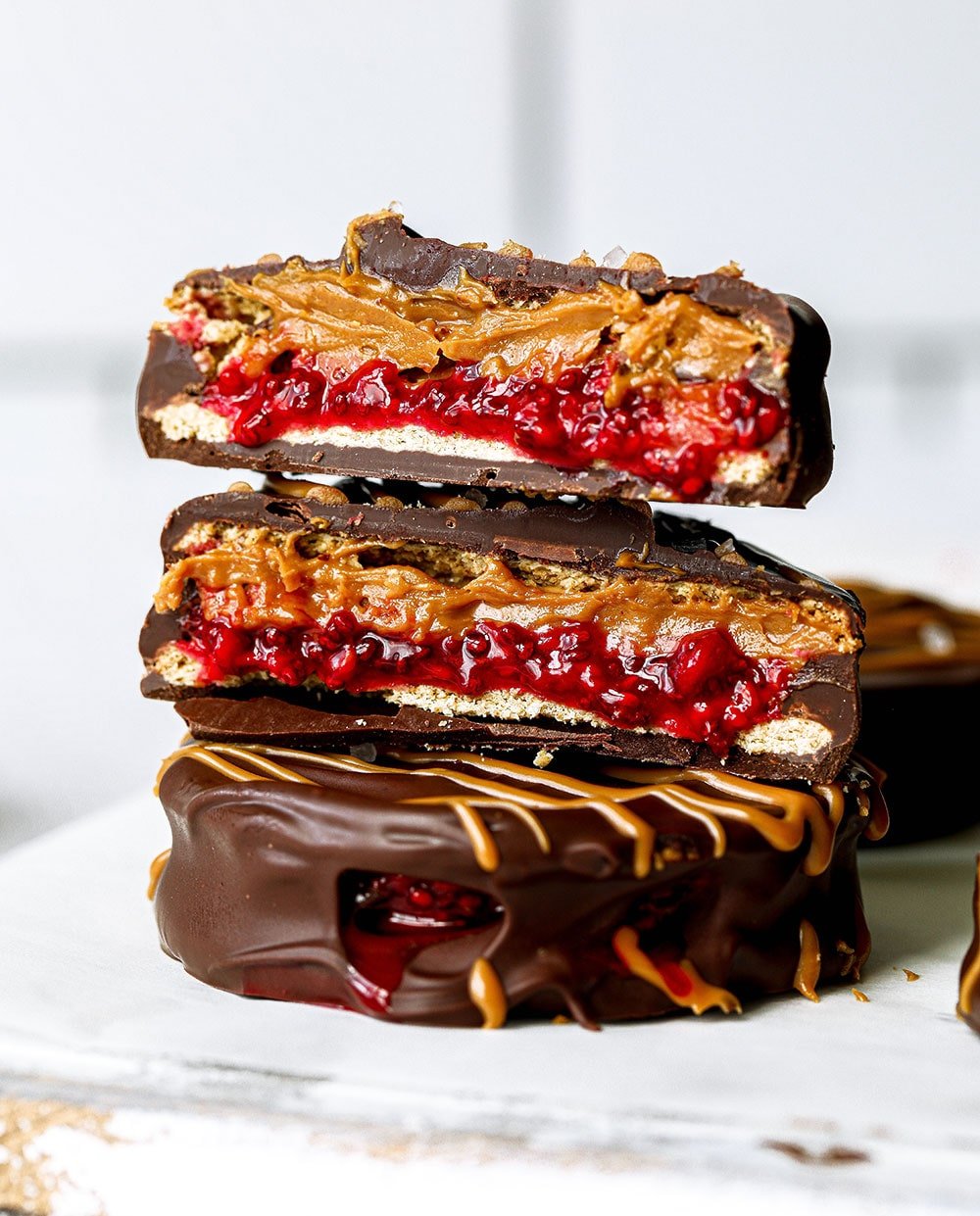 What you need to make these peanut butter & jam oat cake sandwiches:
Chia jam – it's so easy to make your own at home. I usually make a big(ish) batch on a Sunday to add to my morning porridge or spread on some toast/add to yoghurt when I'm feeling snacky. All you need is chia seeds, raspberries and a drizzle of sweetener. You can use fresh or frozen raspberries, or use other types of berries. If you don't feel like making your own jam for this recipe, you can always use shop bought jam 🙂
Oat cakes – I always have oat cakes in my kitchen cupboard. It's such a handy snack in between meals. I usually enjoy them with hummus, but I had the idea to use them in a sweet recipe. They're mild tasting, so work very well in this recipe since the peanut butter, jam and chocolate all have quite strong and distinct flavours. If you want them to be gluten-free make sure you use gluten-free oat cakes!
Peanut butter – I used smooth peanut butter, but you can also use crunchy or any nut butter for that matter. You can even use a seed butter like tahini if you want a nut-free version.
Dark chocolate – I always use 70% dark chocolate, not only because it's healthier, but because I think it tastes SO much better than milk chocolate. Packed with antioxidants and most good quality dark chocolates tends to be dairy-free for those avoiding dairy.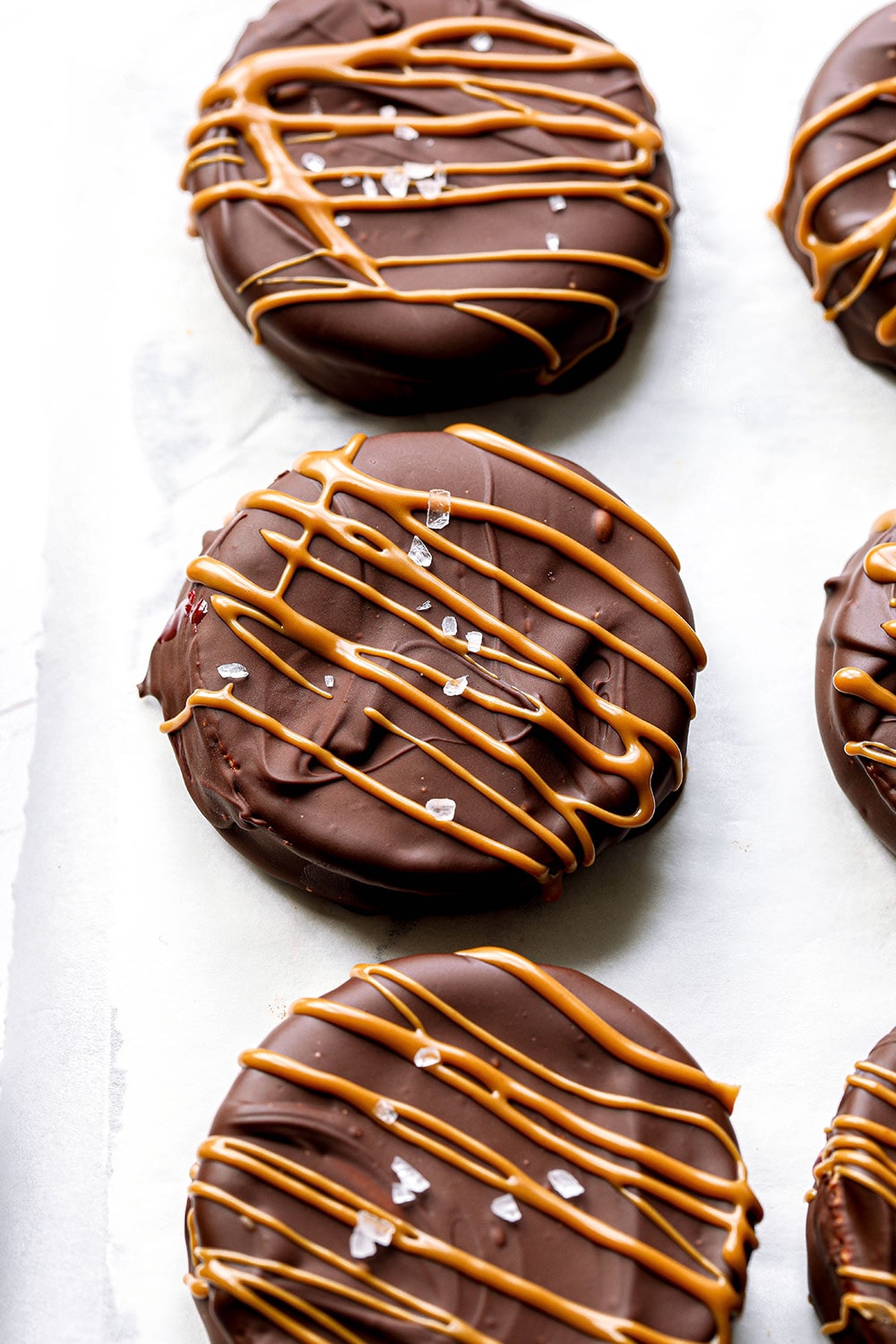 These peanut butter & jam oat cake sandwiches:
Vegan
Gluten-free (if you used gluten-free oat cakes)
Dairy-free
No-bake
Made with healthier ingredients
Made with only 6 ingredients
Super easy to make
Lovely & crunchy
Perfect as a snack or healthier dessert.
Freezer friendly
Absolutely delicious!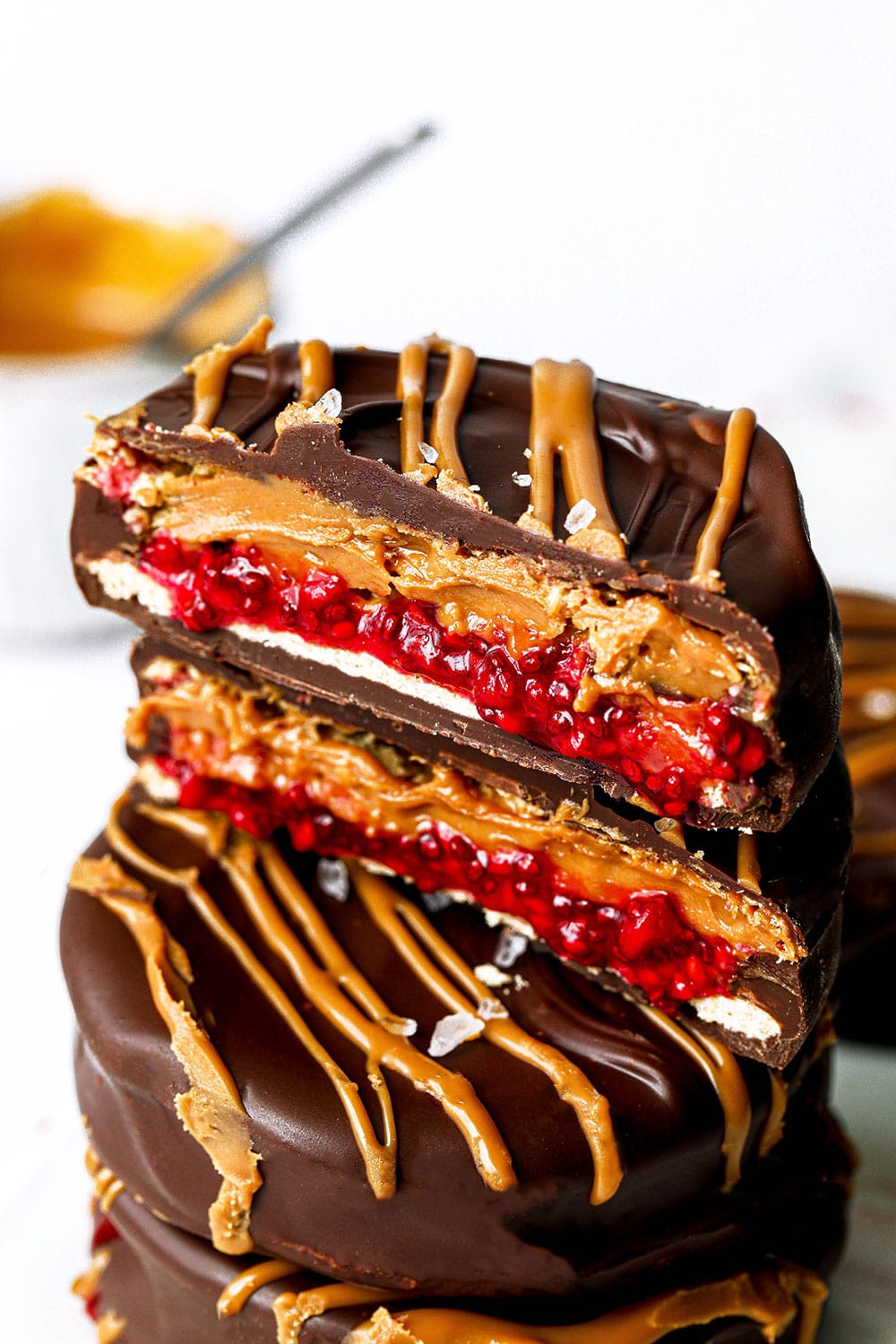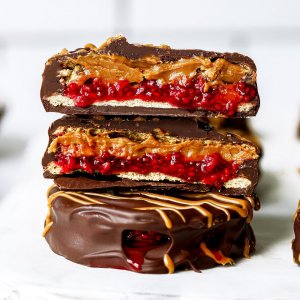 Peanut Butter & Jam Oat Cake Sandwiches
These peanut butter & jam oat cake sandwiches are my new found obsession! They're made with only 6 ingredients, but have the perfect balance of sweet and salty with the most satisfying crunch. 
Ingredients
For the chia jam
100g

raspberries

frozen or fresh

1.5

tbsp

chia seeds

0.5

tbsp

maple syrup
You'll also need
12

oat cakes

use gluten-free oat cakes for a gluten-free version

4

tbsp

peanut butter

or nut butter of choice

100g

dark chocolate

I use 70%

Optional pinch of salt
Instructions
Mash up the raspberries in a bowl with a fork, then add the chia seeds and maple syrup. Mix to combine then refrigerate for 30-60 minutes to set.

Once the chia jam has set, spread a layer on 6 of the oat cakes. Spread a layer of peanut butter on the other six oat cakes.

Sandwich the oat cake together so you end up with an 'oat cake sandwich' with both jam and peanut butter. Freeze for 30 minutes.

Place the oat cake sandwiches on a fork and drizzle the melted chocolate on top and down the sides.

Arrange on a plate/chopping board lined with baking paper and freeze again for 30 until the chocolate sets.

Store in an air-tight container in the fridge for up to 4 days. They also freeze well in air-tight freezer bags.
Nutrition
Calories:
281
kcal
Carbohydrates:
20
g
Protein:
6
g
Fat:
17
g
Saturated Fat:
6
g
Polyunsaturated Fat:
2
g
Monounsaturated Fat:
5
g
Trans Fat:
2
g
Cholesterol:
1
mg
Sodium:
190
mg
Potassium:
236
mg
Fiber:
6
g
Sugar:
7
g