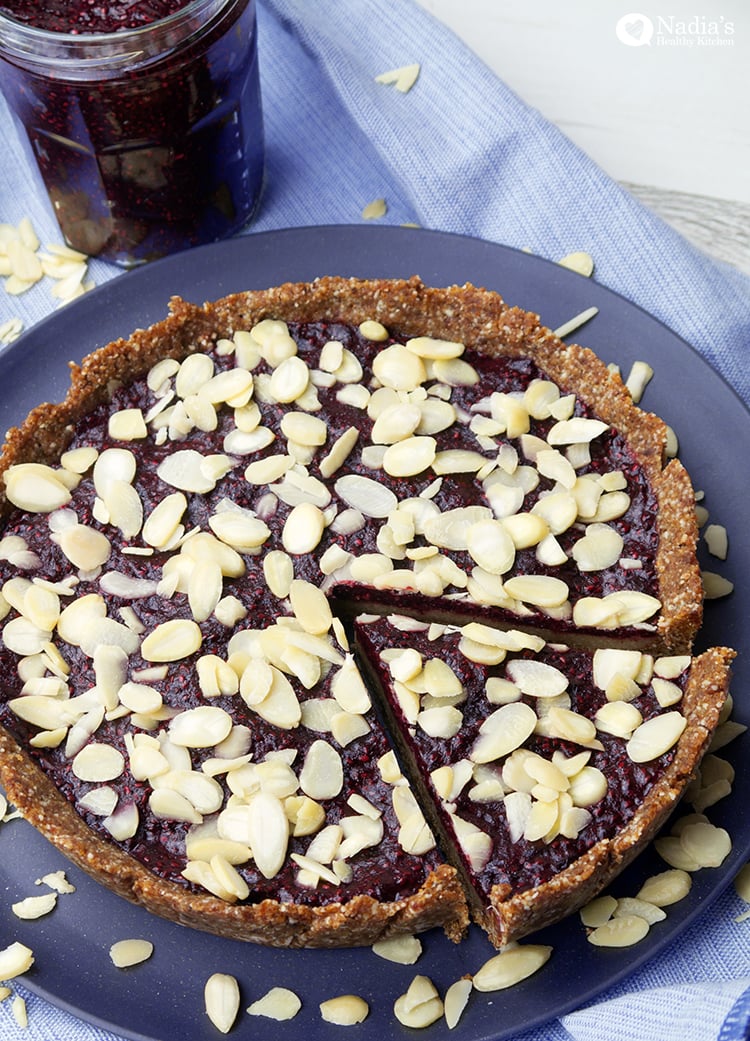 No-bake Cherry Bakewell Tart
Just like Banoffee Pie, Bakewell tart is such a classic British dessert that you'll find in most cake shops, bakeries and served in many cafes and coffee shops. If you're not familiar with this dessert, it's basically made up of short crust pastry, a layer of jam, a frangipane (almond filling) layer, and topped off with flaked almonds.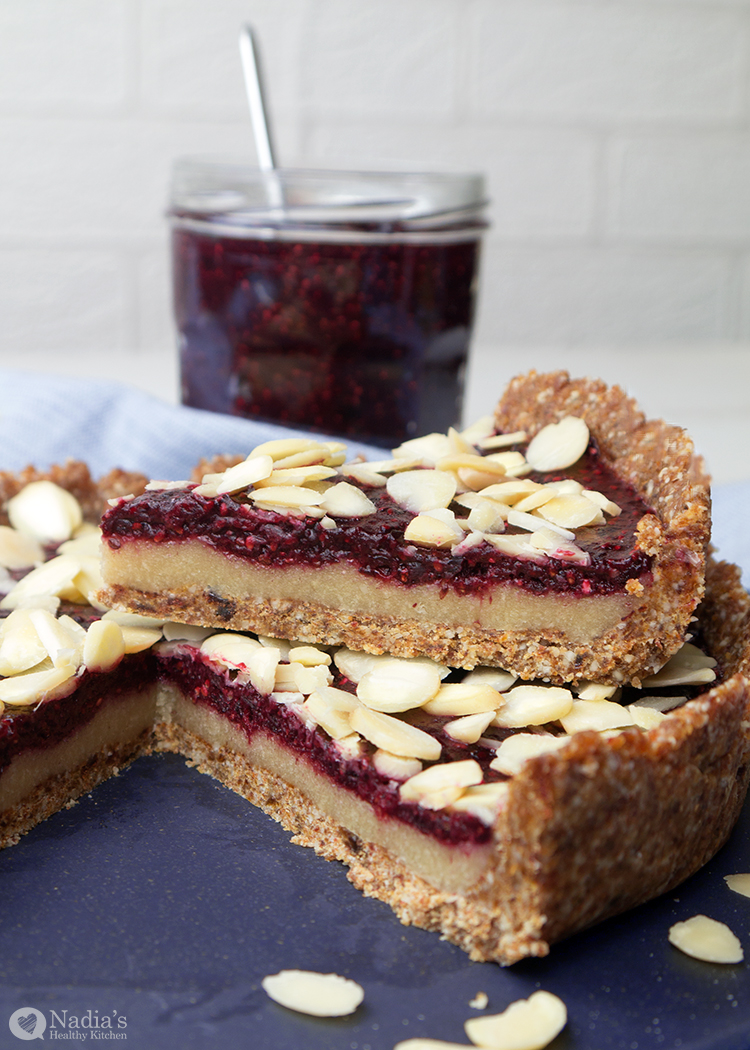 Of course the traditional Bakewell tart recipe, as delicious as it is, does't have much to offer in terms of nutrition and is full of animal fat and sugar.
This recipe contains no refined flours (lots of nuts instead!) and is higher in omega 3, fibre, calcium, iron, selenium, manganese and vitamin E. It's also lower in calories and saturated fat.
To make the jam layer, most recipes use raspberry jam or preserve, but instead I'm making a cherry jam layer. Why? No specific reason, apart from the fact I had cherries in the freezer and no raspberries! If you prefer raspberries, use raspberry jam (find the recipe here) and if you don't feel like making your own jam, you can always use a ready made jam, something like this raspberry preserve.
The base is made up of a mixture of dates, almonds and a bit of coconut oil to help the mixture bind together. The marzipan layer is made using a simple mixture of ground almonds, almond extract and just enough liquid sweetener to turn it into a paste. Finally, the jam layer – made using frozen cherries, chia seeds and xylitol to sweeten.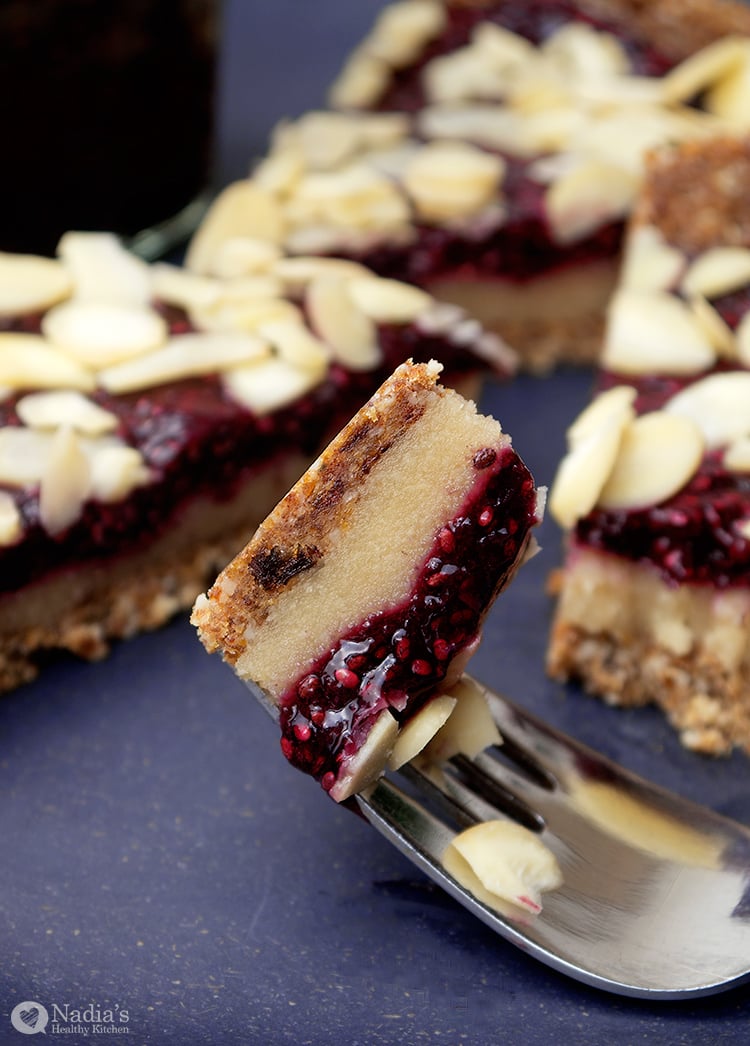 This no-bake cherry Bakewell tart is also vegan, dairy-free and gluten-free. It's almost raw – if you would like to make it fully raw you can blend the frozen cherries with the chia seeds in a blender and turn it into a raw jam.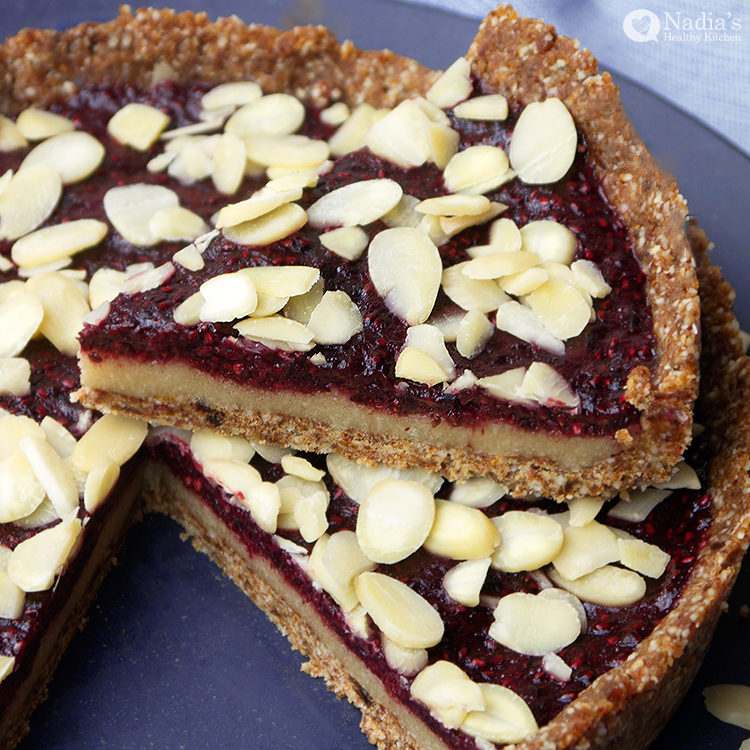 No-bake Cherry Bakewell Tart
2016-01-11 15:04:06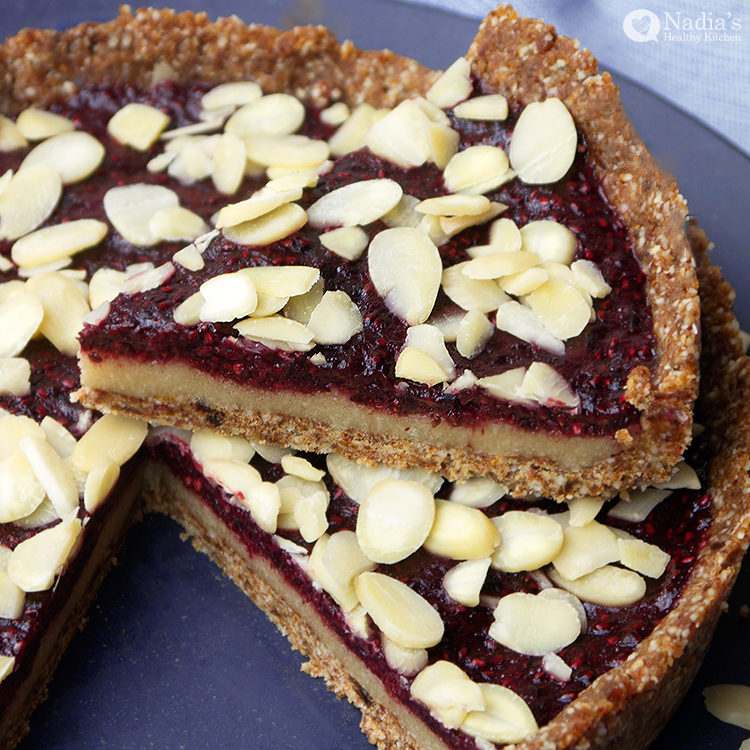 Serves 10
For the base
1 cup (140g) soft dates
1 cup (150g) almonds
2 tbsp coconut oil
Pinch salt
For the frangipane
1 cup (100g) ground almonds
3-4 tbsp maple syrup
1 tsp almond extract
Pinch salt
For the Cherry jam
1 cup (120g) frozen cherries
1.5 tbsp chia seeds
2 tbsp xylitol
Instructions
Start off by making the cherry chia jam - Add the cherries to a small pan along with the xylitol and about 4 tbsp water. Cook on a medium heat, stirring continuously.
Once the cherries start to soften, press them down using the back of a wooden spoon.
Take off the heat then mix in the chia seeds. Leave to chill in the fridge for about an hour to set.
To make the base - place the dates, almonds, coconut oil and salt in your food processor and blend until you have a dough like mixture.
Press the base into an 8" cake tin covered with parchment paper. Leave to set in the freezer for 30 minutes.
In the meantime prepare the frangipane layer - To a bowl, add the ground almonds and a pinch of salt. Give it a quick mix, then add in the maple syrup and almond extract. Mix until you have an even mixture.
Take your base out of the freezer. Smooth over the marzipan mixture with the back of a spoon or spatula, and then top with the cherry jam. You can add as much or as little of the jam as you like.
Sprinkle flaked almonds on top, place in the freezer and leave to set for about 2 hours.
Once it's set you can store in the fridge for up to 4 days.
Enjoy!
Notes
Nutritional information (estimated per slice)
Calories: 240 calories
Protein: 5.9 g
Carbs: 23.9 g
Fat: 15.4 g
Fibre: 4.8 g
Nadia's Healthy Kitchen https://nadiashealthykitchen.com/