Mixed Berry Chia Pudding
This recipe is as easy as they get! You literally only need 3 main ingredients and then you can add whatever else you like. Chia seeds have very quickly become one of my pantry staples that I can't live without! I've been using them particularly in baking as a substitute for eggs, especially when I'm looking for something denser and less spongy. I think chia eggs work so much better than flax eggs, does anyone else think that?
I love chia pudding because it can be enjoyed in so many ways. For breakfast, dessert or a snack. You can eat it on it's own or add to nana ice cream, top with granola, fruit, seeds, nut butters. Because chia seeds don't have much in terms of flavour, it's so easy to incorporate different flavours.
Today I'm keeping it super simple and just making a basic vanilla chia pudding with lots and lots of berries!
I always have frozen berries in my freezer – raspberries, blueberries and mixed berries. They're usually much cheaper to buy and they sit there waiting patiently until you need them. You can't rely on fresh berries to do that!
To sweeten my chia pudding I usually use honey or rice syrup. I find maple syrup too overpowering for this recipe, but as always, you can use whatever your heart desires.
For an extra hit of nutrients, I sprinkled 1 tsp of cranberry powder from Arctic Power Berries. It also gives the most beautiful vibrant colour!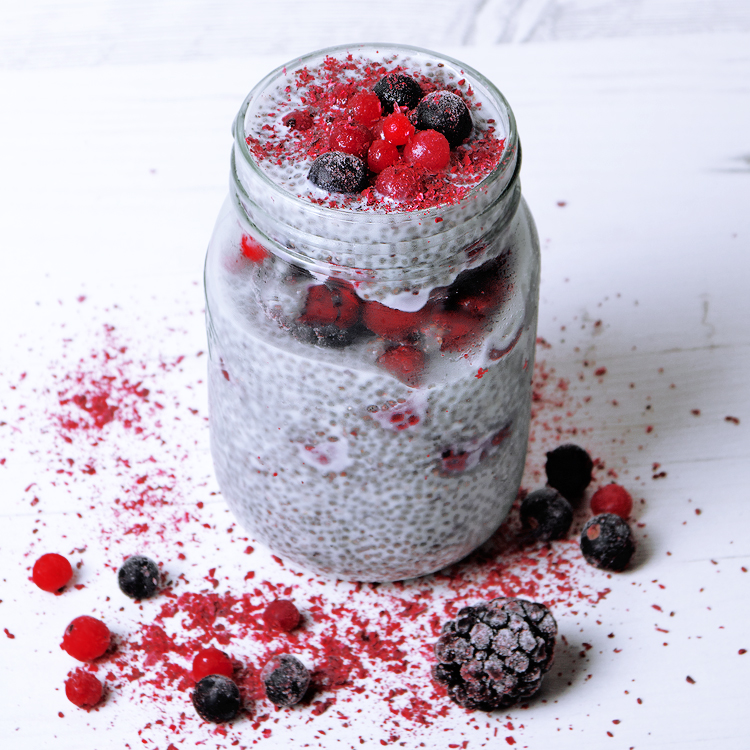 Mixed Berry Chia Pudding
2015-05-25 11:08:16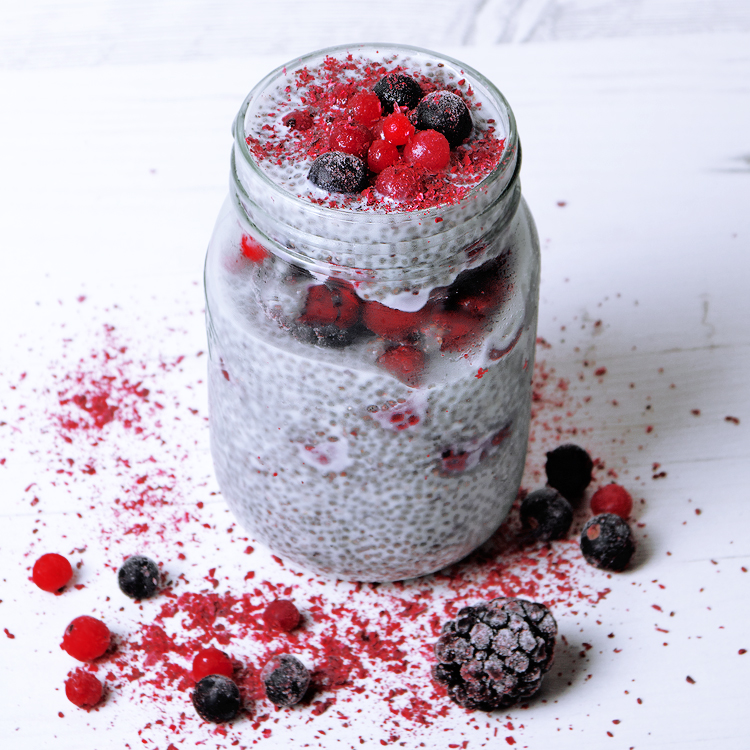 Serves 1
Ingredients
1/4 cup (4 tbsp) chia seeds
1 cup (200ml) milk - I like to use dairy milk or hemp milk for a creamier texture, but you can use any you like!
1-2 tsp honey (or sweetener of choice)
Vanilla extract
1 tsp Arctic Power Berries cranberry powder
Instructions
In a bowl or container, mix all the ingredients together apart from the cranberry powder.
Store in the fridge overnight or for at least 1 hour.
Once it's set, enjoy as is or with some fruit, granola, nana ice cream or just as is!
Nutritionl information
Calories: 277 calories
Protein: 9g
Carbs: 37g
Fat: 15g
Fibre: 11g
Nadia's Healthy Kitchen https://nadiashealthykitchen.com/
sfsdf