Mini Blueberry Bakewell Tarts (Vegan & Gluten-free)
Delicious mini Bakewell Tarts using plant-based and gluten-free ingredients so that those of you who have allergies to dairy or gluten can still enjoy these traditional British treats! They can also be enjoyed by everyone and anyone who's looking for a healthier take on a yummy classic bake 😉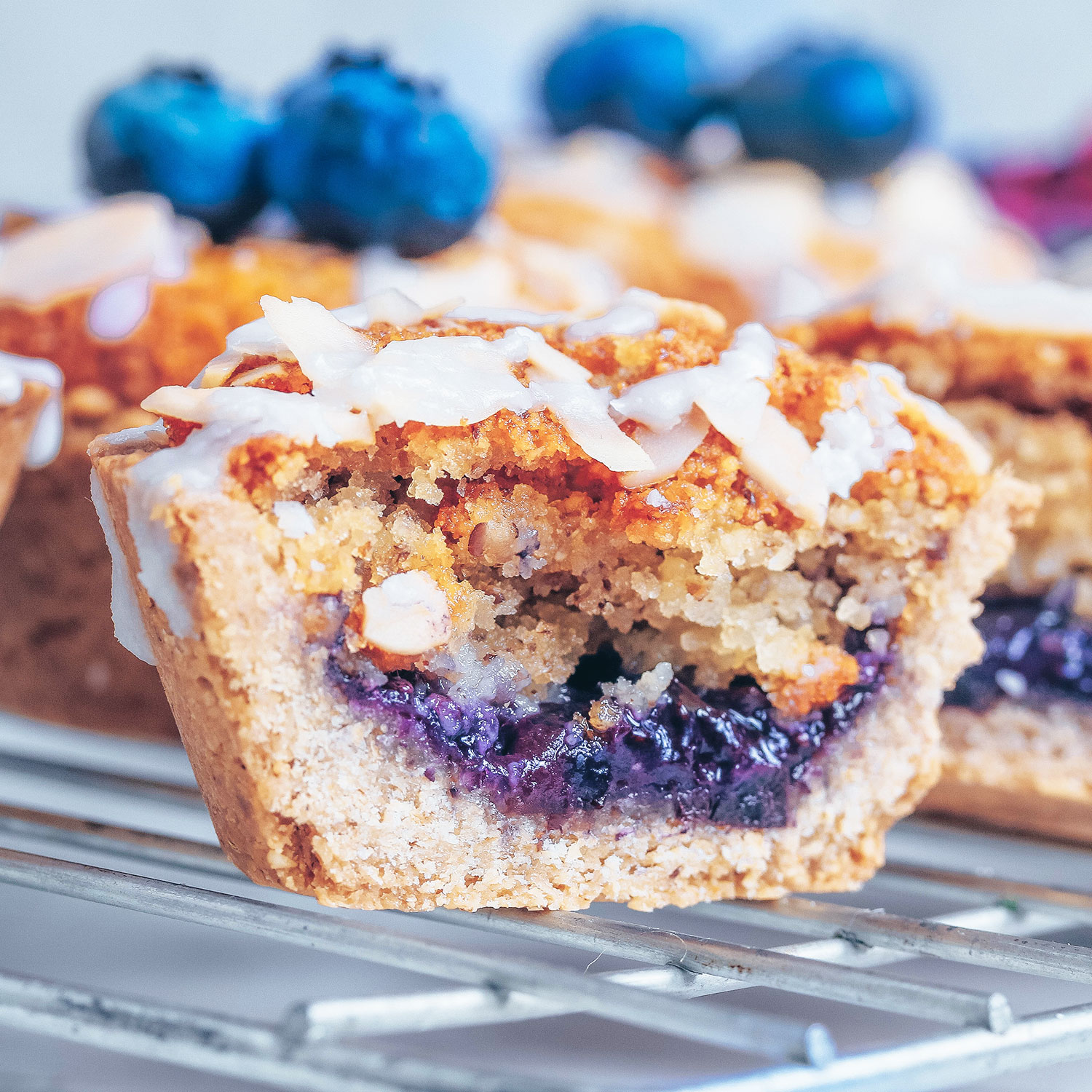 Most of you are probably already familiar with Bakewell tarts, but for my over sea readers (hello there :D) A Bakewell tart is a traditional English treat that's made up of a shortcrust pastry, a jam centre and frangipane topping. Even if you've never tried it, you can just imagine how delicious that combination is, can't you? 😀
Bakewell tarts used to be one of my (many many) favourite treats. I mean who doesn't love pastry topped with fruity jam AND a frangipane topping? OMG! It's just the most lush combination.
I'm putting my own spin on a classic, which is usually made with raspberry or cherry jam, but for this recipe I'm creating my own homemade no added sugar blueberry chia jam that's packed with healthy fats, antioxidants and has no added sugar.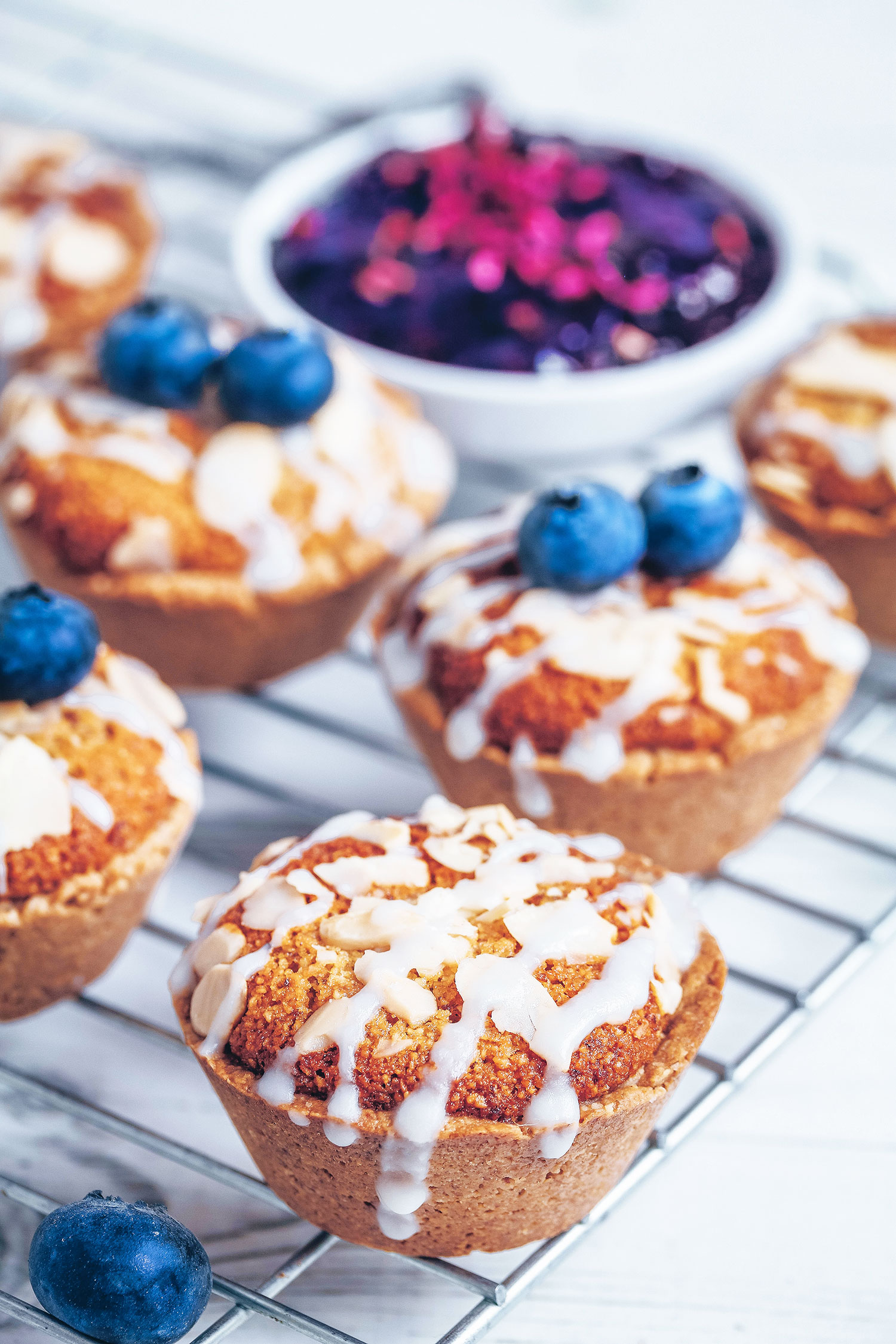 I'm teaming up again with Seasonal Berries to demonstrate how versatile their Chilean blueberries can be and how you can incorporate them into sweet, delicious and moreish treats. The blueberry scones recipe that I created for them a couple of weeks ago went down a storm and was such a huge hit! So keeping with the the classic British treats theme I thought this time I would make a Bakewell tart, but cuter mini versions 😀
Chilean blueberries are bursting with antioxidants, vitamins and minerals. They're super high in different types of phytonutrients which give the berries their unique and vibrant blue colour. I mentioned in my previous post that blueberries are actually one of the only natural foods that are truly blue in colour. I still think that's so cool! 😀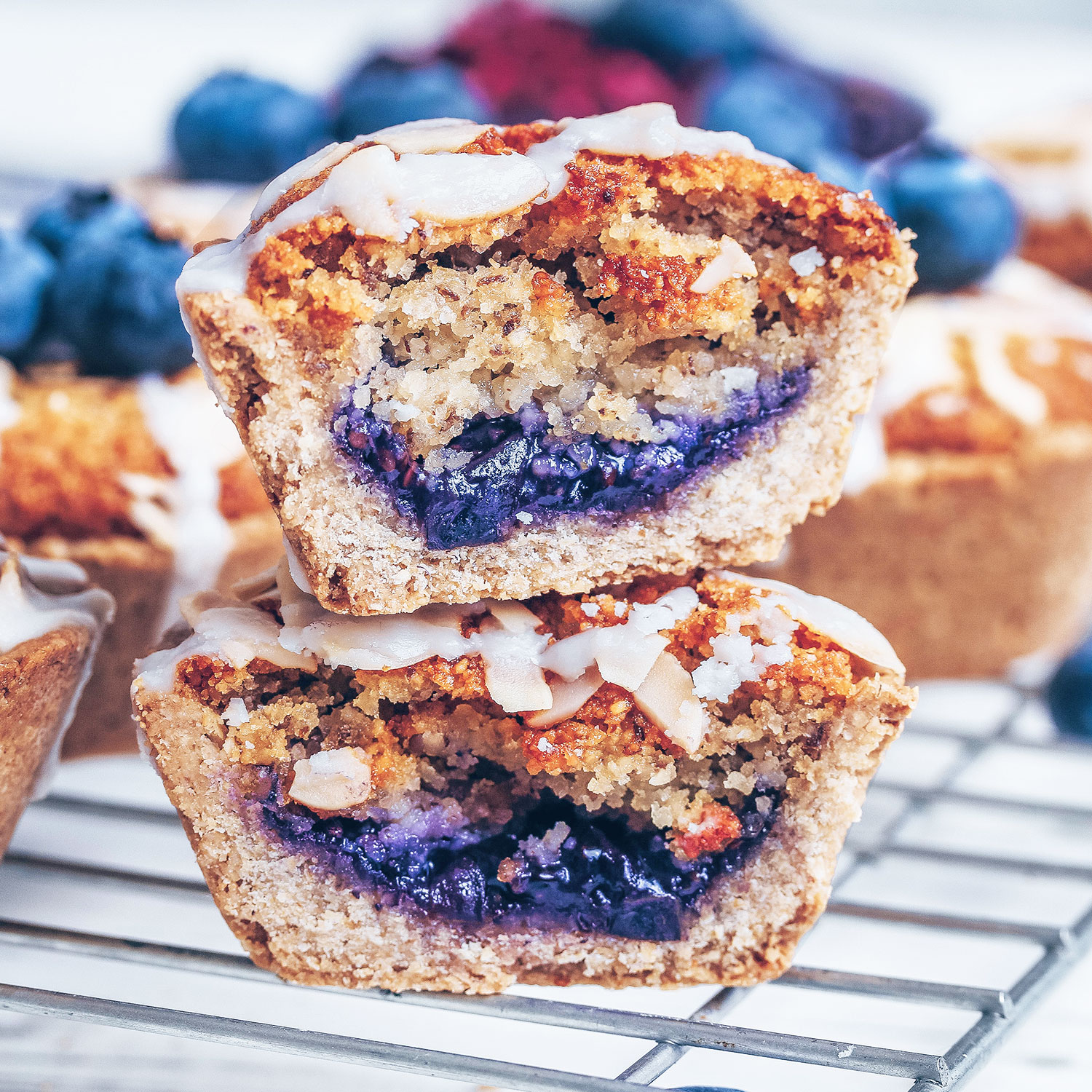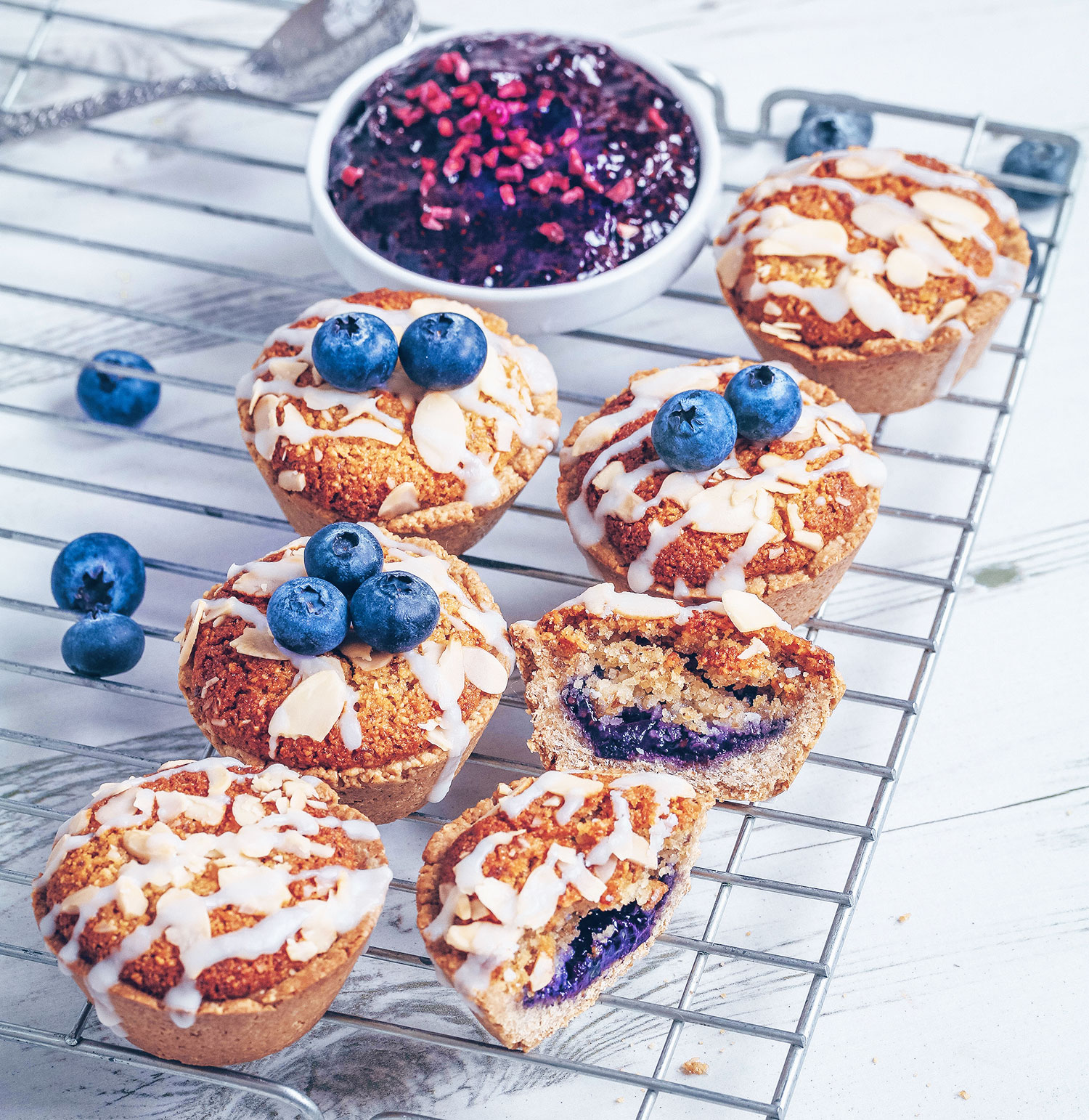 I love snacking on blueberries so I always have a punnet in my fridge to add to my breakfast or to snack on between meals. They're super versatile – you can add them to your porridge, smoothies, granola and use them in countless baking recipes, like this one that I'm showing you how to make today.
The blueberries from Chile are available from October to April each year when there is no production available in the UK, which means you can enjoy them in the cold winter months. That's exactly the time when you need a good antioxidant boost the most!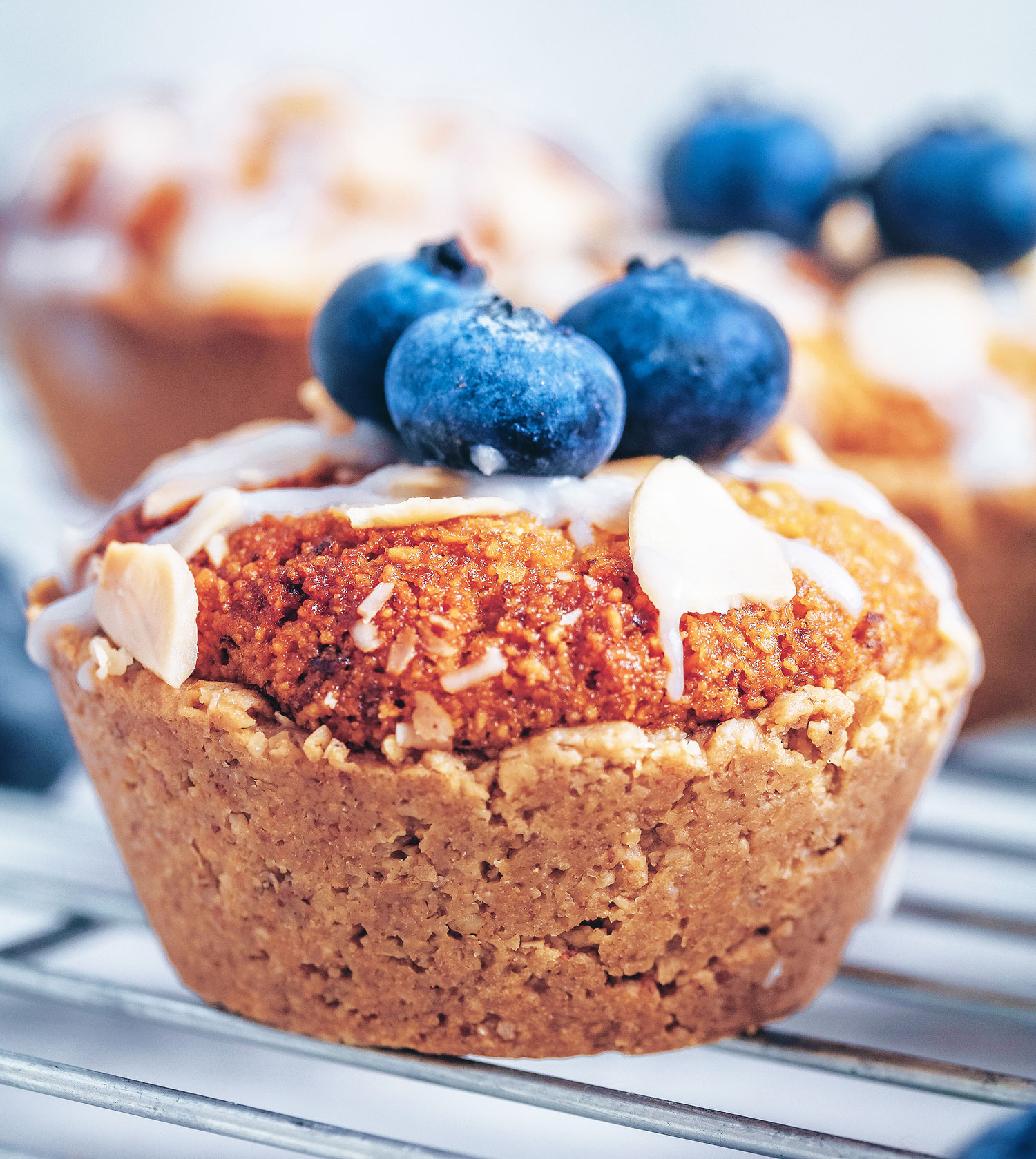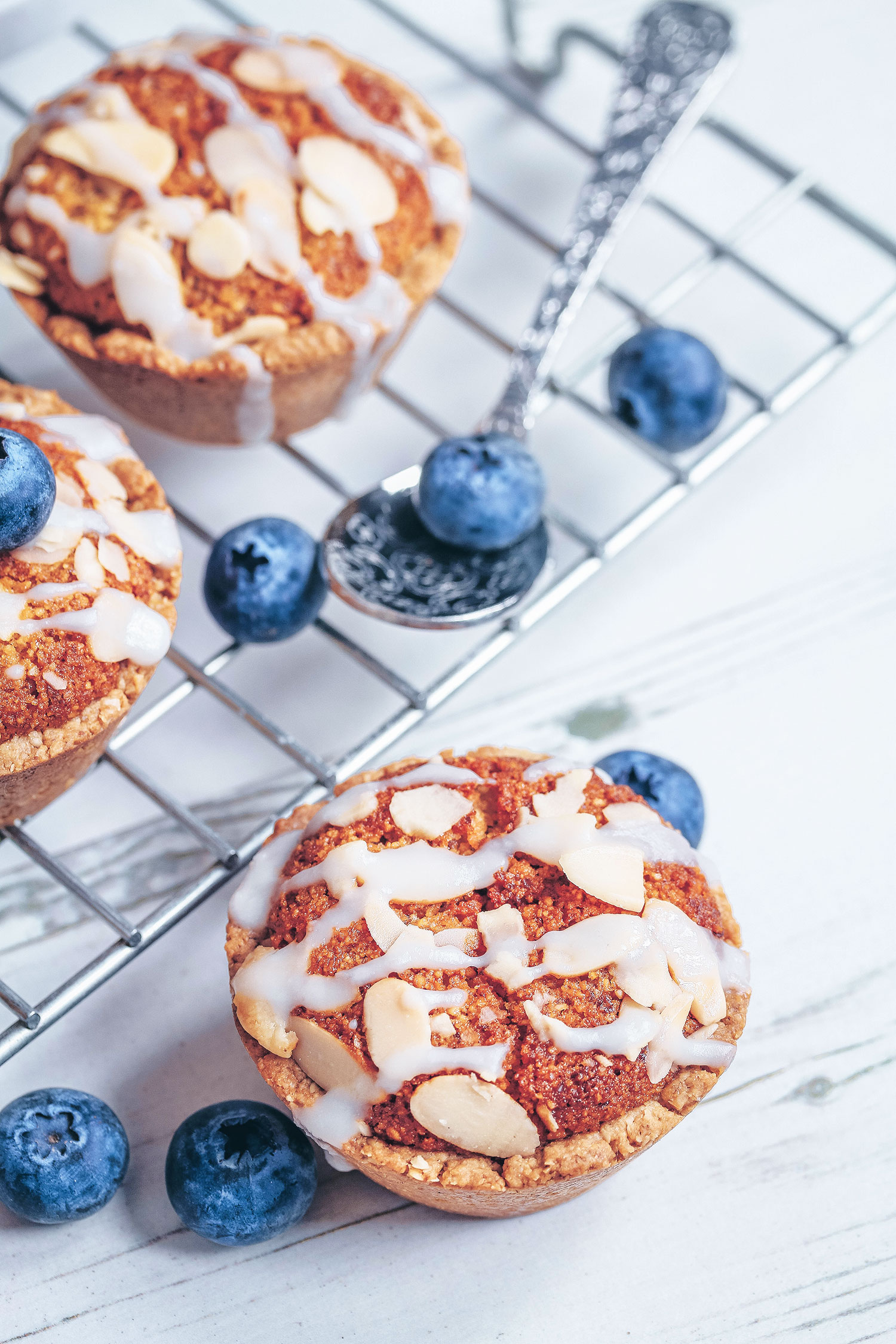 These Bakewell tarts are much healthier than the traditional recipes. I'm using oat flour for the base, homemade no added sugar blueberry jam in the centre and a healthified vegan frangipane layer to finish it off. All vegan, gluten-free and still super delicious!
---
Mini Blueberry Bakewell Tarts (Vegan & Gluten-free)
Makes – 12
Ingredients
For the base
2 cup (220g) oat flour – plain oats ground into a flour in the food processor. Use gluten-free oats if allergic/intolerant to gluten
1/4 tsp salt
4 tbsp maple syrup
4 tbsp coconut oil, melted
For the blueberry chia jam
1 cup (145g) Chilean blueberries
1.5 tbsp chia seeds
2 tbsp sugar or granulated sweetener of choice
2 tbsp water
For the frangipane layer
2/3 cup (75g) ground almonds
1/2 tsp baking powder
A pinch of salt
1 tbsp ground flaxseed + 3 tbsp water – mix in a small bowl and leave to set for 10 minutes
3 tbsp maple syrup
2 tbsp coconut oil, melted
1 tbsp milk of choice
1/2 tsp almond extract
Method
WATCH THE VIDEO FOR A STEP-BY-STEP GUIDE
Start off by making the blueberry chia jam – add the Chilean blueberries into a small saucepan along with the chia seeds, sweetener and water. Gently heat over a low/medium heat while mashing the blueberries with a potato masher. Once the blueberries are all mashed up, take off the heat and leave to cool completely. The jam will set as it cools.
To make the base – Mix the oat flour and salt in a bowl, then add in the maple syrup and coconut oil. Press into lightly greased muffin tins.
To make the frangipane – mix the ground almonds, salt and baking powder, then mix in the rest of the ingredients.
Add about 1-1.5 tsp of the blueberry chia jam into each of the bases, then top with the frangipane.
Optional step – top with flaked almonds for decoration.
Bake in a preheated oven at 180°C/160°C fan/ 350°F for 25 minutes or until the top is golden brown, then leave to cool completely before removing from the muffin tin.
Enjoy!
---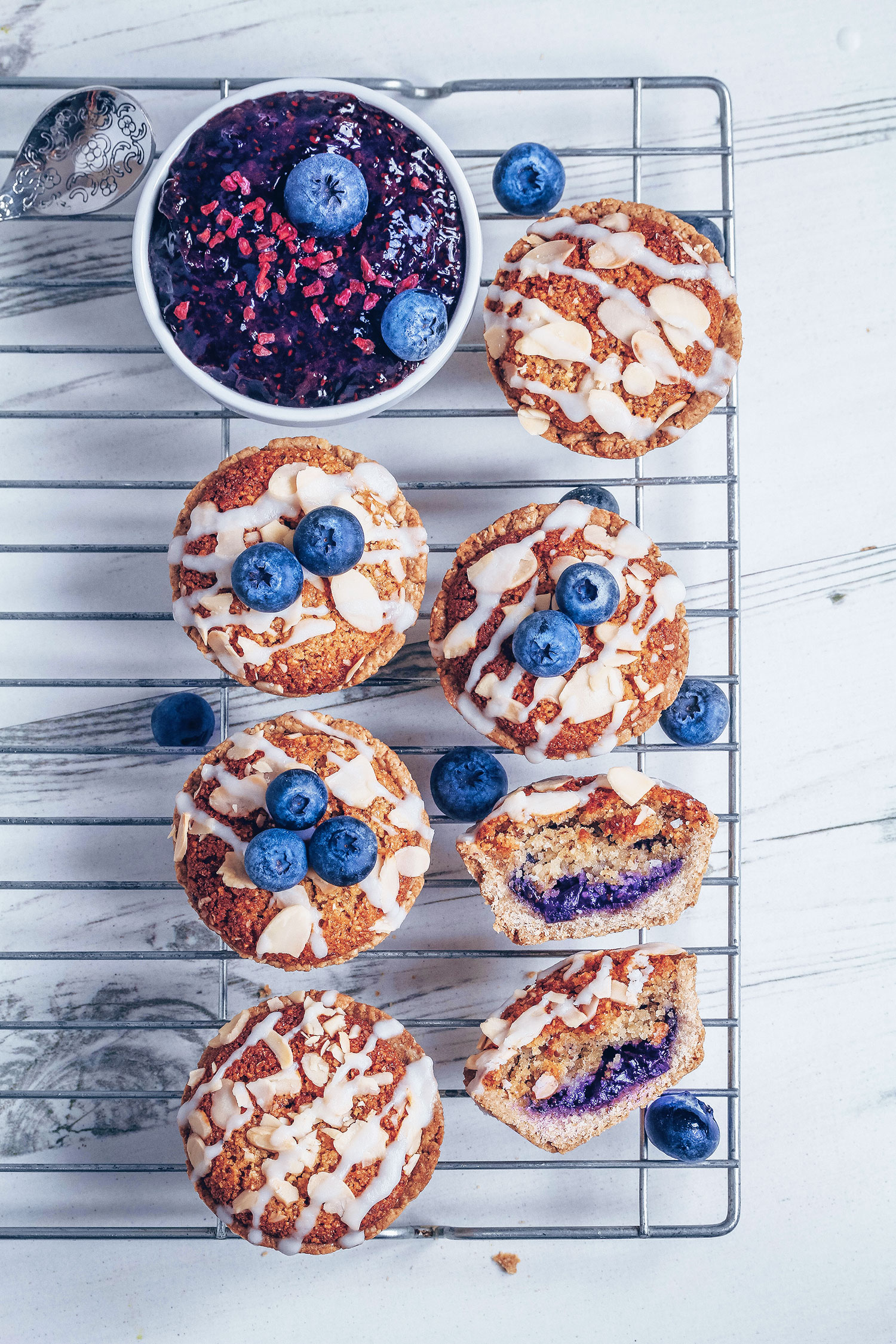 Thanks to Seasonal Berries for sponsoring this post. Commissioned posts is how I'm able to continue working on the blog and creating recipes and recipe videos for you. As always, all opinions are my own.