Lemon & Parsley Cannellini Freekeh Recipe
Freekeh is a green wheat popular in Middle Eastern cuisine that's harvested when the grain is still young. Unlike the 'adult' version of the wheat, Freekeh contains more protein, minerals and fibre. It contains three times as much fibre as brown rice. Why does this make it special? Well a high fibre content means it's digested slowly and has a low GI number. A low GI means it doesn't cause the blood sugar to spike the way rice would. It also means it will make you feel fuller so you don't end up overeating.
I only recently tried freekeh and instantly fell in love. It reminded me of a dish called 'habeya' that my nan used to make when I was growing up. I didn't know much about food back then (and to be honest wasn't that interested!) so wasn't sure what she used in it, but it turned out that the base of the recipe was pearl barley which to me has a very similar taste and texture to freekeh.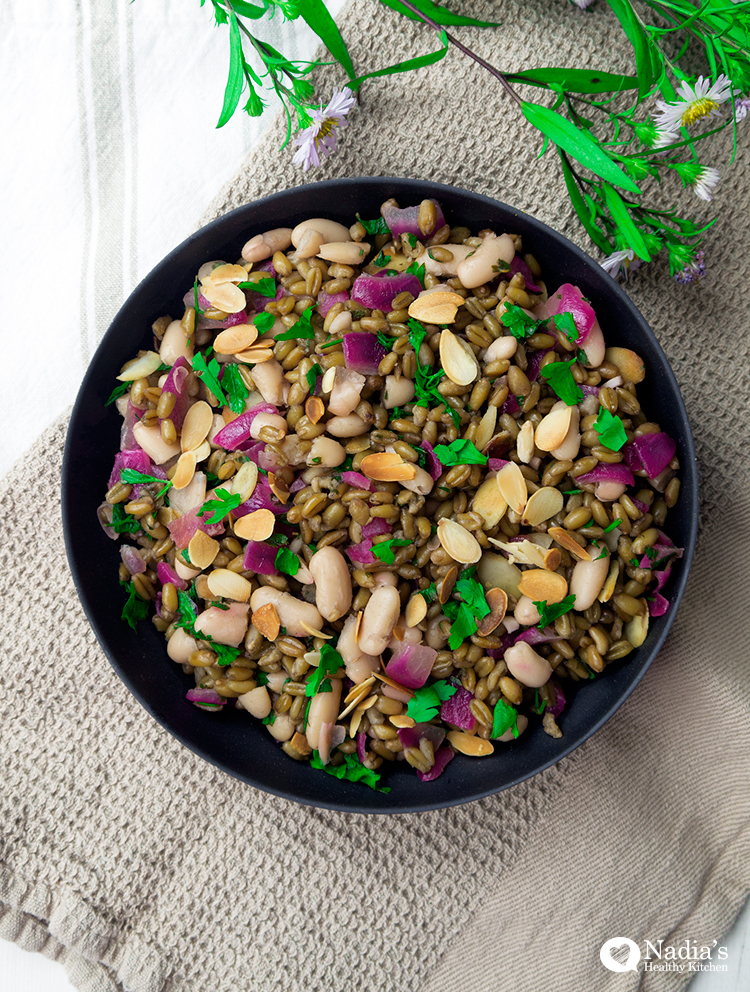 The texture of freekeh is much heartier compared to rice and more chewy so it takes longer to chew which can only be a good thing for me since I struggle to take my time when eating!
In terms of flavour, Freekeh has a slight smokey taste. The only type I could get hold of in my local supermarket was already cooked with a little oil and seasoning. So because it already had some flavouring, I wanted to keep the other flavours quite simple by adding fresh lemon juice, garlic and parsley. I also added in some Cannellini beans for some protein and instead of regular onions, I used red onions for a pop of colour and topped it all with some toasted flaked almonds for some crunch.
This lemon & parsley cannellini freekeh recipe took me 15 minutes to make. it's so quick, simple and so satisfying! It's meat-free, dairy-free and suitable for vegans. Freekeh contains gluten so it's not suitable for Coeliac sufferers.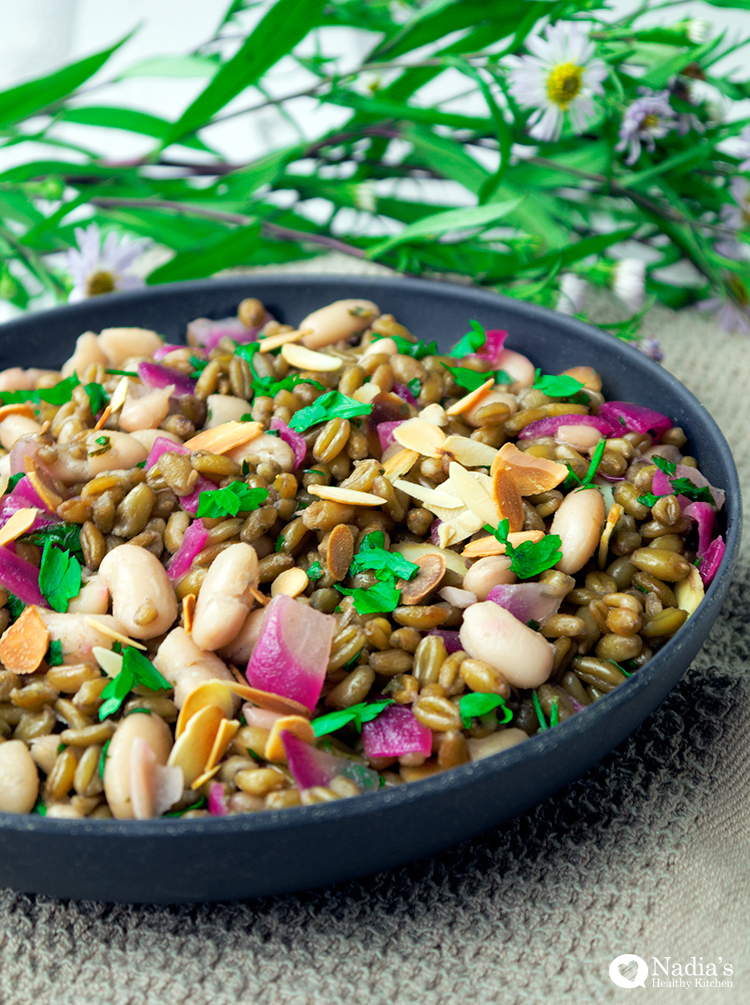 Lemon & Parsley Cannellini Freekeh Recipe
2015-08-10 15:11:35
Serves 2
Ingredients
250g pouch of ready to eat Freekeh
1 400g can Cannellini beans
Juice of 1 lemon
1/2 garlic clove, finely chopped or crushed
1/2 red onion, finely chopped
Bunch of parsley, chopped
Salt & pepper to taste
Toasted flaked almonds to garnish
Instructions
Cook Freekeh according to pack instructions (I cooked mine still in the pack in simmering water for 10 minutes) - If you're using dry Freekeh season with salt and pepper and 1/2 vegetable stock cube.
While the Freekeh is cooking, drain and rinse the cannellini beans.
Heat a little bit of oil in a frying pan then add the chopped red onions. Sautee for about 5 minutes.
Add in the beans and crushed garlic. Cook for a further minute then add in the lemon juice.
Once the Freekeh is ready, cut the top of the pouch and pour the content into the frying pan. Mix then take off the heat.
You can season with salt and pepper at this point if need be.
Now fold in the chopped parsley and top with the flaked almonds.
Serve warm. Enjoy!
Nutritional Information
Calories: 370 calories
Protein: 17g
Carbs: 58g
Fat: 4g
Nadia's Healthy Kitchen https://nadiashealthykitchen.com/
Here's some more amazing Freekeh and Cous Cous recipes
Freekeh with Chicken – by Little Sunny Kitchen
Herby Giant Cous Cous with Asparagus and Lemon – by The Veg Space
Moroccan Freekeh with Harrisa Aubergine – by Amuse Your Bouche
Bulgur, Couscous and Puy Lentil Salad – by Tinned Tomatoes