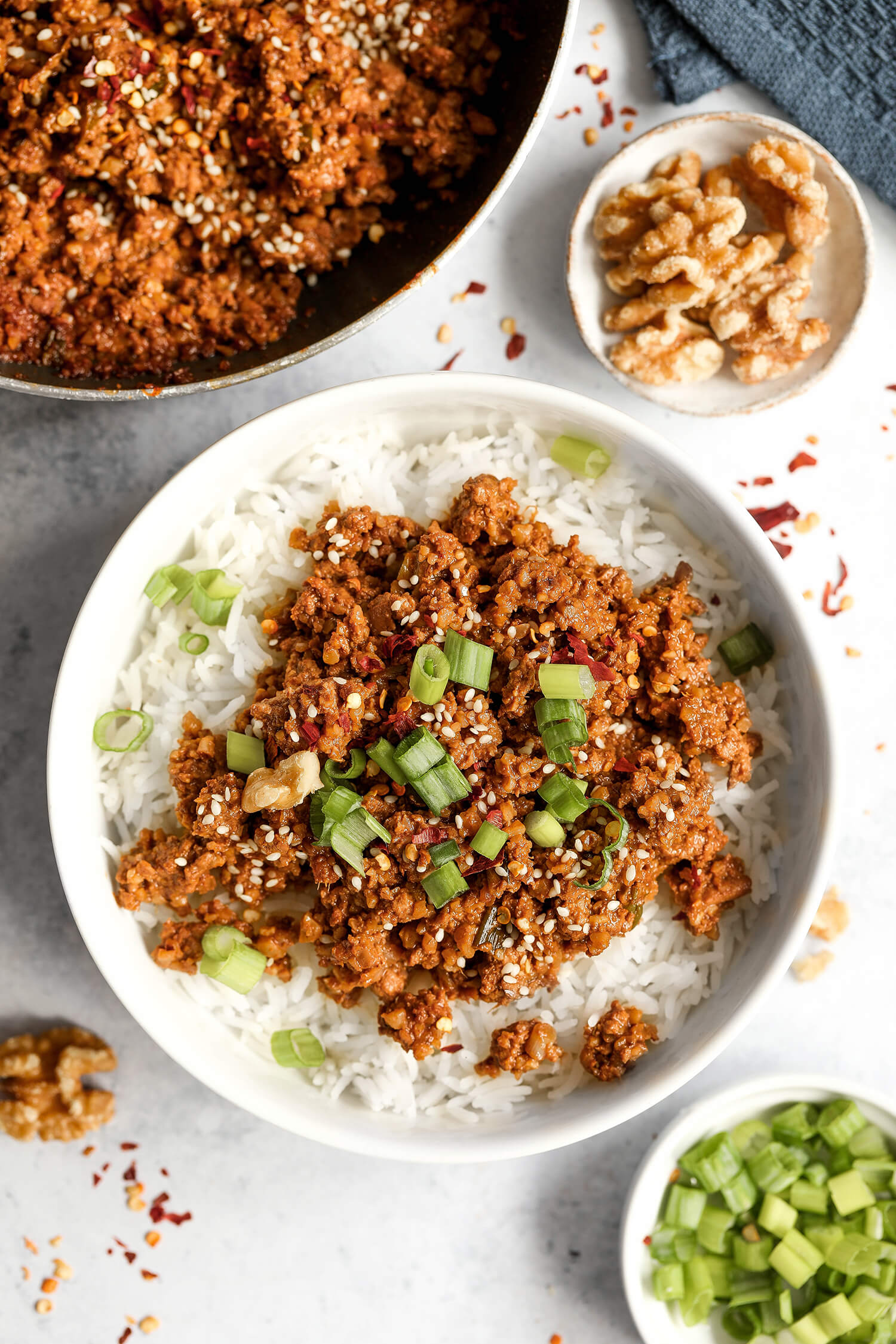 *This post is sponsored by California Walnuts*
I absolutely LOVE Korean food. It is usually quite heavy on the meat, but it's so easy to make your own vegen/vegetarian Korean dishes at home, like this Korean California Walnut bowl I'll be showing you how to make in this post!
I'm using a combination of California Walnuts and tofu as the plant based meat substitute. The walnuts are an amazing source of essential fatty acids in the form of omega-3, alpha-linolenic acid (ALA) 2.7g/ 30g* as well as protein. The tofu is another great source of protein and together they make such an amazing minced meat substitute that's delicious and balanced.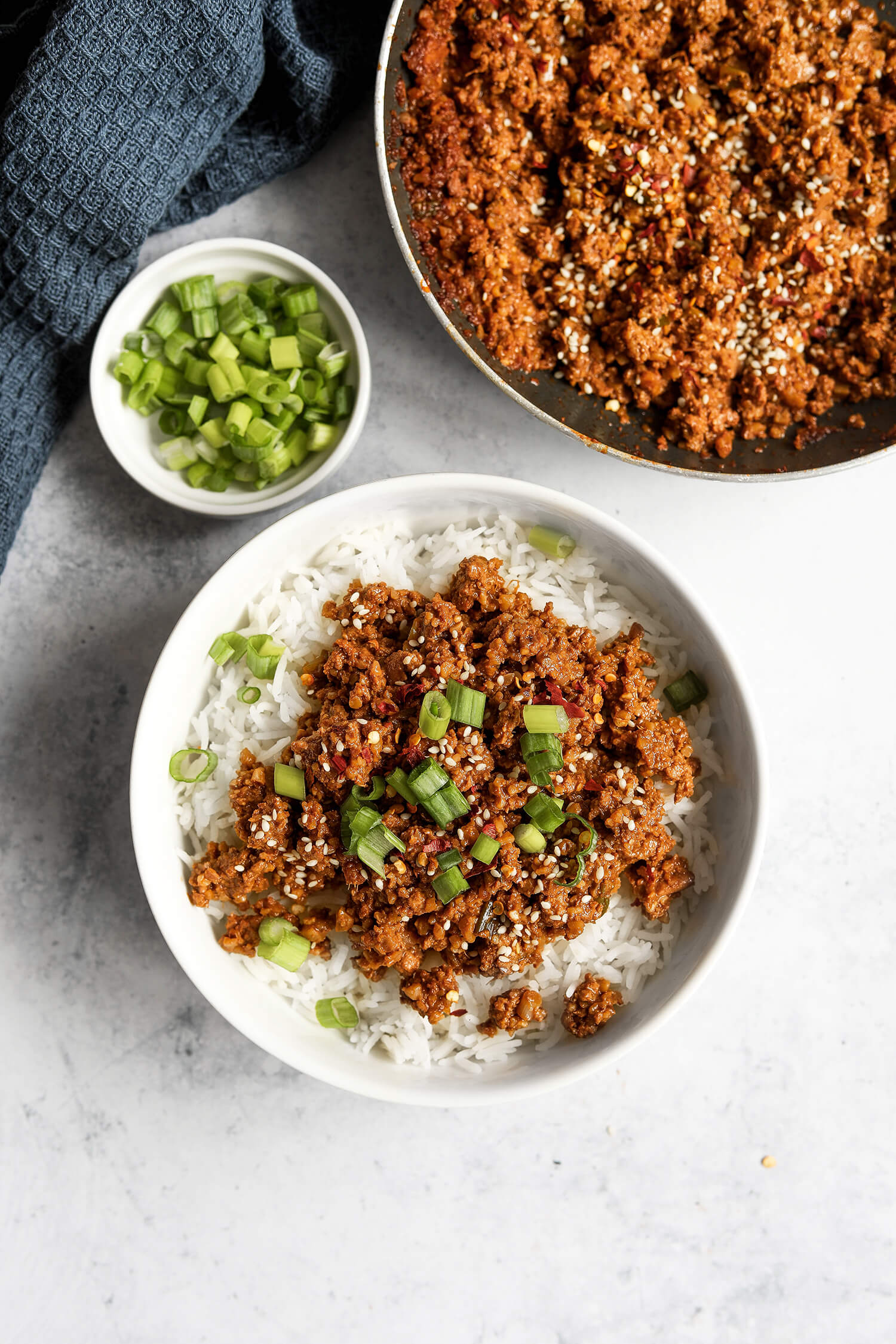 The mild and creamy flavour of California walnuts make them such an amazing and versatile ingredient to use in both sweet and savoury dishes. They make a wonderful plant-based substitute to meat, especially minced meat. All you have to do is pulse them in a food processor a few times to create the 'mince', then sauté in a little bit of oil with whatever flavours, spices or sauce you like! I like to soak the walnut mince in water first for 15-20 minutes so soften them. This helps them absorb even more of the flavours and means you don't have to cook them for as long if you want a softer, minced meat like texture.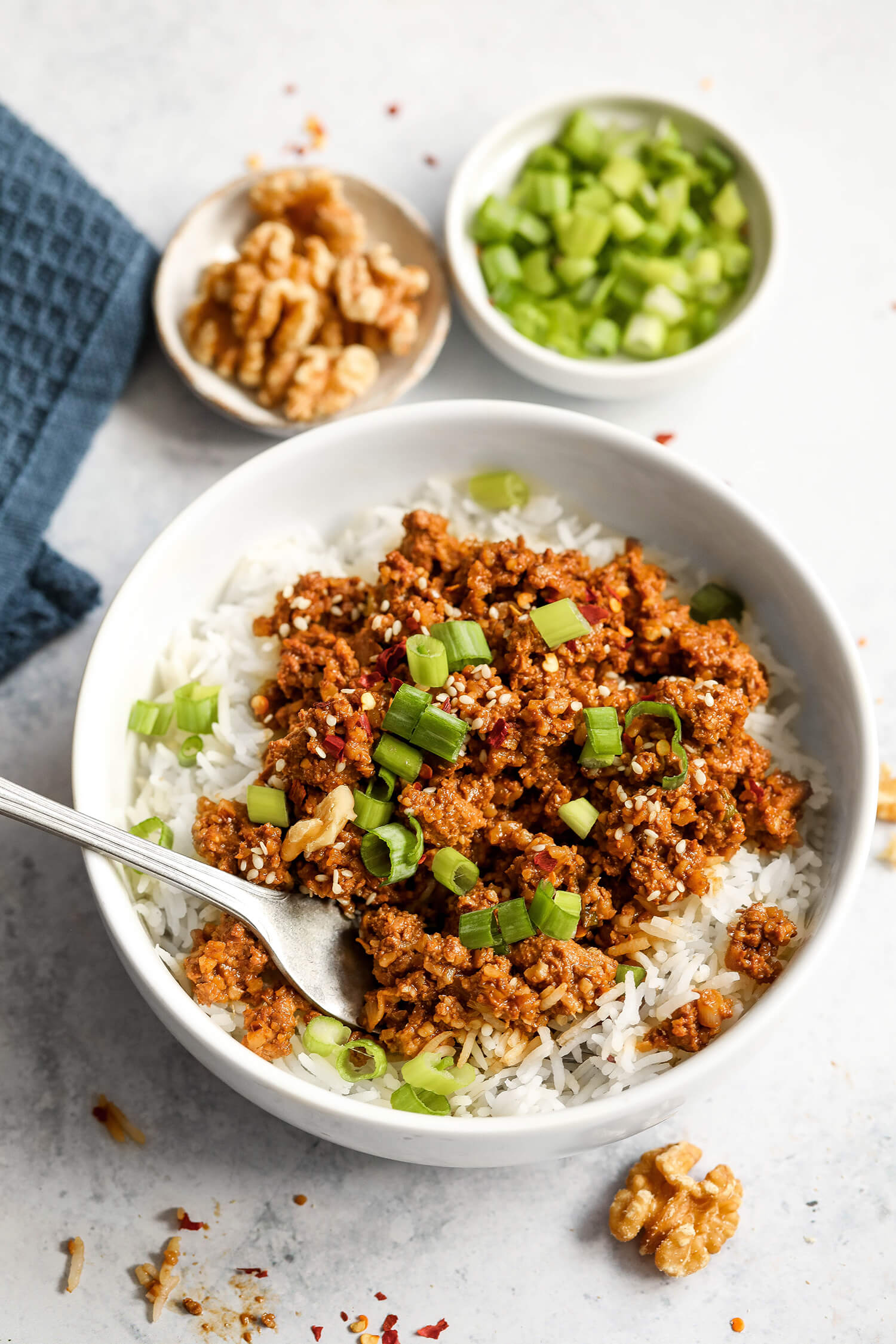 As well as them being the only tree nut to contain a rich source of the plant-based omega-3, 2.7g/ 30g* each 30g serving of California Walnuts also offers 4.4 g of protein and 1.4 g of fibre[1]! You can check if your walnuts are from California as they would say Produce of California or Produce of USA on the pack. To find out more about California Walnuts and for recipe ideas visit www.californiawalnuts.co.uk
This Korean California Walnut bowl is a must try. Now that we're stuck in lockdown again, what better way to pass time than to get creative in the kitchen and whip up delicious and nutritious meals like this one 😀
*Approx. a handful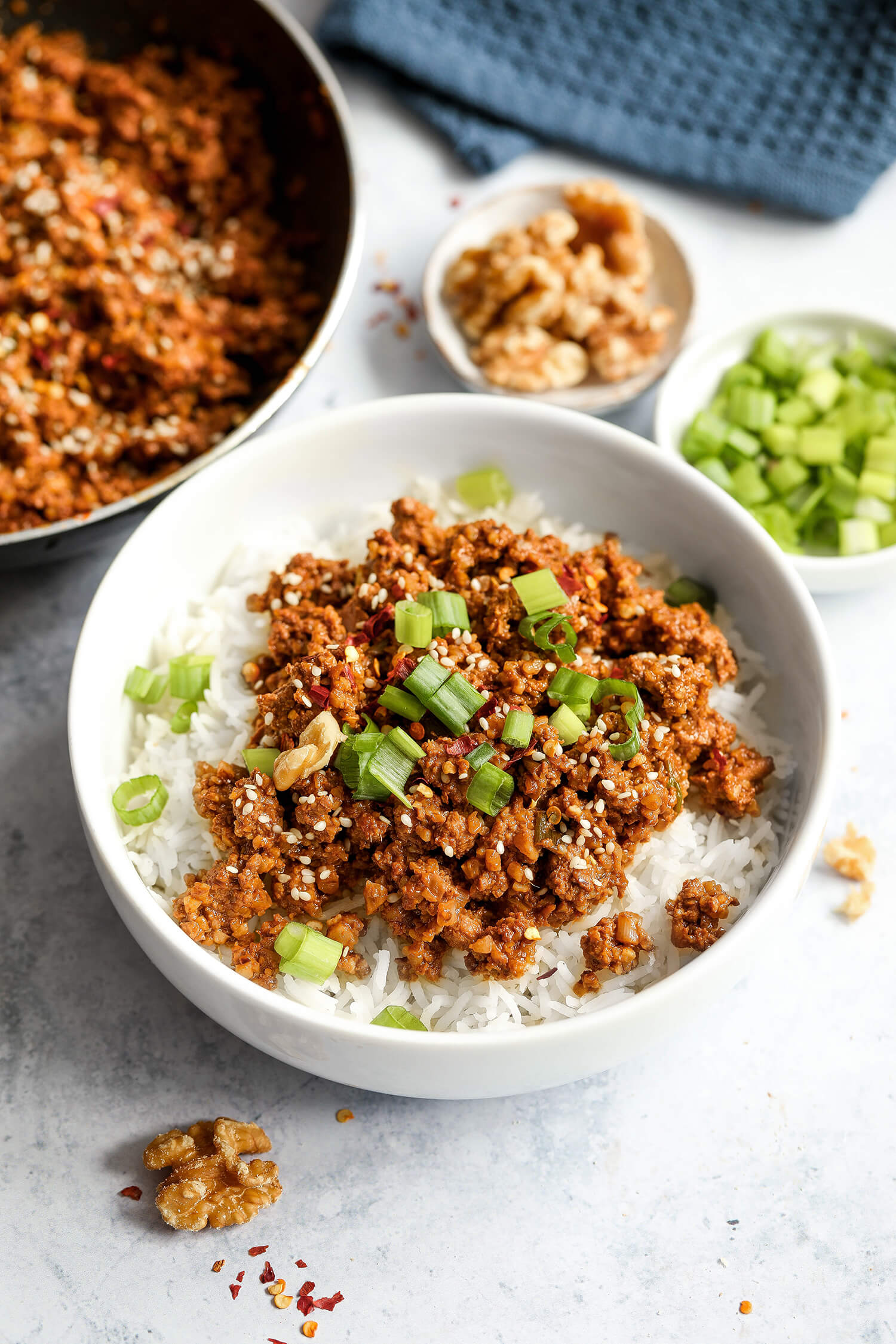 Korean California Walnut Bowl
Serves 2-4
Ingredients
130g California Walnuts
1 tbsp sesame oil
3 spring onions
2 garlic cloves, minced
1 tbsp fresh ginger, minced
2 tbsp soy sauce or tamari
2 tbsp maple syrup
Juice of 1 lime
2 tsp sriracha
140g firm tofu, crumbled
60g frozen peas, thawed
Garnish
Chopped spring onions
Sesame seeds
Chilli flakes (optional)
Method
Place the California Walnuts in a food processor and pulse a few times until crumbly. Don't blend for too long. You don't want the texture to be too fine.
Transfer to a bowl and cover with lukewarm water. Leave to soak for 15-20 minutes, then drain.
Heat 1 tbsp sesame oil in a frying pan, then add in the chopped onions, garlic and ginger. Cook for a minute, then add in the soy sauce, maple syrup, lime juice and sriracha. Cook for another minute, then add in the drained walnuts and crumbled tofu. Mix to combine and continue cooking on a medium-low heat until the mixture thickens (about 10 minutes).
Once the mixture is cooked through, take off the heat and garnish with sesame, chilli flakes (if using any) and more chopped spring onions. Serve with rice and enjoy!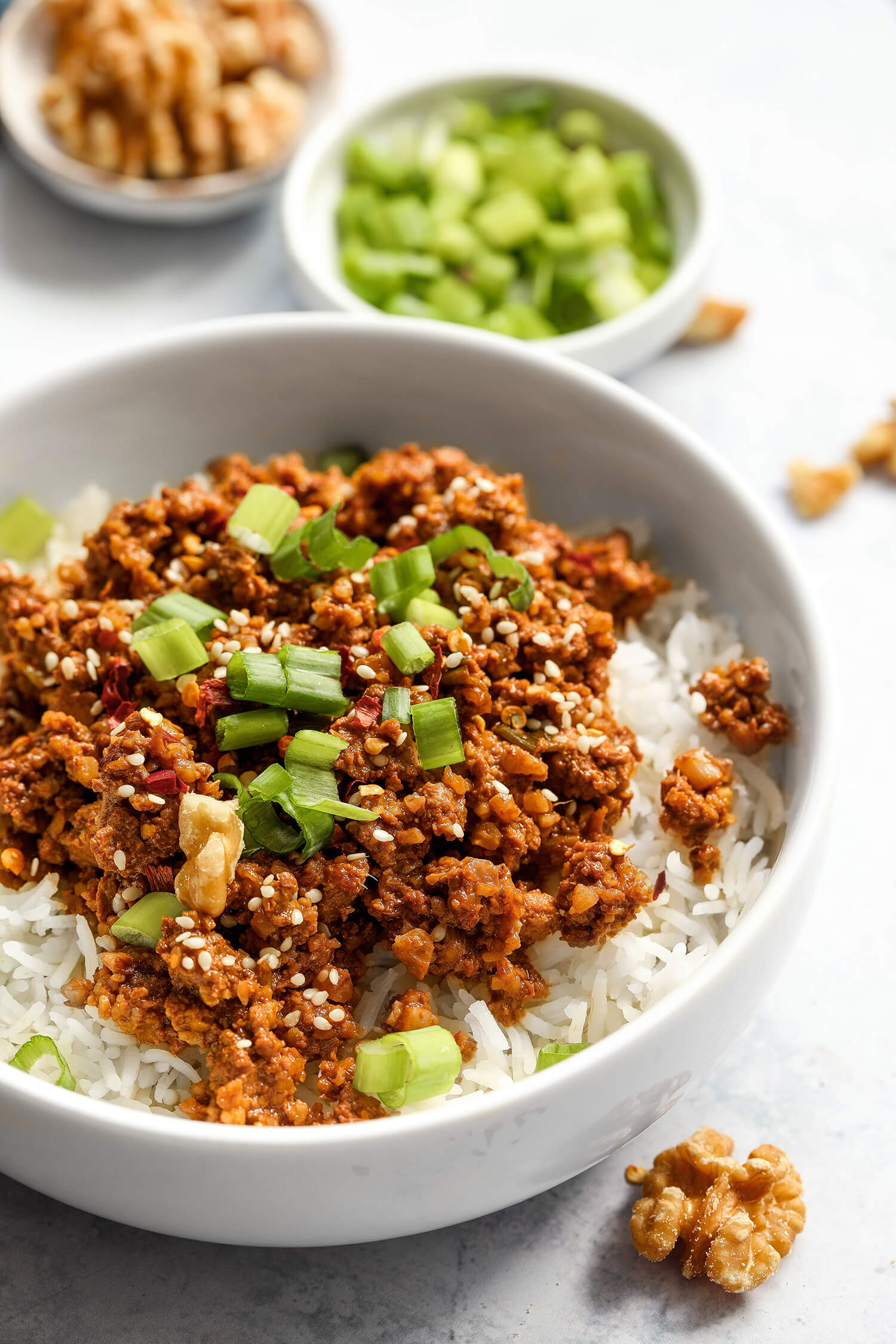 [1] Food Standards Agency (2002), McCance & Widdowson's The Composition of Foods, Seventh summary edition. Cambridge: Royal Society of Chemistry