Healthy Tahini Granola
Making homemade granola is easier than you think. The best thing about making your own granola is that you can customise it to your personal taste. If you like it sweet, add more sweetener. If you don't like raisins, leave them out! The second best thing is that you can avoid all those added calories, processed sugars and other unnecessary ingredients! It's a nice feeling knowing exactly what's going into your body and that it's actually doing you some good! After all we don't just eat for pleasure, but to nourish our body and keep it as healthy as possible. That's not to say healthy can't be delicious…I'm all for tasty and satisfying food!
This healthy tahini granola has a Middle Eastern twist to is. As well as tahini, I'm also adding in date syrup and cardamom. Tahini and dates go so well together. When I was growing up in the Middle East one of my favourite breakfasts was 'dibis wo rashi' which basically translates to 'date syrup and tahini'! We would mix a little bit of each in a small bowl then dip in some bread…so good!
Tahini is basically sesame seeds ground up into a paste or a butter. It's a great source of calcium which makes it a dietary staple for many vegans. It's also a great source of protein and methionine (reduces the risk of cardiovascular disease), copper and magnesium.
Date and date syrup contain high levels of iron which also make them great food items for vegans and vegetarians. They're also rich in magnesium, copper, selenium and manganese. It's also great for those suffering from digestive problems.
I'm also adding some Maca powder to my healthy tahini granola which contains great energy boosting properties. I've written a review on Maca, click here to learn more about its health benefits!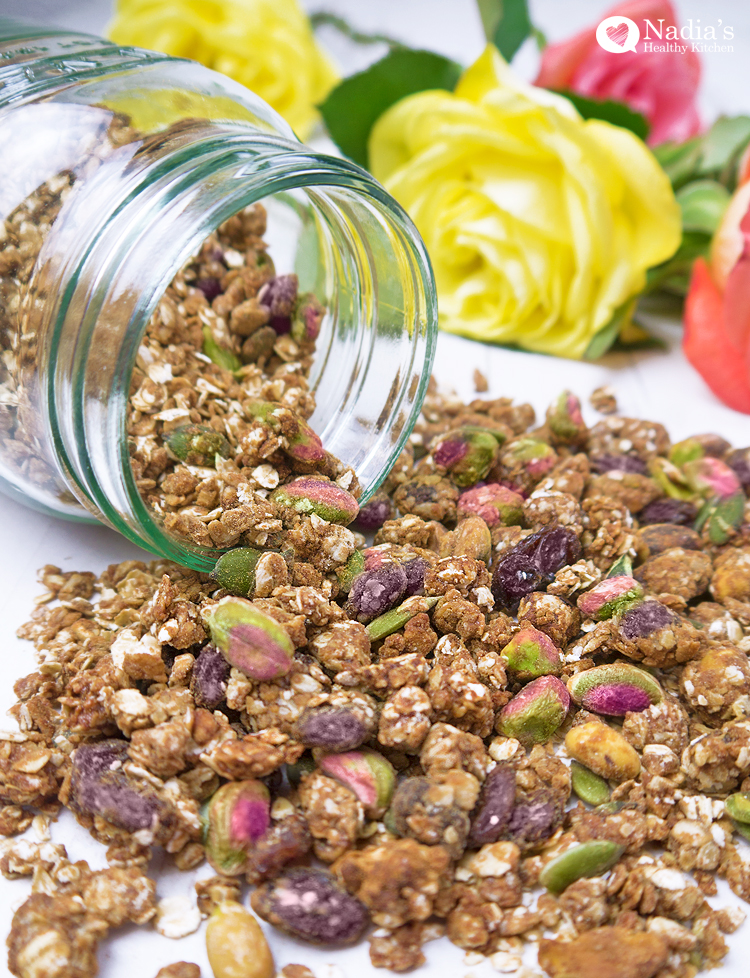 Healthy Tahini Granola
Ingredients
2 cups (200g) plain oats
1/3 cup (50g) raisins or dates
1/3 cup (50g) pistachios
1/4 cup (30g) pumpkin seeds
1/4 cup (4 tbsp) Tahini
1/4 cup (4 tbsp) date syrup
1/4 tsp salt
1/2 tsp cardamom powder
Method
Preheat your oven to 150°C (300°F)
In a large bowl, mix together the oats, raisins, pistachios and pumpkin seeds. Give everything a quick toss
Add the salt, cardamom powder and Maca powder then give it another mix
In a separate small bowl, mix together the tahini and date syrup
Pour the tahini date mixture into the bowl of dry ingredients. Give everything a really good mix. You may feel like there isn't enough wet ingredients to bring everything together, don't panic! Just keep mixing.
Transfer your granola mixture onto a baking sheet covered with parchment paper. You may need to use two trays depending on the size of your tray. Make sure the granola is evenly distributed on one layer
Bake for 10 minutes, take out and give it a mix then place back in the oven for another 10 minutes or so.
Take your granola out and leave it to cool completely. It will become crispier as it cools.