Since summer is still in full swing, even though it may not always feel like it with our UK yo-yo weather, I wanted to take a break from my usual type of recipes, typically chocolate centred treats, and focus on creating something fruity. Something light that's perfect served at a BBQ or a summer dinner party with ice cream!
But before I get into that, I want to talk food shopping!
Tesco invited me to try out their Scan As You Shop service at my local store, and to be honest prior to that I didn't really know much about it, how it worked and why to use it!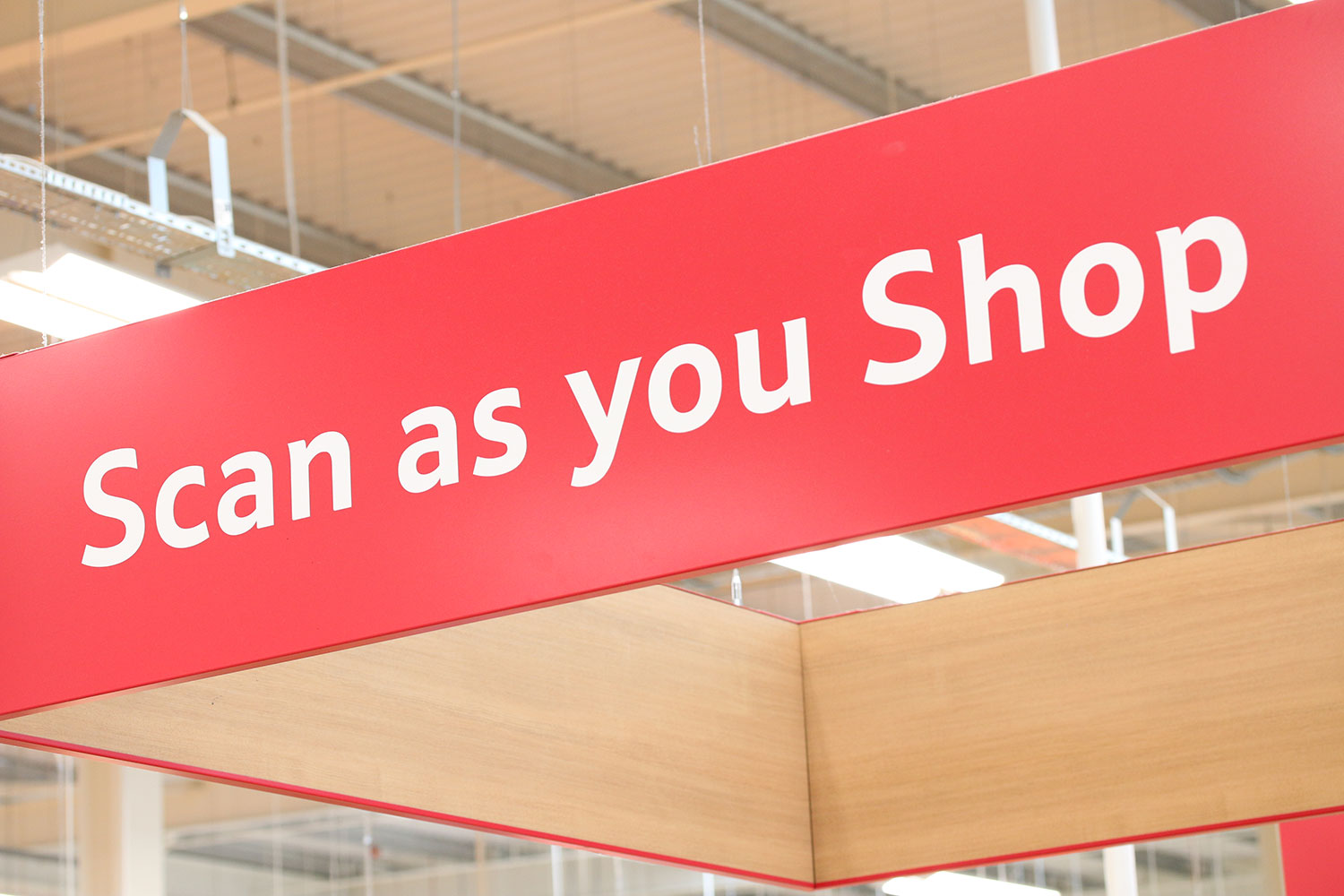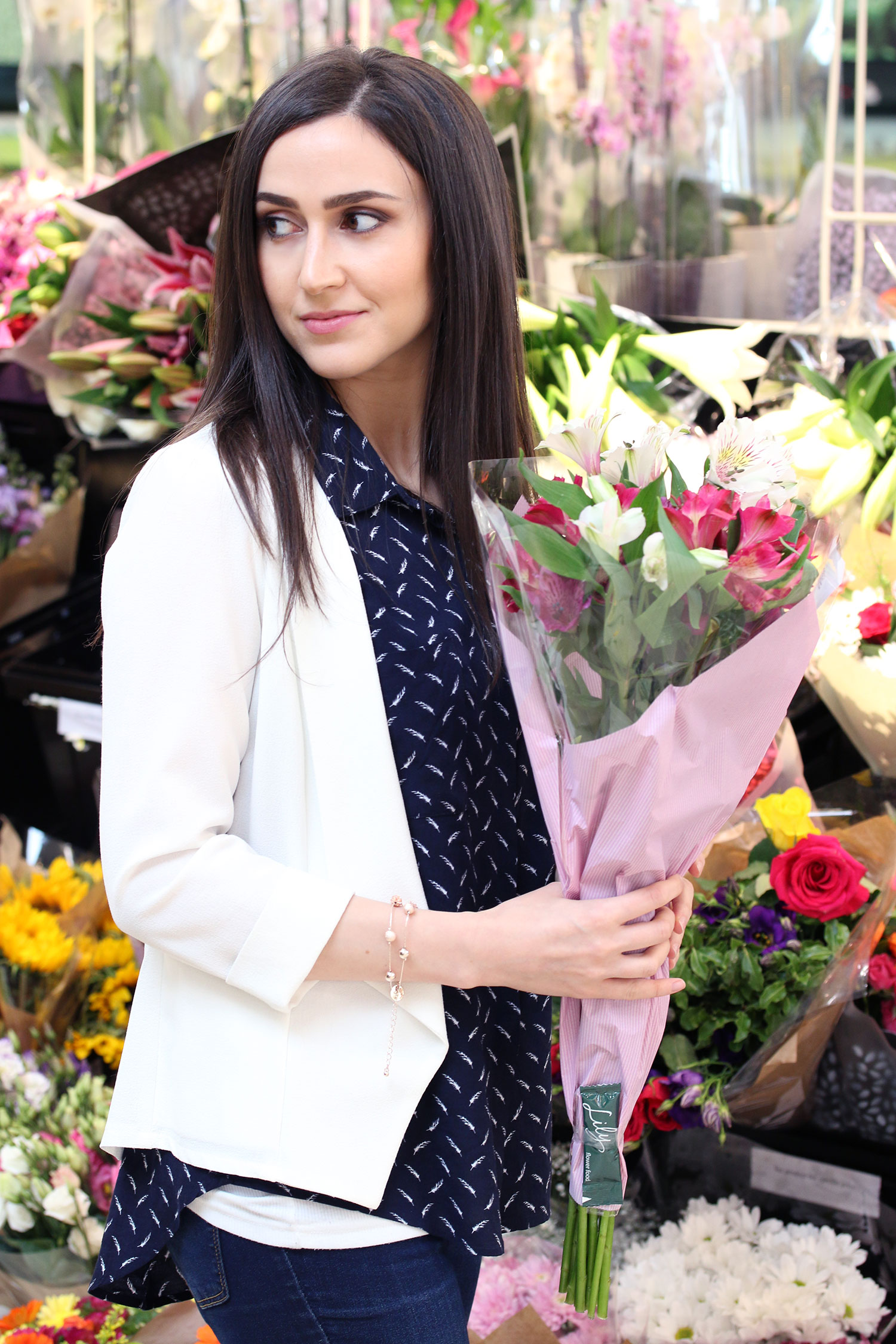 Call me strange, but I'm one of those people who loves food shopping and actually looks forward to it! I love eating food, and I love shopping food! I don't see it as a chore and I usually take my time scanning the aisles for new products and ingredients to try. As a result, I often don't realise how much I have in my basket until I'm at the checkout and the bill is adding up to £40… £50…£60! And each time I say to myself I need to keep an eye on what I put in my basket and how much I spend.
One of the great things about the Scan As You Shop service is that you can see how much your basket is worth as you go along. This is perfect if you're on a tight budget and don't want to calculate everything in your head or on your phone or end up having to work out what you can put back when you're at the till.
How does it work
You can only use the service at certain Tesco stores. You can find your nearest store here. When I arrived, I headed straight over to the Scan As You Shop service section where all the scanners are lined up. All I had to do was scan my Clubcard and enter my post code before one of the scanners started bleeping. That was my scanner! Picked it up, and off I went to my first stop, the fresh produce aisle (of course!).
It was actually a lot easier to use than I expected and a lot less overwhelming! I picked up a pack of strawberries, pointed the scanner towards the barcode on the pack and clicked the yellow scan button in the centre of the scanner and voila, strawberries were added to my list!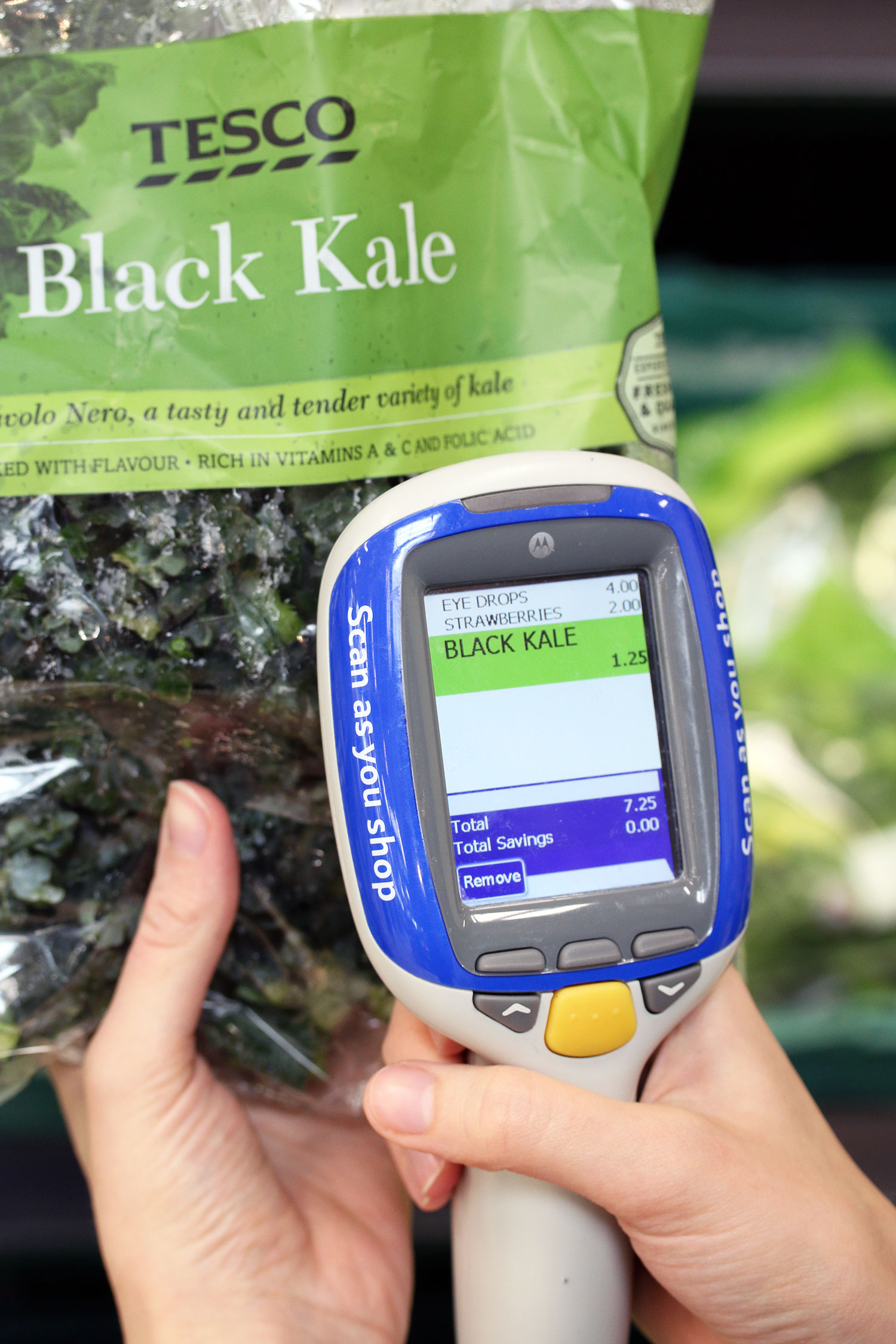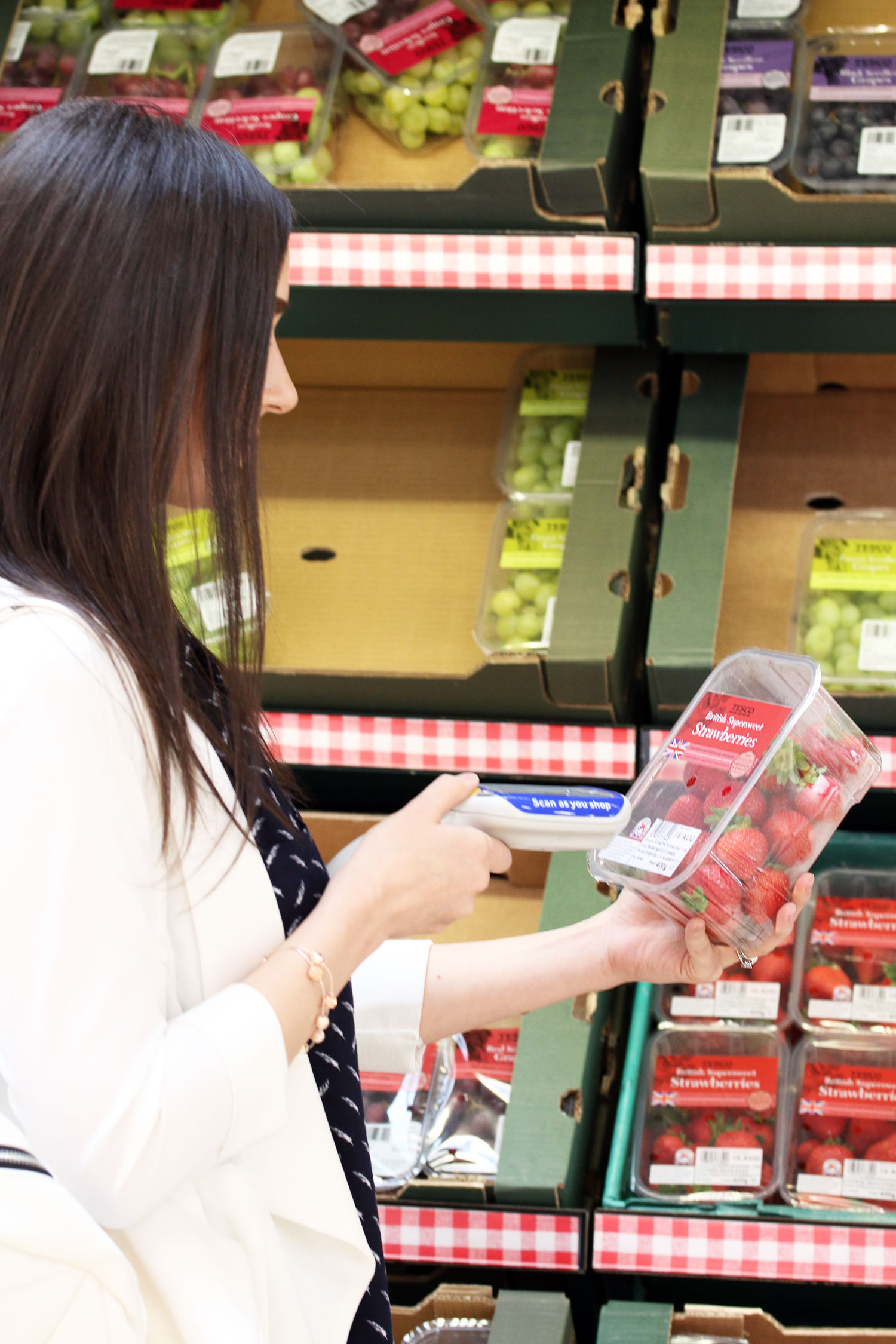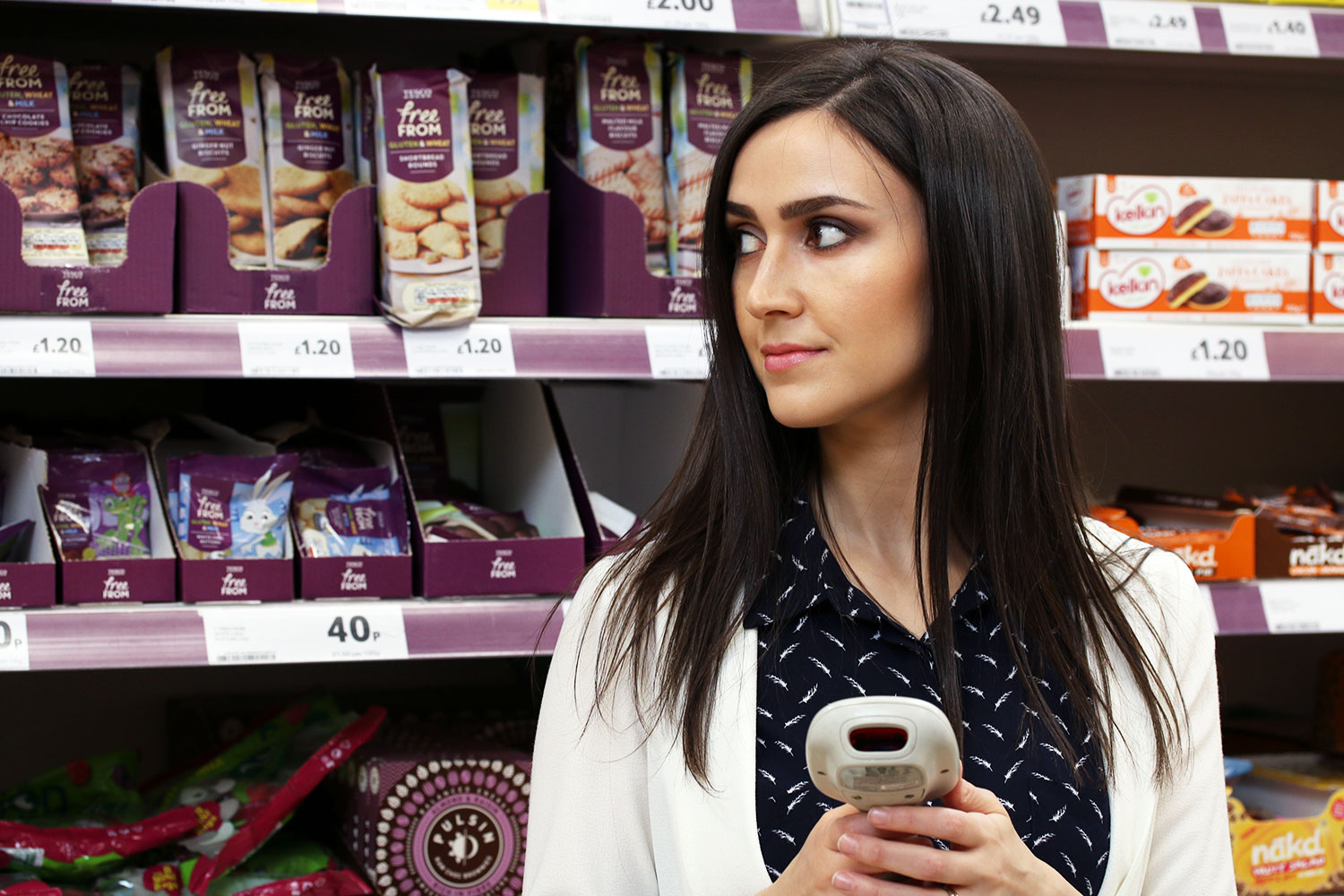 Another advantage that I discovered while using the service is that I was allowed to put the products straight into my bags as I went along. The one thing I hate most about supermarket shopping is trying to arrange everything in bags as fast as humanly possible all the while knowing there is a queue behind me of impatient customers wishing I would speed up so they can get on with their business. I feel so flustered sometimes and the whole experience is not very fun.
Using the Scan As You Shop service meant I could take my time, leisurely sorting out my shopping bags as I went along knowing I won't have to stress about it at the end of my shop. When I was done, I headed over to the designated Scan As You Shop till area, transferred my shopping onto the till by scanning the barcode at the top of the till, paid, then I was ready to go home!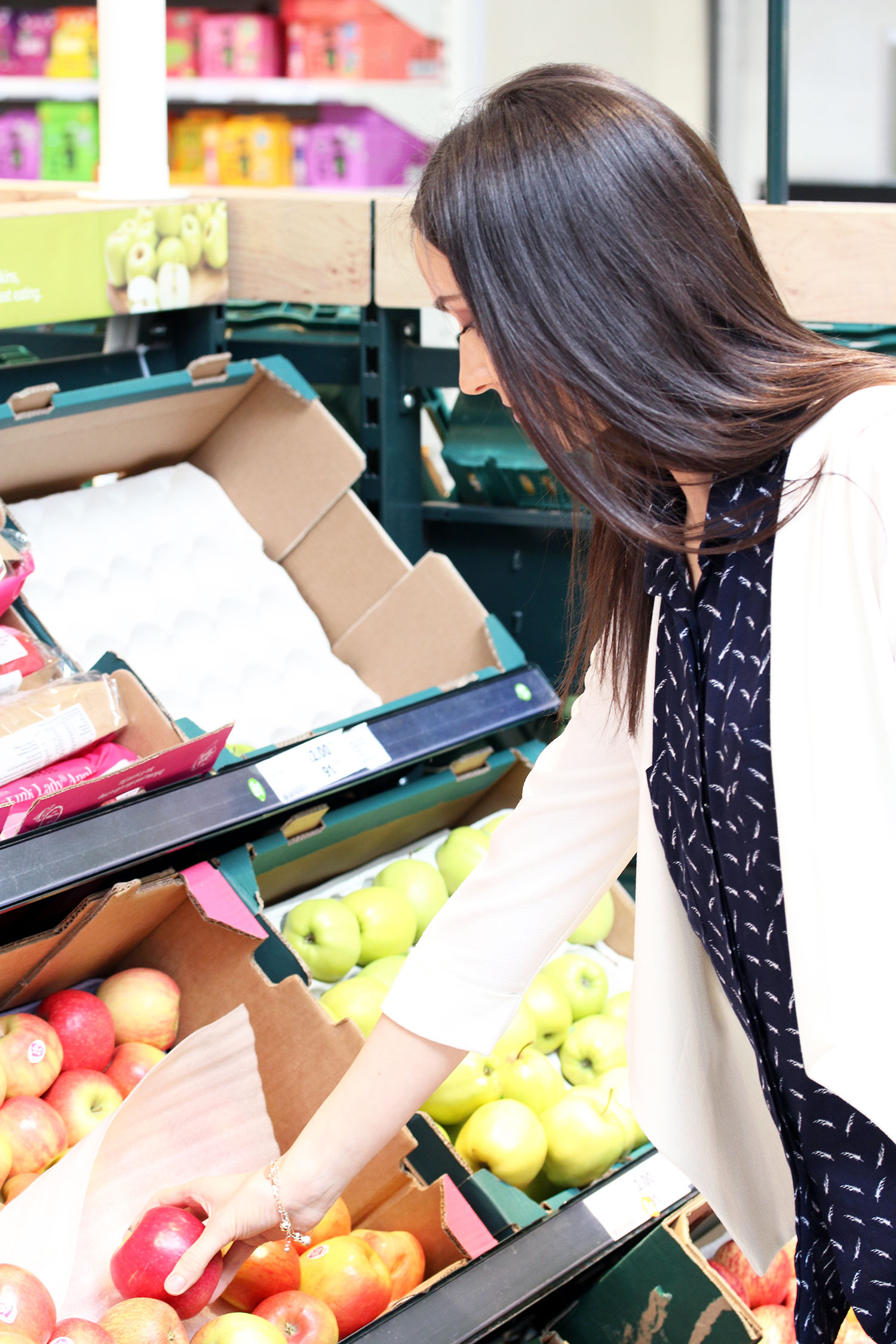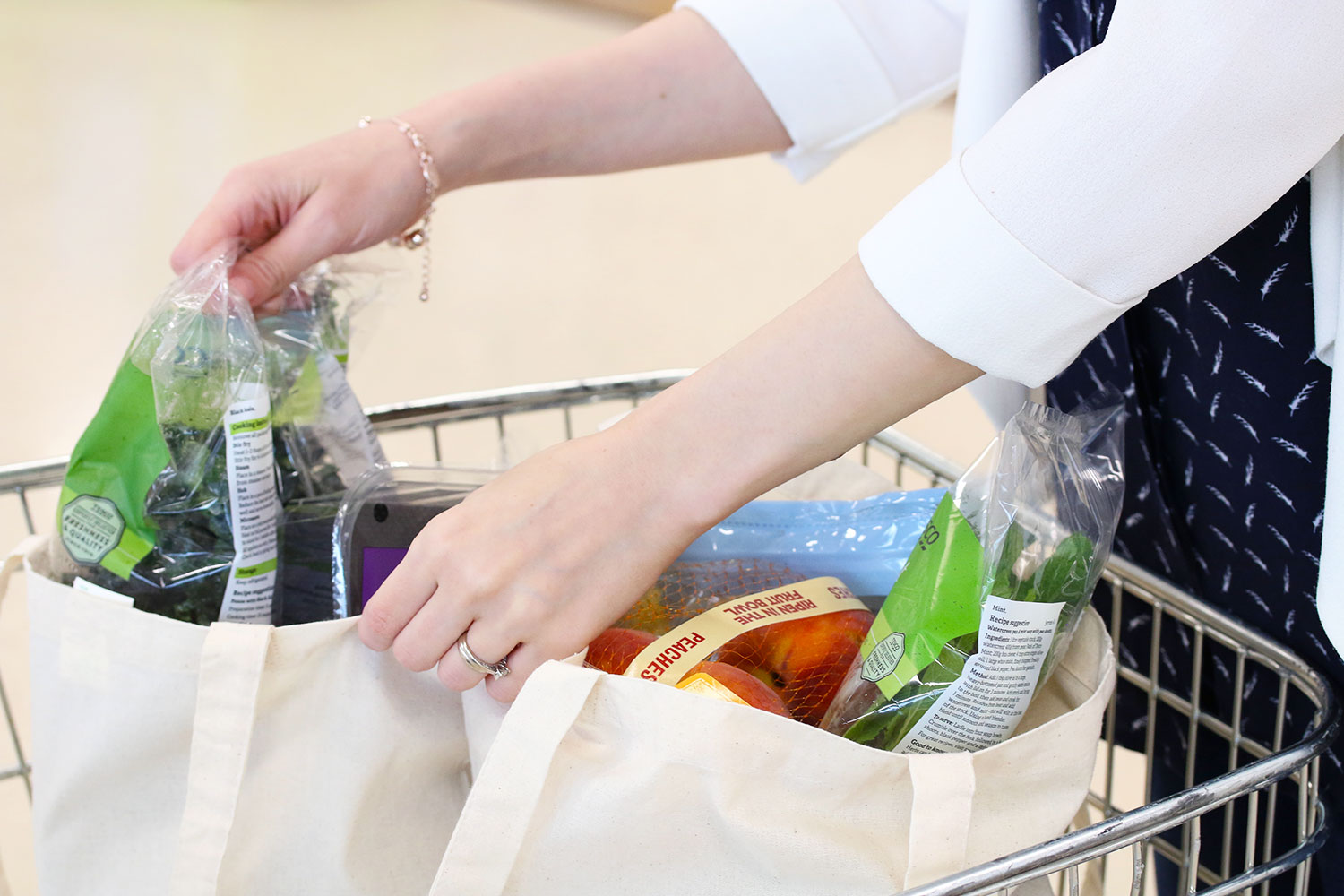 A few important notes that I think are worth mentioning here.
If you change your mind about a product and decide you no longer want to buy it, you can remove it by scrolling up or down and clicking the remove button.
If you're buying a loose item without a barcode, for example a bakery item, you need to scan the barcode on the shelf that belongs to that item.
If you're buying loose fruit/vegetables, you need to first weigh the item on the customer scales, then scan the barcode on the label that's printed.
Finally, another advantage of the service is that you can pretend to be one of Charlie's Angels when no one's looking 😛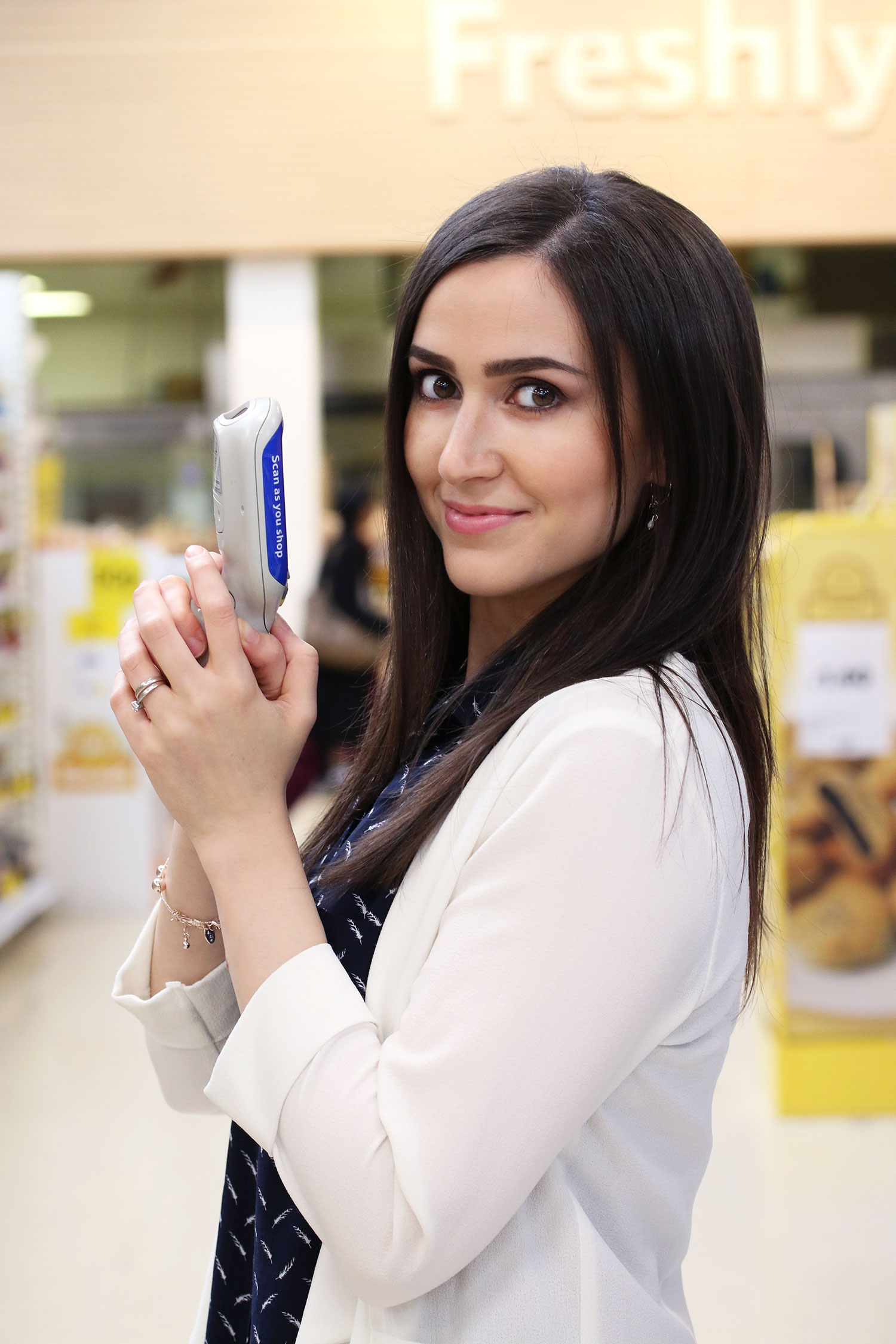 Now onto the grilled peaches served with cinnamon granola and vanilla ice cream!
While testing out the Scan As You Shop service, I picked up a pack of ripe peaches, a few ingredients to make homemade cinnamon granola, and some dairy-free vanilla ice cream to serve. I knew the combination of flavours along with the juiciness of the grilled peaches, crunchiness of the granola and richness of the ice cream would make for a killer dessert combo!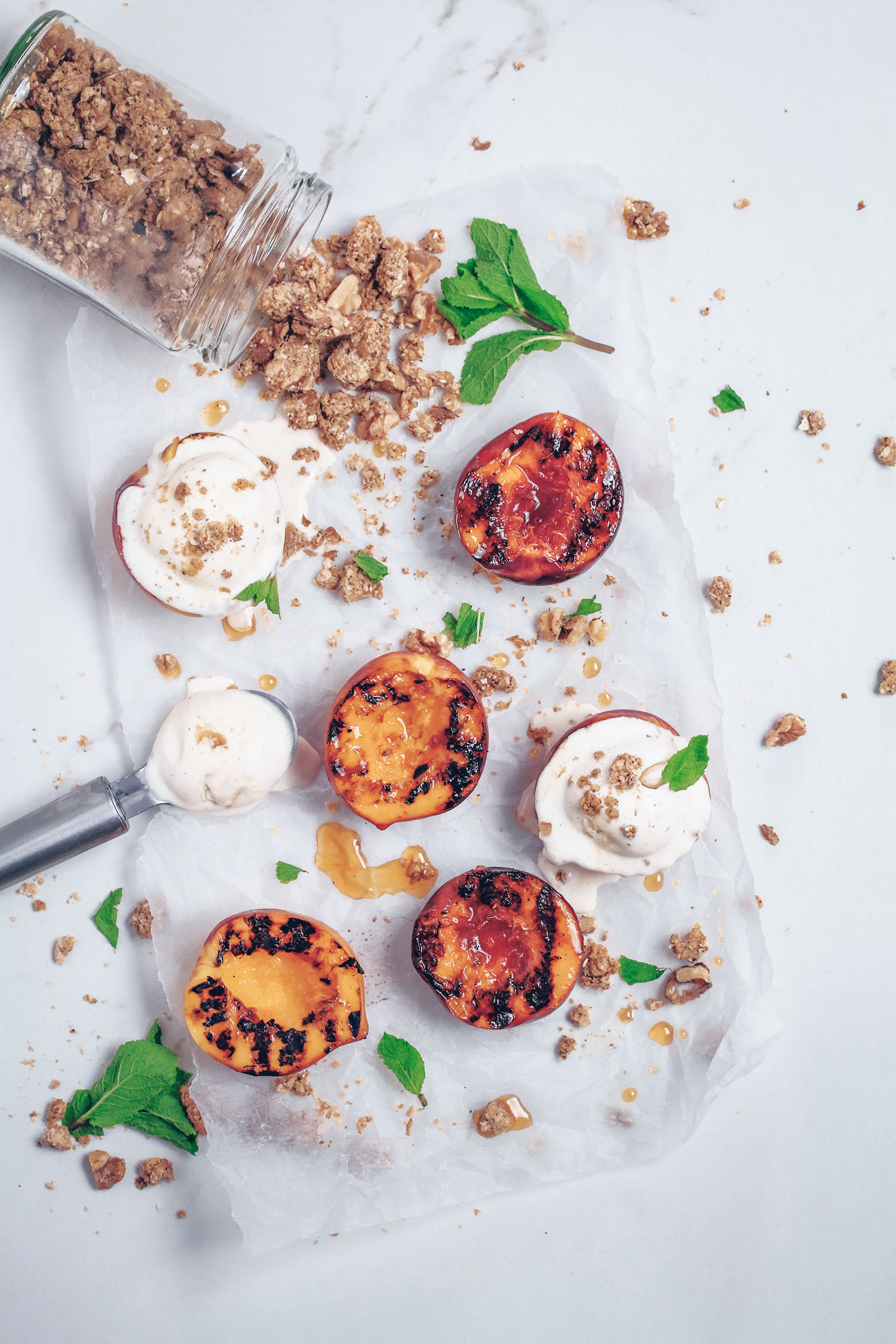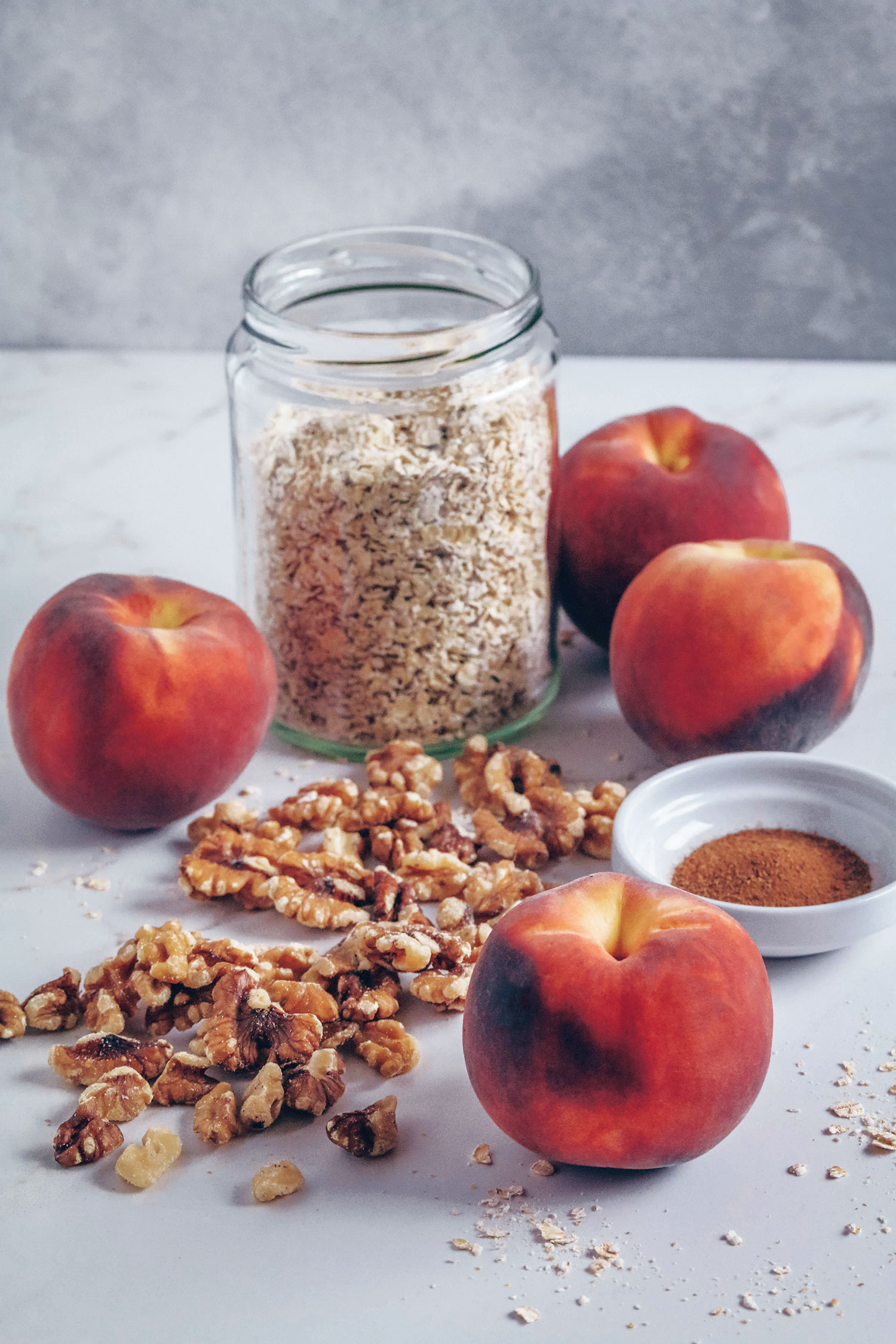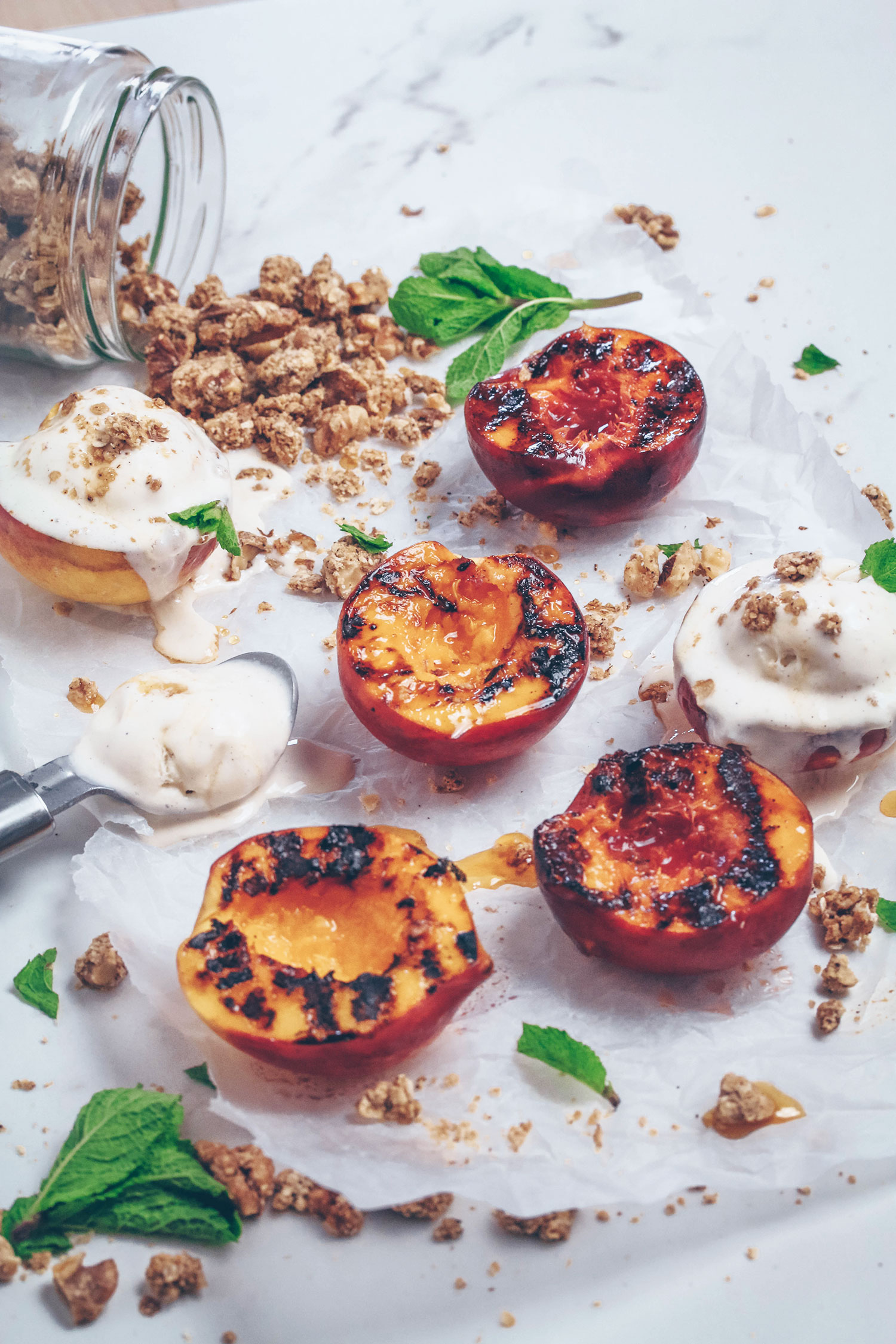 ---
Grilled Peaches with Cinnamon Granola & Vanilla Ice cream
2 ripe peaches
1 tbsp dairy-free butter, melted
For the cinnamon granola
1 cup (90g) oats – use gluten-free if you're allergic/intolerant
1 cup (90g) walnuts, roughly chopped
1/2 tbsp cinnamon
1/4 tsp salt
3 tbsp tahini
4 tbsp maple syrup or liquid sweetener of choice
To serve
Dairy-free vanilla ice cream
Method
Preheat your oven to 170°C (150°C fan assisted)/ 300°F
Make the granola: Mix the oats, walnuts, cinnamon and salt in a bowl. Pour over the tahini and maple syrup and give everything a really good mix. You may feel like there isn't enough wet ingredients to bring everything together, but don't panic! Just keep mixing.
Transfer your granola mixture onto a baking sheet lined with parchment paper. You may need to use two trays depending on the size of your tray. Make sure the granola is evenly distributed on one layer.
Bake for 10 minutes, take out and give it a mix then place back in the oven for another 10 minutes or so.
Take your granola out and leave it to cool completely. It will become crispier as it cools.
To prepare the peaches: Heat a grill pan over a medium heat. Slice each peach in half and remove the stone.
Brush the the cut sides with a little bit of the melted butter. Cook, cut side down for 3 to 4 minutes.
Top with vanilla ice cream and a generous sprinkle of the cinnamon granola.
Enjoy!
---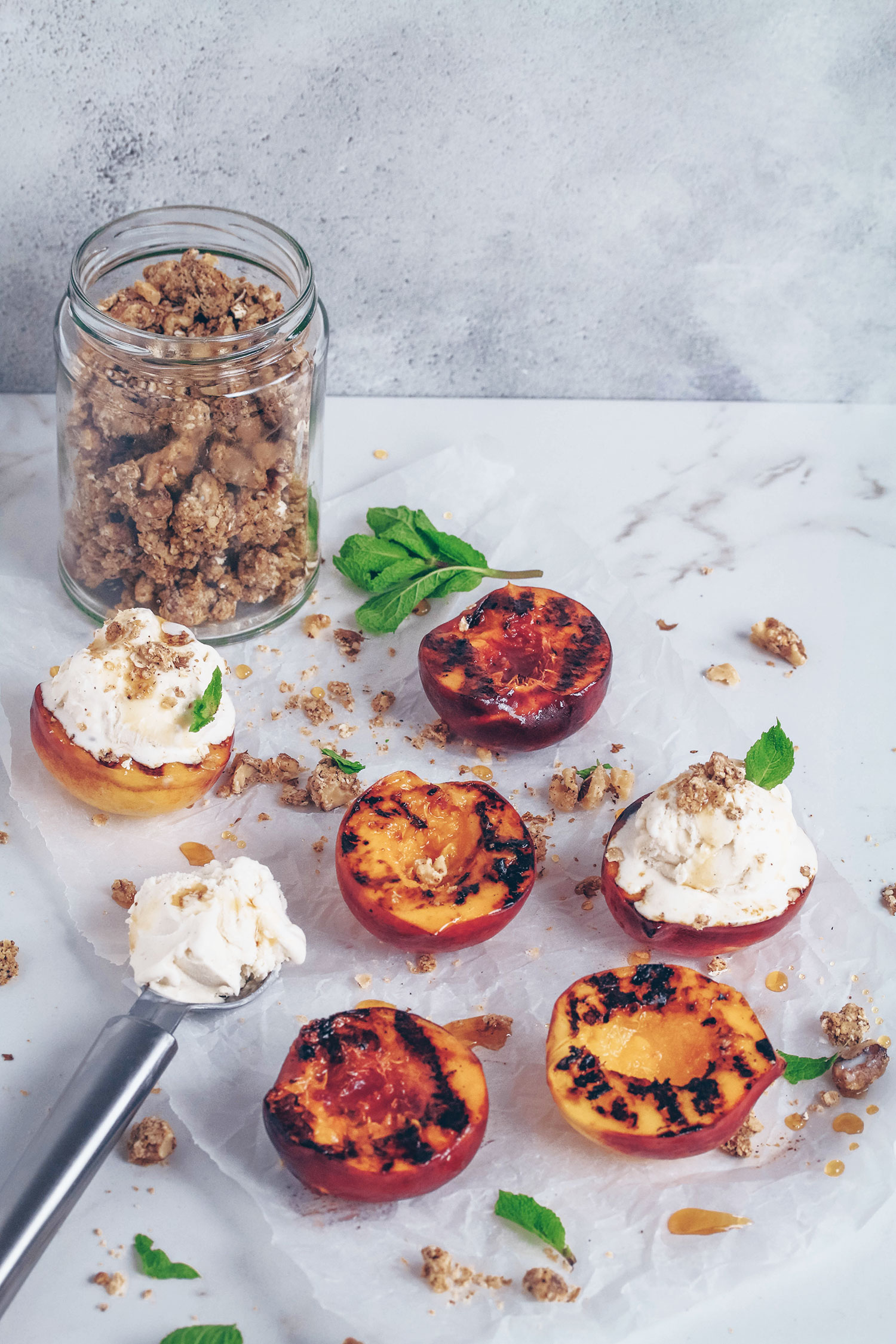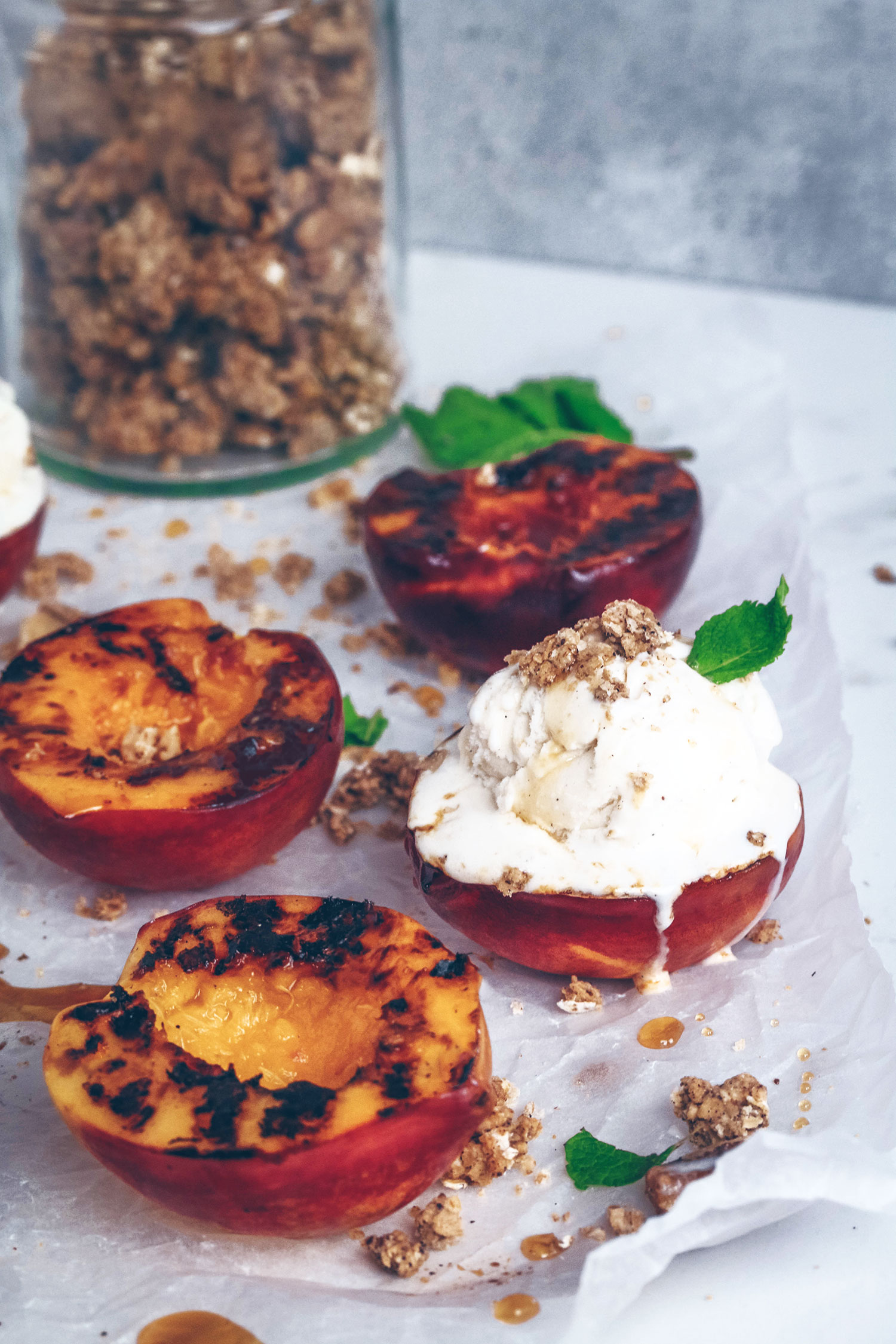 Thanks to Tesco for sponsoring this post. Commissioned posts is how I'm able to continue working on the blog and creating recipes/recipe videos for you. As always, all opinions are my own.