Gluten-free Vegan Chickpea Calzone
Bread, pastries and anything with a crust have always been favourite kind of meals. I could happily live on toast (spread with avocado, nut butter, jam…etc), sandwiches (with different fillings) or pizza in all forms! I've always had a love hate relationship with things like pies, pastries and pasties because to me, they're some of the most delicious things on earth! But my digestive system was never too keen.
When I'm having a bad day, I don't crave things like stews, curries, pasta…etc, I always want something flour based! When I'm stuck for dinner ideas, my go-to recipe for a while has been my gluten-free chickpea pizza because it's just so easy to make and my stomach doesn't give me a hard time each time I eat it.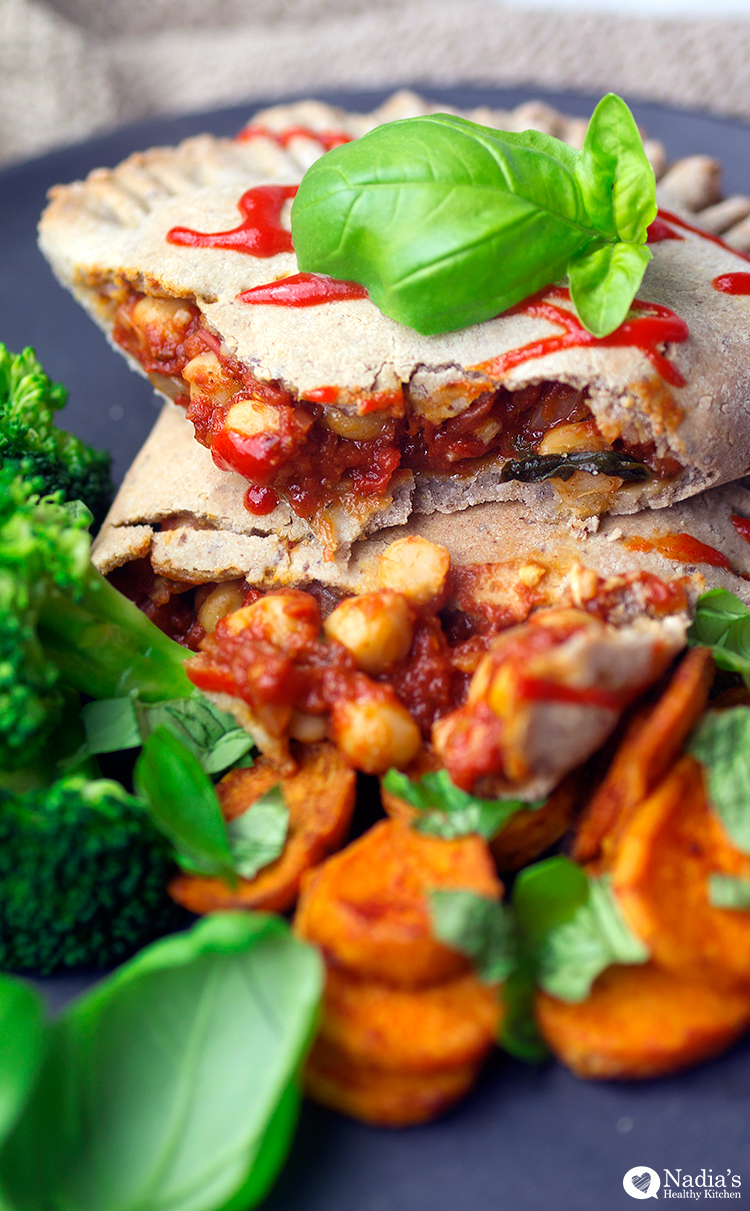 Recently I've been craving Calzone, and even though I've only had it 2 or 3 times in my life, I think the idea of a pizza with even more dough is genius! Kind of like a pizza sandwich, two of my favourite things combined in one, how could I NOT like it!?
I kept the filling really simple and used chickpeas in an Italian style tomato sauce. I was going to add vegan cheese but completely forgot about it when I was assembling them. They still turned out really delicious anyway, but you always have the option of adding cheese to make it even more scrumptious 😀
These gluten-free vegan chickpea Calzones are so much healthier compared to traditional calzone – higher in fibre, lower in saturated fat since there is no meat or cheese, but contain good fats from the ground almonds. Using chickpeas offers a healthy source of plant-based protein. To make them even better, they're also completely vegan and gluten-free!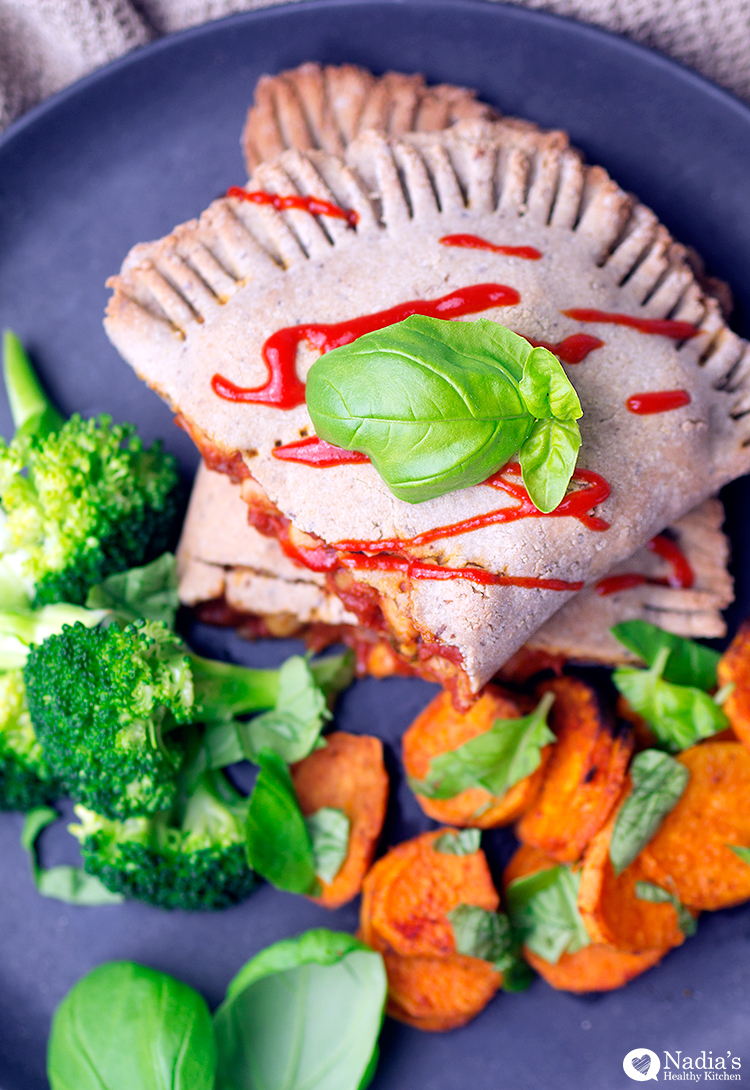 Gluten-free Vegan Chickpea Calzone
2016-04-11 17:54:47
Serves 4
Base
Preheat your oven to 220*C (200*C fan assisted)/425*F
Make the flax egg by mixing the flaxseed with 3 tbsp hot water. Leave for 10 minutes to form.
Mix the flour, ground almonds, salt and baking powder in a large bowl.
Add in the flax egg, olive oil and water. Kneed until you have a dough that holds together but is not too sticky. Add more water as needed.
Filling
Make the filling by sautéing the onion for 5 minutes on a medium/low heat. Add the garlic and chickpeas and continue cooking for another minute. Pour in the chopped tomatoes and add the tomato puree, balsamic vinegar, pesto, black pepper, chilli flakes and crumble in the vegetable stock, or mix it with a couple of table spoons of hot water to help it dissolve first. Mix everything and cook until the mixture thickens.
Assemble
You have the option of making 2 large calzones or 4 smaller ones. I made 2 big ones but I thought they were way too big for 2 servings so I would recommend making 4 small calzones.
Divide the dough into 2 or 4 balls. Roll out on a floured surface into a circle about a 1/4″ thick. transfer onto a baking tray covered with parchment paper.
Spoon some of the mixture onto one half of the dough and then fold the other half on top.
Seal the edges by pressing them down with the back of a fork and prick a few holes on top of the calzone.
Bake for 15-20 minutes or until the top turns golden brown.
Decorate with a drizzle of sriracha and fresh basil. Enjoy on the side of sweet potato fries and steamed broccoli.
Notes
Nutritional information (estimated per serving)
Calories: 317 kcal
Protein: 9.6 g
Fat: 18.3 g
Carbs: 33 g
Fibre: 7.2 g
UK Health Blog - Nadia's Healthy Kitchen https://nadiashealthykitchen.com/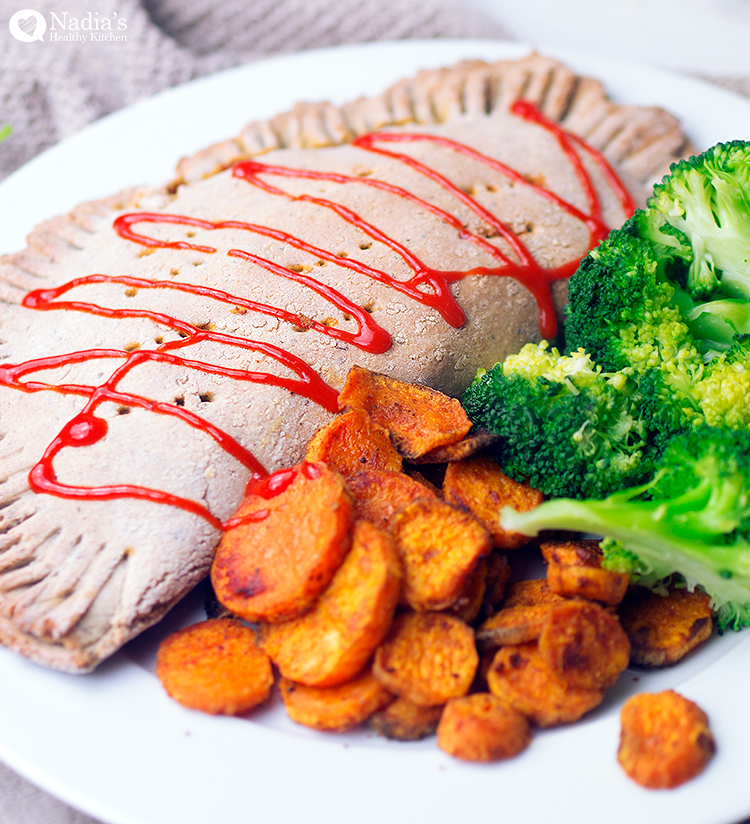 If you liked this gluten-free vegan chickpea Calzones recipe, you will also like this gluten-free chickpea pizza recipe.
**This post contains amazon affiliate links, if you click one of the links and purchase something I'll get a small amount from amazon to help keep Nadia's Healthy Kitchen going**
Share This Post