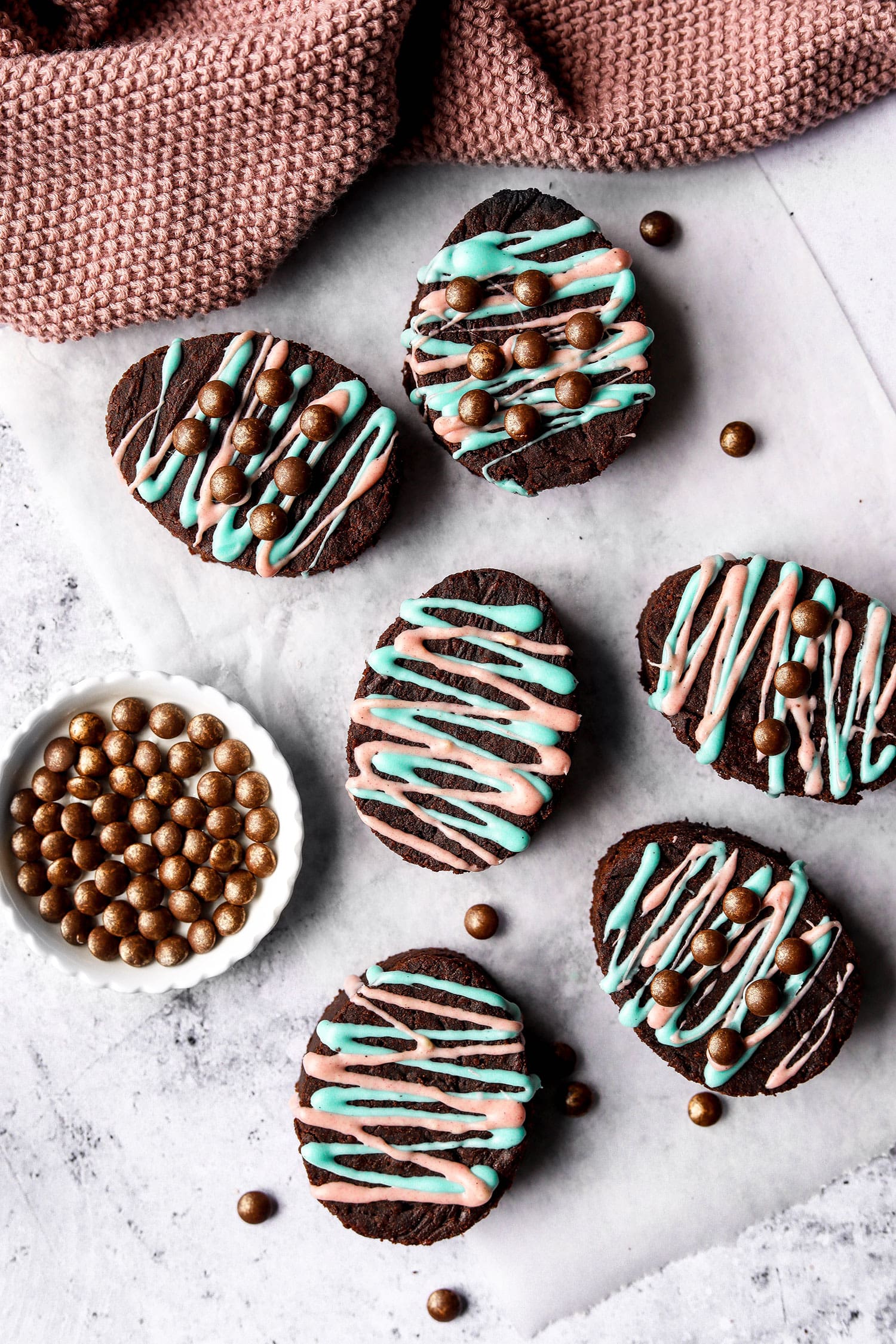 It's often difficult to make bakes that are both vegan and gluten-free. Vegan bakes usually work best with plain wheat flour and gluten-free bakes need eggs to make the recipe work. So it can be a struggle to tick both boxes and still end up with something yummy with the right texture and consistency.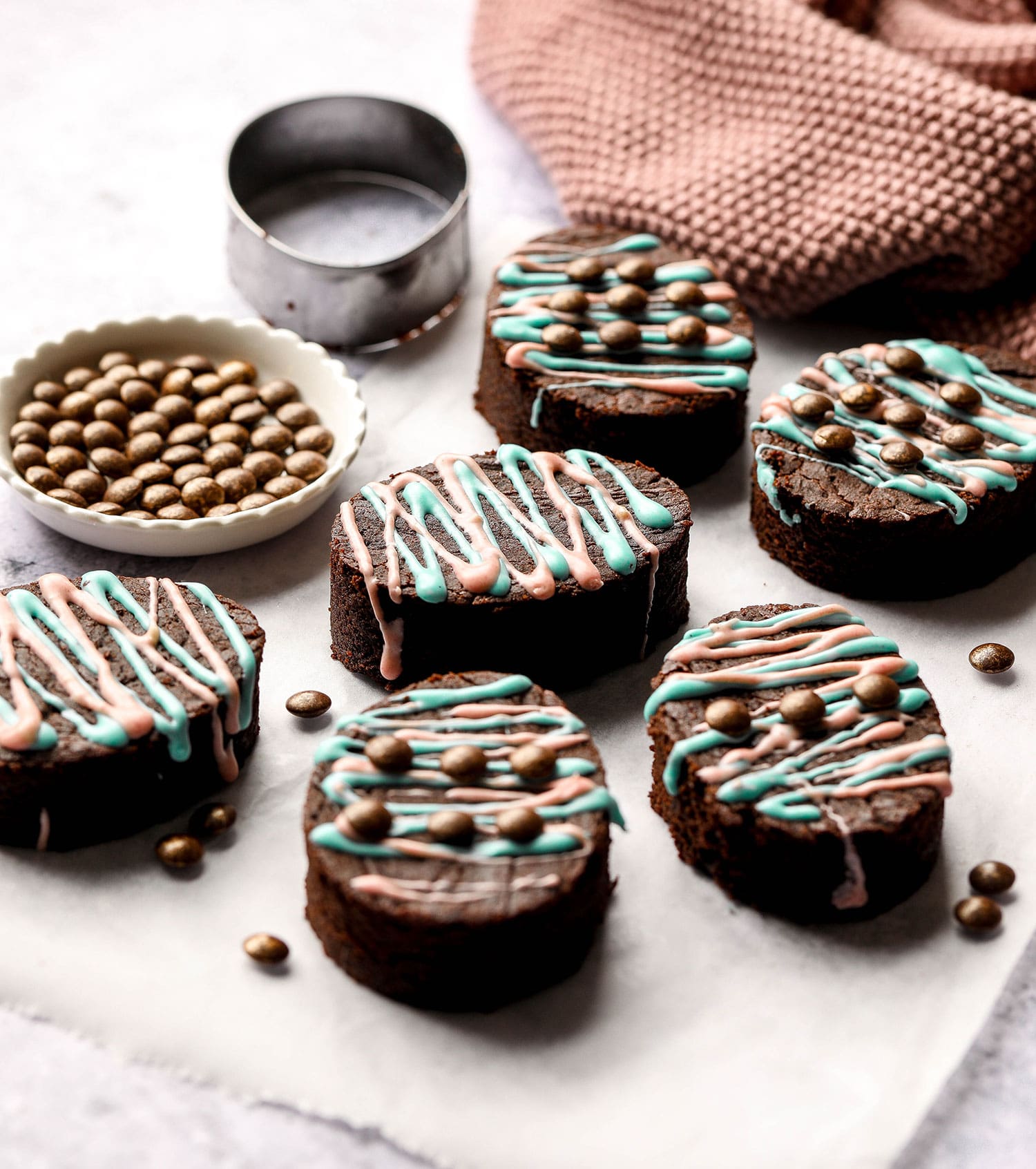 Not only have I managed to make these brownies both vegan AND gluten-free, I've also made them using only 6 main ingredients! They're delicious, especially when topped with a vegan white chocolate drizzle.
If you're looking for an easy Easter bake that's both vegan and gluten-free (it's also nut-free!), then you need to try these brownies! I added some food colouring to the white chocolate to create a blue and pink drizzle to make it look more like an Easter egg.
I used FREEE white plain flour to make them gluten-free. Their flours are definitely my go to when I need to use a plain flour for my gluten-free bakes.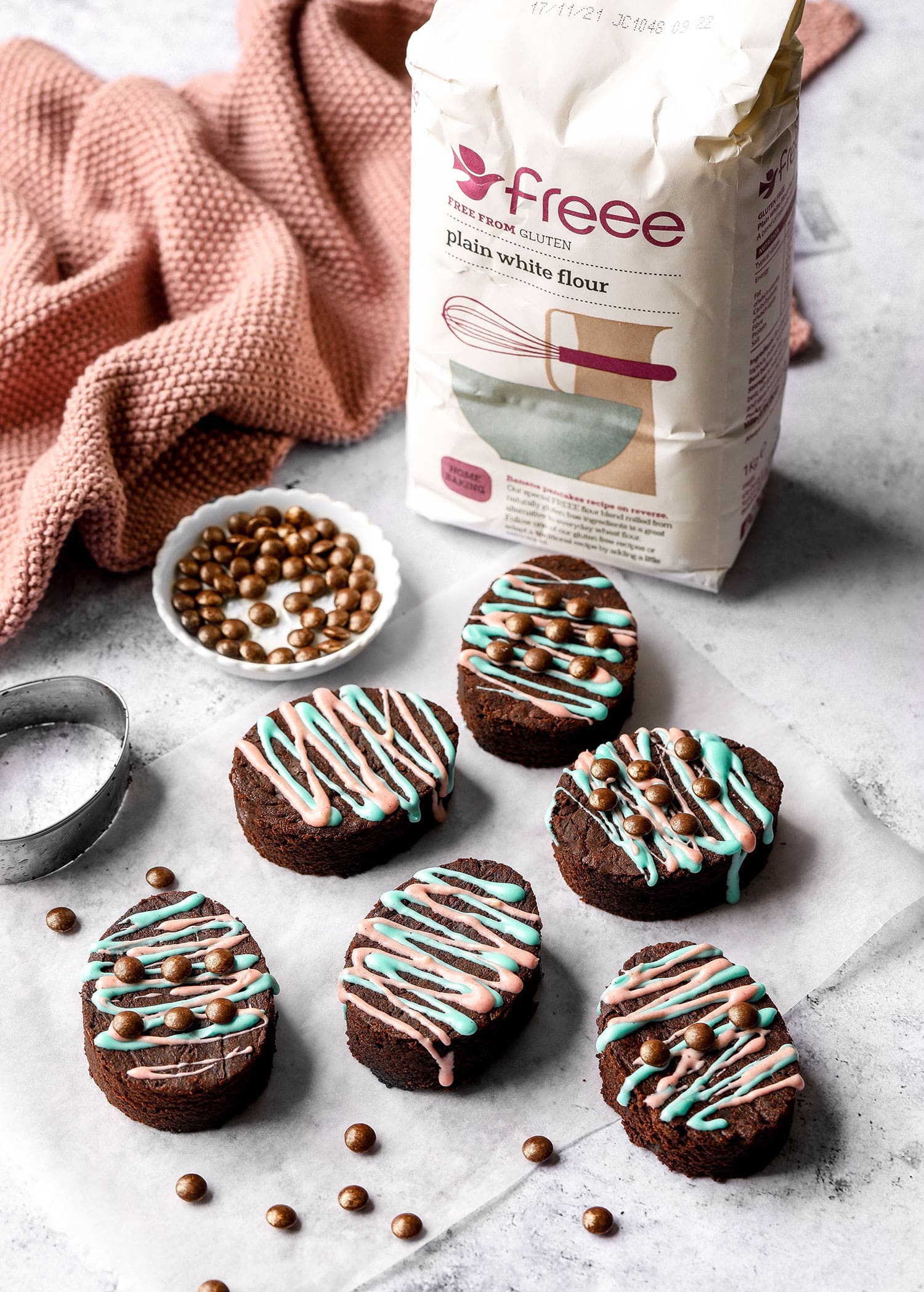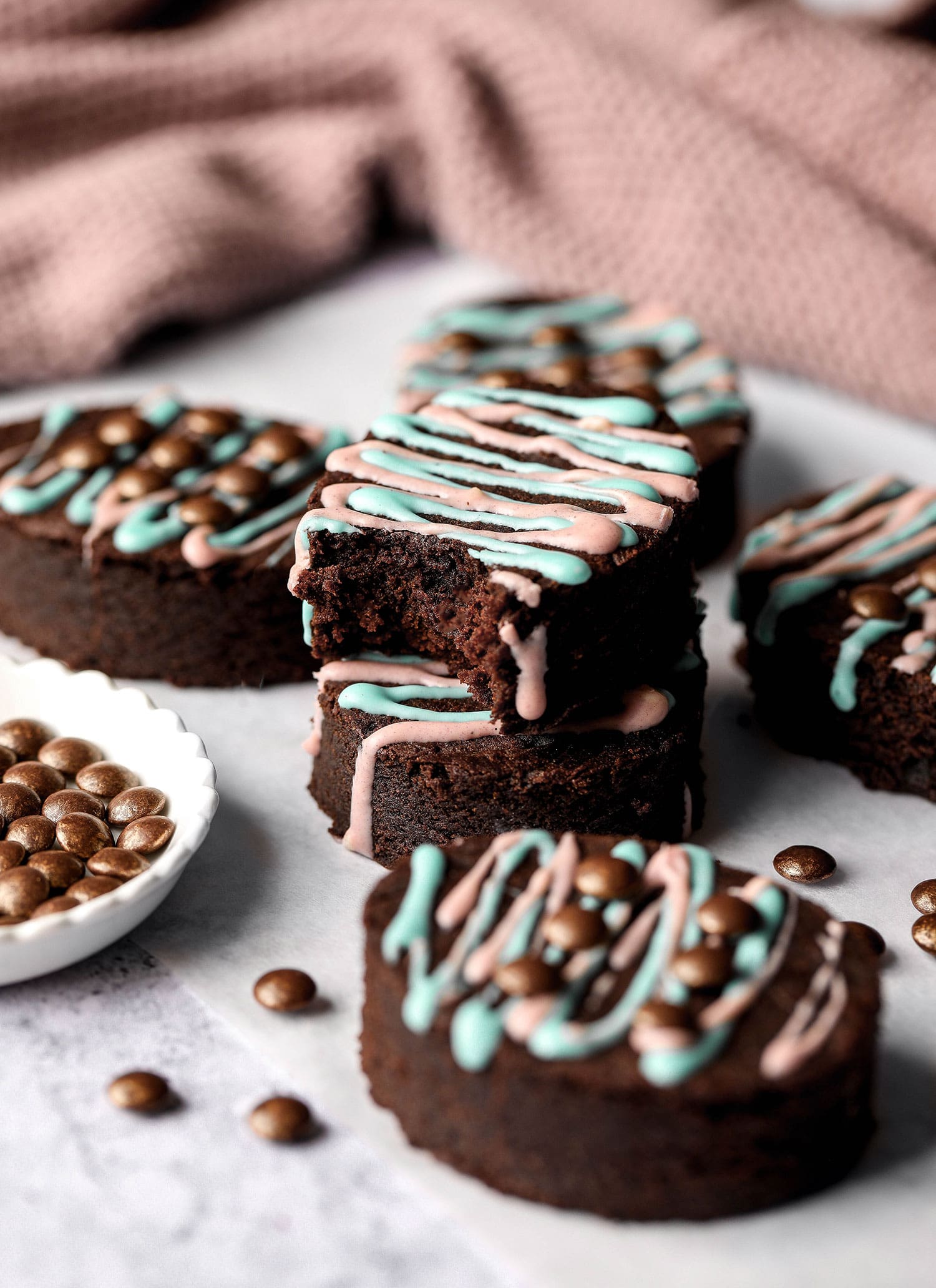 Easter Egg Brownies (Vegan & Gluten-free)
Ingredients
170g FREEE gluten-free white plain flour
50g cocoa powder
80g brown sugar
1/4 tsp salt
185ml plant milk of choice, warmed
140g coconut oil, melted
For the decoration
100g white chocolate, divided
Red food colouring
Blue food colouring
Method
Pre-heat your oven to 180C/160C fan.
Add the flour, cocoa, sugar and salt to a large bowl. Mix to combine.
Warm up the milk by pouring it into a heatproof bowl/mug and heat in the microwave for a few seconds (cold milk will solidify the coconut oil making it harder to mix the batter and spread in the tin), then pour into the batter along with the melted coconut oil. Mix, then transfer into a lined 8" cake tin. Bake for 20 minutes, then leave to cool completely.
Once the brownies have cooled completely, use an egg shaped cookie cutter to cut out egg shaped brownies.
To make the white chocolate piping – break up 100g of white chocolate and divide between 2 separate heat-proof bowls. Melt in the microwave (keeping an eye on it to make sure it doesn't burn!), then stir in a drop of red food colouring in one of the bowls, and blue food colouring in the other. Add more, one drop at a time, until you have the desired colour.
Transfer into piping bags/nozzles with a small nozzle tip and decorate. Alternatively you can just use a spoon and drizzle the melted chocolate on top.
Enjoy!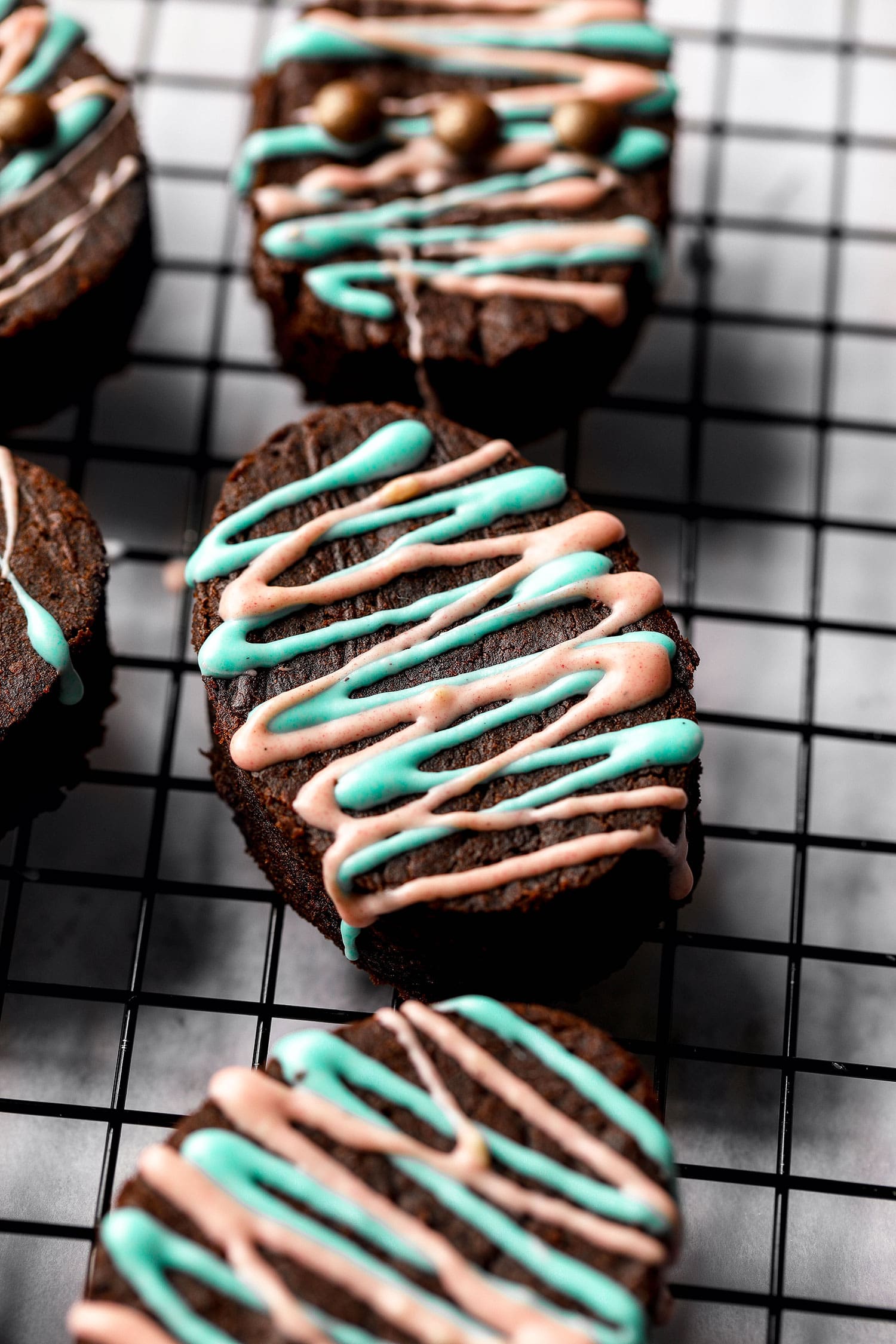 Share This Post