These courgette tofu fritters make a great speedy dinner option, lunch or high protein snack. I usually serve them with roasted vegetables and a side of hummus (for even more protein and plant goodness!).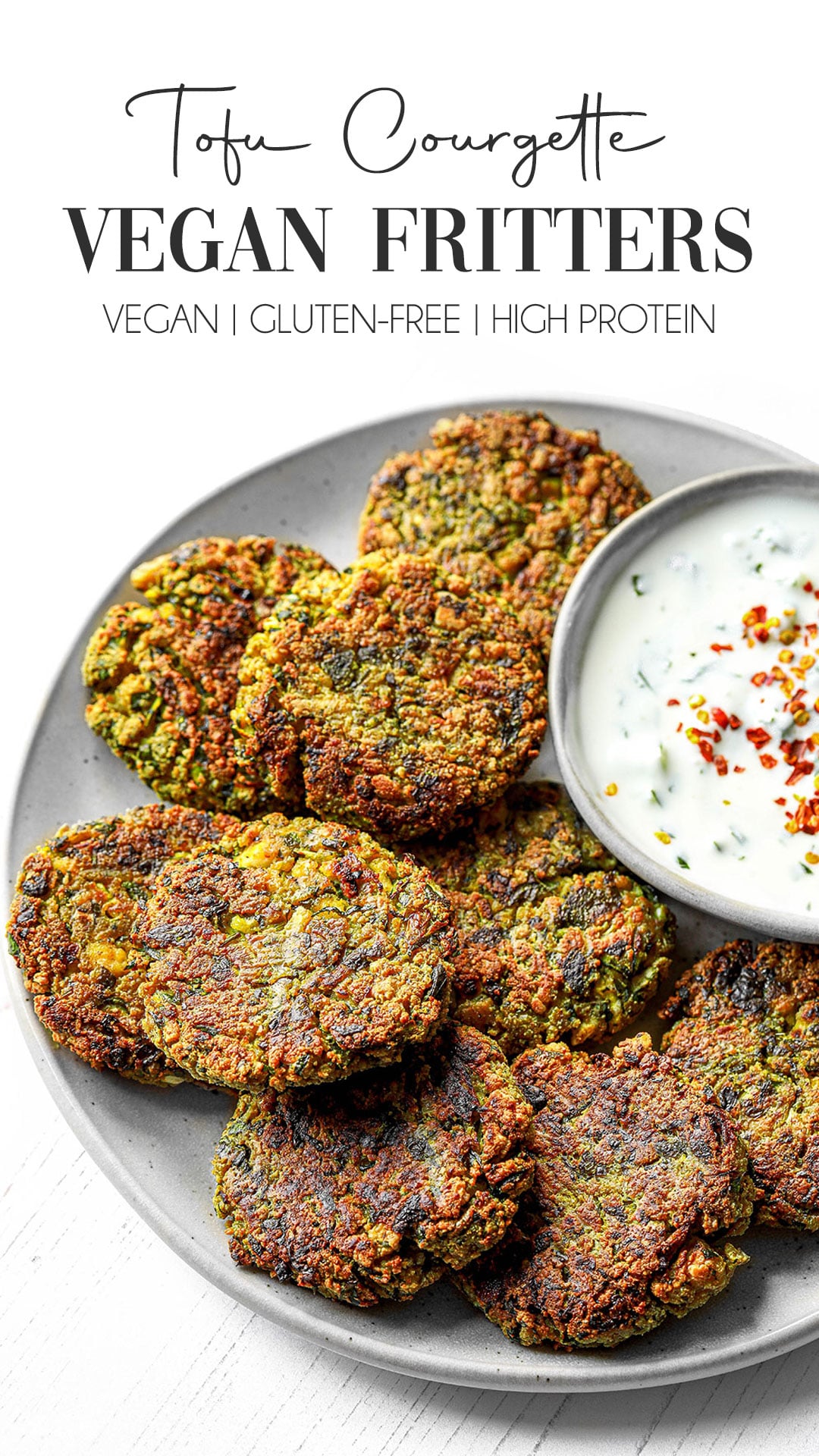 I'm always looking for new, tasty and fun ways to use tofu. It's such a great plant-based protein option and can easily be flavoured with anything you like. It usually gets a bad rep for being boring, but when using the right flavourings (things like spices, garlic, fresh herbs, etc.) and enough of them, you can turn it into so many tasty and nutritious dishes.
Tofu is a complete protein source, meaning it contains all nine essential amino acids that the body cannot produce on its own. Protein is essential for building and repairing tissues, supporting immune function, and maintaining muscle mass.
It's also rich in essential minerals like calcium (when set in calcium), iron, magnesium, and phosphorus.
Each one of these courgette fritters contains 6g protein. I usually include 4 if I'm having them as part of a main meal (that will give me 24g of protein!) or 2-3 fritters if I'm eating them as a snack in between meals. They're an easy (and tasty) way to bump up your protein intake to make sure you get enough throughout the day.
I prefer pan-frying mine as the frying process adds extra flavour, but you can bake them if you prefer. Just bear in mind they will take longer to cook in the oven.
If you like this recipe, you may also enjoy these Middle Eastern tofu kebabs, which are also high in protein and packed with flavour!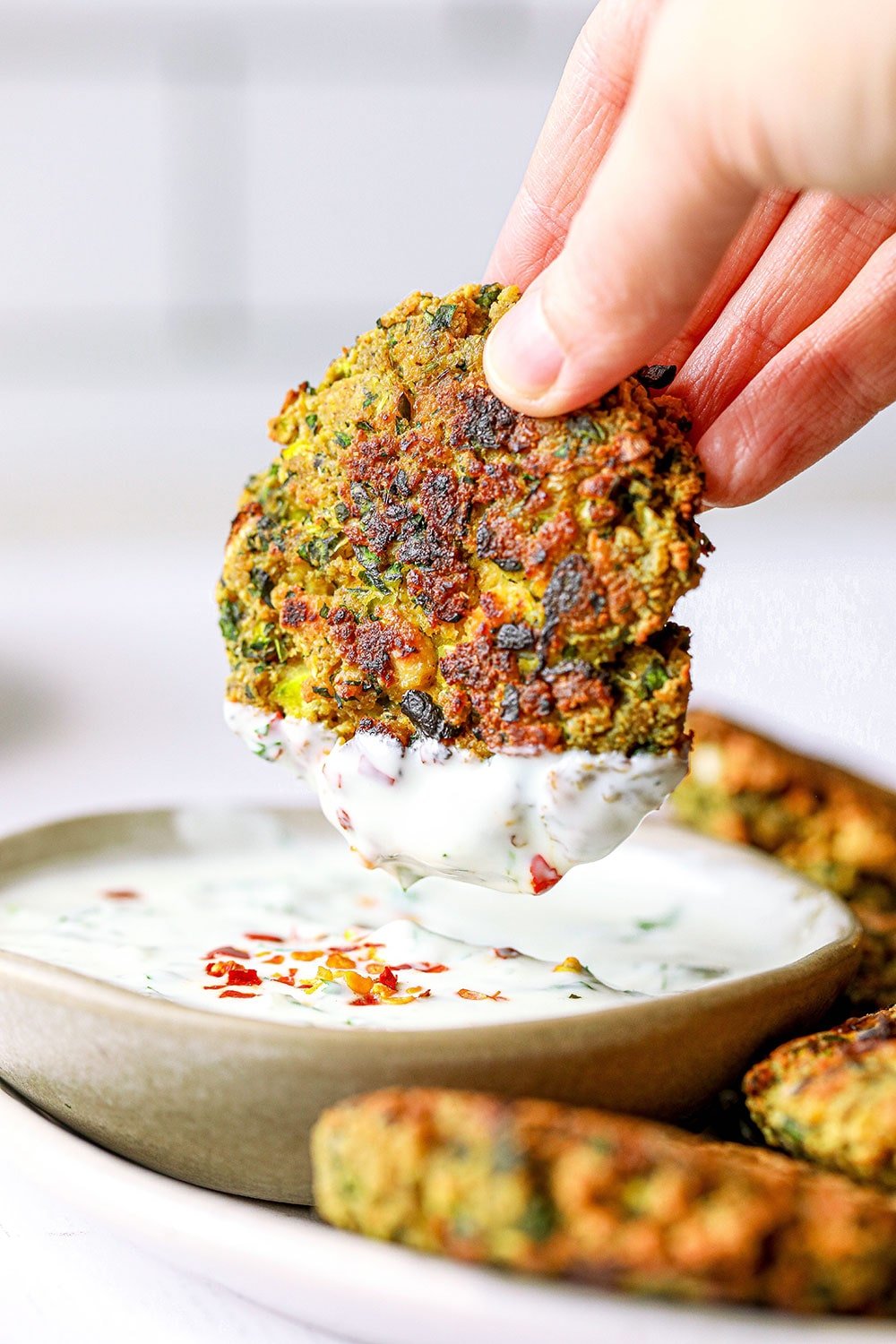 What you need to make these courgette tofu fritters:
Tofu – you'll need firm tofu so the fritters can hold their shape. Some brands of tofu need pressing before you can use them – I use the variety that doesn't require pressing. Make sure you follow the pack instructions for preparation instructions before following this recipe.
Courgette – courgettes contain a lot of water, so you'll need to squeeze out as much excess water as you can to help the fritters have a firmer texture with more bite. You can also use other vegetables if you prefer like carrots, sweetcorn, broccoli, etc.
Onions & garlic – both have strong and distinctive flavours that can enhance the taste of almost any dish. They really are the backbone to most savoury recipes. Even when a recipe doesn't traditionally call for garlic or onions, I usually add them in anyway.
Spices – I used a lot of spices to give these courgette tofu fritters as much flavour as possible. Spices like turmeric, cumin, coriander, garam masala and chilli powder. You can change the spices around and use whatever you like/have available.
Fresh herbs – I love the taste of fresh herbs, especially parsley and coriander. They add a lovely bright green colour, but also a fresh flavour that balances out all the spices. Of course they're also packed with nutrients and antioxidants, so why not!
Flour – I used chickpea/gram flour instead of plain flour for more protein and to make the recipe gluten-free. You can use plain flour if you prefer.
Salt & pepper – also used to enhance all the flavours.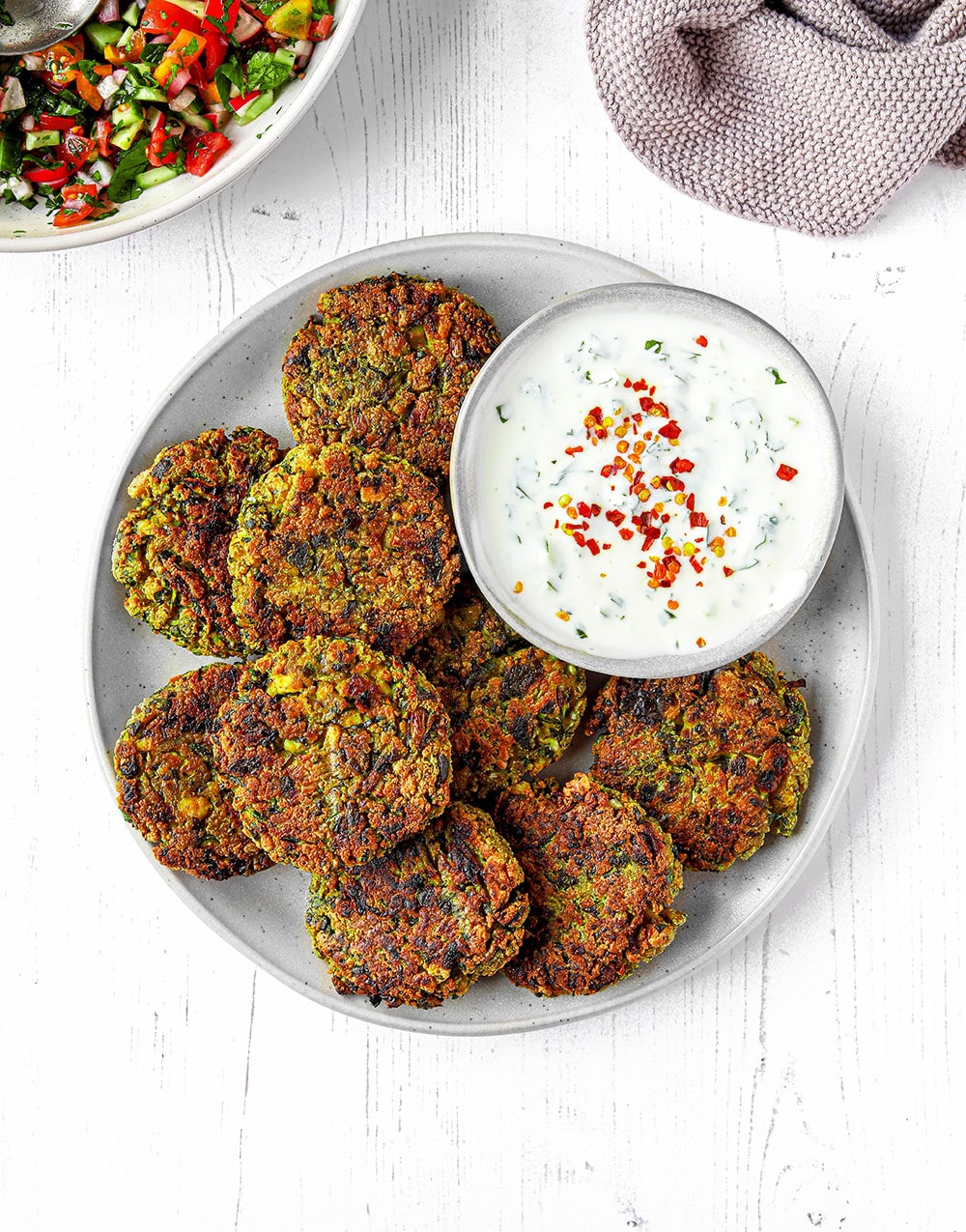 These courgette tofu fritters are:
Vegan
Dairy-free
Gluten-free
Egg-free
Nut-free
High in protein
A source of calcium
Easy to make
Quick to prepare
Great for dinner, lunch, breakfast or a snack!
Super tasty!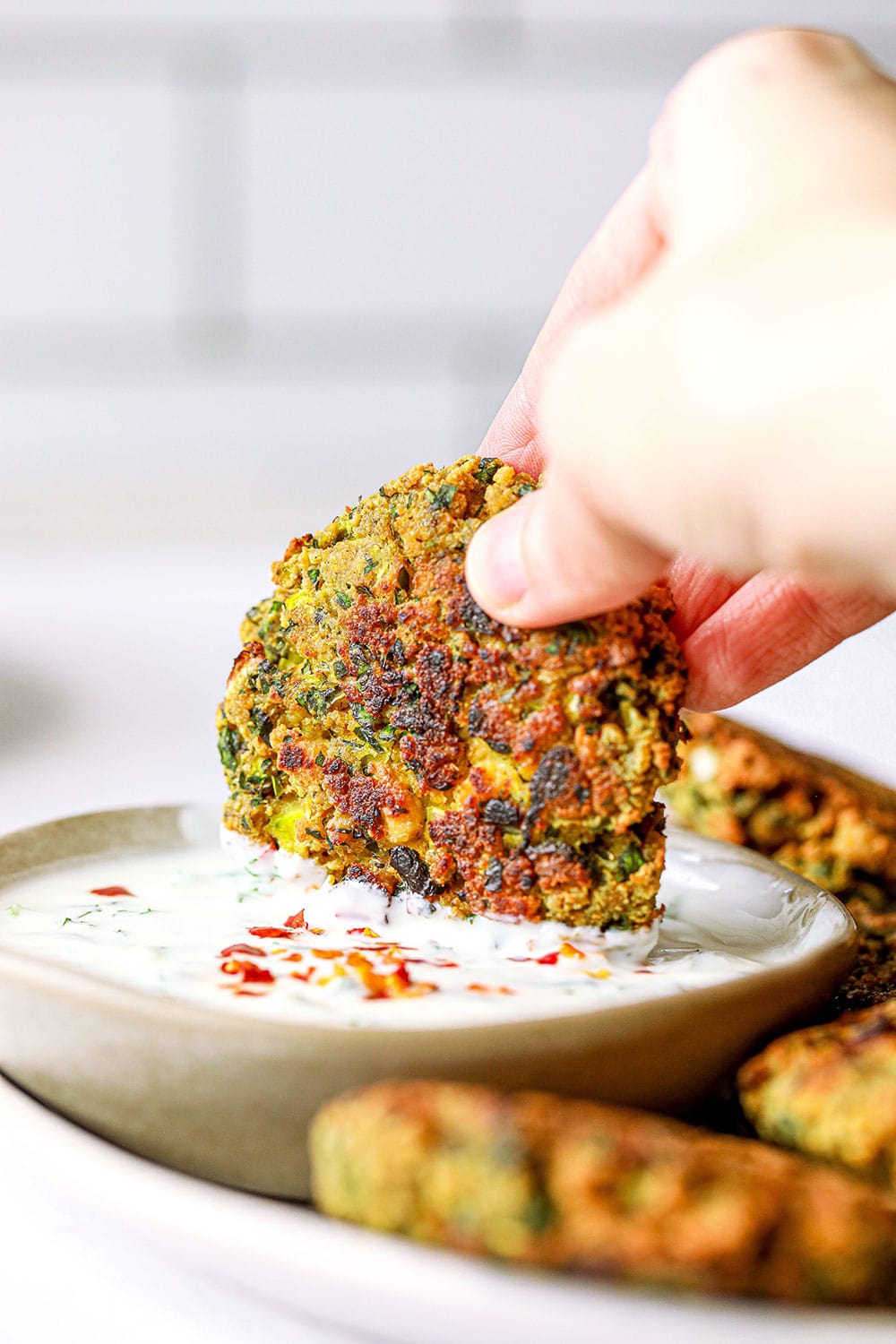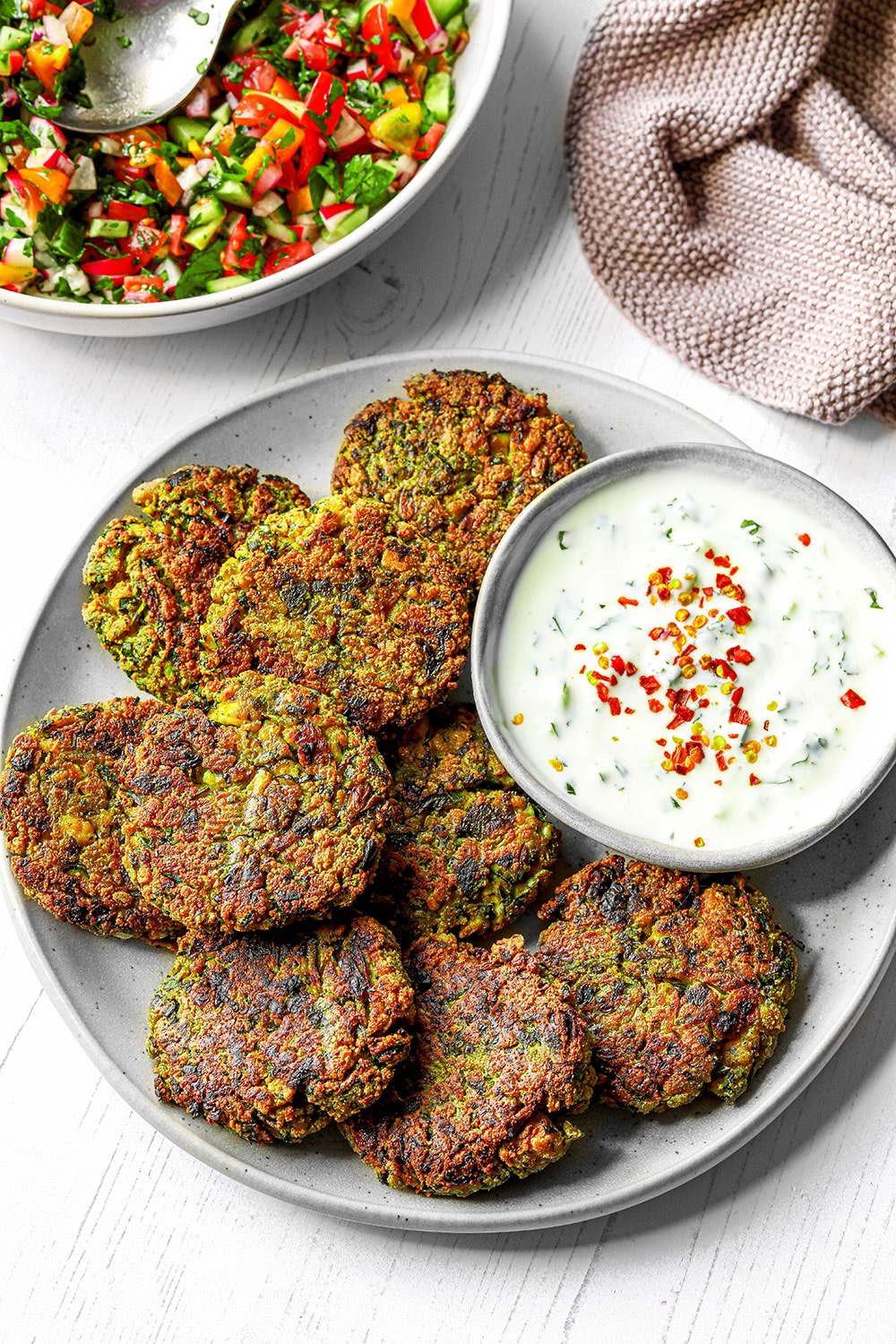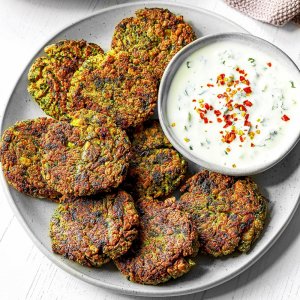 Courgette Tofu Fritters
These courgette tofu fritters make a great speedy dinner option, lunch or high protein snack. I usually serve with with roasted vegetables and a side of hummus (for even more protein and plant goodness!).
Ingredients
280g

firm tofu*

200g

courgette

grated

1/4

white onion

finely chopped

2

garlic cloves

minced

15g

fresh parsley

finely chopped

15g

fresh coriander

finely chopped

1

tsp

salt

1

tsp

cumin

1

tsp

coriander

1/2

tsp

turmeric

1/2

tsp

chilli powder

1/2

tsp

garam masala

1/4

tsp

black pepper

50g

chickpea flour*

Oil for frying
Instructions
Use a clean muslin cloth to squeeze out as much water from the tofu and grated courgette as you can, then add to a large mixing bowl.

Add all the remaining ingredients and mix well. Use your hands to mash everything up together until you have a mixture that holds when shaping.

Shape into 7 patties. Heat a little bit of neutral oil in a frying pan over a medium heat and fry for a few minutes, then turn them over and do the same until golden brown and piping hot inside.
Notes
* You can use plain flour instead.
** You can also bake them in a 180C/160C fan oven for 25-30 minutes, but they won't taste as good as they do when fired!
Nutrition
Calories:
74
kcal
Carbohydrates:
7
g
Protein:
6
g
Fat:
3
g
Saturated Fat:
0.3
g
Polyunsaturated Fat:
1
g
Monounsaturated Fat:
1
g
Sodium:
351
mg
Potassium:
180
mg
Fiber:
2
g
Sugar:
2
g
Vitamin A:
432
IU
Vitamin C:
9
mg
Calcium:
70
mg
Iron:
1
mg