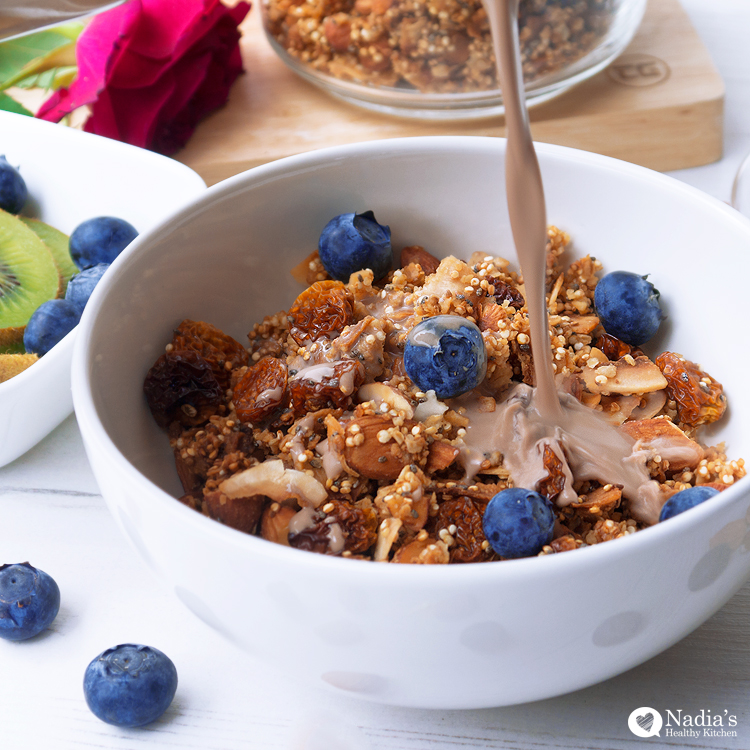 Coconut Almond Quinoa Granola
I'm not exaggerating when I say this is not only the best granola I have ever made, but also the best granola I've ever tasted! I always think it sounds big headed when someone claims their recipe is the best and everyone needs to try it so I feel a bit of a hypocrite saying this. Truth be told, I haven't actually tried many different types/brands of granola, apart from the ones I've made myself. I never like buying shop bought granola and I avoid it when out for breakfast/brunch because I know it will be full of sugar so I would rather order something like porridge or eggs!
Adding quinoa to granola bumps up the protein content but it also gives it the most wonderful crunch, and who doesn't love a bit of crunch? especially when it comes to granola. Soggy, chewy granola is not right, it's just not!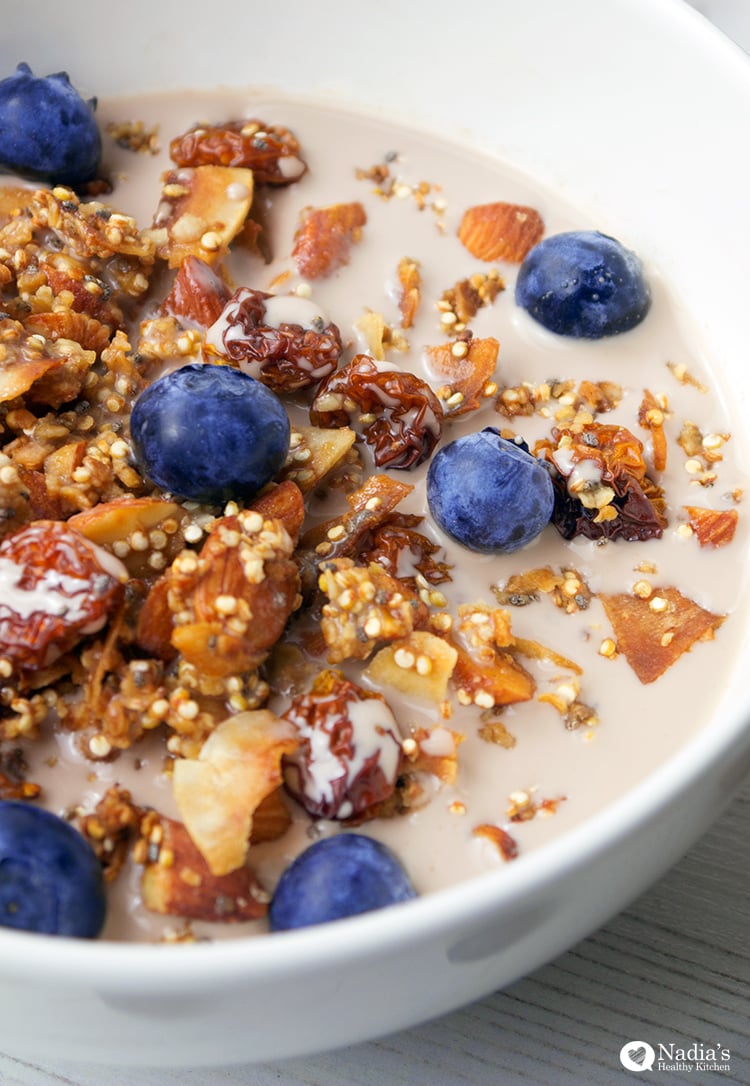 To sweeten I'm using honey. It also acts as a glue helping everything stick together into delicious clusters. If you want to keep this recipe vegan you can use other liquid sweeteners like rice syrup, date syrup…et.
This coconut almond quinoa granola is also full of healthy fats from adding coconut flakes, coconut oil, chia seeds and almonds. Fats help you feel fuller for longer so I always try to add fats to my breakfast. Whenever I eat a breakfast that consists of mainly carbs I'm guaranteed to start feeling hungry an hour later!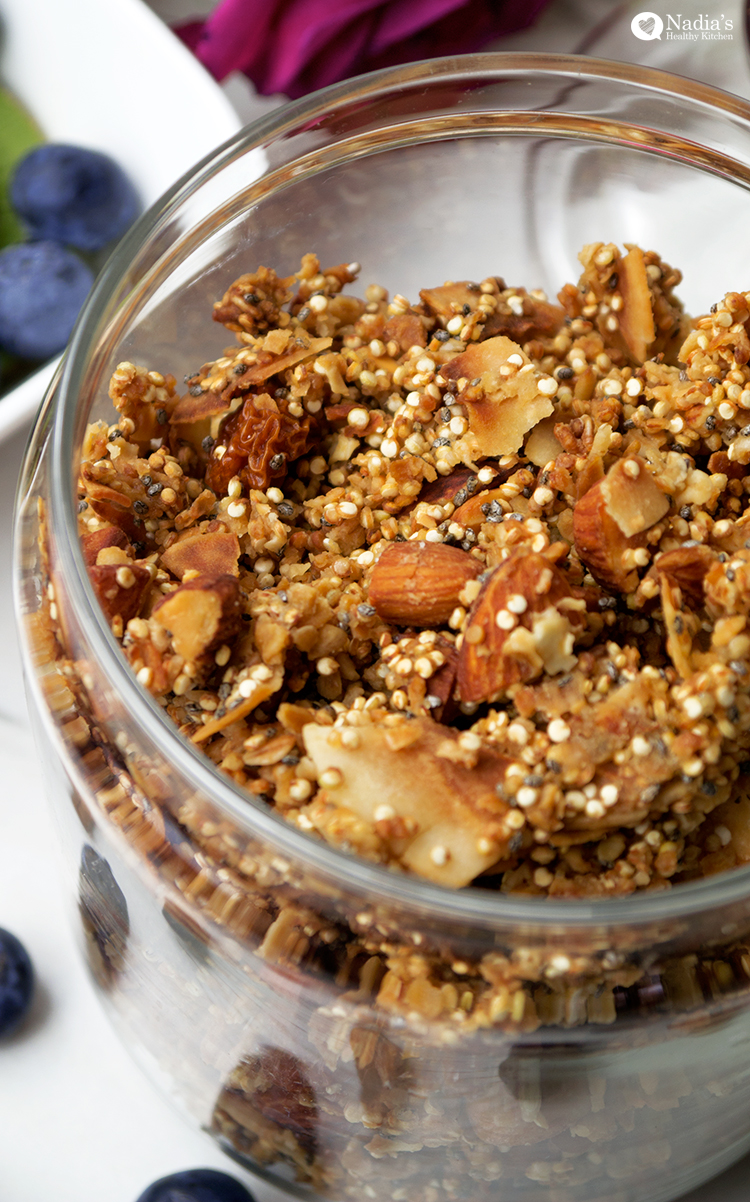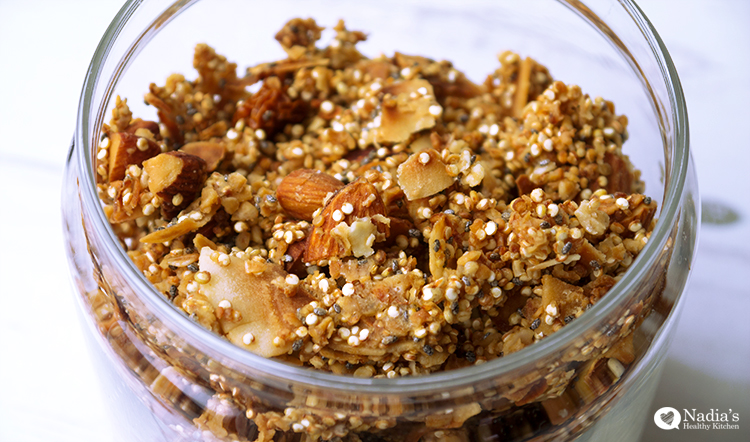 I think it's always nice to have something soft and chewy in granola to go with the crunch so I like adding some form of dried fruit. Of course it also adds extra flavour and sweetness which is always a bonus. I decided to add in some golden berries from The Raw Chocolate Company. They have quite and unusual sweet and sour flavour. To me, they also have what I can only describe as a slight buttery taste? Strange but so delicious! You can add whatever dried fruit or berries you prefer. Raisins, currents or dates would work particularly well.
One of the main things I like about granola is its convenience. You can make a big batch, store it in an air tight container and know you have breakfast sorted for the next few weeks. Very handy for days when you need a quick breakfast or snack.
This coconut almond quinoa granola would go so well with some yogurt and fruit. Layer the granola, fruit and yogurt for a beautiful parfait that you can have as a snack or even serve as a super healthy dessert! The way I like to serve this granola is by pouring a generous amount of my homemade chocolate almond milk (watch the video below to learn how to make it!) and sliced banana or berries. So good!
How to make Chocolate Almond Milk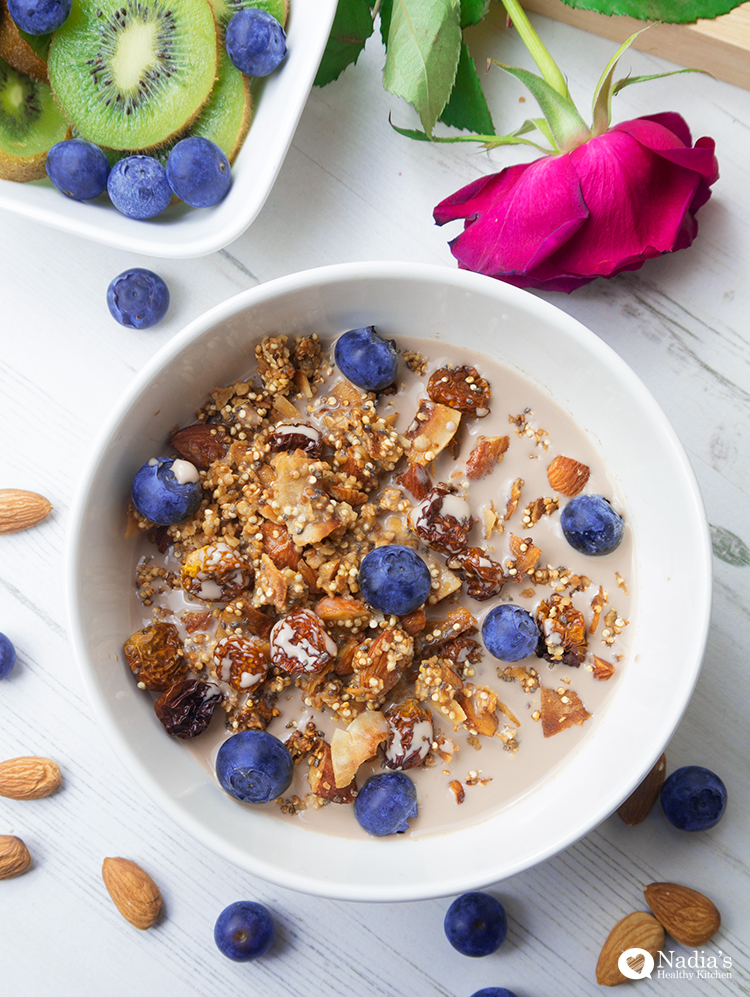 Coconut Almond Quinoa Granola
2015-08-03 19:22:48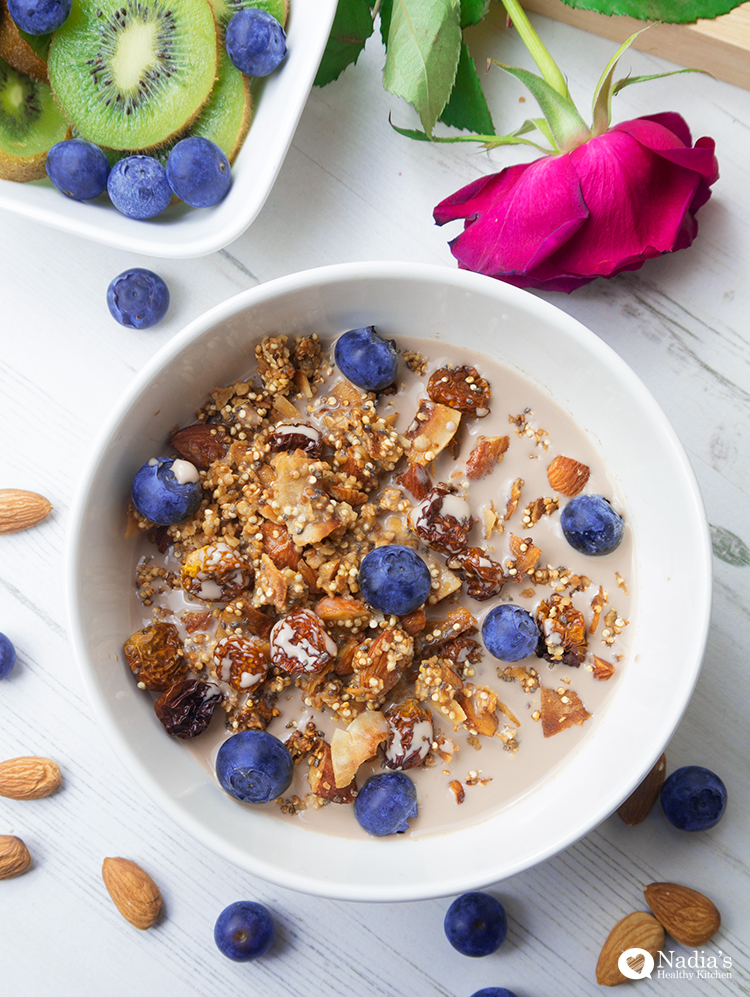 Instructions
Preheat your oven to 160*C (140*C fan assisted)/ 320*F
Rinse and drain the quinoa well.
In a large bowl, mix together the quinoa, oats, almonds, golden berries, chia seeds and salt.
Melt the coconut oil and pour it on top of the granola along with the honey.
Mix well making sure everything is well distributed and granola is evenly coated.
Cover a baking sheet or a roasting pan with parchment paper. Spread the granola mixture out in a thin layer.
Bake for around 30 minutes. Give it a quick toss every 10 minutes.
Leave to cool completely.
Enjoy!
Nadia's Healthy Kitchen https://nadiashealthykitchen.com/
If you liked this recipe, you may also like my Healthy Tahini Granola…

Want even more granola recipes?
Choc Chip Granola – by My Fussy Eater
Walnut & Honey Granola – by Casa Costello
Healthy Homemade Granola Recipe – by Eats Amazing
Homemade Granola with Nice Cream – by Nosebag NI
Pecan Maple Cinnamon Granola – by Celery & Cupcakes
Cherry Coconut & Almond Butter Granola – by Baking Queen 74
Fruit & Nut Granola – by Elizabeth's Kitchen Diary
Chocolate Granola – by Tin and Thyme
Gorgeous Granola – by Lancashire Food