Homemade Almond Milk
I'm trying to stay away from dairy as much as possible for many reasons. Dairy is acidic, causes inflammation and is linked to chronic diseases and adverse immune responses that trigger things like eczema and IBS (both of which I have!). Also, I've been reading up and watching lots of documentaries and talks about the food industry and the way animals are treated in order to meet the ever growing demand for animal products. It's been eye opening and I'm extremely appalled and in shock. How have I gone for so long without knowing about this issue? I guess like most of us, I didn't even want to know so I wouldn't feel guilty. Anyway, without getting too much into it, I made the decision to limit the amount of animal products I consume. I was never a big meat eater anyway but I've now decided not to cook meat at home and only eat it when it's offered to me whenever I'm at Family gatherings…etc.
Finding a dairy free milk substitute has been one of my biggest challenges! I love tea but only drink it with milk (black, green, rooibos, chamomile…I need a splash of milk with all!) and I can't live without my teas which means I can't live without milk (a bit of an exaggeration but you get my drift) I've tried so many milk alternatives – almond, coconut, soya, oat and hemp – and out of all of them hemp milk was by far my favourite. I like creamy milks and I find the others too watery especially when used in tea. Soya is nice but it's so heavily processed and I've read quite a few negative things about it so I don't drink it anymore.
I decided to make my own almond milk since it looked so easy to make and I was intrigued to see what the taste and texture was like comparing to shop bought. Needless to say I was pleasantly surprised by the outcome – definitely way creamier and richer than the ones I've tried from the supermarket and the great thing about making your own is that you can make it as sweet as you like and add other flavours like cinnamon, vanilla and chocolate (like I'm doing in this recipe).
How to make homemade almond milk
The basic recipe calls for raw almond and water – that's all you really need. However, to make it taste extra delicious I'm adding in vanilla, sweetener (I'm using dates but you can use any other sweetener) and a pinch of salt to enhance all the flavours.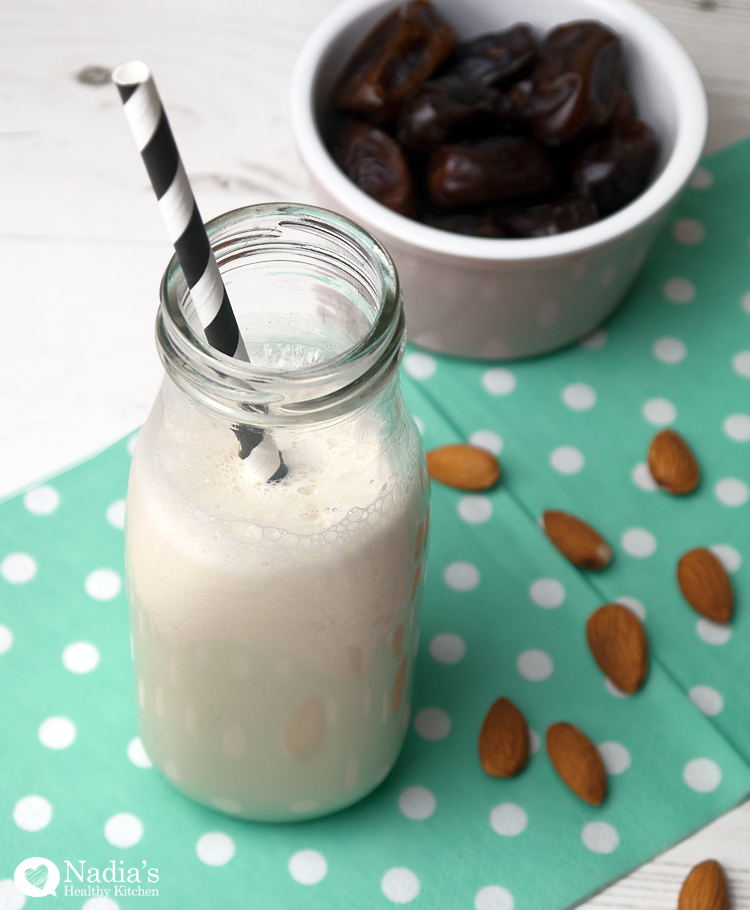 I'm also making a chocolate almond milk version – this is amazing with granola, to make porridge or just to drink on it's own. I can imagine it being a hit with kids!
I'm using my Optimum 9400 powerful blender from Froothie, it only takes 60 seconds of blending time which is amazing! You can use less powerful blenders but you may have to blend for longer and you'll have a lot more almond pulp left over.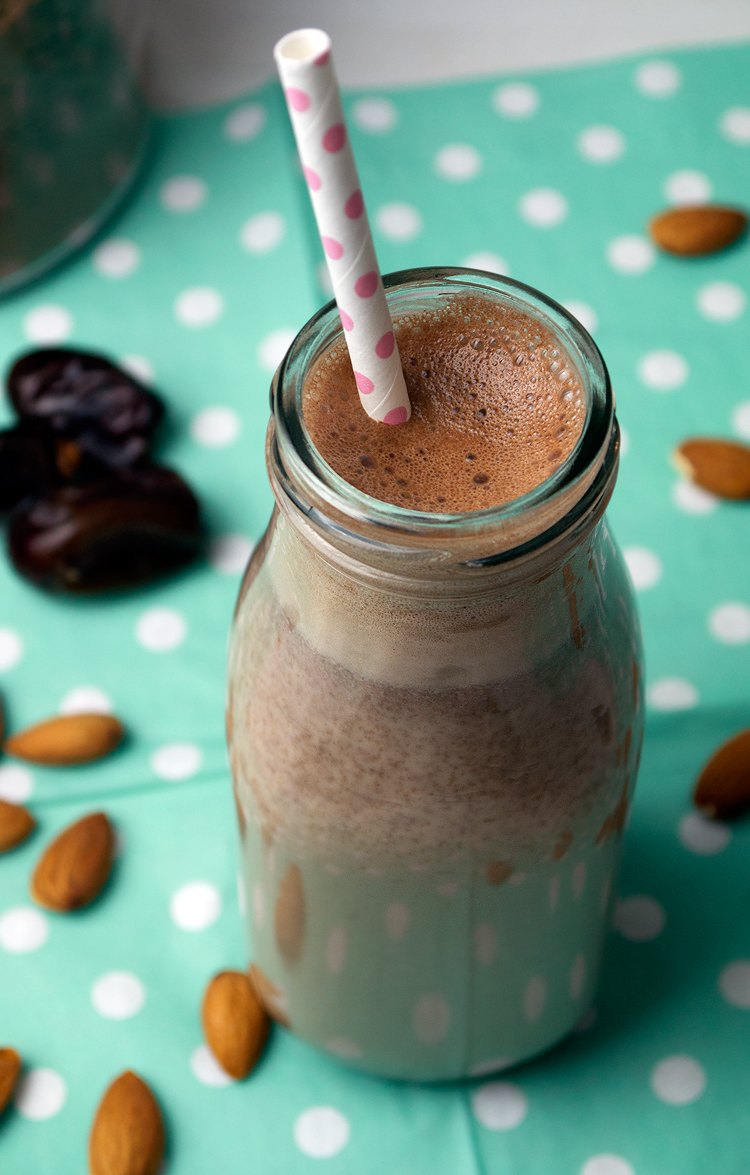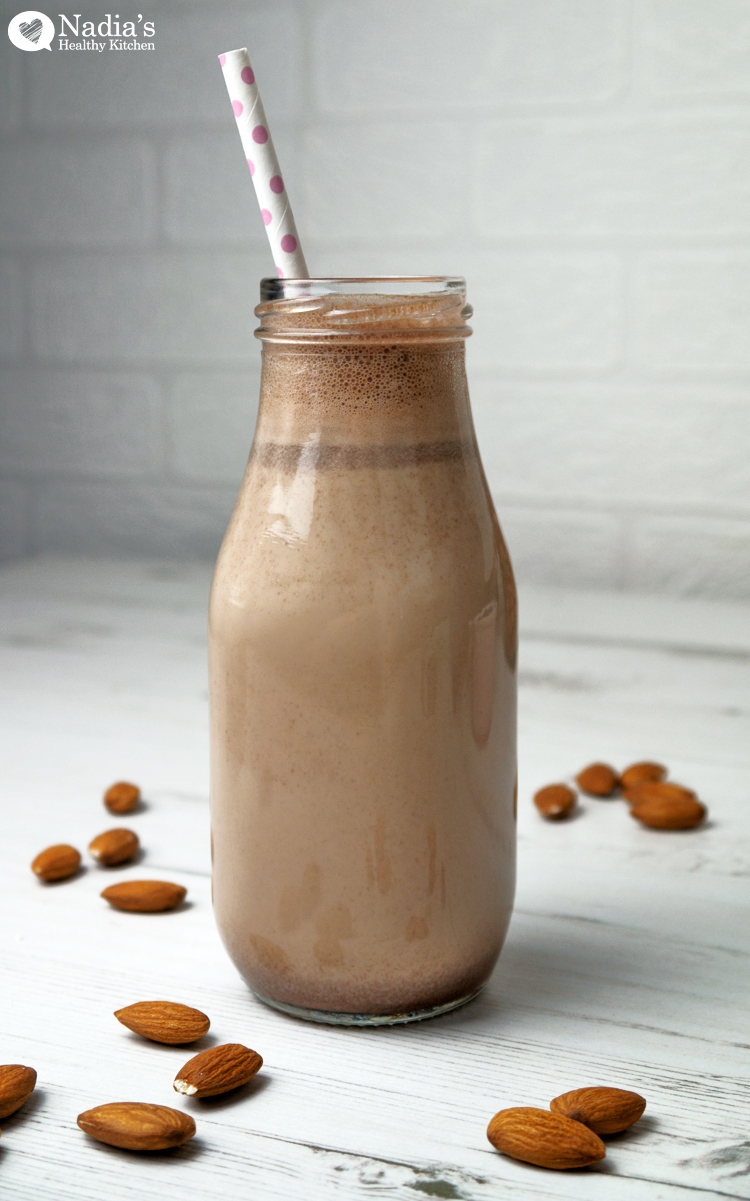 Vanilla Almond Milk + Chocolate Almond Milk
2015-06-18 11:40:38
For the vanilla almond milk
1 cup (160-170g) raw almonds
3.5 cups (700ml) filtered water
2-4 dates (more depending on the size of the date) or you can use honey, maple syrup...etc.
Pinch of salt
1/2 tsp vanilla paste (or 1 tsp vanilla extract)
For the chocolate almond milk
Same as above + 2 tbsp cacao or cocoa powder
Add more dates for a sweeter chocolate milk
For the vanilla almond milk
Soak your almonds for at least 8 hours or overnight. Soaking the almonds makes them easier to digest and will result in less pulp.
In a blender (I used my Optimum 9400 powerful blender from Froothie), add the almonds, dates, salt, vanilla and water. Blend on high for a few minutes. The blending time will depend on how powerful your blender is. I use a powerful blender so I only had to blend for 60 seconds.
Using a nut milk bag or a fine strainer and a large bowl - pour your milk into your nut milk bag and start squeezing the milk out. Try to get as much of the milk out as possible.
Store your milk in the fridge and consume within 3 days.
For the chocolate almond milk
Same directions as above but add the cacao/cocoa powder and the extra dates if using any.
Nadia's Healthy Kitchen https://nadiashealthykitchen.com/