Chocolate Tahini Doughnuts
I have yet another tahini recipe for you. I just couldn't resist. It's such a delicious and nutritionally amazing ingredient that I just want to add it/drizzle it onto anything and everything! There is no doubt that I eat tahini on a daily basis, either in my breakfast in the form of a drizzle over my smoothies, mixed into my porridge, or on the side of my lunch in hummus or just drizzled over my salad/veggies.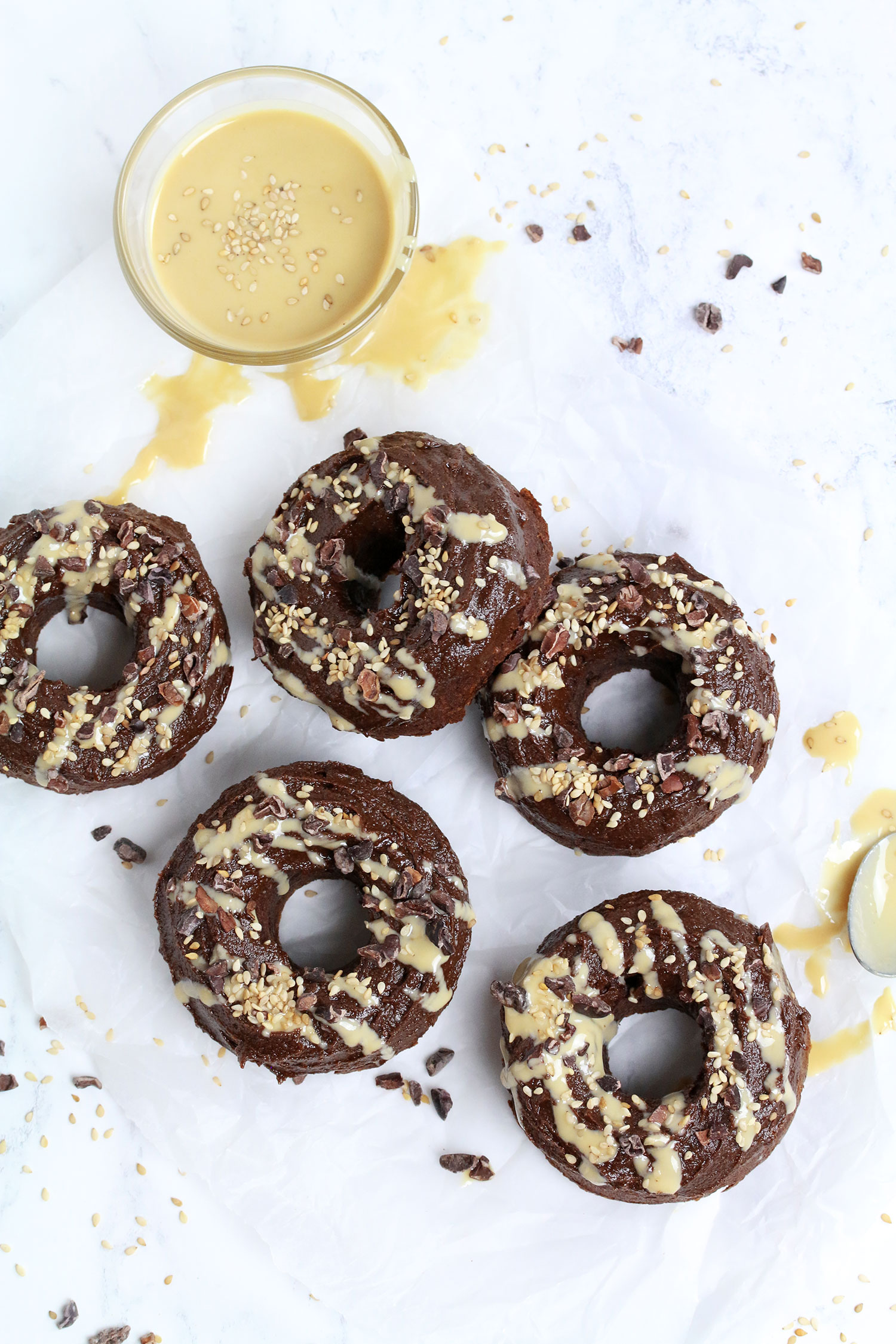 These chocolate tahini doughnuts are vegan, gluten-free and refined sugar free made using oats instead of flour, tahini instead of oil and dates instead of a refined sweetener. Not only are they much healthier than normal doughnuts, they're also super dense, fudge and so rich! Topped with a chocolate tahini frosting to make them that much more decadent. All without oil, refined flours or refined sugars. Treats really don't get much better than this!
I absolutely love dates to sweeten my desserts. They don't work in every recipe simply because of their texture and colour, but if I could I would definitely opt for dates in my recipes. Every single time!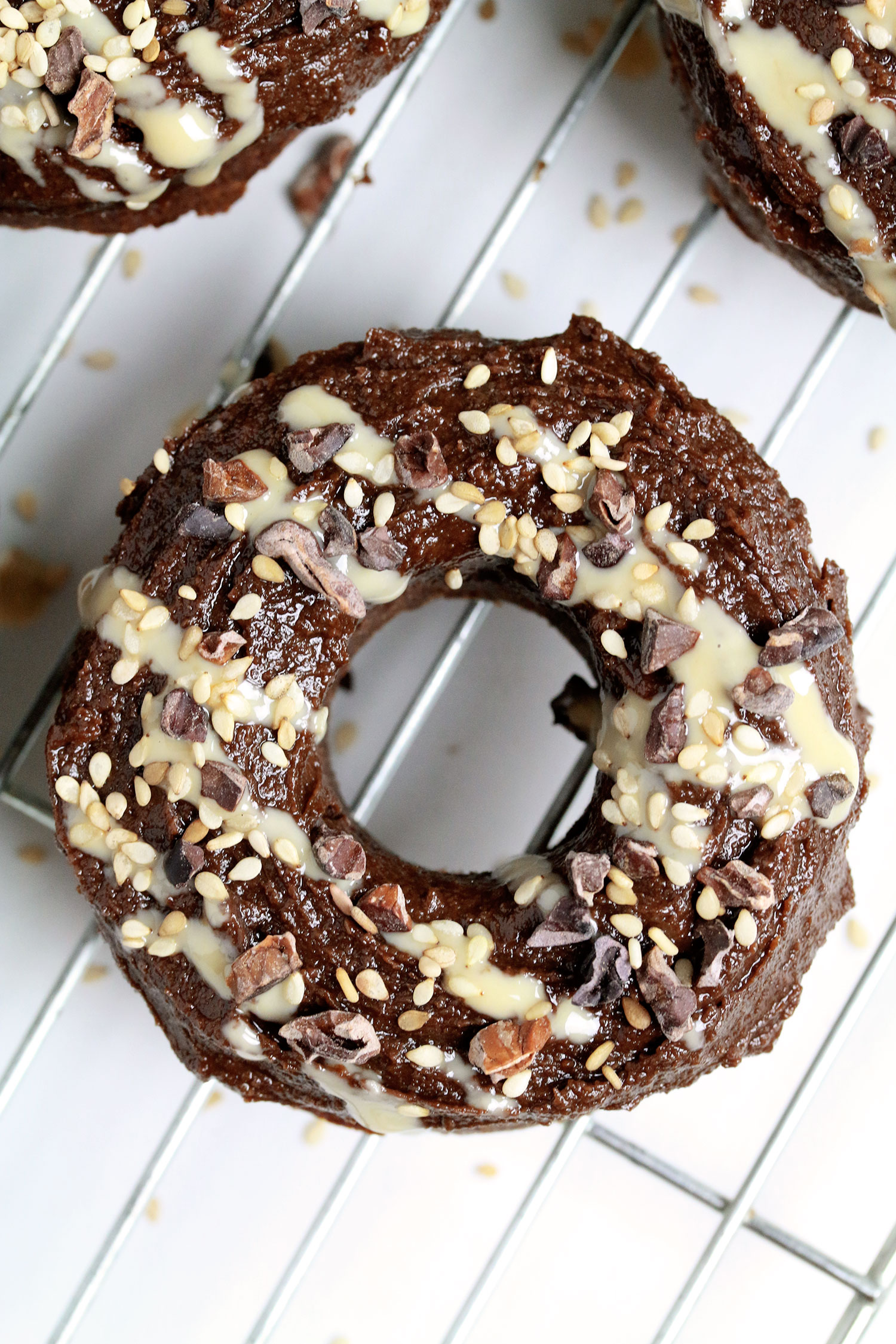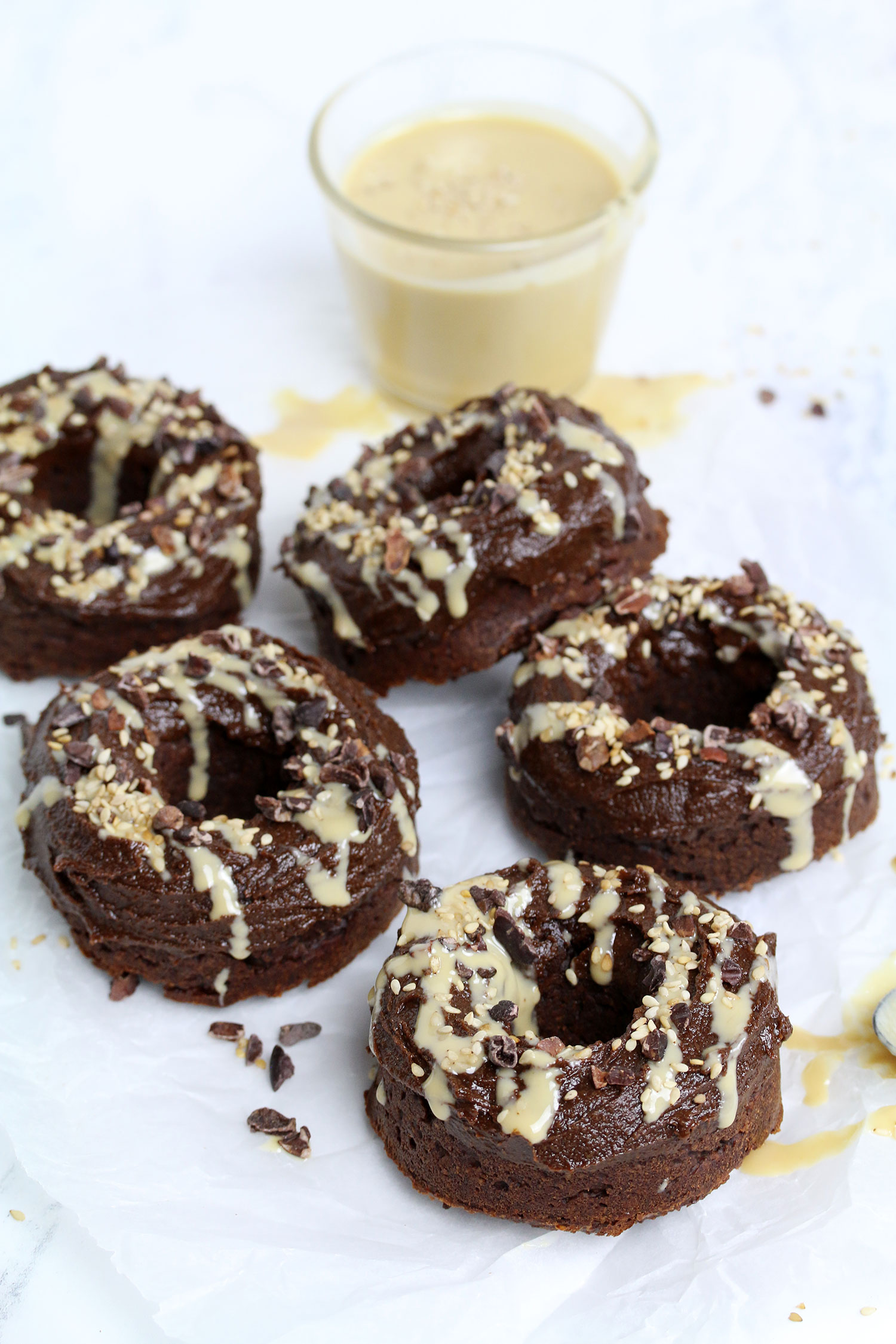 I prefer using dates to using sugar-free sweeteners. I would need to look into the long-term effect of sugar-free sweeteners to comfortably use them on a regular basis. They might not affect your insulin levels, which is good, but what else do they do in your body and what is their impact long-term? I keep meaning to look into it but, you know, life gets in the way. I do however feel it's an important topic to look into, especially now that they're being used on such a large scale. So I'll have to get onto it asap!
These chocolate tahini doughnuts would make a delicious dessert, afternoon snack or even a quick breakfast if you need something quick to grab in the morning. If I had a choice between cereal, toast or one of these luscious chocolaty treats, I know which one I would reach out for! 😀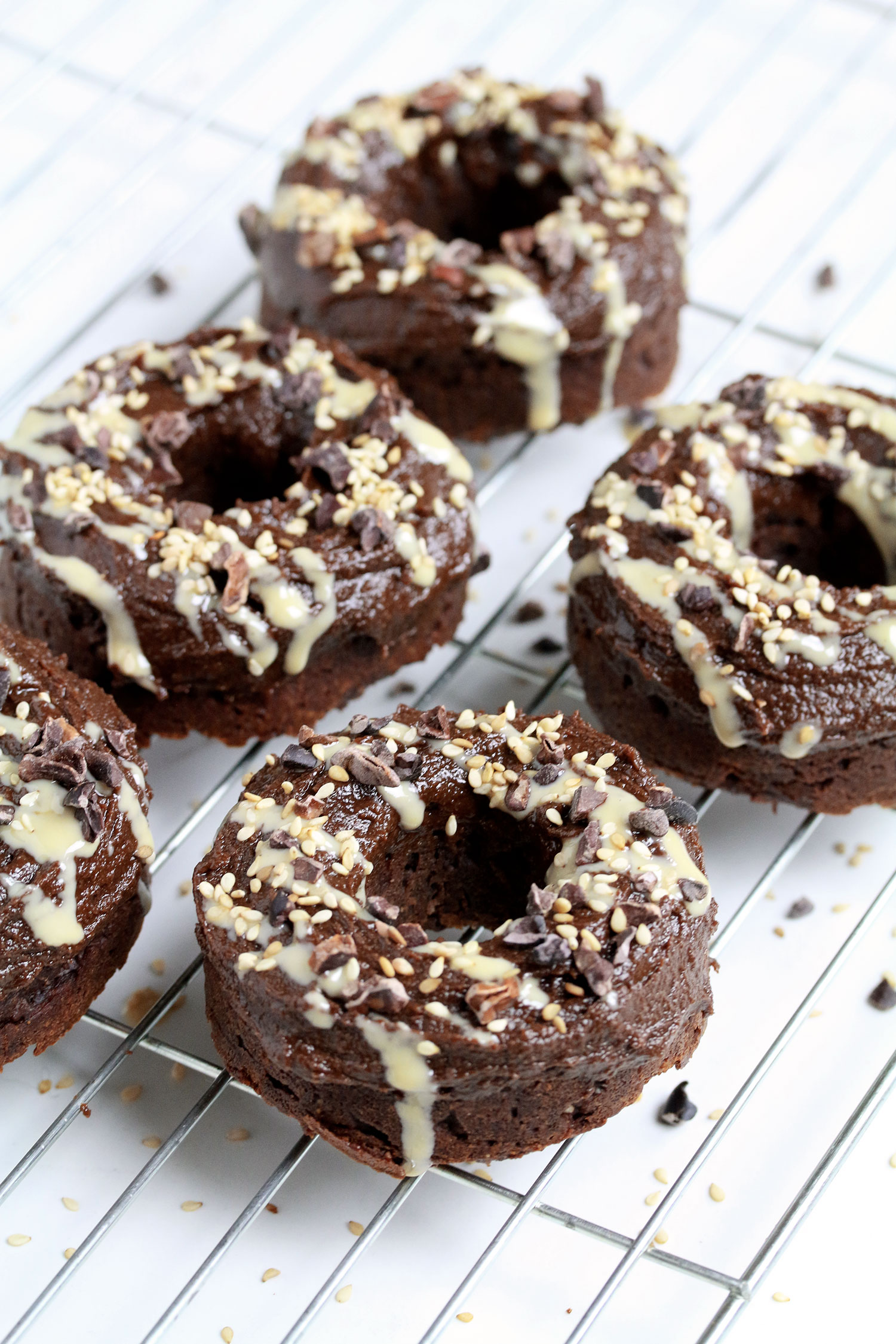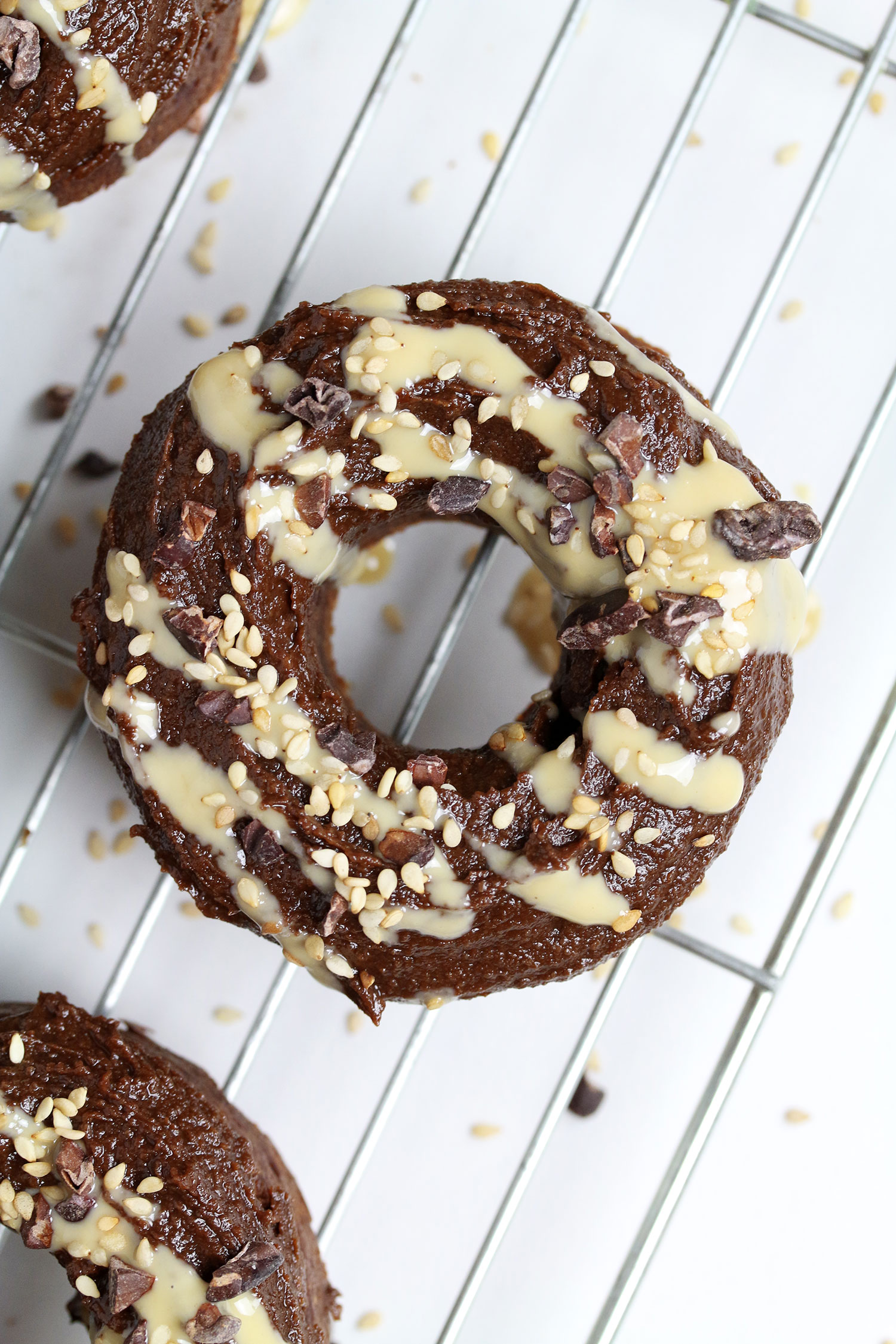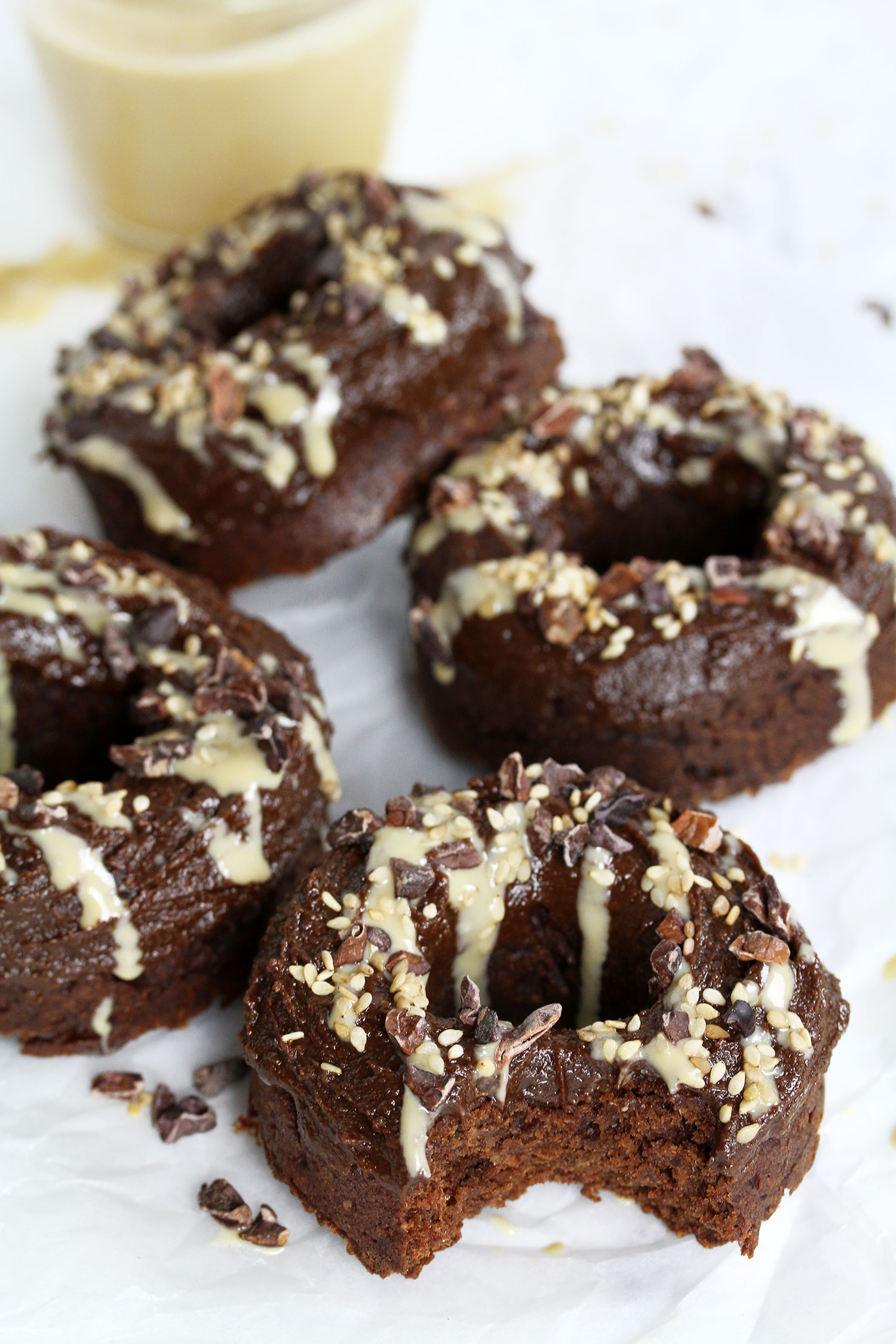 ---
Chocolate Tahini Doughnuts

Makes: 5 large doughnuts
Ingredients
1 cup (185g) soft dates
1/2 cup (120ml) milk of choice
1/4 cup (4 tbsp) runny tahini
1/2 cup (55g) oat flour – use gluten-free oats if allergic/intolerant
1/4 cup (30g) ground almonds
1/4 cup (25g) cocoa powder
1/2 tsp baking powder
1/4 tsp salt
For the chocolate tahini frosting:
1/4 cup (4 tbsp) runny tahini
2 tsp cocoa powder
2 tsp maple syrup – you can add more if you like it sweeter!
Method:
Preheat your oven to 180*C (160*C fan assisted) / 350*F.
Add the dates along with the milk and tahini to a food processor and blend until you have a smooth mixture.
Add the oat flour, ground almonds, cocoa, baking powder and salt to a large bowl. Mix to combine.
Pour the date mixture into the bowl of dry ingredients and mix.
Divide the mixture evenly between 5 doughnut moulds. I used this doughnut mould.
Bake for 20-25 minutes.
To make the frosting – mix all the frosting ingredients in a small bowl. You should end up with a smooth, glossy frosting (see video above for reference).
Dip each doughnut in the frosting and top with a drizzle of tahini and some cacao nibs for decoration.
Store in the fridge for up to 4 days.
Enjoy!
---