Cauliflower Chickpea Salad with a Turmeric Tahini Dressing
Salads are a must during the hot summer months. Especially during lunch when the sun is shining and I don't feel like having a warm, heavy meal.
This cauliflower chickpea salad is super light yet satisfying at the same time. It can be enjoyed warm or cold. I know that for some, no matter what the temperature is outside, they don't like eating cold meals, which is fine. That's why this salad is perfect as it can be eaten warm or cold, depending on your personal preference!
Served with a beautiful vibrant turmeric tahini dressing adding lots of flavour as well as a lovely and bright colour. Topped with chilli flakes for those of you who like a bit of a kick!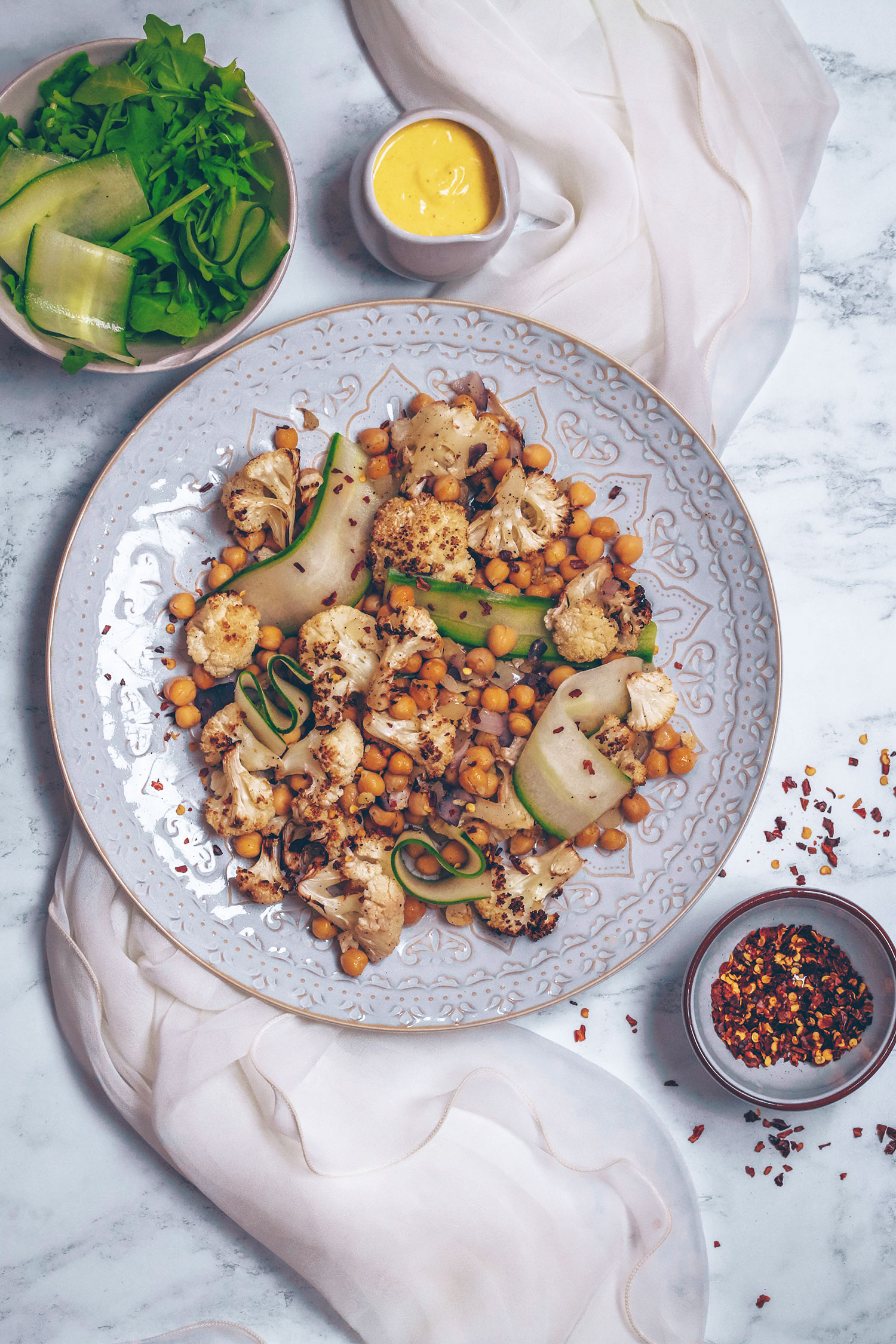 I'm a huge fan of turmeric and all the amazing health benefits it has to offer. As I mentioned in my golden turmeric milk post, I try to add it to my daily diet, either in my morning smoothies, porridge or overnight oats. If I don't manage to get my dose in early on in the day, I'll add it to my evening meals like in curries or stews.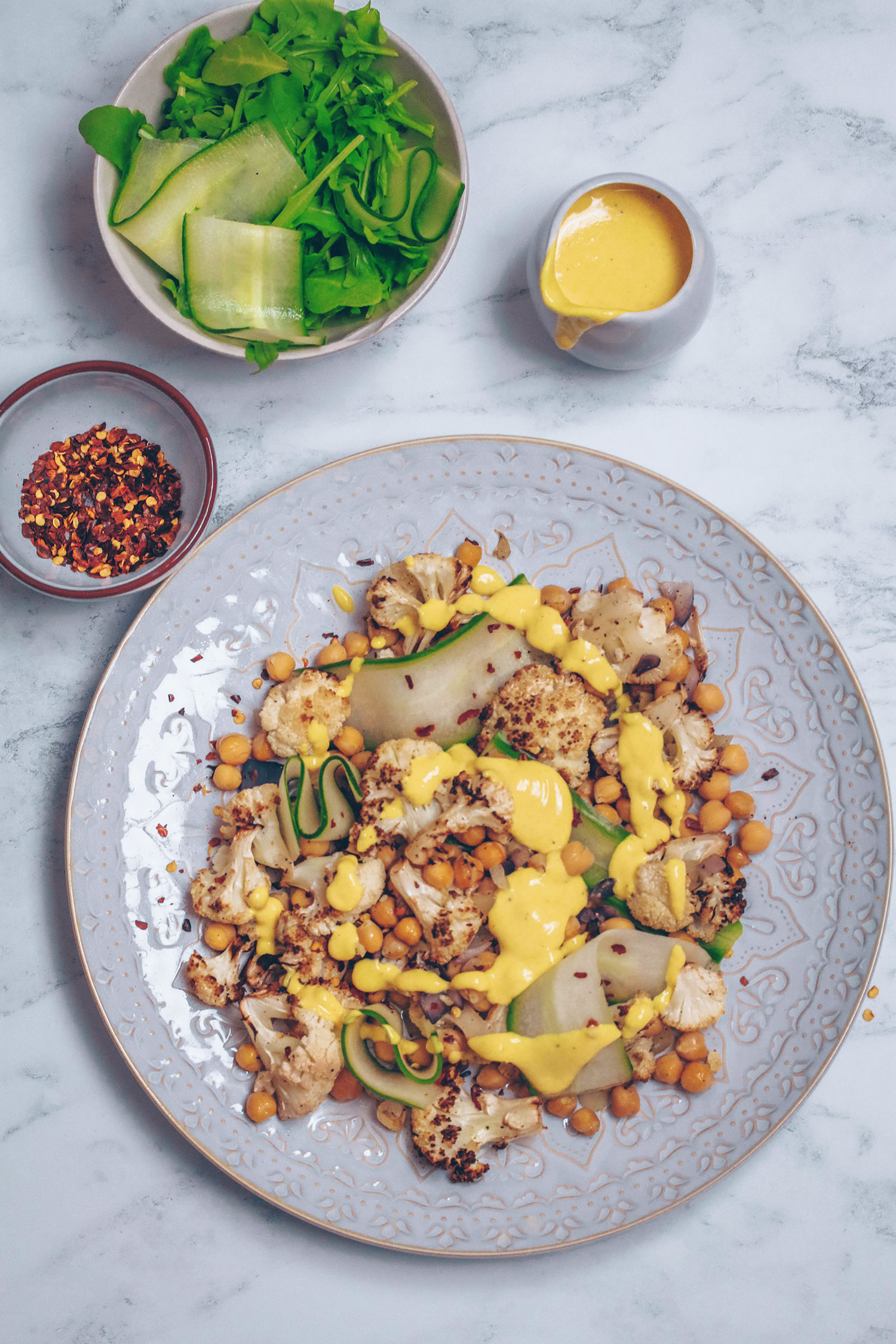 Today, I wanted to experiment and try something a little different. One of my favourite dressings, and one that I use A LOT, is a simple tahini dressing made up of tahini, yoghurt, lemon juice, salt and a bit of garlic powder. I wanted to spice that recipe up a bit and give it a more sunny, summery feel.
This turmeric tahini dressing is perfect for most salads, especially ones that have a lot of greens or plain colours and need a bit of brightening up. That pop of colour takes a salad from delicious to OH WOW!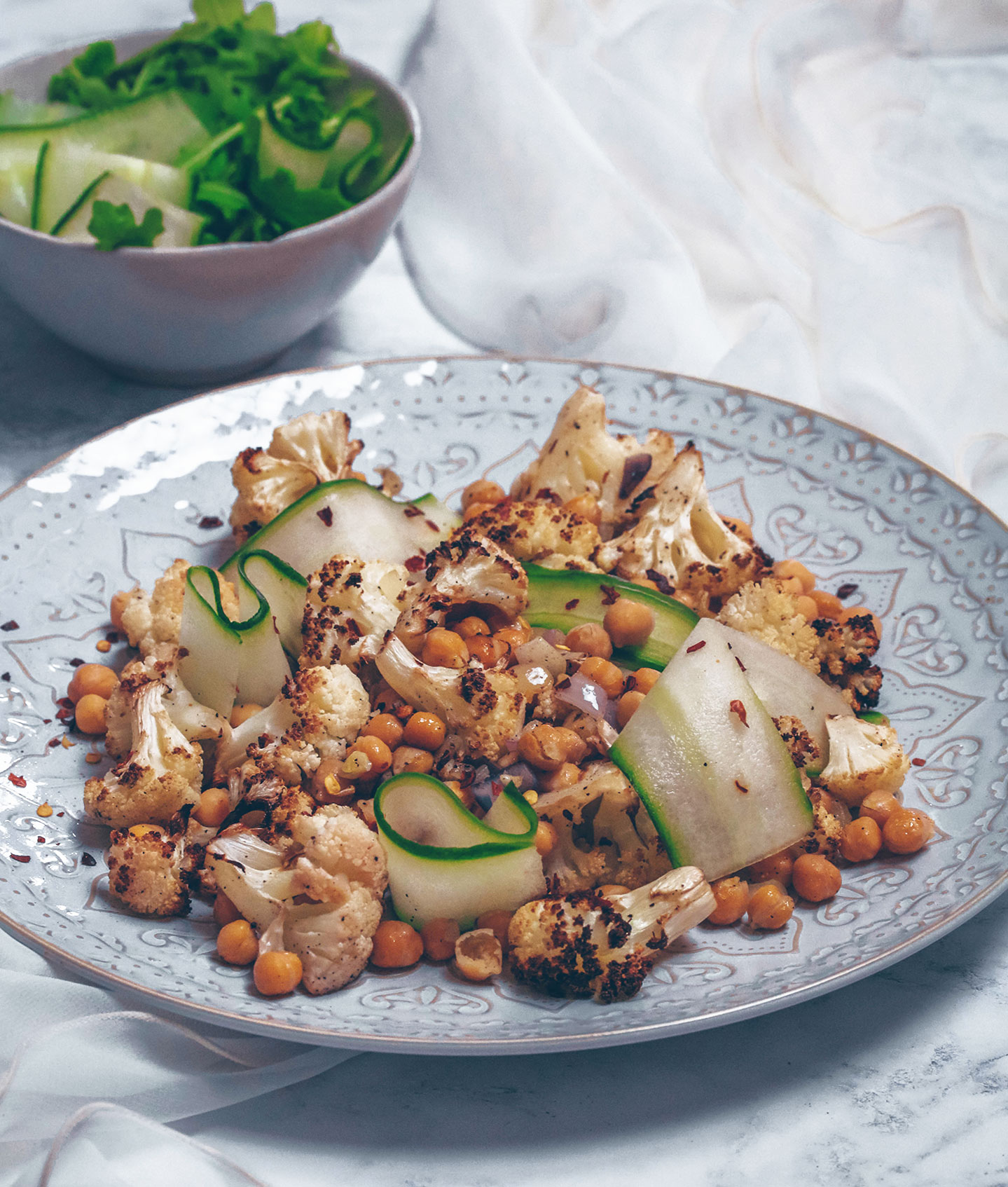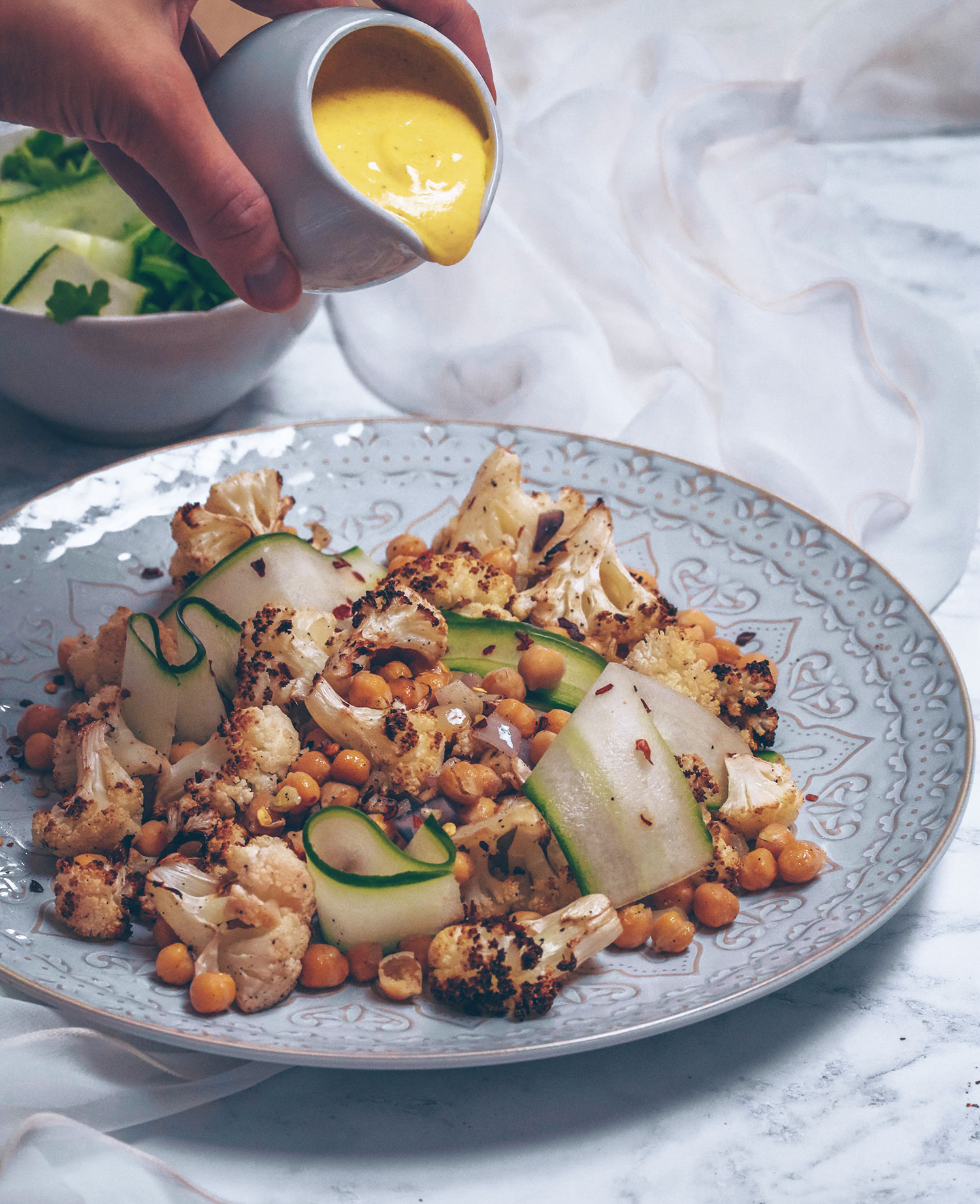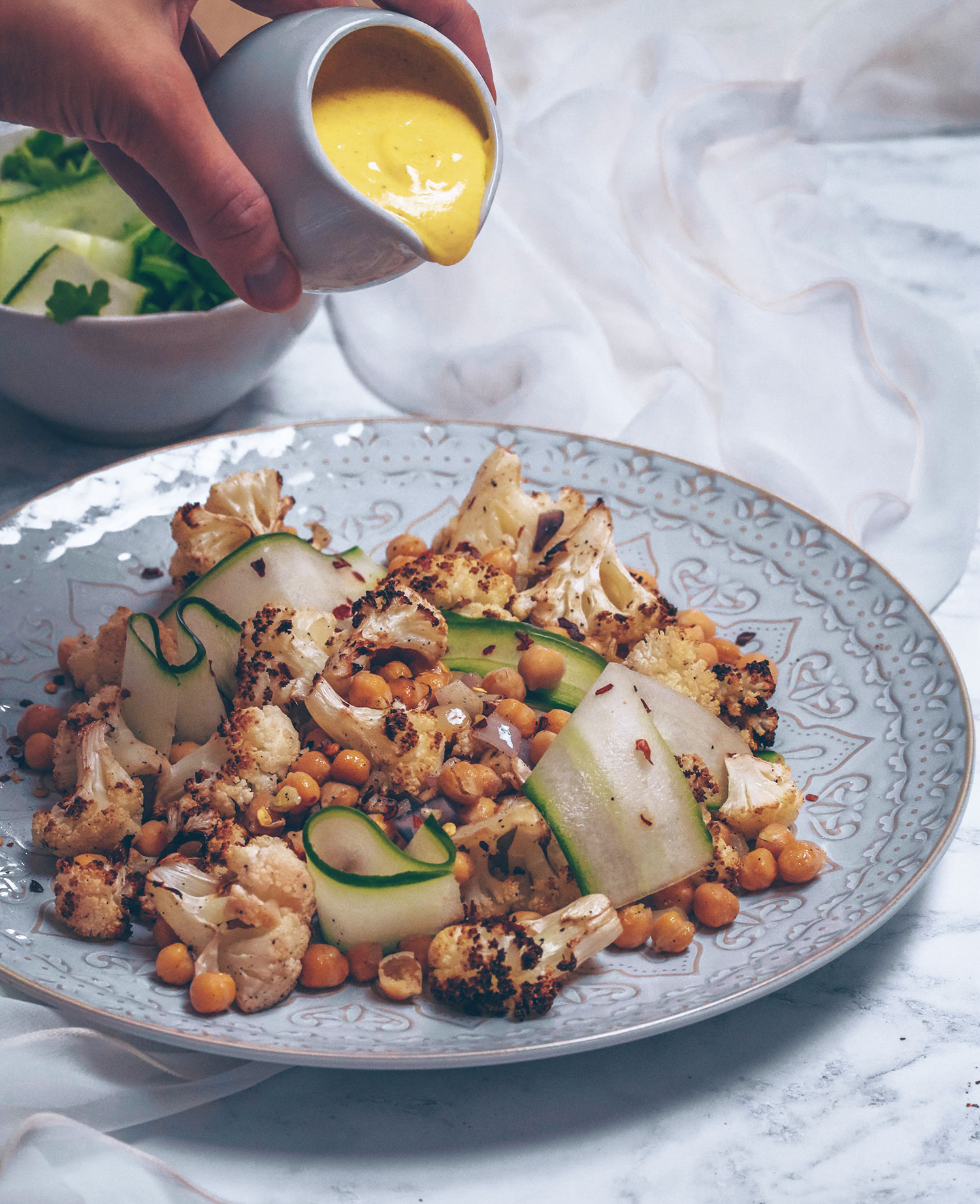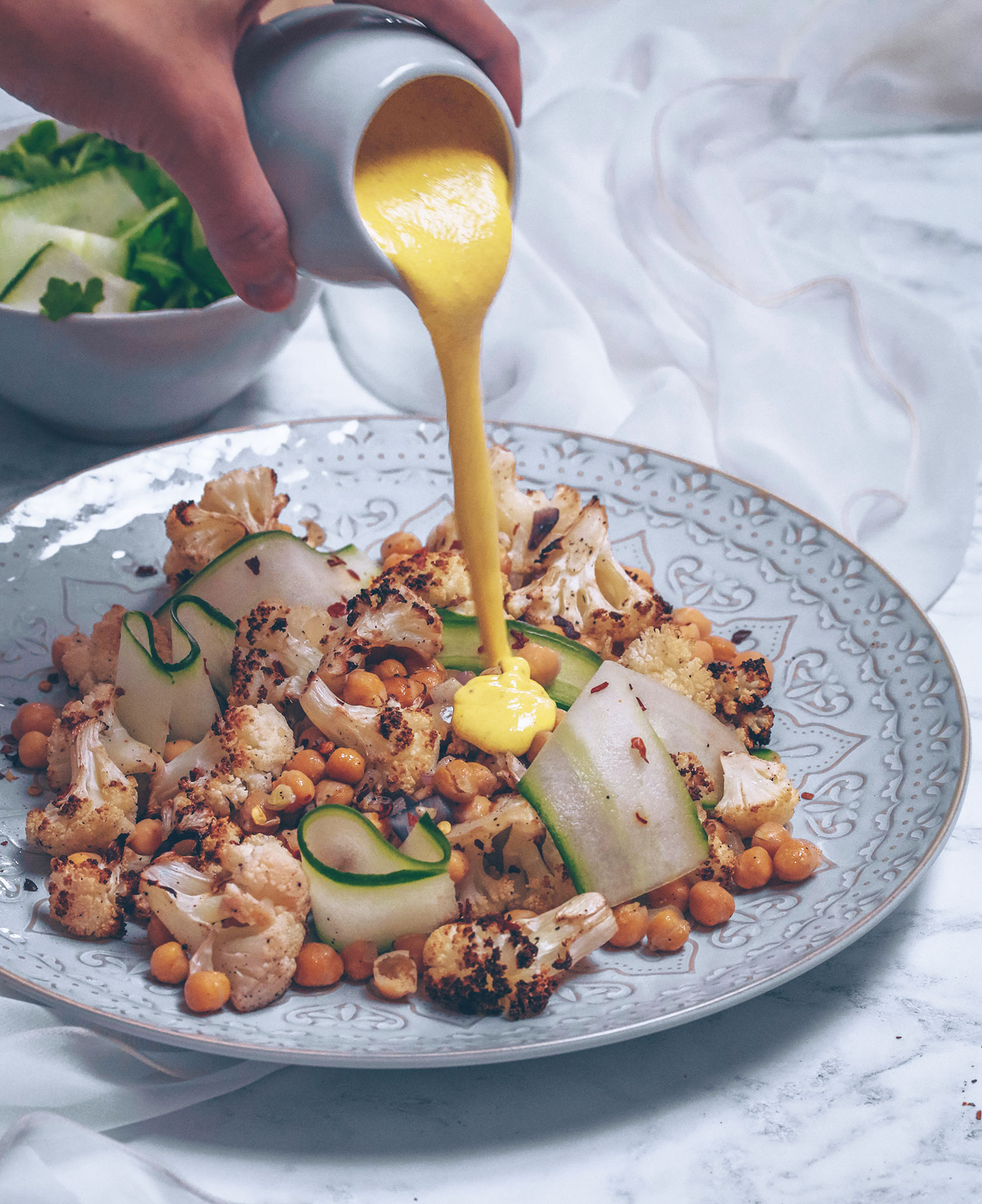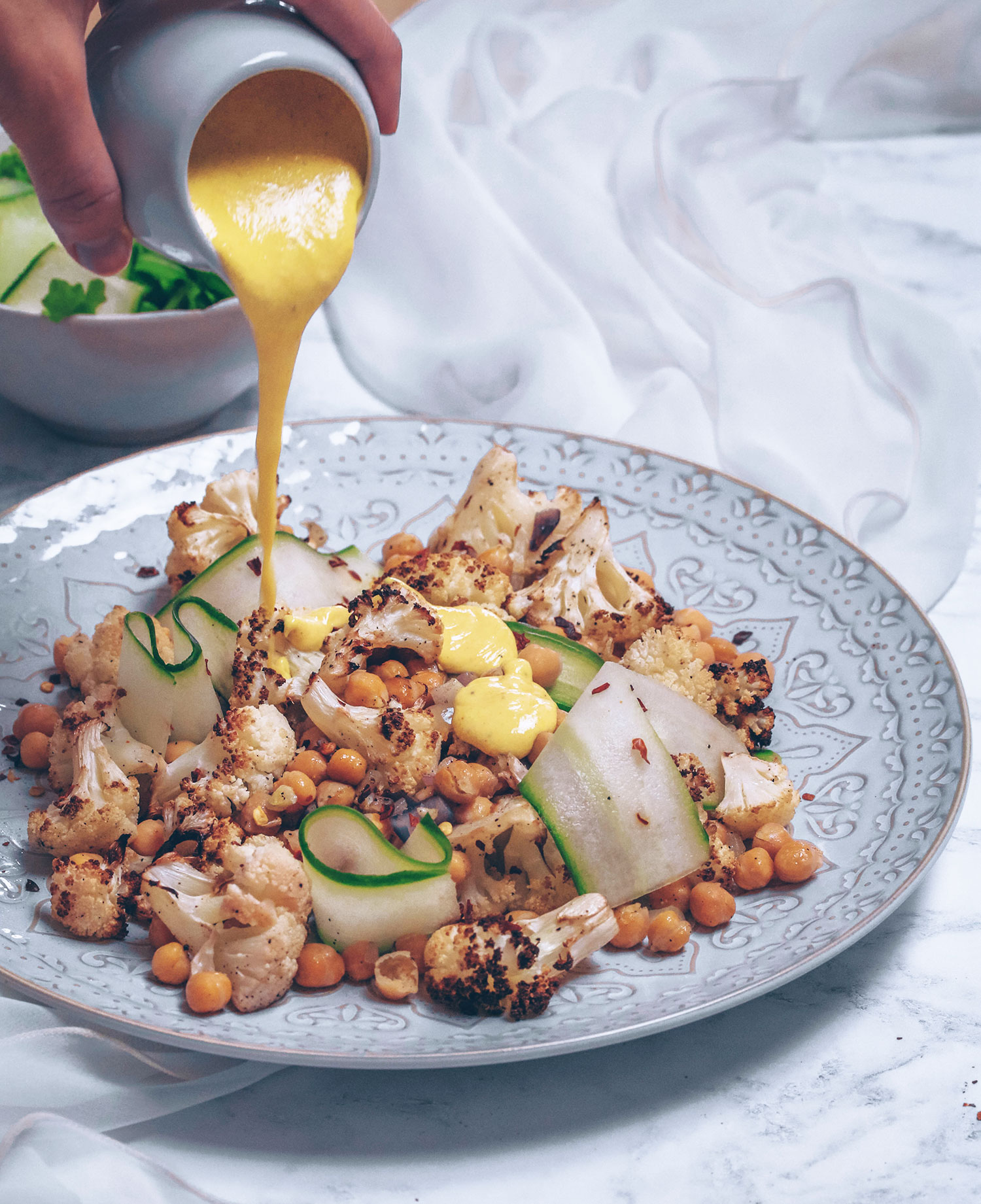 ---
Cauliflower Chickpea Salad with a Turmeric Tahini Dressing
Serves: 2
Ingredients
1/2 head of cauliflower, chopped into florets
1x 400g can chickpeas, drained and rinsed
1/2 onion, finely chopped
1/2 cucumber, peeled into ribbons using a vegetable peeler
2 tbsp oil
Salt & pepper
Chilli flakes – optional
Turmeric Tahini Dressing
1/3 cup tahini
1/3 cup lemon juice
1/4 cup yoghurt of choice
2 tbsp water
1 tbsp olive oil
3/4 tsp turmeric
1/2 tsp garlic powder
1/2 tsp salt – or to taste
1/4 tsp black pepper – or to taste
Method
Preheat your oven to 200*C (180*C fan assisted)/ 400*F
Arrange the cauliflower florets on a baking sheet lined with baking paper. Sprinkle with salt and pepper and drizzle 1 tbsp oil. Toss to combine.
Roast for 20-30 minutes.
Heat 1 tbsp oil over a medium heat. Sautee the onions for about 5 minutes, then add in the
chickpeas. Cook for another couple of minutes until the chickpeas are warmed through. Season to taste with salt and pepper.
Toss the cauliflowers, chickpeas and cucumber ribbons in a large serving bowl. Serve with the turmeric tahini dressing.
Enjoy!
---