Bramley Apple Sweet Potato Sausage Hash
* This post is sponsored by Great British Apples*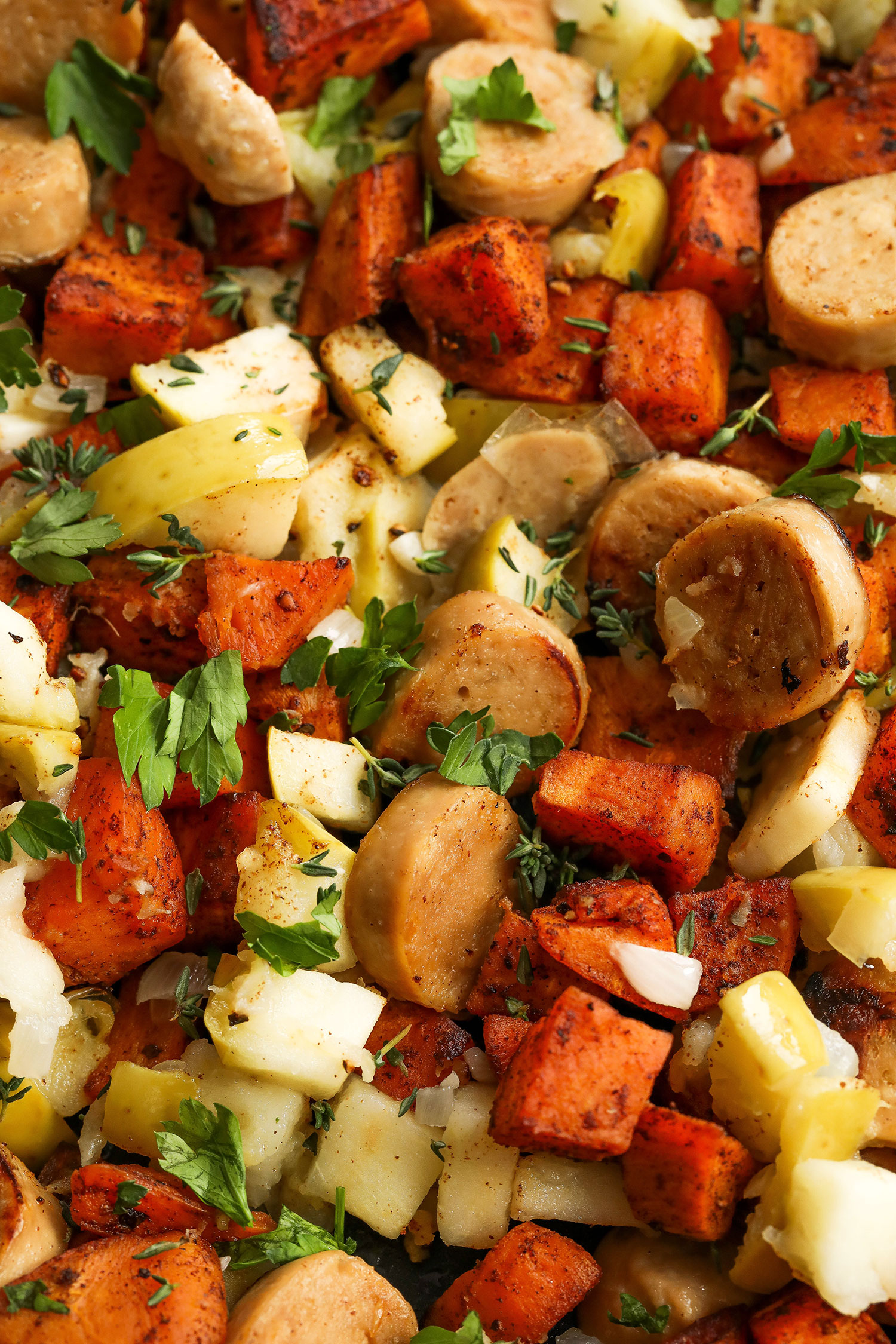 This is not your average potato hash recipe, this is a sweet potato hash with the addition of delicious tart apple chunks and veggie sausages as a good source of protein. It's really quick and easy to put together and you can enjoy it for breakfast, lunch or dinner. The leftovers would also make a really nice side dish to other meals too.
If you're not vegan/plant-based you can go ahead and top it with a couple of fried or poached eggs, although the sausages add more than enough protein to make it a filling and substantial meal as it is.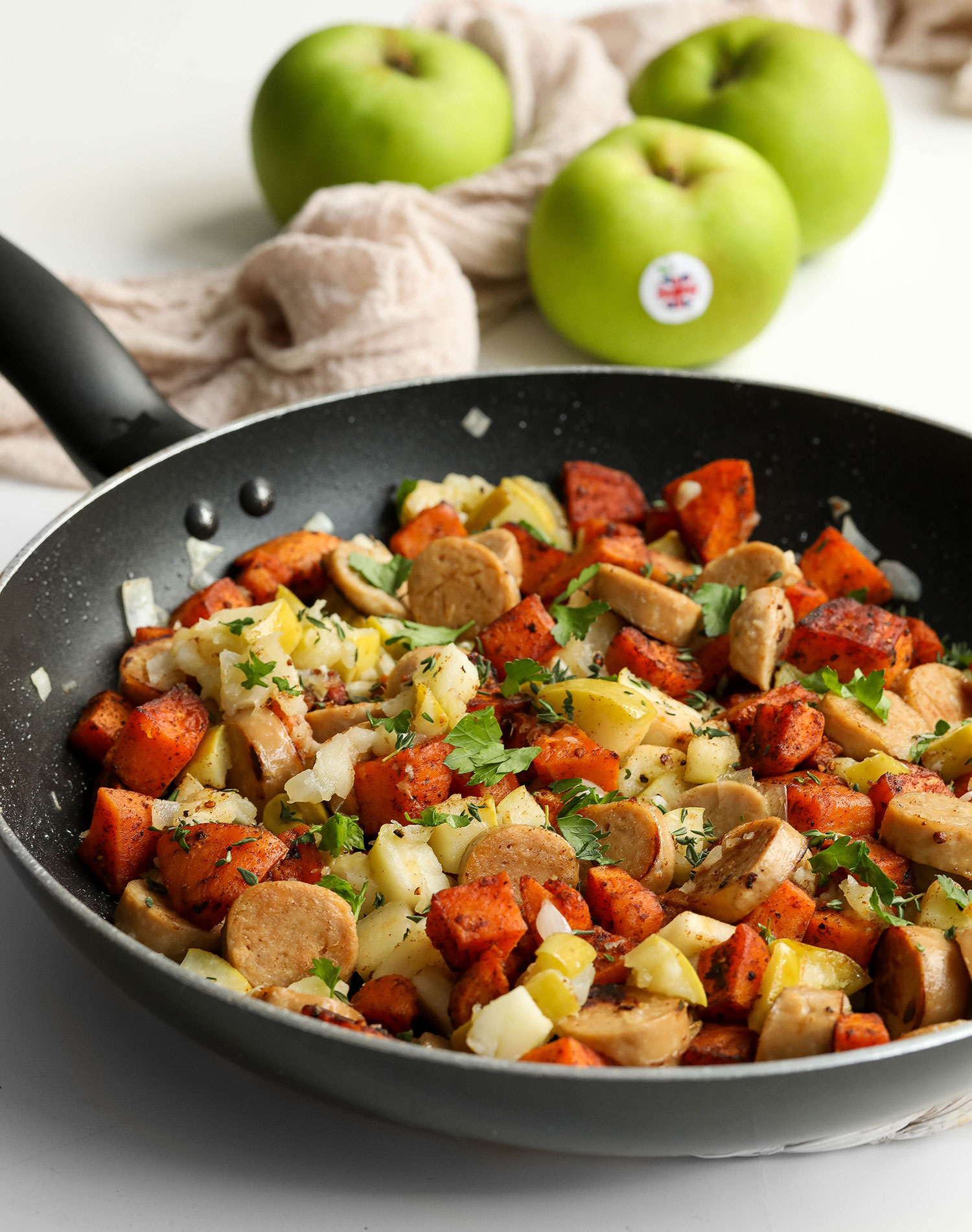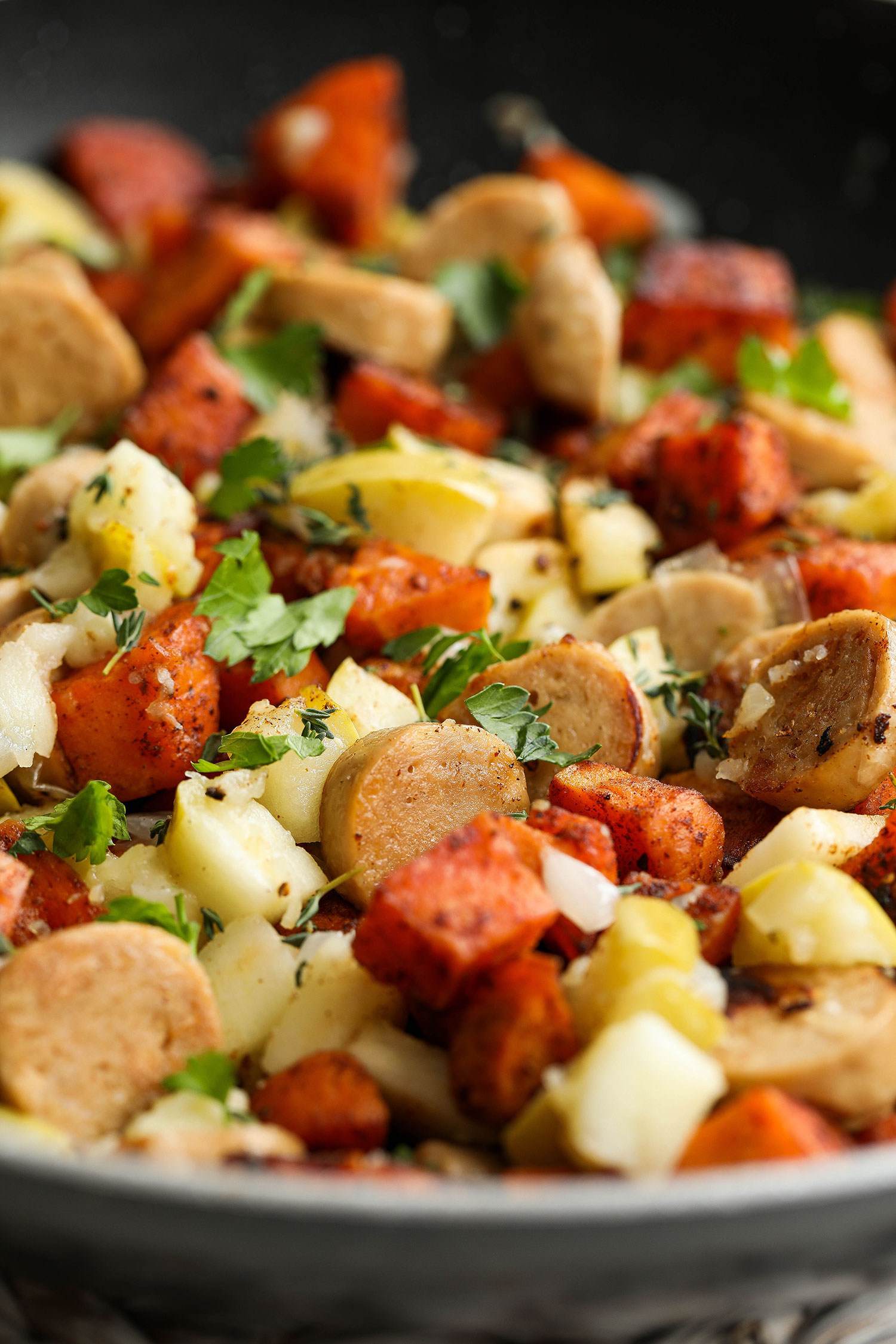 You don't have to peal the potatoes and I certainly wouldn't recommend peeling the apples. The skins help the chunks hold together, but it's also a really nutritious part of the fruit so it would be a huge shame to waste.
This apple sweet potato sausage hash would also make a really good meal to take on-the-go. You can prepare it on a Sunday evening and divide it between 3-4 containers and you have your breakfast or lunch sorted for a few days. Such a fuss-free and delicious meal.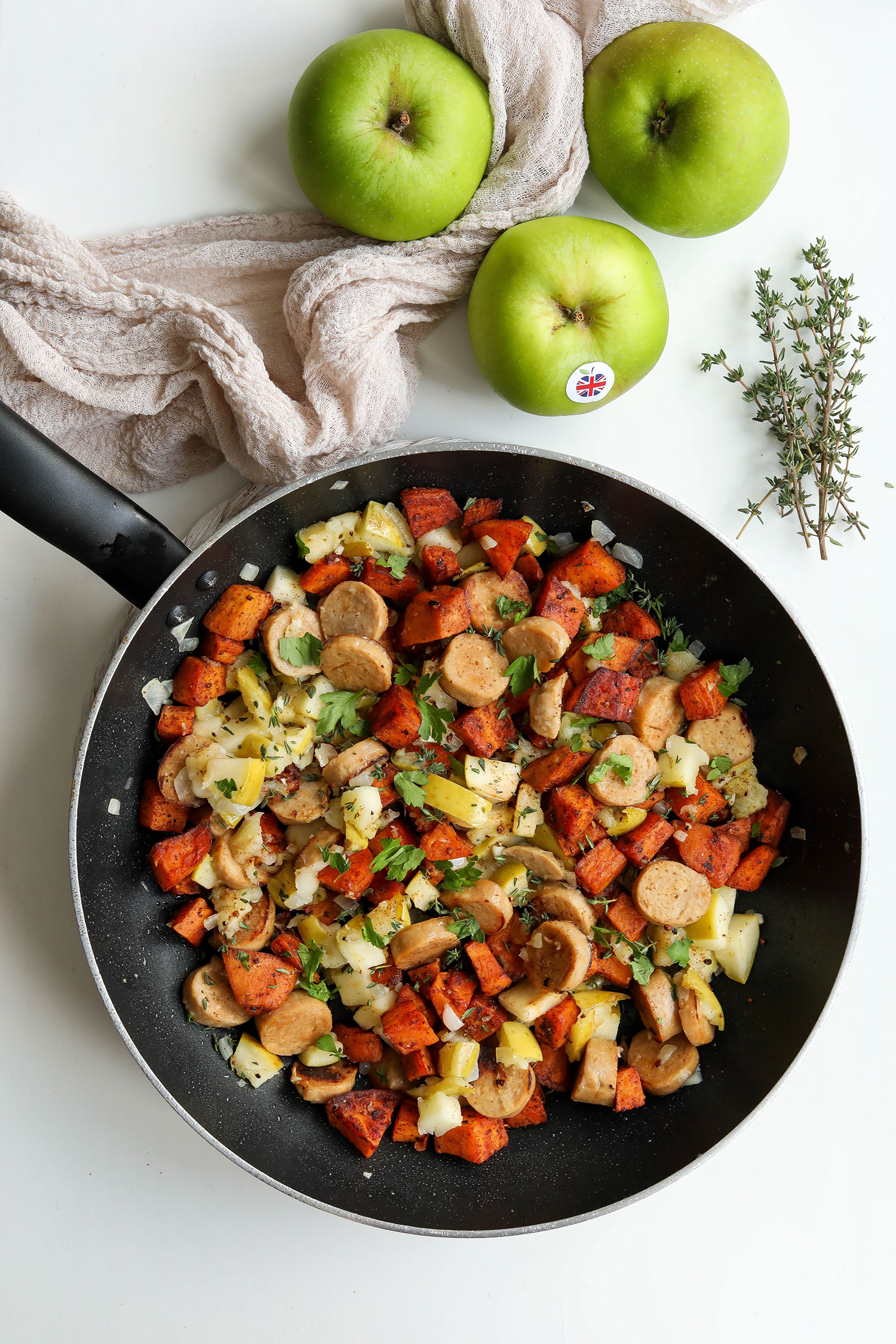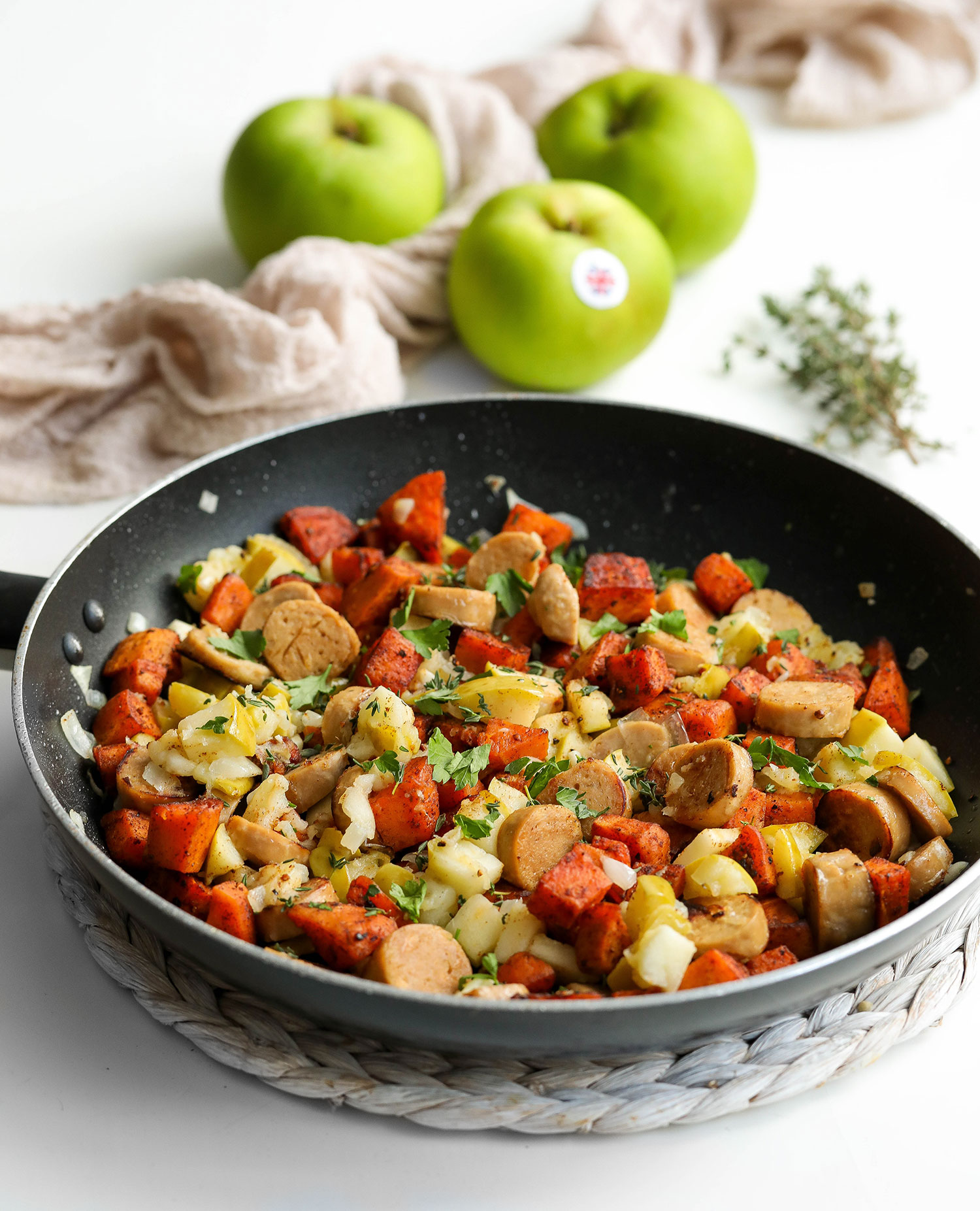 Great British Apples challenged me to create another recipe using their Bramley apples to showcase their versatility by moving away from the traditional crumbles/pies/sauces that are usually associated with Bramley apples. I don't know about you, but when I think of apple recipes I instantly think of sweet/dessert recipes, when apples can be such a delicious addition to many savoury meals too. Bramley apples work really well in main meals as they're high in malic acid, and so deliver a tangy taste without being too sweet.
This apple sweet potato sausage hash recipe is vegan, gluten-free and super delish! A must try if you're looking for a quick, easy and healthy savoury meal idea 😀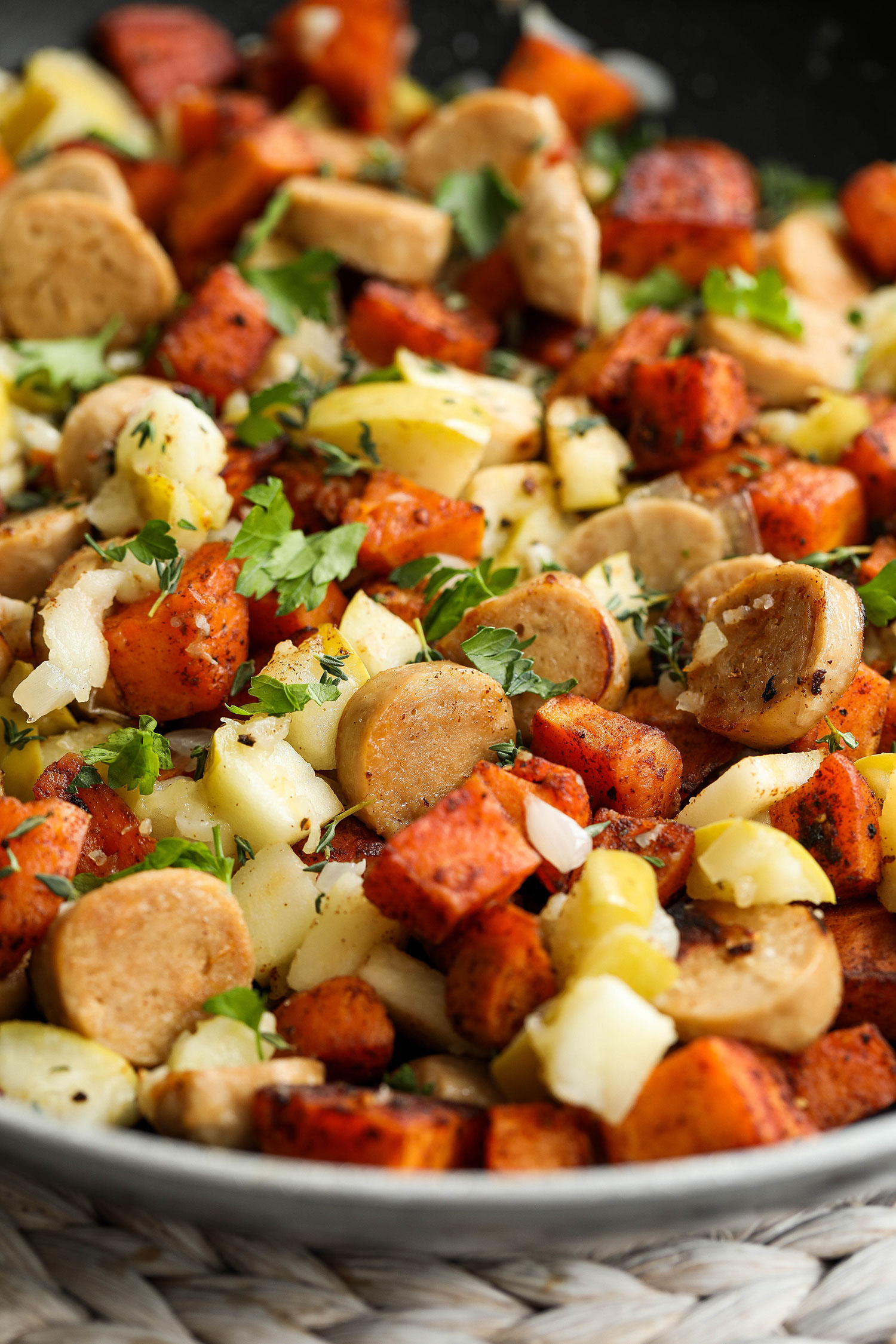 ---
Bramley Apple Sweet Potato Sausage Hash
Serves – 2 – 4
Ingredients
2 tbsp coconut oil
2 medium sweet potatoes, chopped
1 tbsp paprika
½ white onion, chopped
2 garlic cloves, minced
4 vegetarian sausages, chopped
1 Bramley apple, chopped
1 tbsp fresh thyme
2 tbsp fresh, chopped parsley
Salt & pepper
Method
Melt 1 tbsp coconut oil in a frying pan over a medium heat. Add the potatoes, paprika and season with salt and pepper. Cook for around 20 minutes until the potatoes have softened. Take off the heat and set to one side.
Melt another 1 tbsp of coconut oil, still on a medium heat, then add in the onions, garlic and sausages. Cook for 5 minutes, then add in the apples. Continue cooking until the apples are soft, then fold in the sweet potatoes. Take off the heat and sprinkle on top the thyme and chopped parsley.
Enjoy!
---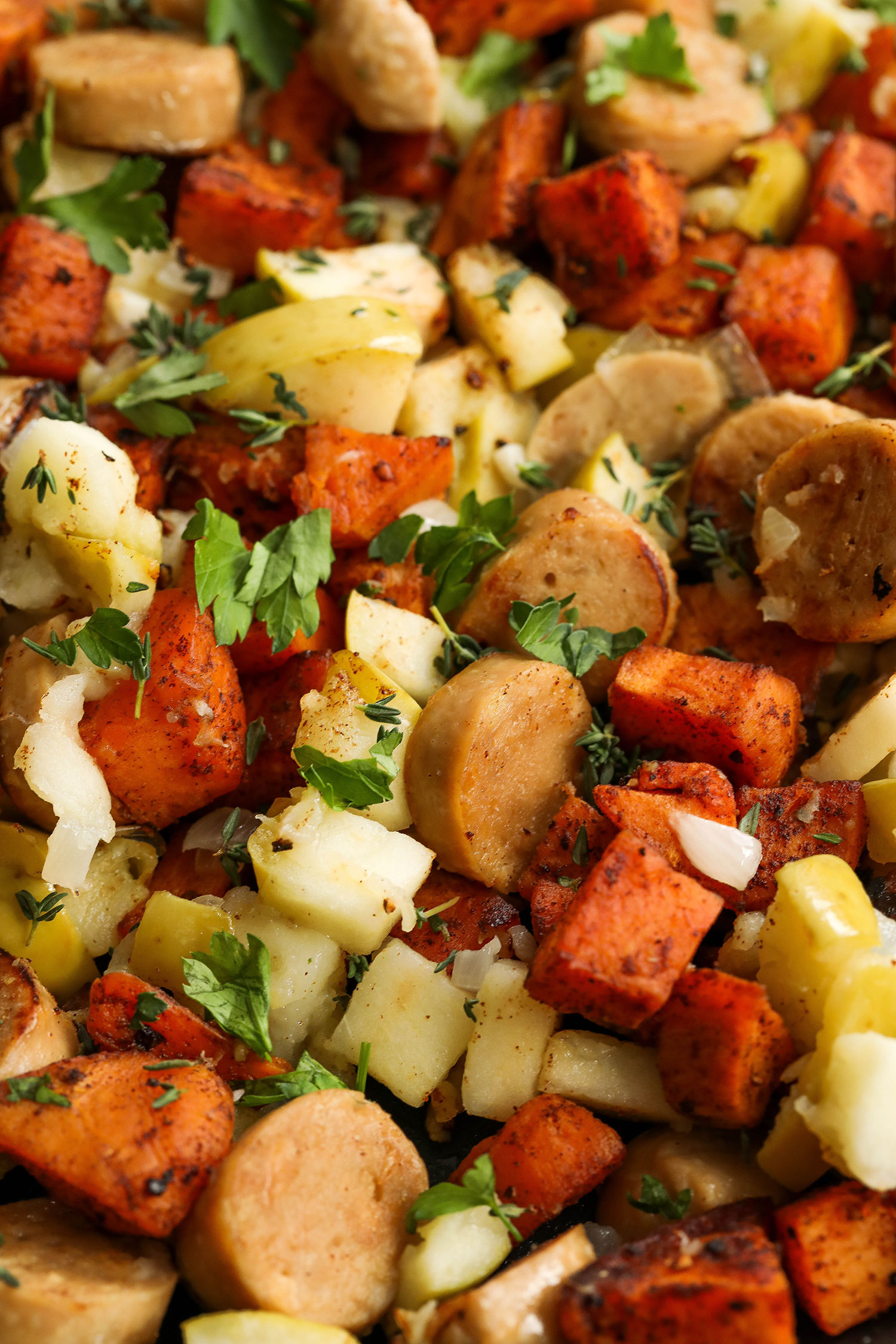 Share This Post