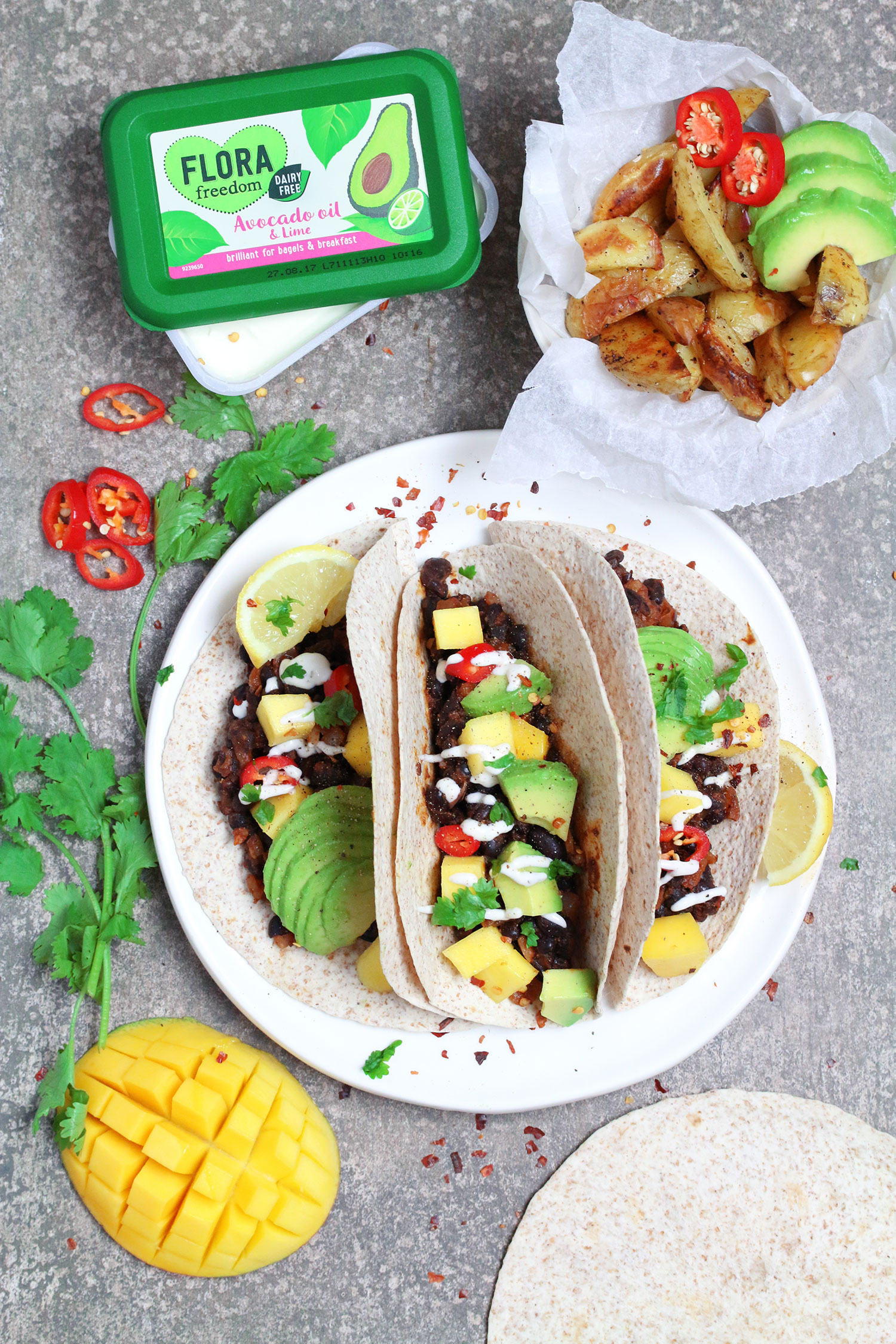 Black Bean Avocado & Mango Tacos
I've always found avocado and mango to be such an excellent combination. The rich texture and buttery taste of the avocado complements the complex sweetness of the mango so well! I usually combine them in salads like I did in my kale, mango and avocado salad.
Another thing that goes well with avocados is beans!
I find beans so comforting. There's something about their texture that when you bite into them you know you're giving your body something nourishing without feeling like you're actually eating 'healthy'. Unlike the feeling you get from eating a boring salad. You know it's good for you so you eat it, but it doesn't offer much in terms of the feeling of comfort.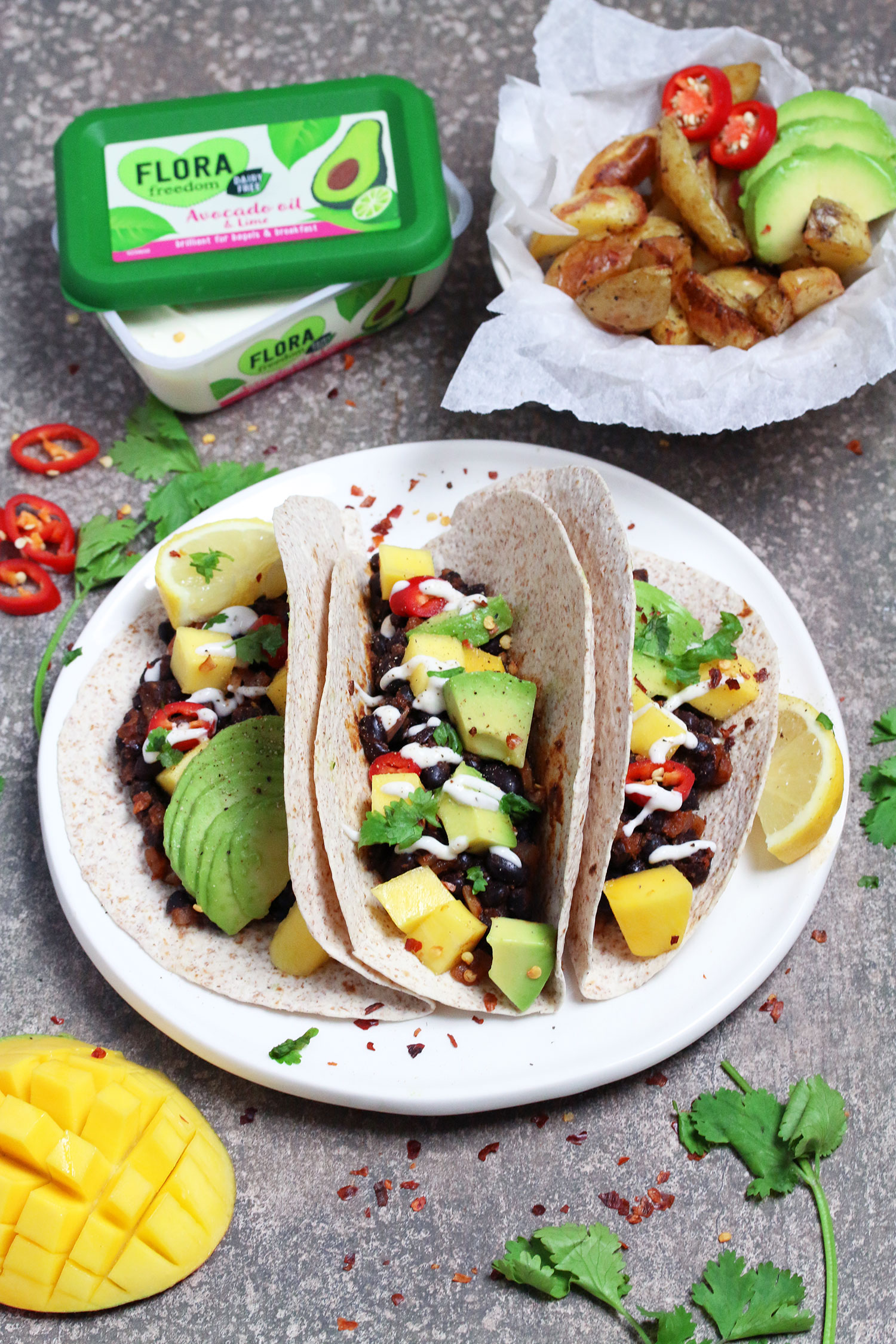 Having said that, I need the texture of my beans to be soft, otherwise they don't taste comforting at all! They also tend to have an overpowering taste when they're undercooked which is not always a good thing, especially when you want the taste of the spices and other flavourings to shine through.
Beans, spiced with paprika, chilli and cumin coupled with avocado and sweet mango all wrapped in a taco or taco shaped tortilla wrap screams comfort to me.
To make the beans taste that much more delicious and comforting, I'm using Flora's new dairy-free avocado oil & lime spread. It has a lovey hint of avocado from the added avocado oils which just complements the whole dish so well! It's a great option to use when you're cooking vegan savoury dishes to add that extra depth of flavour. It would also be perfect for sweet treats and bakes that include avocado in them, like my avocado banana bread.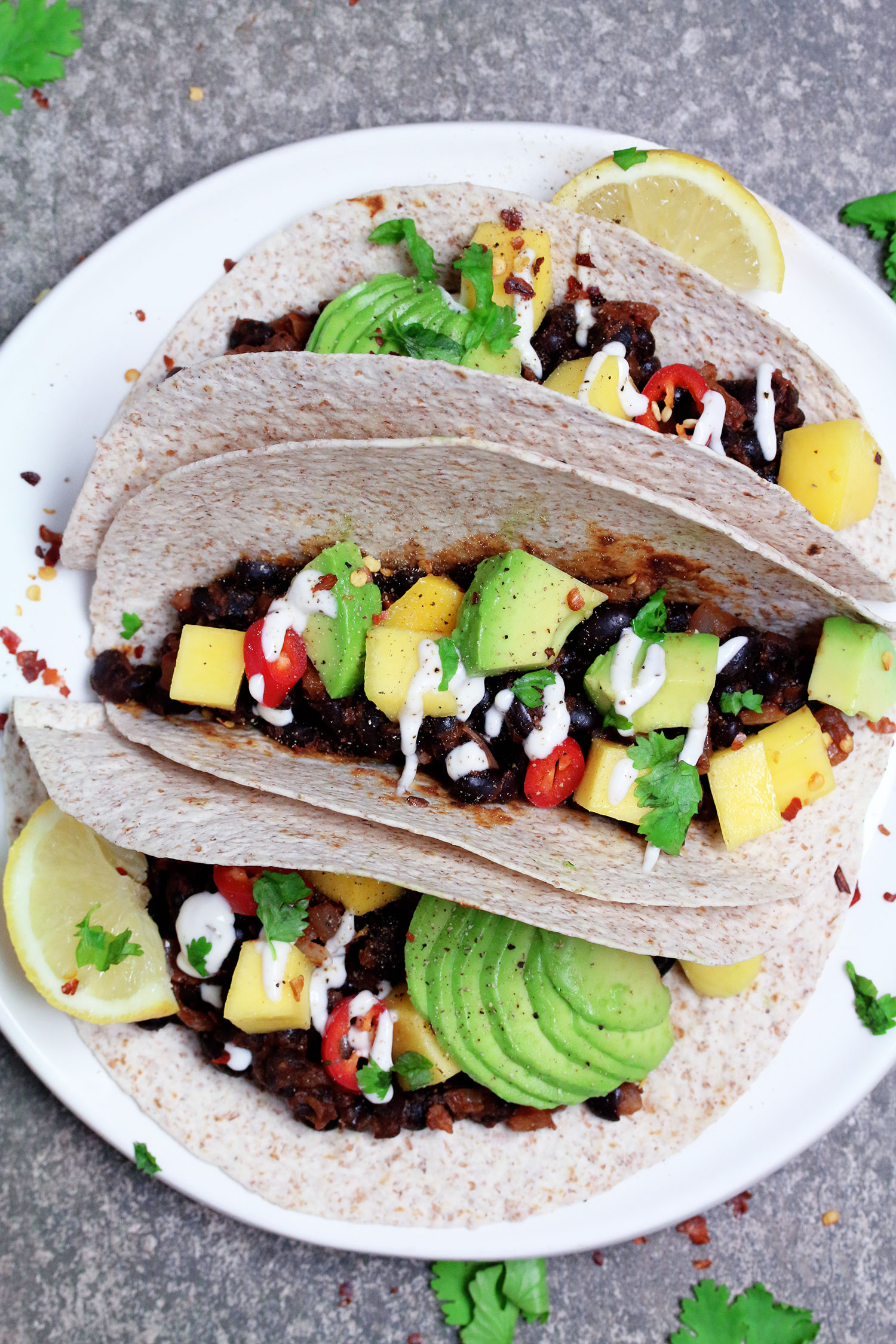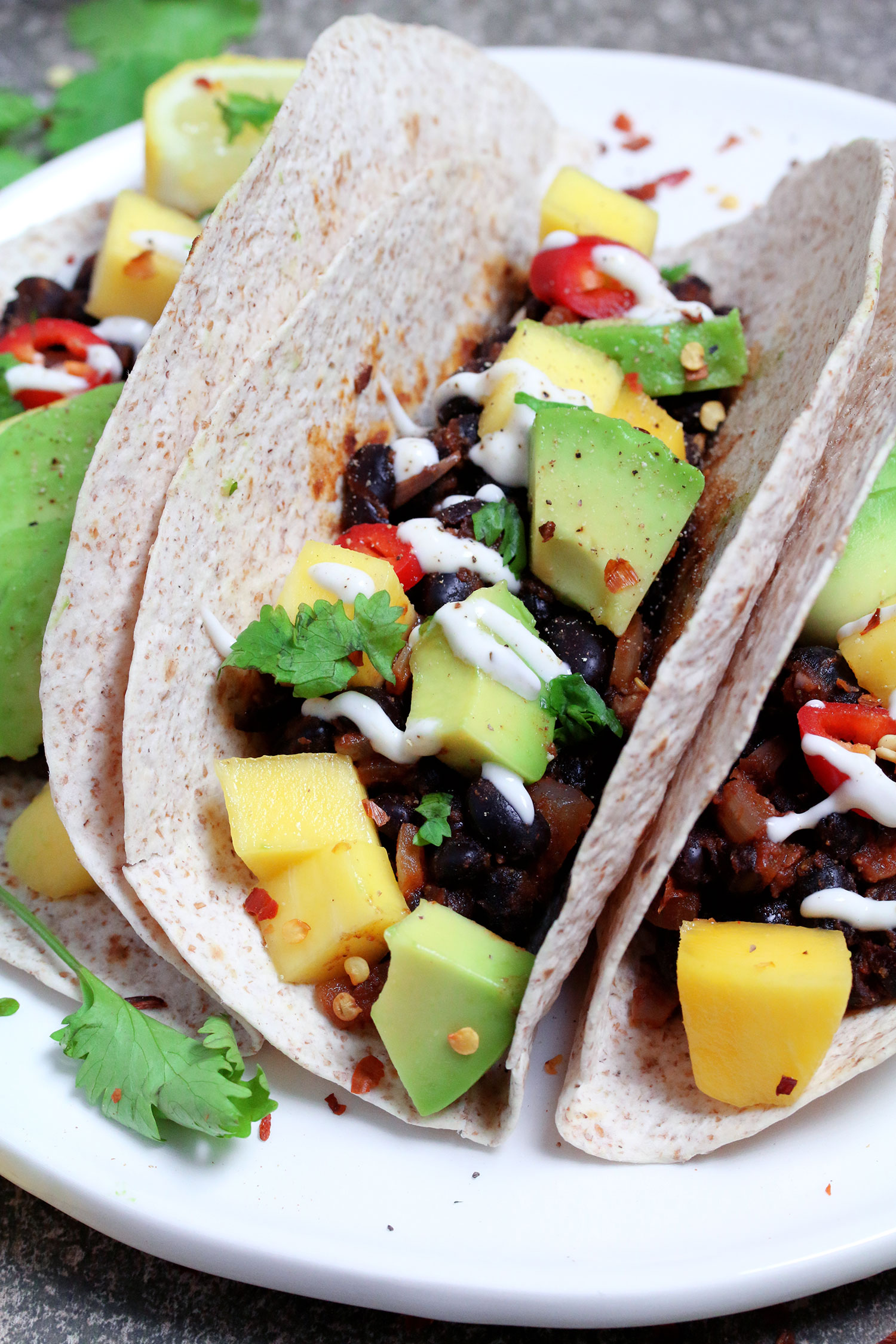 This black bean avocado and mango tacos recipe is great for any night of the week. It's so easy and quick to put together as well as being delicious and so good for you. It's vegan, dairy-free, nut-free and can be made gluten-free by using gluten-free tortillas. So it's a great recipe to make for guests with allergies as it's super easy to make and calls for only a few basic ingredients.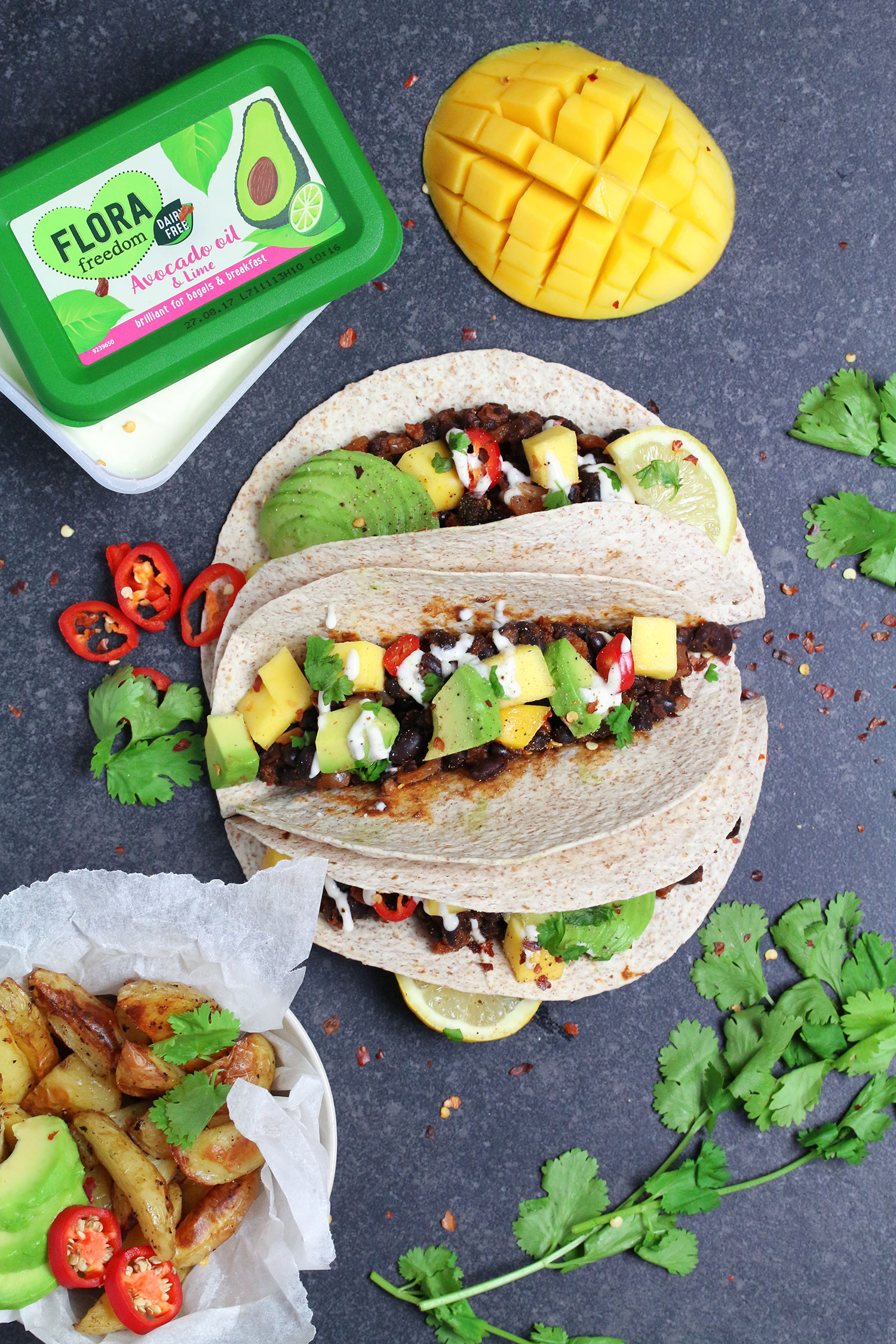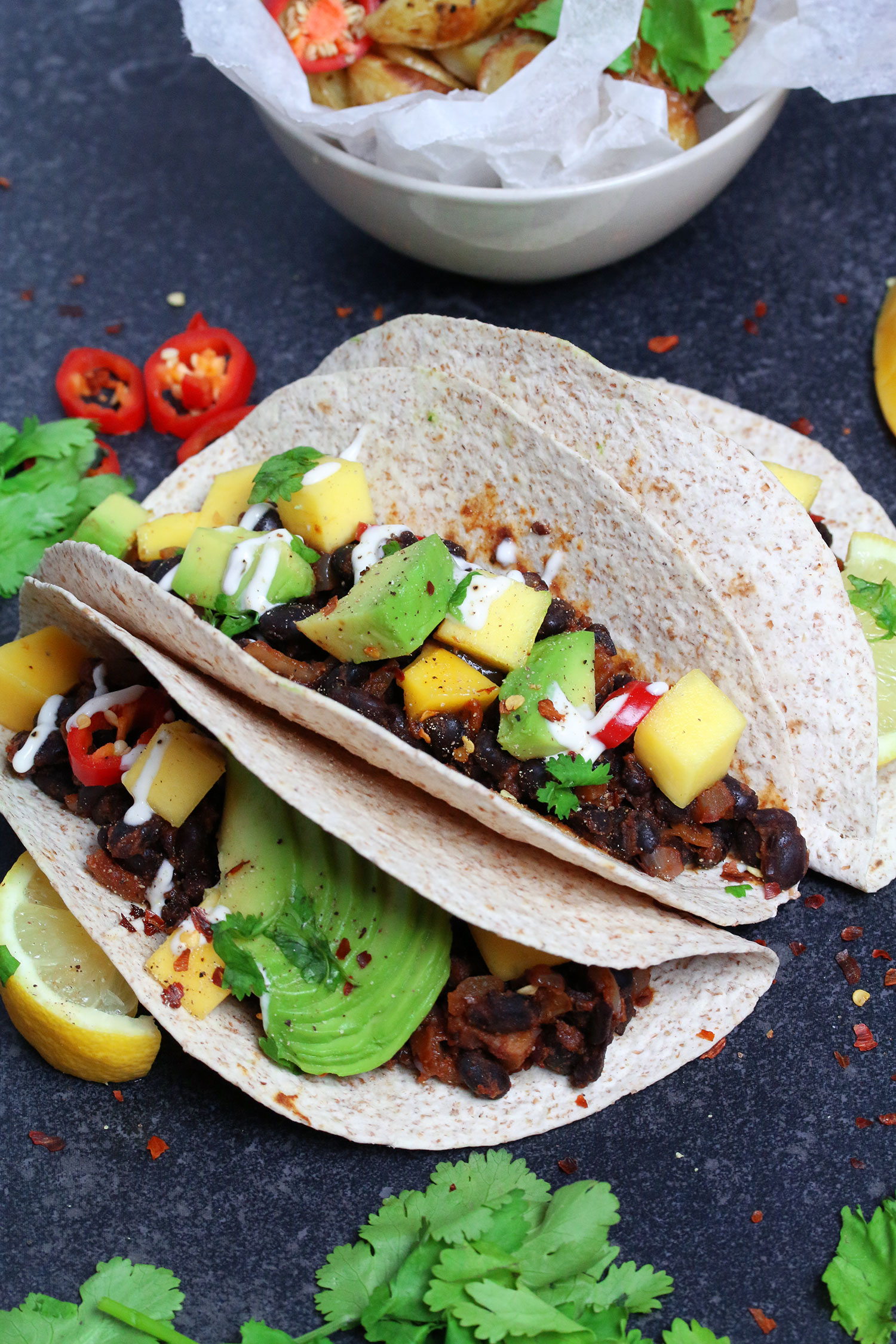 ---
Black Bean Avocado & Mango Tacos
Serves: 4-6
Ingredients:
180g dried black beans
1 tbsp Flora dairy-free avocado & lime spread
1 medium onion, chopped
3 garlic cloves, crushed
1 tbsp paprika
2 tsp cumin
1/2 tsp chilli powder
1 tsp oregano
Juice of 2 limes
1 tsp maple syrup
Salt & pepper to taste
4-6 wholemeal tortilla warps (or use gluten-free wraps if necessary) or taco shells.
To serve:
1 ripe avocado, sliced into small cubes
1 ripe mango, sliced into small cubes
Fresh red chilli or chilli flakes for extra heat
Fresh coriander
Optional – vegan sour cream or cheese sauce
Method:
Add the beans to a saucepan and cover with water. Bring to a boil, lower the heat the simmer for 60-90 minutes until the beans are soft. Drain and rinse.
Melt the Flora spread in another saucepan over a medium heat. Add the onions and cook for 5 minutes stirring occasionally.
Add in the spices and garlic along with a splash of water to create a paste. Cook for another 1 minute.
Add in the beans, lime juice and maple syrup. Season to taste with salt & pepper. Cover and cook on low for 5-10 minutes.
Fill the tortillas/taco shells with the bean mixture, then top with avocado & mango cubes, fresh chilli or chilli flakes and fresh coriander.
Enjoy!
---

Thanks to Flora for sponsoring this post. Commissioned posts is how I'm able to continue working on the blog and creating recipes and recipe videos for you. As always, all opinions are my own.