Kale, Mango and Avocado Salad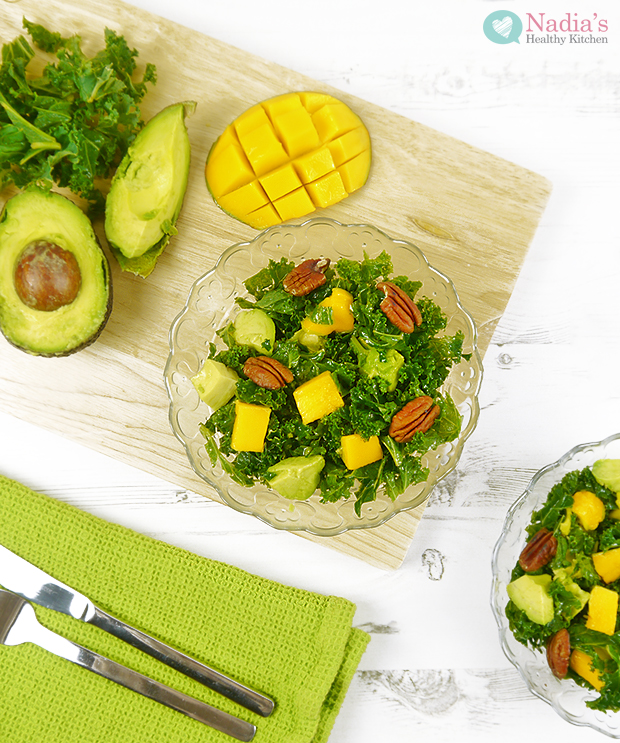 If you think salads are boring, then you more than anyone need to try this recipe!
There was a time when I thought salads were boring, but that was mainly because I never experimented. My salads always consisted of tomatoes, cucumber and lettuce…that's it! And even though there is nothing wrong with that combination, it did eventually become boring as you can imagine.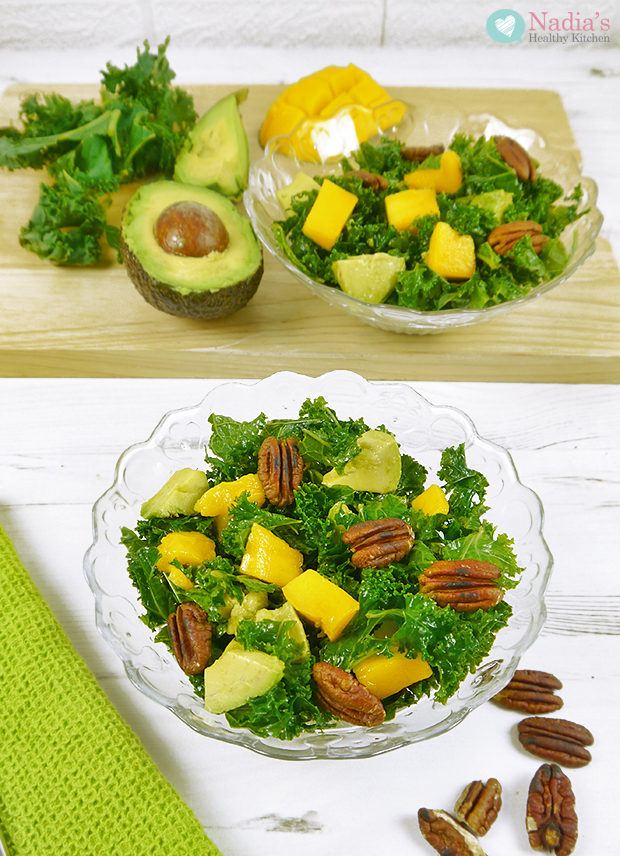 What's so good about salads?
The combination of ingredients are endless
They are an amazing way to add a variety of different mineral and nutrients
Because the ingredients in most salads tend to be raw, they add a wealth of nutritional value to your diet
Can be low in calories while being filling
Can be enjoyed on their own as a light meal or on the side of practically anything!
You can make them using any ingredients you have in your fridge/cupboard
They're very easy and quick to make, usually only requiring chopping and stirring!
Salads don't have to be boring!
Salads are seen as a 'diet' food, boring and flavourless. But I can assure you that is not the case. You just need to mix things around a little and try different combinations. As well as being colourful sides to your main meals, salads most certainly can be eaten as a main meal on their own. You just need to make sure that your salad contains all the necessary food groups to keep you nourished and feeling full. As well as carbohydrates in the form of fruit and vegetables, add in some fats (avocado, nuts, olive oil…etc), and some protein (beans, tofu, chicken…etc). The possibilities truly are endless.
About this Kale, Mango and Avocado salad:
I'm loving the combination of sweet and savoury flavoures in salads at the moment. The slightly bitter taste of the kale, the sweetness of the mango and the richness of the avocado all come together giving your palate a wonderful flavour sensation. The only thing missing in this salad is some crunch…and that's where the toasted pecans come in 😉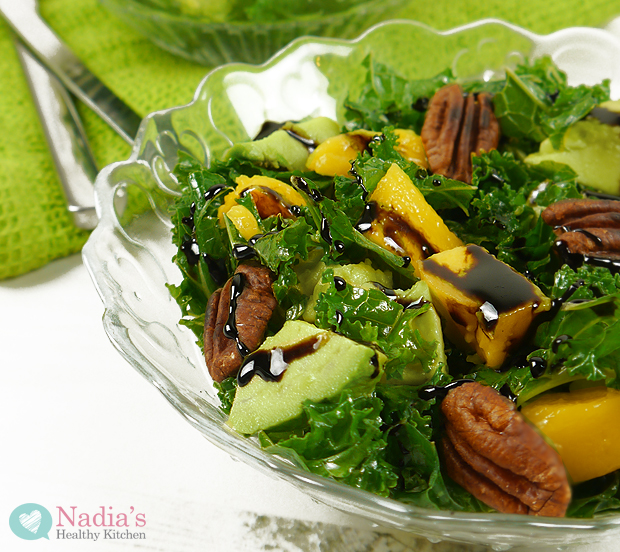 [recipe_box]
Kale, Mango and Avocado Salad
Serves: 2-4
Ingredients:
200g kale, removed from the stalks, washed and sliced (about 3 cups)
1 ripe mango
1 ripe avocado
¼ cup pecans, lightly toasted
½ tbsp olive oil
2 tbsp lemon juice
salt+pepper
drizzle of homemade salad dressing or balsamic glaze
Directions:
Place the kale into a large bowl and drizzle the olive oil on top. Start rubbing the olive oil into the kale by massaging the leaves gently. Do this for a couple of minutes to allow the kale to wilt and become more tender.
Slice both the mango and avocado into small cubes.
Now toast the pecans, heat a small pan over a medium heat then add the pecans. Leave them on the heat for a few minutes until they start turning darker in colour. Be sure to keep an eye on them and keep stirring to ensure they don't burn. Take of the heat and leave to the side.
Season with salt and pepper and add the 2 tbsp of lemon.
Mix everything together, top with the toasted pecans and add a drizzle of balsamic glaze (scroll down for the method)
[/recipe_box]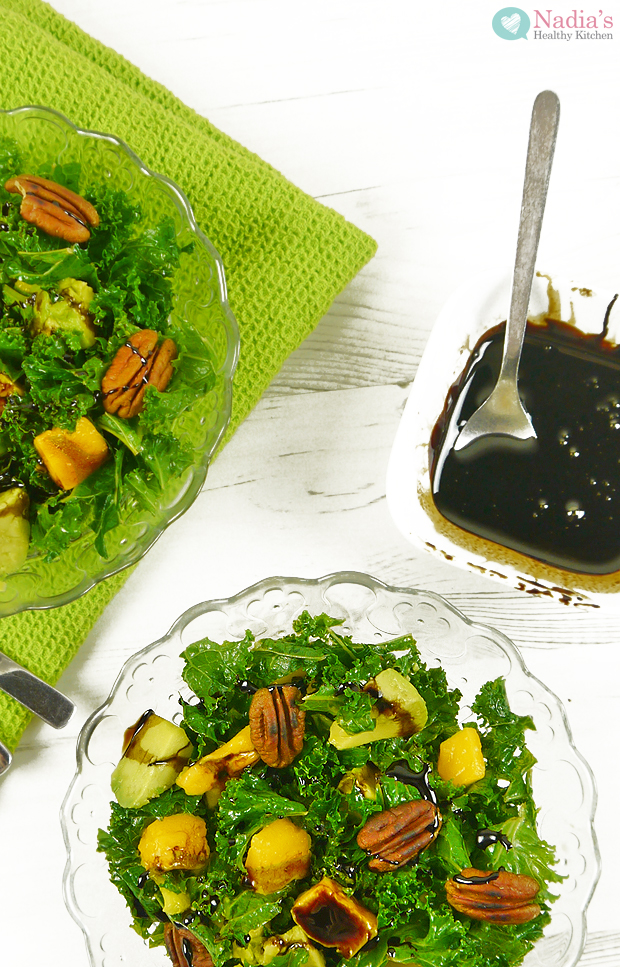 The Balsamic Glaze:
I made this glaze using only 2 ingredients:
Balsamic vinegar (1 cup)
Honey (1 heaping tsp)
In a small saucepan, heat the balsamic vinegar and mix in the honey. Bring to a boil then turn down the heat and leave to simmer for around 30 minutes or until the mixture thickens. Don't leave it on too long as the sauce will continue thickening as it cools.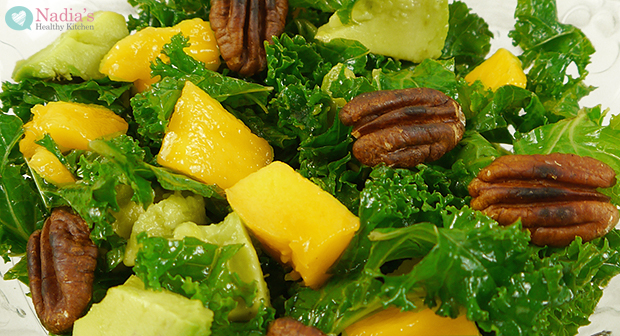 Share This Post