Beet-a-ganoush Dip Recipe
If you've been reading my blog for a while you'll know of my never ending love for Hummus. What you may not know is I'm also a huge baba ganoush fan. What can I say, I was brought up in the Middle East and both dips were a big part of my diet and so have a very special place in my heart! Luckily as well as being delicious they also happen to be super healthy, high in fibre, nutrients and good fats!
I don't eat baba ganoush as much as I would like to since it's slightly more time consuming when compared to hummus (which I literally eat on the daily!), and when I do make it, it's gone within a day or two. I just seem to inhale the stuff! I try to eat as many greens as possible and usually leave them bland and just add a huge tablespoon or two of hummus or baba ganoush on top. That's my excuse for eating so much!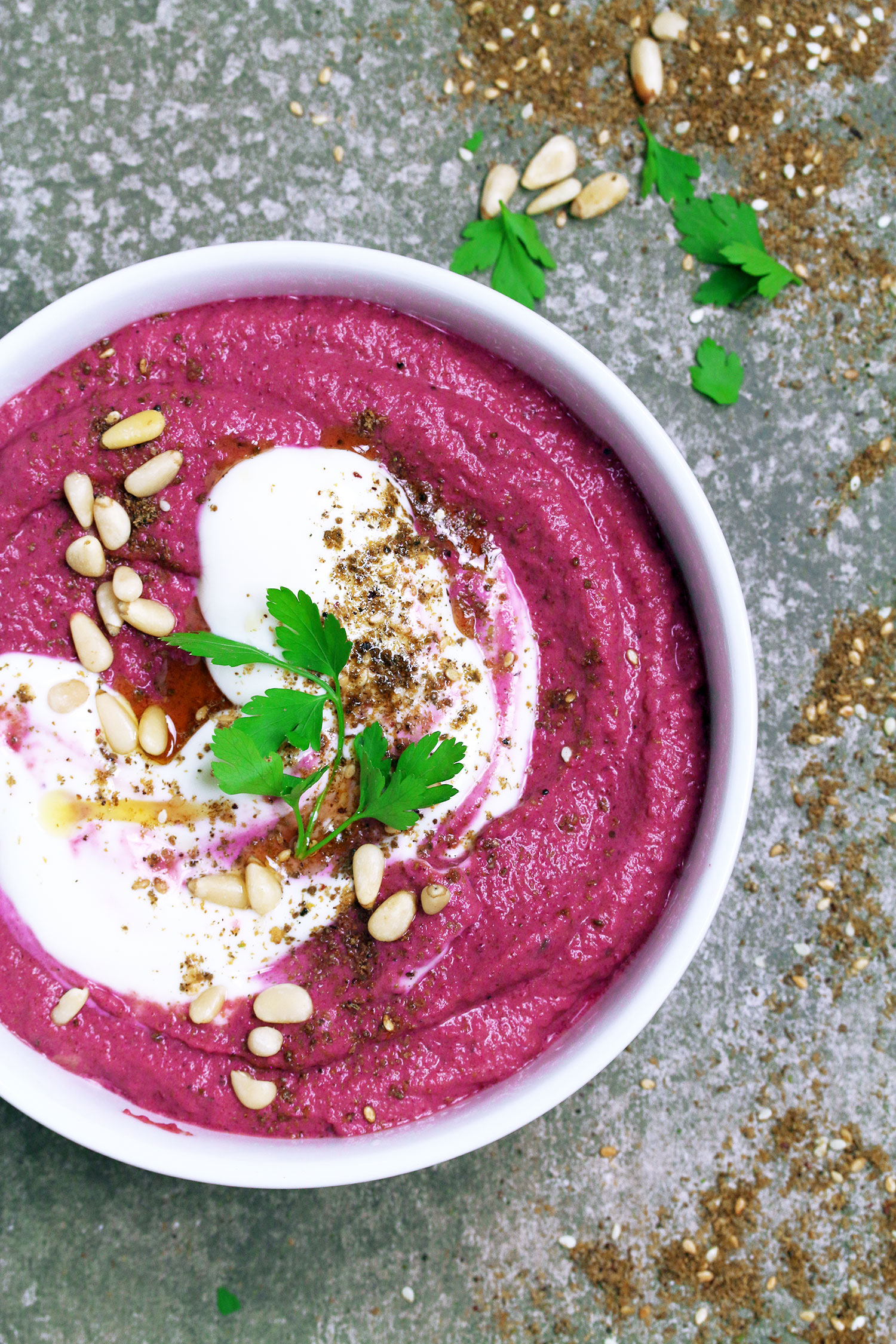 Something else that I'm really into at the moment is beetroot. I usually eat it raw by grating it into salads and it adds so much flavour and the most beautiful vibrant colour to dishes.
I've teamed up with Love Beetroot and Dan Doherty to recreate this Beet-a-ganoush dip (love the play on words there!) as part of their Don't Skip a Beet campaign. It's all about encouraging us to use and experiment with cooked beetroot in our cooking as a fuss free way to introduce powerful antioxidants into our diets. As soon as I saw this Beet-a-ganoush recipe I instantly knew I HAD to try it. How could I not?
Not only is this dip delicious and versatile (try it on a pizza instead of tomato sauce!), it also has the most beautiful and vibrant colour! Perfect way to get in some extra vegetables, nutrients and antioxidants.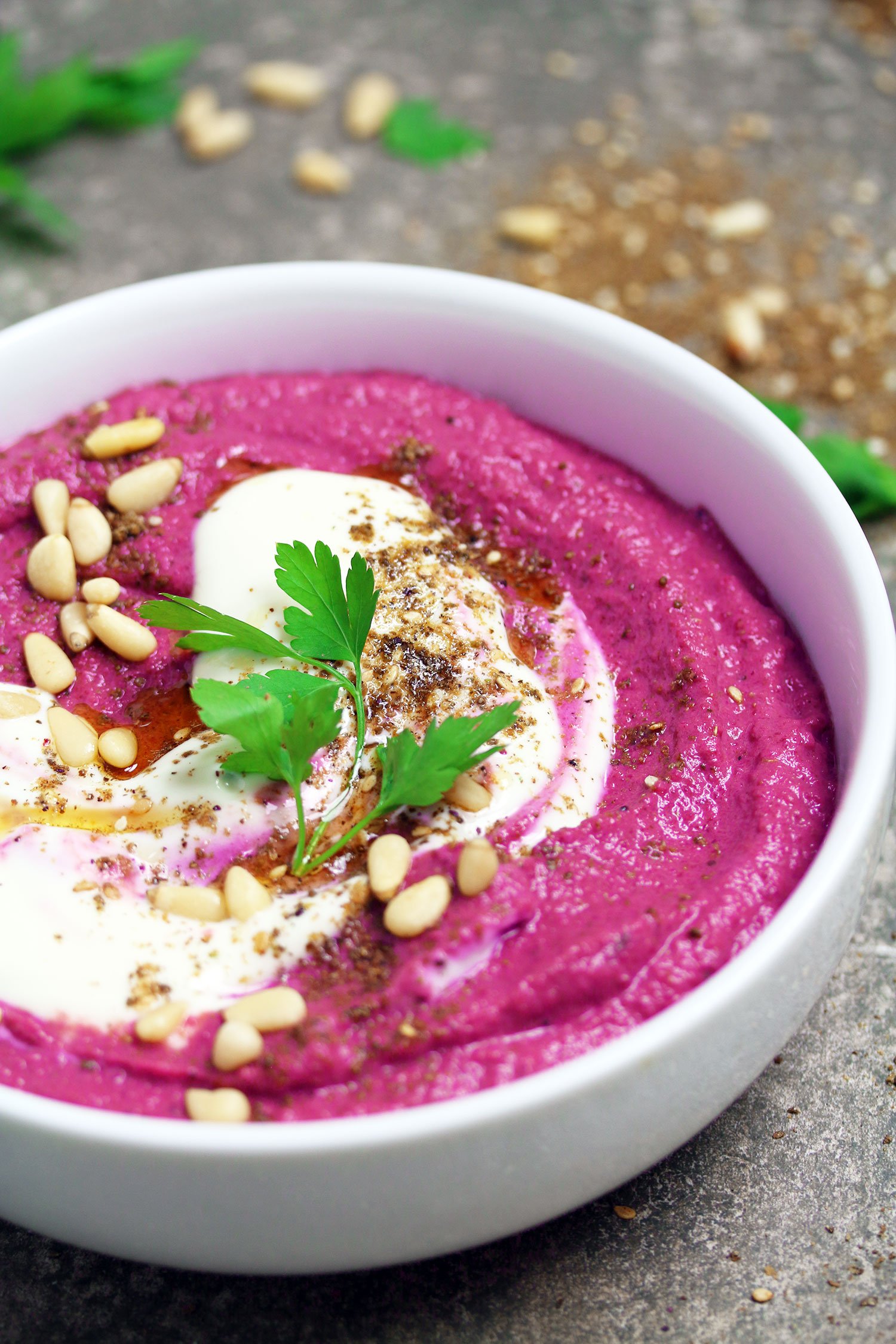 ---
Beet-a-ganoush Dip Recipe
1 Aubergine
1 packet Sweet chili beetroots
1 tablespoon Tahini – I used more because I love tahini!
1 tbsp soya or coconut yogurt
Juice of 1 lemon
1 garlic clove, peeled
Pinch of sumac
Sprig thyme, leaves only
1 teaspoon ground cumin, toasted
To serve:
Pine nuts
Fresh coriander leaves

More yoghurt
A sprinkle of Za'atar
Method:
Preheat your oven to 200*C (180*C fan assisted)
On a gas hob, blacken the skins of the aubergine until burnt. It's best to skewer it so you can hold at a safe distance.
When all blackened, place into a roasting tray and put in the oven for 10 minutes to soften.
When ready, split open and scoop out the flesh, and roughly chop so it's broken down.
In a food processor, add the beetroot, tahini, toasted cumin, thyme leaves, garlic and lemon juice and blitz until smooth. Season with salt and pepper.
Take out and into a bowl, add the aubergine and stir through.
In a dry frying pan, toast the pine nuts until golden.
Serve the beetroot and aubergine mix in a bowl, and add a good spoon of yogurt on top.
Sprinkle over the pine nuts, sumac and coriander leaves to finish.
---
Head over to Love Beetroot's website for more delicious and antioxidant packed purple recipes!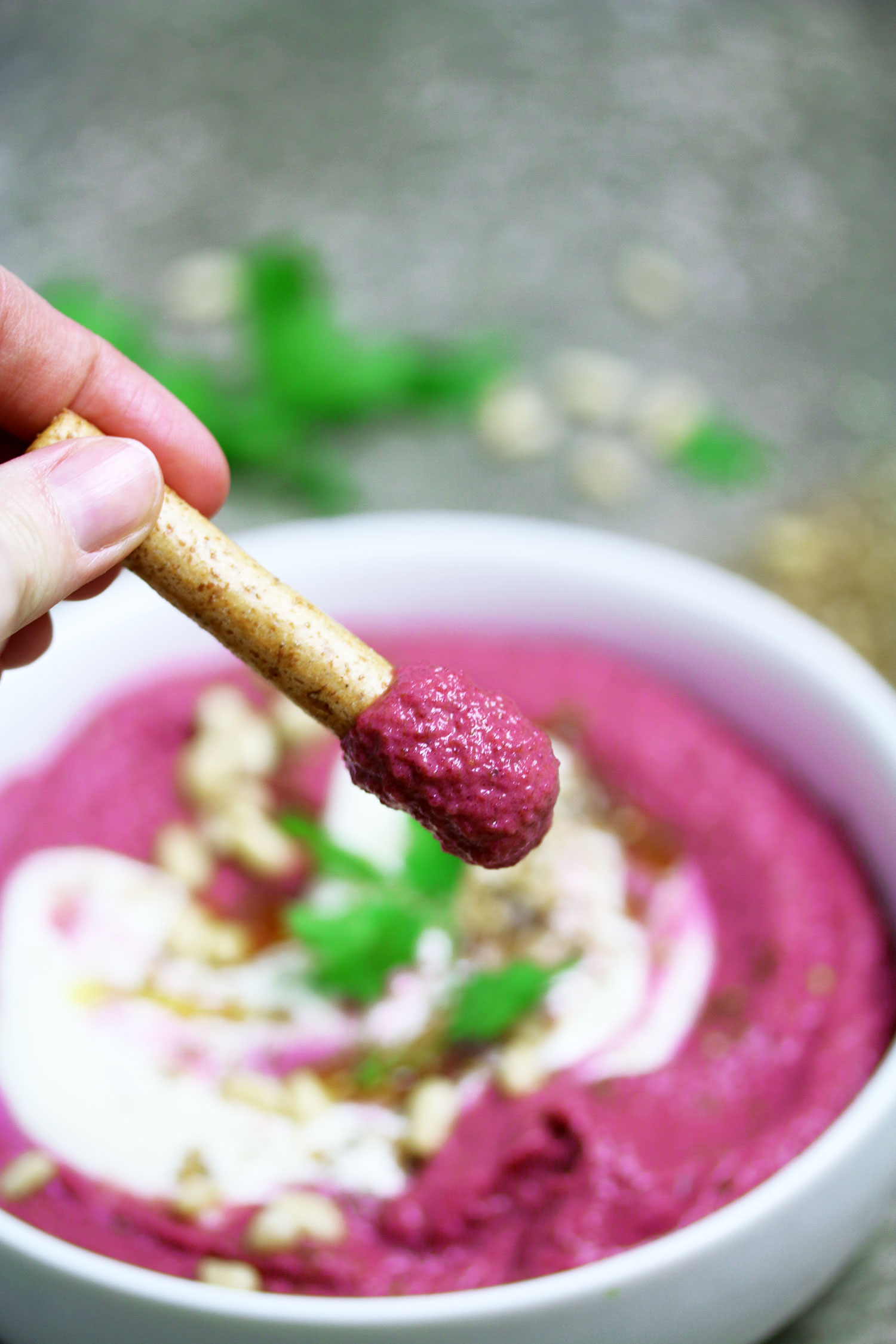 This post was commissioned by Love Beetroot, however; all opinions are my own.