5 Ways to Use Tahini – Tahini Coleslaw
Do you have a jar of tahini in your cupboard that you bought to make homemade hummus but you're left with a jar that's still 3/4 way full and have no idea what to do with it?
I'm here to tell you that you can do so much more with tahini than just as an addition to hummus.
I was brought up eating tahini so it has a particularly special place in my heart. I can't get enough of the stuff. I add it to almost everything! It usually makes an appearance in my breakfast – either in my smoothie, porridge or sometimes I just drizzle some on a banana.
If you love peanut butter, or any nut butter for that matter, you will love tahini! It tastes less sweet and has a slight bitter aftertaste (which I love!). I usually use it in dessert recipes, which may seem odd to some of you, but just like nut butters can be used in sweet recipes, so can seed butters.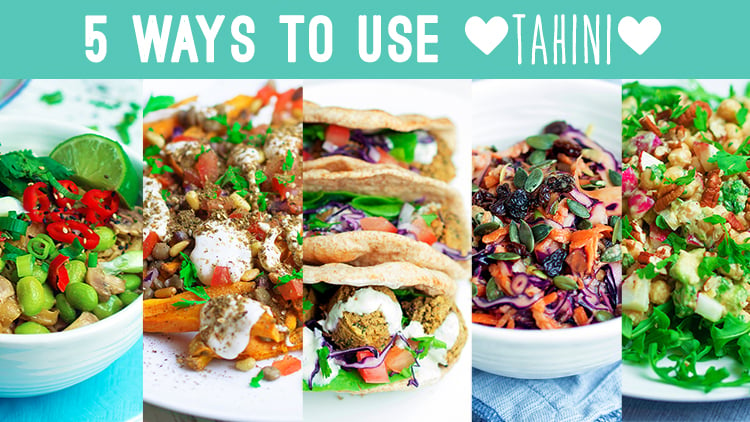 In this post, I wanted to focus on ways to use tahini in savoury recipes. Even though I only list 5 in the video, there are endless ways to incorporate tahini in recipes!
Not only is tahini delicious, it's also so good for you! Particularly if you're on a vegetarian or plant-based diet as it contains high levels of
Calcium – prevents bone loss
Zinc – helps strengthen the bones
Copper – reduces pain and swelling due to its anti-inflammatory properties.
Magnesium – helps you sleep better, prevents headaches and helps lower blood pressure
Phytosterols – that helps reduce cholesterol
All the above are important, particularly if you're vegan
As well as the above, tahini contains high levels of arginine which is believed to prevent weight gain and reduce obesity. So even though sesame seeds and tahini are high in fat (the good fat may I add), because they contain arginine, the body doesn't store it the way it would store fat consumed in the form of a doughnut for example.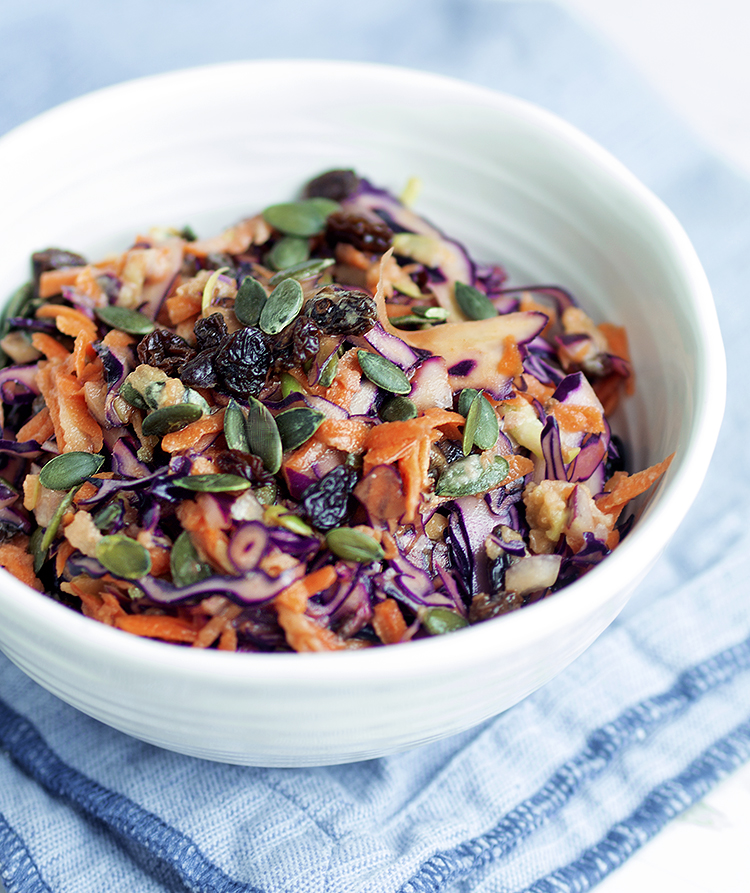 So to start off this series of tahini indulging, I want to share this simple, but delicious coleslaw recipe using tahini + other delicious flavours to season.
The hubby loves his coleslaw and he's so pleased I've managed to come up with a healthy version that tastes just as good as the original!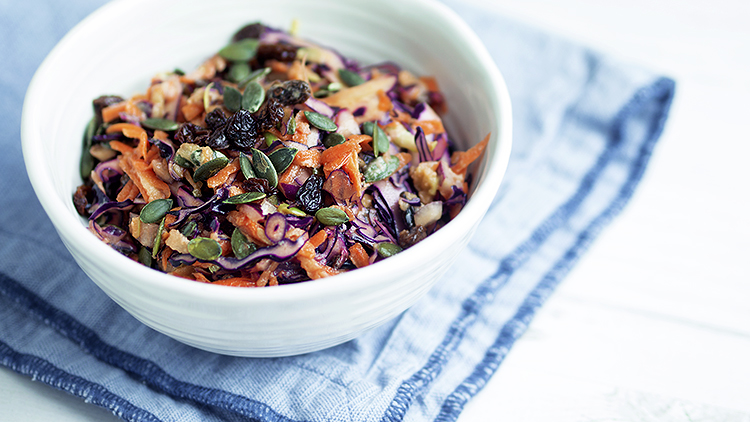 Tahini Coleslaw
2016-06-28 12:57:17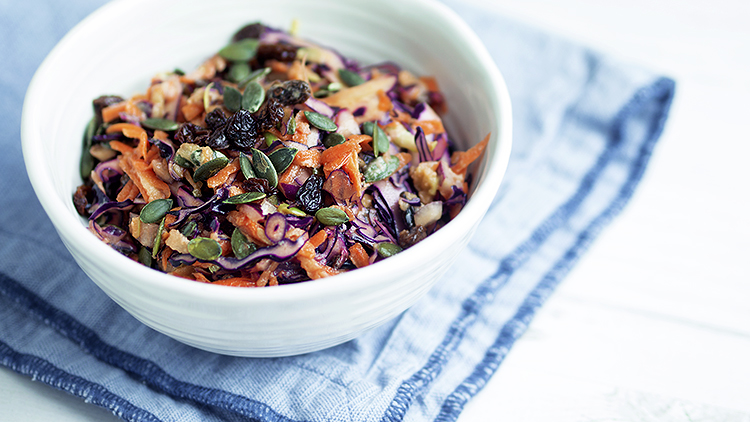 Serves 4
Ingredients
1 cup (1/4 of a head) of shredded cabbage
1 medium carrot, shredded
1 apple, shredded
1/4 of a red onion, chopped
2 tbsp raisins
2 tbsp pumpkin seeds
2 tbsp tahini
2 tbsp fresh lemon juice
2 tbsp coconut aminos - or you can use tamari/soy sauce
1 tsp mustard
salt and pepper to taste
Instructions
Mix everything in a large bowl.
Enjoy!
Nadia's Healthy Kitchen https://nadiashealthykitchen.com/
If you're still craving tahini, check out my
Salted Caramel Tahini Cheesecake
, it's too good!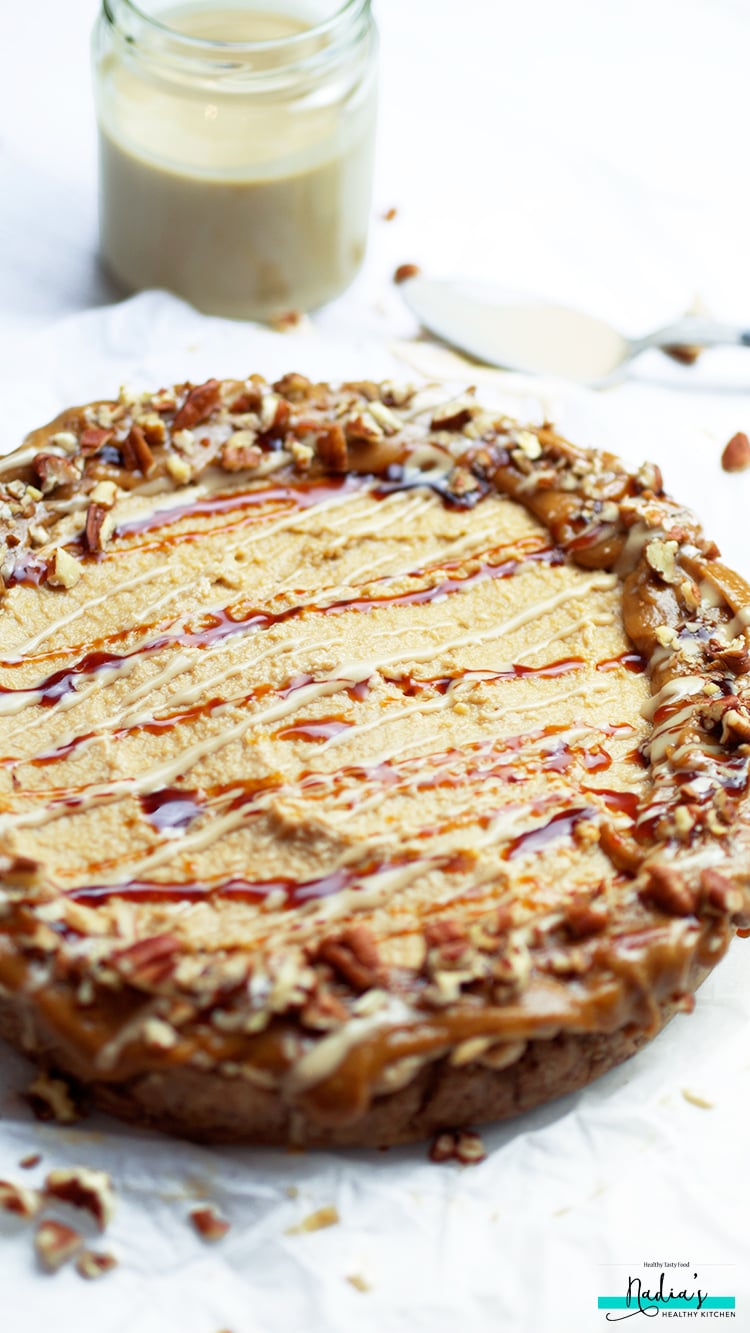 Sources
http://www.ncbi.nlm.nih.gov/pubmed/20437186