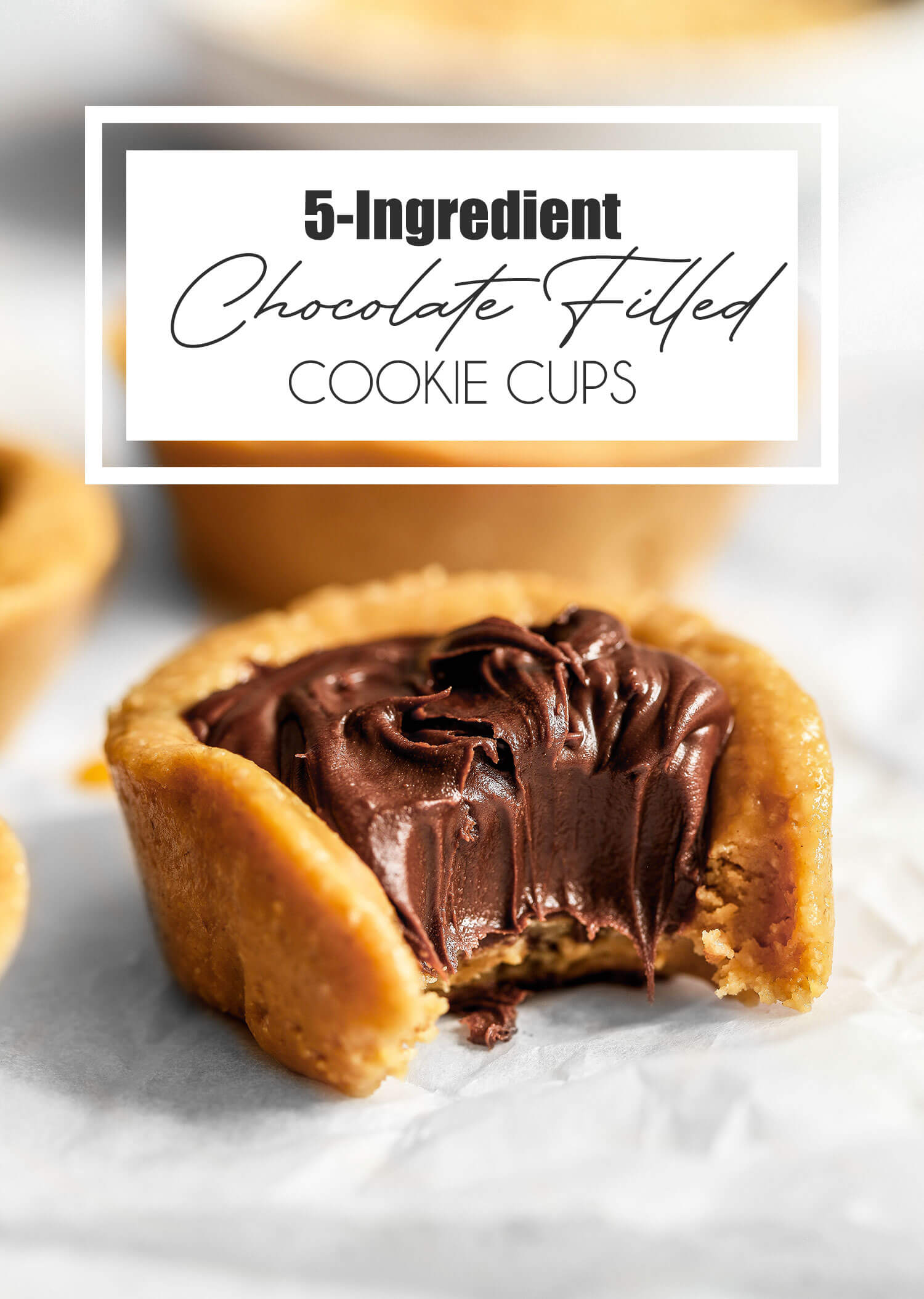 Yummy no-bake cups filled with lush chocolate spread. These 5-ingredient chocolate filled cookie cups are so easy to make and so indulgent!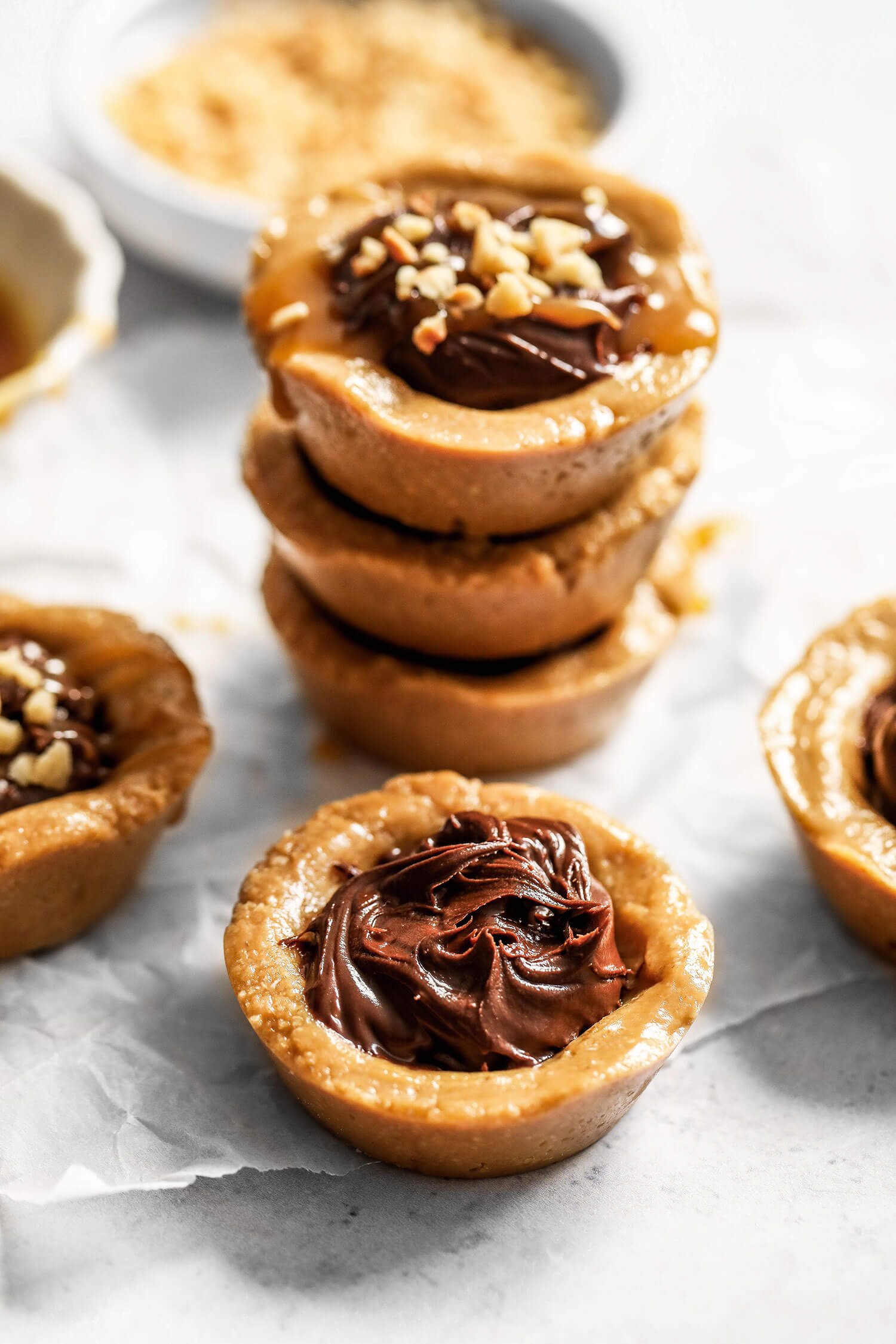 Quick and easy recipes with few ingredients has become my thing! I personally prefer making recipes that take no time at all to make. I try to use healthier ingredients, but every now and then I like to indulge in a not-so-healthy treat because I hate the idea of restricting my diet and not enjoying food and life!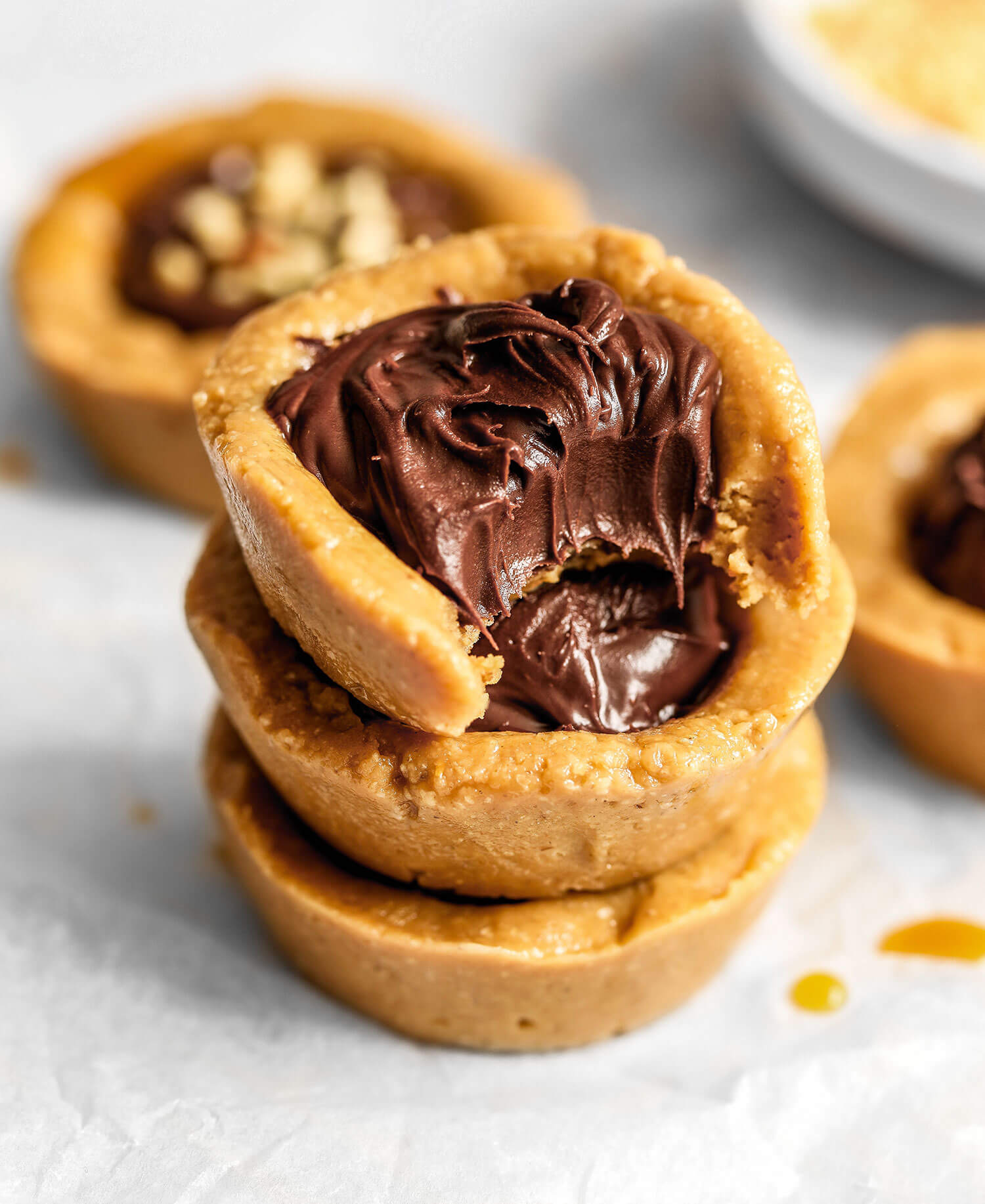 It's been a really difficult year for everyone and we're all looking for small comforts to make our days feel less stressful. Making an easy treat like these chocolate cups can be very therapeutic – good for both the mind and soul! Even better if you're lucky enough to be living with someone and can enjoy it with them.
For people like me who live alone, lock down has been an even bigger challenge. I also work from home, which means I go days on end without seeing anyone. To cheer myself up, I like to make treats like this that I can easily scale down and make a smaller portion of since I'm the only one there to eat them. I hate wasting food, so during lockdown I've stuck to these kind of recipes. That's why you don't see me baking cakes, or making tray bakes with a 8-16 serving size!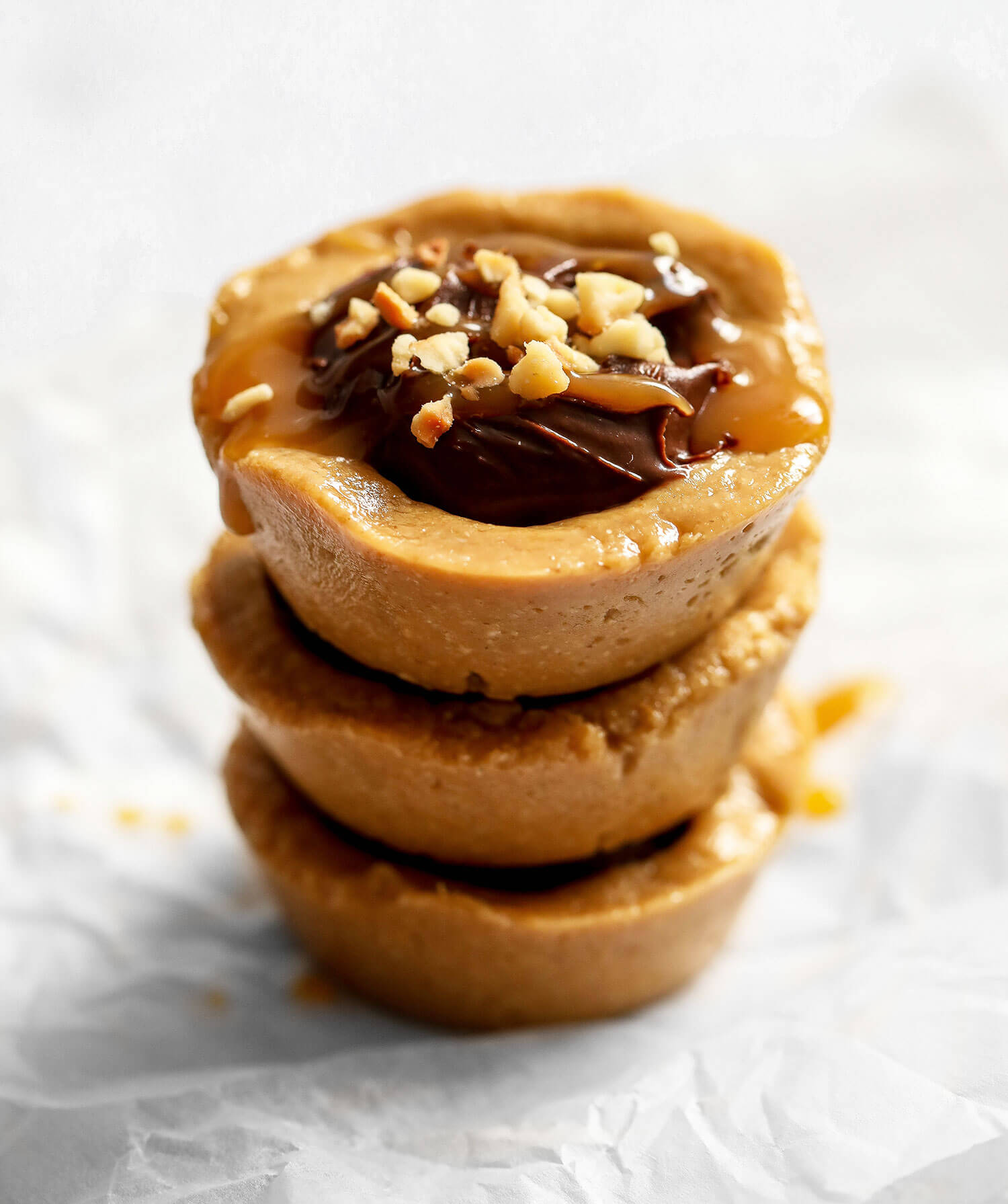 The good thing about this recipe is you can also double it if you have more mouths to feed. These 5-ingredient chocolate filled cookie cups are both vegan and gluten-free and so delicious!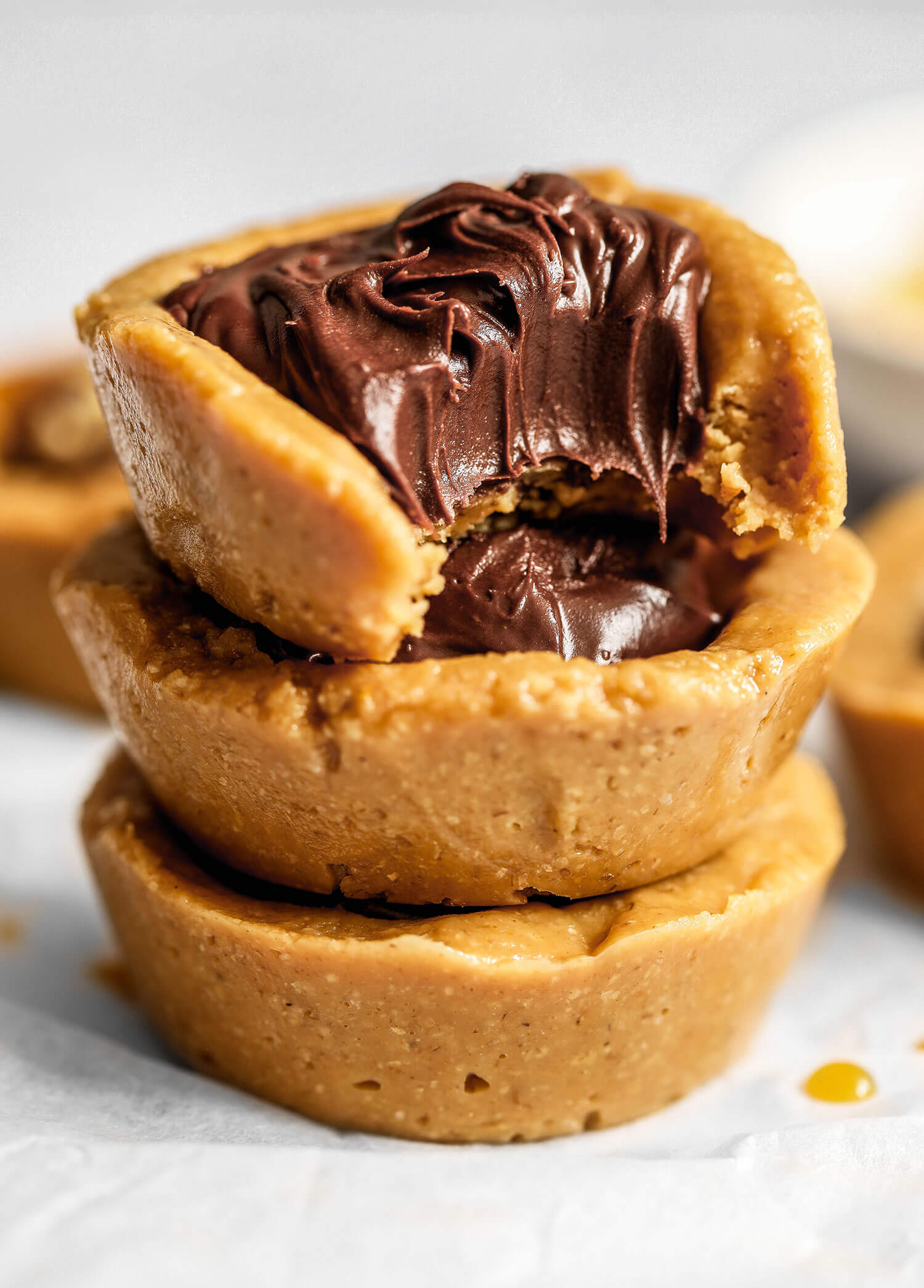 5-Ingredient Chocolate Filled Cookie Cups
Makes – 6 cups
Ingredients
For the cookie cups
55g (1/2 cup) oat flour – plain rolled oats blended into a flour in the food processor. Use gluten-free oats if necessary.
4 tbsp peanut butter*
1 1/2 tbsp maple syrup
1 tbsp coconut oil
Pinch of salt
For the chocolate filling
6 heaped tsp vegan chocolate spread – I used Bonsan chocolate spread
Method
Mix all the cookie cup ingredients in a bowl, then divide between 6 silicon cupcake moulds. Press down and up the sides to create the cup shape. Freeze for 10 minutes.
Remove from the freezer and add 1 tsp of chocolate spread into each cup. Freeze for another 10 minutes, then serve.
You can either store them in an air-tight container in the fridge or in the freezer and remove 15 minutes before serving.
Enjoy!