4-Ingredient Salted Caramel Fudge
Do you feel you overdosed on chocolate over the Easter holiday? No? Me neither, but can you really overdose on chocolate?? Well the answer is yes but it doesn't count during Easter 😛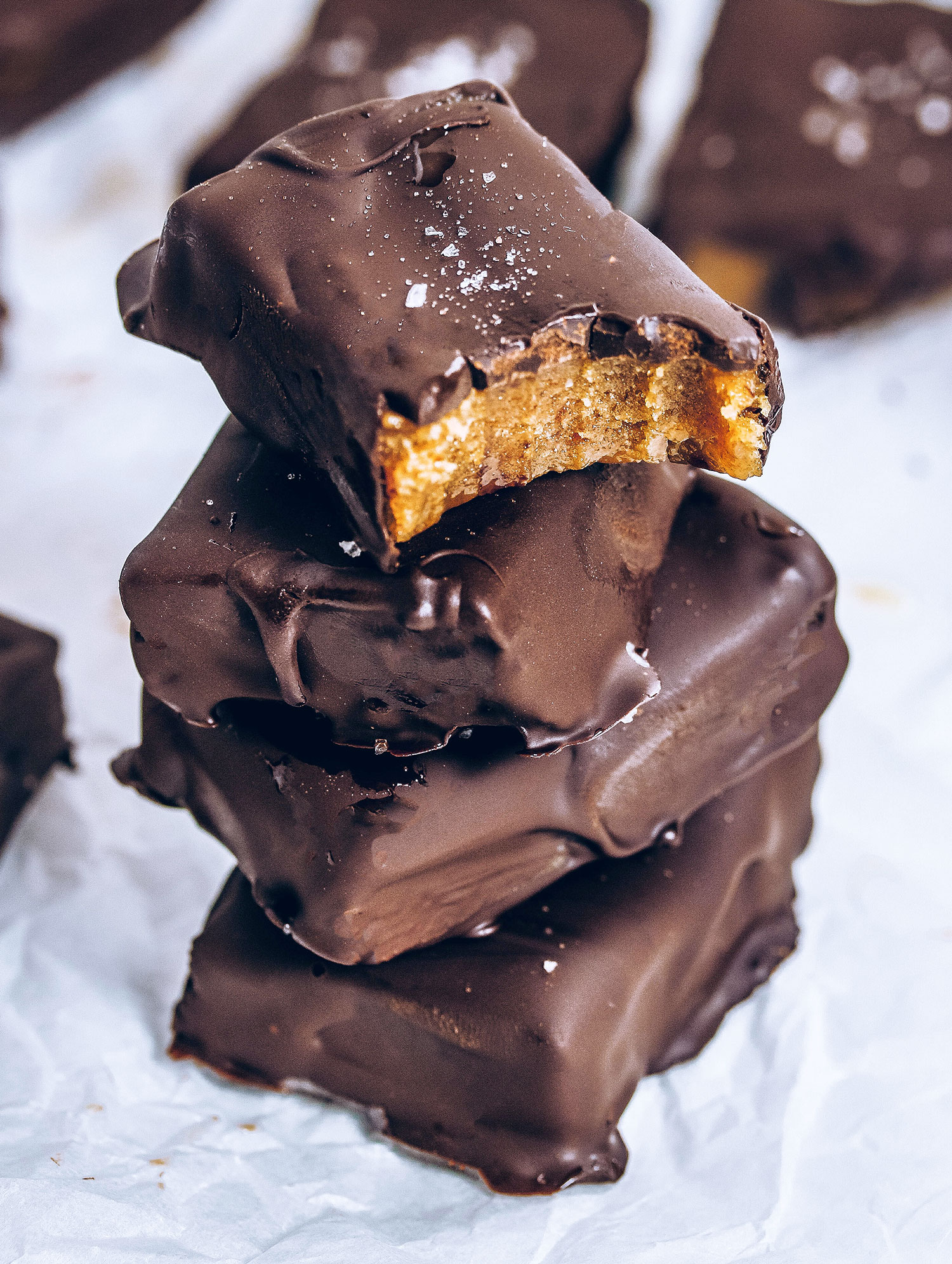 Actually, I haven't had any Easter chocolate or any kind of Easter treats this year. I've been recipe developing meaning I had way too many of my own treats to work my way through that I didn't see the need to go out and buy an Easter egg and my family know not to get me treats for that exact same reason. Which worked out fine! It just means my chocolate cravings are as strong as ever, and that's why I'm posting this chocolate covered 4-ingredient salted caramel fudge recipe.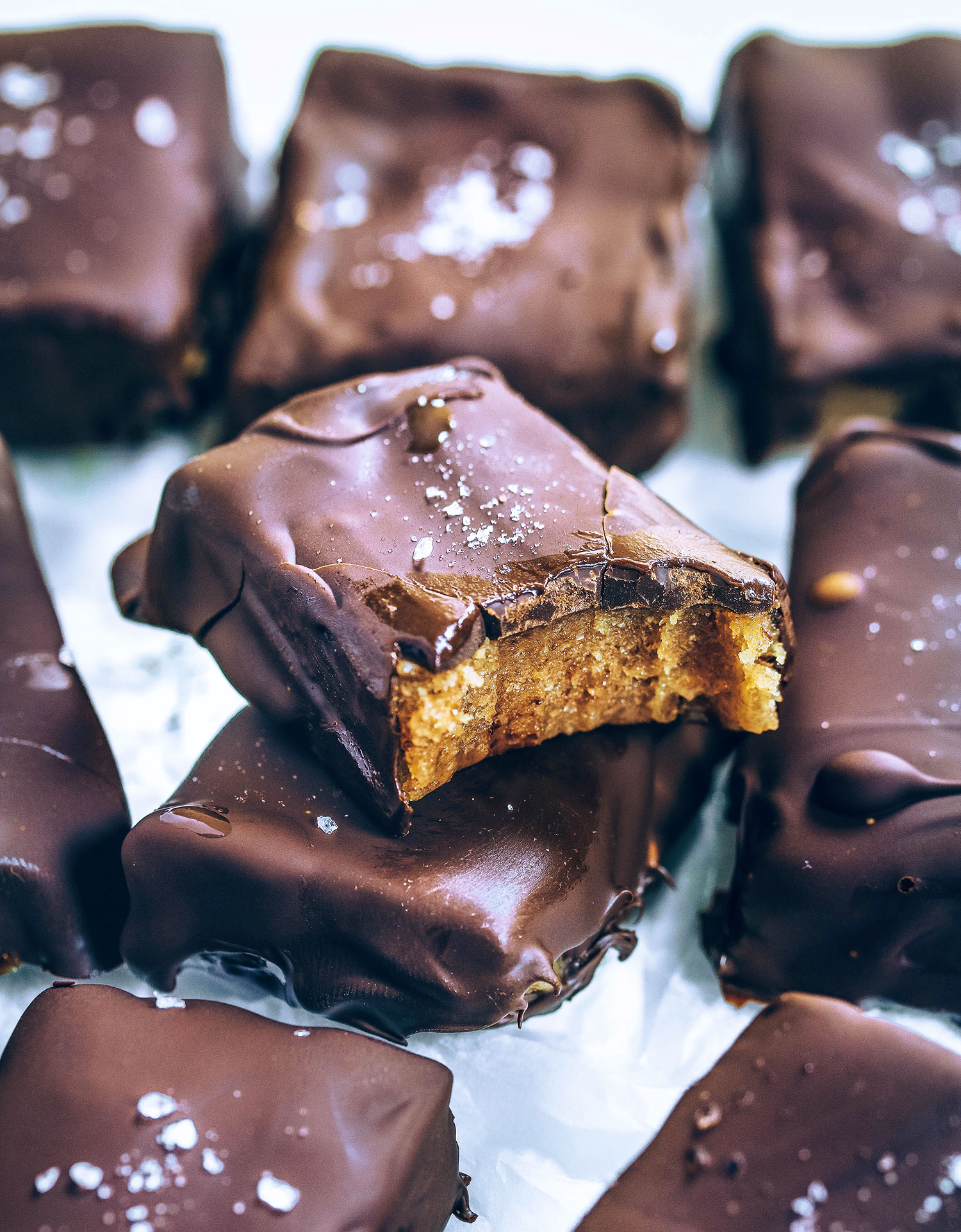 Reasons you need to try this 4-Ingredient salted caramel fudge:
Super easy to make
Requires no cooking
No temperature checking
No thermometer
Also, it's
Vegan
Dairy-free
Gluten-free
Sweetened with whole dates
Much healthier than regular fudge
Only calls for 4-ingredients
And salted caramel! Need I say more????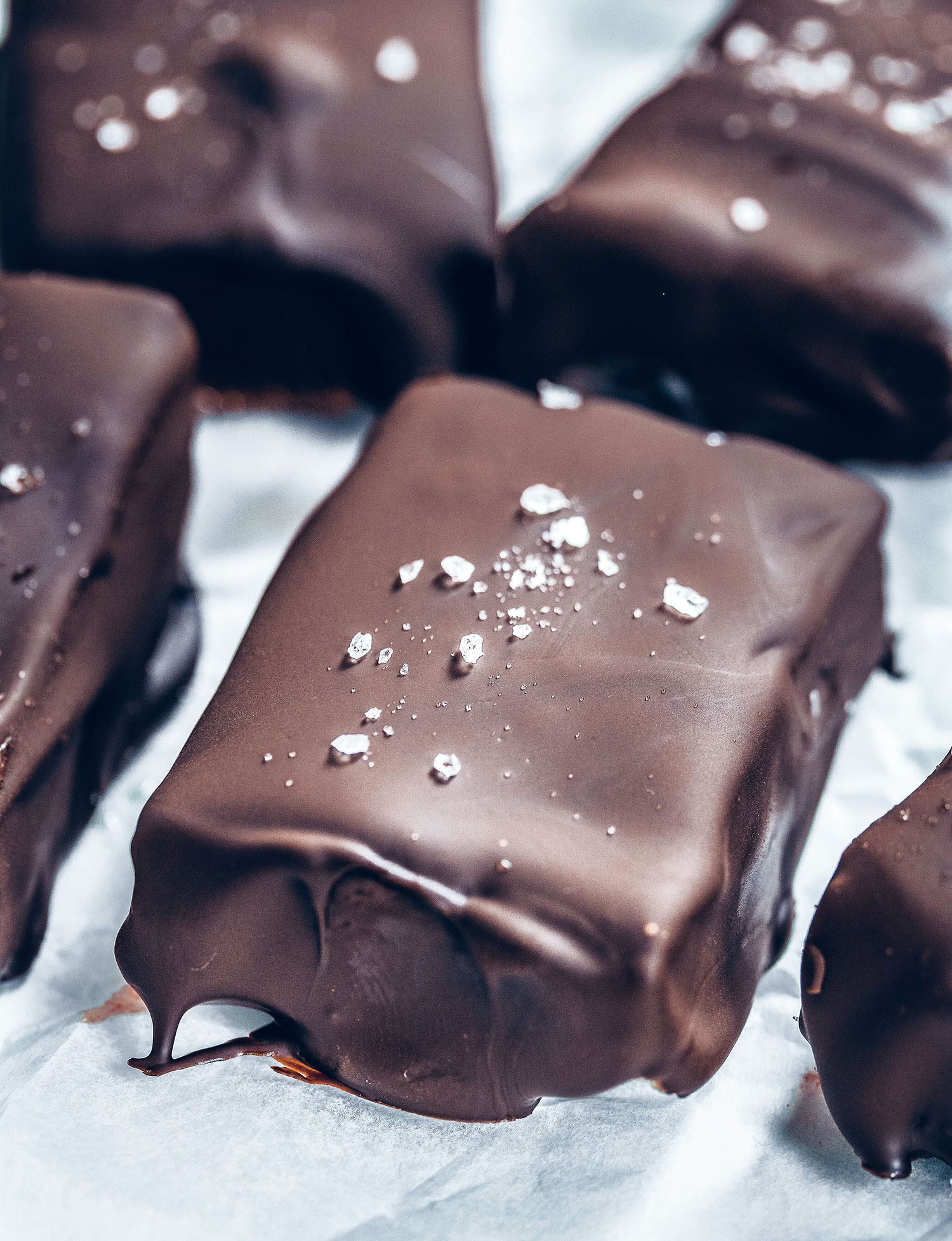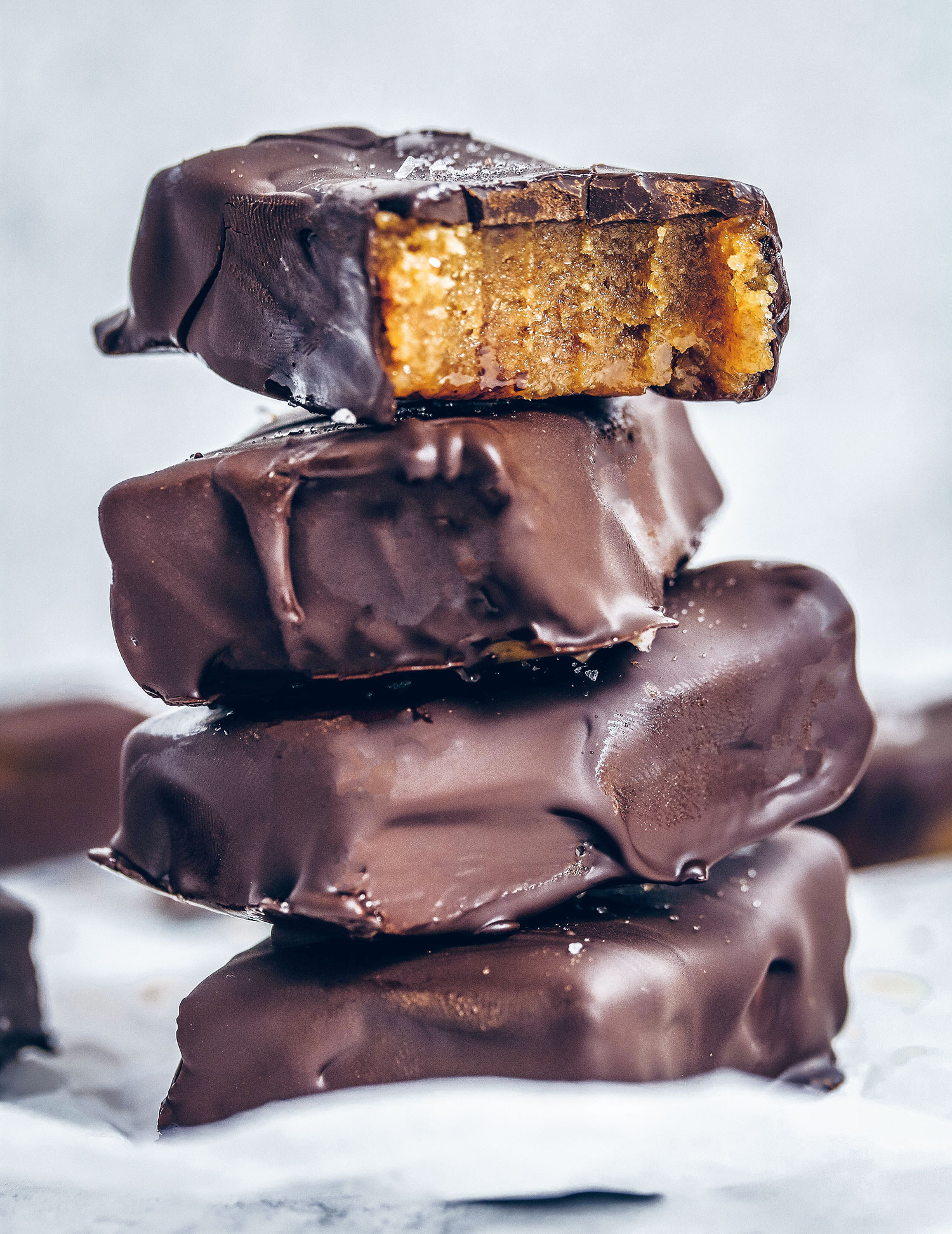 Tahini and dates are one of the most beautiful, underused and underrated flavour combinations ever! I grew up in Iraq eating both and one of my favourite breakfasts was 'dibis wa rashi', which literally translates to 'date syrup and tahini'. Mix a small amount of both in a small dish and dip bread into it. Sheer heaven! So I wanted to bring my childhood breakfast to life in the form of a dessert.
As you may have noticed, dates feature quite heavily in my recipes. I just love using them as a sweetener so much! I usually go for the cheaper varieties of dates because I can't afford buying medjool dates every few days and I know not everyone can afford them, but for this recipe I do make an exception. The medjool dates just add the most amazing fudgy texture that I've struggled to get with other types of dates. They also give the fudge the most amazing caramel taste.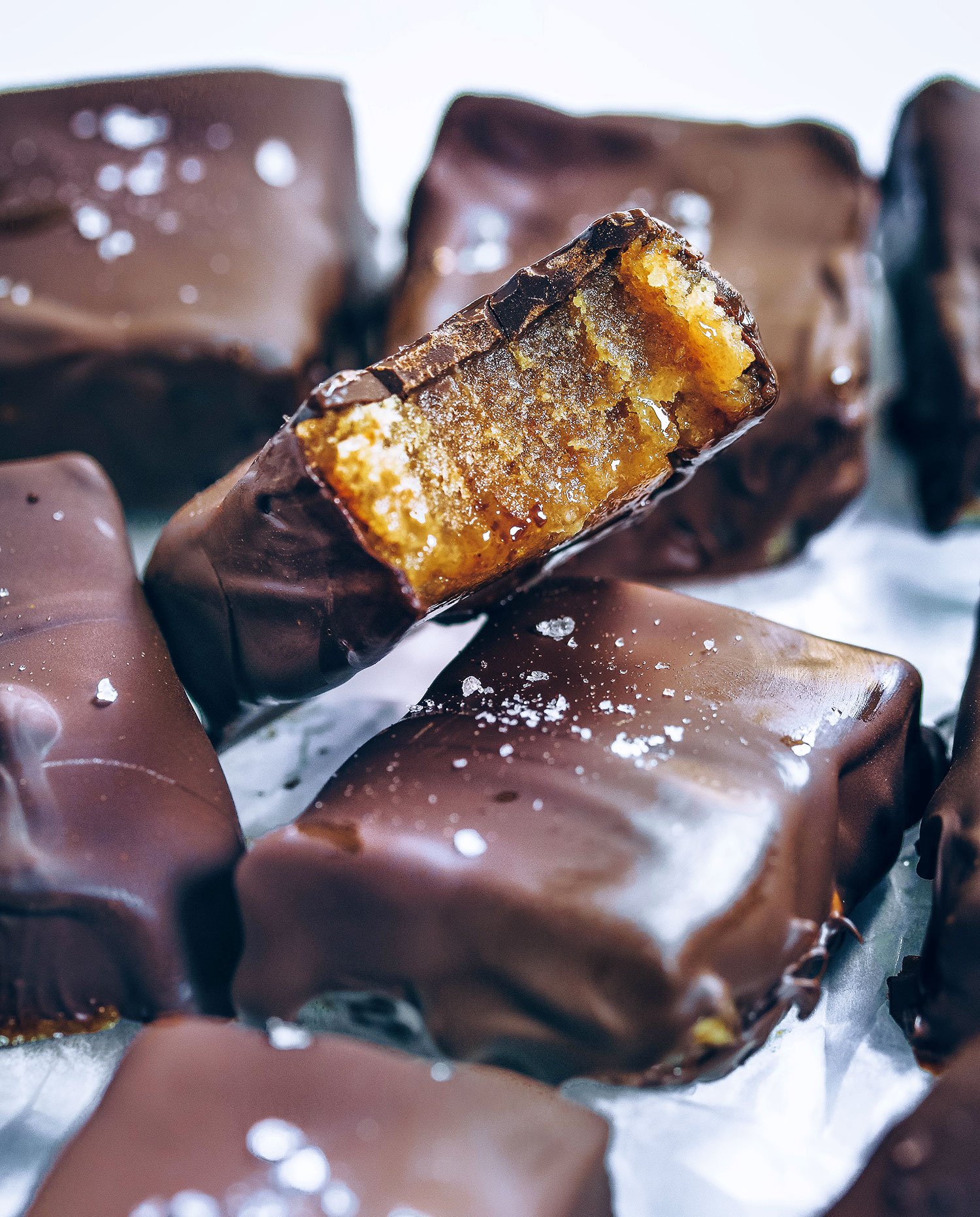 ---
4-Ingredient Salted Caramel Fudge
Makes – 12 pieces
Ingredients
13 (250g) pitted medjool dates
1/2 cup (120ml) tahini
Pinch of salt
200g dark chocolate, melted
Method
Add the dates, tahini and salt to a food processor and blend until combined (see video above for reference).
Press into a loaf tine (I used a 22×12 cm loaf tin). Freeze for 1-2 hours.
Slice into 12 even pieces and dip into the melted chocolate insuring each piece of fudge is fully covered.
Allow the chocolate to set. Enjoy!
Store in an air-tight container in the fridge for up to 5 days. You can freeze the leftovers, just ensure you take them out of the freezer 15-20 minutes before serving.
---

Share This Post