*This post is sponsored by Seasonal Spuds*
A wholesome meal with in season Cornish New Potatoes and added protein in the form of vegan sausages making this bake a well-rounded, filling and satisfying meal!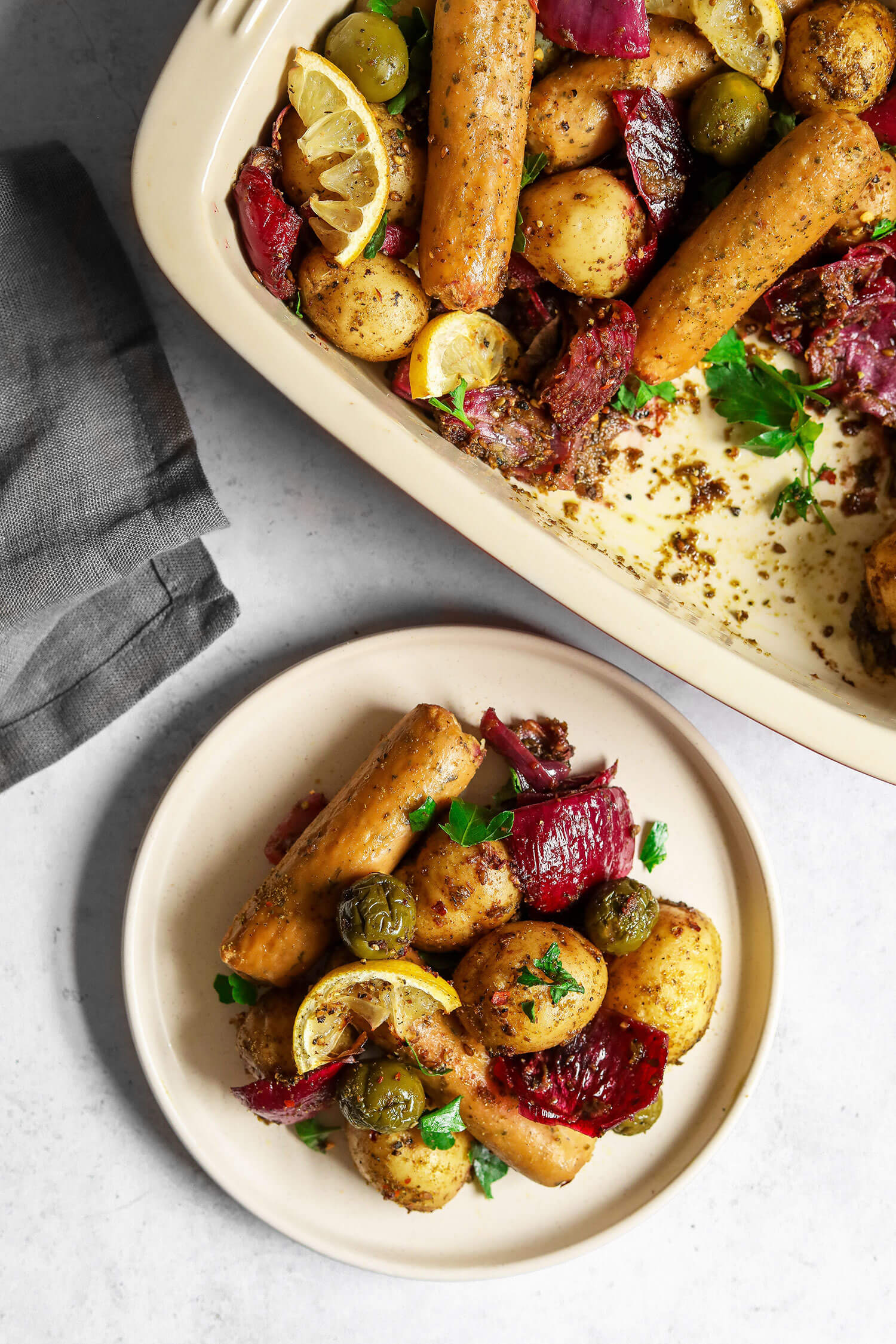 Packed with flavour from the za'atar mix – a popular Middle Eastern herb mix mainly made up of finely crushed dried thyme, sumac and sesame seeds. I grew up in the Middle East and so this spice mixture is really close to my heart. It's still not very well known in the UK, but is now stocked in most major supermarkets either in the spice isle or a the world food isle.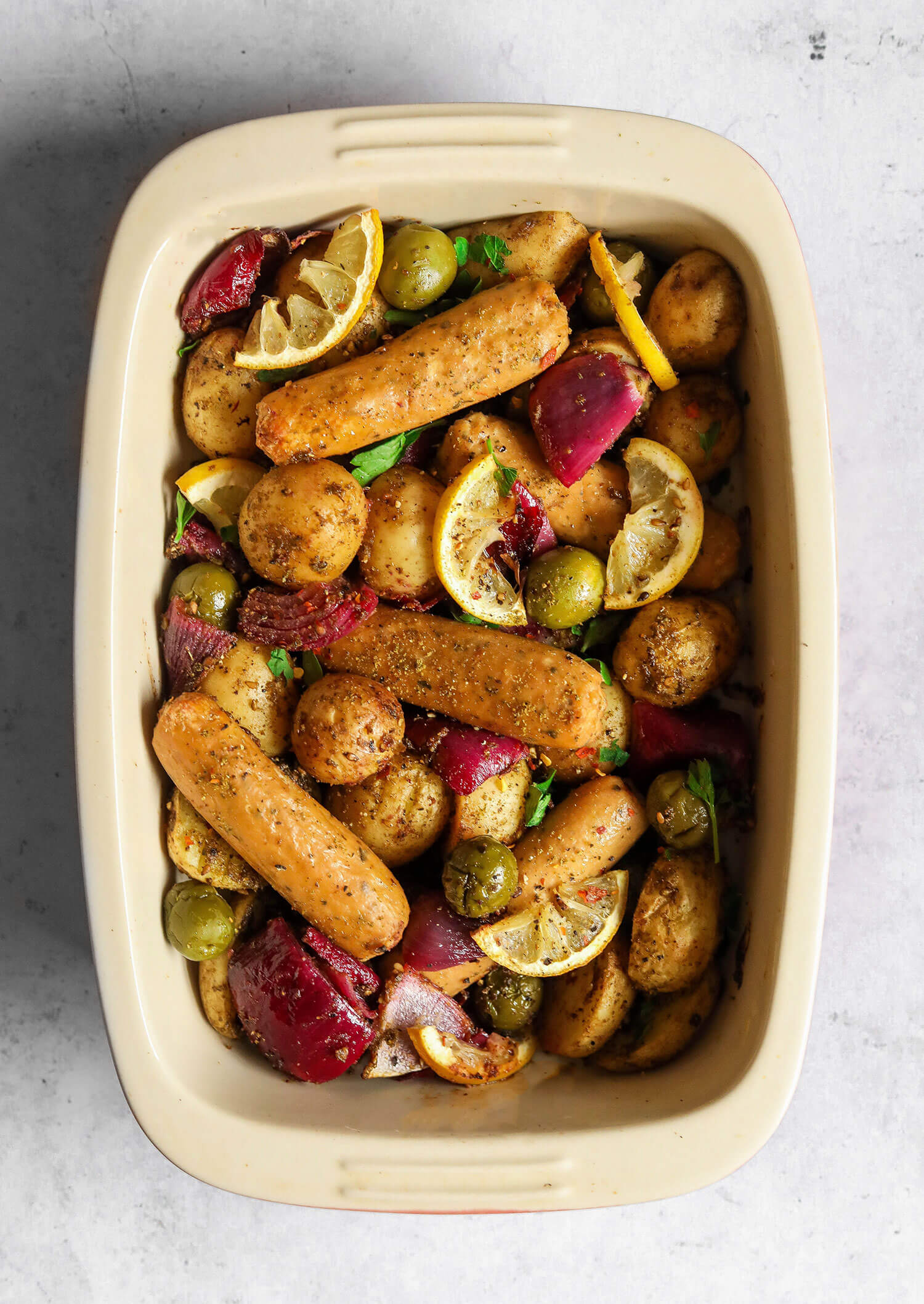 Za'atar goes well with many types of dishes – mainly used on bread with olive oil and lemon juice, but can also be used to flavour chicken, meat and vegetables. I personally think it's the perfect match for potatoes!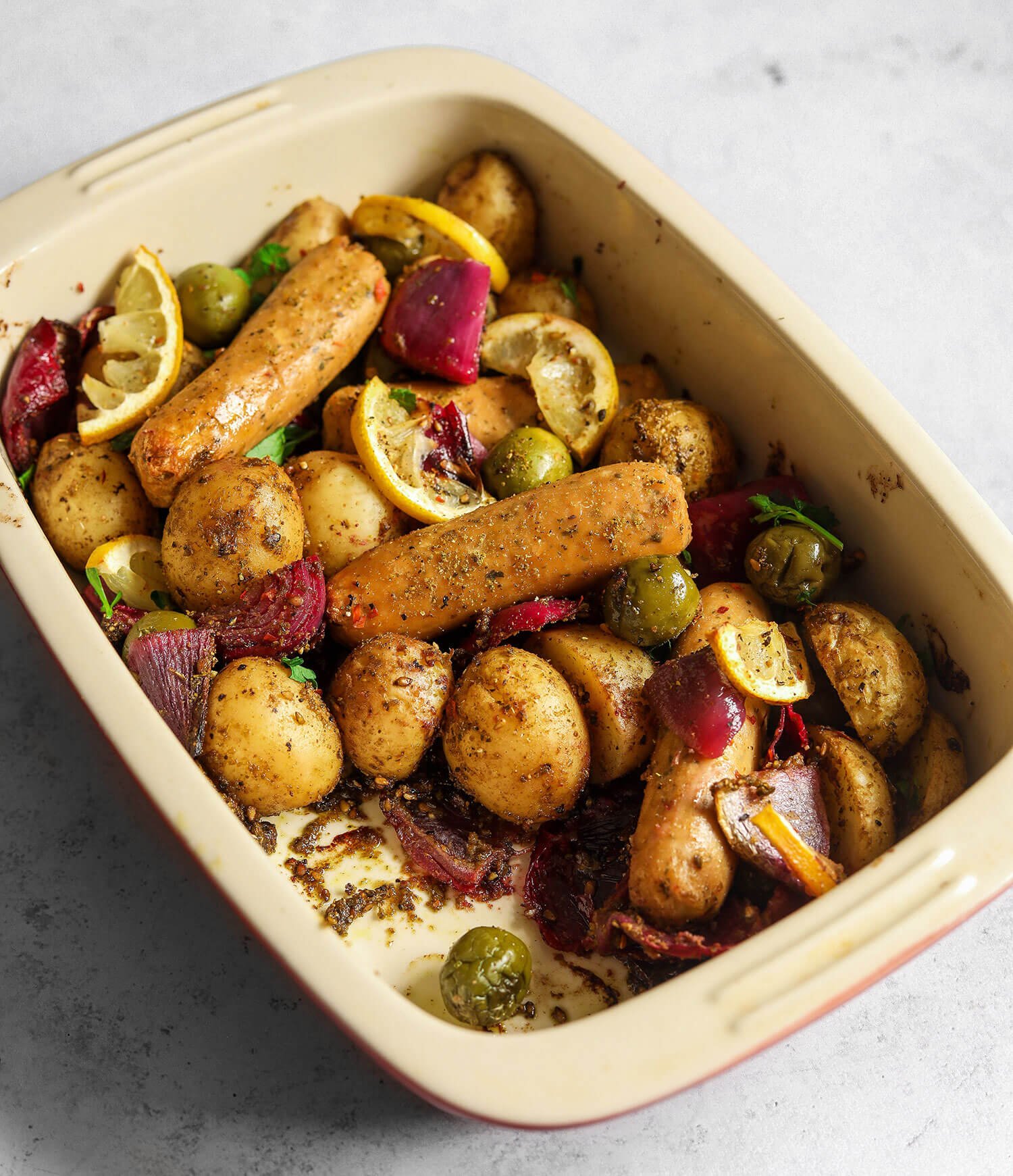 I created this recipe in collaboration with Seasonal Spuds using their Cornish New Potatoes, which are in season now and available to buy for a limited time only. They're harvested while they're still quite immature, giving them soft fluffy skins and a mild fresh taste, which really sets them apart from other baby potatoes both for chefs and home cooks.
Cornish New potatoes are seasonal and the first UK mainland crop of the year signals the start of summer. Growers begin planting them early as January on the coast and they're grown in the rich, fertile Cornish soils close to the sea.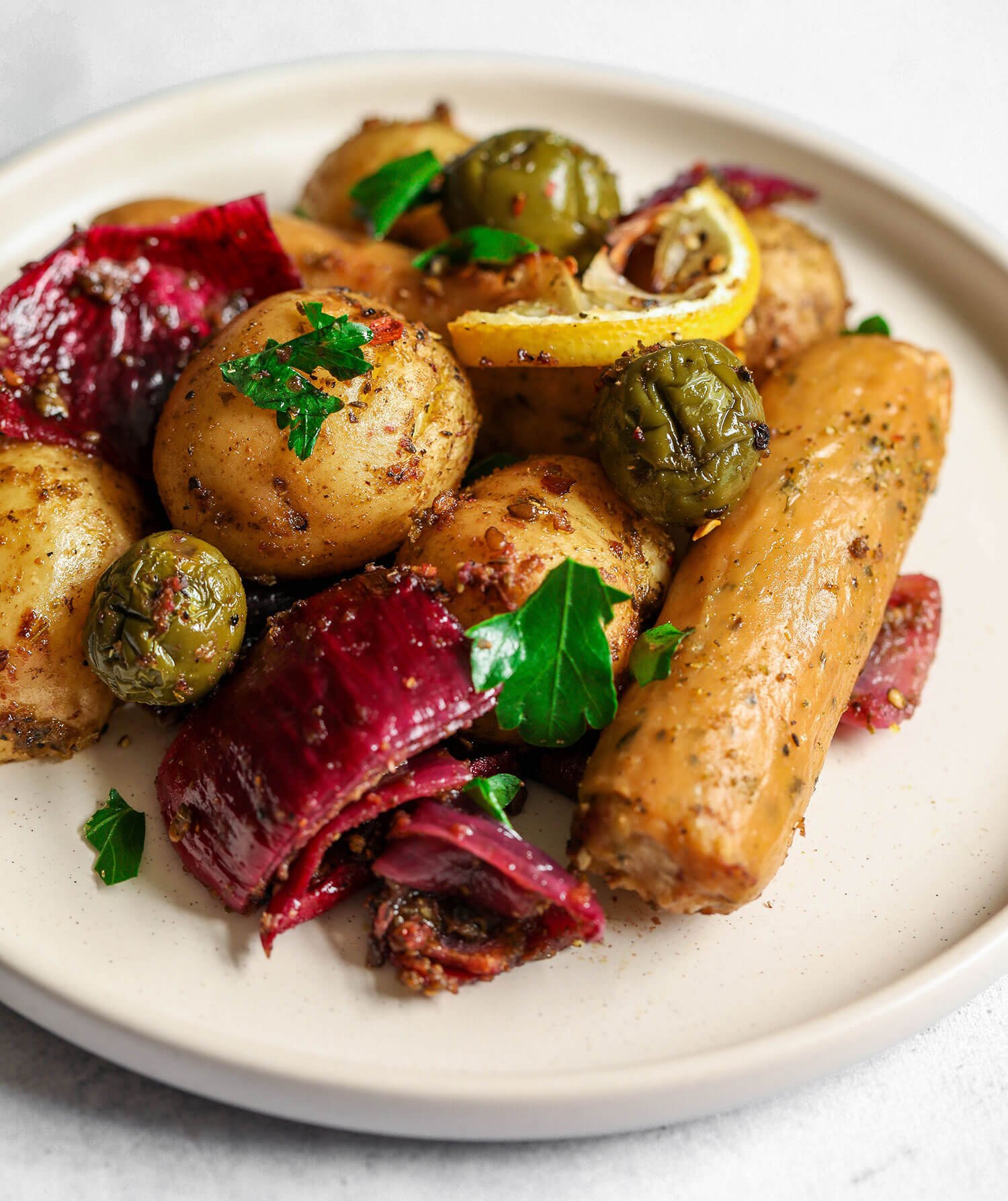 They're naturally fat free and lower in calories than some carbohydrates. So if you would like to take advantage of the goodness that these delicious, in season potatoes have to offer, make sure you grab a bag or two and make this quick, easy and delicious summer dish 😍 I know you'll love it!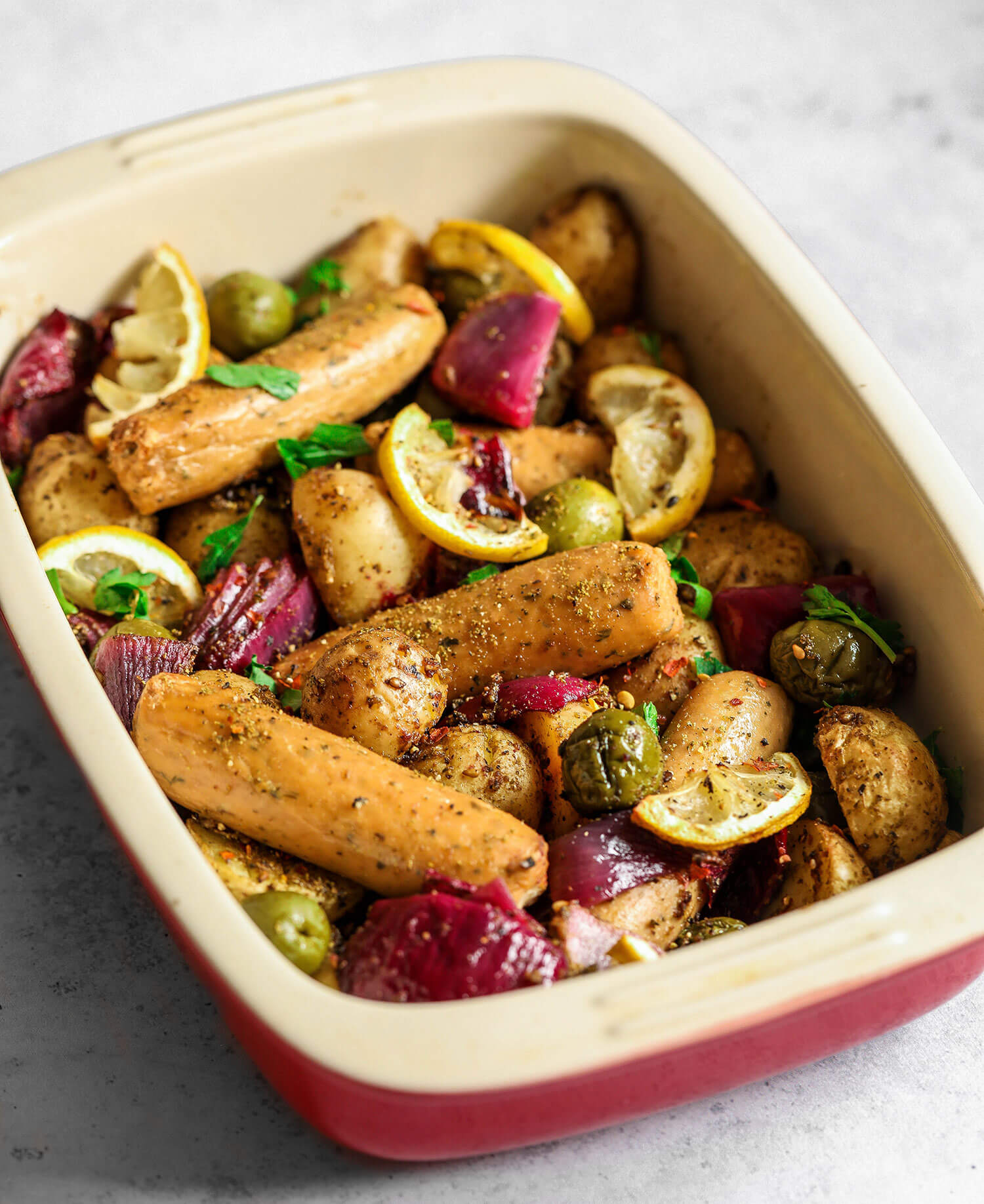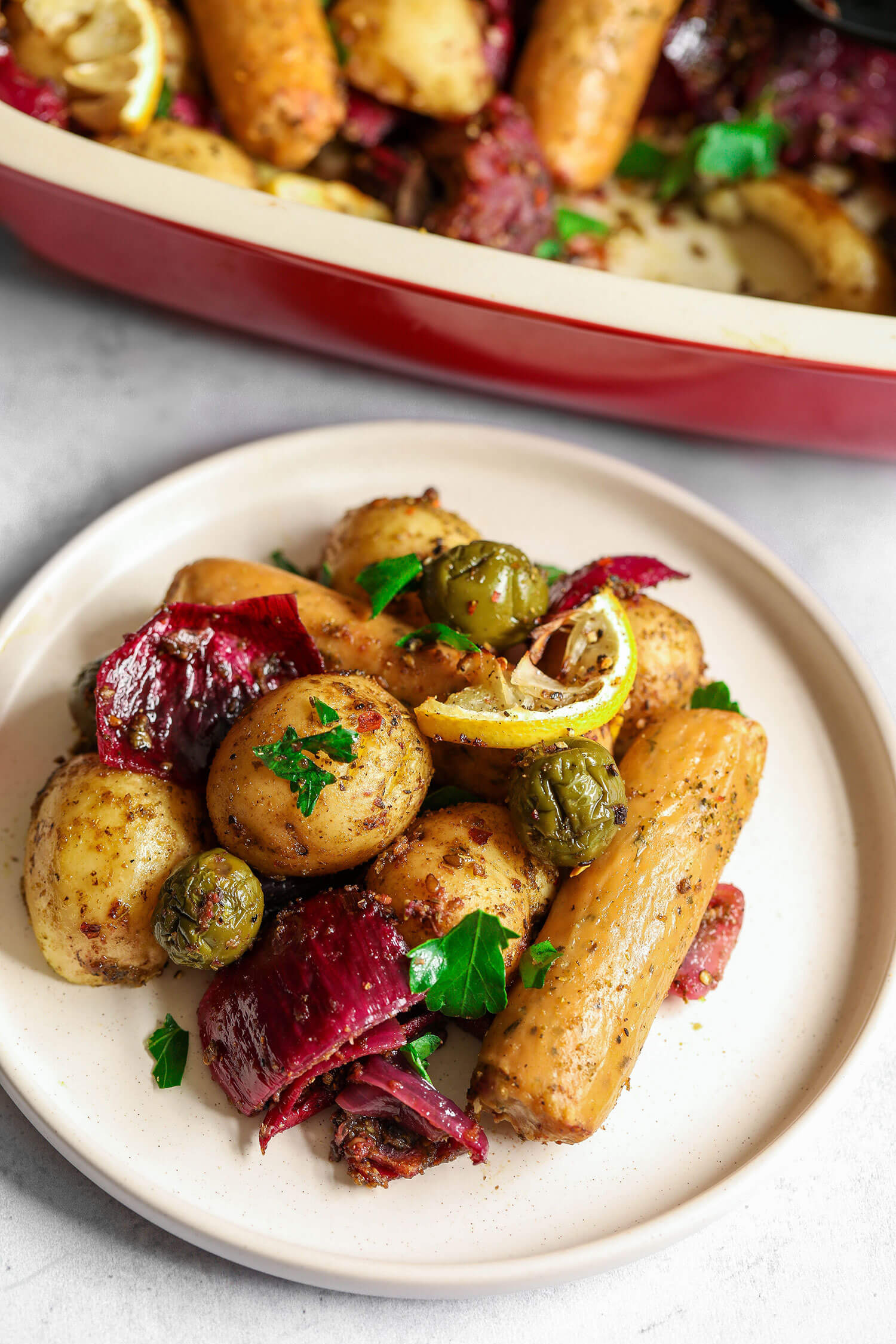 Za'atar Cornish New Potato & Sausage Bake
Serves – 3
Ingredients
400g Cornish New Potatoes
6 vegan sausages
1 large red onion, sliced into quarters
2 tbsp za'atar herb mix
2 tbsp lemon juice
2 tbsp olive oil
Salt & pepper to taste
10 Nocellara green olives
1 lemon, sliced
A handful of fresh parsley
Method
Wash and rub the potatoes, slice in half and add them to a large pot. Cover with boiling water, leave to simmer for 10, then drain.
In a large bowl, mix together the potatoes, onions, za'atar mix, lemon juice and olive oil. Season to taste with salt & pepper.
Transfer into a baking dish and roast for 25 minutes.
Take out of the oven and arrange the sausages, olives and lemon slices on top. Return to the oven for another 20-25 minutes.
Top with the fresh parsley and serve. Enjoy!