Vegan Tofu 'Chicken' Nuggets
I was only exposed to chicken nuggets when I moved to the UK and as you can imagine, I absolutely fell in love with them! Crispy on the outside, soft on the inside and full of flavour. You can easily understand why every kid in the country is obsessed with them!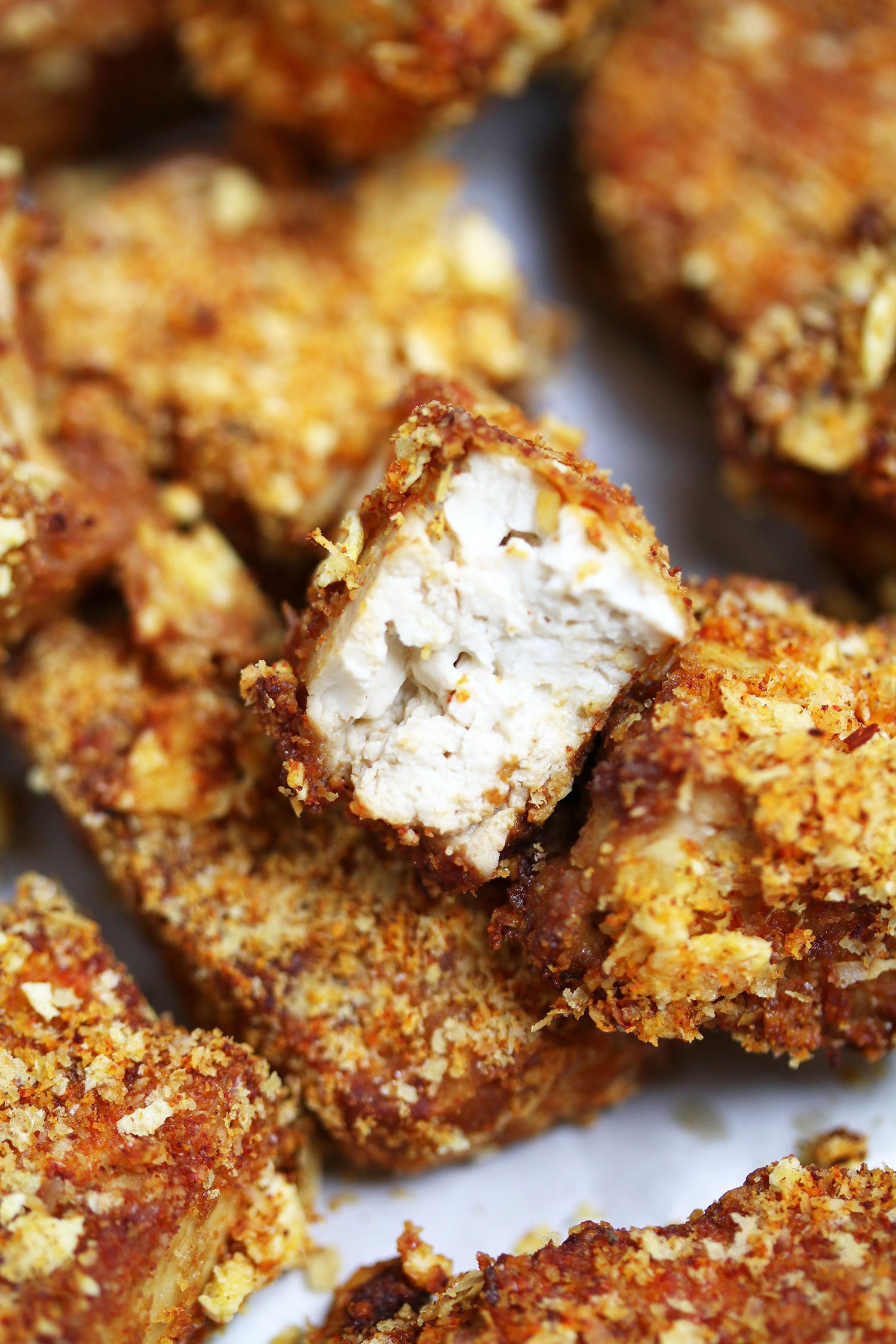 As delicious as they are, chicken nuggets aren't exactly known for their nutrition content. Unless homemade, they're heavily processed with lots of other unwanted added ingredients.
Not only is my version lower in fat, it's also high in iron, calcium, magnesium, selenium, zinc and omega-3, all of which can be lacking in a not so well planned plant-based diet. Tofu is an amazing source of many micro nutrients and is an excellent source of protein. Also, you can use it to make so many fun recipes, like these vegan tofu chicken nuggets 😉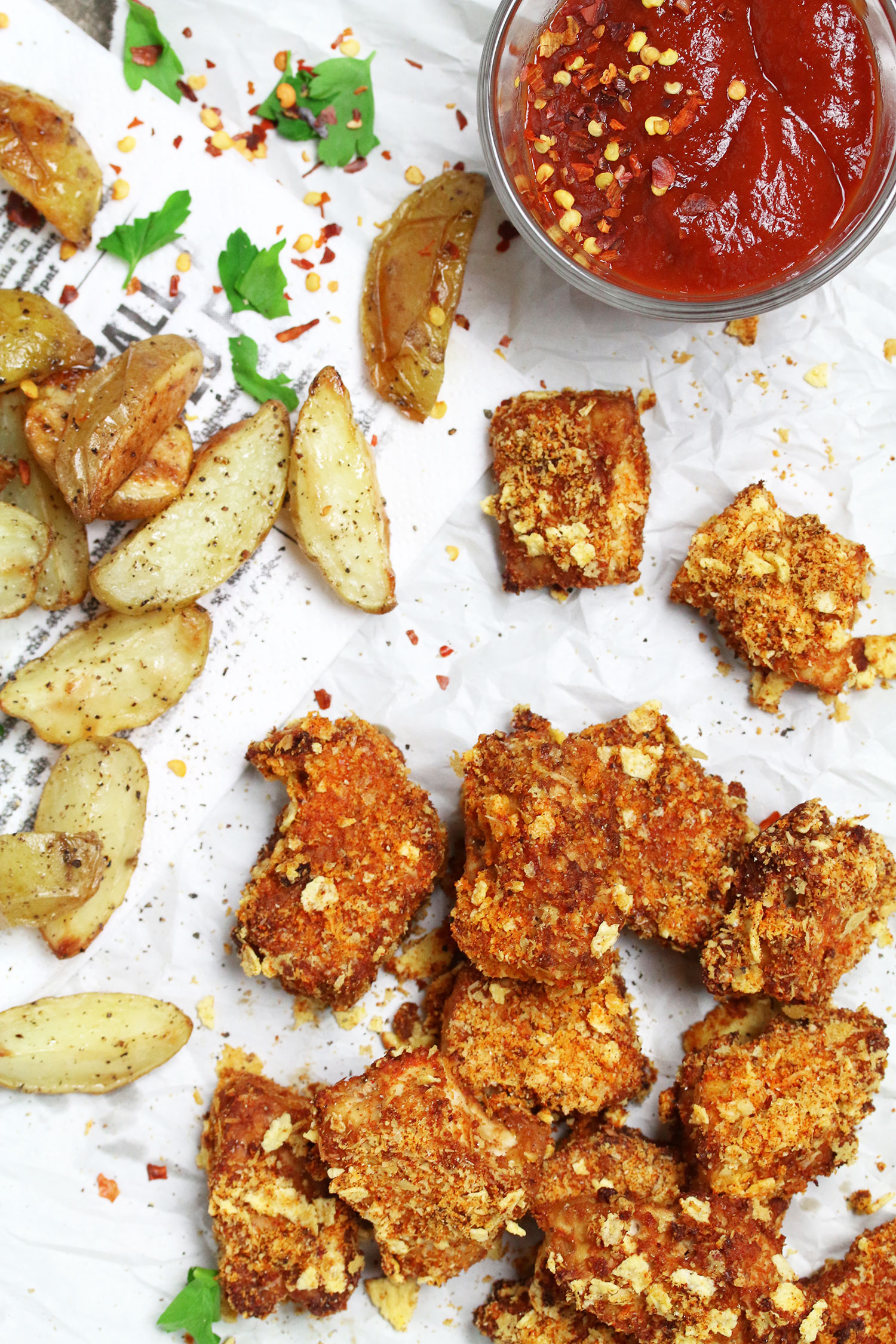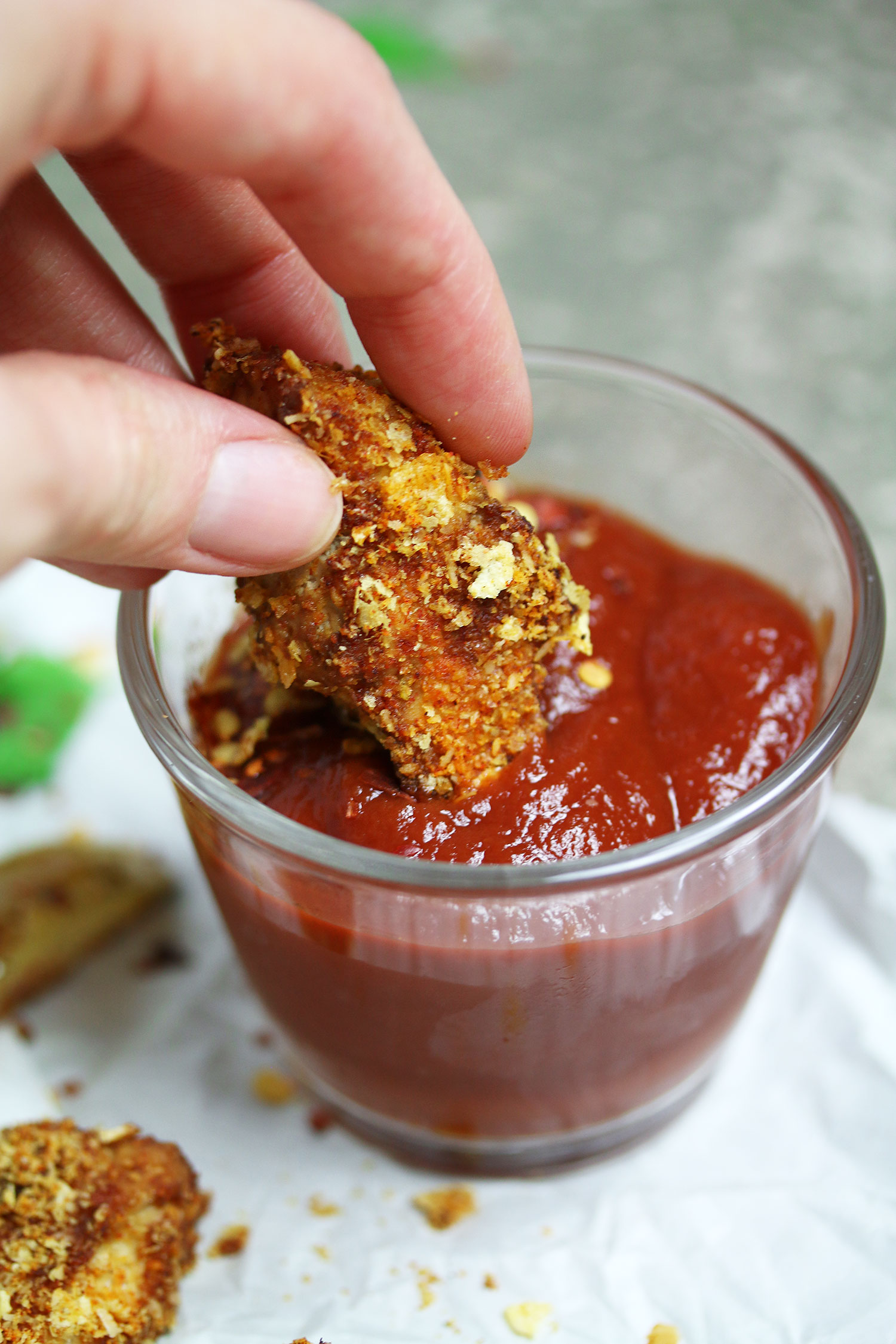 Many tofu recipes use frying as a means to prepare it, but I've found that baking tofu gives it a much firmer and chewier texture. Frying tofu means it's exposed to heat for a less amount of time leaving it soft and soggy – a texture I'm not a huge fan of. Baking tofu also means it's healthier with less fat, which is never a bad thing.
I used a simple mixture for the coating of ground almonds, garlic powder, paprika and chilli powder. To make these vegan tofu chicken nuggets even crispier, I used some crushed up gluten-free cornflakes to give the coating that classic crunch that fried food is known for.
This recipe is perfect as a Friday night treat with a side of homemade chips and some veggies. Perfect balance of protein, carbs and greens!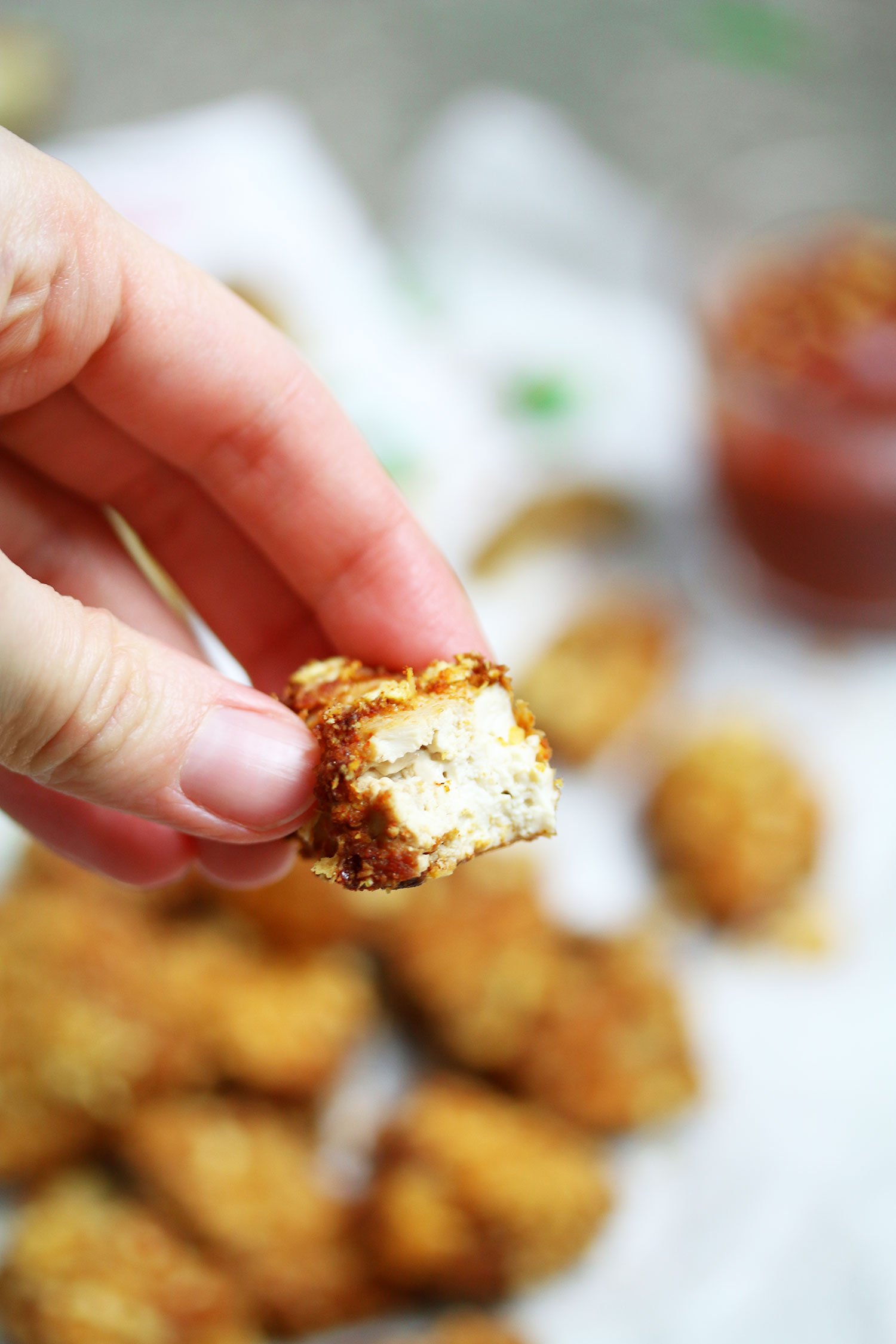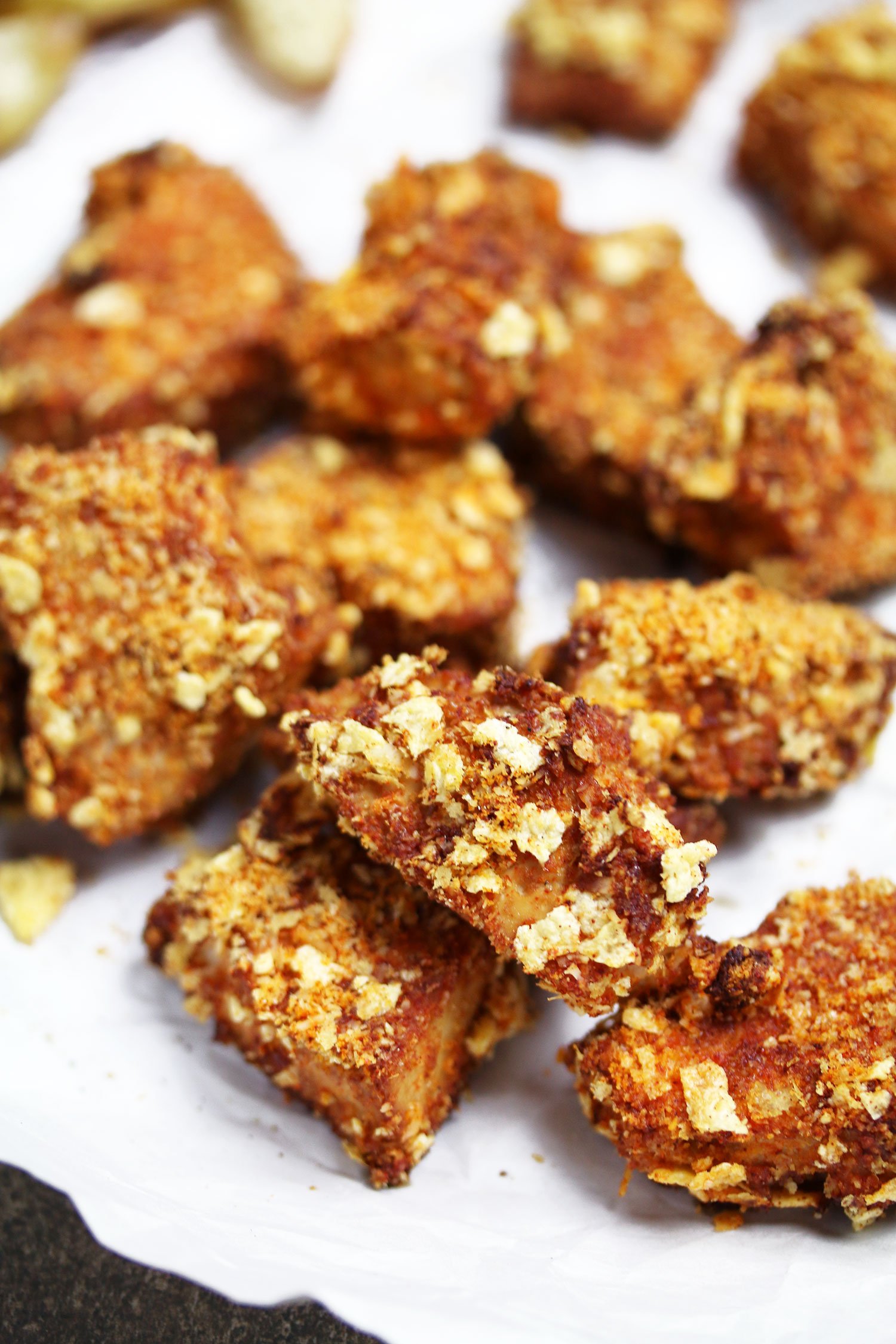 ---
Vegan Tofu 'Chicken' Nuggets
Ingredients:
400g block of tofu, drained according to pack instructions
4 tbsp tamari or soy sauce
1 tbsp lemon juice
4 tbsp gluten-free cornflakes, crushed into fine crumbs. Make sure you get a no added sugar variety
2 tbsp ground almonds
1/4 tsp garlic powder
1/4 tsp chilli powder
1 tsp paprika
Salt & black pepper to taste
Method:
Drain the block of tofu according to pack instructions.
Preheat your oven to 200*C (180*C fan assisted)/ 350*F
Break up the tofu block into uneven chunks (to mimic the look of chicken nuggets) or slice into cubes.
In a bowl, mix together the tamari and lemon juice. In a separate bowl, mix together the crushed cornflakes, ground almonds, garlic and spices. Add salt & pepper to taste.
Dip each tofu piece into the tamari bowl, then roll in the coating ensuring they're evenly covered. Place on a baking sheet covered with parchment paper.
Bake for 20 minutes or until the coating is golden brown.
Enjoy with a side of homemade potato wedges or sweet potato fries and some veggies!
---