Vegan Spicy Mexican Tacos
Tacos are considered such a treat in my household. They're really easy to put together, taste delicious and are so filling and satisfying! Our go-to movie night treat.
This is my second recipe for the Global Cuisines series in collaboration with GOODMINZ using their fresh minces, which are made completely from plants and with no soy!
We kick started the series with my American Style Burgers served with a homemade mayonnaise. Today, we're moving south of the border and visiting Mexico with this spicy Mexican inspired Taco recipe.
GOODMINZ is a new kitchen staple made with fresh and wholesome plant-based ingredients. It comes in four different vibrant colours (green, orange, brown and purple), each with a unique blend of vegetables, chickpeas, quinoa and other goodies. The aim of the products is to make it easy for us to create family favourites, as healthier no-meat alternatives.
What I love most about GOODMINZ is just how easy it is to use and turn into meals – here's a few ideas…
Shaped into small patties and served with a big rainbow salad for a delicious, nutritious and filling meal.
Shaped into bigger patties to create super speedy burgers.
Shallow fried and spread over a pizza base.
Used as a filling in a plant-based shepherd's pie.
Shaped them into sausages and serve with mash and veggies.
Shaped into meatballs and served with pasta.
Used as a filling for sandwiches, wraps and baps.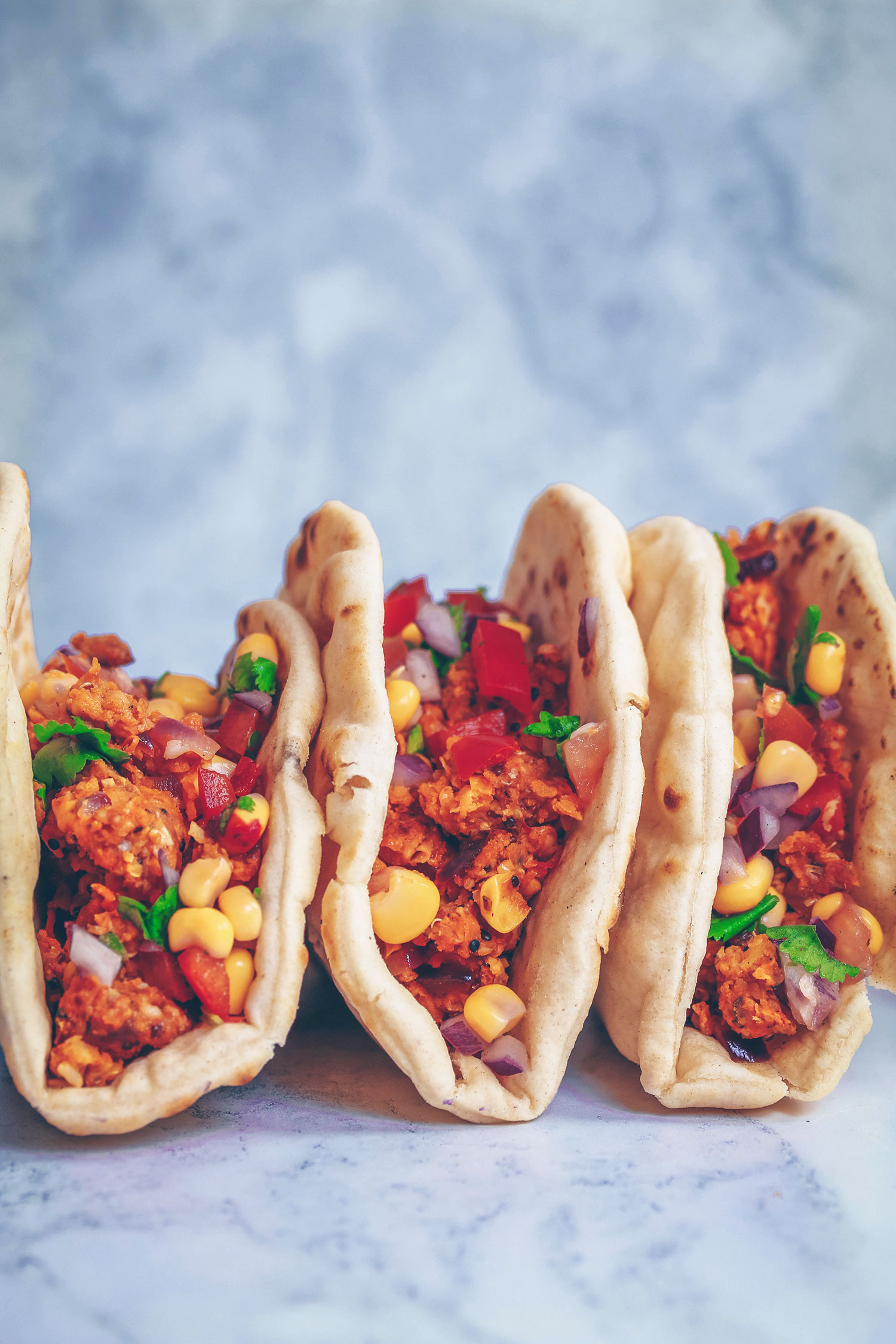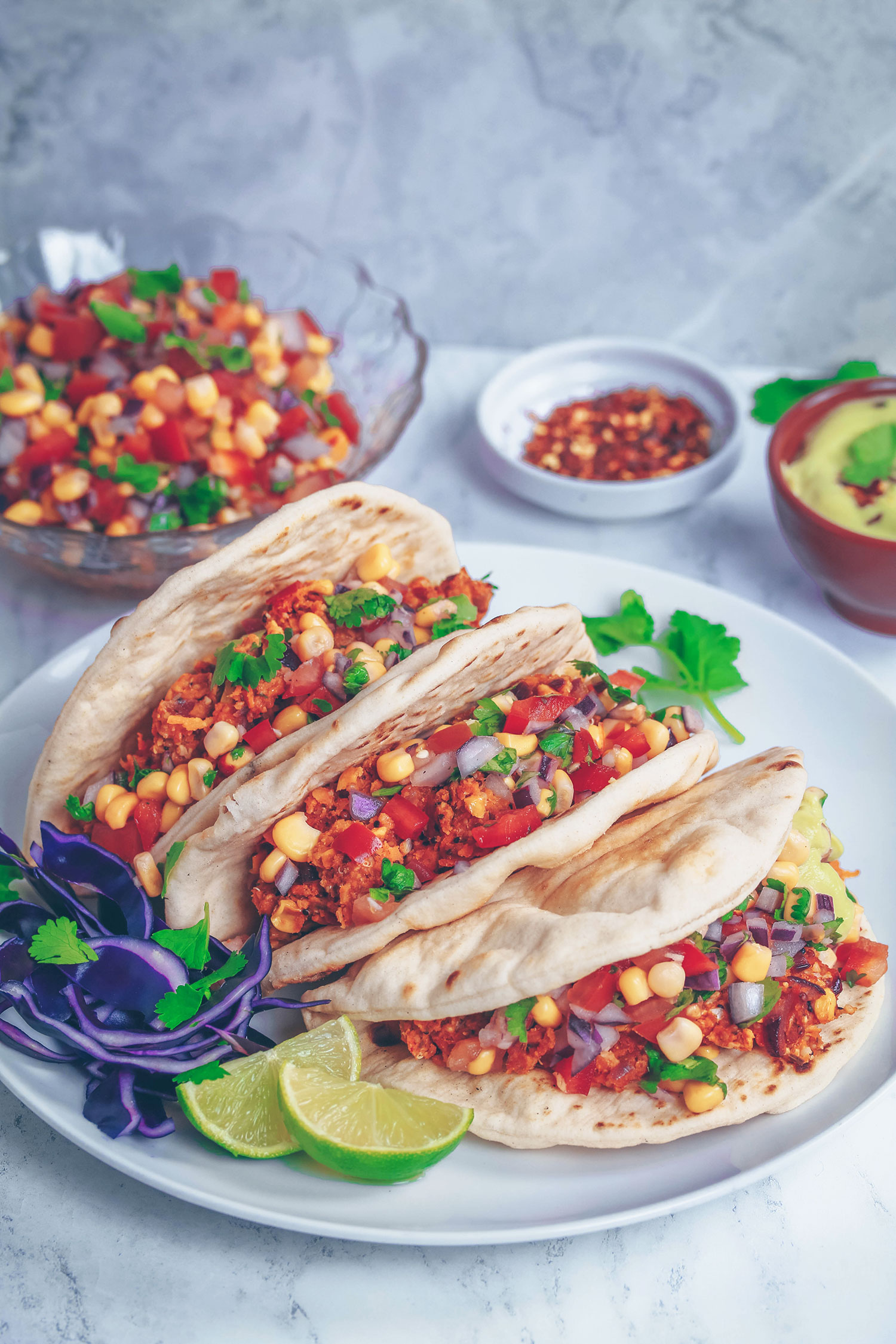 GOODMINZ mince products are so diverse. You can keep recipes as simple as you like, but they also allow you to experiment and get creative in the kitchen.
These vegan spicy Mexican tacos are so quick and easy to put together. I used GOODMINZ orange mince to complement the heat from the chilli powder and the vibrant red colour from the paprika powder. I'm serving them with a homemade sweetcorn salsa and a speedy smooth guacamole to add even more textures, beautiful colours and to intensify the depth of flavours.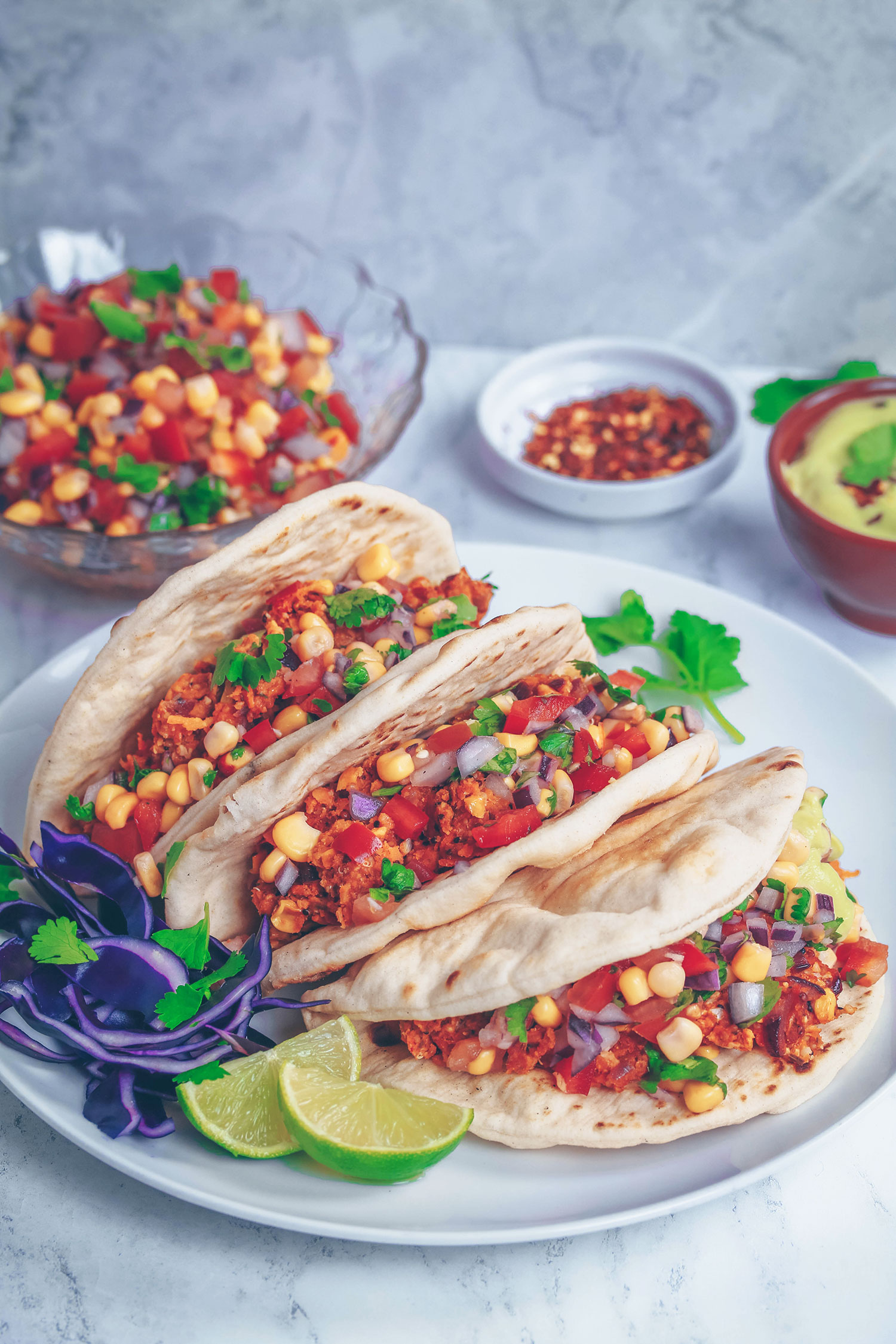 These vegan spicy Mexican tacos are:
Plant-based
Gluten-free
Dairy-free
Super healthy
Quick
Easy
& Packed with flavour
They're perfect for a weekend lunch or light dinner when you don't want to spend too much time in the kitchen, but want to enjoy a delicious and healthy meal with family and friends.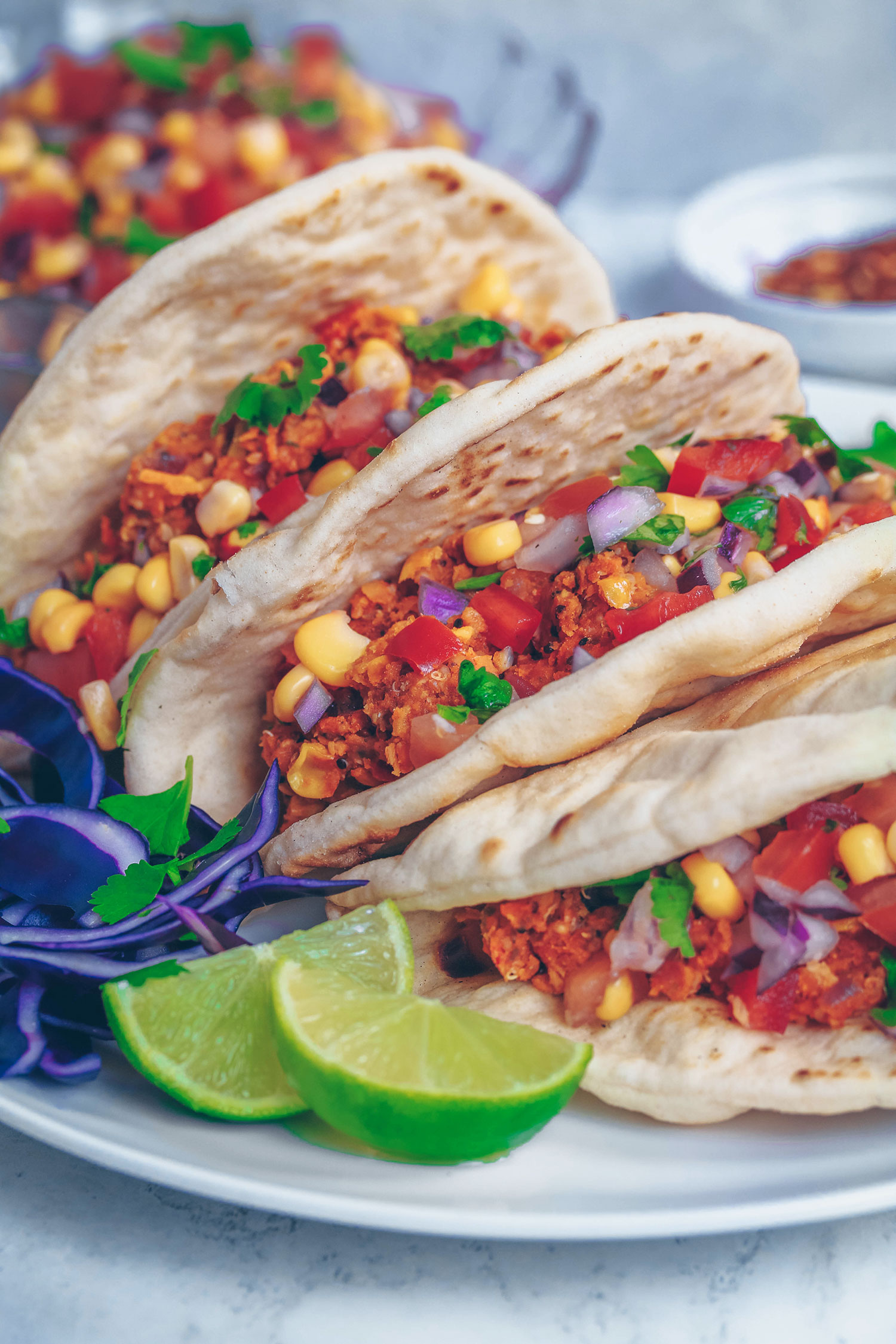 ---
Vegan Spicy Mexican Tacos
Serves: 4 – 6
Ingredients
1 tbsp oil
½ red onion, finely chopped
2 garlic cloves, crushed
1 pack GOODMINZ orange mince
2 tsp paprika
1 tsp chilli powder
½ tsp cumin powder
Juice of 1 lime
Salt & black pepper to taste
For the sweetcorn salsa
260g can sweetcorn, drained and rinsed
1/2 red onion, finely chopped
1 tomato, finely chopped
1 red pepper, finely chopped
1 small green chilli, finely chopped
Small bunch of coriander, finely chopped
1 tbsp olive oil
Juice of 2 limes
Salt & pepper to taste
For the creamy guacamole
2 ripe avocados
Juice of 2-3 limes
4 tbsp yoghurt of choice
Pinch of salt
1 garlic clove, crushed
Optional toppings – Pinch of chilli flakes and fresh coriander
To serve
4-6 taco shells, wraps or folded flat breads
Method
Heat 1 tbsp of oil in a frying pan over a medium/high heat. Cook the onions until transparent (around 5 minutes).
Stir in the paprika, chilli powder, cumin and garlic. Cook for another minute.
Mix in the GOODMINZ mince along with the lime juice and season with salt and pepper to taste. Cook for a couple of minutes until thoroughly heated through.
Make the salsa by mixing all the salsa ingredients in a large bowl.
Add the flesh of the ripe avocados to a bender/food processor along with the lime juice, yoghurt and garlic. Season to taste with salt.
Assemble the tacos by adding some of the GOODMINZ mixture into a taco/wrap and top with some salsa and guacamole.
Enjoy!
---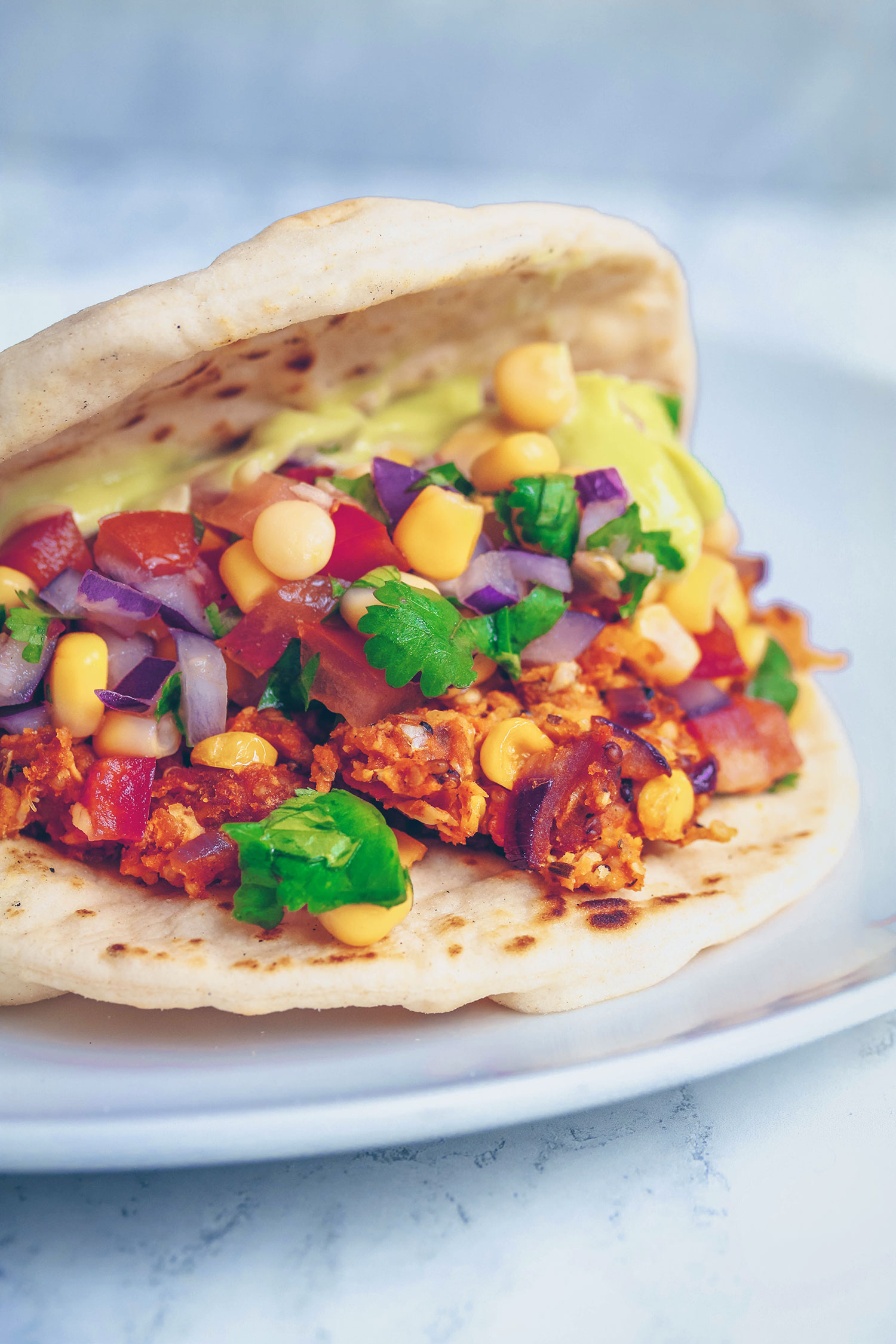 Thanks to Reroot Foods for sponsoring this post. Commissioned posts is how I'm able to continue working on the blog and creating recipes and recipe videos for you. As always, all opinions are my own.