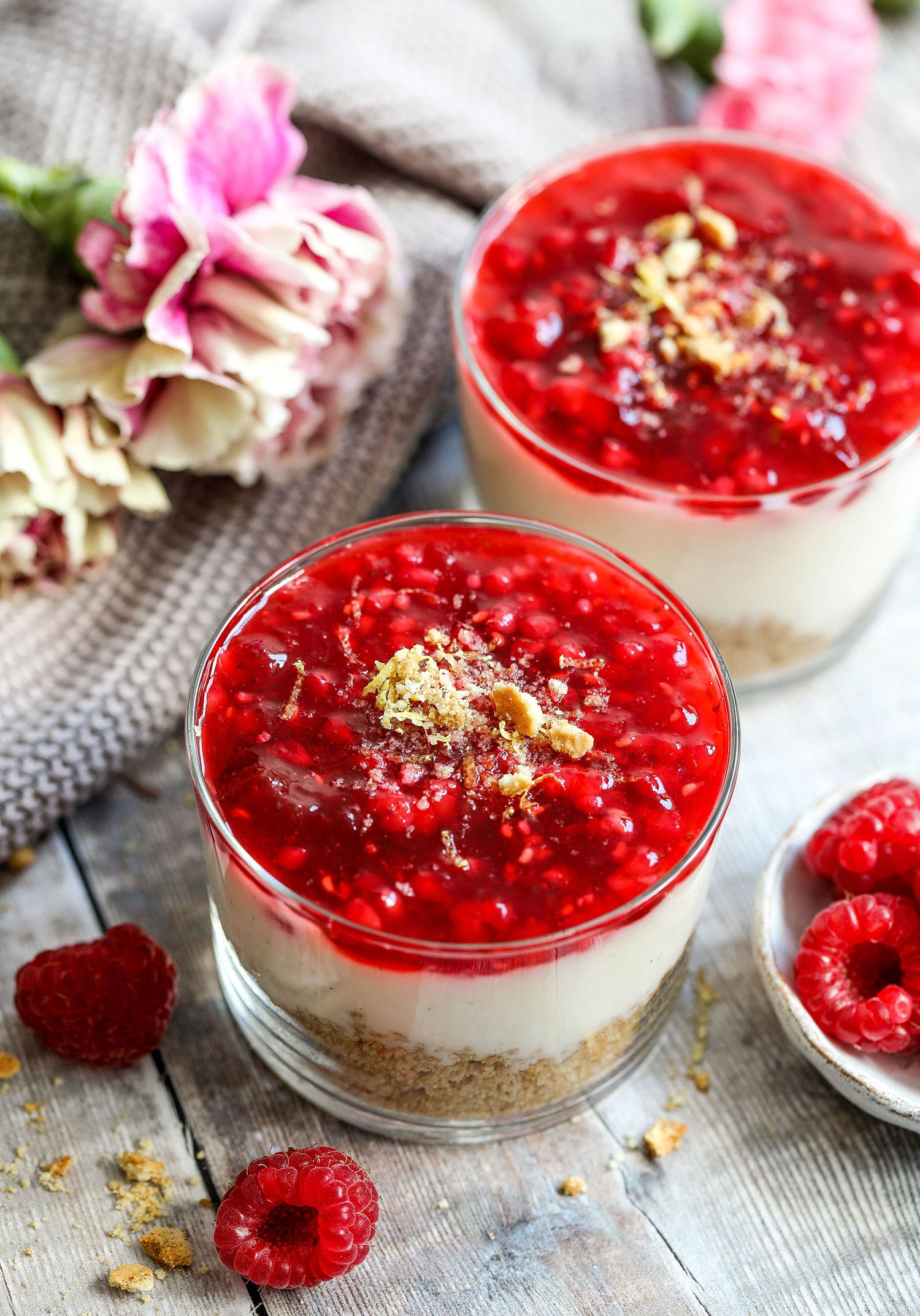 (AD)
A delicious dessert that takes no time at all to put together. A simple treat made up of a 2 ingredient base, a creamy cheesecake centre and a berrylicious topping! Served in pots/glasses for ease.
I've always preferred no-bake cheesecakes to the baked versions as these taste so much lighter and the no baking part means there's one less thing to do. For me, the easier the recipe the better, especially when it comes to making desserts.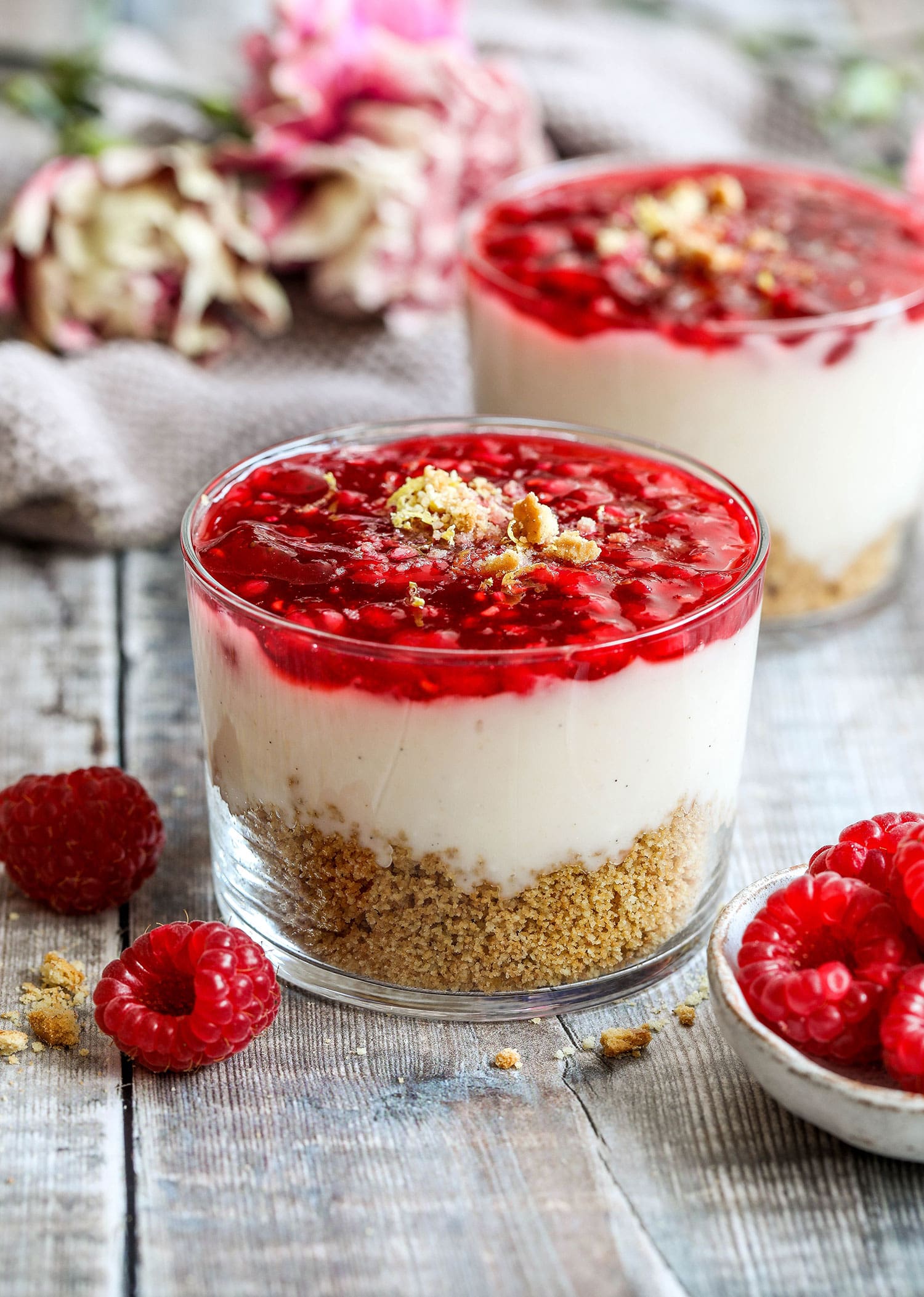 Now that so many of us are spending more time cooking our main meals at home, a lot of us are in search for quick and easy treats that call for few ingredients and little washing up afterwards. Serving these delicious Vegan Raspberry Cheesecake Pots in glasses means there is less washing up to do afterwards, which is always a bonus!
One thing I love about this recipe is that you can halve it or even quarter it if you're looking to make a dessert just for yourself, or for you and your partner. I live on my own and I'm always looking for single serving or small size desserts so I don't overeat, but also so I can avoid wasting food. With the current climate it's not like I can take treats over to share with my friends and family.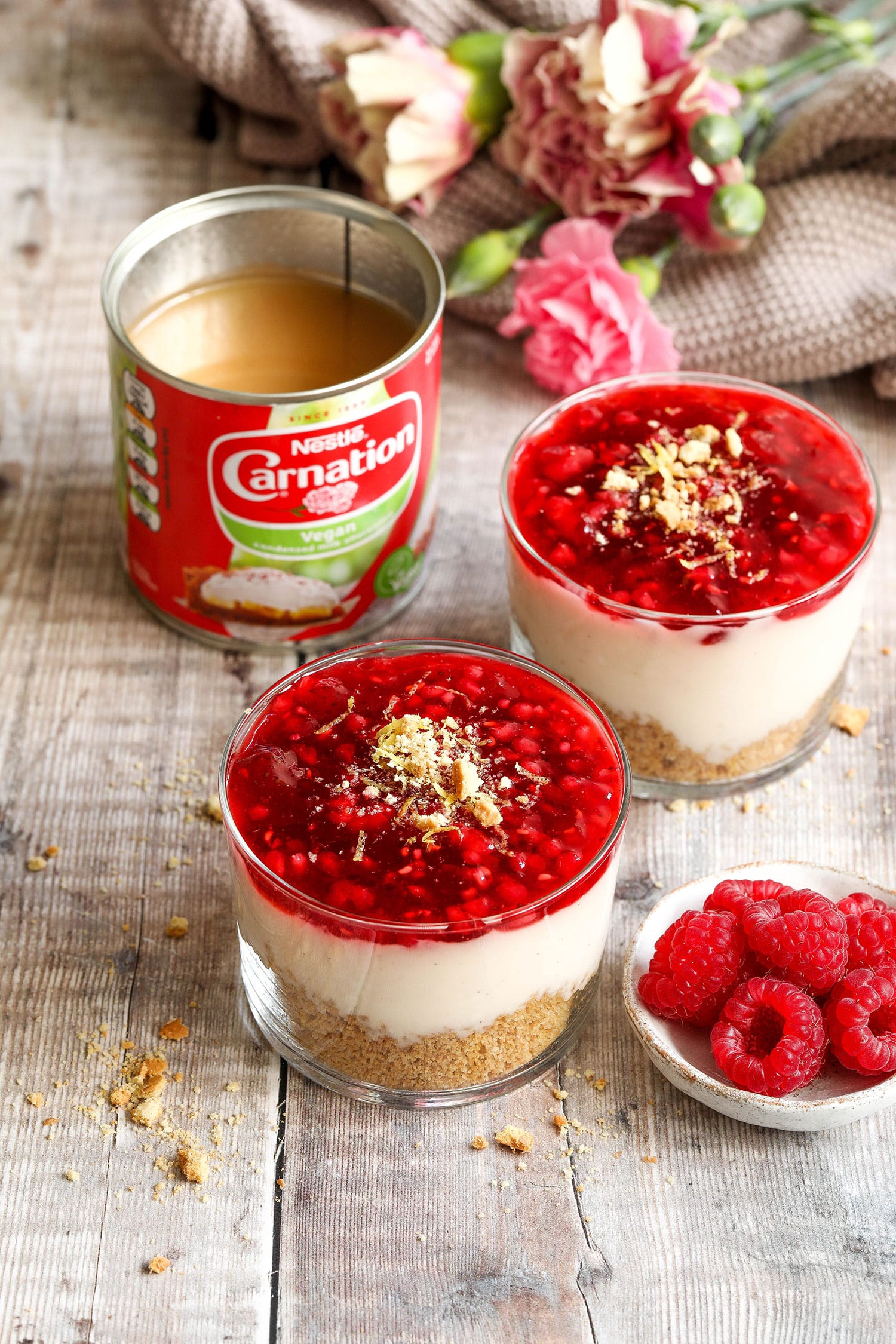 I'm teaming up with Nestle to create a vegan dessert using their new Carnation vegan condensed milk alternative. It's such a fun and versatile addition to vegan and gluten-free creations! It's approved by the Vegan Society and is made from a blend of oat and rice flour, sugar and sunflower oil, so it's completely plant-based. The oats used are gluten-free so it can also be used to create gluten-free bakes and treats. There are so many fun ways to incorporate it into recipes. The possibilities are endless really – think vegan ice cream, cheesecake, macaroons, cakes, caramel tray bakes and so much more!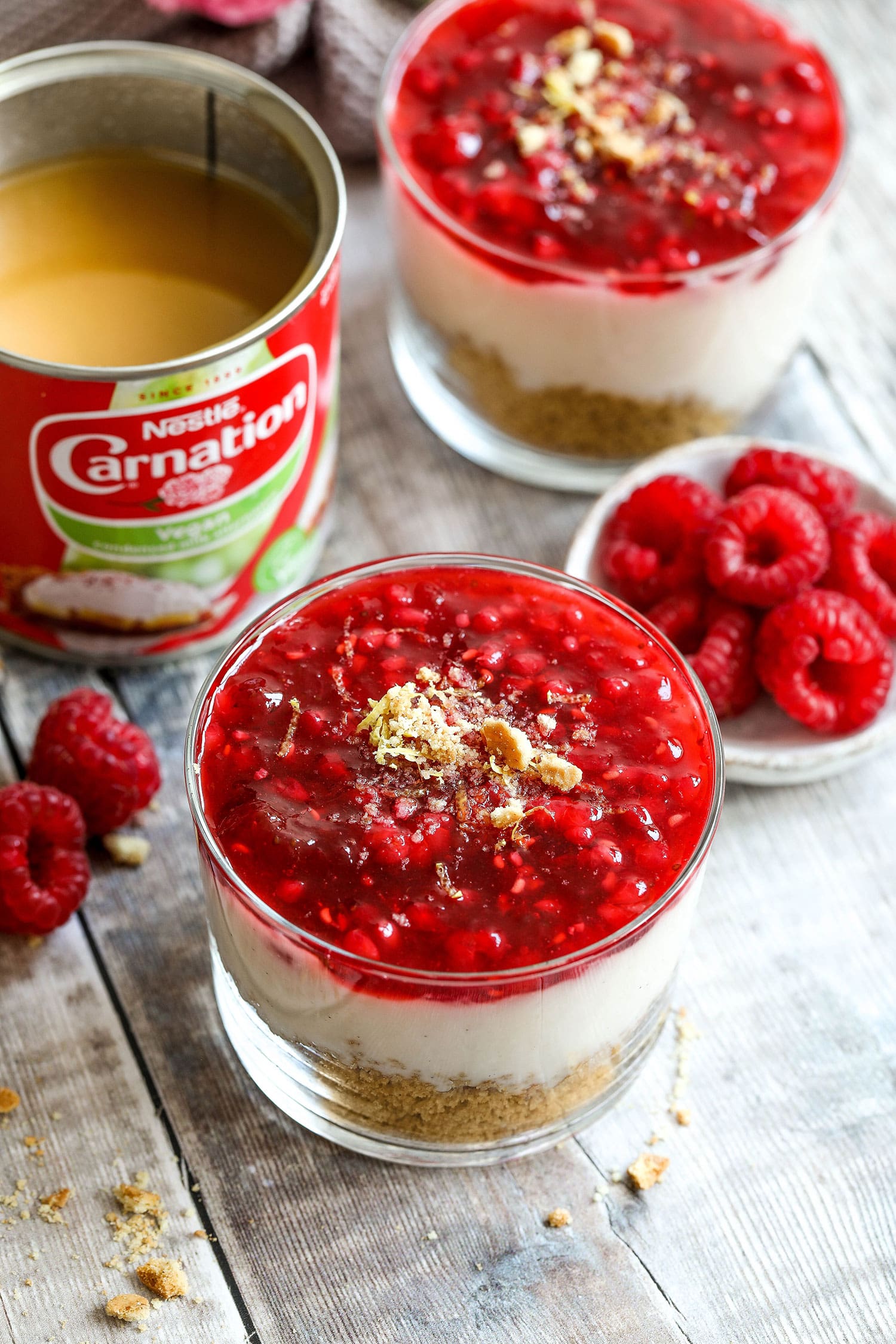 If you need more inspiration on how to use the Carnation vegan condensed milk alternative, head over to the Carnation website. They have a list of delicious recipes that they're adding to regularly (click here to browse their recipe ideas!).
Whether you're taking part in Veganuary or not, you should try these vegan raspberry cheesecake pots! You can easily make them gluten-free by using gluten-free digestive biscuits, which you can now find in most major supermarkets.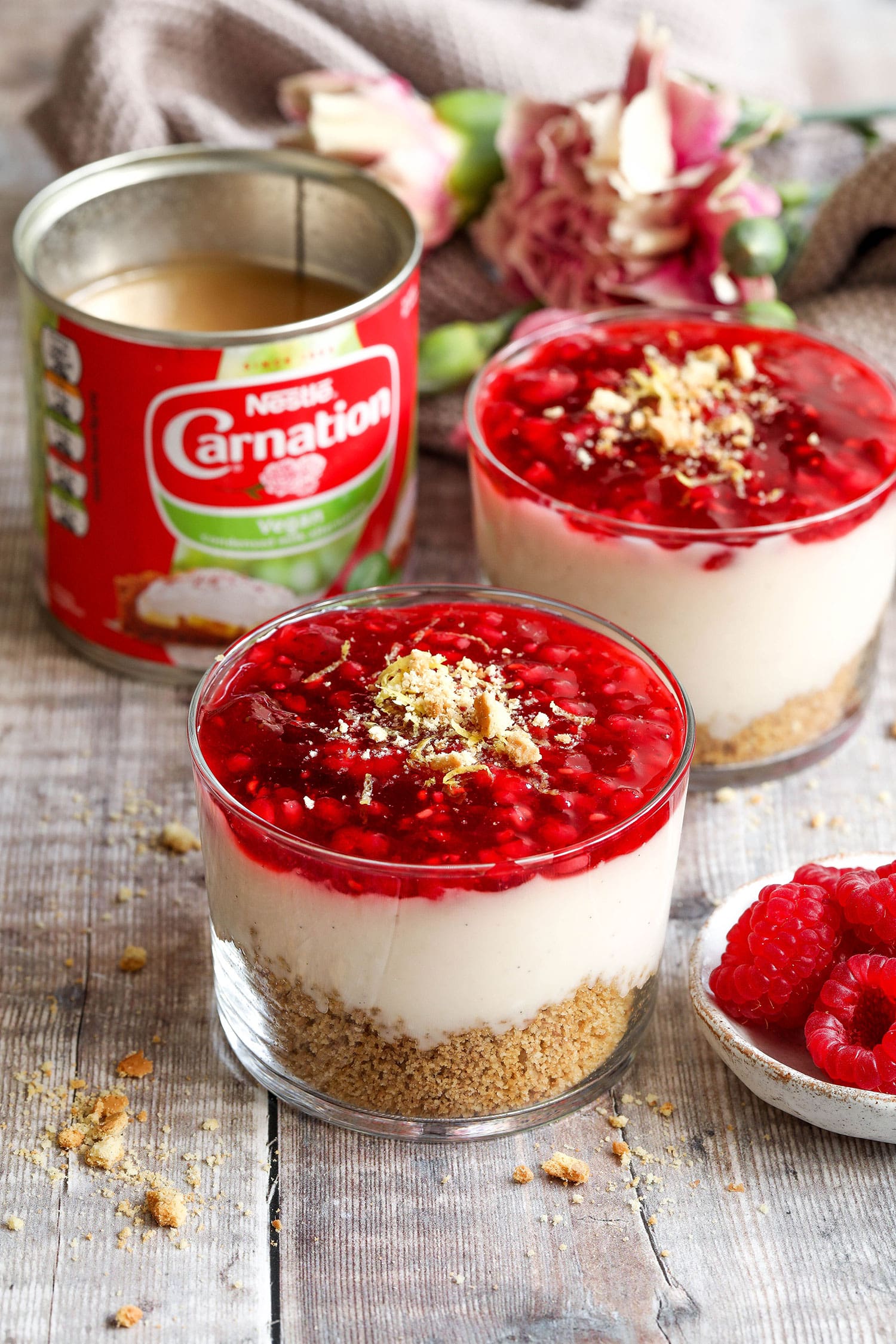 ---
Vegan Raspberry Cheesecake Pots
Serves: 12
Ingredients
For the base:
150g vegan 'digestive' biscuits, crushed
30g vegan butter alternative
For the filling:
200g Carnation Vegan Condensed Milk Alternative
600g vegan cream cheese alternative
1 tsp Natural vanilla extract
Zest and juice ½ lemon
For the topping:
400g raspberries
5 tbsp raspberry Jam
Method
Place the crushed biscuits into a bowl and mix with the melted baking block. Spoon into the tumblers and chill for 10 minutes.
You can easily swap the biscuits for gluten free versions – you might need a little extra melted butter alternative to bind the crumbs as gluten free biscuits can sometimes be more dry.
Whisk together the Carnation Vegan Condensed Milk Alternative with the cream cheese, vanilla, lemon zest and juice until smooth. Spoon the mixture on top of the biscuit base and chill for 30minutes.
Mix the berries with the matching jam and top each cheesecake with the fruity mixture. Chill until ready to serve.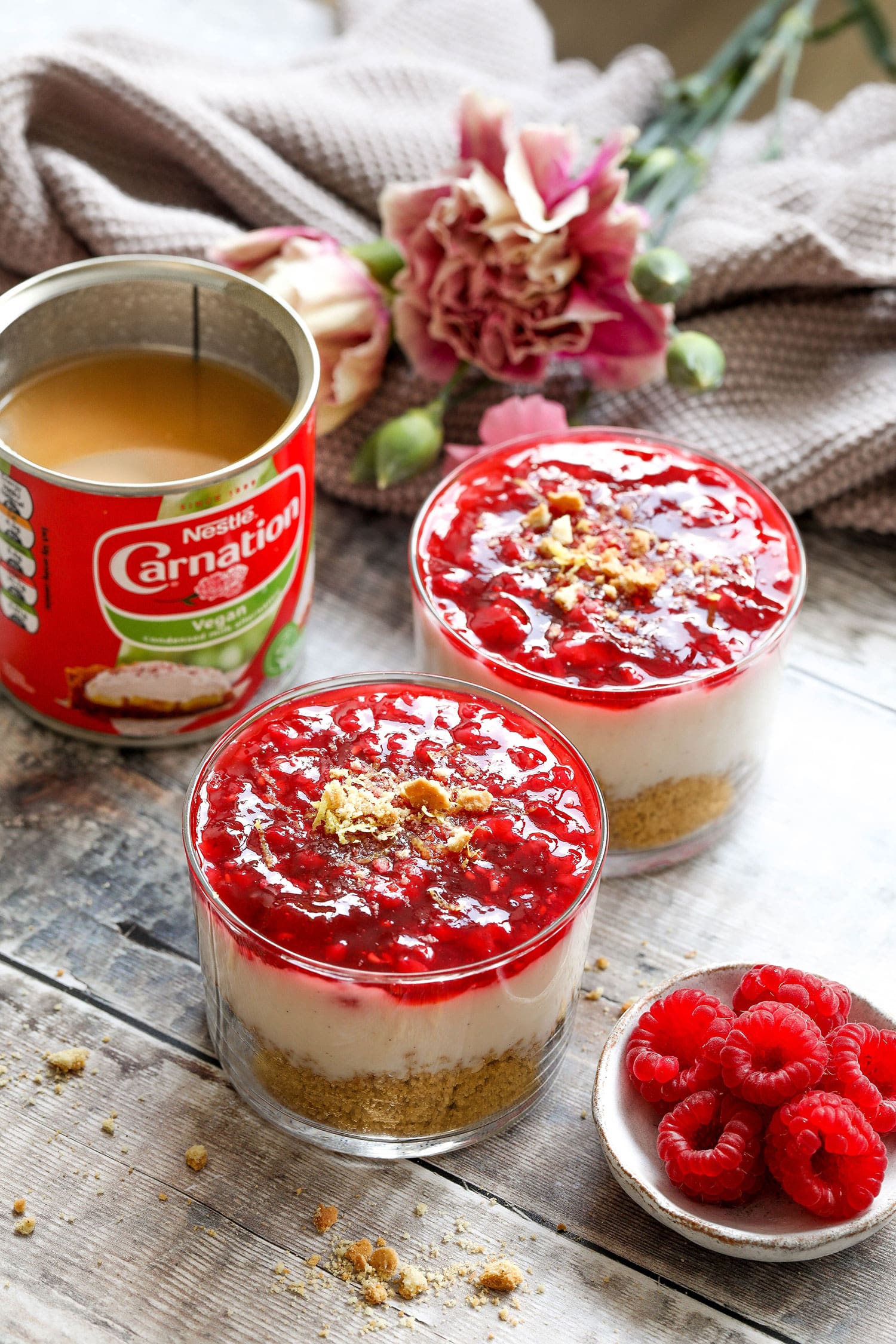 Share This Post