Vegan Raspberry Bounty Bars
Since so many of you loved my Blueberry Bounty Bars I thought I would create another variation and shoot a video this time to show you just how easy they are to make at home!
If you've never heard of bounty bars, they're basically a sweet coconut bar covered with a lush chocolate shell. I believe there is something similar in the US but under the name of 'Almond Joy'? Please correct me if I'm wrong, but I have seen many American bloggers making these Almond Joy bars and they seem very similar to Bounty bars minus the almond!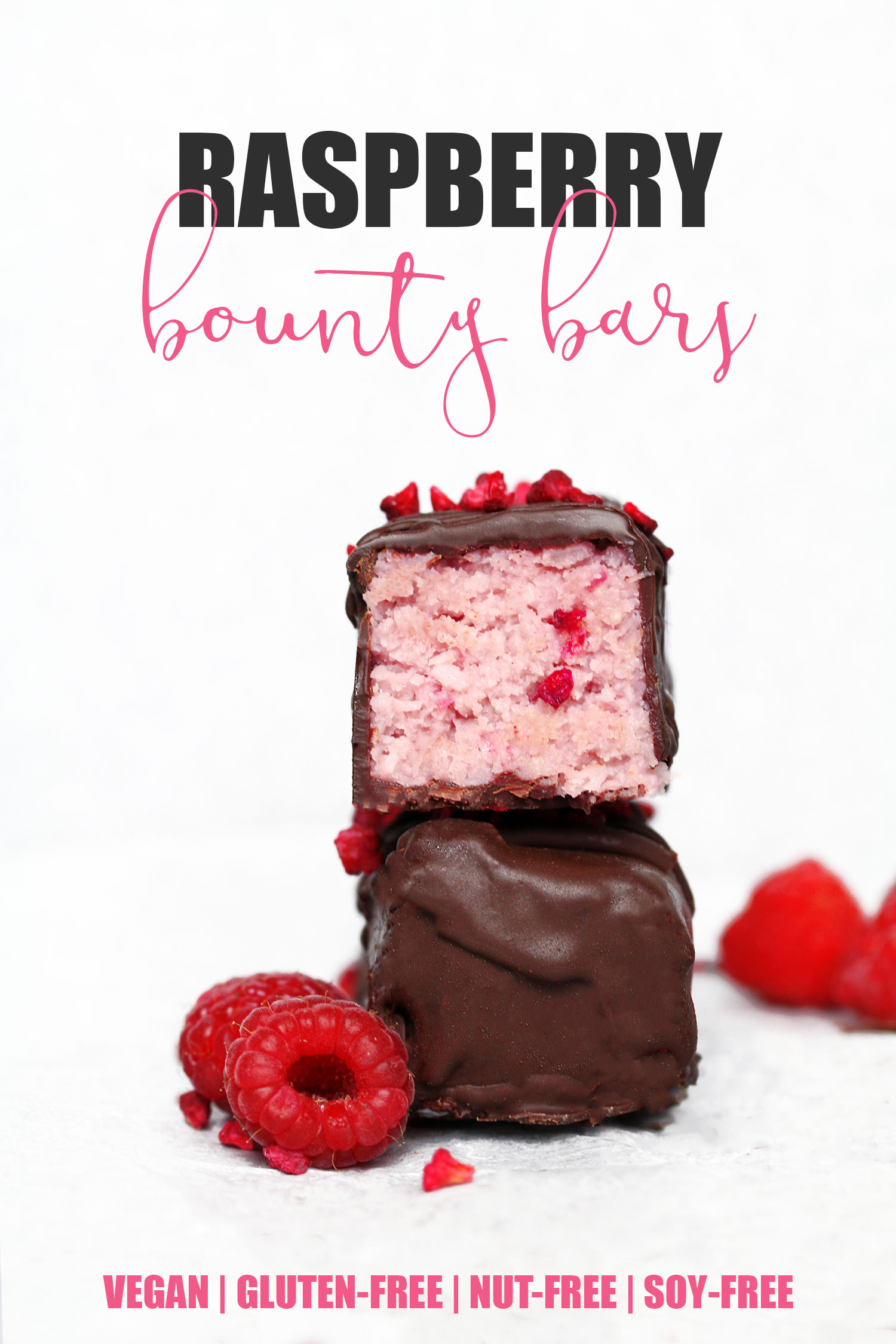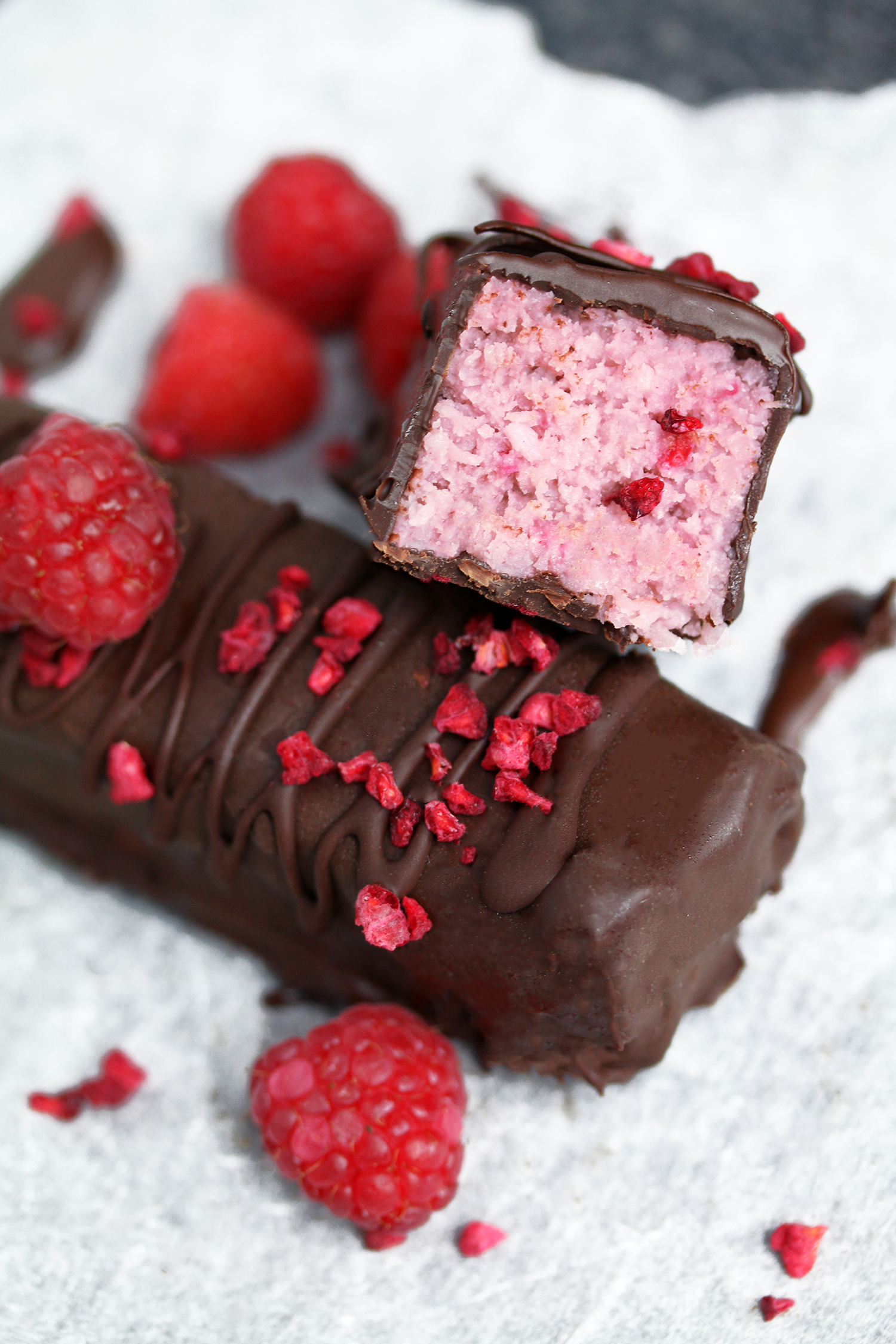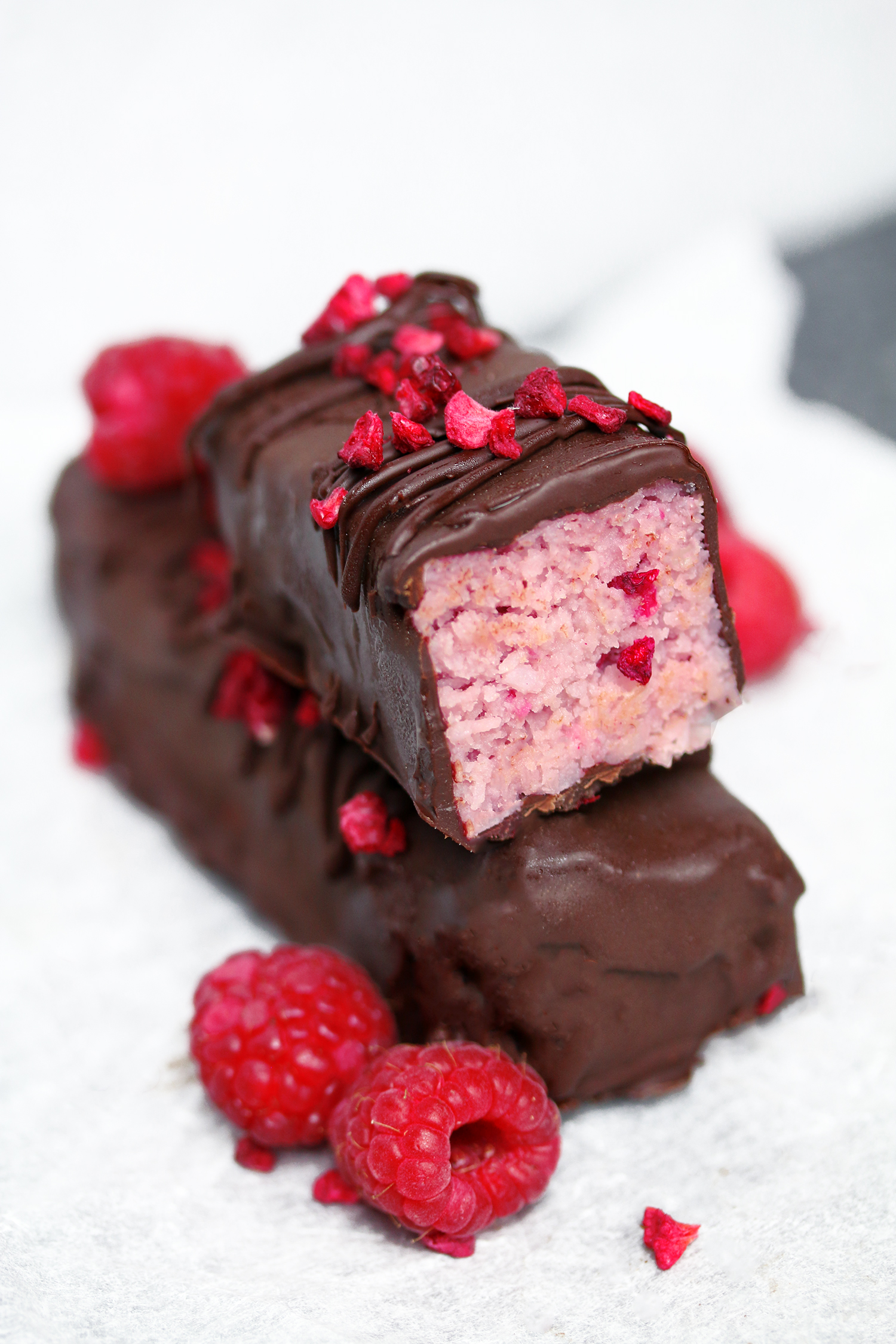 Bounty bars don't come in any other flavour apart from plain old coconut. Again please correct me if I'm wrong! So I wanted to create my own version with a fun little twist that you will hopefully enjoy.
Whenever I make pink/purple treats everyone who follows me on Instagram, Facebook or Twitter seems to go crazy over them! So really I'm just giving you guys what you want 😉 even though I secretly enjoy making pink and purple treats 😀
This recipe is vegan, gluten-free, nut-free and soy-free so suitable for people with allergies, unless you have a coconut allergy of course! It's high in fat so should only be enjoyed as a treat. Make sure you eat your greens, fruits, beans, pulses protein and wholegrains before you tuck into one of these bars. I'm just saying 😂 It's all about balance!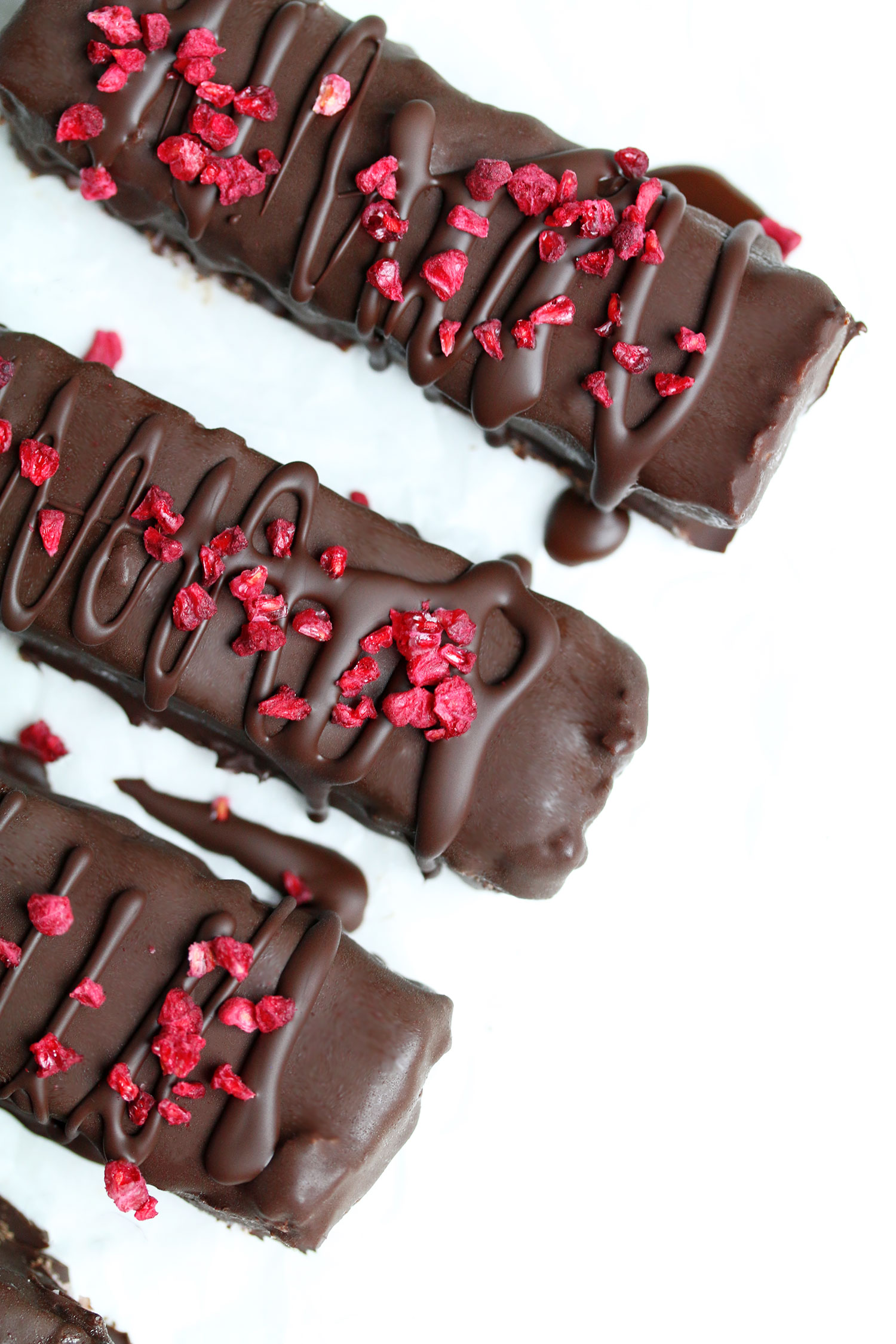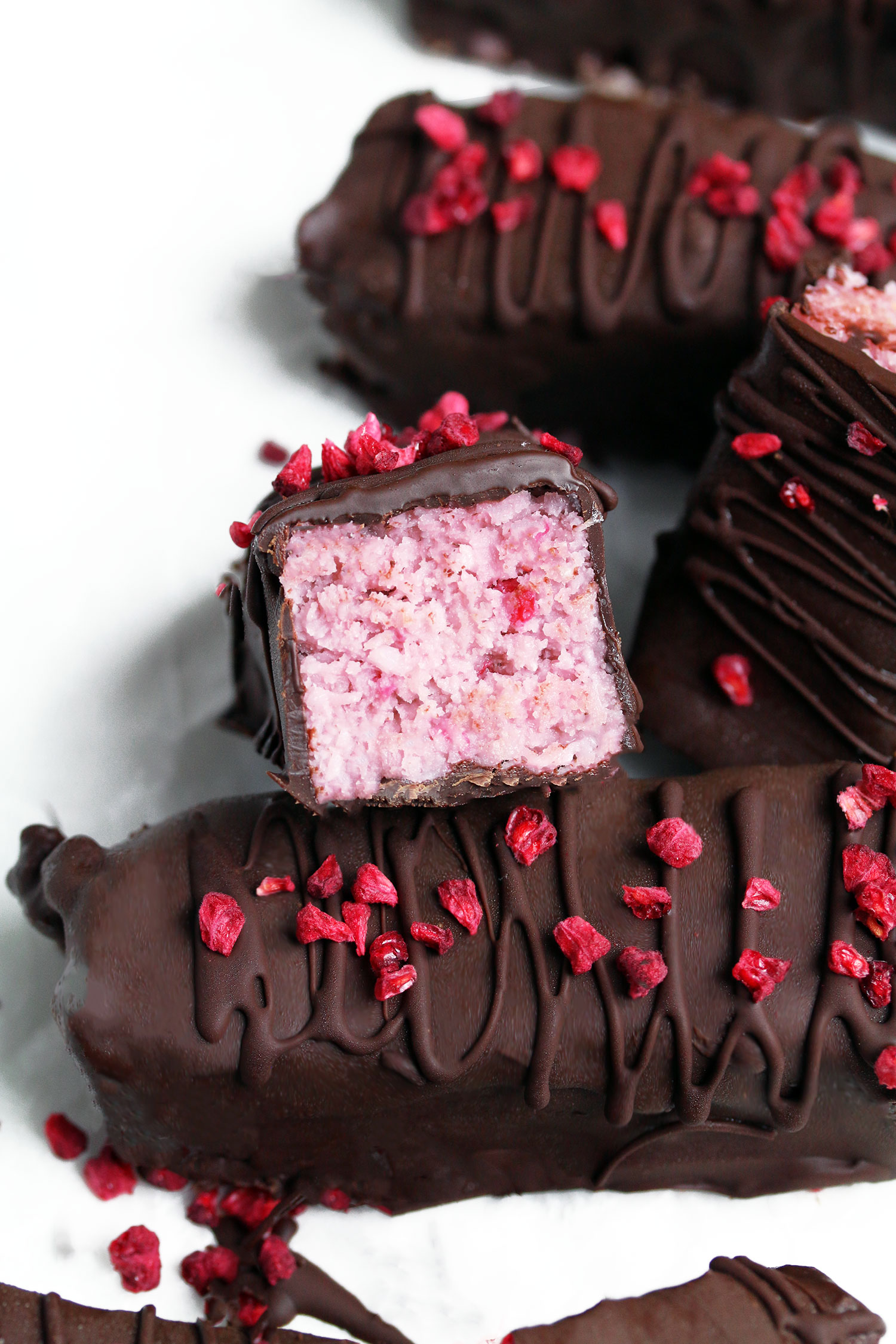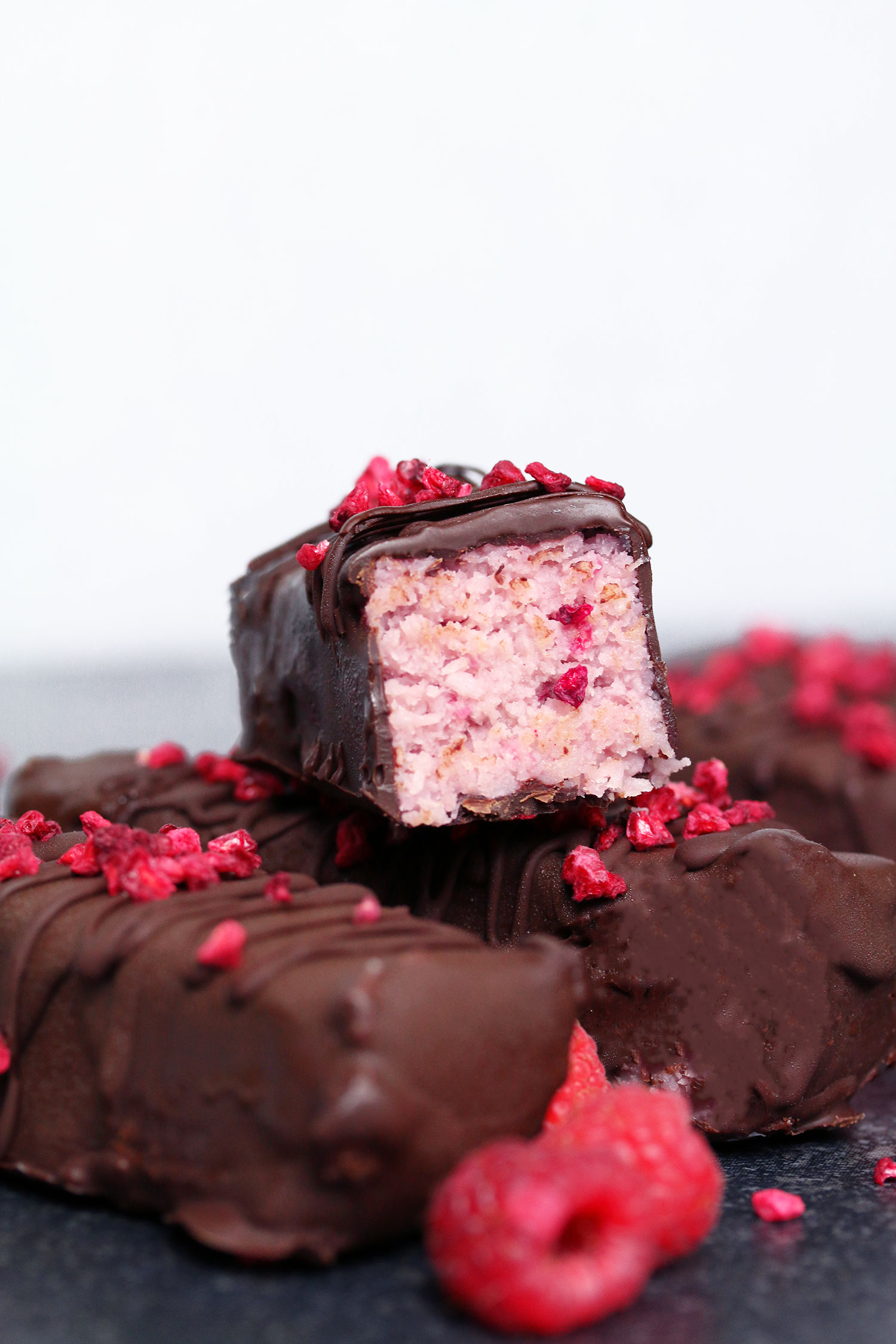 ---
Vegan Raspberry Bounty Bars
Serves: 8-10
Ingredients:
2 cups (235g) desiccated coconut
1/2 cup (56g) coconut flour
1/4 tsp salt
1 cup (235ml) full fat coconut milk
1/2 cup (70g) raspberries – fresh or frozen
1/3 cup (75g) coconut oil
1/3 cup (80ml) maple syrup
Optional – 1 tsp beetroot powder for a more vibrant colour
For the coating and decoration:
200g dairy-free 70% dark chocolate, melted
Dried raspberries
Method:
Add all the ingredients to a pan and cook over a medium heat, mashing the raspberries as you mix.
Once all the ingredients are melted and the mixture is well combined, take off the heat.
Transfer into a loaf tin lined with parchment paper. Spread with a spoon or spatula.
Freeze for 2 hours then slice into 8-10 bars.
Coat with the melted chocolate and sprinkle with some dried raspberries.
Refrigerate to allow the chocolate to set.
Enjoy!
Store in the fridge for up to 4 days.
---