Yummy bite size tarts filled with a warming spiced pumpkin filling – these vegan mini pumpkin spice latte tarts are the perfect lighter autumn treat.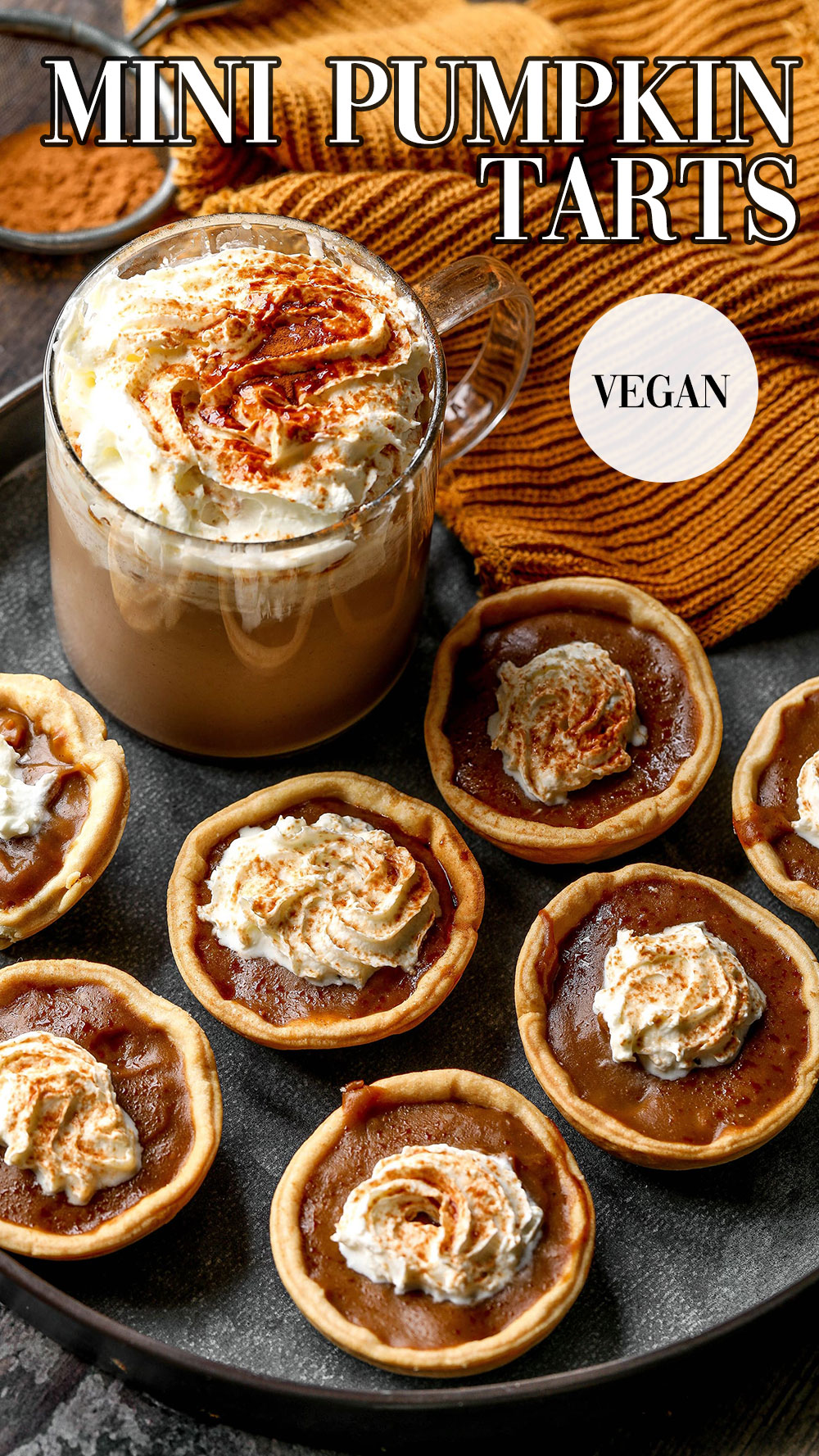 It seems I'm on a pumpkin roll this year. I've gone from never using pumpkin in my recipes to sharing 2 recipes in one week! I'm starting to feel I've missed out on years of pumpkin joy. It really is such a versatile ingredient that can be used to make so many delicious healthier treats.
Pumpkin puree is so much easier to get hold of now in the UK compared to a few years ago when I first wanted to explore using it in baking. The only place I could find it was online and it wasn't cheap! Now many major supermarkets stock it. If not, you're guaranteed to find it in online supermarkets. This has made it so much easier for me (and you!) to start experimenting with it.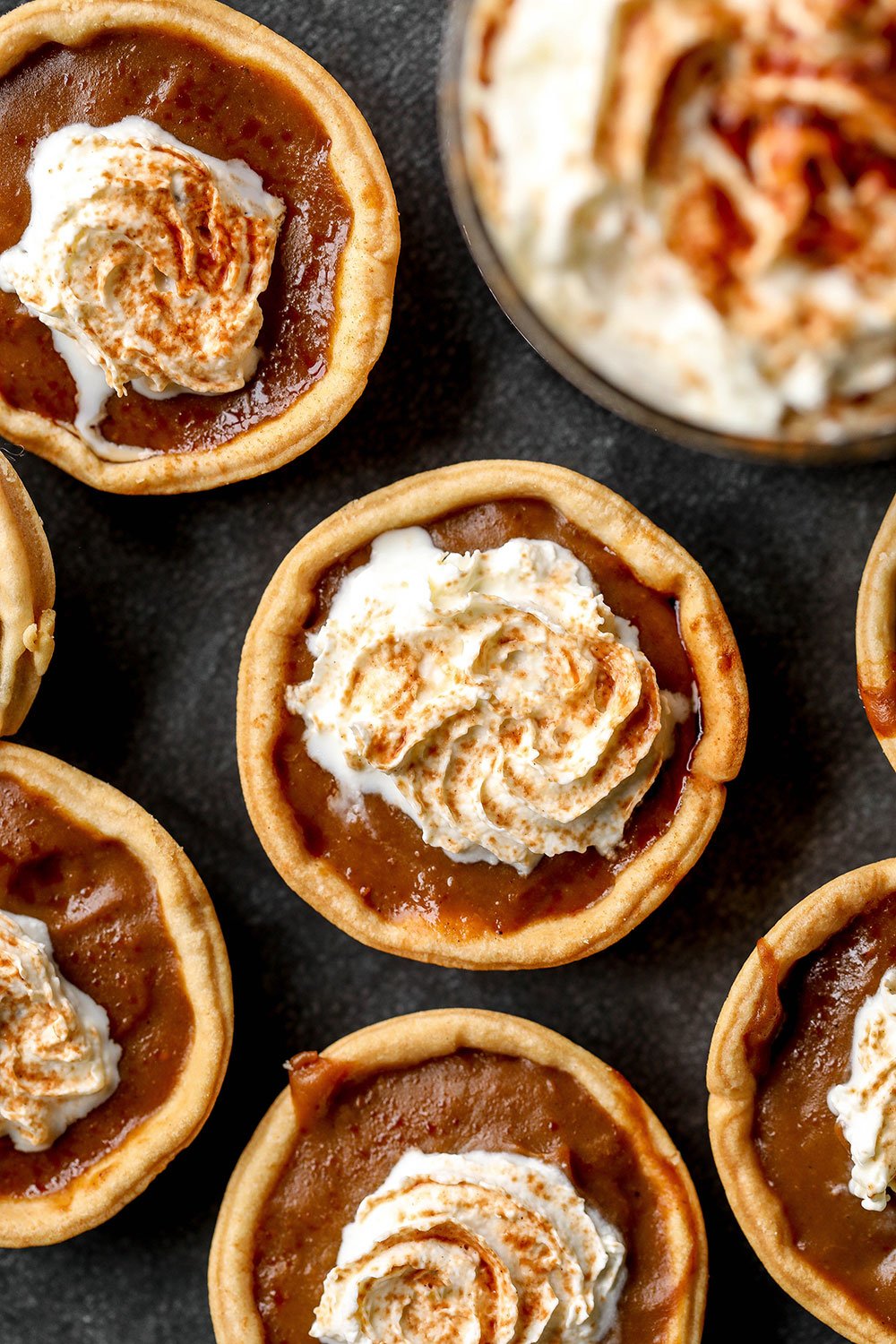 I love making mini desserts. Bite size treats like these mini tarts means they're already portioned out eliminating the faffy process of slicing. Smaller portions mean you can eat as many or as few as you like. There's less chance you'll end up with someone leaving half an eaten slice that you'll inevitably have to throw away.
I'm using ready made pastry to make this recipe easier plus so much quicker. You can make your own, or use an alternative base. Something like the base in this healthier baklava recipe would work well. Made with oats, so you have the option of making them gluten-free (provided you use gluten-free oats!).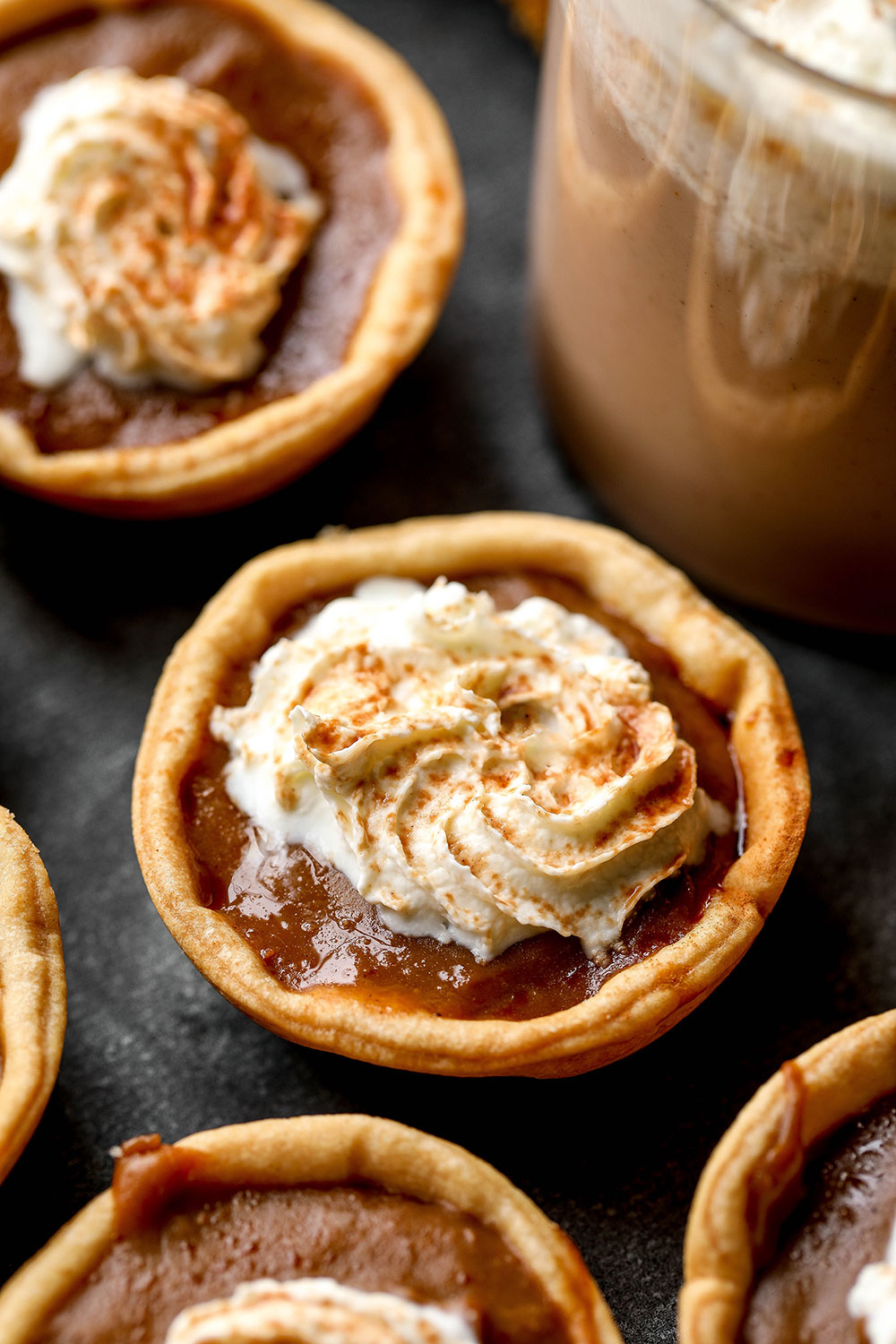 What you'll need to make these vegan mini pumpkin spice latte tarts:
Pumpkin puree – Pumpkin is a great ingredient to use in desserts. It's a fruit, therefor a source of vitamins, minerals and fibre. It's also fairly low in calories, making it an easy way to bulk up a recipe whilst keeping the calories low. It's perfect in baking as it adds loads of moisture meaning you don't need to use as much oil.
Ready rolled shortcrust pastry – I'm using this for ease and to make the recipe quicker to prepare. Many shop bought shortcrust pastry is vegan/dairy-free. You can also find gluten-free versions if necessary. As I mentioned above, you can use an alternative base if you prefer.
Almond milk – I'm using Califia Farms pumpkin spice cold brew to enhance the pumpkin flavour whilst adding a hint of coffee.
Cornflour – this will work to thicken and set the pumpkin filling.
Spices – cinnamon, ginger and allspice make these tarts much more warming & moreish.
Sugar – I like using coconut or brown sugar as they complement the spices in these tarts.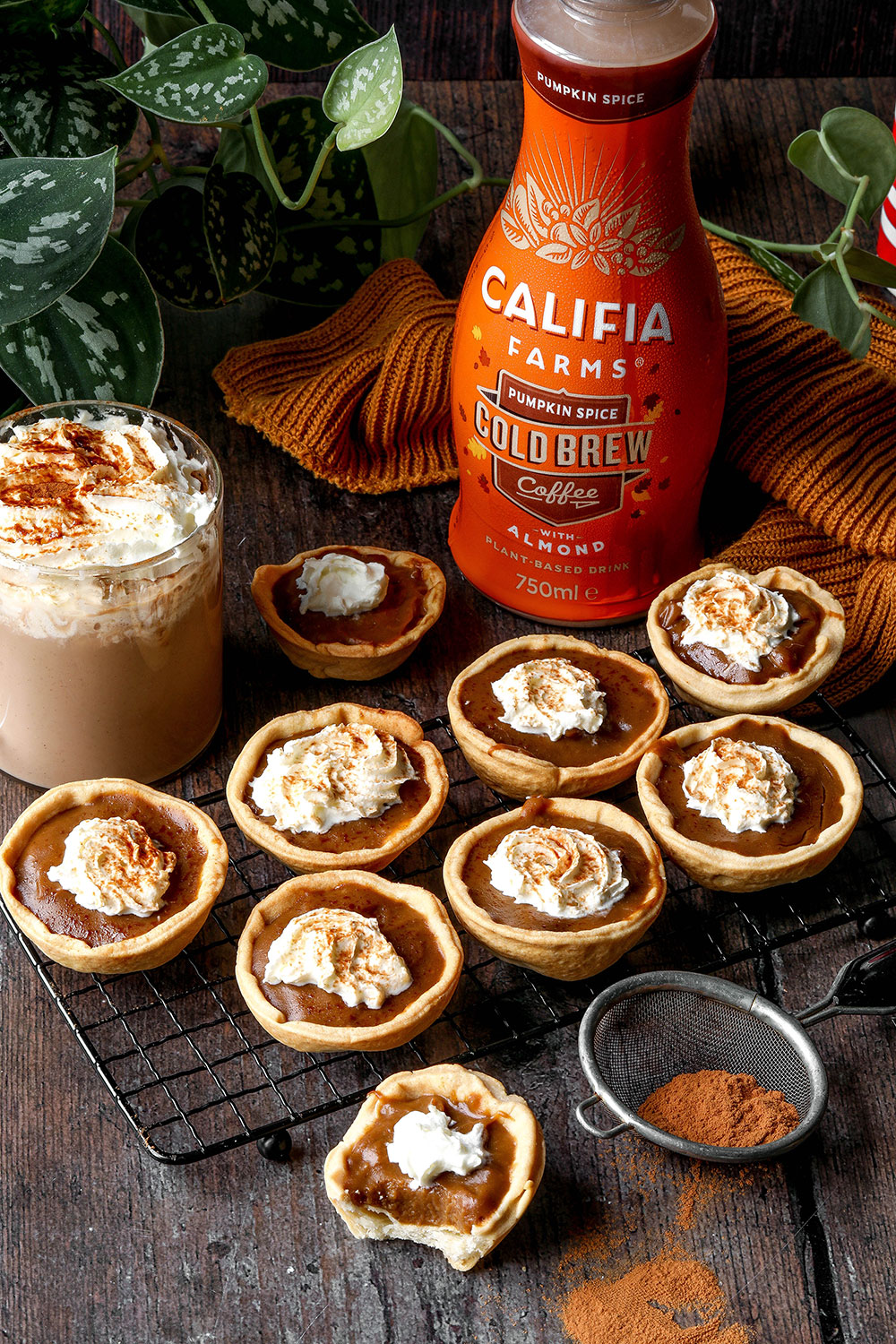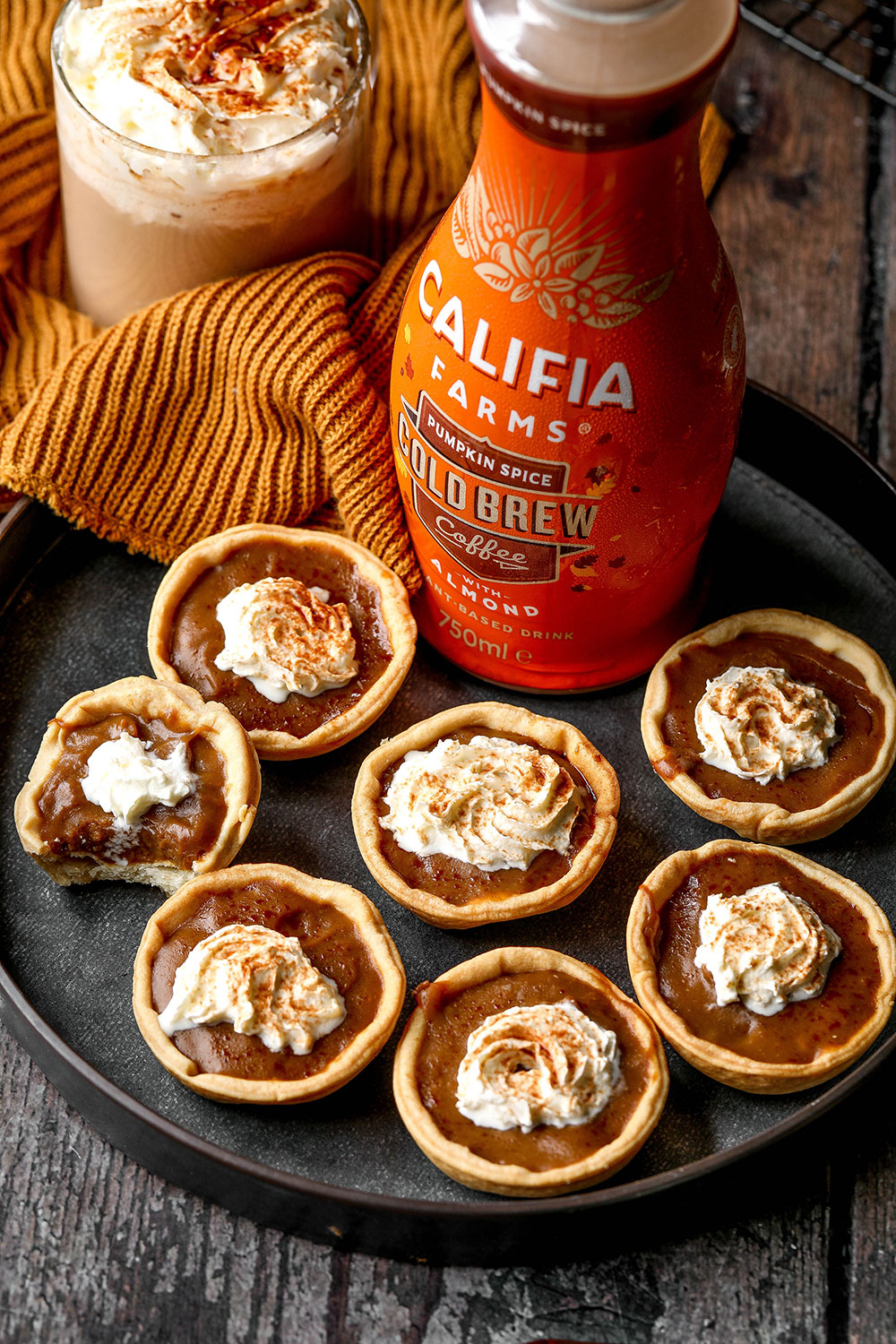 Why you need to try these vegan mini pumpkin spice latte tarts:
They're easy to make
Saves time by using ready made pastry
Mini, bite sized and cute!
Vegan & dairy-free
Nut-free
Can be made gluten-free by using an alternative base (as mentioned above)
Only call for a few ingredients
Delicious and perfect for autumn!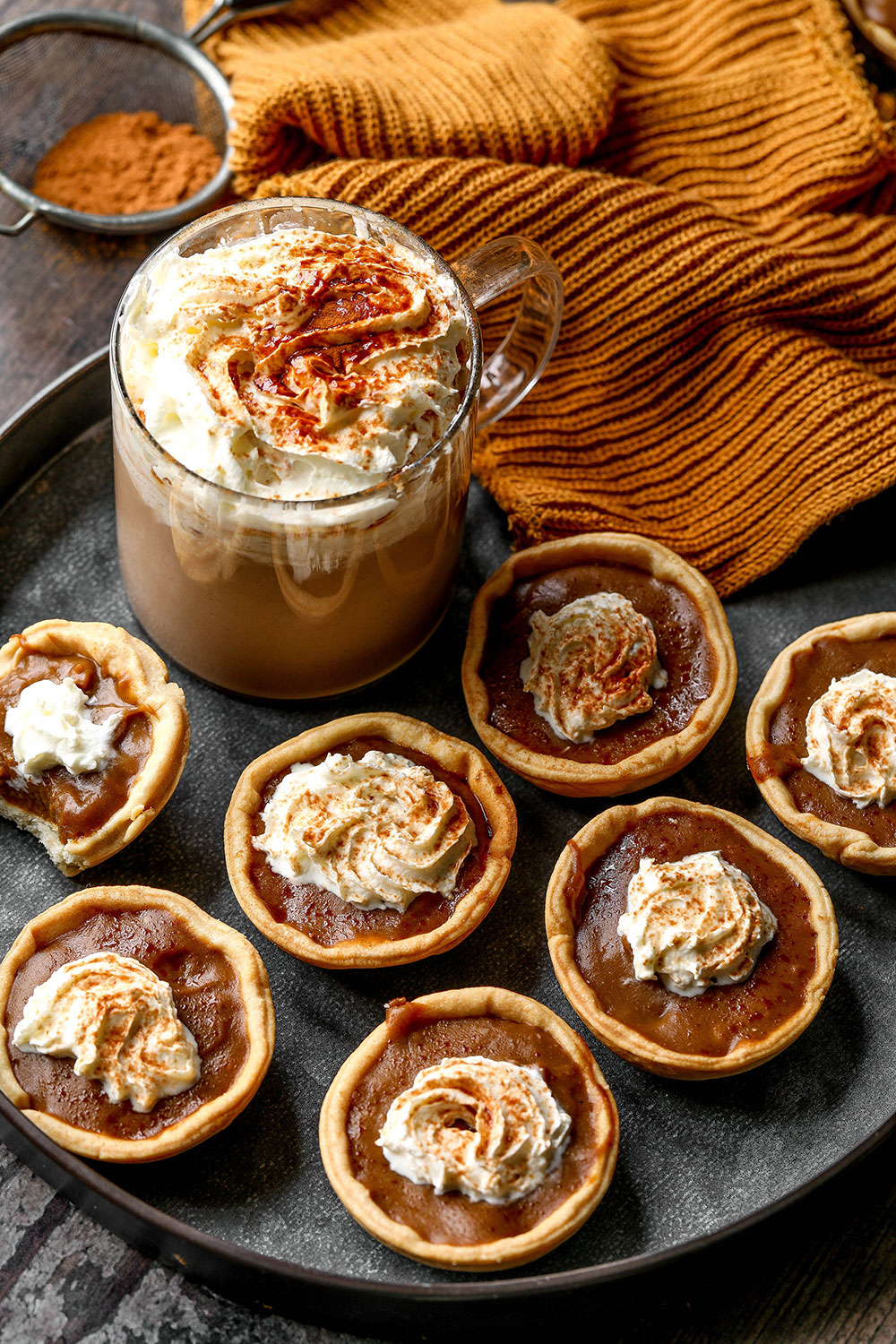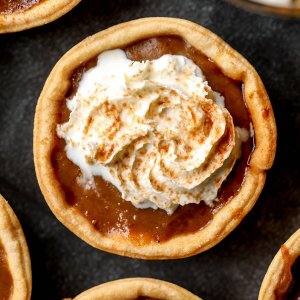 Vegan Mini Pumpkin Spice Latte Tarts
Yummy bite sized tarts filled with a warming spiced pumpkin filling. Perfect lighter dessert for the autumn/winter months!
Ingredients
320

g

pack ready rolled shortcrust pastry

130

g

pumpkin puree

235

ml

Califia Farms Pumpkin Spice Cold Brew

3

tbsp

cornflour

1

tsp

cinnamon

1/4

tsp

ginger

1/8

tsp

allspice

2

tbsp

coconut or brown

you can also use sugar-free sweetener

1

tbsp

coconut oil

melted

vegan whipped spray cream to serve

optional
Instructions
Preheat your oven to 200C/180C fan.

Roll out the shortcut pastry and cutout 12 circles using an 8cm round cookie cutter.

Press into a lightly oiled cupcake tin and prick the bottom with a fork.

To blind bake - place small squares of parchment paper into each tart base and fill with uncooked rice (this is to stop the pastry from rising in the oven).

Bake for 15 minutes, then take out and remove the parchment paper. Return to the oven and bake for another 5 minutes.Allow to cool completely.

Pour the Califia Farms Pumpkin SpiceCold Brew into a saucepan along with the cornflour and whisk until smooth.

Add the rest of the ingredients and cook on a medium heat. Stir continuously, then take off the heat once the mixture thickens. This should only take a couple of minutes.

Pour into the tart bases, then allow to cool slightly before transferring into the fridge.

Allow to set for 2-3 hours. Serve with an optional squirt of whipped spray cream.
Nutrition
Calories:
167
kcal
Carbohydrates:
15
g
Protein:
2
g
Fat:
10
g
Saturated Fat:
2
g
Sodium:
13
mg
Potassium:
3
mg
Sugar:
4
g