A deliciously tangy treat – this vegan lemon loaf is so tasty and tart without being too sweet. The perfect pick me up on cold, grim days.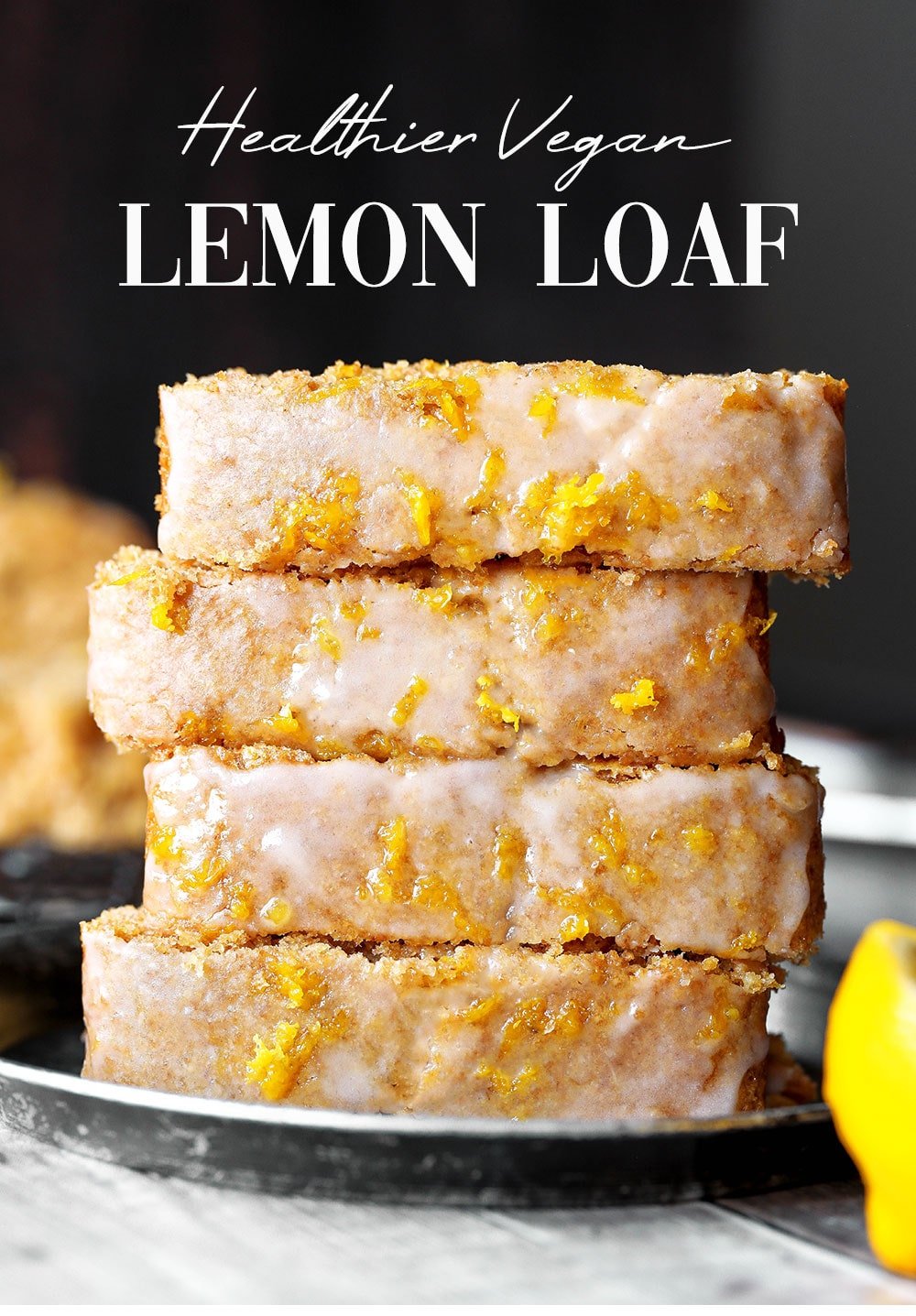 I'm taking a break today from my usual chocolatey desserts to share something fruity for a change. It's been so gloomy and dull in the UK the past few days that I've felt like I needed something to brighten up the day and my mood. Lemon desserts always have that effect on me, so I had to make one today.
Loaf cakes are probably my favourite type of cake. They're so dense, moist and satisfying. I'm not a big fan of cakes with cream or frosting, and loaf cakes don't usually come with either. I feel the cake/frosting dilutes the flavour too much so you don't actually get to appreciate the taste of the cake itself.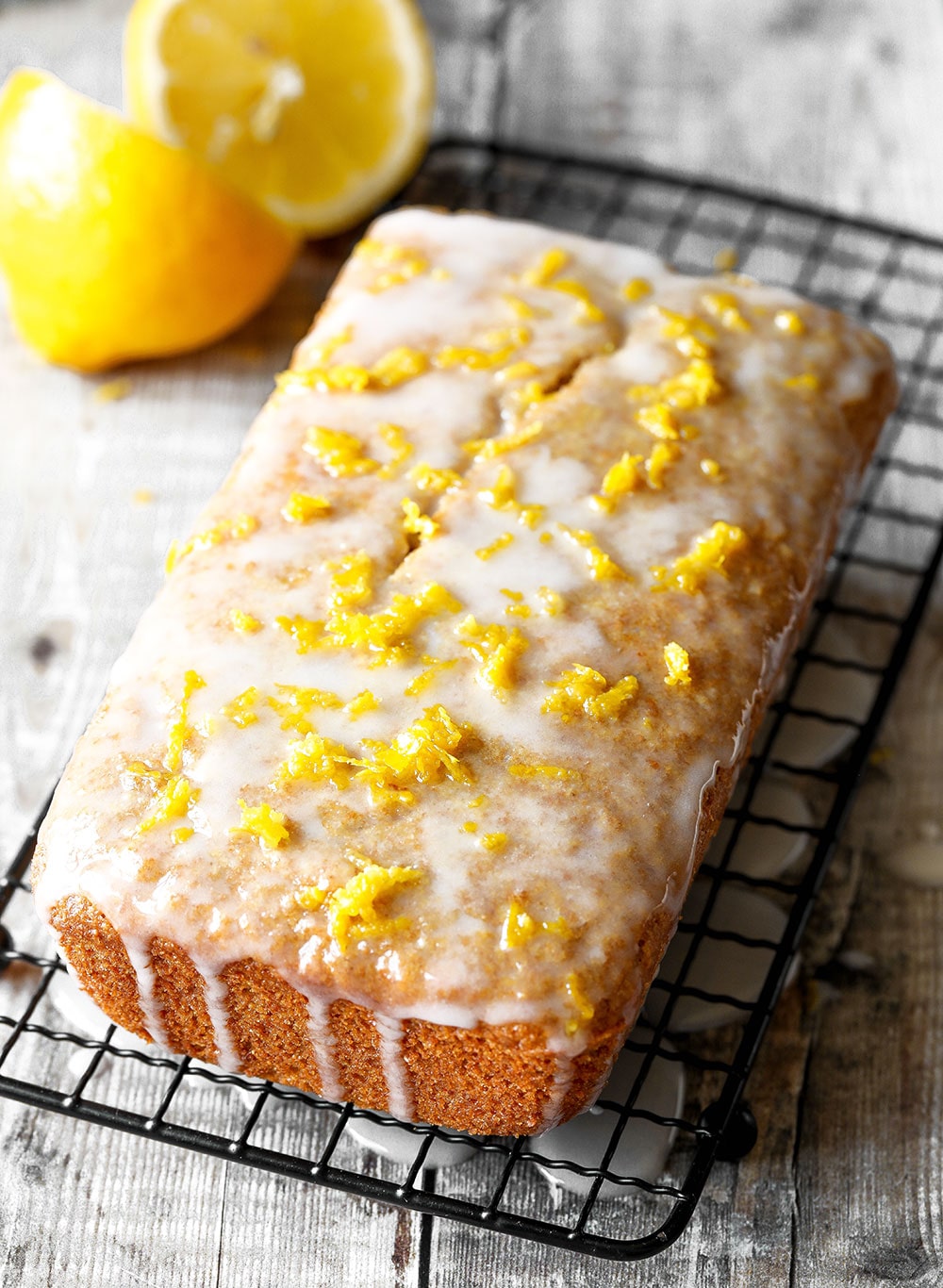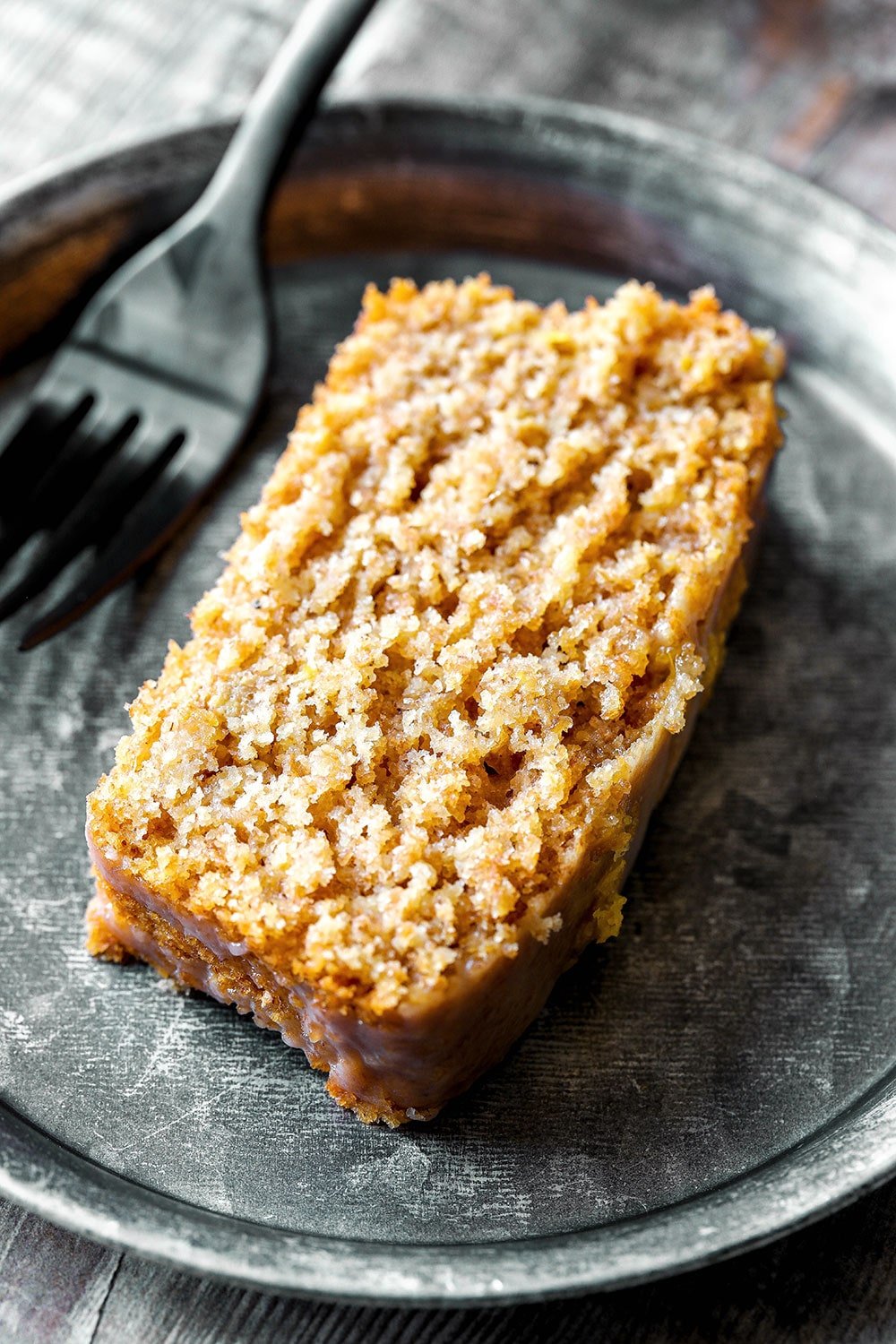 I made this vegan lemon loaf using healthier ingredients like spelt flour and ground almonds instead of flour. I used maple syrup to sweeten, but it's not overly sweet. I also topped it with a simple icing, but you can omit if you want to make it healthier/lower in sugar. The loaf tastes delicious without it, – I mainly add it for decoration to make the cake look pretty for photography purposes.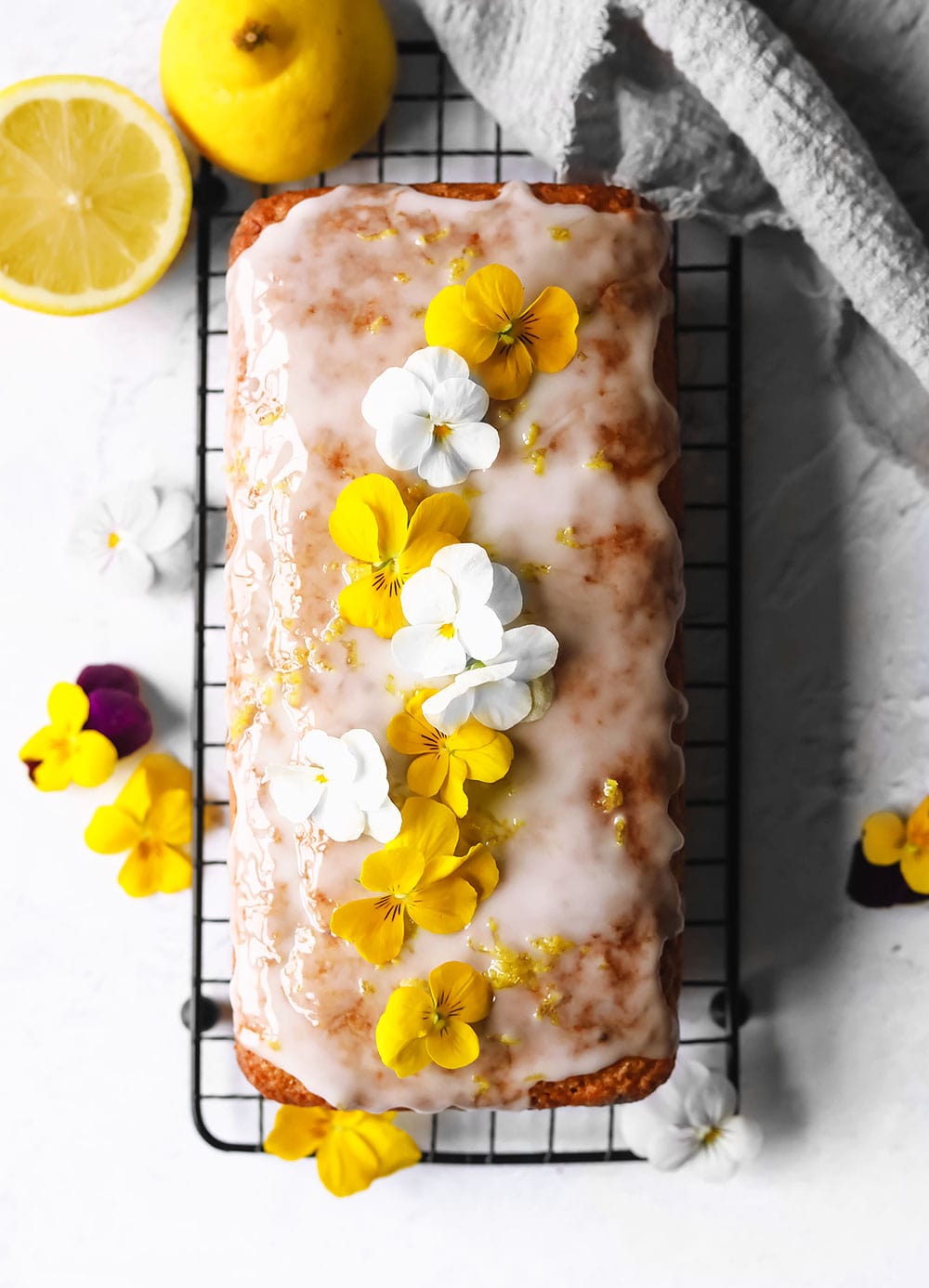 What you need to make this vegan lemon loaf:
Spelt flour – I used wholemeal spelt flour as a healthier alternative to white flour. You can use plain white flour if you prefer. You can also use ground oats instead.
Ground almonds – this adds a lot of extra moistness. I used ground almonds, not almond flour.
Lemon juice – again adds a lot of moisture and natural lemon taste.
Lemon zest – to infuse the cake with extra citrus flavour and add lots of zing!
Milled flaxseed – this works as a binder. You can use whole eggs instead if you prefer.
Maple syrup – for much needed sweetness to counter the acidic and tart taste of the lemon.
Coconut oil – this acts as another binder, but also adds more moisture, because no one likes a dry cake!
Optional drizzle – the loaf will still taste amazing without it, but the option is there in case you want extra sweetness. It also make the cake look so much prettier!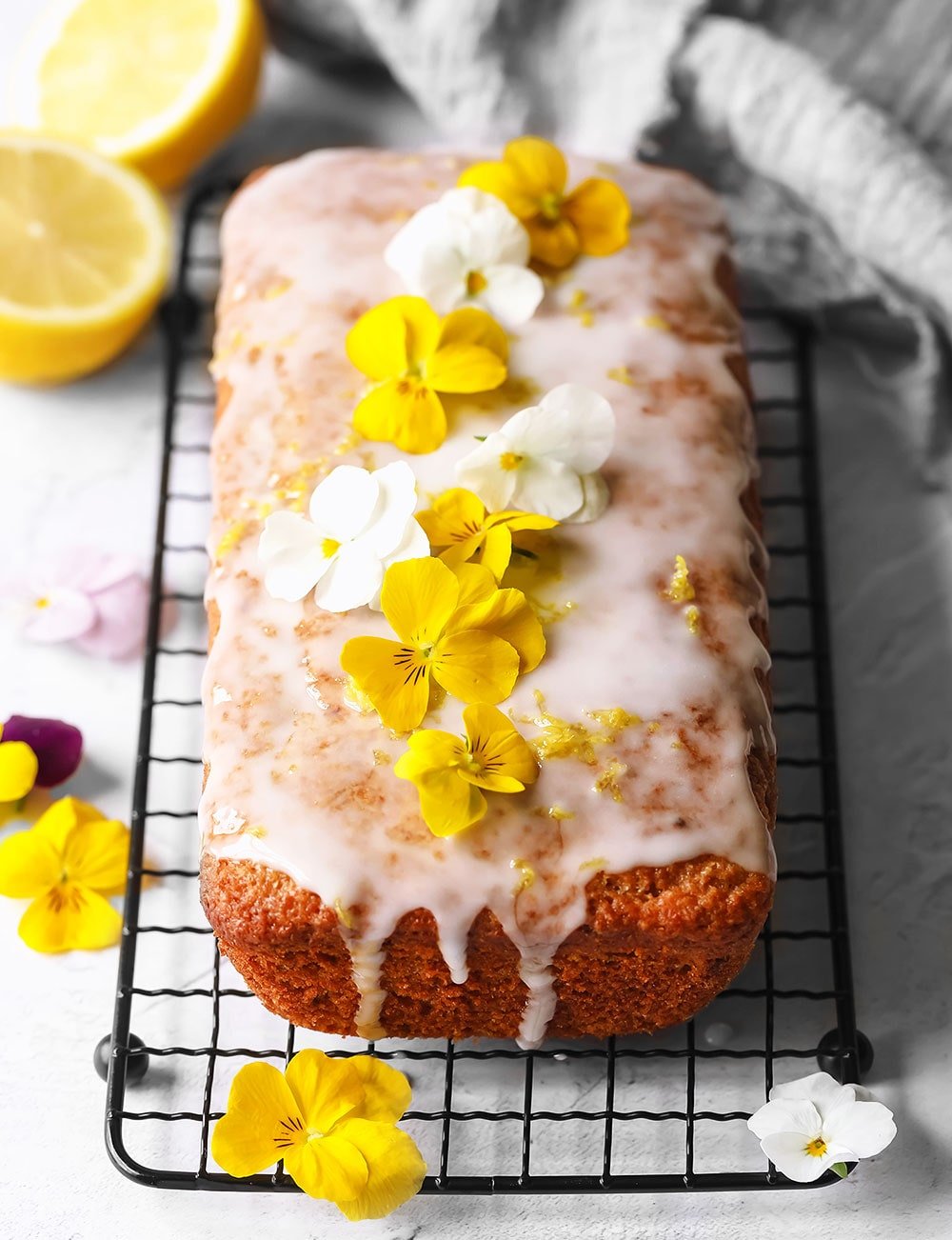 I used edible flowers to decorate, but they're not easy to find and quite expensive. This was the first and only time I've ever used them. They looked too pretty not to try at least once 😀 I would recommend topping the cake with more lemon zest to make to make it even more lemony and delicious!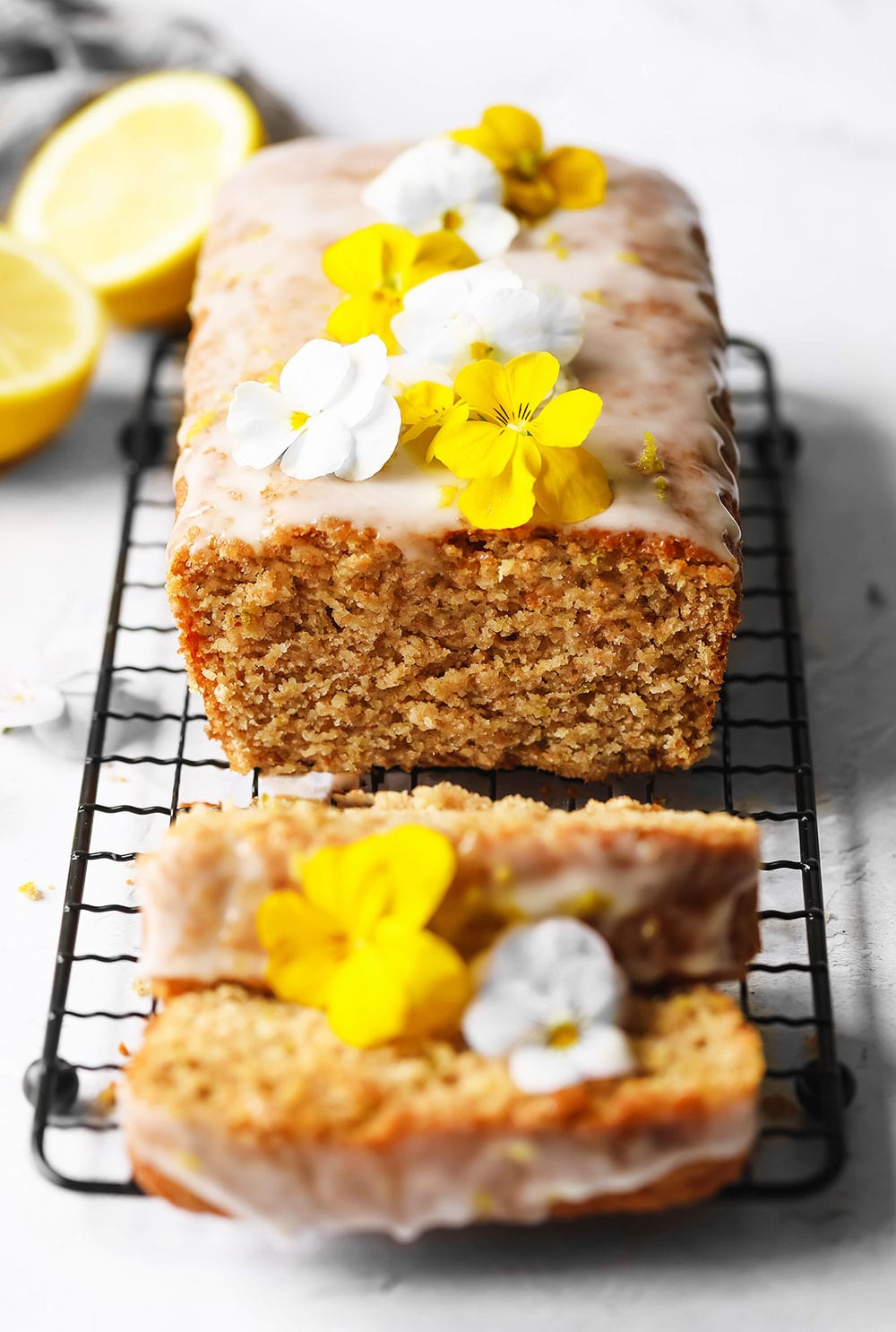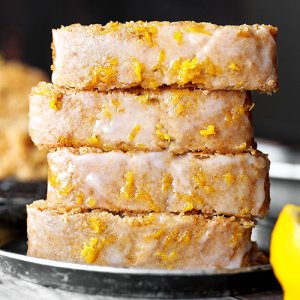 Vegan Lemon Loaf
A deliciously tangy treat - this vegan lemon loaf is so tasty and tart without being too sweet. The perfect pick me up on cold, grim days.
Ingredients
160g

wholemeal spelt flour

50g

ground almonds

1/4

tsp

salt

1/2

tsp

baking powder

1/2

tsp

baking soda

120ml

lemon juice

around 3 lemons

Zest of 2 lemons

2

tbsp

milled flaxseed

5

tbsp

water

120ml

maple syrup

60ml

coconut oil

melted
For the drizzle
30

g

icing sugar

1/2

tbsp

lemon juice

zest of 1/2 lemon
Instructions
Preheat your oven to 180C/160C fan.

Prepare the flax eggs by mixing 2 tbsp ground flaxseed with 5 tbsp of water in a small bowl. Leave for 10-15 minutes to set.

In a large bowl, mix together the flour, ground almonds, salt and baking powder. Pour in the lemon juice, maple syrup and coconut oil, then fold in the set flax eggs and lemon zest.

Mix the batter, then pour into a loaf tin lined with baking paper (I used a 22×12 cm loaf tin).

Bake for 45-50 minutes until the top is golden brown and a skewer inserted into the centre comes out clean. Leave to cool completely before icing.

Mix the icing sugar and lemon juice in a small bowl, then pour over the top of the load and spread evenly with a spatula to cover the top.
Notes
Store in an air-tight container at room temperature for up to 4 days.
Nutrition
Calories:
250
kcal
Carbohydrates:
32
g
Protein:
5
g
Fat:
12
g
Saturated Fat:
6
g
Polyunsaturated Fat:
1
g
Monounsaturated Fat:
1
g
Sodium:
6
mg
Potassium:
136
mg
Fiber:
3
g
Sugar:
17
g