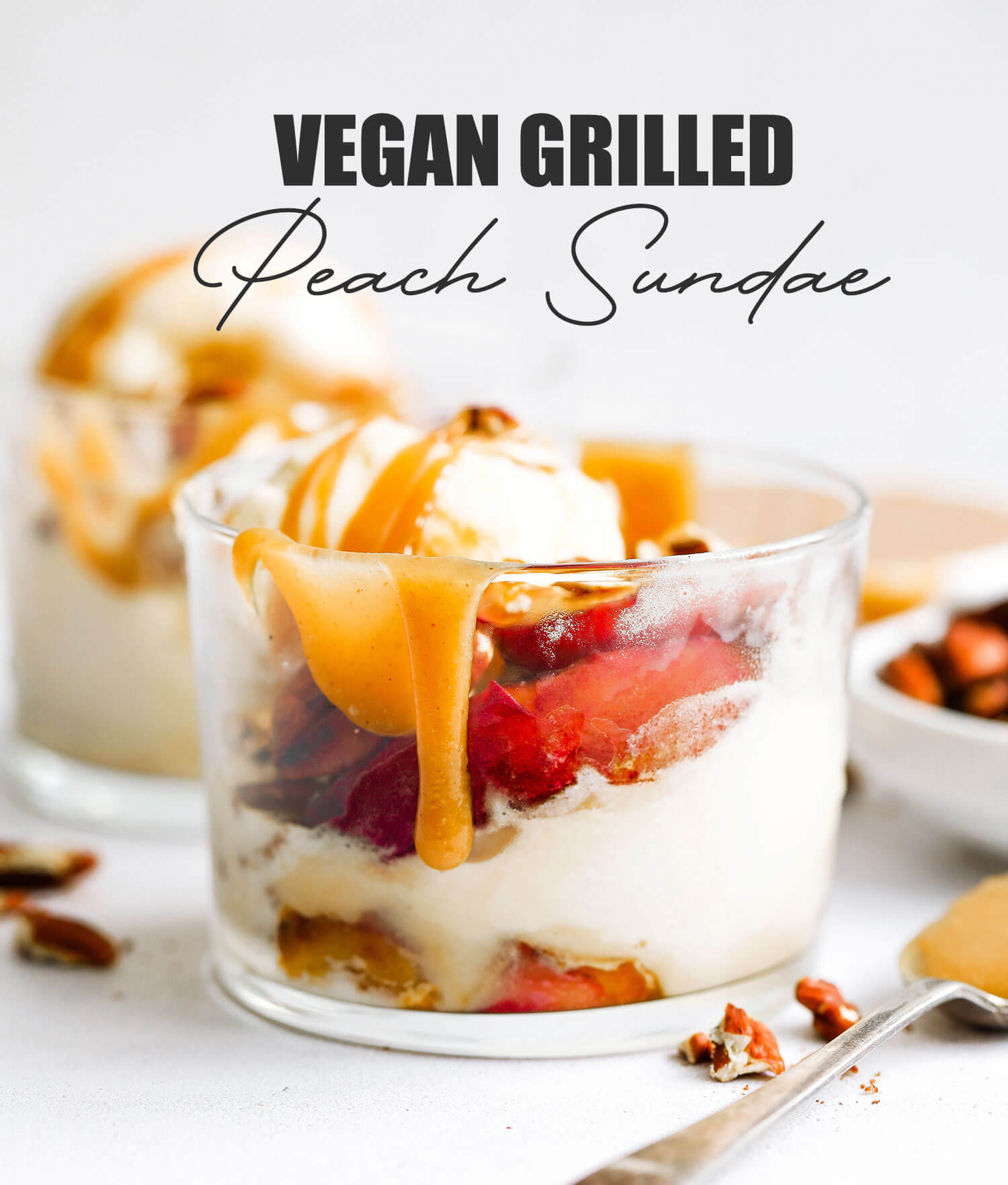 It's safe to assume that this summer has seen more garden BBQs than ever before! Since the lockdown meant most of us were unable to make the most of the beautiful sunny days we've been experiencing throughout the last few months, more and more of us have chosen to make the most of the weather by pulling out the BBQs and enjoying the sunshine with some delicious food in our gardens!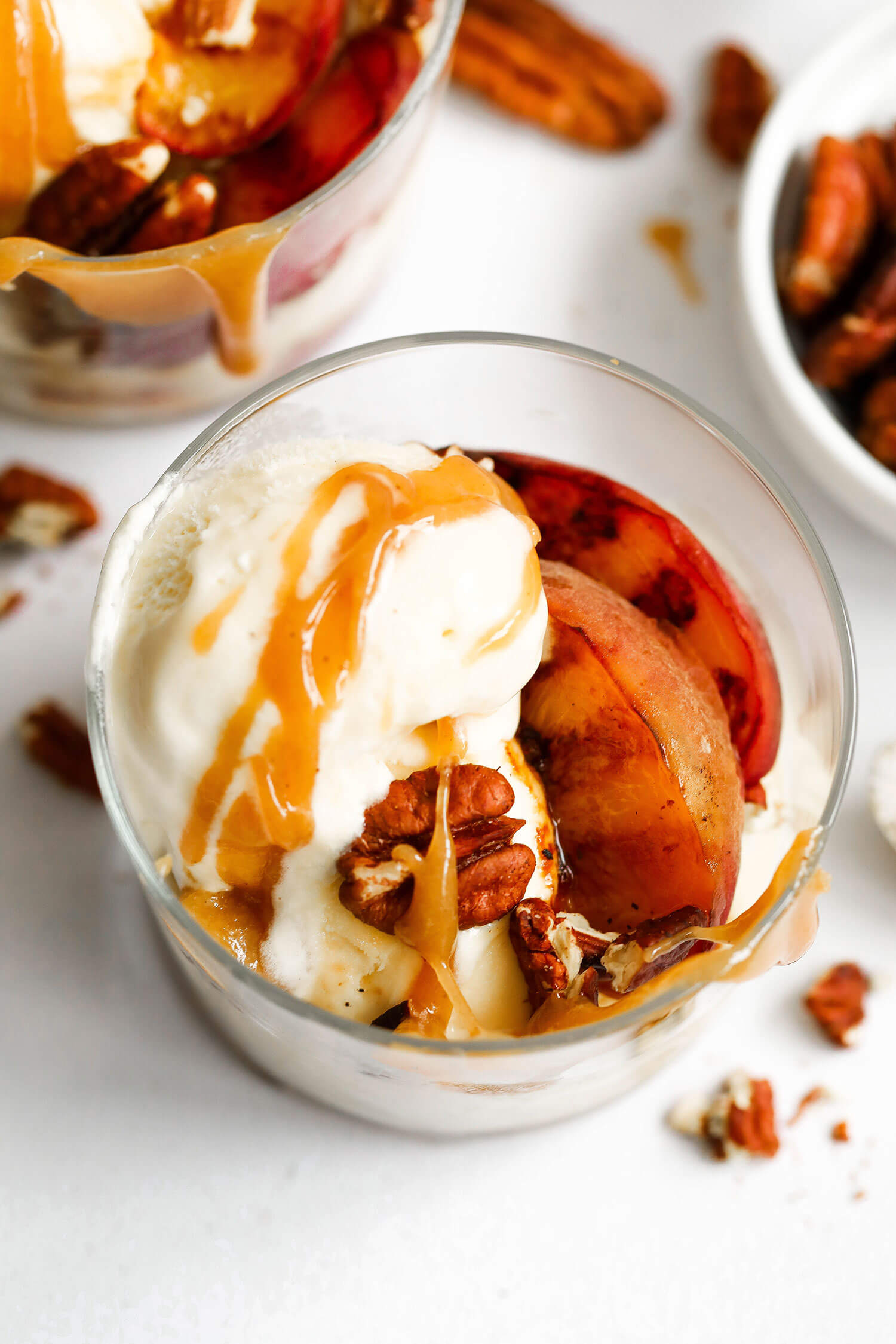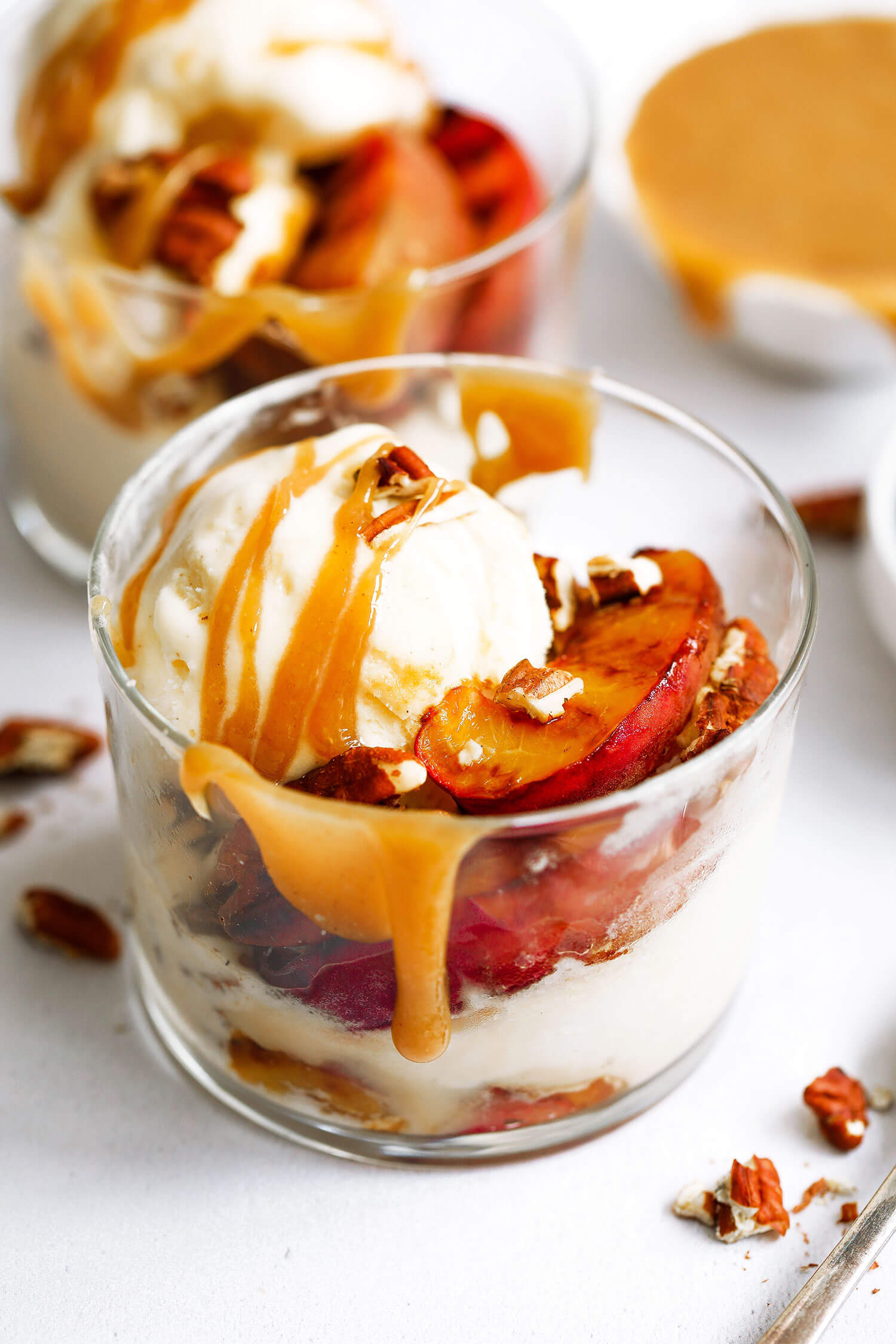 Have you ever thought of taking advantage of your BBQ to make a delicious dessert? Grilling fruit is so underrated – it completely changes the taste of the fruit and in this instant gives the peaches the most delicious charred caramelised taste! It brings out the natural sugars in the fruit and adds a smokey sweet flavour. It goes so perfectly well served with vanilla ice cream and caramel sauce. The ideal dessert to end a lovely BBQ and cool down under the hot sun!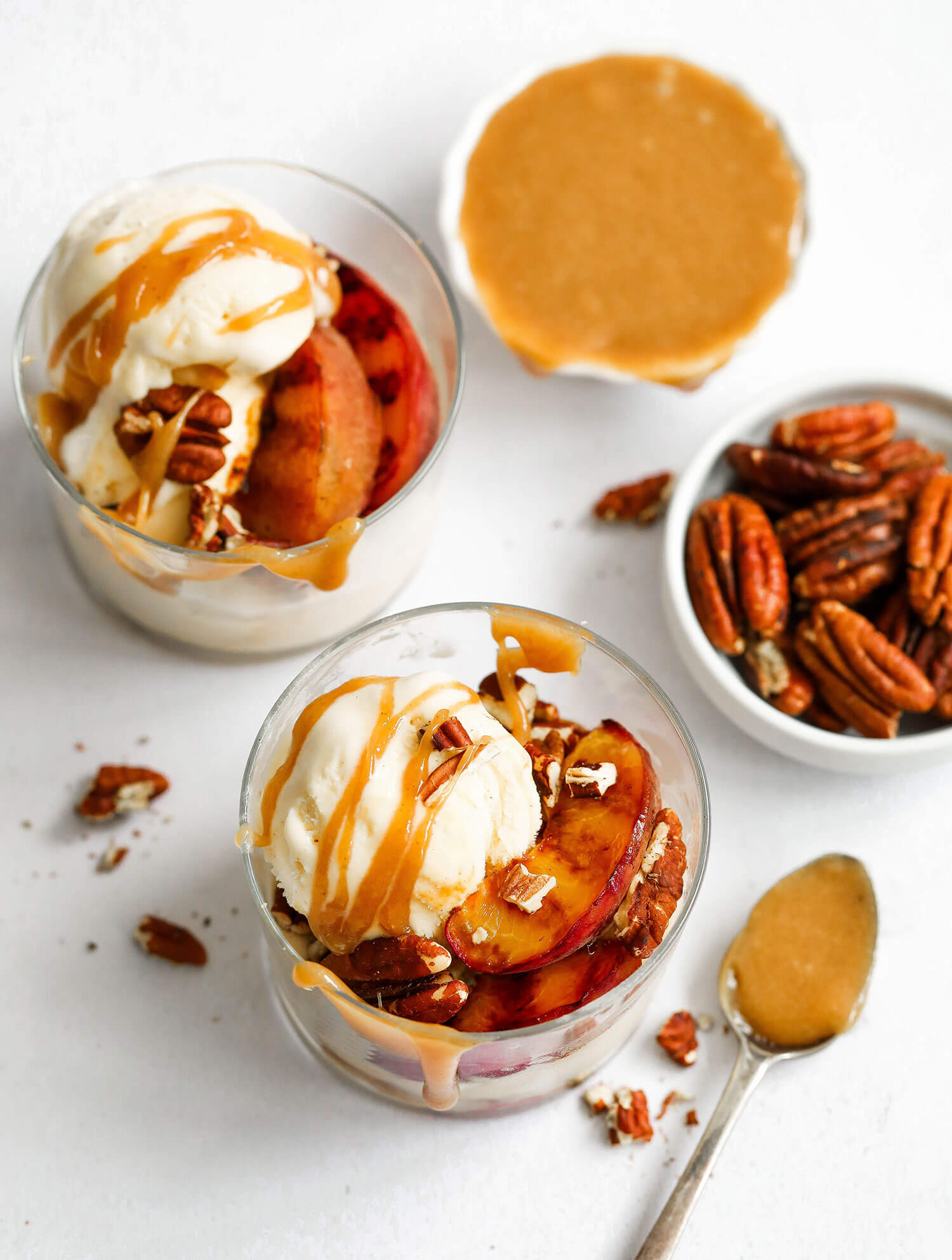 I made a quick 3 ingredient vegan caramel sauce to drizzle on top because I think it goes so well with the caramelised taste of the the grilled peaches. I also sprinkled on top some toasted pecans for some added texture and crunch.
I created this recipe in collaboration with Wayfair to add to their list of Summer BBQ recipes. If you need some BBQ inspiration you definitely need to check out their list of recipes. They have all your BBQ needs covered from starters, mains, side and salads – both meat and vegetarian/vegan!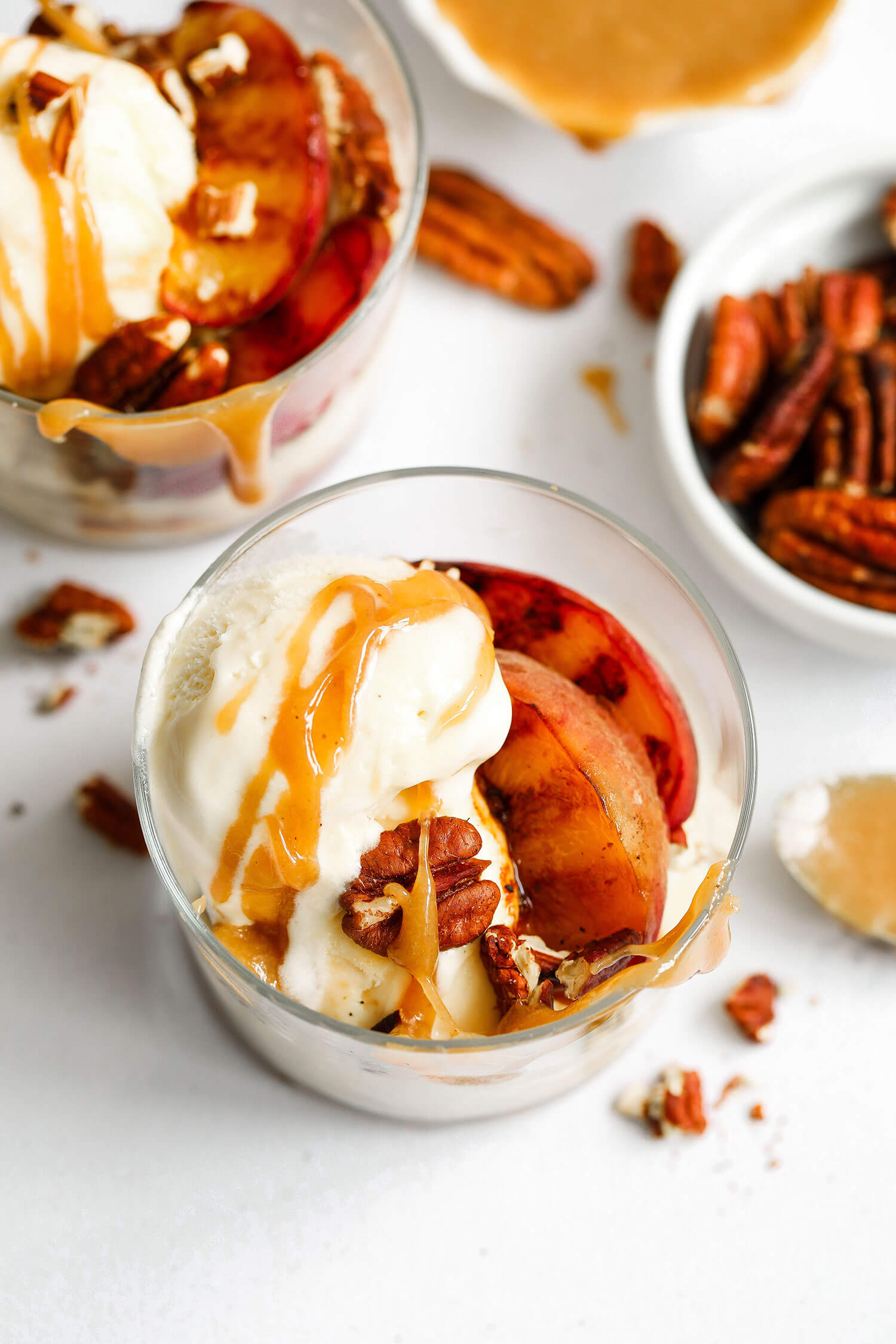 Vegan Grilled Peach Sundae
Serves – 4
Ingredients
For the peaches
2 ripe peaches
1 tbsp dairy-free spread/butter, melted
Dairy-free vanilla ice cream
Handful of toasted pecans
For the vegan caramel sauce
4 tbsp tahini
5 tbsp maple syrup
Pinch of salt
Method
First make the caramel sauce – Pour the tahini and maple syrup into a saucepan and add a pinch of salt. Cook over a medium heat until it comes to a boil, then lower the heat stirring continuously for a minute or so until the sauce thickens. Take off the heat.
Slice the peaches in half and remove the stone, then slice each half into 4 wedges.
Brush each side of the peach wedges with some melted butter.
Place on the BBQ and cook until grill marks form, then turn and cook on the other side until the peaches are tender.
Layer the ice cream and peaches in a small serving dish/glass, then top with the toasted pecans and drizzle the caramel sauce on top.
Enjoy!