Vegan Gluten-Free Chocolate Mug Cake
This recipe is for those occasions when you're craving something chocolaty and want it RIGHT NOW! When you can't be bothered baking chocolate cookies/muffins and can't wait for a chocolate dessert to set, but want a treat – preferably a healthier option.
WATCH THE VIDEO FOR STEP-BY-STEP INSTRUCTIONS.
I usually turn to this vegan gluten-free chocolate mug cake in the afternoon when I need a snack between lunch and dinner, with a nice cup of tea. It's not overly sweet which is perfect for me, I've been making 'not as sweet' dessert recipes for so long now that my taste buds have changed. I find things like ice cream and milk chocolate too sickly sweet now, which is a good thing! Even though I still have a sweet tooth and can't go a day without treating myself to something sweet, I'm glad I no longer feel the need to add loads of sweetener to recipes to be able to enjoy them. Having said that, I would still happily live on dates! They're sweet, but different kind of sweet, if that makes sense. Anyway, the point I wanted to make was if you like your desserts sweet, feel free to add more sweetener when making the mug cake.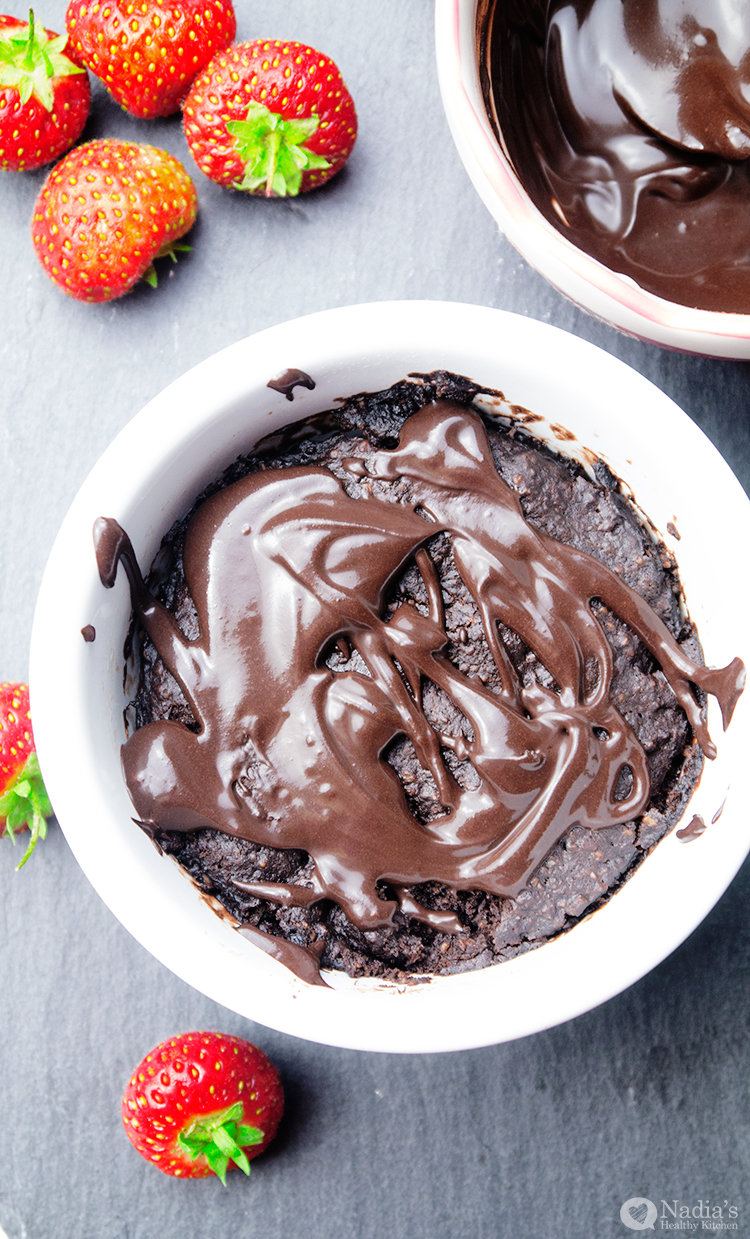 To make it even more chocolaty, I've made a simple 3 ingredient chocolate sauce to drizzle over the mug cake. If there is any of the sauce leftover and you haven't eaten it all, you can store it in the fridge and drizzle it over your porridge the next morning, YUM!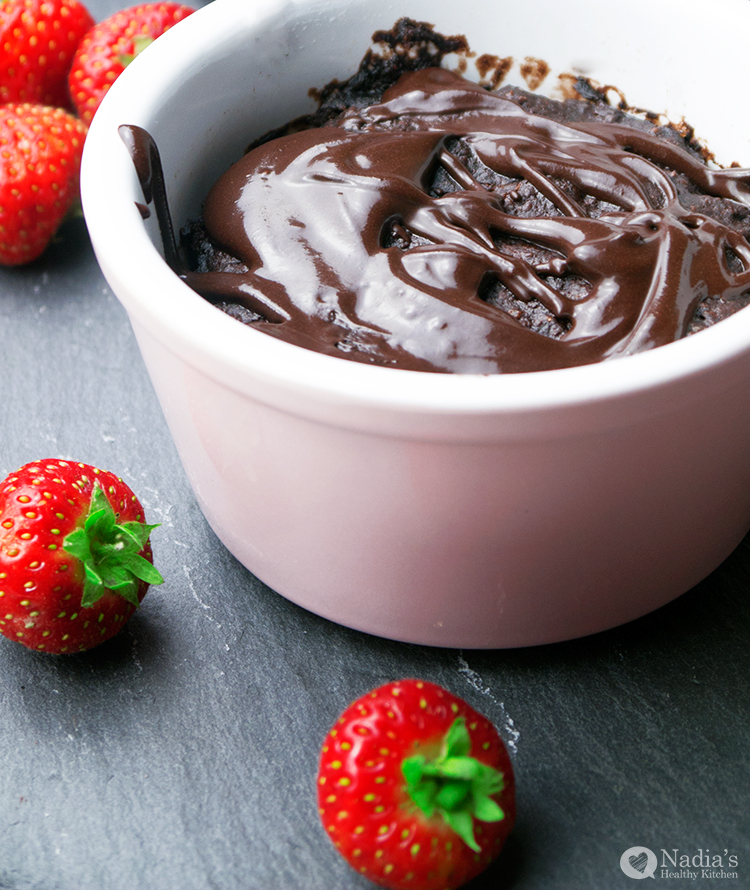 Vegan Gluten Free Chocolate Mug Cake
2016-01-21 15:06:35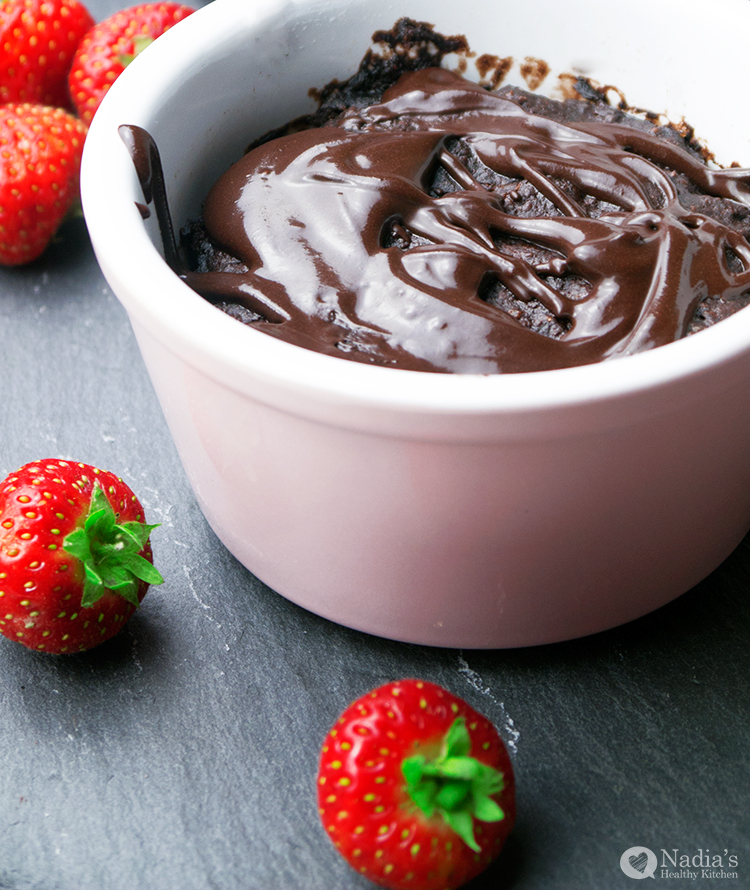 Serves 1
Chocolate mug cake
3 tbsp oat flour (plain oats blended in the food processor into a flour)
1.5 tbsp cocoa/cacao powder
1 tbsp stevia
1 tbsp coconut oil, melted
1 tbsp maple syrup (or other liquid sweetener)
1/4 tsp baking powder
Pinch of salt
2 tbsp milk
Chocolate sauce
2 tsp cocoa/cacao powder
1 tsp maple syrup (or other liquid sweetener)
3 tsp milk
Instructions
WATCH THE VIDEO ABOVE FOR INSTRUCTIONS
Notes
Nutritional information (estimated with the chocolate sauce)
Calories: 328 calories
Protein: 6.7 g
Crabs: 45.9 g
Fat: 17.4 g
Fibre: 7.1 g
Nadia's Healthy Kitchen https://nadiashealthykitchen.com/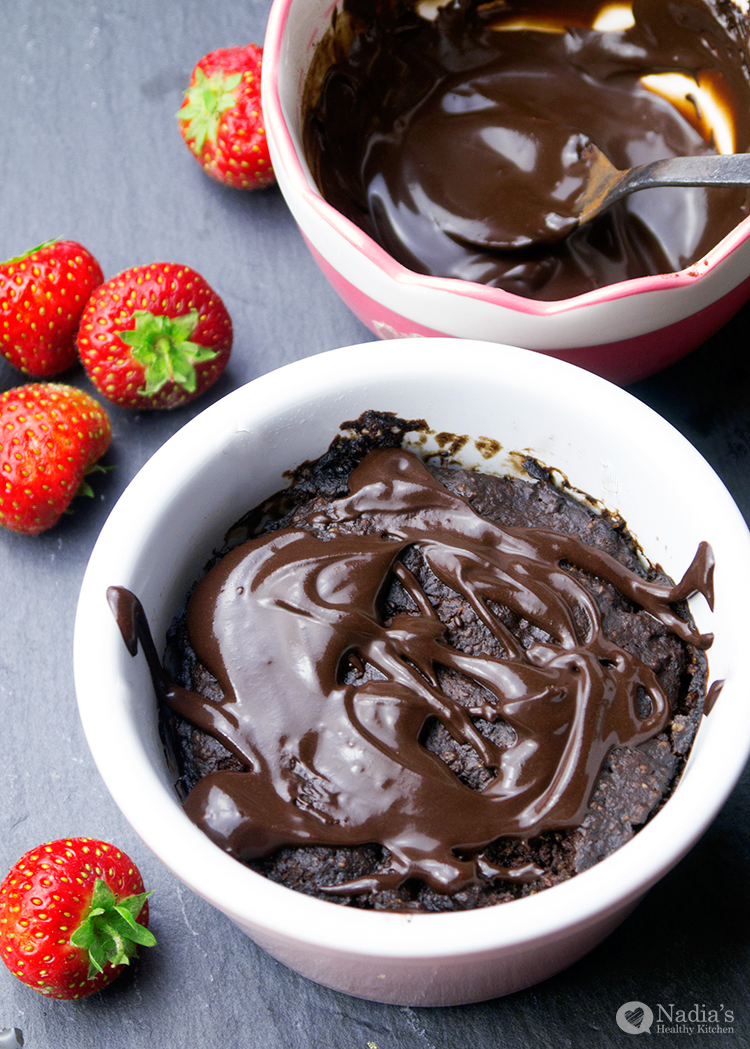 Here's a few more mug/microwave recipes: