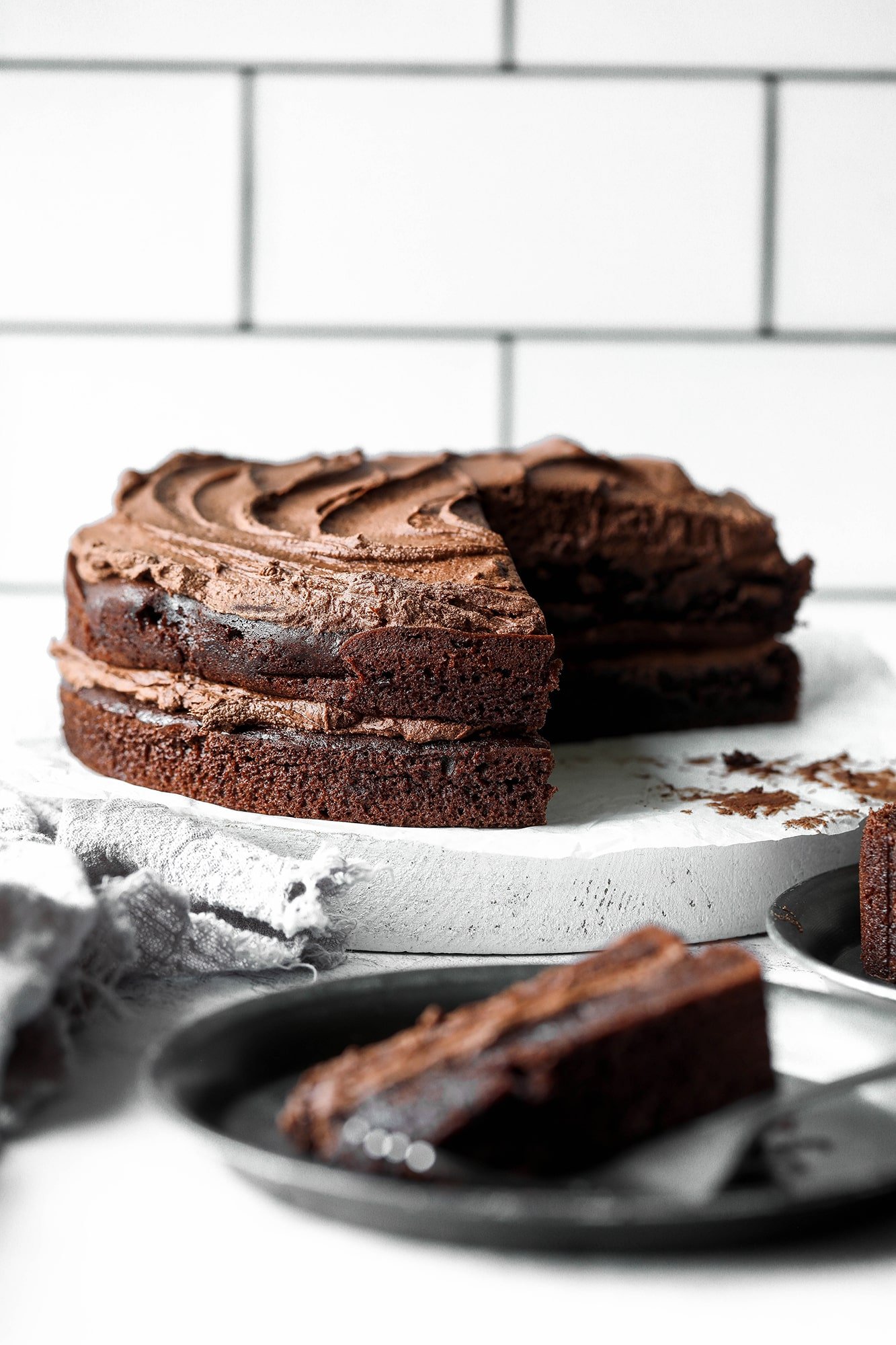 (AD)
I can't think of anything better than a decadent piece of cake to get me through a long and stressful week. If you're looking for a yummy, sweet treat that's completely plant-based, you NEED this vegan chocolate fudge cake!
I don't often eat cake, but when I do it has to be homemade. I've always found homemade to be so much more delicious with a better texture. Shop bought cakes can so easily be dry and far too sweet with not much else in terms of flavour. I usually make a cake when I have people coming over, but the restrictions that we all faced over the last year and a half changed all that. All of a sudden it was just me and my partner and we hardly saw anyone else for a long time. It didn't make sense for me to bake a whole cake for just the two of us, especially since my partner doesn't have much of a sweet tooth.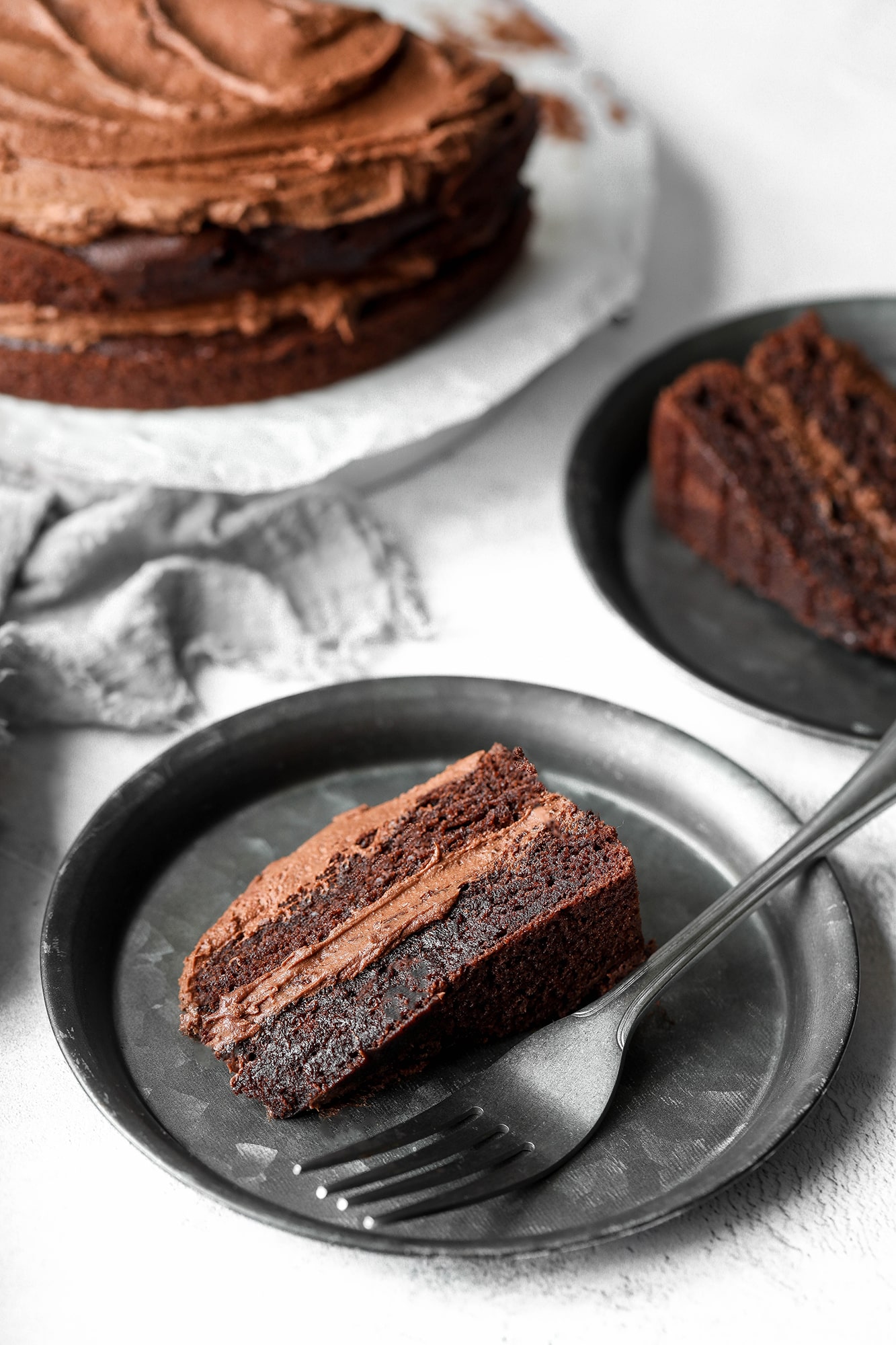 I actually really missed baking homemade cakes. Some days I get a strong craving for a delicious slice of cake, usually on a Friday evening if I've had a particularly stressful week. Now that we're allowed to see people again (yay!), I could hardly wait to bake a cake, and being the chocolate addict that I am, it had to be a chocolate one!
I've teamed up with Carnation this Veganuary to show you fun and exciting ways to use their vegan alternative to condensed milk. It's such a versatile addition to vegan and gluten-free creations! It's approved by the Vegan Society and is made from a blend of oat and rice flour, sugar and sunflower oil, so it's completely plant-based. The oats used are gluten-free so it can also be used to create gluten-free bakes and treats. There are so many fun ways to incorporate it into recipes. The possibilities are endless really – think vegan ice cream, cheesecake, macaroons, cakes, caramel tray bakes and so much more!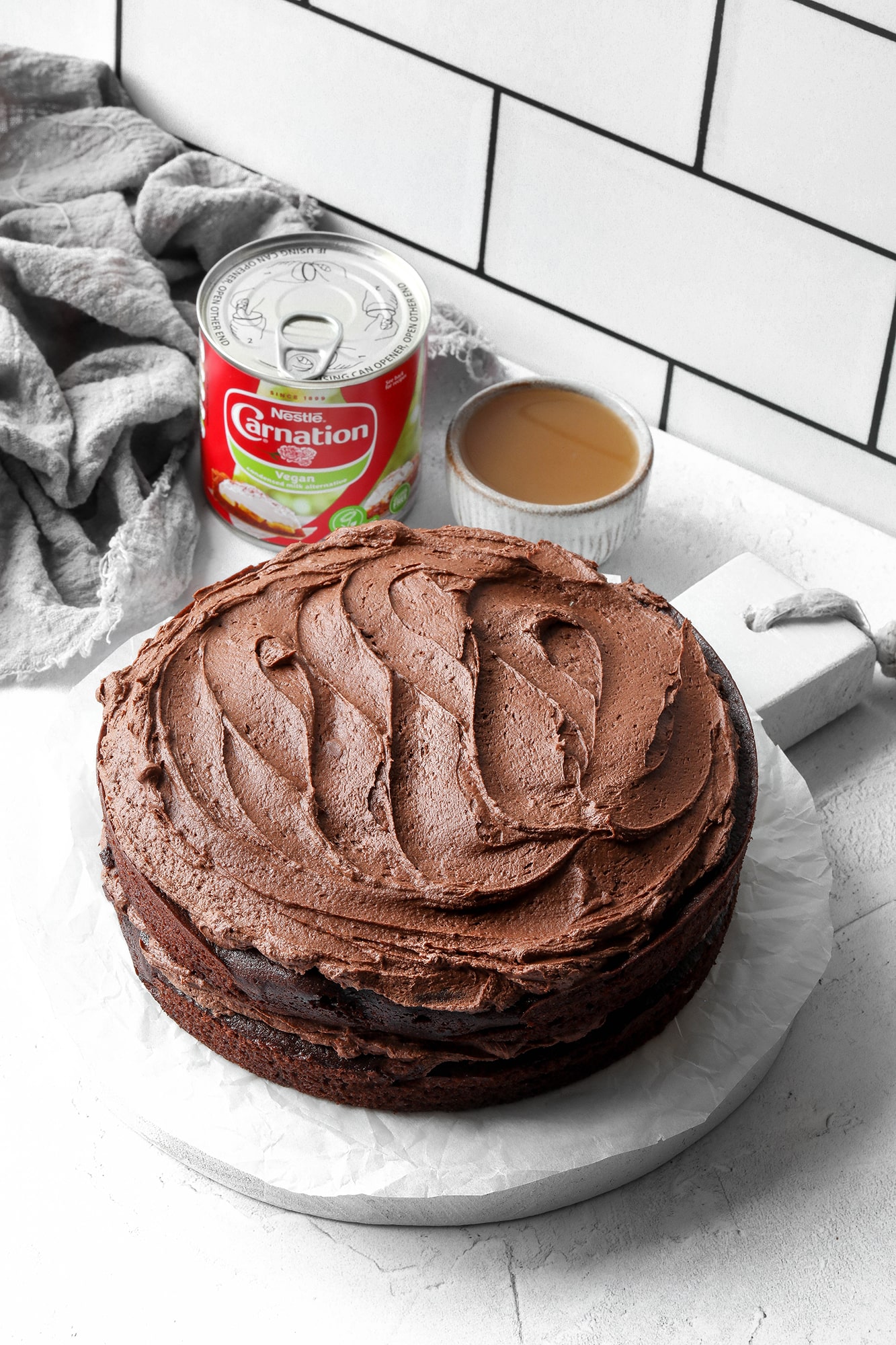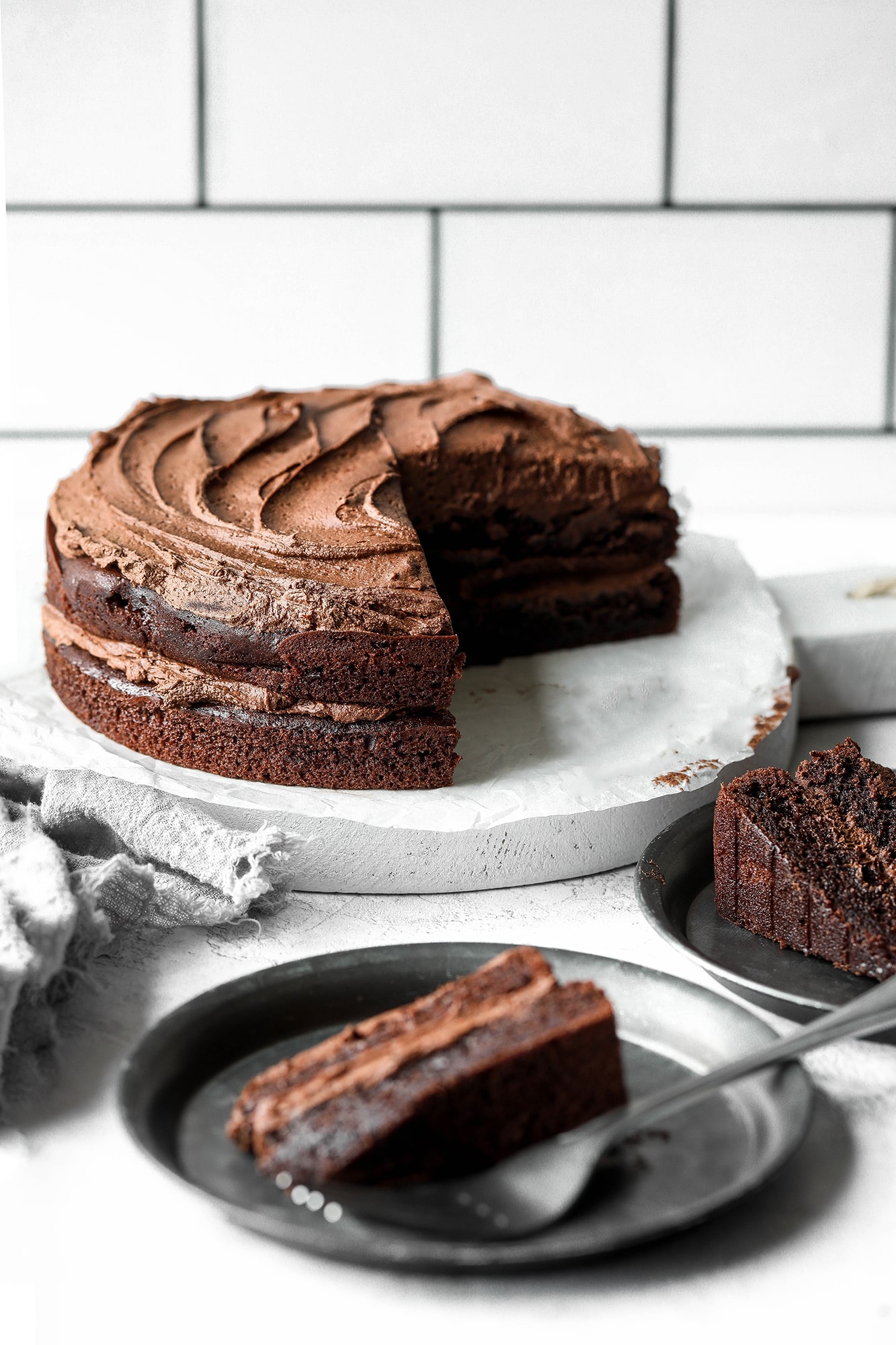 When I used to think of condensed milk, only two things would come to mind – ice cream and fudge. I didn't know how else to use it, and I certainly never thought of using it in a cake or frosting. The Carnation team whipped up this amazing cake recipe using their vegan alternative to condensed milk as a way to add sweetness, but it also helps make the cake super moist and decadent. It tastes delicious and looks absolutely stunning! A beautiful centre piece for your next dinner party.
If you need more inspiration on how to use the Carnation vegan condensed milk alternative, head over to the Carnation website. They have a list of delicious recipes that they're adding to regularly (click here to browse their recipe ideas!).
Whether you're taking part in Veganuary or not, you NEED to try vegan chocolate fudge cake! It's rich, moist and so satisfying – perfect if you're having guests over or to take around next time you see friends/family.
Here's how to make it…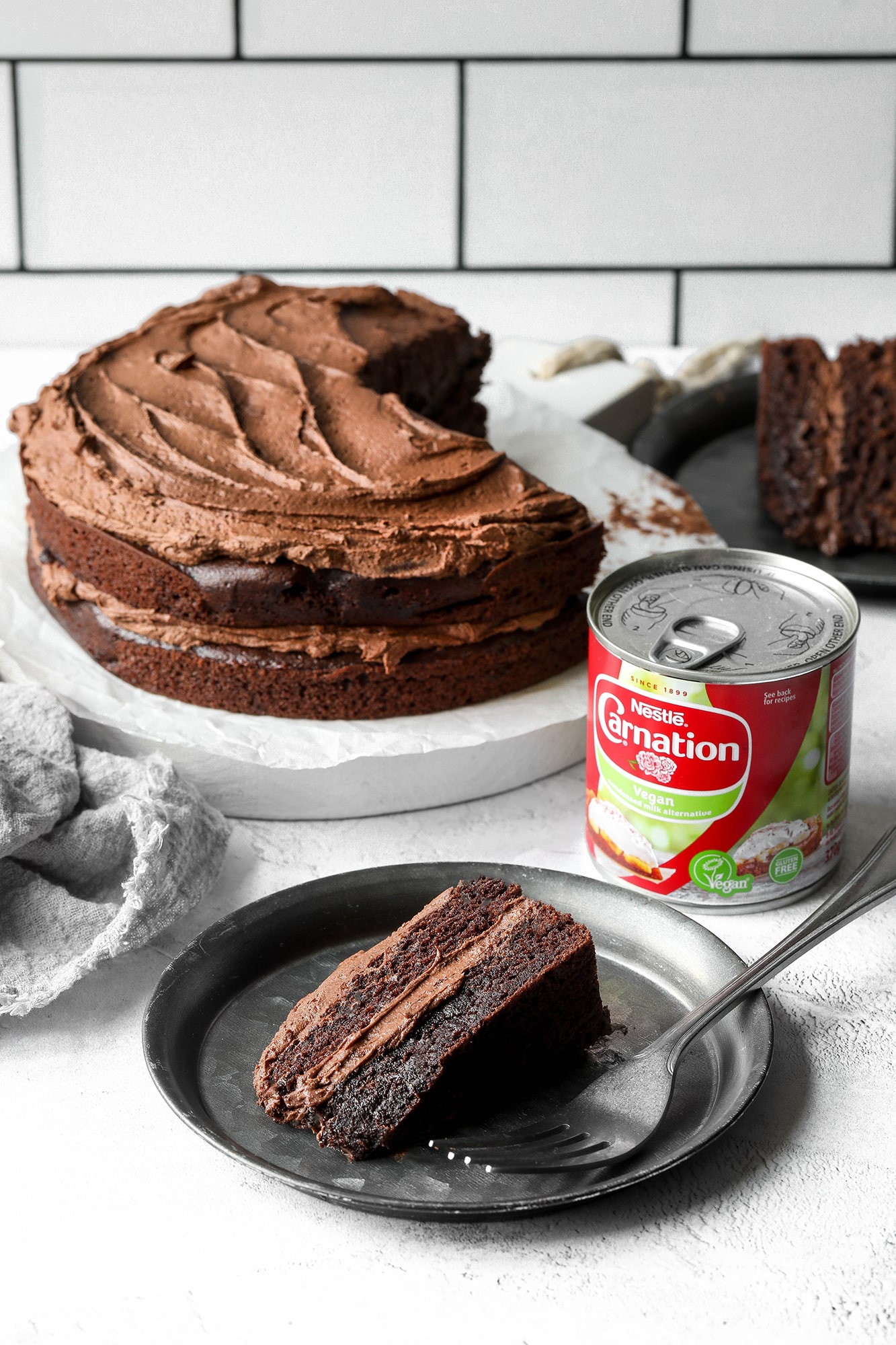 Vegan Chocolate Fudge Cake
Serves – 12
Ingredients
For the cake:
100g Carnation Vegan Condensed Milk Alternative
175g Light soft brown sugar
250g Plain flour
35g Cocoa powder
1/2 tsp Bicarbonate of soda
1 tsp Baking powder
250ml Unsweetened vegan milk alternative
100ml Vegetable oil
2 tsp Vanilla extract
For the frosting:
55g Carnation Vegan Condensed Milk Alternative
55g Vegan butter alternative
175g-200g Icing sugar, sifted
1 tbsp Cocoa
1 tsp Vanilla extract
100g Vegan dark chocolate
Method
Heat oven to 160°C, (140°C for fan ovens), Gas Mark 3.
Beat the cake ingredients in a large mixing bowl slowly with an electric hand mixer until you have a smooth cake batter.
Divide the mixture between the tins and bake for about 25 mins or until fully risen and a skewer inserted into the middle of the cakes comes out clean.
Cool in the tins for 5 mins, then turn the cakes onto a rack to cool completely.
Make the frosting while the cakes cool.
Break the chocolate into chunks and heat gently in the microwave, stirring frequently until the chocolate has melted. Cool for 10 minutes.
Beat together the Carnation Vegan and the vegan butter with electric beaters until creamy and smooth.
Gradually add 175g icing sugar, cocoa, vanilla and the melted chocolate. Beat until thick and smooth. Chill for 30 minutes then re whip for a thick spreadable icing, adding extra icing sugar if it's not thick enough to spread.
To assemble the cake: place one half of the cake onto a plate, spread just under half the chocolate frosting on top then sandwich with the other cake and use the remaining frosting on top of the cake.
Decorate with chocolate sprinkles!