Vegan and Gluten-free Chocolate Waffles
Rich, vegan and gluten-free chocolate waffles using healthier ingredients. Based on my healthy baked waffles, but made in a waffle maker instead of waffle moulds. I recently bought a new waffle maker and was dying to try it out, so thought I would recreate this basic recipe but with added chocolate.
I usually make waffles on a Sunday morning for me and the hubby and it's something we both look forward to. We don't have much time for a sit down breakfast during the week, so it's a real treat on the weekend to take our time prepping breakfast (although we don't usually eat until 10-11am, so technically it's brunch!) and have a chilled sit down meal on the dining table.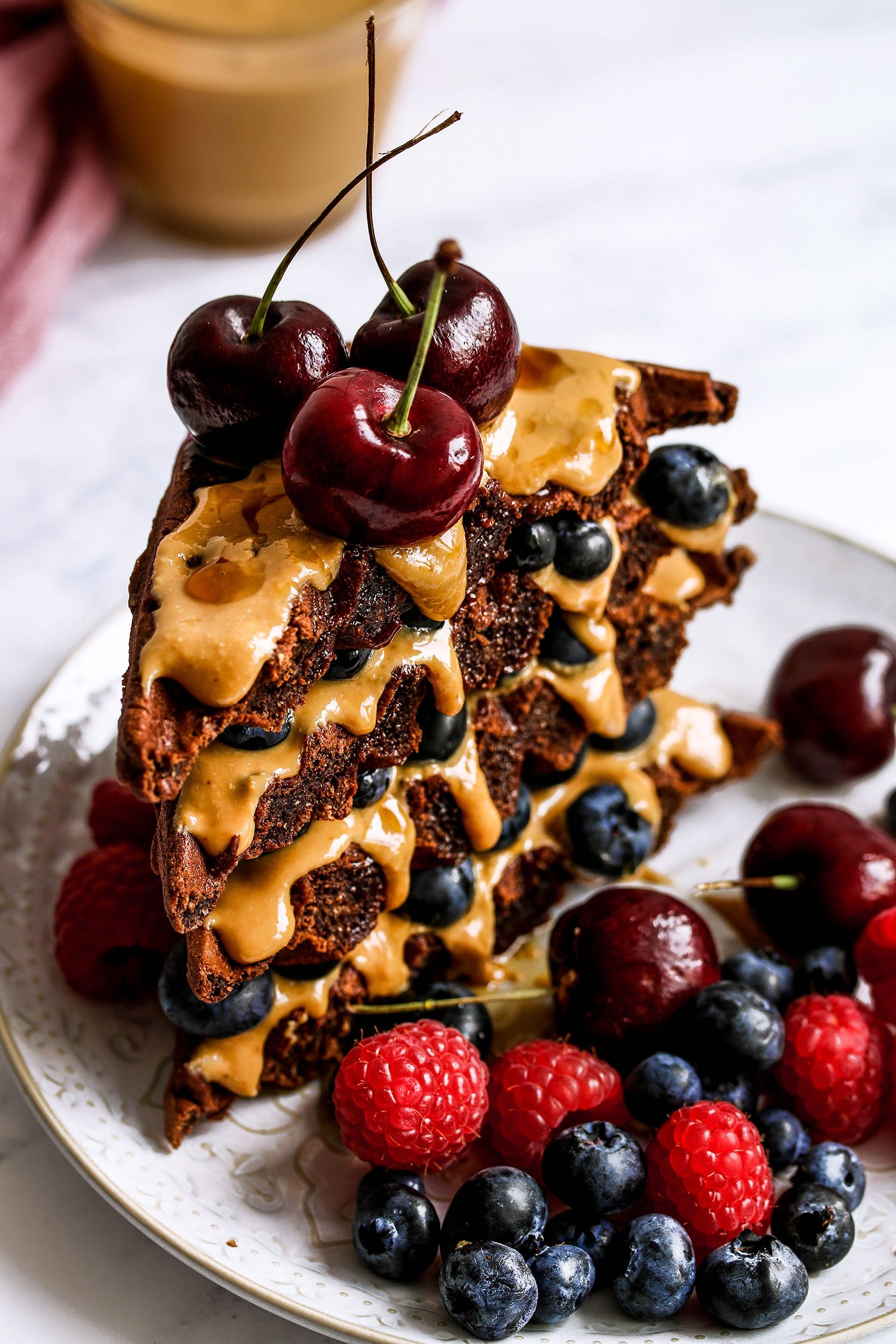 Waffles are usually way to heavy for me. Whenever I've ordered waffles at a restaurant or cafe, I've always regretted it. It always leaves a knot feeling in my stomach and I feel so heavy and lethargic afterwards. Meals like that, particularly breakfast, ruin my day because it can trigger an IBS flare-up, which affects the way I feel the rest of the day. For me, it's just not worth it.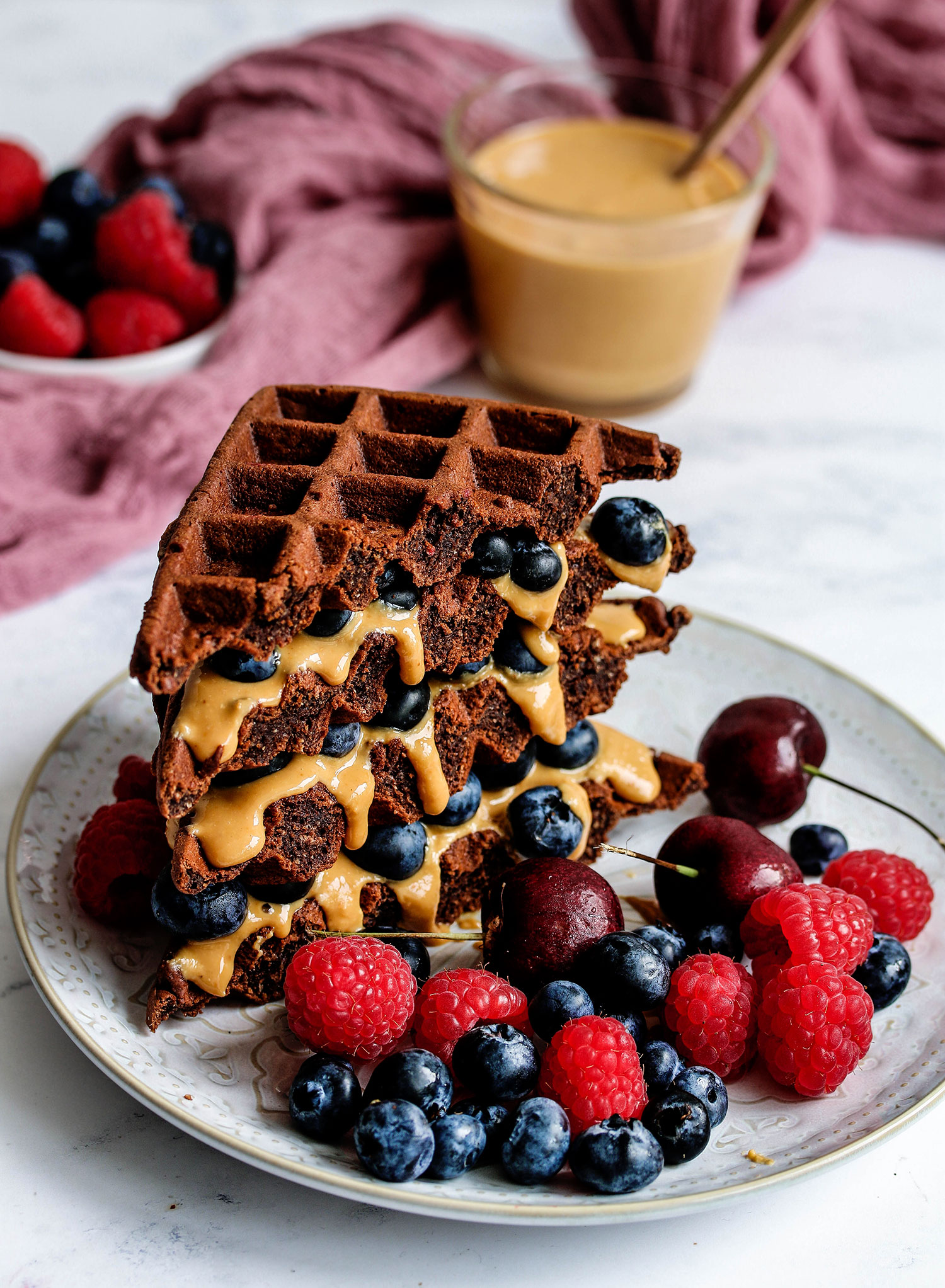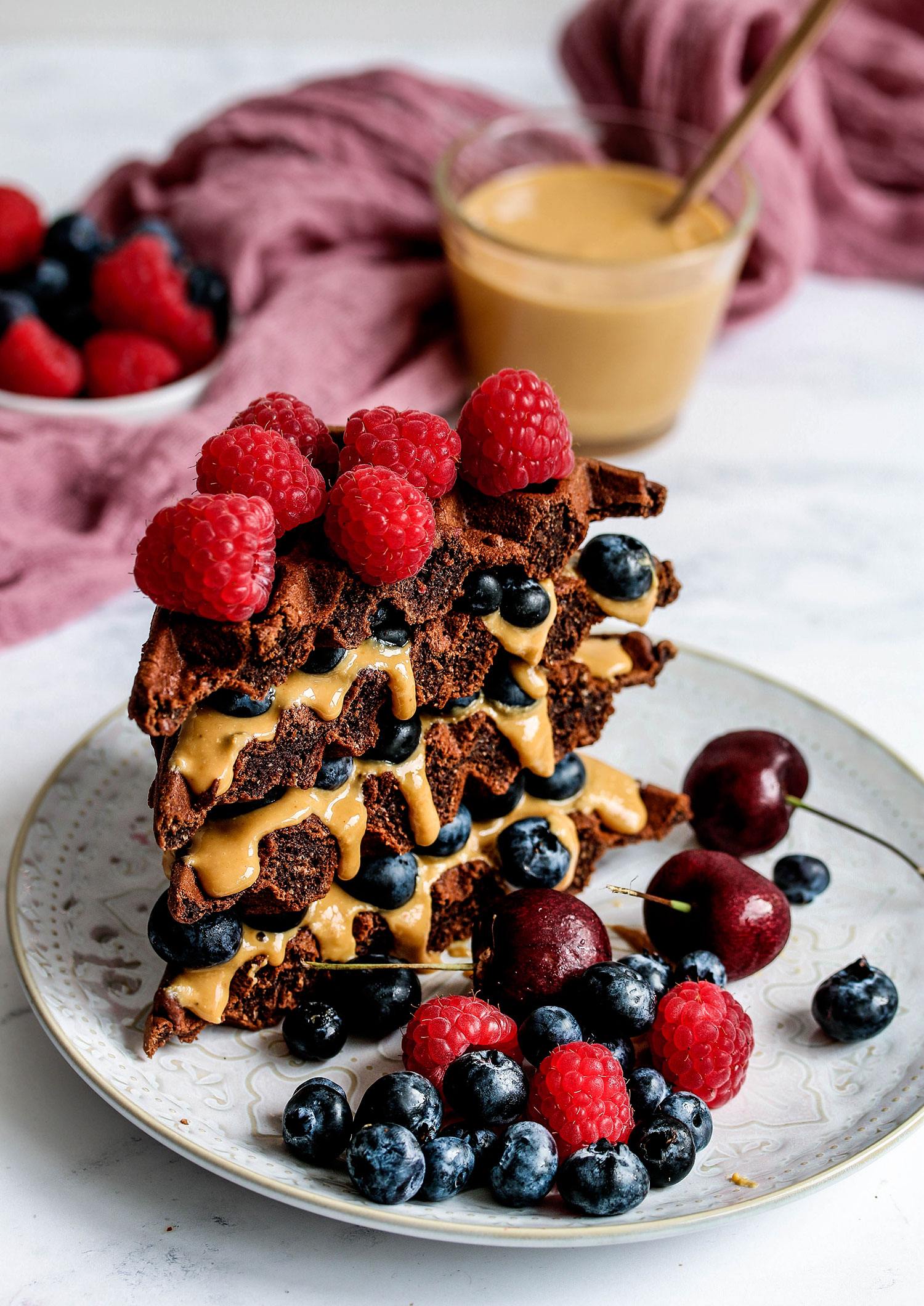 When I make my own waffles at home I keep it really simple with healthy ingredients. The waffles feel so much lighter and I top them with loads of berries and things like nuts or nut butter.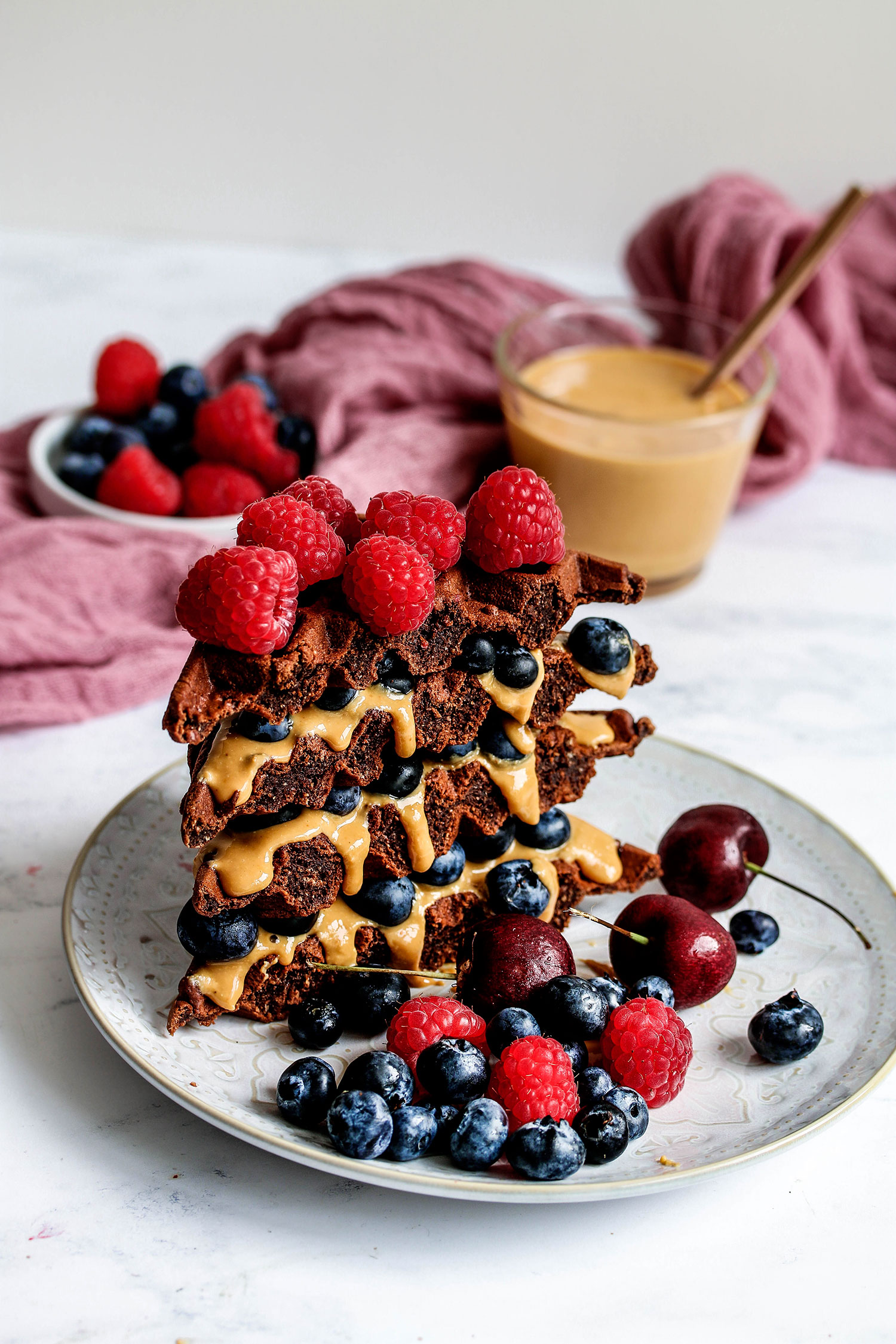 I'm using gluten-free oats (but you can use plain oats) that I blend into a flour in the food processor, then I add almond butter (instead of oil) and soy milk instead of dairy milk.
If you have a nut allergy, you can swap out the almond butter for some sort of oil like coconut or rapeseed oil to make it nut-free. Or if you can't get hold of almond butter you can use smooth peanut butter instead.
I only used a little bit of maple syrup in the batter. They won't taste very sweet, but that gives you the option to enjoy them however way you want. You can drizzle more maple syrup on top or spread them with some chocolate hazelnut spread. I like to top mine with some nut butter and a little bit of no added sugar berry spread and loads of berries 😀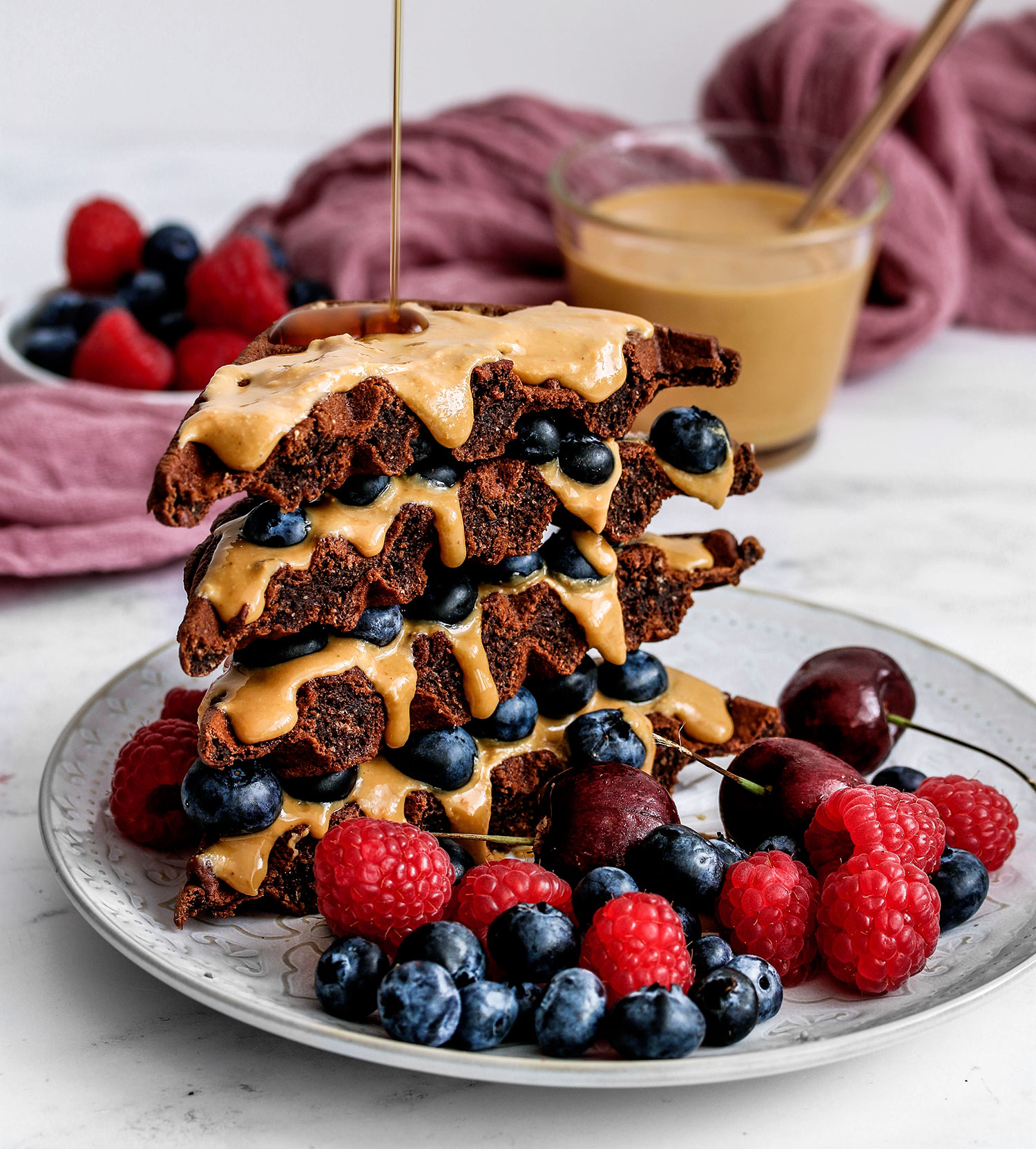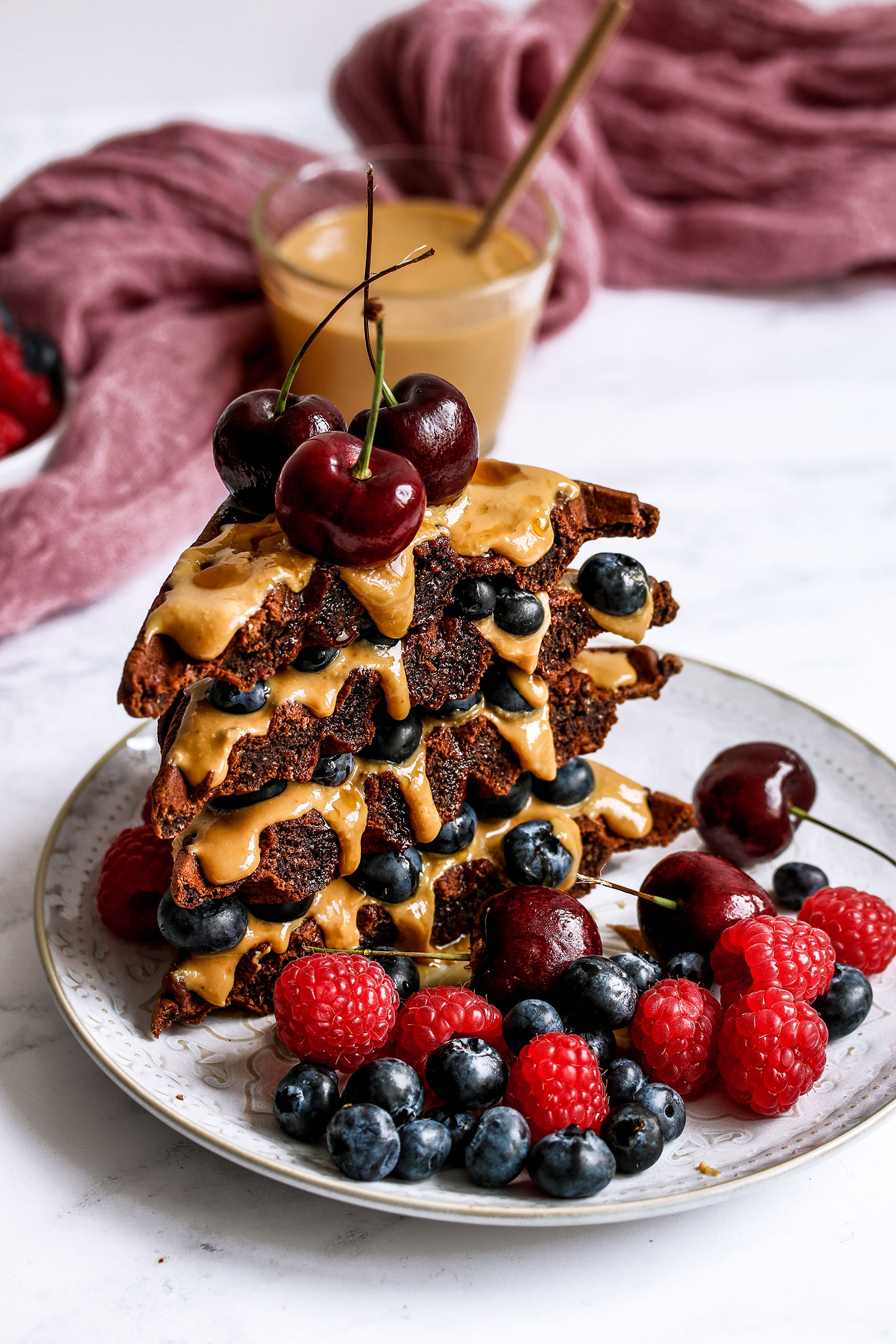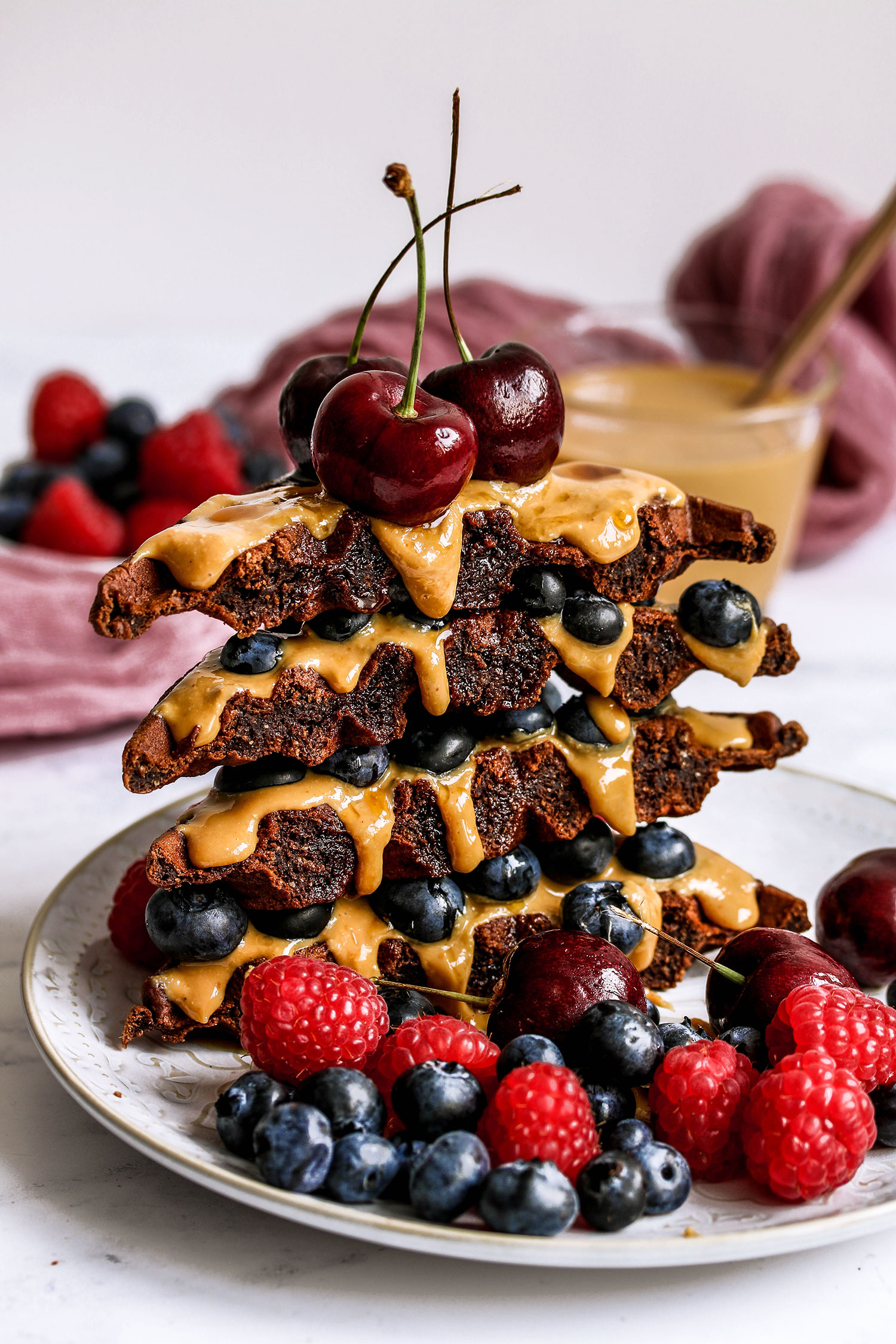 ---
Vegan and Gluten-free Chocolate Waffles
Makes – 4 waffles
Ingredients
110g (1 cup) gluten-free oat flour – gluten-free oats blended into a flour in the food processor
25g (1/4 cup) cocoa powder
1/4 tsp salt
1 tsp baking powder
4 level tbsp almond butter (you can use any nut butter you like, or substitute it for coconut/rapeseed oil to make it nut-free)
2 tbsp maple syrup (or you can use other liquid sweeteners like honey, rice syrup…etc.)
235 ml (1 cup) milk of choice
Method
In a large bowl, mix together the oat flour, cocoa, baking powder and salt.
Add the almond butter, maple syrup and milk. Mix to combine.
Brush your preheated waffle iron with oil. Pour the batter onto the waffle iron and cook for 5-8 minutes.
Topping options – berries, jam, nut butter, chopped nuts, maple syrup, chocolate spread.
Enjoy!
---