Tofu Katsu Curry (Vegan & Gluten-free)
Fridays are usually our treat (some might call it cheat) days. I usually make something more 'takeaway like' rather than my usually healthy salads, quinoa, buckwheat pasta, tofu and roasted vegetables. We usually follow that with a movie, some popcorn and these quinoa & kale puffs that we're obsessed with! They're not the healthiest, but definitely healthier than regular crisps and eating them on a Friday night after a hard week of work has become a bit of a tradition for the hubby and I!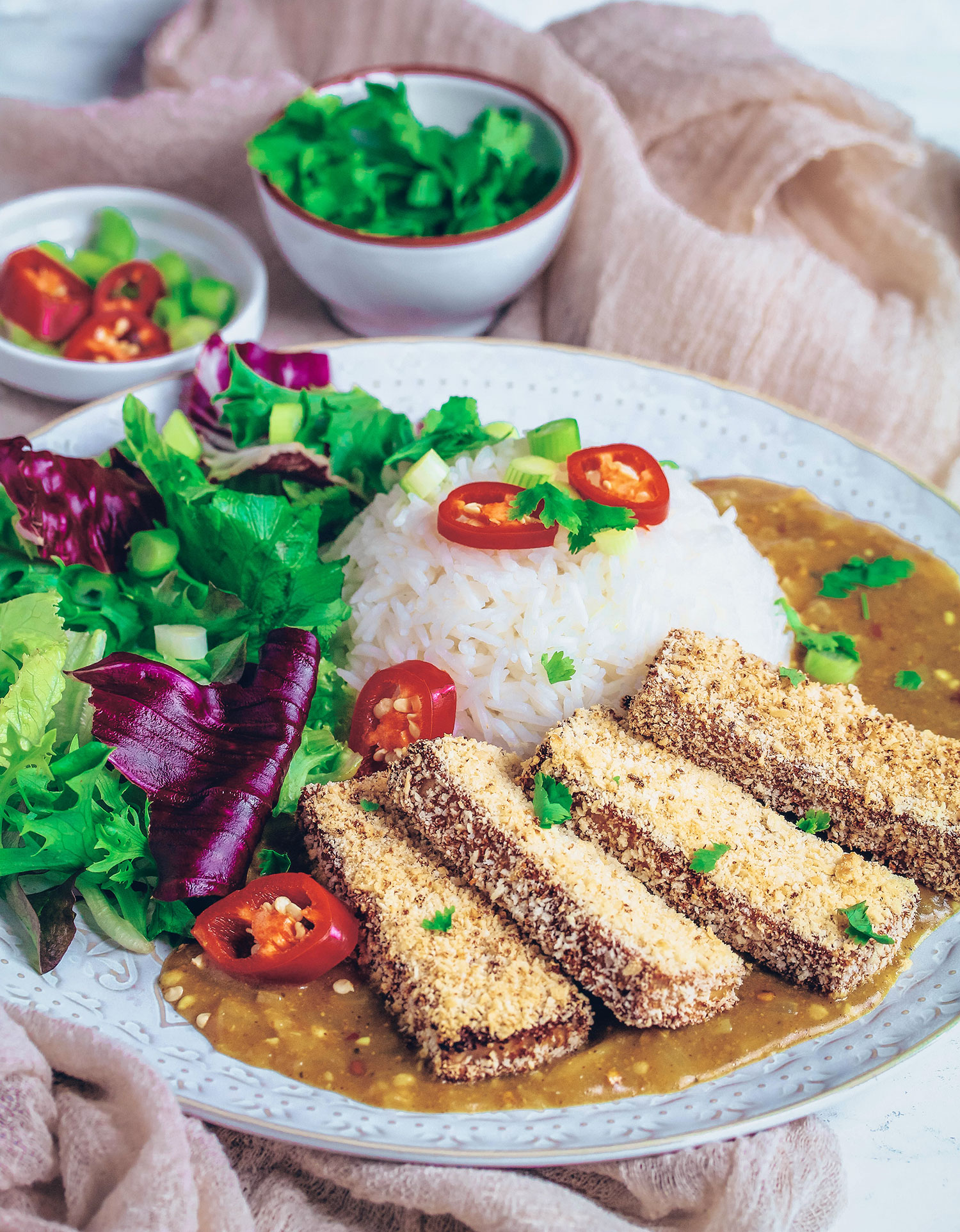 Today, I'm making a dish that I usually order when I go to Japanese/Asian restaurants – Katsu curry! If you've never tried katsu curry then you're seriously missing out! It's usually made with chicken breast breaded in batter, unlike my version which is made of tofu and baked, making it much healthier! I've also included gluten-free substitutions if you're avoiding gluten or want to make it for someone who can't eat gluten.
I like to bake the breaded tofu slices instead of frying them a) to make it healthier and b) I think baked tofu ALWAYS tastes better than fried. Tofu has the tendency to be soft, but I like mine chewy and more meaty and baking it for 20-30 minutes does exactly that!
I have the pleasure of working with Very Lazy again on this recipe using their chopped garlic, chopped ginger and chopped red chillies as the stars of the show! I've mentioned in previous posts how much I HATE chopping garlic and chilli, especially the latter because it burns my sensitive eczema prone skin like crazy! Also, who doesn't love a shortcut when it comes to cooking? I know I do! Let's be honest, no one would choose to chop garlic, chillies and ginger if they didn't have to! 😉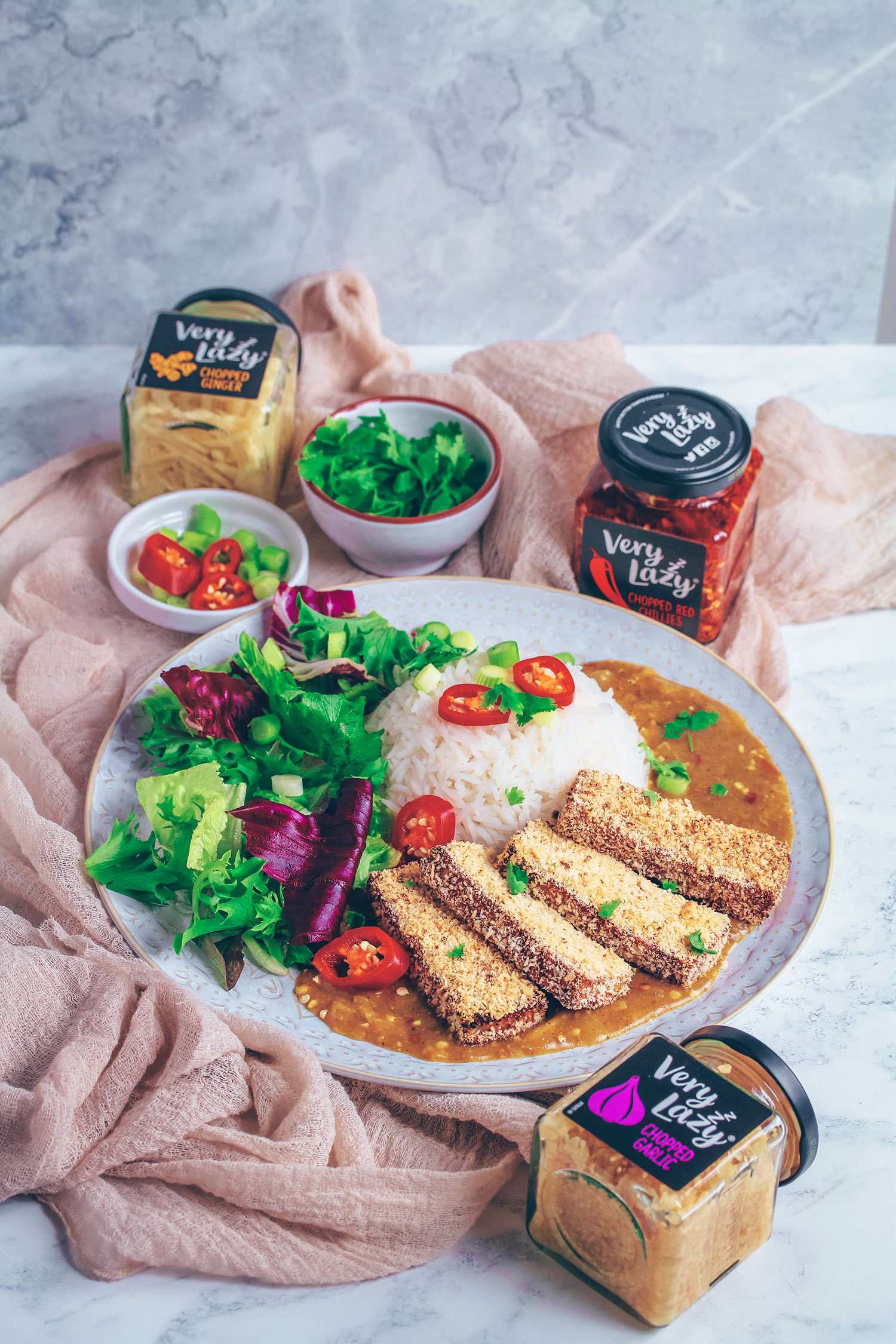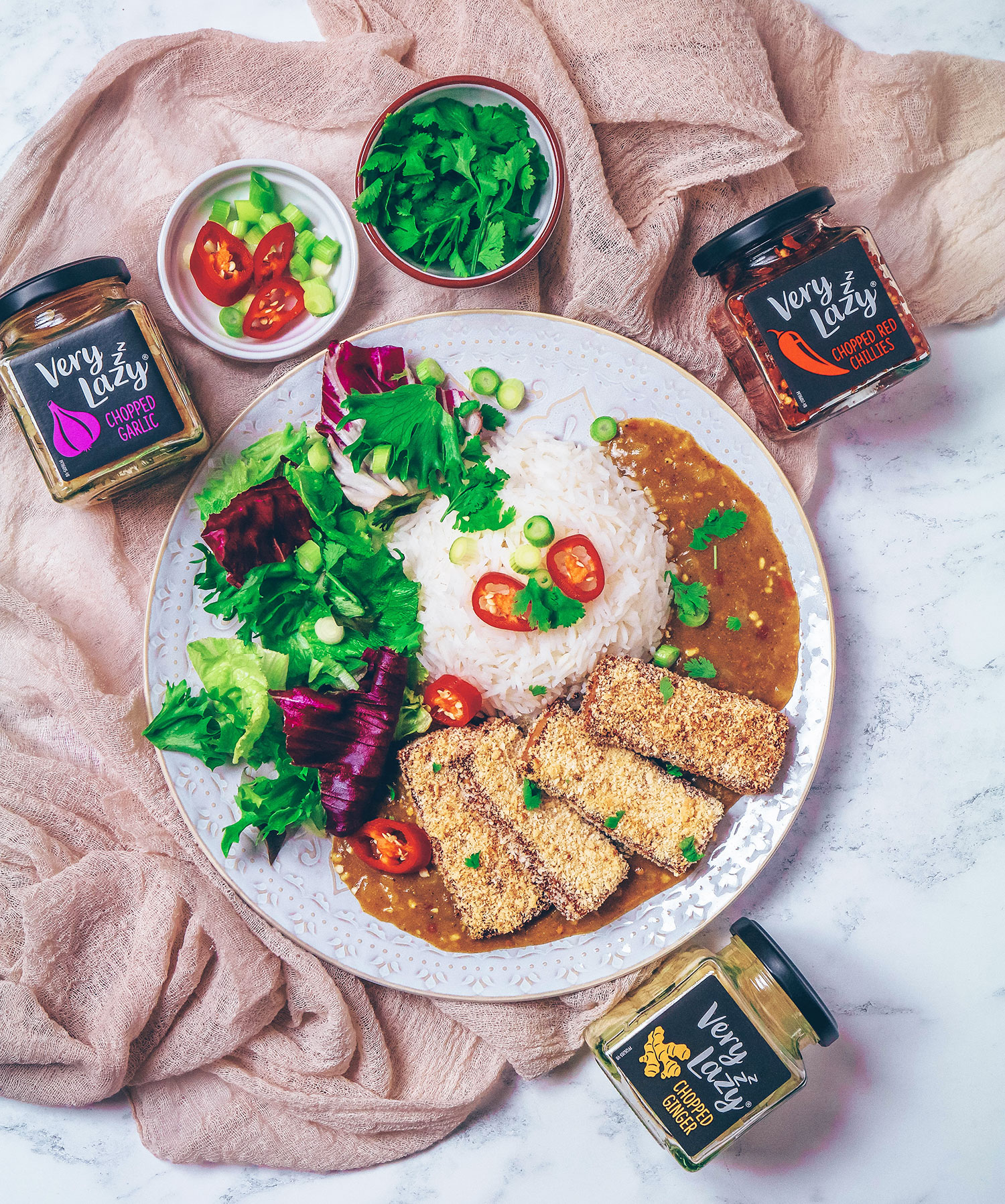 I tried to keep the recipe as close as the original as I could, so I decided to serve it with white rice, but you can always serve it with brown rice if you want the extra goodness and fibre!
A meal that tastes like a takeaway, but is much cheaper and so much healthier! Perfect Friday night treat 😀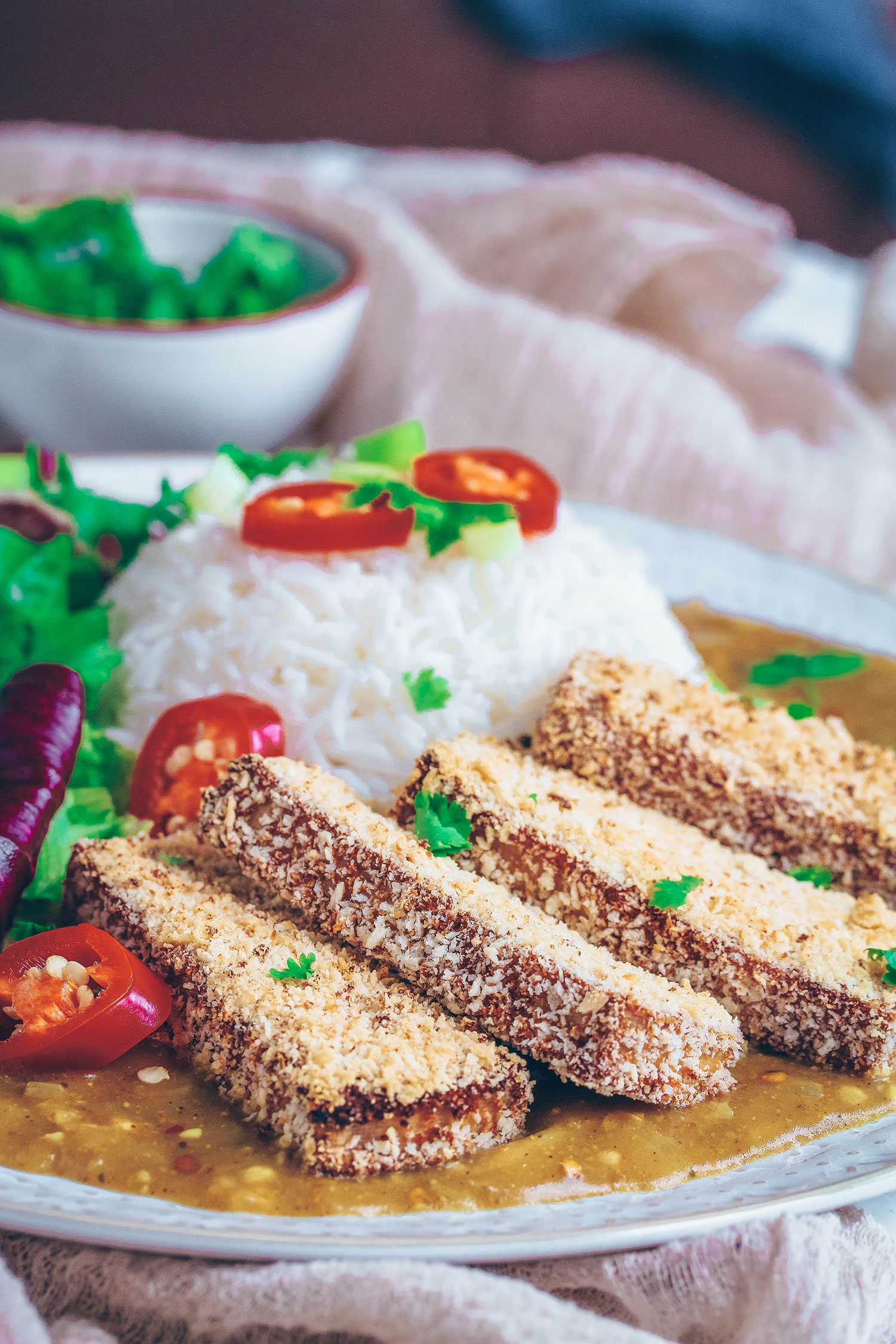 This tofu katsu curry is:
High in protein
Vegan
Gluten-free
Easy
Quick
And super tasty!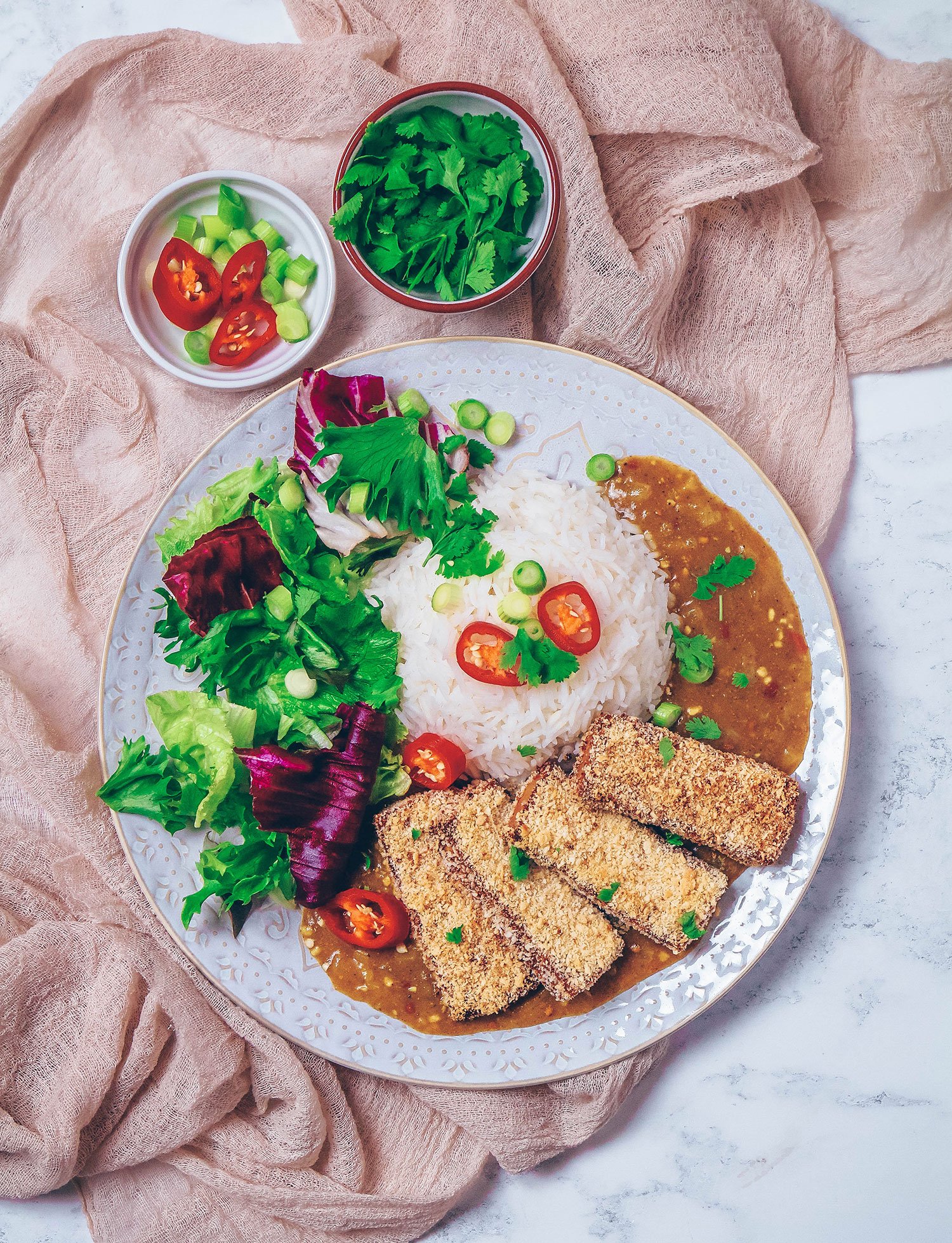 ---
Tofu Katsu Curry (Vegan & Gluten-free)
Serves: 2-4
Ingredients:
400g firm tofu, drained according to pack instructions
3 tbsp soy sauce (or tamarin for a gluten-free option)
60g fine bread crumbs (or you can use gluten-free bread crumbs)
1 tbsp oil
1/2 onion, chopped
1 tsp Very Lazy chopped garlic
1 tsp Very Lazy chopped ginger
1/2 tsp Very Lazy chopped red chilli
1 tbsp mild curry powder
1 tsp gram masala
1 tbsp flour (or you can use gluten-free flour)
300ml vegetable stock
1 tbsp rice vinegar
1/2 tbsp maple syrup or sugar
Method

Preheat your oven to 200°C/180°C fan assisted.
Slice the drained tofu into 8-9 pieces.
Add the soy sauce into a wide bowl and the breadcrumbs into another.
Dip the tofu pieces in the soy sauce then coat with the bread crumbs.
Arrange on a baking sheet lined with parchment paper. Bake for 25-30 minutes.
In a large pan, heat 1 tbsp oil then add the onions. Cook on a medium heat for 5 minutes, then add in the chopped garlic, chopped ginger and chopped red chillies. Cook for another 1 minute.
Mix in the curry powder, garam masala and flour. Pour in the vegetable stock slowly while mixing.
Add in the rice vinegar and maple syrup. Bring to a boil, then cover, lower the heat and leave to simmer for 15-20 minutes. The sauce will thicken slightly. Add more salt if necessary.
Serve with boiled rice and salad.
Enjoy!
---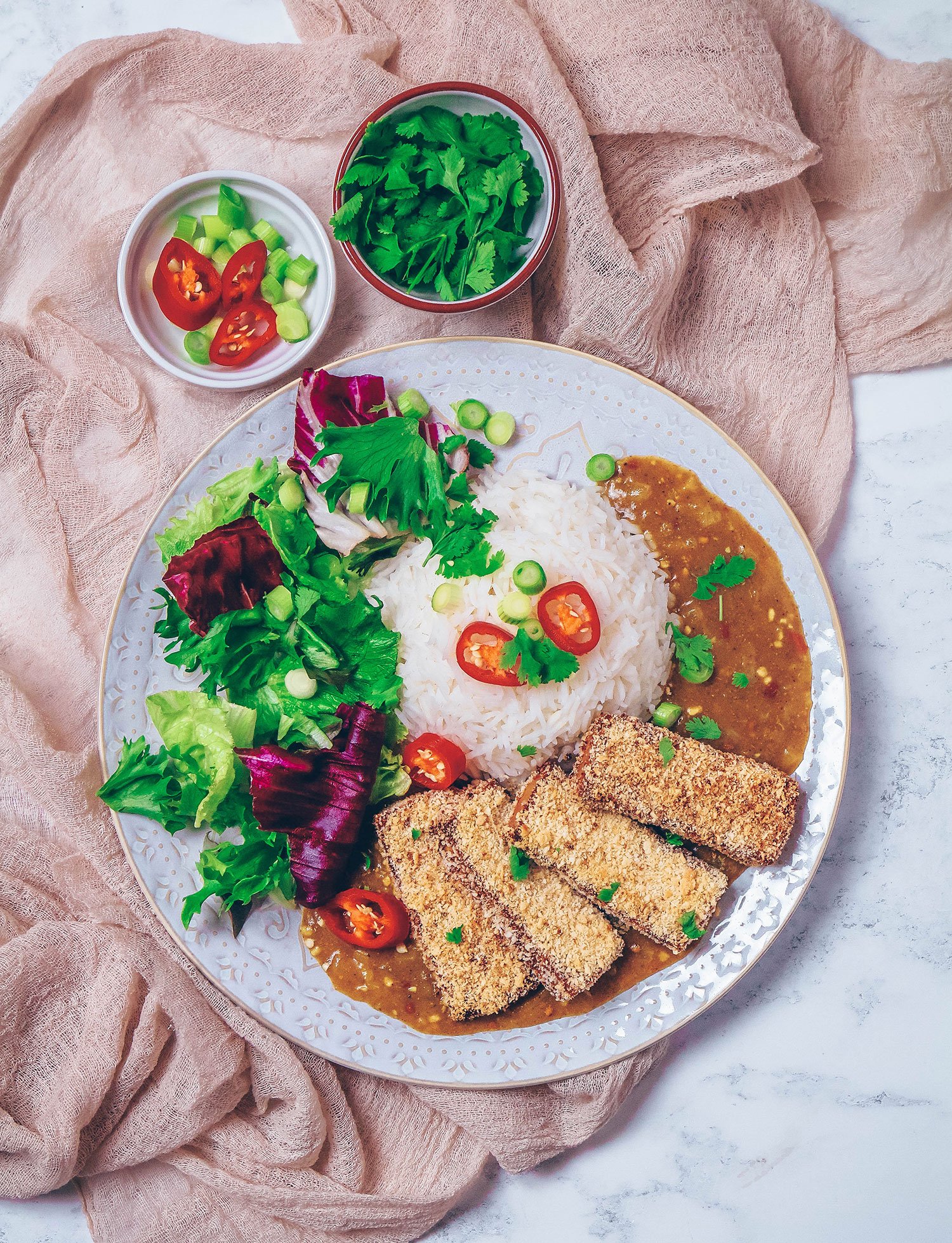 Thanks to Very Lazy for sponsoring this post. Commissioned posts is how I'm able to continue working on the blog and creating recipes and recipe videos for you. As always, all opinions are my own.