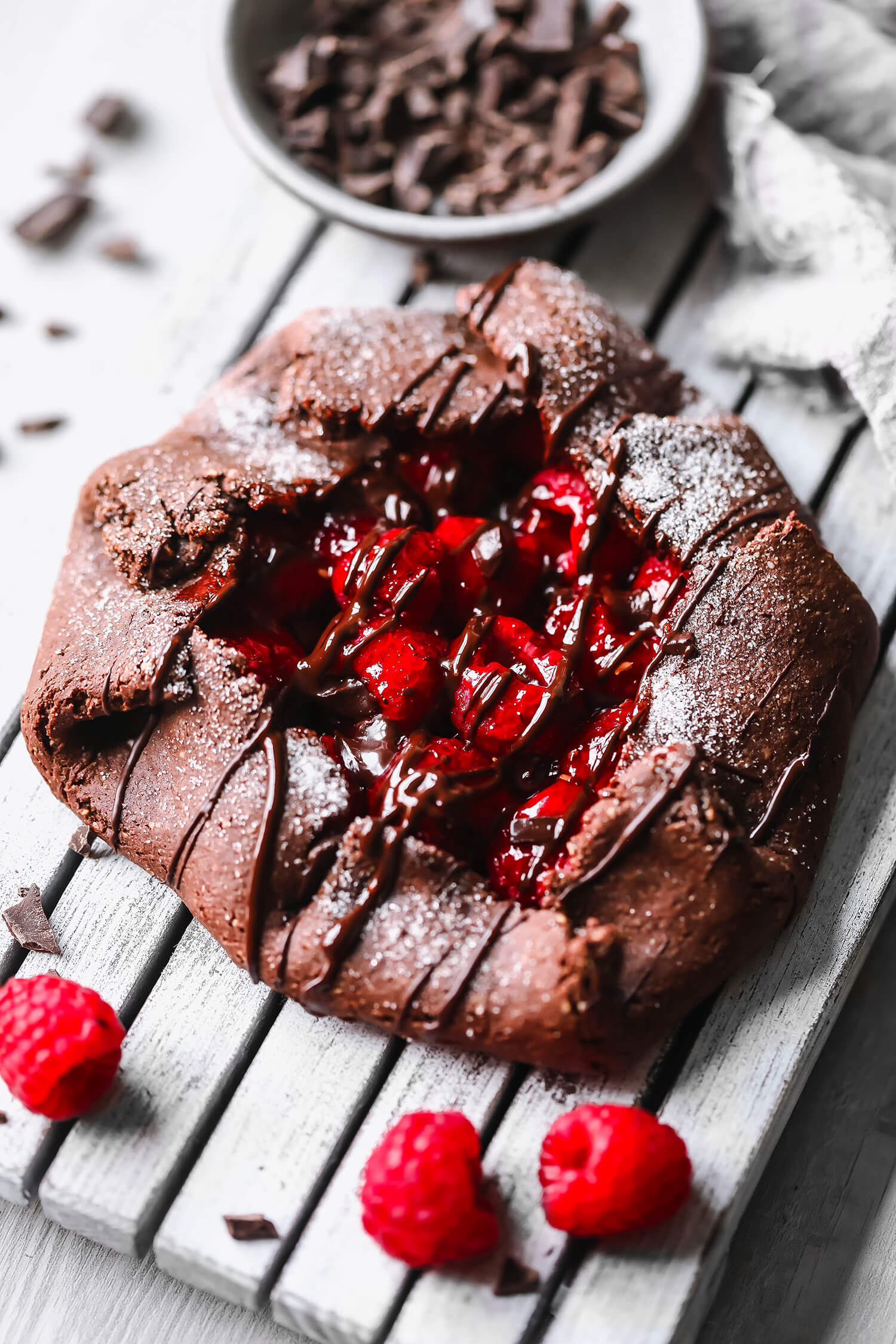 A simple fruity dessert with a hint of chocolate – this raspberry chocolate galette is made using healthier ingredients and less sugar. Great for a light post-dinner treat!
I'm a huge dessert fan and have a major sweet tooth (as you'll probably be able to tell by looking at my Instagram page!), and I always try to make my desserts as healthy as possible. I also want them to taste good, which is tricky without using some sort of sugar or sweeteners and fat – both of which are extremely demonised. That's why I tend to stick to natural sweeteners like dates, which are high in fibre and healthier fats like nut butters.
However, those ingredients don't always work in recipes. Some recipes require a bit of sugar and some sort of processed butter/oil for both taste and texture! The way I look at it is as long as you're eating a balanced diet and getting all the nutrients you need, a little treat won't hurt. It's all about balance and moderation!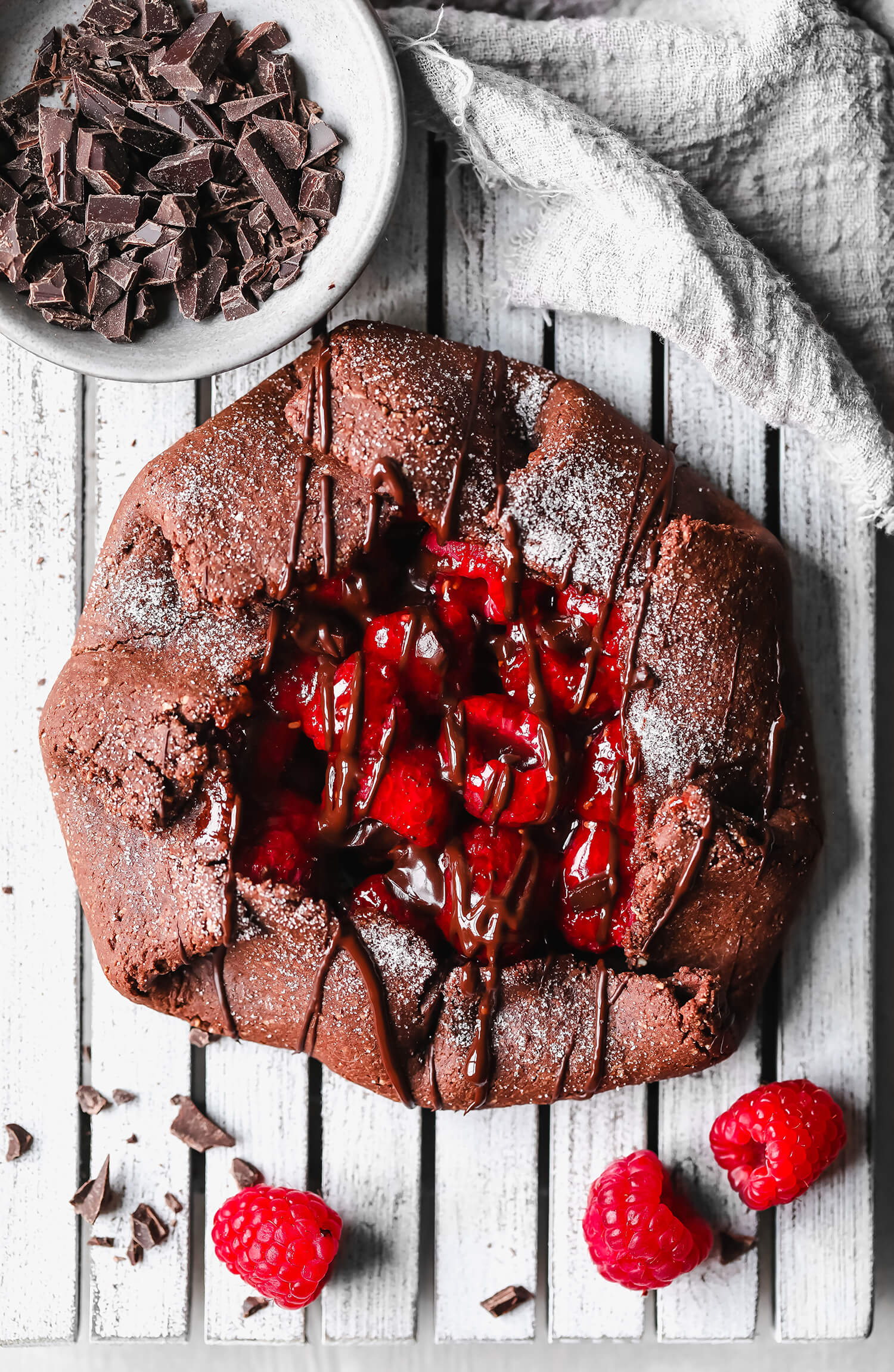 I do find it difficult sometimes to find the right balance. If I don't use sugar or use too little, I get comments and messages saying that the recipe is too bitter or not sweet enough for their taste. When I do use sugar and things like coconut oil, I'll get comments saying sugar and fats are bad. The worst is when someone asks to change a recipe completely (even removing the main ingredient for something completely different!). It's impossible for me to test every single substitute, and if I did it would turn into a completely different recipe, so what's the point in following the one I tested?!
I've come to realise that the only way I can continue creating recipes is by making things that I like and making them as healthy as I know how to without destroying the taste and texture. Again, that's not always easy. Some recipes I test never make it onto my blog or socials because they're difficult to make healthier unless you completely compromising the taste and texture.
This raspberry chocolate galette is made with healthier ingredients like oats. almonds and raspberries, but I also used some sugar to sweeten and dairy-free butter to give the pastry the right texture. I made a mini version that serves 2, but feel free to double the recipe and make a larger galette 🙂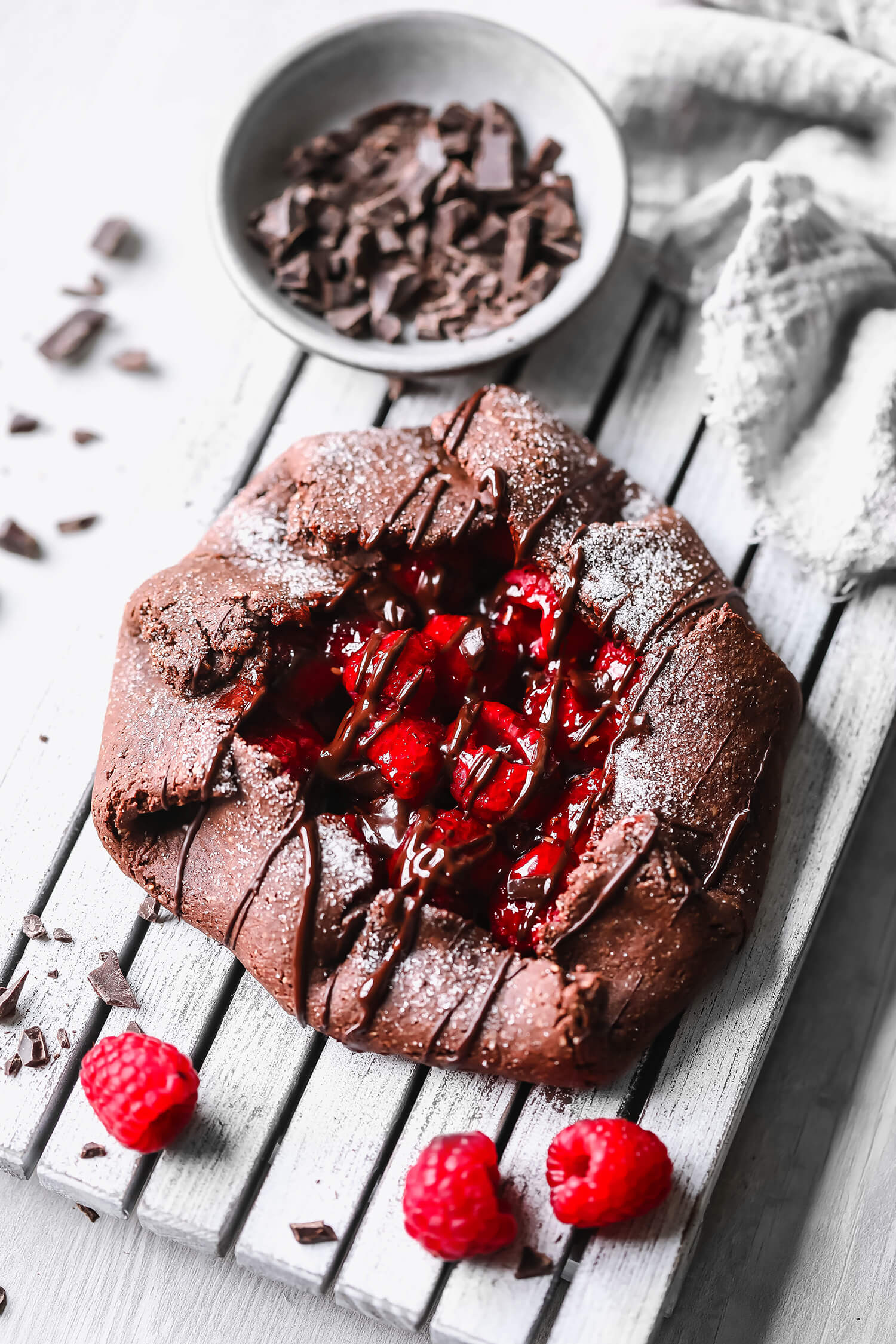 Raspberry Chocolate Galette
Serves – 2
Ingredients
For the pastry
55g ground oats – plain oats blended into a flour in the food processor
25g ground almonds
1 1/2 tbsp cocoa powder
1 tbsp sugar
A pinch of salt
30g cold dairy-free butter, cubed
2 tbsp cold water
For the filling
100g fresh raspberries
1 tbsp sugar
1/2 tbsp lemon juice
1/2 tbsp cornflour
Method
Preheat your oven to 180C/160C fan.
In a bowl, mix together the the oats, ground almonds, cocoa, sugar and salt. Add the cold butter and rub between your fingers until you get a mixture that resembles fine breadcrumbs, then mix in the cold water to form a dough.
If dough is too sticky, place in the fridge for 15 minutes to firm up.
Roll out between 2 pieces of baking paper into a circle about 7″ in diameter.
Mix the raspberries, sugar, lemon juice and cornflour in a small bowl, then place in the centre of the pastry. Fold the edges around the filling. You'll end up with pleated edges that are a little rough.
Bake for 30-35 minutes and enjoy!
Notes:
*If you're looking for something a little more indulgent, serve your galette warm with some vanilla ice cream!
**I brushed the raspberries with 1 tsp warmed raspberry jam to make the top look nice and shiny.