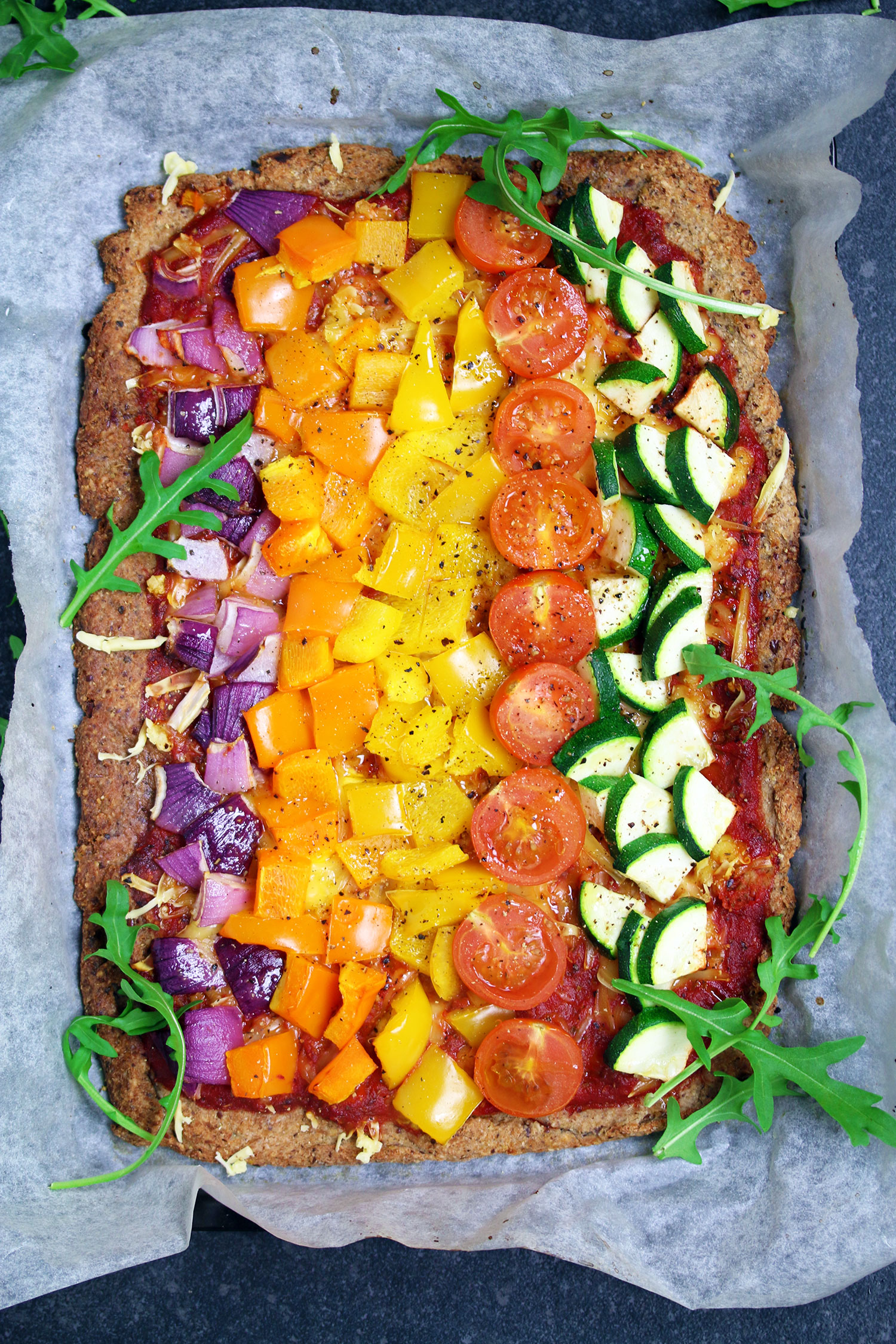 Rainbow Cauliflower Pizza (Vegan & Gluten-free)
After posting these Unicorn Doughnuts a few days ago, I was inspired to create another colourful recipe to celebrate the arrival of spring. I feel like my recipes have been very monotone recently with a lot of browns and beiges and I thought it was about time I broke the mould and stirred things up a little.
When I think of pizza, the words 'healthy' and 'colourful' don't usually pop into my mind. They're not usually healthy and more often than not look very uncolourful as there's a layer of cheese covering most of the top hiding anything that lies underneath including bright veggies (if there are any at all!).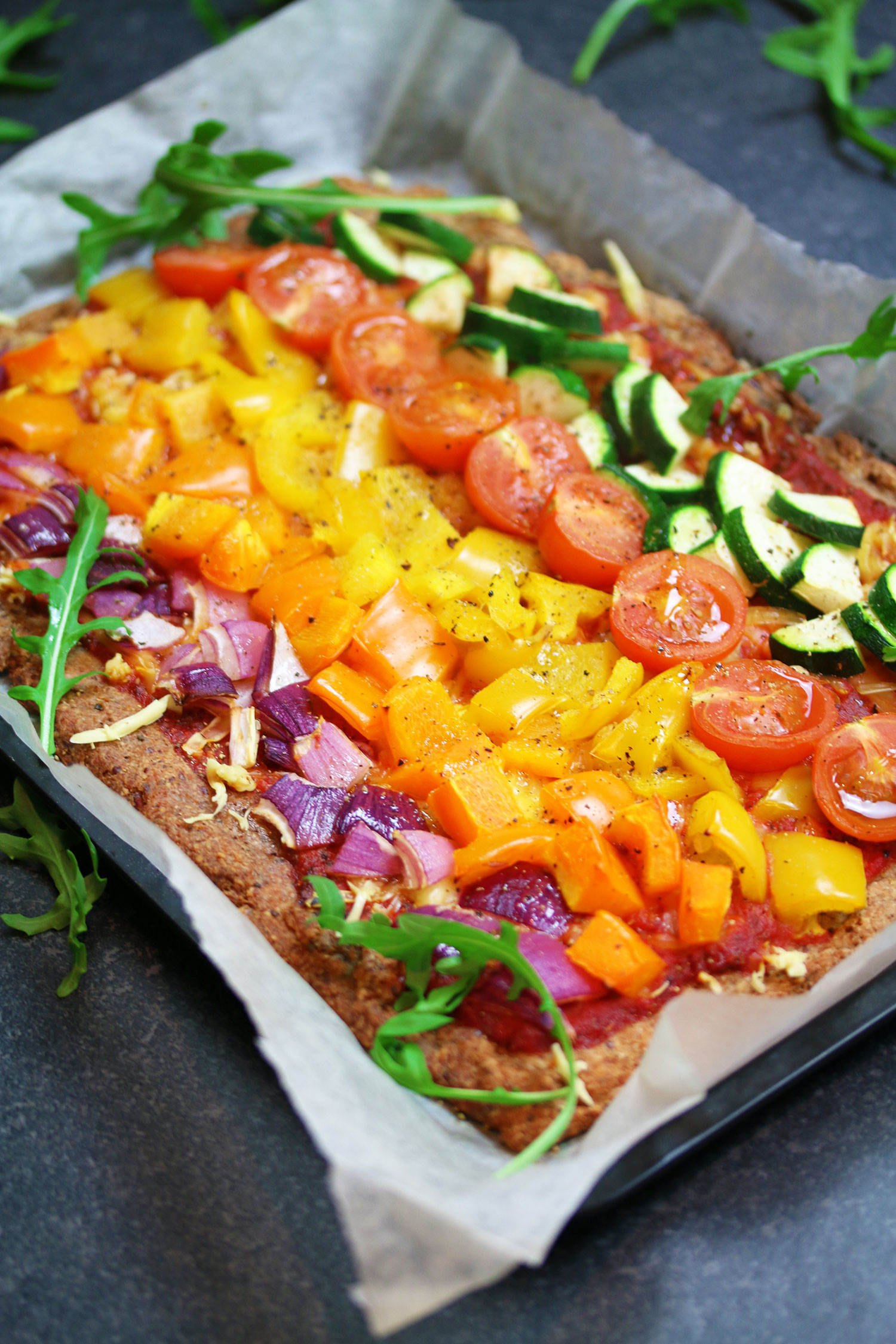 I've attempted making cauliflower pizza crusts a couple of times in the past and both times I considered them to be a failure. Both times the base stuck to the bottom of the tray and the texture was soggy and not very nice overall. I guess third time is the charm as this time it was a total success! Even the hubby was impressed and that's a huge complement coming from a foodie who doesn't care much for healthy food and loves his pizza!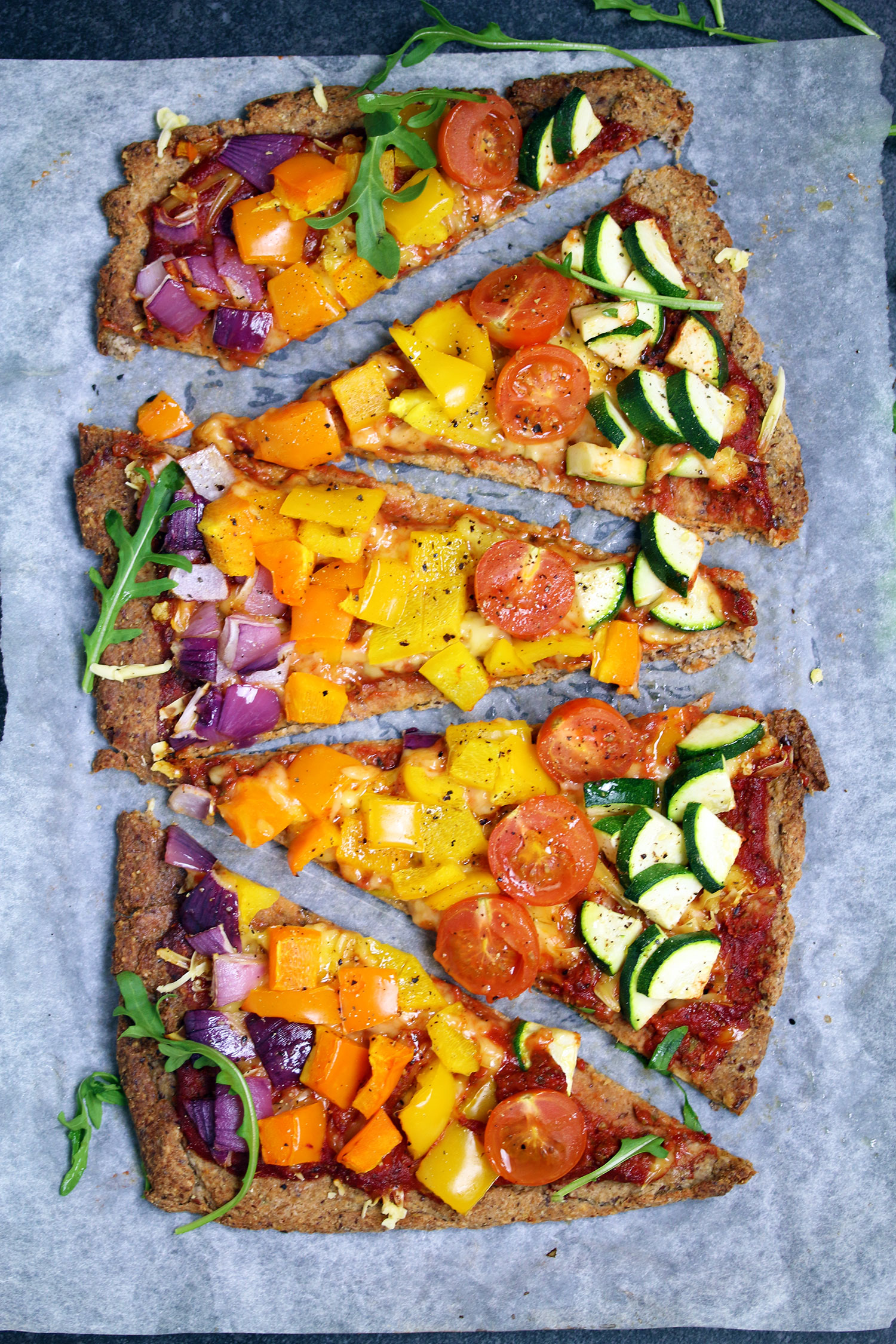 What I decided to do when making this rainbow cauliflower pizza was to add the cheese on top of the tomato sauce before adding the vegetables. It just didn't make sense for me to add so many beautiful colours and then mask them with a layer of melted (vegan) cheese.
This rainbow cauliflower pizza looks beautiful, is tasty and super healthy. Low in carbs, fat and packed with veggies.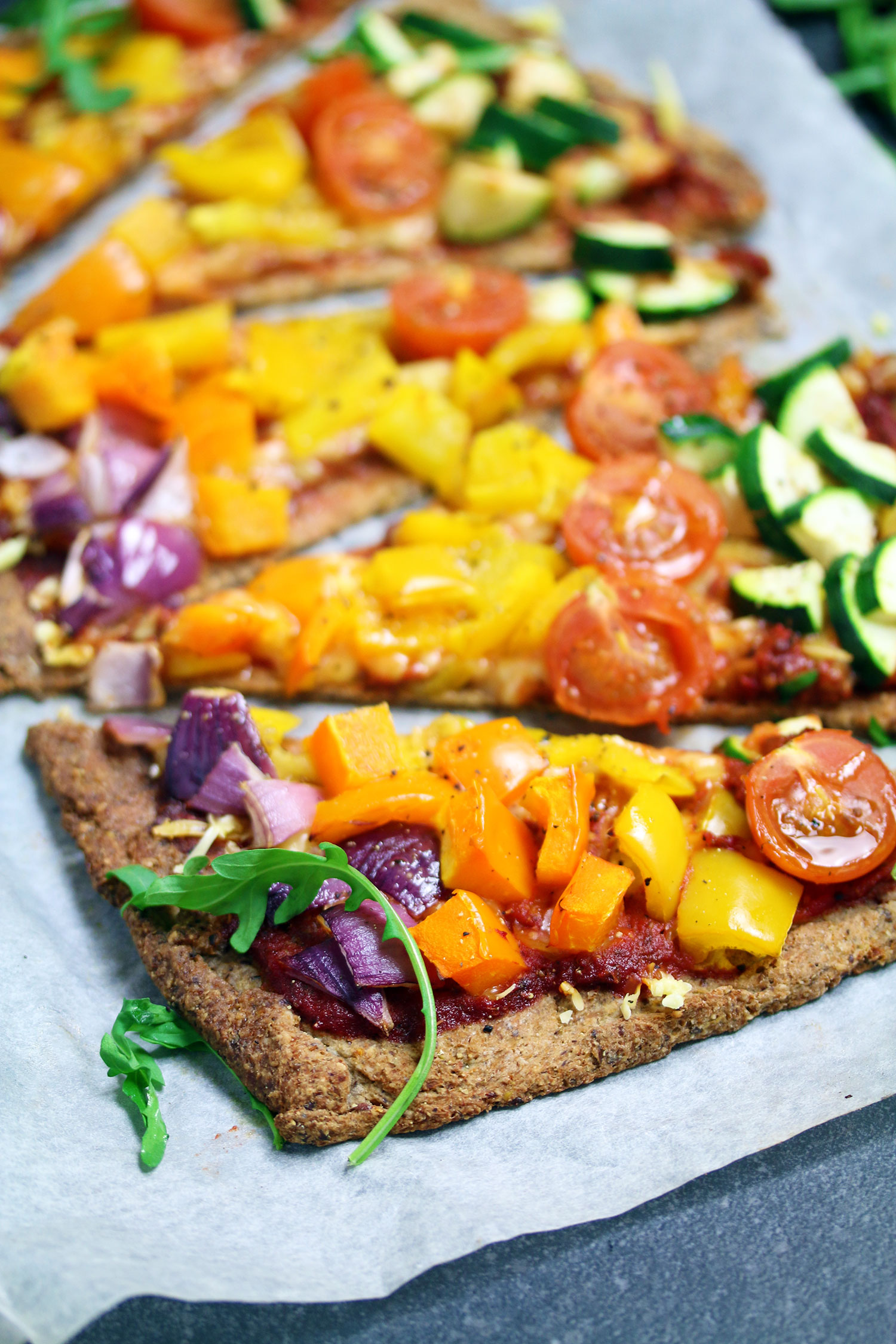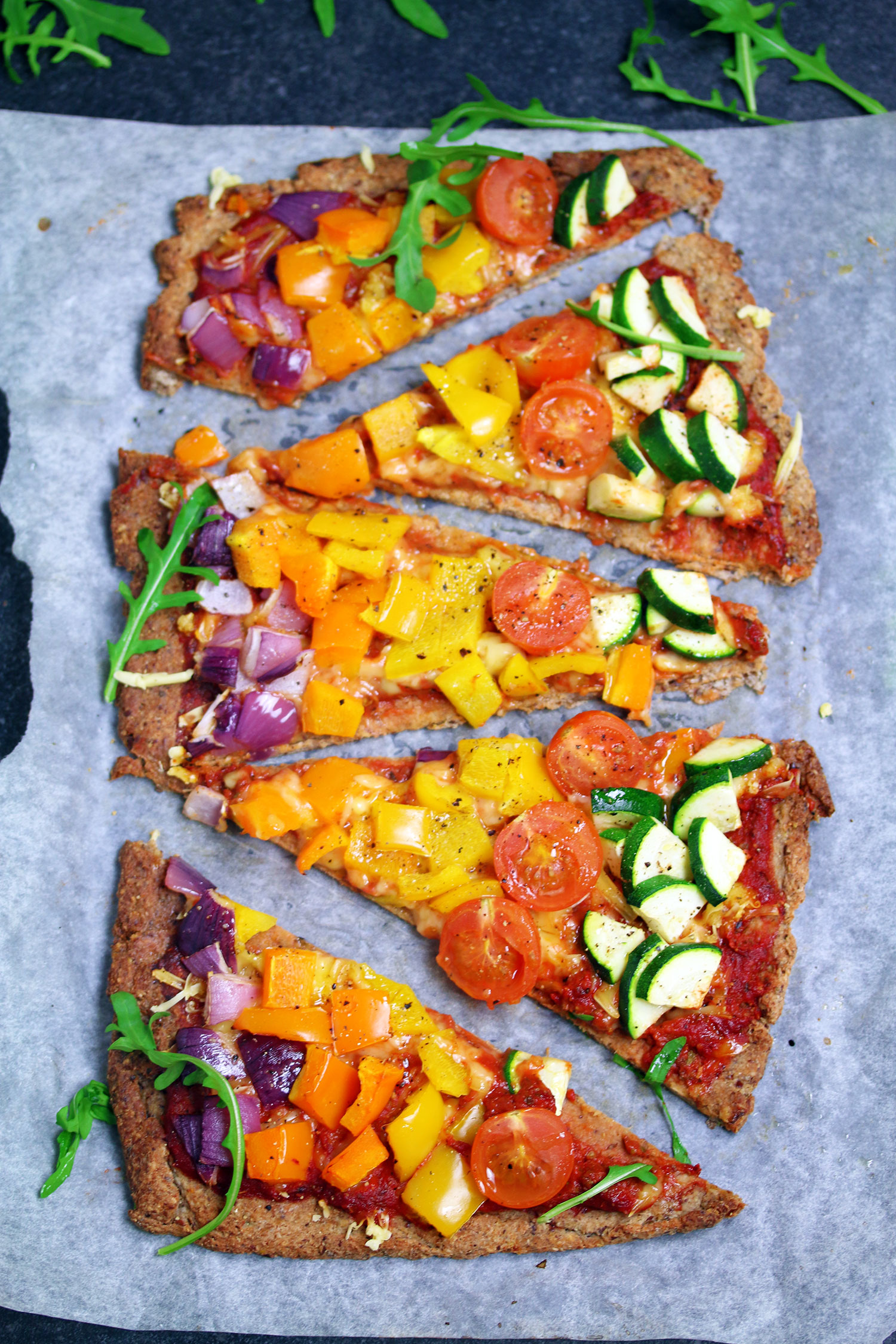 ---
Rainbow Cauliflower Pizza (Vegan & Gluten-free)
Ingredients:
1 medium cauliflower
4 tbsp ground almonds
7 tbsp buckwheat flour – but any flour should work
2 tbsp milled flaxseed + 6 tbsp warm water
1/2 tsp salt
1/4 tsp garlic powder
For the tomato sauce:
3 tbsp tomato puree
2 tsp oregano
Salt & black pepper to taste
Toppings:
Vegan cheese
A selection of colourful vegetables – I used red onion, orange and yellow pepper, baby tomatoes and courgette
Method:
Chop the cauliflower into florets and add them to your food processor. Pulse until you have a fine 'couscous' kind of consistency.
Transfer into a large sauce pan and cover with water. Bring to a boil, then cover and simmer for about 5 minutes.
Drain the cauliflower using a nut milk bag, a dish towel or cheese cloth making sure you remove as much of the water as possible. The more liquid you drain out the better!
Prepare your flax 'eggs' by mixing 2 tbsp milled flaxseed with 6 tbsp of warm water. Leave for 10 minute to set.
Transfer the cauliflower into a bowl and add in the salt, garlic powder, ground almonds and flour, then mix in the flax eggs.
Preheat your oven to 200*C (180*C fan assisted)/ 400*F
Press the mixture onto a baking sheet covered with lightly oiled parchment paper. Bake for 8-10 minutes.
While the crust is baking, mix together the tomato sauce ingredients and add a splash of water to thin it out a little.
Once you take out the pizza, spread the tomato sauce on top and sprinkle with grated vegan cheese.
Arrange the chopped vegetables on top to create a rainbow effect (see images).
Return to the oven for another 15 minutes.
Enjoy!
---