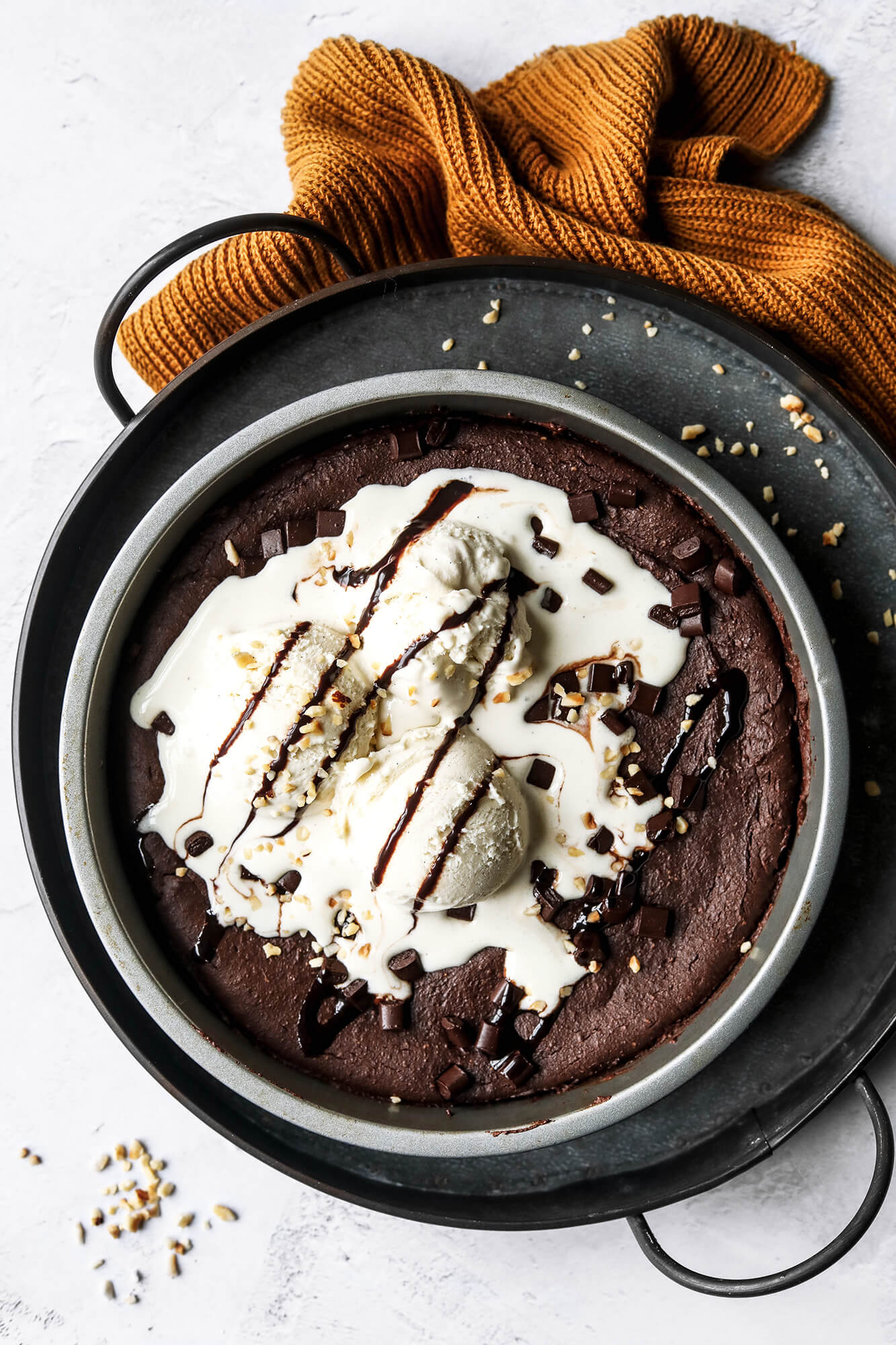 A delicious brownie that tastes like a decadent treat, but made with better for you ingredients!
As well as using ingredients like oats, nut/seed butters, I also love using protein powder in desserts to improve the nutrient content and make it healthier. It's also an easy way to add extra flavour and sweetness without adding extra sugar.
This protein vegan skillet is the perfect comforting dessert to warm you up on cold days. There's nothing more comforting than a warm, gooey, chocolatey treat to lift your mood when the weather is getting you down and you're in desperate need for some cheering up.
It's also perfect for sharing. I'd say it serves 4 people, but of course depending on your appetite, you may want to eat less than that. I wouldn't recommend eating more though, because at the end of the day, it's still a dessert!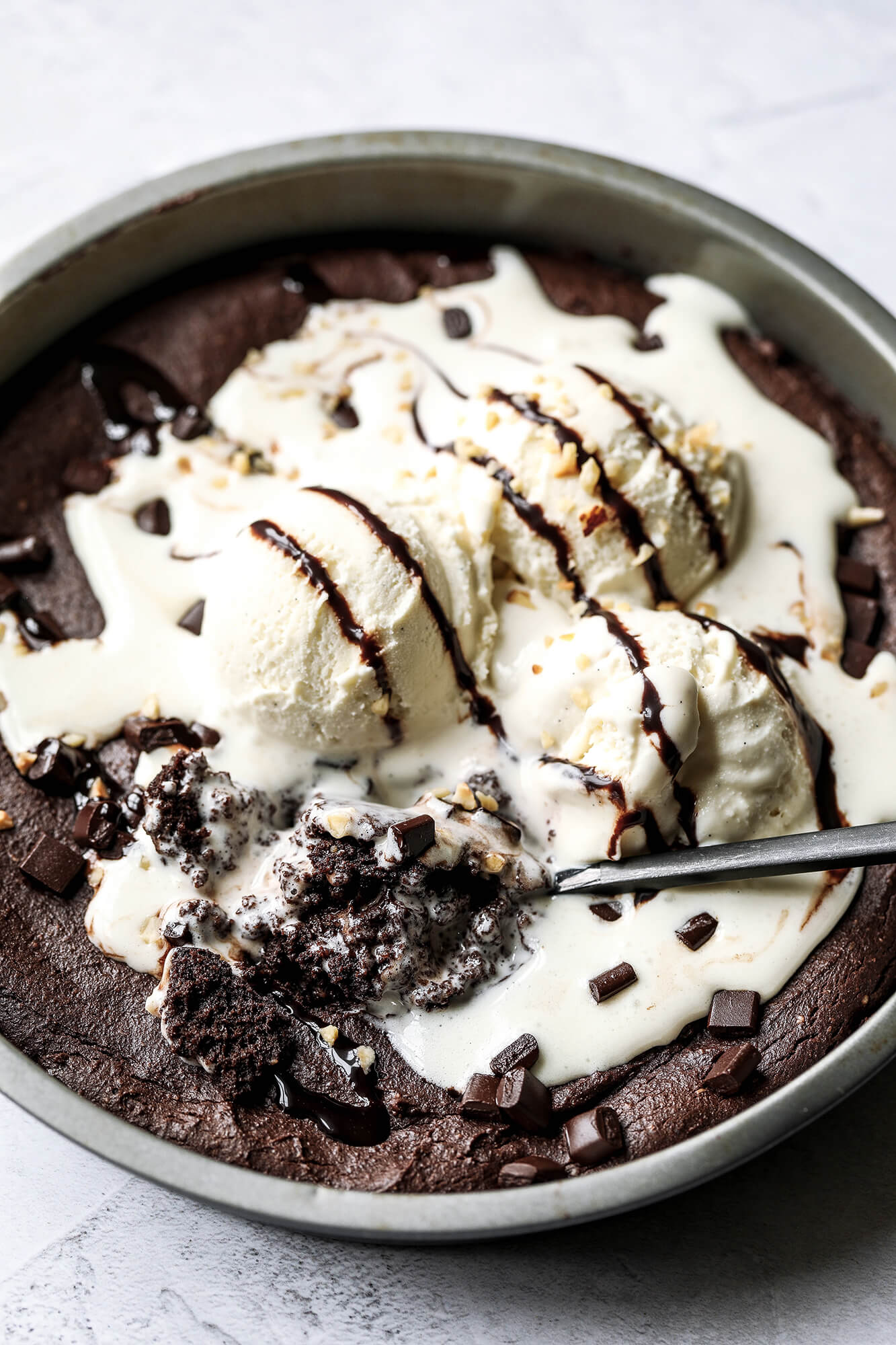 The great thing about making a skillet brownie that's designed to be enjoyed with a spoon is that you don't have to worry too much about the texture. What I mean by that is you don't have to worry about them holding shape when slicing them. Something that can be tricky when making egg-free, especially healthier, treats.
As well as being vegan, this protein brownie skillet can easily be made gluten-free by using gluten-free oats. It's also nut-free, dairy-free and egg-free – so it's a great option if you're looking to make something for someone with allergies/intolerances.
This skillet brownie is:
Decadent
Has an amazing fudgy texture
So chocolatey
Made using healthier ingredients
Higher in protein
Perfect for sharing
Vegan
Gluten-free
Nut-free
Egg-free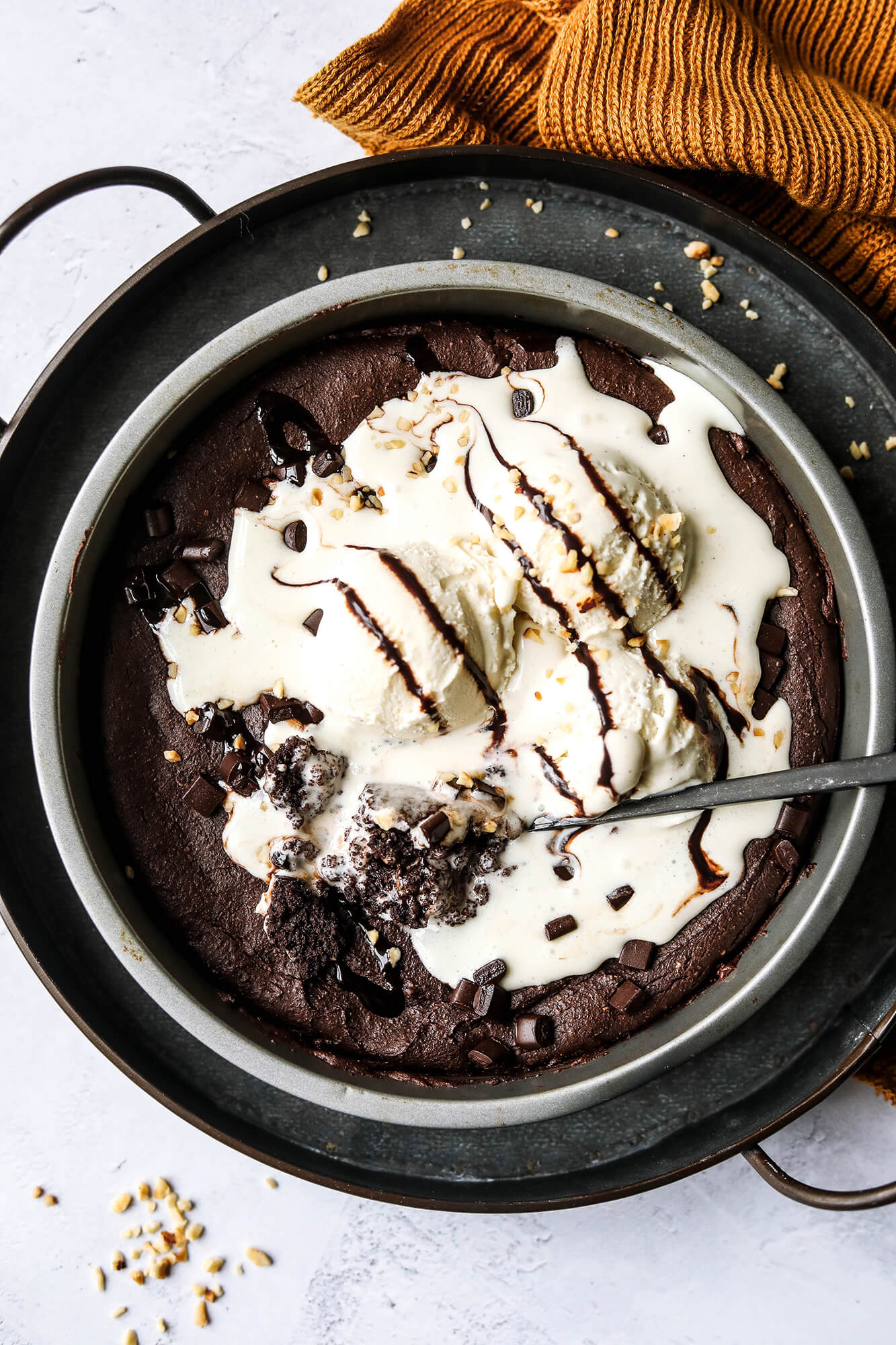 Protein Vegan Skillet Brownie
Serves: 4-6
Ingredients
55g (1/2 cup) vegan protein powder
30g (1/4 cup) oat flour – plain oats blended into a fine flour in the food processor. Use gluten-free oats if necessary
30g (1/4 cup) cocoa/cacao powder
1 tsp baking powder
Pinch of salt
60ml (1/4 cup) runny tahini
60ml (1/4 cup) maple syrup
120ml (1/2 cup) milk of choice
1 tbsp coconut oil, melted (or you can add an extra 1 tbsp of milk)
20g (2 tbsp) dark chocolate chips
Method
Preheat your oven to 180C/160C fan/350F
Mix the protein powder, oat flour, cocoa, baking powder and salt in a large bowl.
Pour in the tahini, coconut oil and milk. Mix to combine, then transfer into a cast iron skillet or a round 8″ cake tin.
Bake for 20 minutes, leave to cool slightly then serve*.
Enjoy!
*This protein vegan skillet brownie can be enjoyed warm or cold. You have the option to serve it with ice cream for a more decadent treat!