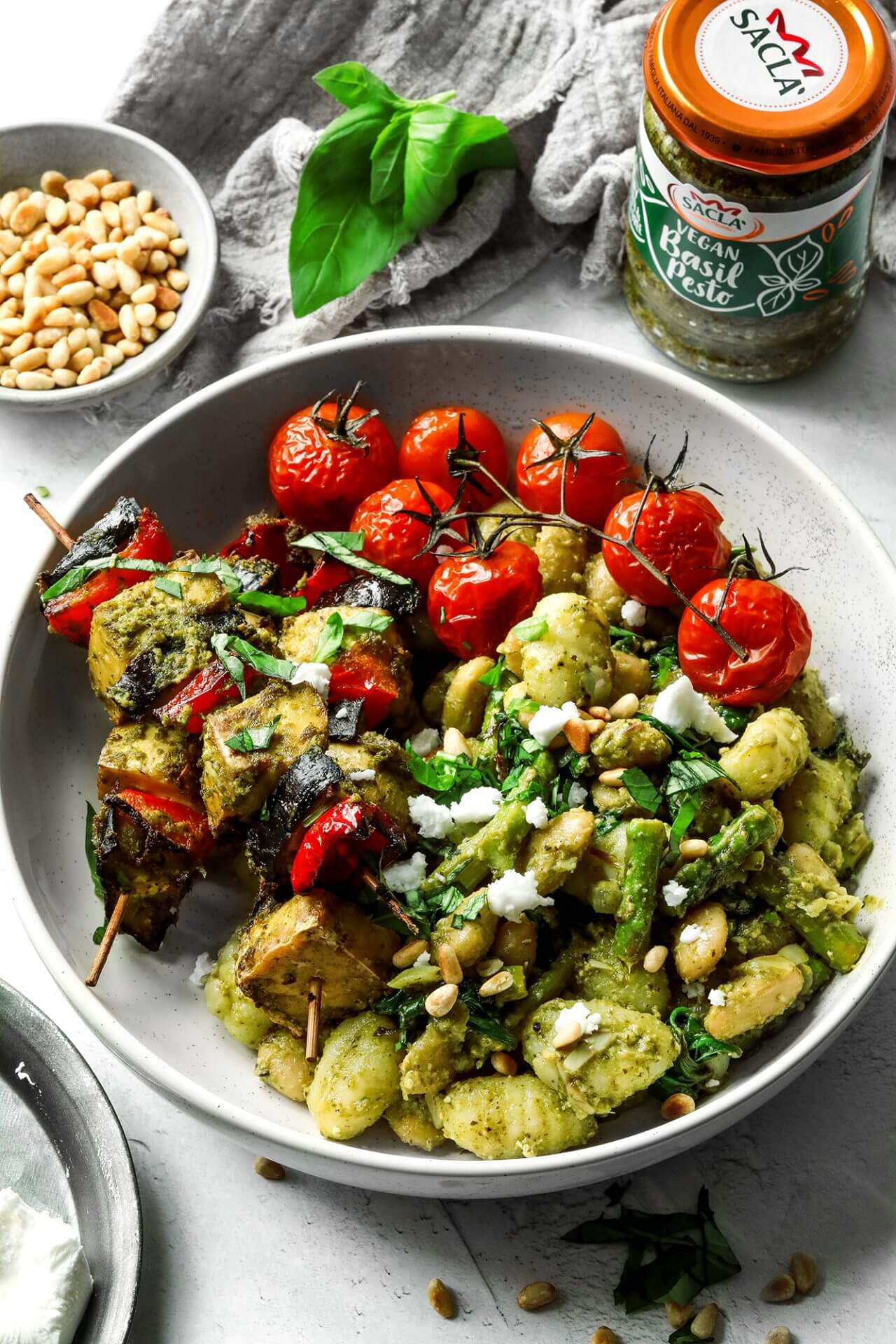 A quick and easy meal idea that's packed with veggie goodness – these pesto tofu kebabs are high in protein and really easy to make. Served with a simple pesto gnocchi with butter beans, asparagus and spinach.
Pesto Tofu Kebabs with Butter Bean Gnocchi
Pesto Tofu Kebabs
280g firm tofu, cut into cubes (I used Tofoo)
80g pesto (I used Sacla Vegan Basil Pesto)
1/2 medium aubergine, cut into chunks
1 red pepper, cut into chunks
Pesto Butter Bean Gnocchi
1/2 onion, chopped
3 garlic cloves, crushed
125g asparagus, chopped
400g can butter beans, drained and rinsed
60g spinach
1 tbsp lemon juice
80g pesto (I used Sacla Vegan Basil Pesto)
250g gnocchi, cooked according to pack instructions
To serve – toasted pine nuts, fresh basil and vegan feta
Method
Preheat your oven to 220C/200C fan
Thread the aubergine, peppers and tofu on skewers and arrange on a baking sheet lined with baking paper. Use a pastry silicon brush to brush the pesto all over the kebabs. Make sure you use a generous amount as this is the only seasoning we're using.
Bake for 30-35 minutes, turning half way through.
In the meantime, heat 1 tbsp oil in a frying pan and cook the onions for 5 minutes.
Add the garlic, asparagus, beans, spinach and lemon juice and cook for 5-10 minutes on a low-medium heat.
Mix in the pesto, then fold in the cooked gnocchi.
Once everything is heated through, take off the heat and top with the toasted pine nuts, basil and feta.
Enjoy!