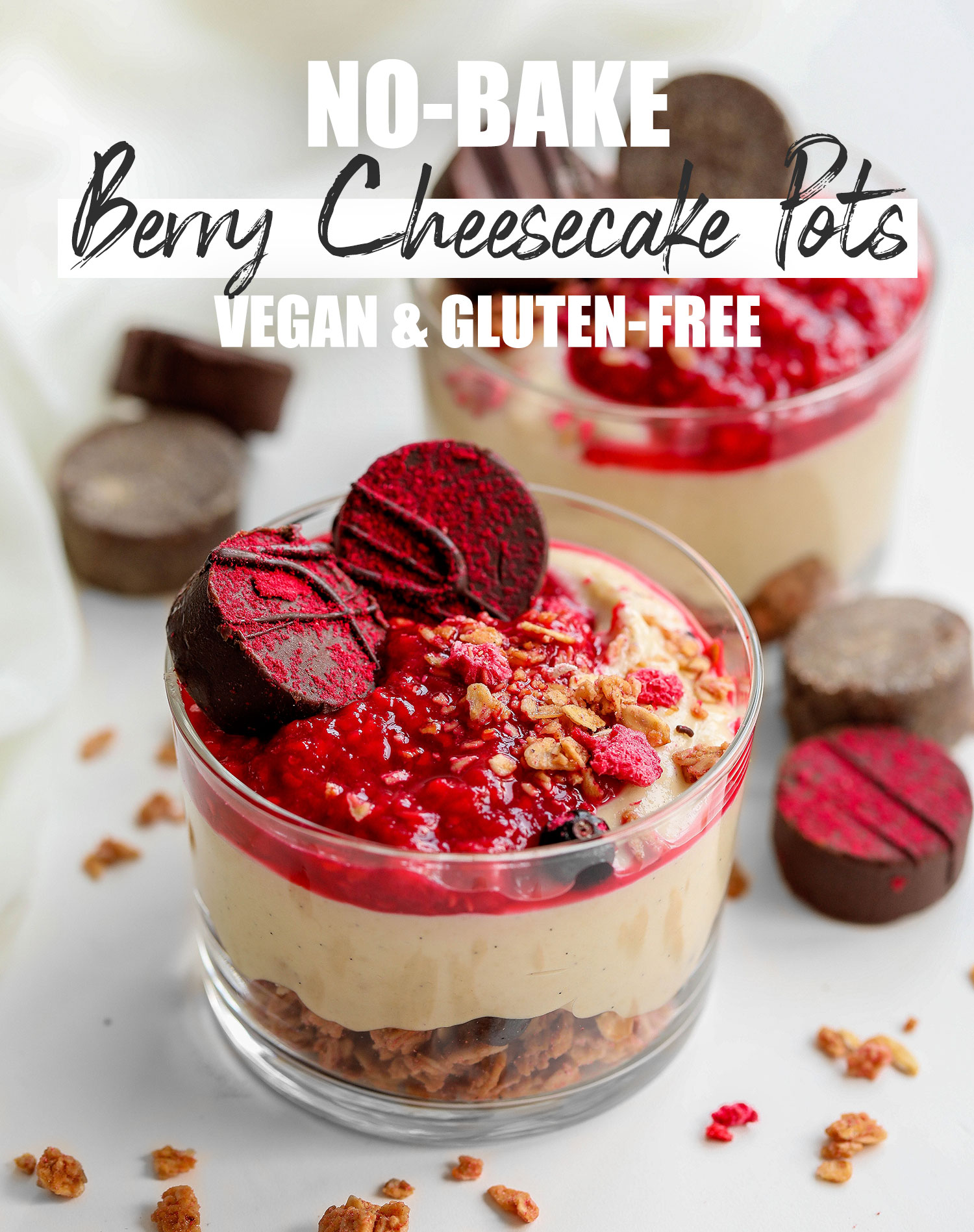 No-bake Vegan Berry Cheesecake Jars
A dairy-free, vegan and gluten-free dessert that requires no baking and is really easy to put together. This no-bake vegan berry cheesecake jars are the perfect fuss-free dinner party dessert!
This recipe is perfect for those days when you're craving a cheesecake, but don't want to make a whole cheesecake that serves eight to ten people when you live alone or with a partner and don't have that many mouths to feed. I live on my own so recently I've been turning to single-serve recipes to ensure I don't over eat (which is impossible when I have treats lying around!), but more importantly so nothing goes to waste. Whenever I'm testing recipes, more often than not it tends to be a dessert, I might have a piece or two, then I give away the rest to friends and family, but sometime I go a few days without seeing anyone to give them too. On those days I try to make recipes that are just enough for me to eat by myself, so treats where I can easily control the serving size works best.
The great thing about recipes like this is that you can easily half the recipe if you only have a few mouths to feed, or you can double, triple or quadruple the recipe depending on how many people you're looking to serve.
These berry cheesecake jars are so easy to make. I used shop-bought gluten-free granola (you can use any type of granola) for the base, so that's one less step to worry about. To make the filling all you need to do is blend all the ingredients together and the raspberry compote is quickly made in a pan using 3 ingredients. Any type of berry will work and you can use fresh or frozen (the latter being cheaper and easier to get hold of this time of year).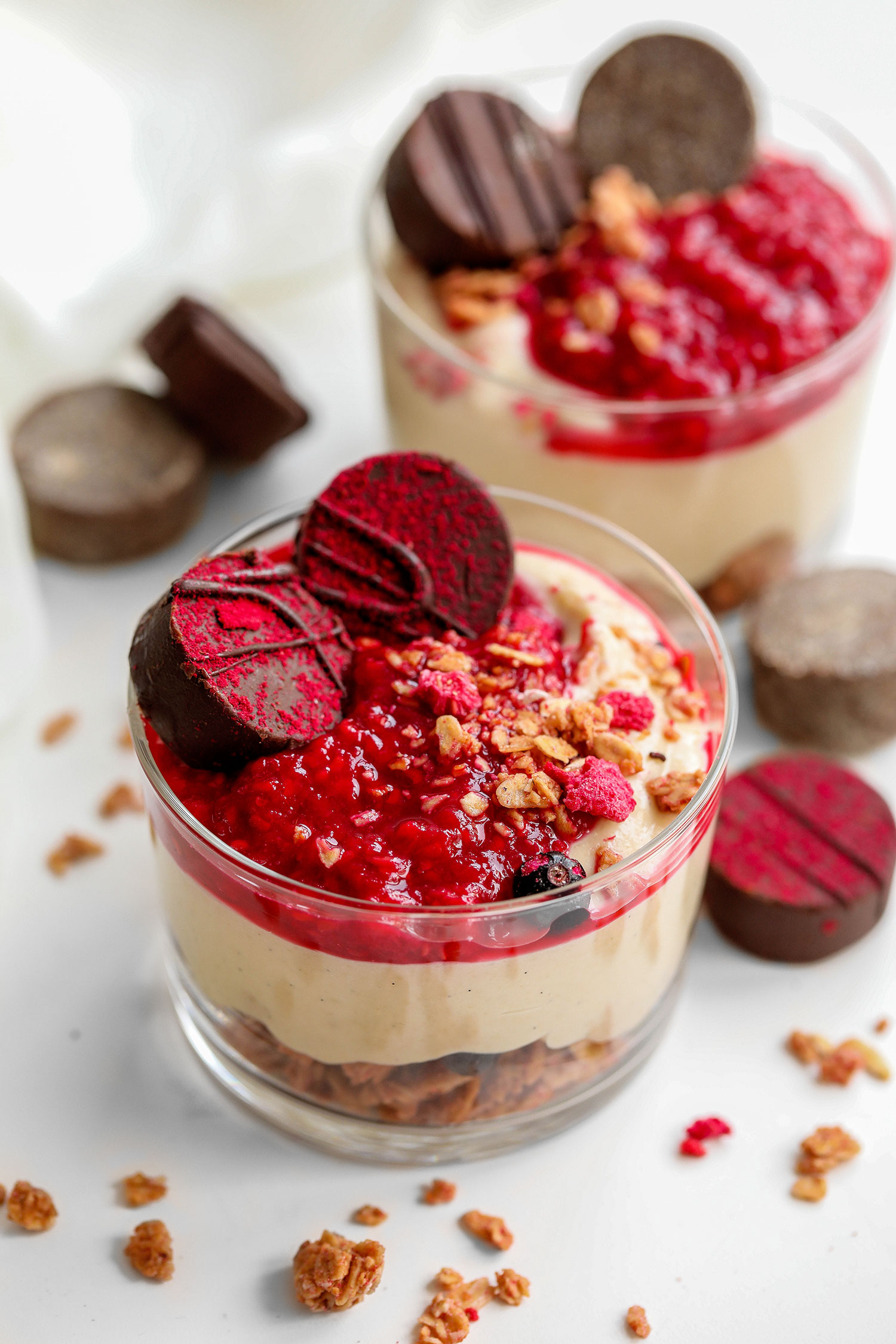 With all the festivities coming, we're all looking for quick and easy recipes that require minimal effort. These no-bake vegan berry cheesecake jars would make a really cute New Year's celebration dessert. Any dessert served in jars or glasses is fit for New Year's eve celebrations. I just think they look so stylish and trendy.
---
No-bake Vegan Berry Cheesecake Jars
Serves – 4
For the base
120g gluten-free granola of choice – I used berry granola
For cheesecake filling
140g (1 cup) cashews – soaked for 4 hours in water, then drained and rinsed
120ml (1/2 cup) full fat coconut milk
2 tbsp maple syrup
1 tbsp fresh lemon juice
1 tsp vanilla extract
pinch of salt
For the raspberry compote
150g (1 cup) raspberries – fresh or frozen
1 tbsp maple syrup
1 tbsp lemon juice
Method
To make the cheesecake layer – add all the cheesecake ingredients to a blender/food processor and blend until smooth.
To make the raspberry compote – add the raspberries to a small saucepan along with the maple syrup and lemon juice. Cook on a medium heat until it starts bubbling, then lower the heat an leave to simmer for 15 minutes until thickened. Leave to cool completely.
To assemble – divide the granola equally between 4 jars, then top with the cheesecake layer followed by the cooled raspberry compote.
Chill in the fridge for 30-60 minutes. Enjoy!
---