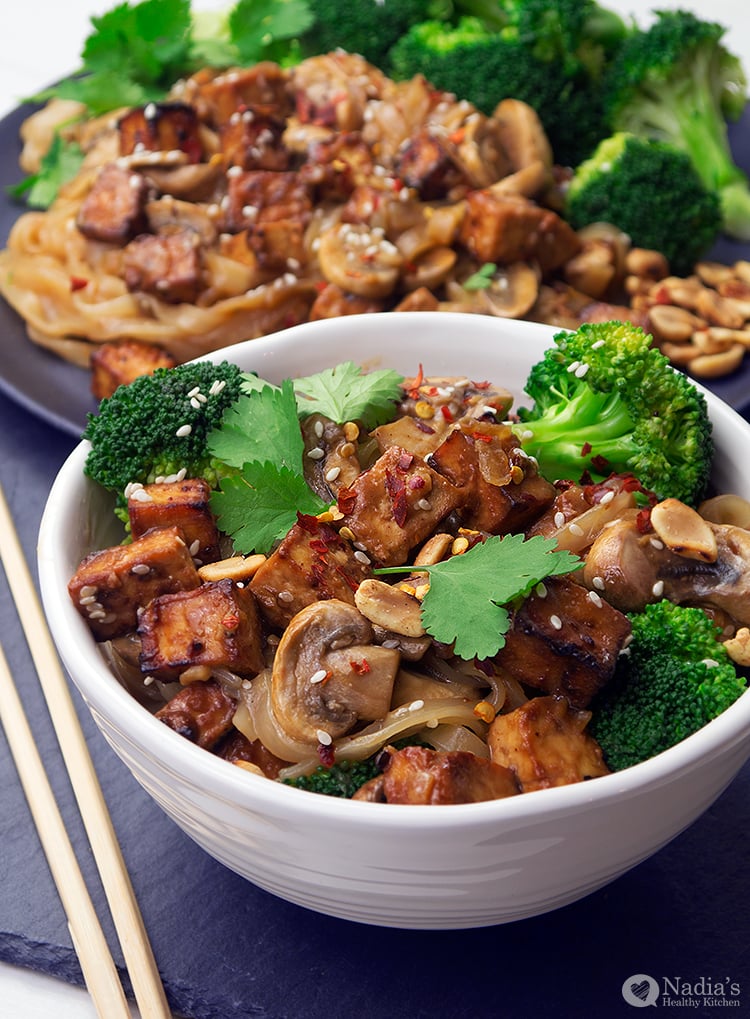 Miso Tofu Noodles
Tofu is something that I've started to incorporate, and lots of it, into my diet. It's an amazing source of plant-based protein and is also a great source of vitamin B1, zinc, iron, calcium (made with calcium sulfate) and omega 3, all things that are more of a challenge to get enough of on a vegetarian/vegan diet.
Tofu is also quite cheap, when compared to lean animal protein like chicken, so even if you're not vegan or vegetarian, switching to tofu a couple of day a week can save you money if you're on a budget.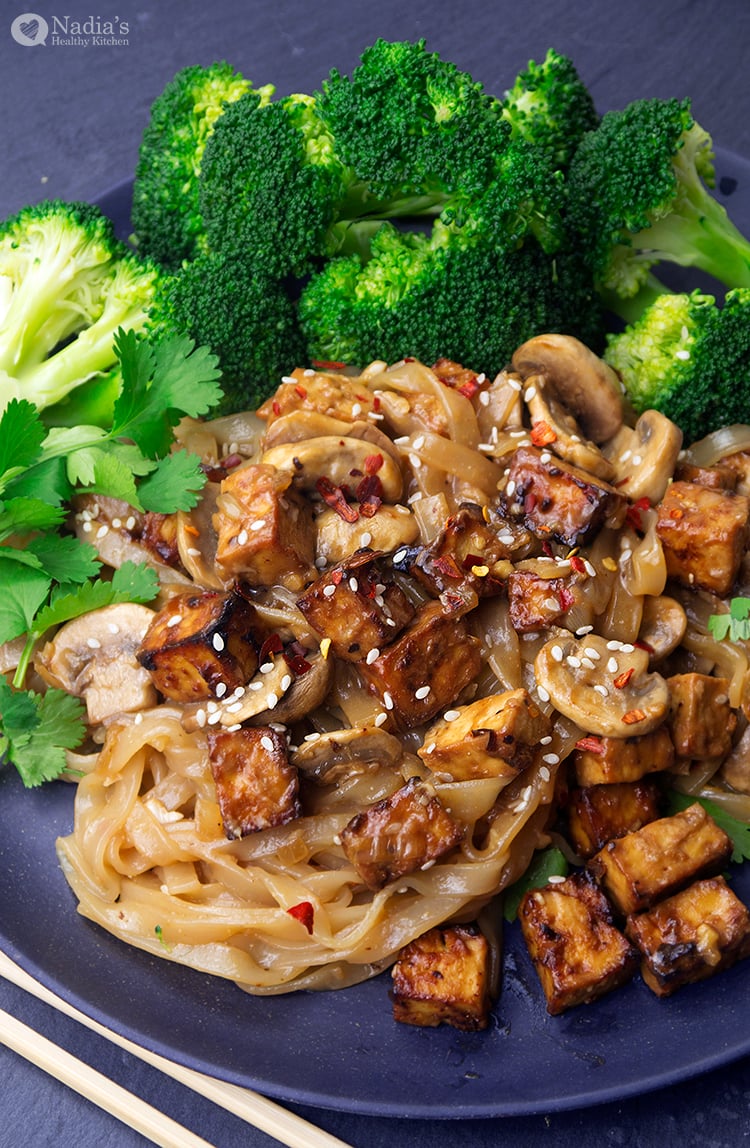 I love making Asian inspired, noodle based dishes. They're so quick to make, all you have to do is prepare the sauce mixture and sauté some veggies. Cooking the noodles takes 3-5 minutes tops, so a recipe like this miso rice noodles is a great option to have when you want to make something quick and easy for dinner. I always have rice noodles in my pantry and tamari in the fridge so when I'm stuck for dinner ideas, I whip up something super simple by adding in some ginger, garlic and some vegetables. I also make sure I have some firm tofu in the fridge for those days when I feel I haven't had enough protein (usually when I don't eat enough beans!)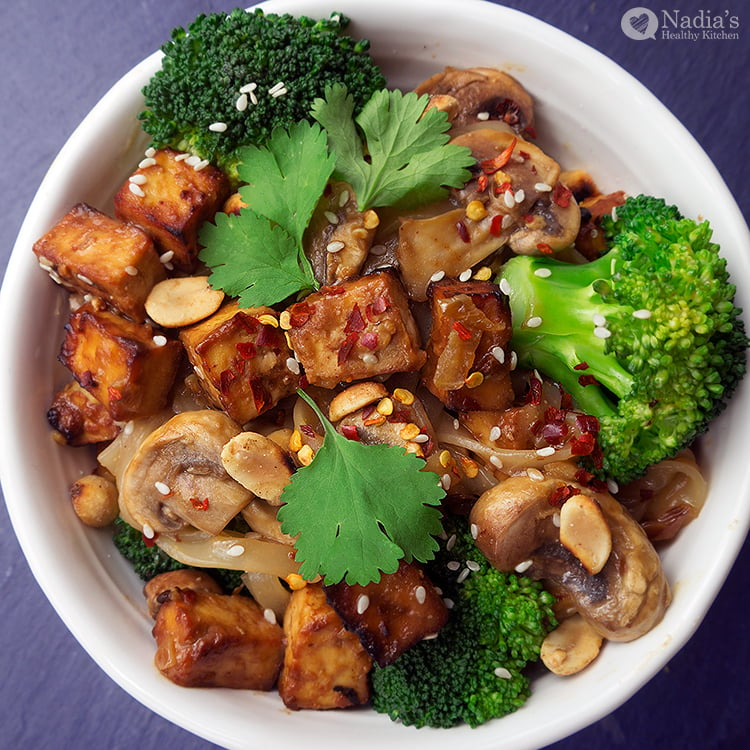 Miso paste is an incredible new ingredient I have recently discovered. It's made of fermented soy beans and is great for gut health. It also adds loads of flavour to dishes which, of course, is a major bonus! However, like soy sauce and tamari, miso paste usually has a high percentage of salt so it's best not to go overboard.
This miso tofu noodles recipe is vegan, dairy-free and gluten-free.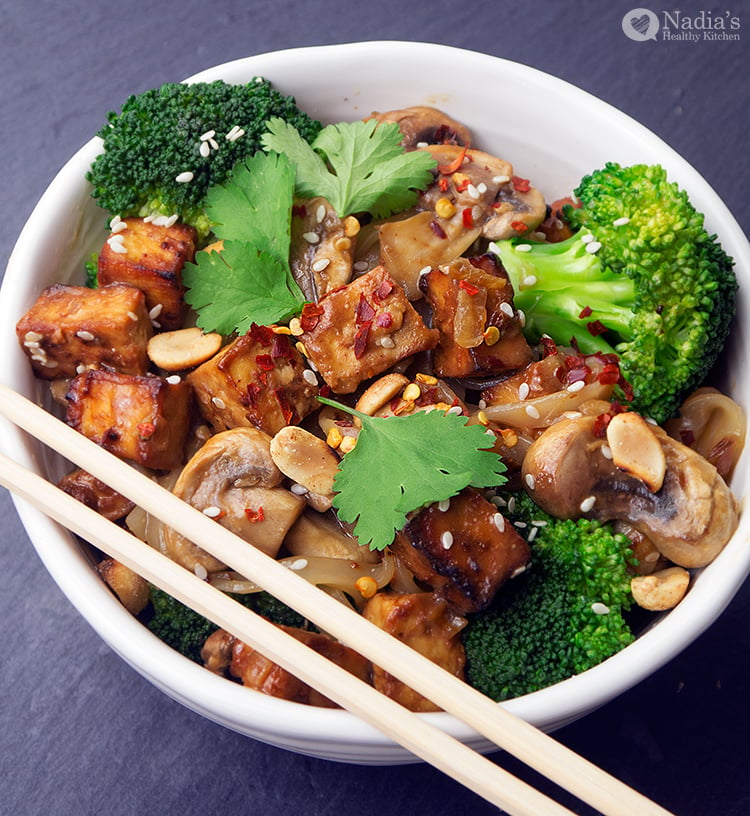 Miso Tofu Noodles
2016-01-11 15:58:55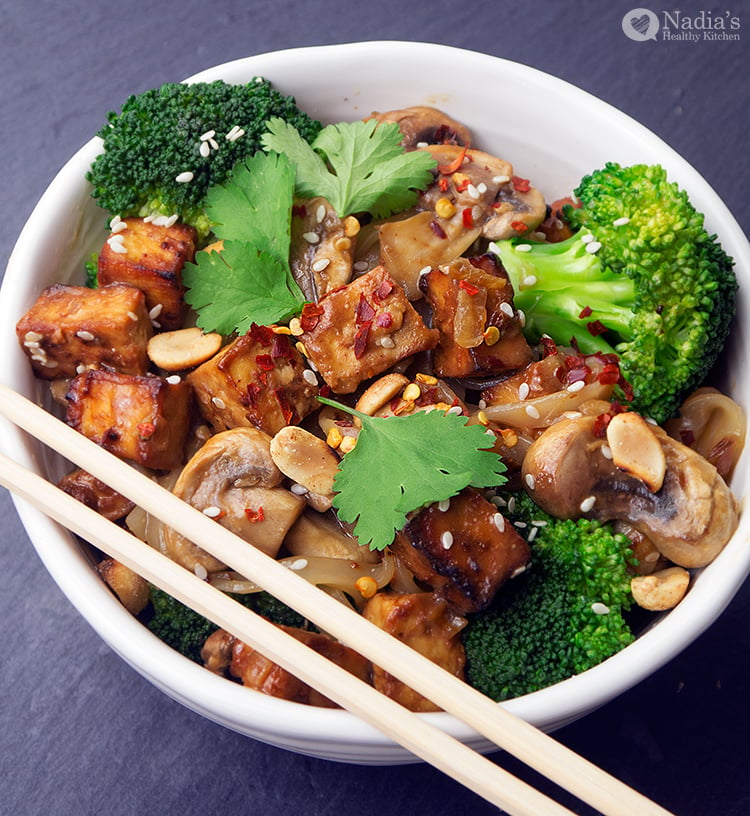 Serves 4
For the tofu
1 400g block of firm tofu (I used Cauldron)
2 tsp miso paste
1 tbsp tamari or soy sauce
1 tsp rice vinegar
1 tsp water
For the noodles
200g dried rice noodles
300g mushrooms, sliced
1 head broccoli, cut into florets and lightly steamed for 5 minutes
3cm piece of fresh ginger, grated
2 garlic cloves
5 spring onions, chopped
2 tbsp miso paste
3 tbsp tamari or soy sauce
1 tbsp sesame oil
1 tbsp rice vinegar
1 tbsp maple syrup
Garnish
Peanuts, toasted
Sesame seeds
Fresh coriander
Chilli flakes
Instructions
First prepare the tofu - Wrap the tofu with a few kitchen towels (I used 6) place it on a plate and place another plate on top. Weigh it down using something heavy like a cookbook. Leave it to drain for at least 30 minutes. The longer you leave it the the firmer the end result is.
Preheat your oven to 200*C (180*C fan assisted)/ 400*F
Unwrap the tofu and slice it into 1 inch cubes.
Mix together the tofu sauce ingredients in a bowl. Add in the tofu cubes and mix making sure they're all well coated.
Arrange the tofu cubes on a baking sheet covered with parchment paper. Bake for 30 minutes, turning half way.
Heat a little coconut oil in a large frying pan and start sauteing the onion for a few minutes, then add in the garlic and ginger. Cook for another minute.
Add in the mushrooms and cook for a few more minutes.
In a small bowl, mix together the tamari, miso paste, rice vinegar, sesame oil and maple syrup, then pour over the mushrooms and fold in the steamed broccoli florets.
In the meantime, cook the noodles according to pack instructions. Mine took 5 minutes to cook.
Transfer the noodles into the mushroom mixture, and add in the baked tofu pieces.
Give everything a good mix, then serve.
Top with toasted peanuts, sesame seeds, a sprinkle of chilli flakes and fresh coriander.
Enjoy!
Nutritional information
Calories: 370 calories
Protein: 18.3g
Carbs: 58.8g
Fat: 8.8g
Fibre: 6.1g
Nadia's Healthy Kitchen https://nadiashealthykitchen.com/