Lemon Blackberry Bars – Vegan & Gluten-free
This week is National Vegetarian Week and a good excuse to eat less meat and more fresh, in season produce. It runs from 15-21 May and it encourages everyone to eat vegetarian for the duration of that week. Obviously this is not created for people who already eat a vegetarian diet, but rather as a way to encourage meat eaters to consume less animal products and experiment with vegetarian foods of which there are plenty!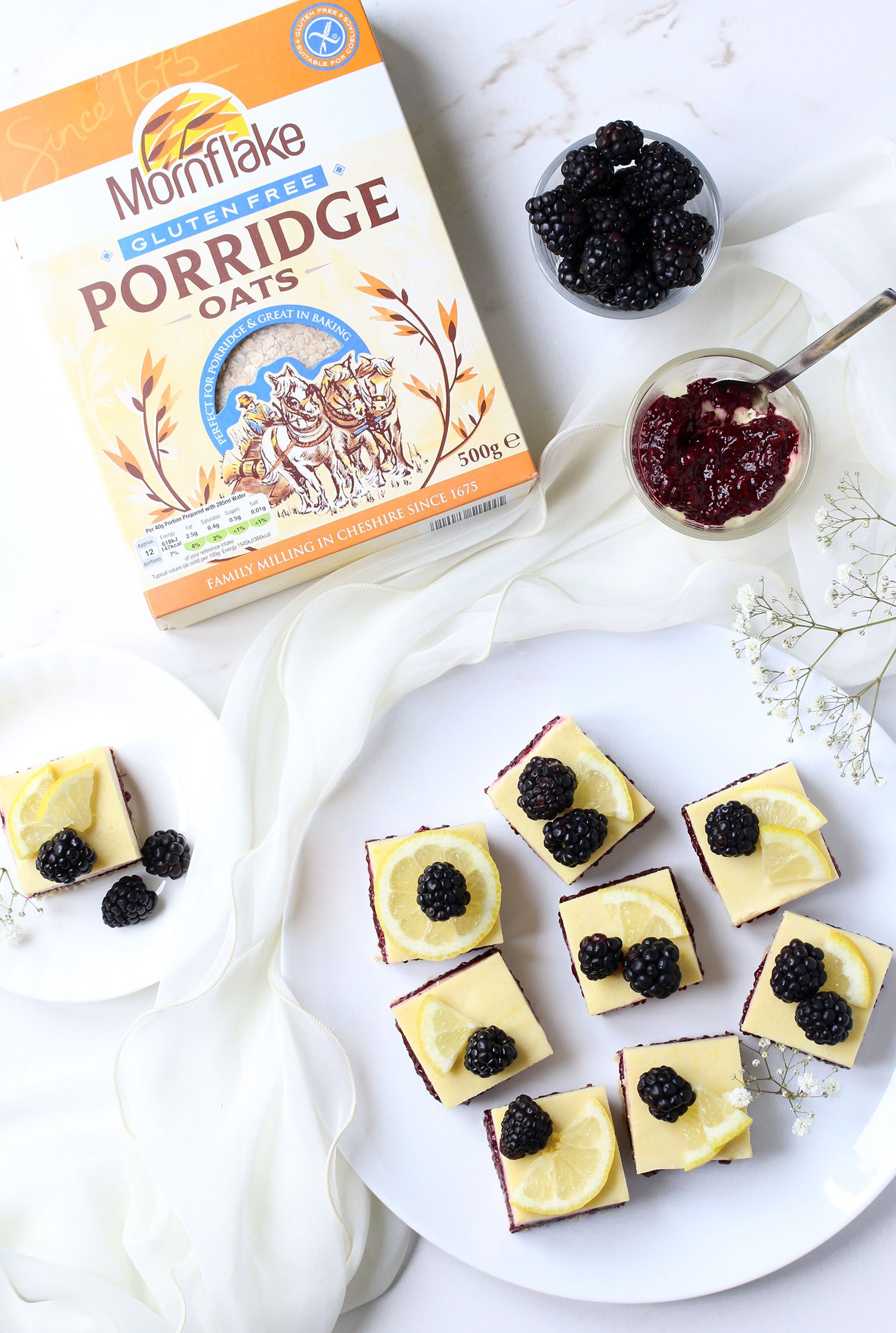 I've teamed up with Mornflake to create these lemon blackberry bars – a vegetarian/vegan friendly sweet treat to kick off national vegetarian week and to help bring awareness to the campaign.
With more and more evidence showing that vegetarian diets are associated with lower risks of heat disease and cancer, why not give it a try! A report from The World Food Organisation and the Food & Agriculture Organization of the United Nations encourages populations to consume a predominantly plant-based diet rich in vegetables, fruits, pulses/legumes, and minimally processed starchy staple foods. They suggest that this will prevent or delay a significant proportion of chronic diseases. They also go on to advise including small amounts of animal foods to contribute to the plant-food-based diets. It emphasises that variety is key when it comes to maintaining a healthy diet that doesn't lead to deficiencies*.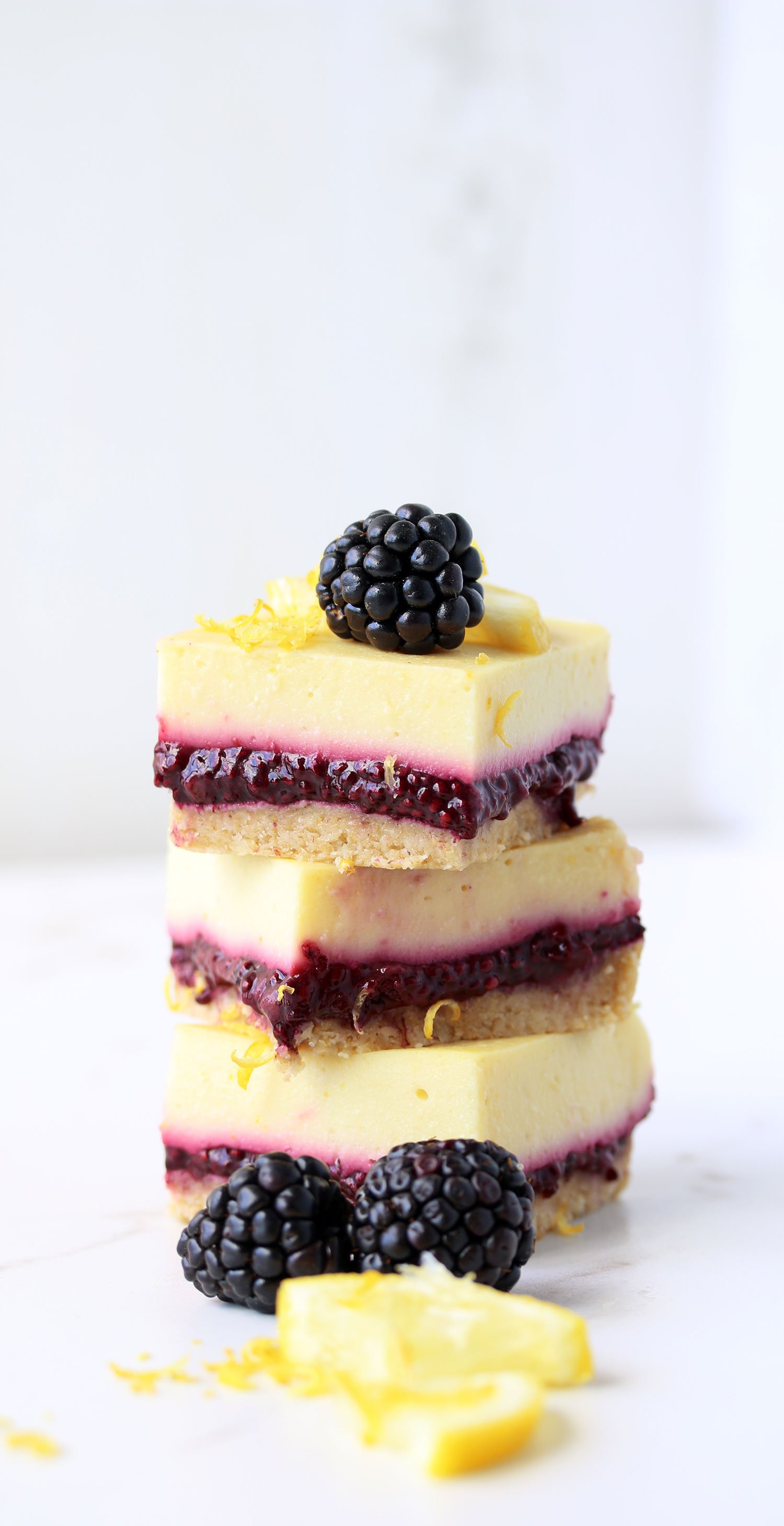 The article also touches upon the environmental effects of diets that heavily feature animal products and suggests that "the typical Western diet not only undesirable from the standpoint of health but also environmentally unsustainable"*.
Most people include too much meat and animal products in their diets and the National Vegetarian Week is a reminder that we DON'T need so much animal products in our diets and that everyone can benefit from cutting these products out of their diet for at least a week.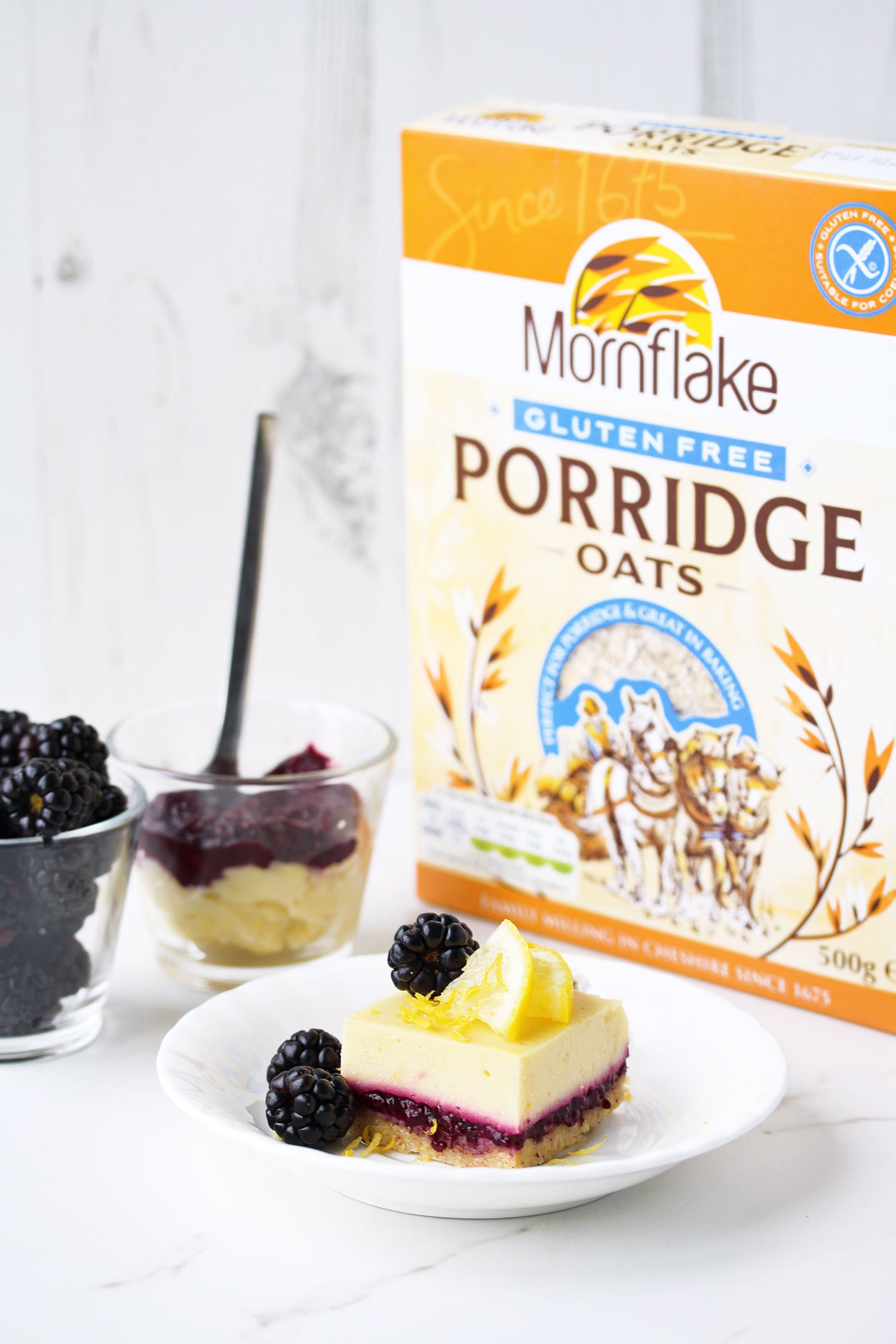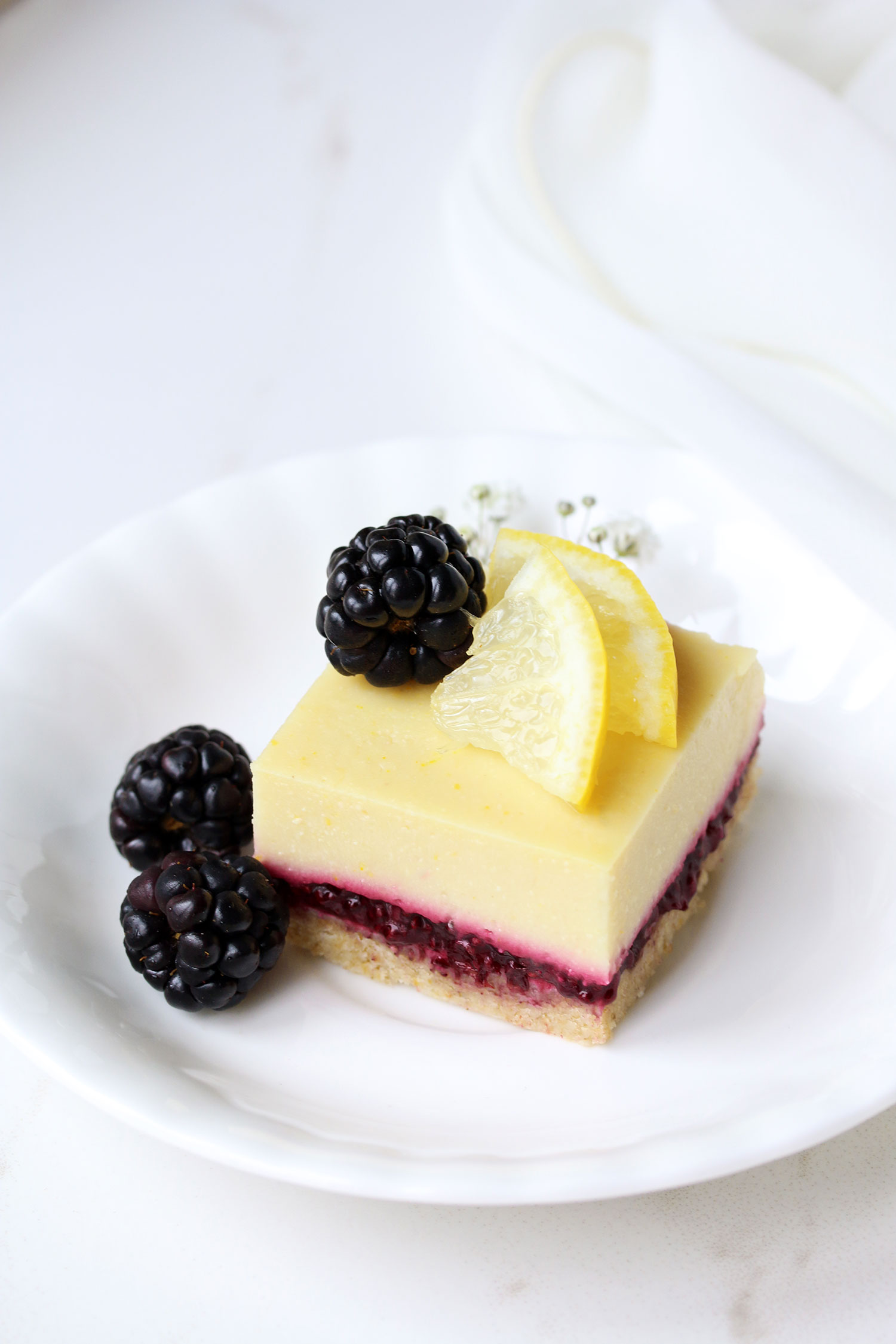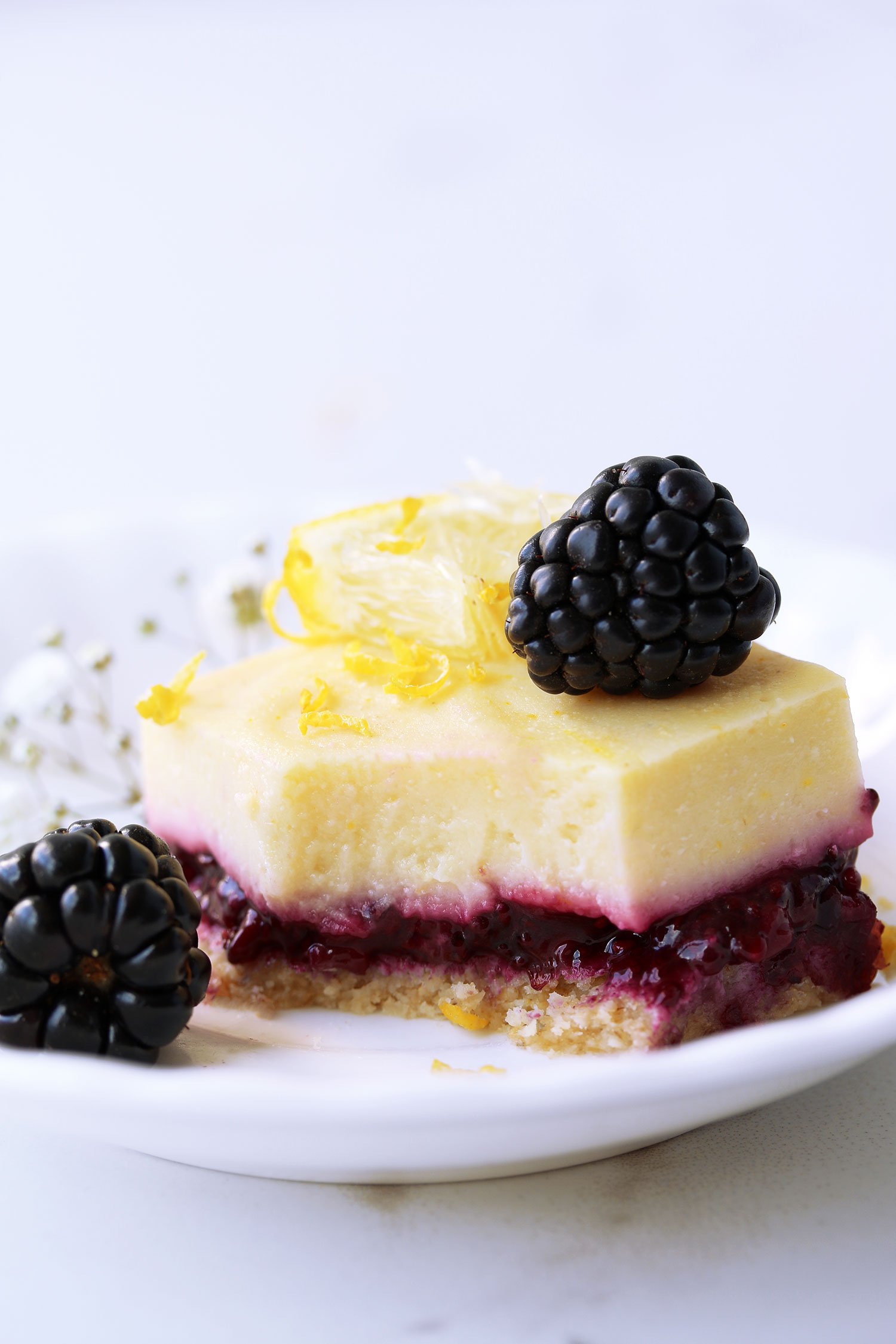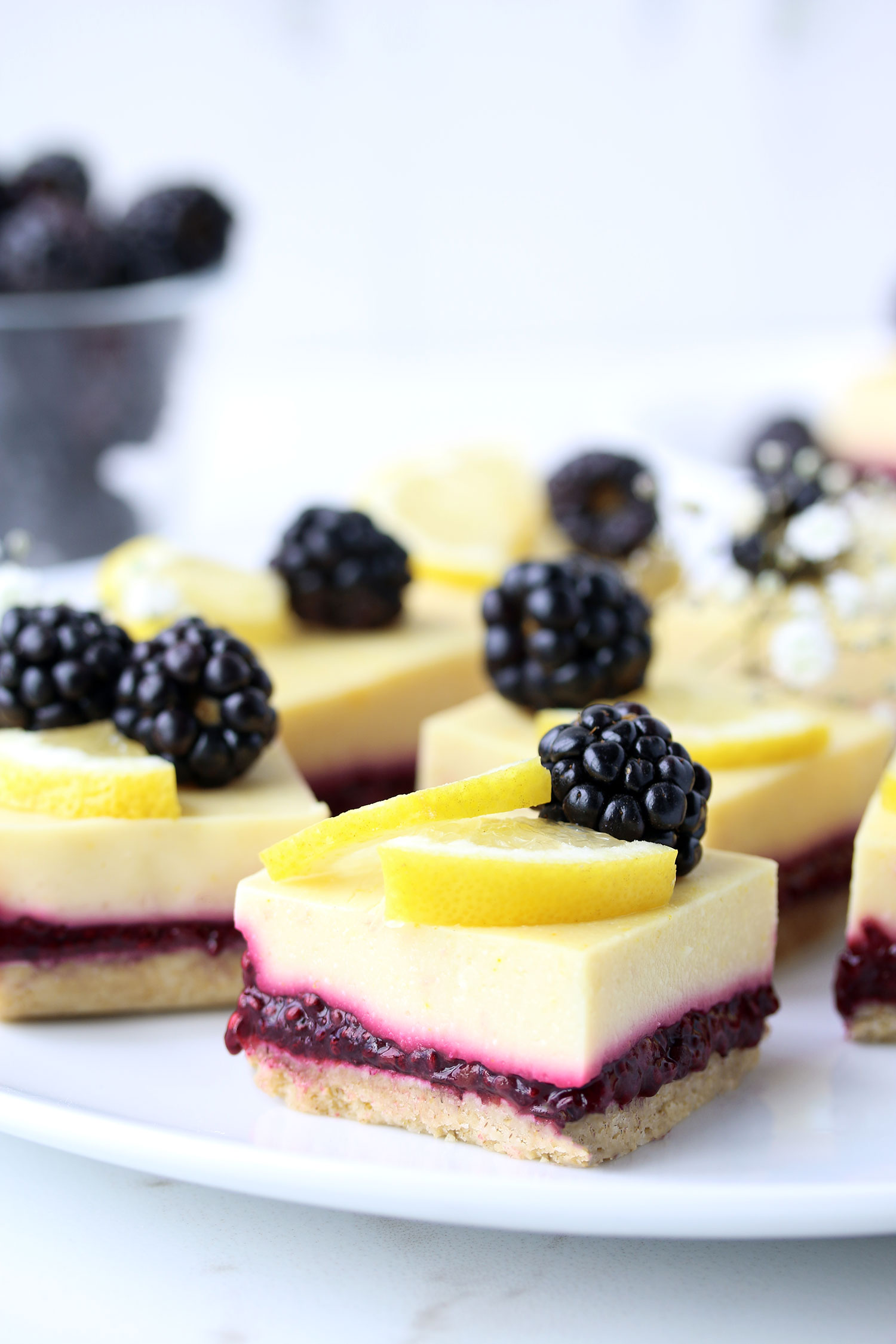 Since the weather is finally becoming warmer here in the U.K. I wanted to create something summary, light and fruity with a bit of zing! And why not take advantage of the fact that blackberries are in season and are at their juiciest this time of year!
I get a lot of questions concerning oats. If they're gluten-free and how I can include them in a gluten-free recipe. Oats are naturally gluten-free, no question about it. However, if someone has a gluten allergy/intolerance like Coeliac disease then 'normal' oats may be a risk as they may be cross-contaminated with gluten from being handled in the same food facility as wheat. If you do have a gluten-allergy then you can easily find gluten-free oats in most supermarkets, health shops or online.
To keep this recipe 100% gluten-free I used Mornflake gluten-free porridge oats which I ground up into a flour and used it to create a crumbly, light and healthy base.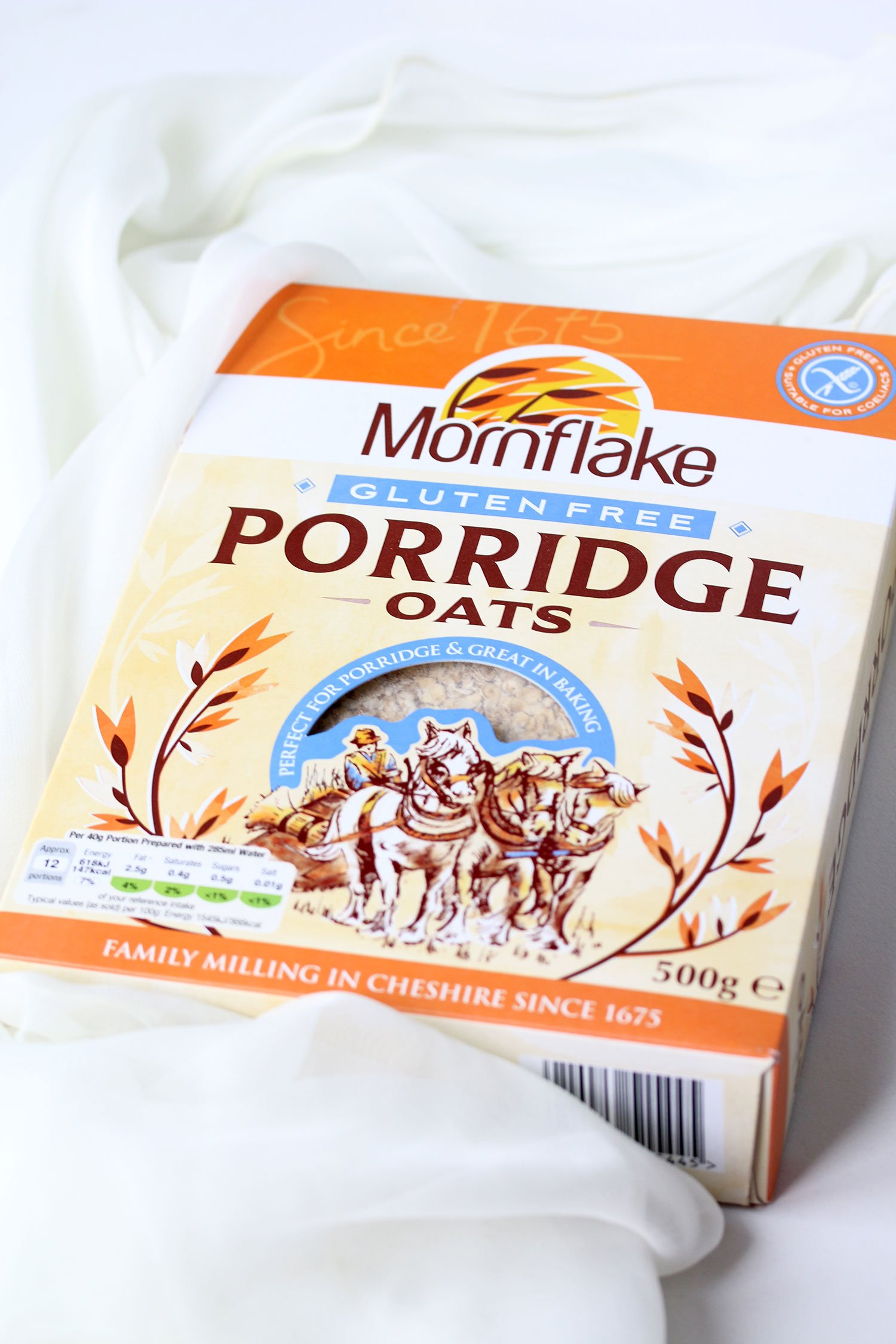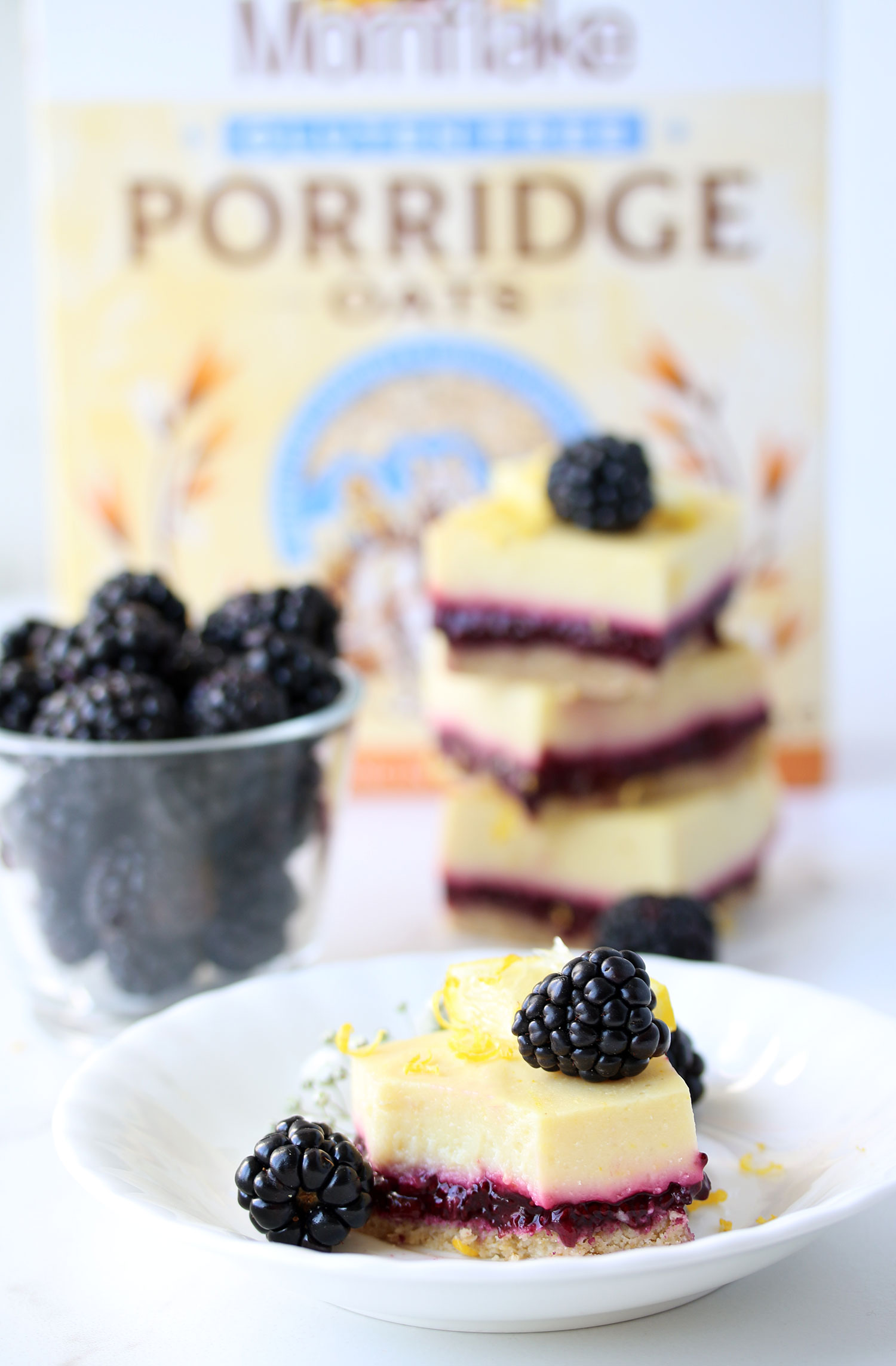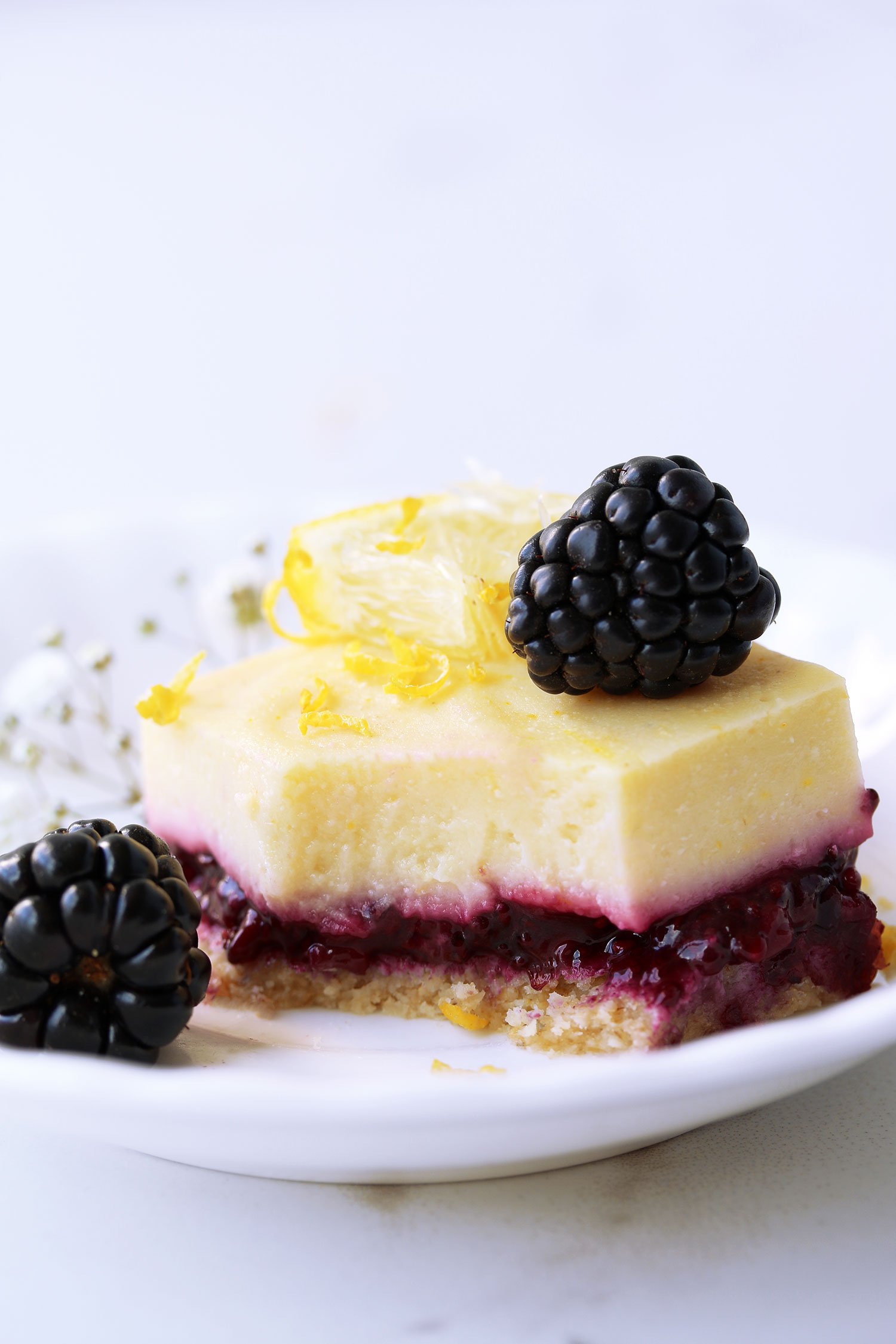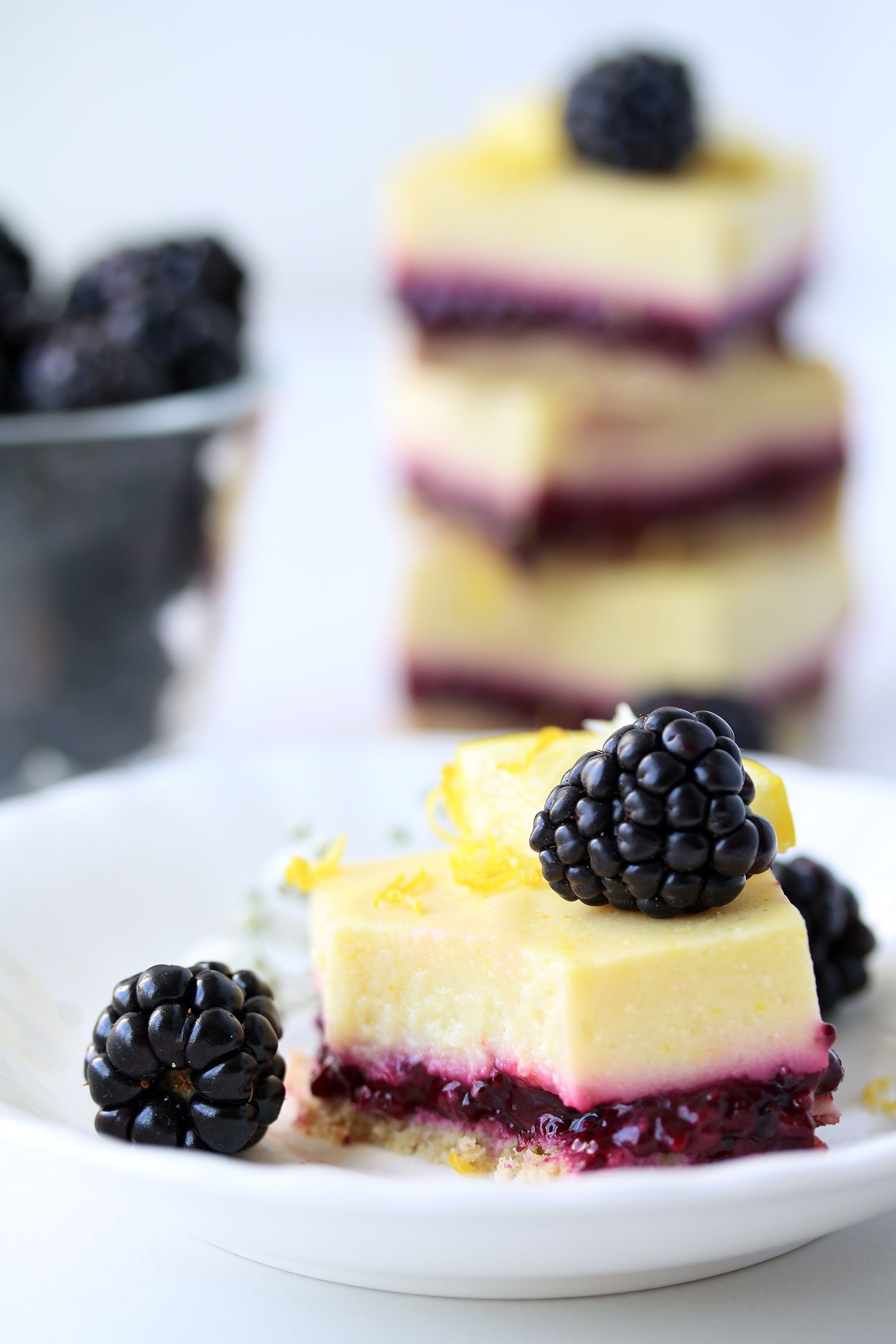 ---
Ingredients:
For the base:
100g (1 cup) Mornflake gluten-free porridge oats ground up into a flour in the food processor.
100g (1 cup) ground almonds
1/4 tsp salt
4 tbsp coconut oil, melted
1 tbsp maple syrup
For the blackberry jam layer:
150g (1 1/2 cups) frozen or fresh blackberries
3 tbsp chia seeds
1 tbsp maple syrup
For the lemon layer:
70g (1/2 cup) cashews
1 (400ml) can full fat coconut milk
Juice of 4 lemons (about 120ml/1/2 cup)
Zest of 2 lemons (about 1 1/2 tbsp)
5 tbsp (1/3 cup) maple syrup
Pinch of salt
3 tbsp cornstarch
Pinch of turmeric
1 tsp agar agar
Method:
Make the blackberry jam by heating the blackberries in a saucepan over a medium heat. Once they start to defrost mash them up with the back of a wooden spoon. Once the mixture turns into a sauce like consistency, add in the maple syrup and chia seeds. Take off the heat and leave to cool. The chia seeds will absorb the liquid and become thick like a jam/jelly.
Mix all the base ingredients in a bowl and press into a square 8×8 cake tin lined with parchment paper. Chill in the freezer while you make the lemon filling.
Pour the coconut milk into a blender along with the cashews, lemon juice, lemon zest, maple syrup and a pinch of salt. Blend until smooth.
Pour into a pan and mix in the corn starch, turmeric and agar agar. Cook on a medium heat whisking constantly until the mixture thickens.
Take the chilled base out and spread a thick layer of the blackberry chia jam.
Pour the lemon mixture on top, then leave for 10-15 minutes to cool. Transfer to the fridge and allow to set for a couple of hours. The mixture will thicken as it cools.
Slice into 16 bars.
Enjoy!
---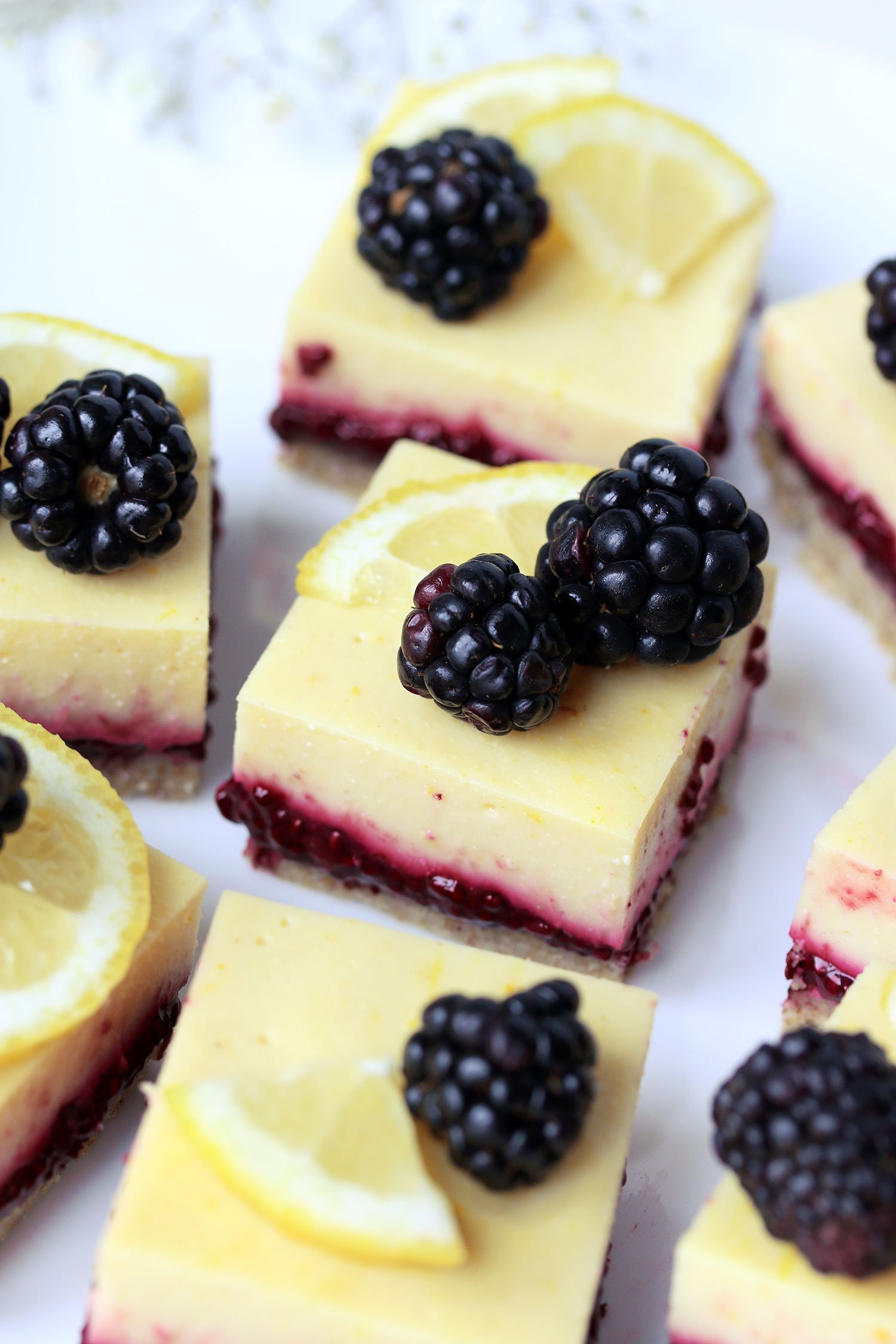 This post was commissioned by Mornflake, however all opinions are my own.