Healthy Vegan Brownies
Brownies are probably one of my favourite desserts. Dense, rich, sweet and most importantly full of chocolatey goodness! What's not to love?! I don't think I've ever come across anyone who doesn't love brownies. However, they do tend to leave a heavy feeling in my stomach. Not surprising when you consider the mountain of sugar and fat used to make a typical brownie recipe.
These healthy vegan brownies are much lighter, with around half the amount of oil in the form of coconut oil, which is hailed as a 'superfood' to be consumed in your daily diet. The recipe is also low in sugar – I'm using only 35g of sugar in the form of coconut sugar which has a low GI number. This means it's broken down and releases energy much slower compared to regular or brown sugar.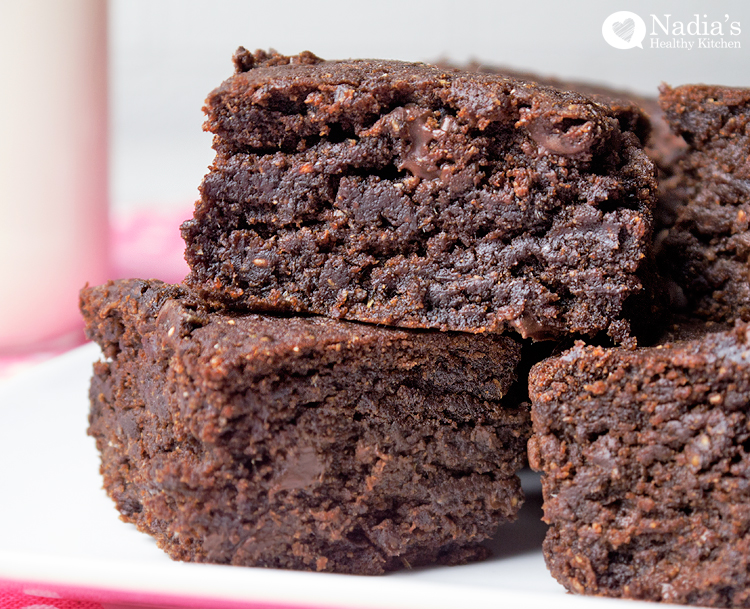 To make this recipe vegan, I'm using chia eggs instead of regular eggs. You can make chia eggs by simply mixing 1 tbsp chia seeds with 3 tbsp water for each egg you need. The chia seeds will absorb the water and form a thick jelly like mixture. This will work as a binding agent, helping all the ingredients to stick together.
To make these healthy vegan brownies even more chocolaty and rich, I'm using dark chocolate chunks (70% cocoa solids). You can use any type of chocolate chips you prefer, but I find it much harder to find good quality chocolate chips so if you prefer, you can chop up your favourite chocolate bar into small chunks and use them instead.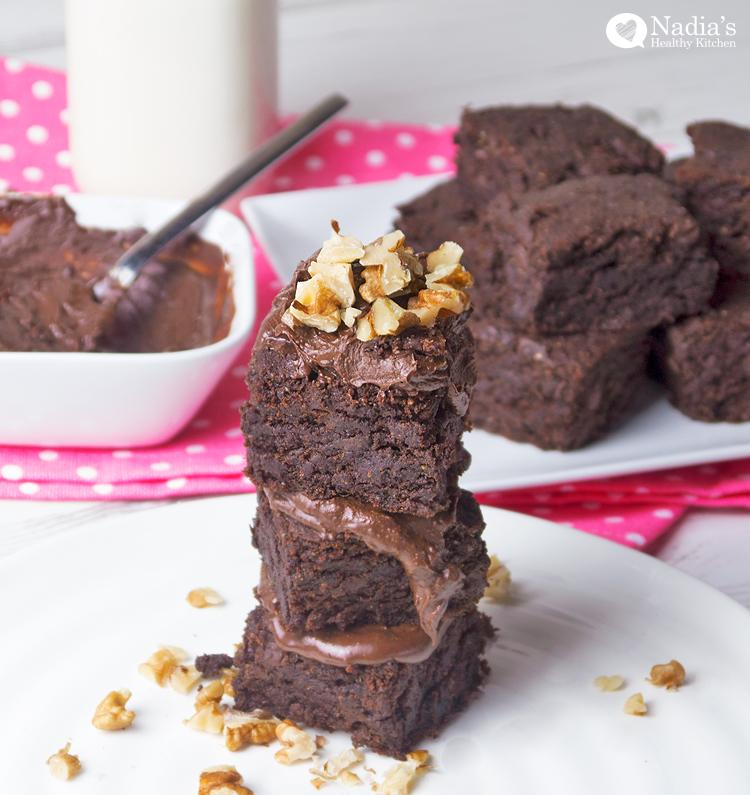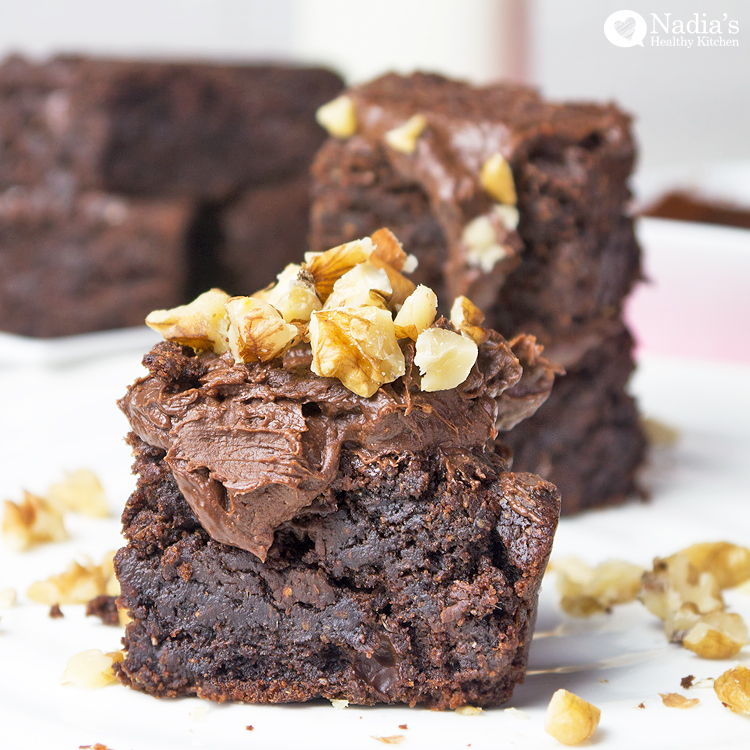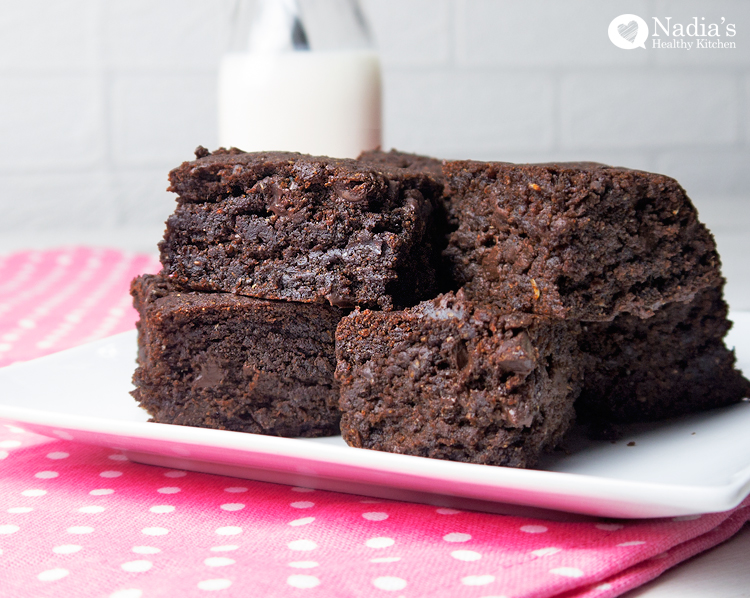 Healthy Vegan Brownies
2015-05-01 04:21:56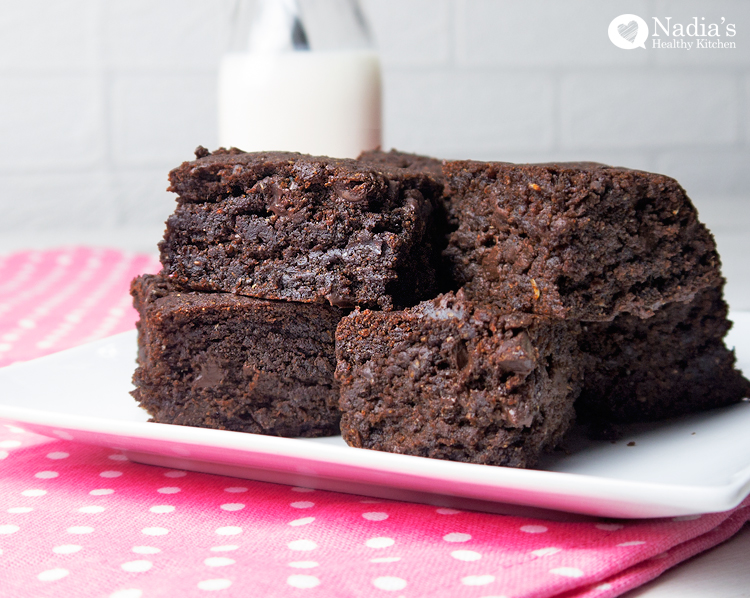 Serves 16
Dry ingredients
1.5 (170g) cups wholemeal spelt flour
1/3 cup (35g) cocoa/cacao powder
1/2 tsp baking powder
1/4 tsp baking soda
1/4 cup (4 tbsp) stevia
1/4 cup (4 tbsp/35g) coconut sugar (or you can use brown or white)
1/4 tsp salt
1/2 tsp instant coffee (I used espresso instant coffee)
1/3 cup (55g) dairy-free/vegan chocolate chips
Wet ingredients
1/2 cup (8 tbsp/120ml) oil (I used coconut oil but any kind will do)
Instructions
Preheat your oven to 180*C (160*C fan assisted)/ 350*F
In a small bowl, mix the chia seeds with 6 tbsp of water. Set to one side while you prepare the rest of the ingredients. A thick gel like mixture will form and this will act as a binder, binding all the ingredients together whilst also providing some extra moisture.
Place all the dry ingredients (apart from the chocolate chips) in a large bowl and mix well. Make sure everything is evenly distributed.
In a separate bowl, mix together the milk, oil, vanilla and the chia eggs (once they're set). If you're using coconut oil, make sure you melt it before adding to the mixture.
Pour the mixture of wet ingredients over the dry ingredients and mix well.
Fold in the chocolate chips, then transfer to a 9" square tin.
Bake for 20 minutes. Leave to cool completely before slicing.
Enjoy!
Notes
Nutritional information (estimation per serving - without the ganache)
Calories: 132 calories
Protein: 2.3g
Carbs: 14.9g
Sugars: 4.9g
Fat: 8.4g
UK Health Blog - Nadia's Healthy Kitchen https://nadiashealthykitchen.com/
While the brownies are baking, you have the option of making a simple chocolate ganache.
For the chocolate ganache, you will need:
2 heaping tbsp coconut oil
1 tbsp peanut butter (you can use other nut butters)
2 squares (around 30g) 85% dark chocolate (make sure it's dairy free!)
Heat a small pan over a low heat. Add in the coconut oil and peanut butter. Break up the chocolate into smaller pieces to make it easier for them to melt. Add to the pan and stir continuously until everything is melted. Take the pan off the heat and leave it to cool. The mixture will be thin and liquidy. You can place it in the fridge to firm up a bit.
Once the brownies have cooled down completely. Spoon some of the ganache on top. Place the brownies in the fridge to allow the ganache to set. Once the ganache has set, you can either store your healthy vegan brownies in the fridge or at room temperature. Personally, I feel these brownies taste much nicer when stored in the fridge!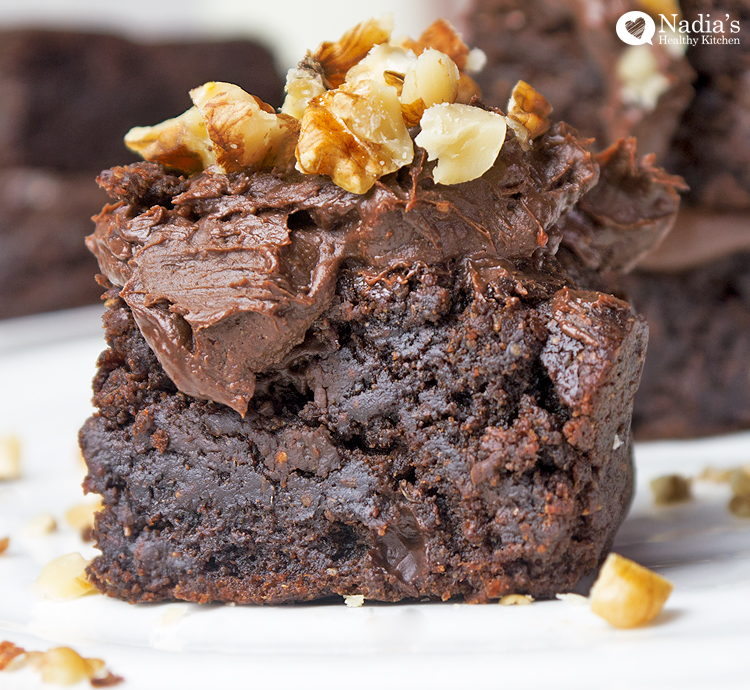 Share This Post