Halloween Spider Web Truffles
Halloween seems to be becoming everyone's favourite 'holiday'. Even though technically it's not a holiday, it's something that so many of us look forward to every year!
It gets our creative juices flowing and gives us adults an excuse to be kids again by dressing up in any outfit we like and enjoy making and eating some creatively decorated treats fun treats!
I haven't had the chance to make many Halloween recipes for my blog so far as I always seem to have something going on around this time of year. Last year for example I was busy working on assignments and clinic preparation that I just didn't have the time to experiment in the kitchen with some halloween themed recipes.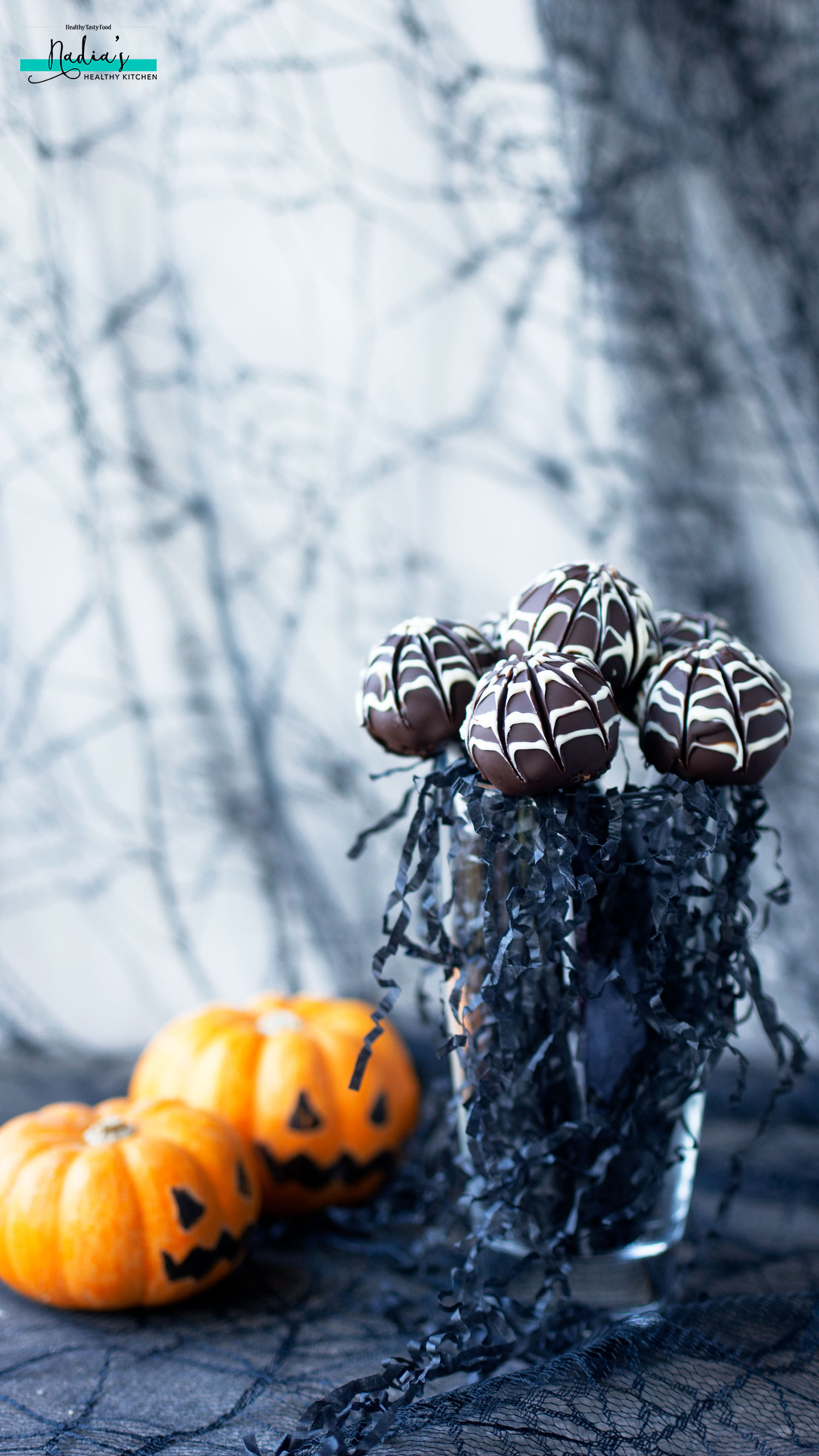 This year however, I have a few treats lined up for you – the first one being these creepy halloween spider web truffles that are made with delicious plant-based ingredients like organic dairy-free dark chocolate, cashews and maple syrup. I just had to serve them on cake pop sticks because they just look so much more fun and appetising that way. The perfect way to serve them at a halloween party!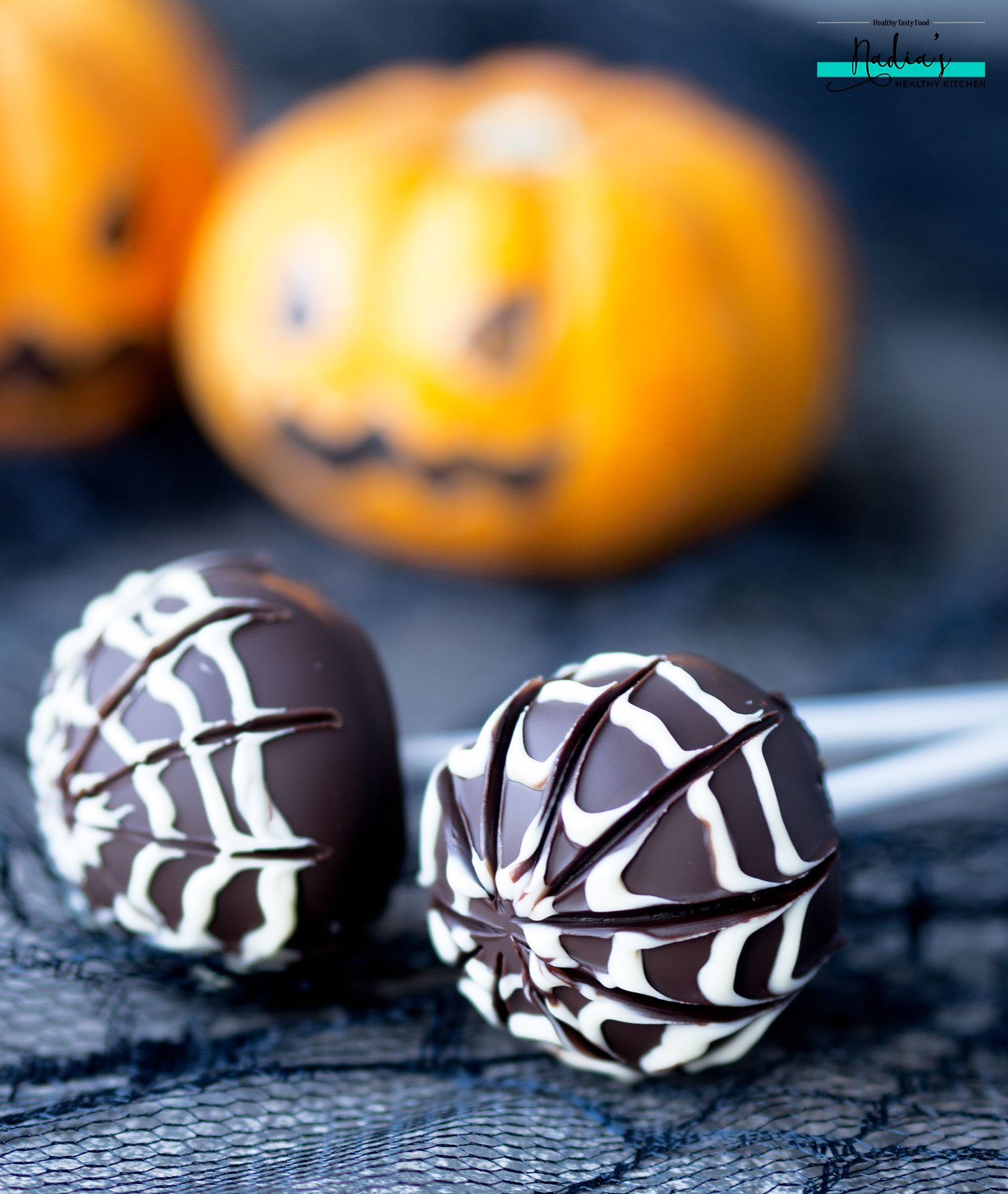 Before we move on to the recipe, I would like to introduce you to the deliciousness that is Love Cocoa chocolate.
Love Cocoa is a start-up company founded by James Cadbury. If you're a Brit then that name will probably sound familiar to you, that's because James is the great great great grandson of John Cadbury, the man behind the iconic Cadbury chocolate.
What makes Love Cocoa different is that their chocolate are:
Ethical – made from fair trade and organic cocoa sourced from farmers in Ecuador and the Dominican Republic.
Organic
Manufactured in a family-run British factory.
Their "next-day delivery of chocolate through the letterbox" service making it the perfect option for a last minute gift idea for birthdays, Valentine's day, anniversaries or any other celebrations! Their packages are designed to fit through the letter box so there is no need to worry about missed deliveries.
Unique flavours – from English Mint, Honeycomb and Honey, Maldon Sea Salt and Earl Grey…Earl Grey!!
High quality and delicious! You can actually taste the difference in quality compared to other chocolate brands.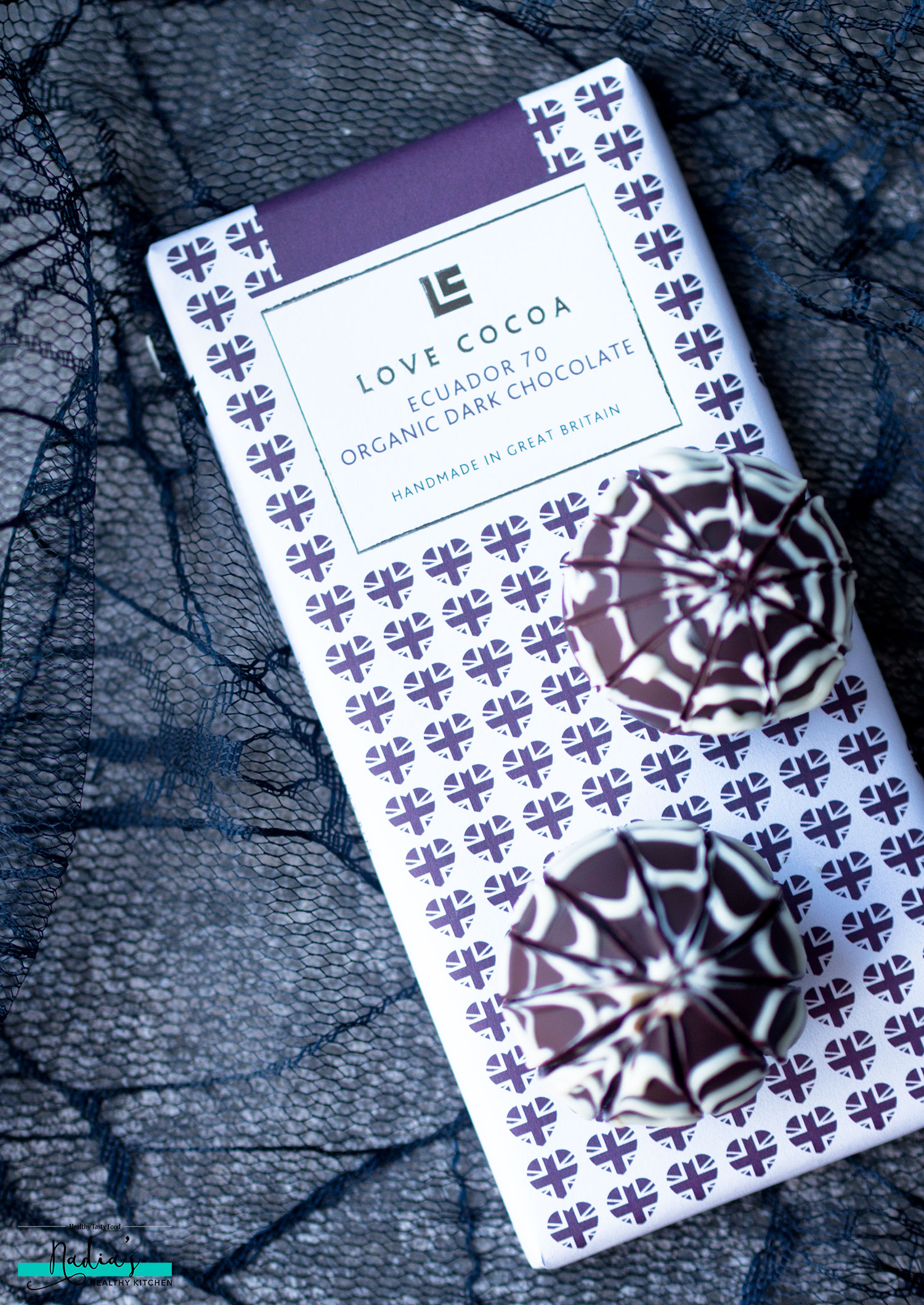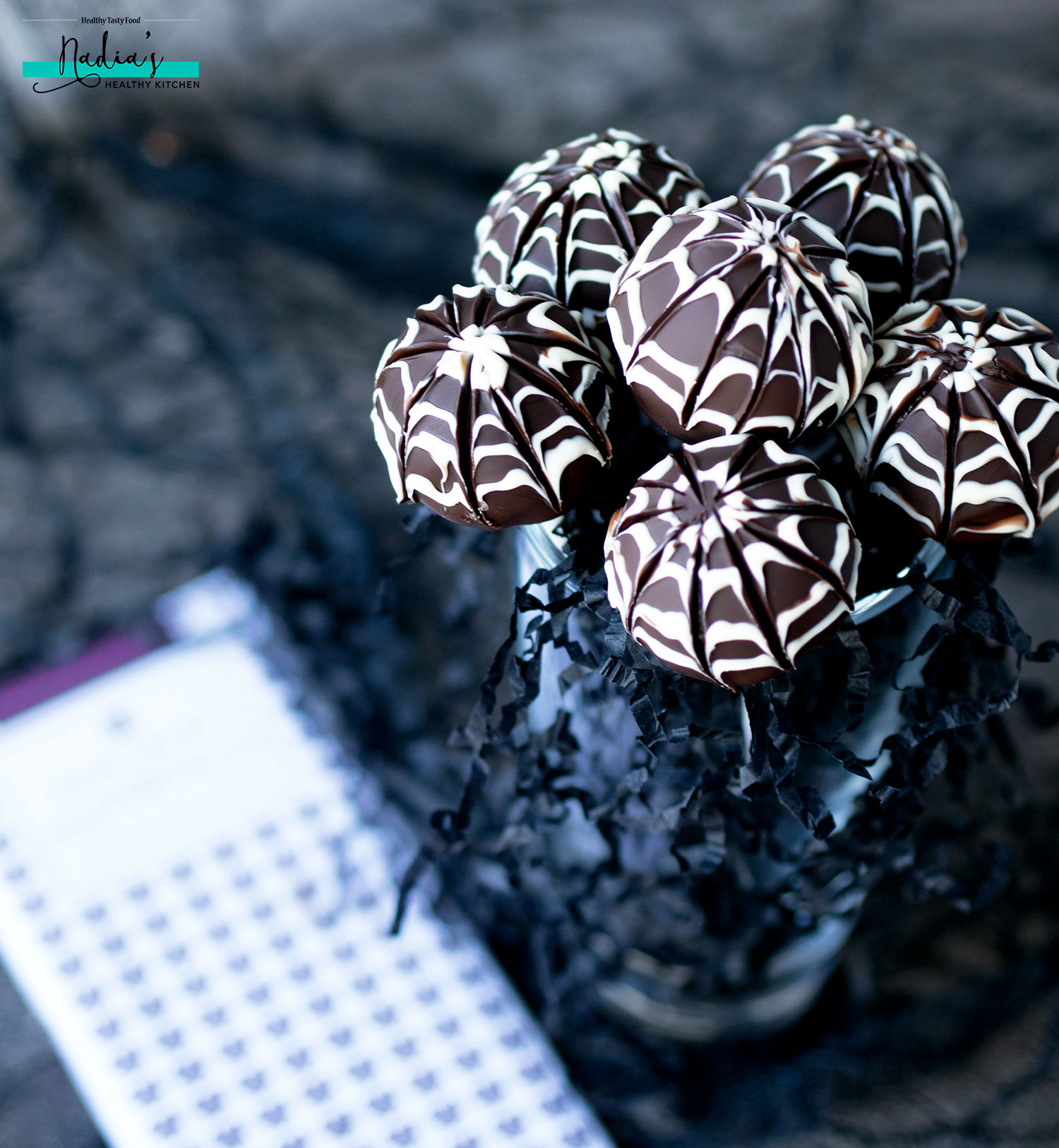 Here's how to make halloween spider web truffles
Halloween Spider Web Truffles (Vegan & Gluten-free)
2016-10-27 11:22:31
For the truffles
70g raw unsalted cashews - Soak for at least 4 hours to make them easier to blend
118ml filtered water
80g Love Cocoa organic 70% Ecuador dark chocolate bar
3 tbsp coconut oil, melted
2 tbsp maple syrup
Cake pop sticks
For the chocolate coating
More melted dark chocolate
Melted vegan white chocolate or white chocolate of choice.
Instructions
WATCH THE VIDEO ABOVE FOR INSTRUCTIONS
Blend the cashews and water in a food processor/blender until smooth.
Break up the chocolate in a heatproof dish and melt either in the microwave or using the double boiled method.
Pour in the melted coconut oil, maple syrup and cashew mixture. Mix until well combined.
Place in the fridge until set - it needs to chill for at least 4 hours.
Take the truffle mixture out and start scooping with an ice cream scoop. Shape into balls.
Place the truffles on a plate covered with parchment paper. Freeze for 30 minutes to make them easier to handle.
Melt some dark chocolate and white chocolate in separate bowls. Transfer the melted white chocolate into a piping bag with a writing icing nozzle. Alternatively add to a resealable plastic bag and cut off one corner tip. You only need a tiny cut.
Dip the cake pop sticks into the chocolate and insert into the truffles. Dip the truffles into the dark chocolate then immediately pipe on white chocolate circles starting from the top moving down.
Use a toothpick to draw vertical lines downwards to create the spider web effect. Place in the fridge to set.
Enjoy!
Nadia's Healthy Kitchen https://nadiashealthykitchen.com/