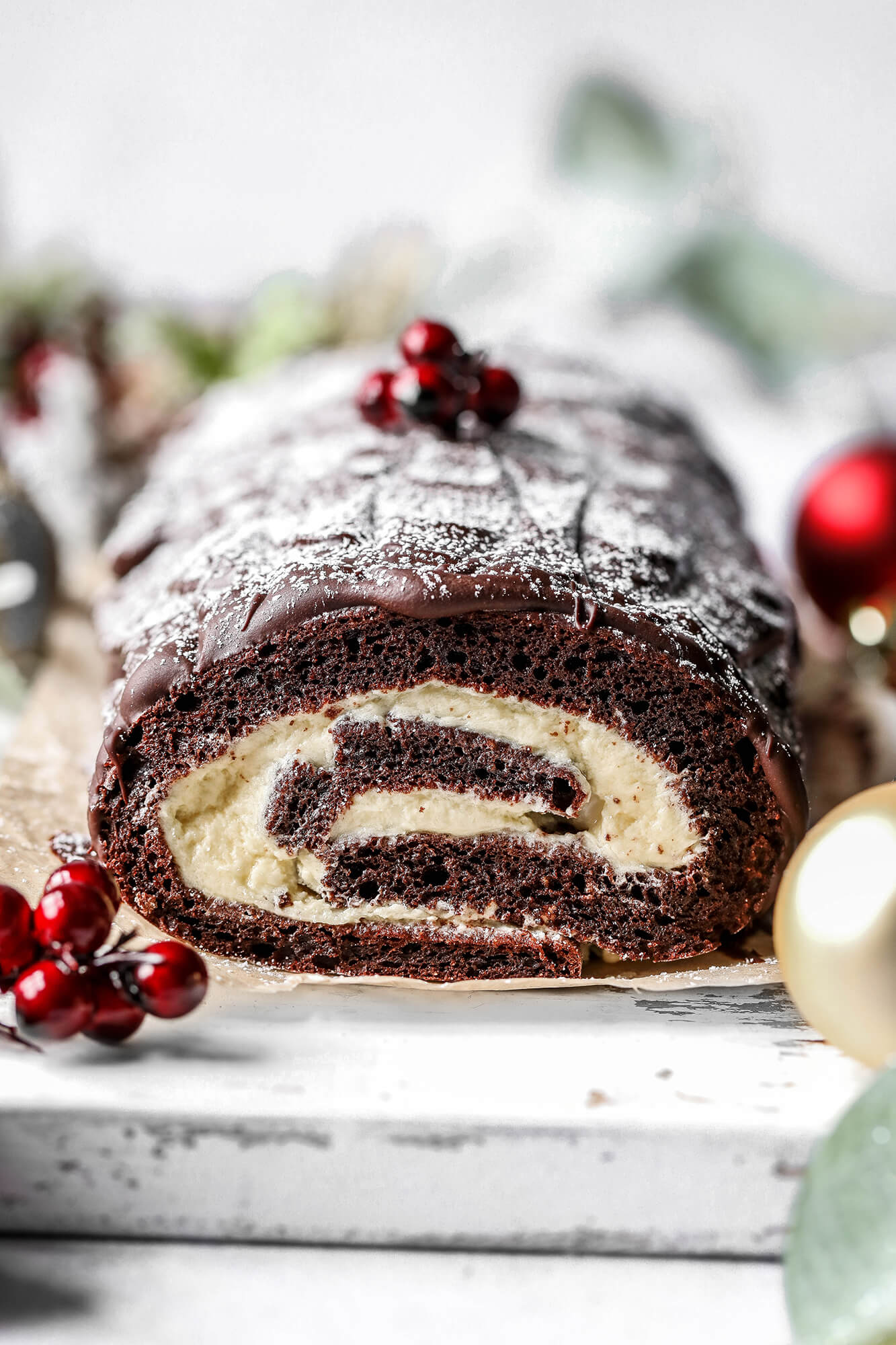 *This post is sponsored by FREEE*
If you're looking for a show-stopping dessert, this gluten-free vegan yule log is for you! A delicious chocolate sponge with a buttercream filling and a decadent ganache topping – what's not to love?
Yule logs can be tricky, but somehow FREEE managed to make a really easy fool-proof recipe that's both vegan and gluten-free! The sponge is so chocolatey (and easy to roll!) with a deliciously smooth filling and a lush ganache. How they were able to tick all those boxes, I don't know!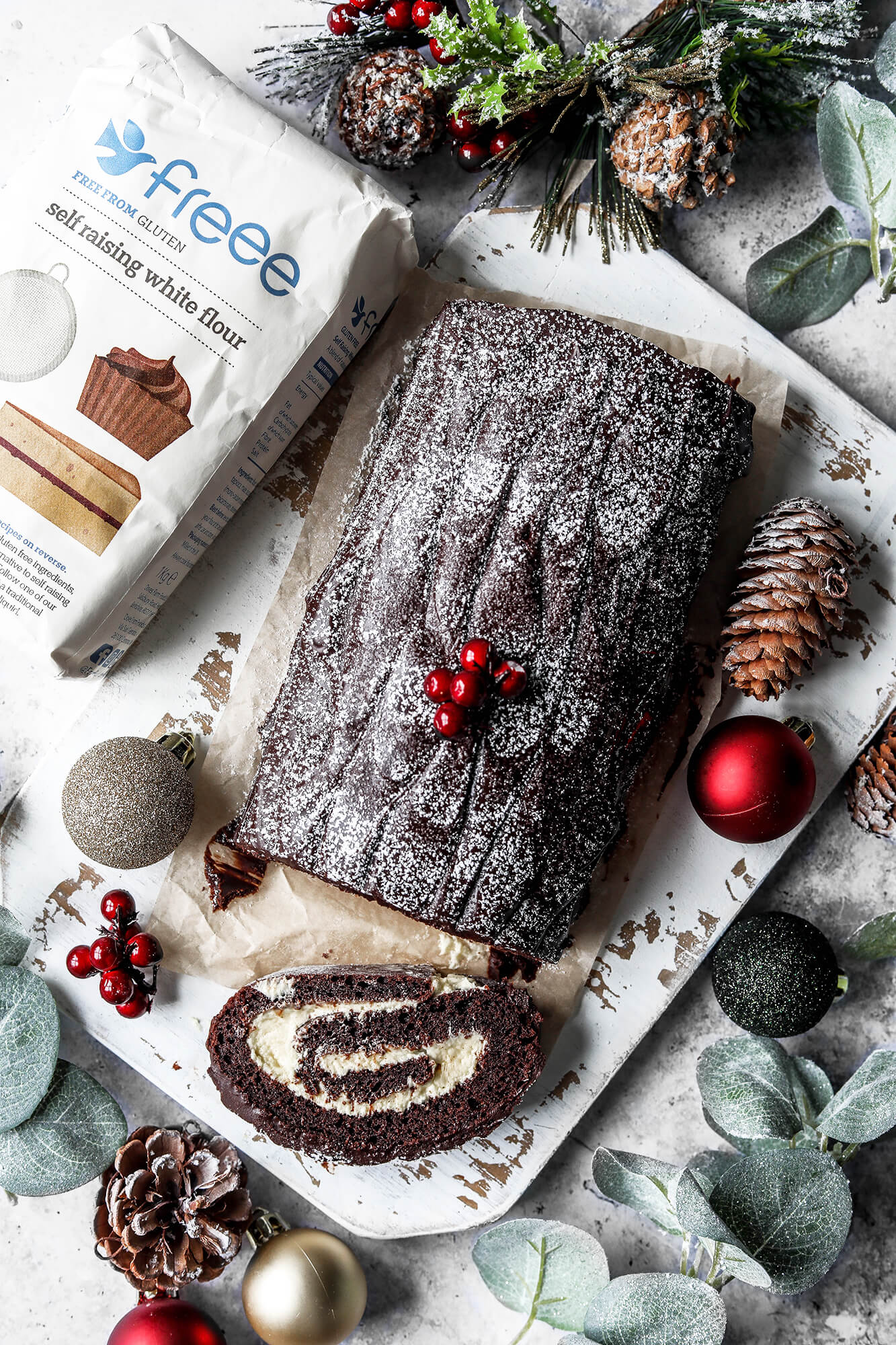 I must admit I'd never made a yule log before. They seemed too faffy and long winded, but when I saw how simple the instructions for this recipe were, I just had to try it! The outcome was so worth it because not only do you end up with something so delicious, you also have a stunning centre piece to show off to friends and family after your Christmas meal!
I'm teaming up again with FREEE to create delicious gluten-free bakes that everyone can enjoy this Christmas using FREEE flours. It's as simple as 1, 2, FREEE! Yesterday I posed these delicious gingerbread millionaires shortbread slices. Today, I'm recreating one of FREEE's recipes – this decadent chocolate Yule log!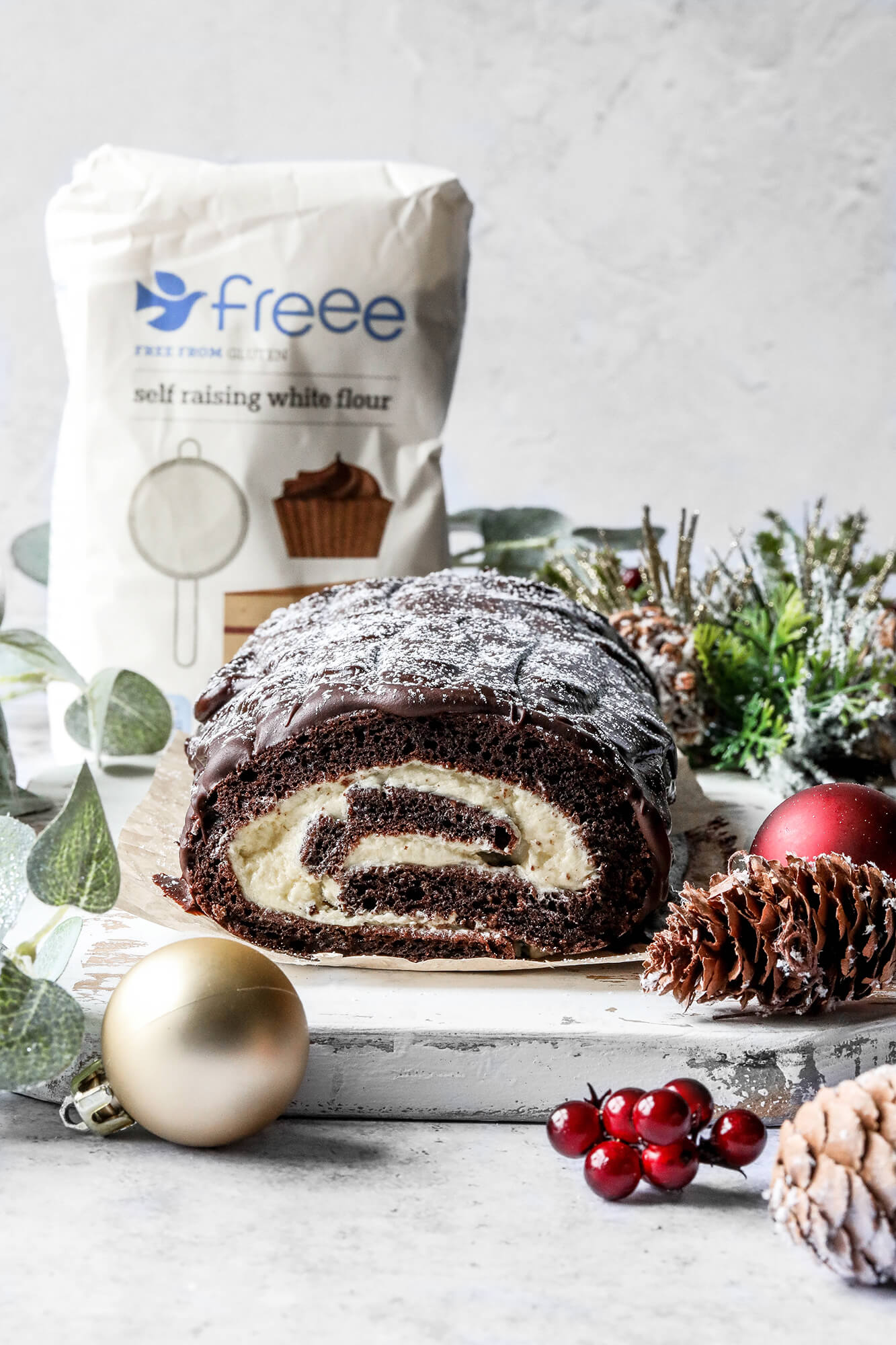 FREEE offers trusted and naturally gluten free food for the whole day that never compromises on taste, is subject to a rigorous testing regime and is always clearly labelled. All FREEE products are produced in dedicated production facilities. The range is home to the #1 gluten free flour range in the UK and incorporates baking mixes, cookies, oat bars, pasta and breakfast cereals.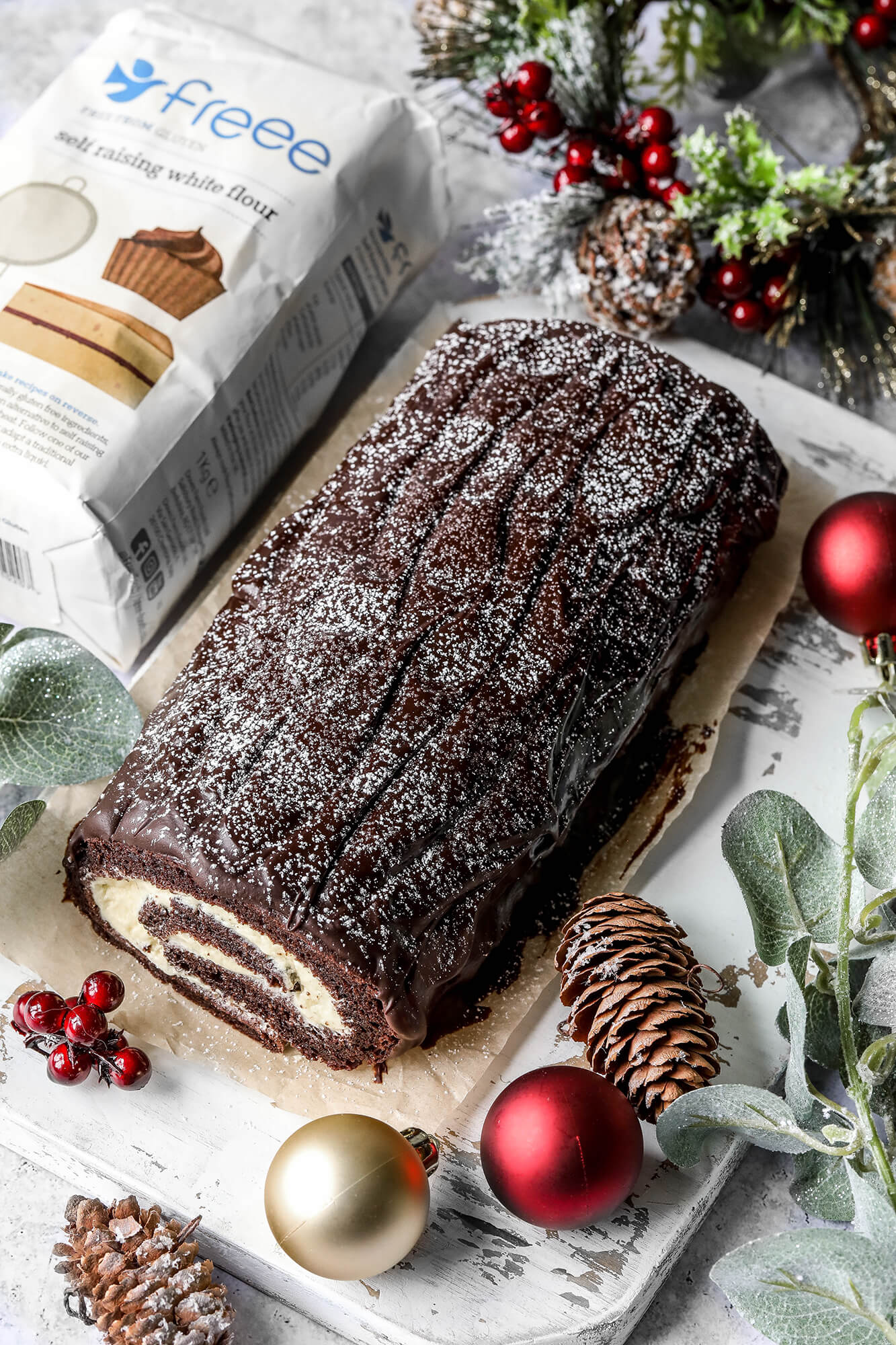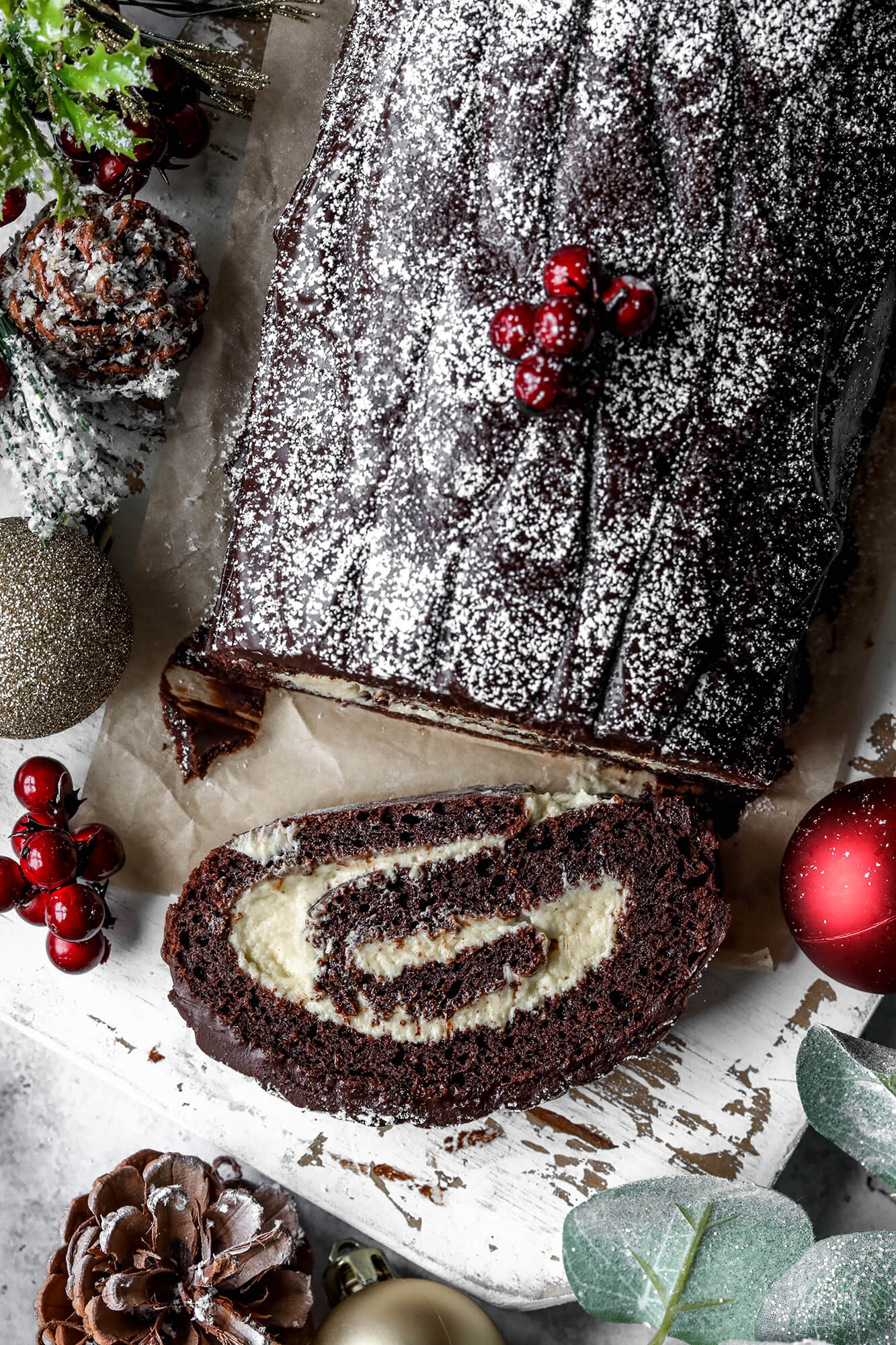 Gluten-Free Vegan Yule Log
Serves: 8-10
Ingredients
Cocoa Sponge
25g cocoa
4 tbsp boiling water
30g FREEE Organic Chickpea Flour
1 tsp FREEE Baking Powder
½ tsp FREEE Xanthan Gum
200ml water
3 tbsp oil
125g caster sugar
125g FREEE Self Raising White Flour
oil, for tray
Vanilla Buttercream
175g icing sugar
100g vegan butter
1 tsp vanilla extract
Chocolate Log Topping
200g vegan plain chocolate
100ml vegan cream
1 tbsp icing sugar
Method
Cocoa Sponge
Pre-heat the oven to 180°C, Fan 160°C, 350°F, Gas 4
Rub some oil around the inside of a 23 x 33cm/9 x 13" baking tray or insert a baking liner.
Put the cocoa and water into a bowl, mix into a paste and set aside.
Put the chickpea flour, baking powder and xanthan gum into a large bowl and stir to combine.
Add the water and oil and beat with electric beaters until smooth.
Beat in the caster sugar.
Add the prepared cocoa mixture and beat until smooth.
Sieve the flour into the bowl and stir to combine.
Tip the mixture into the prepared tray and spread it out to the edges.
Bake for 25–27 minutes.
Leave the cake in the tray for 2-3 minutes.
Spread a clean tea towel over the baking tray, place a chopping board on top and invert everything together.
Remove the baking tray, and baking liner if used, to leave the sponge on the tea towel.
Using the tea towel for support, roll from the short end of the sponge to make a cylinder with the cloth inside.
Leave the cloth and sponge cylinder to cool completely.
Vanilla Buttercream
Sieve the icing sugar into a bowl, add the vegan butter and vanilla extract.
Beat together until smooth.
Gently unroll the cold sponge and spread the filling evenly over the inside.
Roll the sponge up quite tightly from the short end, making sure the filling stays inside. You can use the tea towel to help with this.
Chocolate Log Topping
Break the chocolate into small pieces.
Put the cream into a saucepan and bring it just to the boil.
Remove the pan from the heat, add the prepared chocolate and stir until smooth.
Spread the chocolate mixture all over the cake.
Drag a knife lengthways through the topping to create a log-like texture.
Chill until set.
Sieve a little icing sugar over the cake before serving.