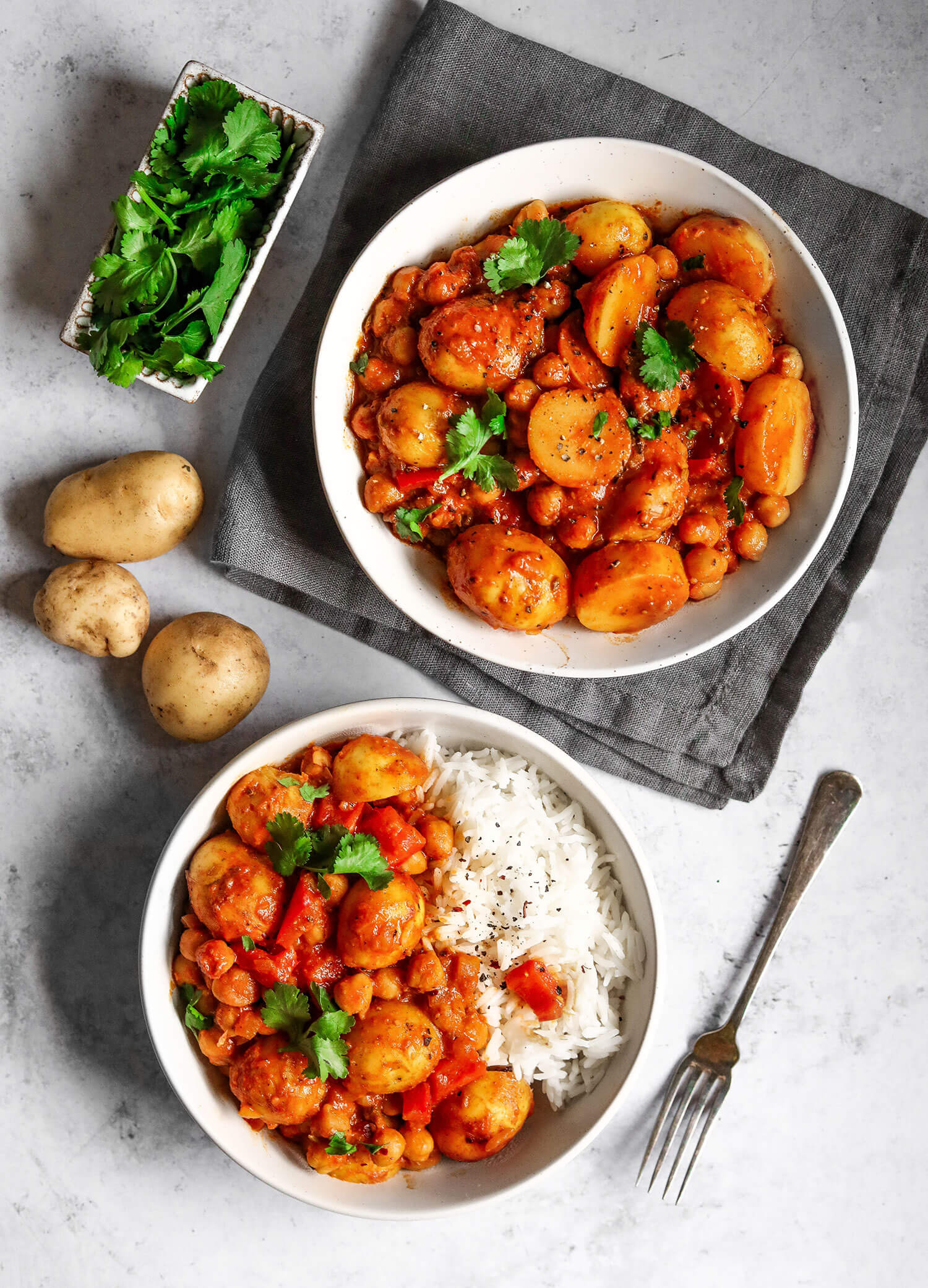 *This post is sponsored by Seasonal Spuds*
A super warming curry that's completely plant based and packed with flavour. This Cornish new potato and chickpea curry is a definite crowd pleaser!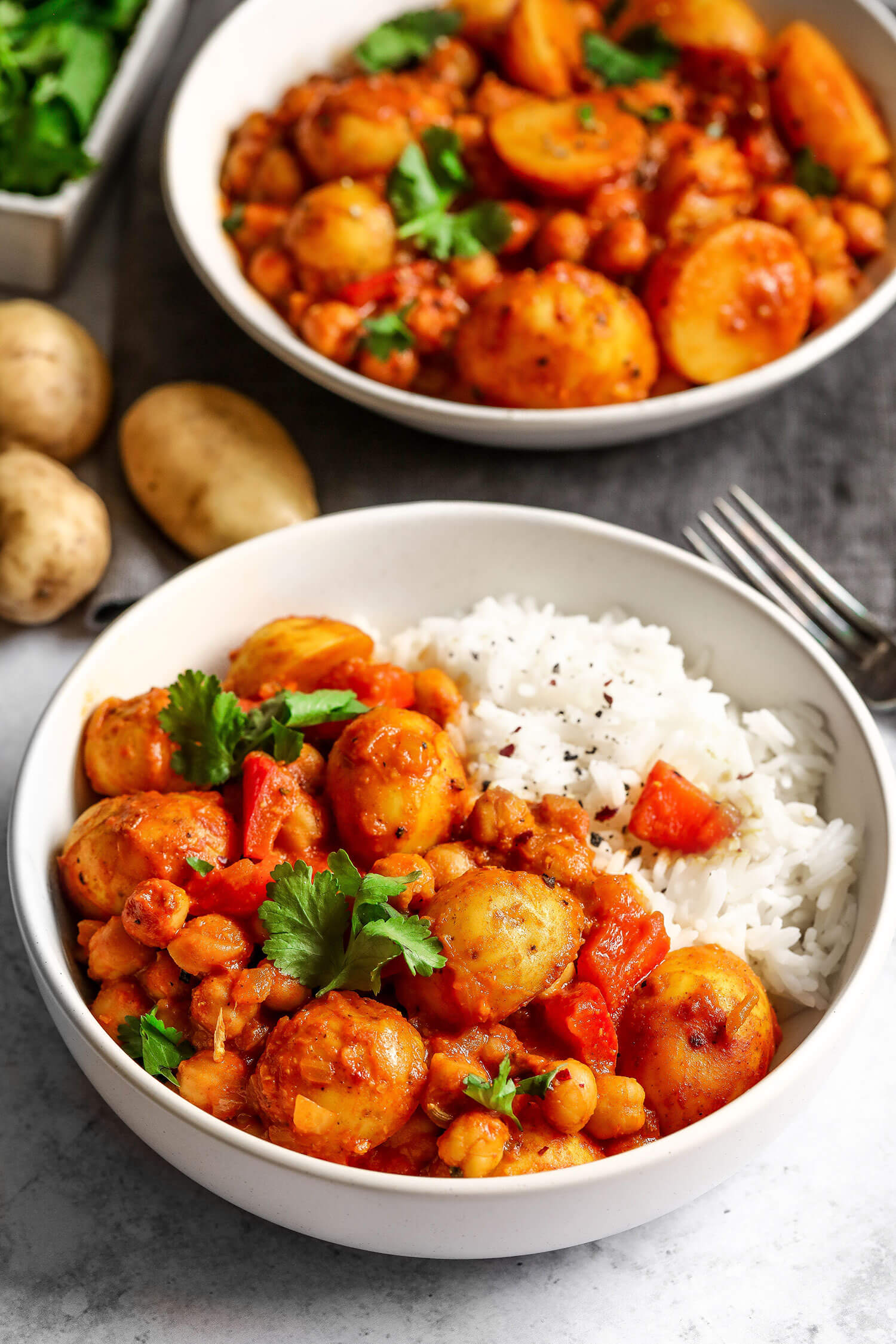 Packed with fragrant spices like cinnamon, cardamom and turmeric with a generous helping of chilli to add a real kick. The chilli part can easily be adjusted to meet your heat threshold, of course 😉 I can handle some heat, but not too much or I feel it overpowers all the other flavours. But then I have been told that I don't add enough when I'm making a curry for others, so it really does depend on each individual's preference.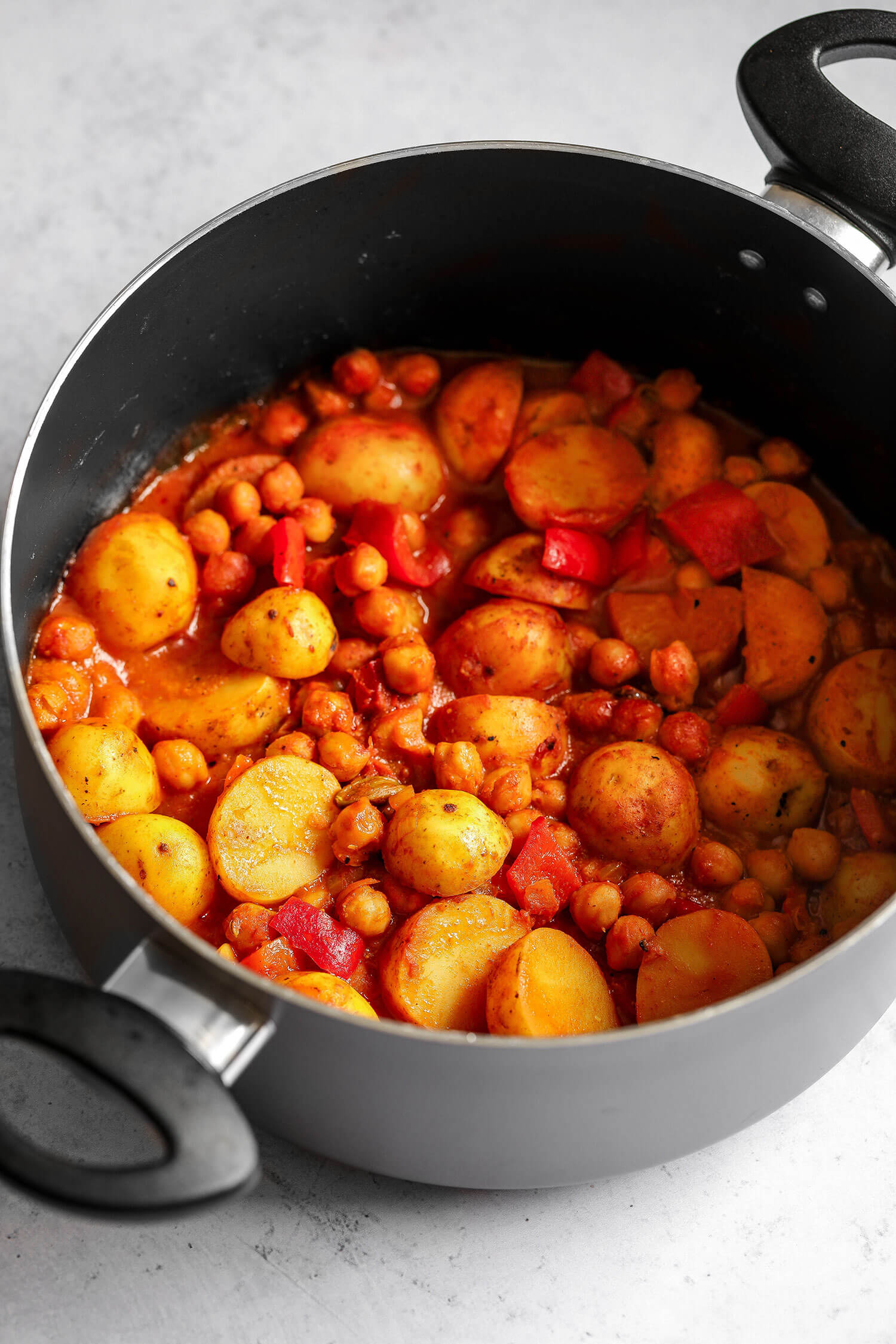 I chucked in some chickpeas for a source of protein and another source of fibre as well as red peppers to bump up my vegetable intake, which I have to admit has been quite low since the lockdown started. You can add any vegetables really – whatever you like or have available in the fridge that needs using up.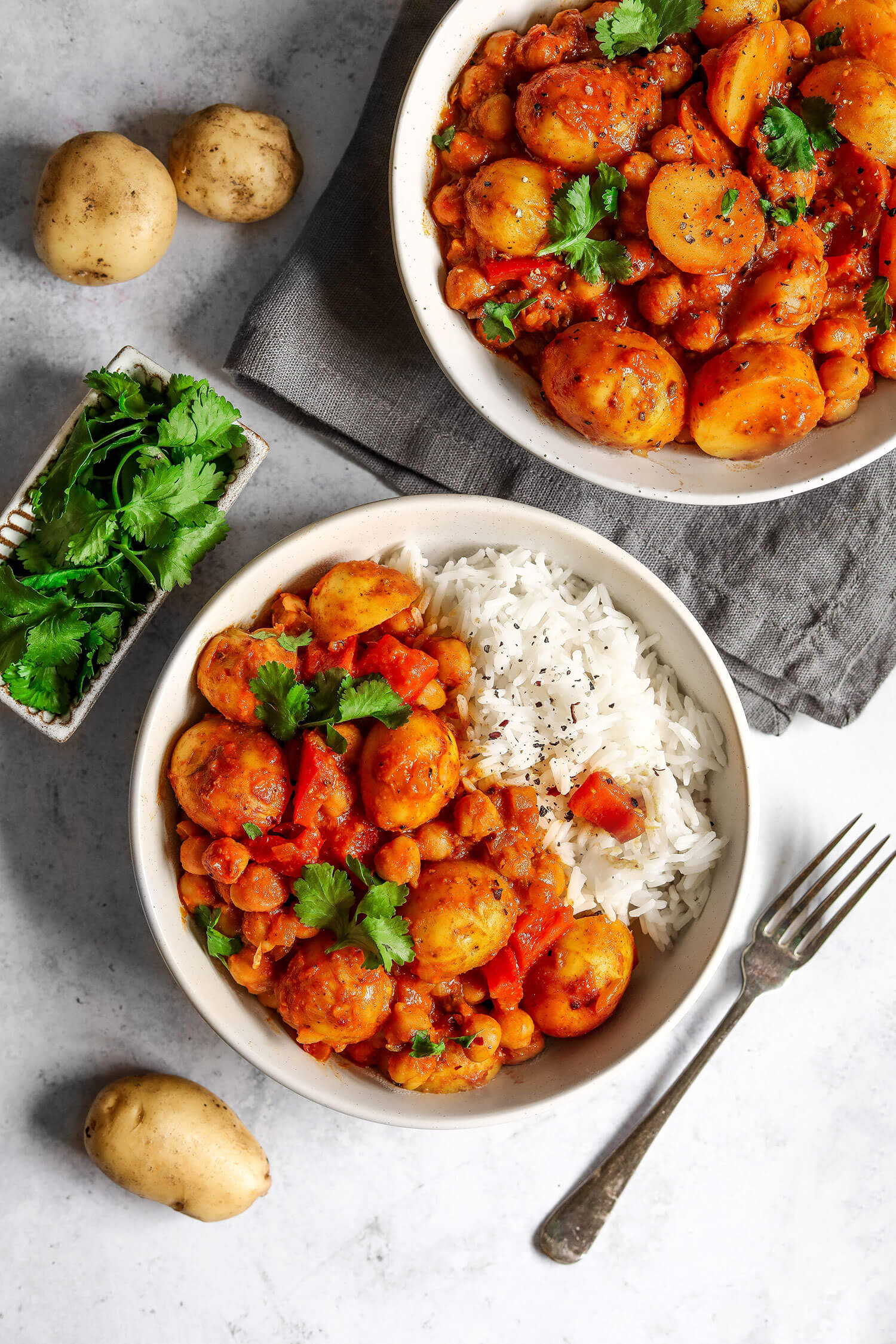 I created this recipe in collaboration with Seasonal Spuds using their Cornish New potatoes, which are in season now and available to buy for a limited time only. They're harvested while they're still quite immature, giving them soft fluffy skins and a mild fresh taste, which really sets them apart from other baby potatoes both for chefs and home cooks.
Cornish New potatoes are seasonal and the first UK mainland crop of the year signals the start of summer. Growers begin planting them early as January on the coast and they're grown in the rich, fertile Cornish soils close to the sea.
They're naturally fat free and lower in calories than some carbohydrates. So if you would like to take advantage of the goodness that these delicious, in season potatoes have to offer, make sure you grab a bag or two and make this quick, easy and delicious summer dish 😍 I know you'll love it!
This curry is the perfect example of how you don't need to add meat to make a meal tasty and satisfying – A definite must try!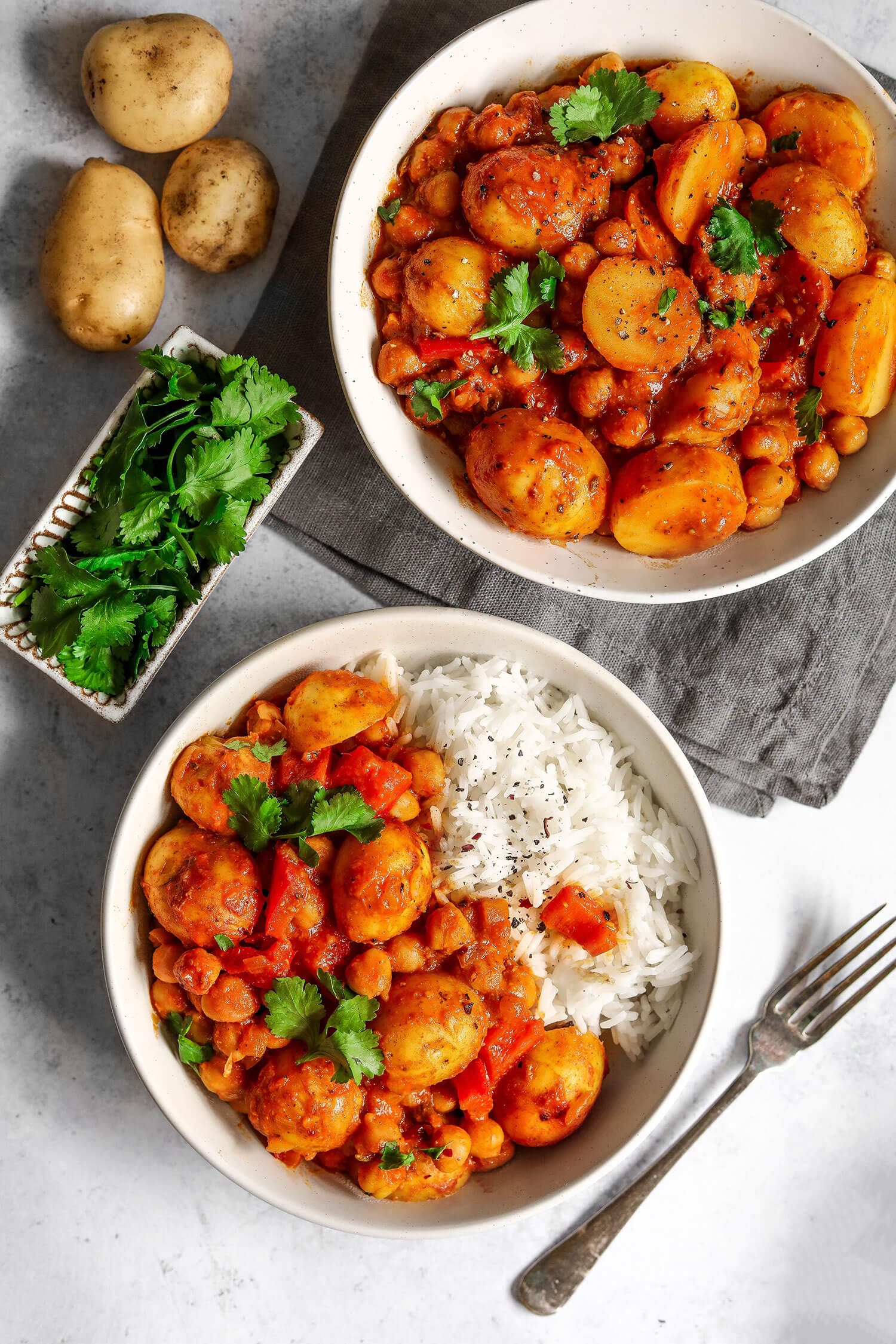 Cornish New Potato and Chickpea Curry
Serves – 4
Ingredients
500g Cornish New potatoes
1 (400g) chickpeas, drained and rinsed
1 small onion, chopped
1 red pepper, chopped
1 cinnamon stick, broken into smaller pieces
4 whole green cardamom pods
1 tsp fennel seeds
2 tbsp ginger garlic paste
1 tsp chilli powder
1 tsp ground coriander
1 tsp ground cumin
1/2 tsp turmeric
1 vegetable stock pot
2 tbsp tomato puree
1.5 cups water
1 tbsp lemon juice
Method
Wash and rub the potatoes, then slice in half.
Heat the oil in a large pan over a medium heat, then add in the cinnamon sticks, cardamom and fennel seeds. Cook for a couple of minutes, then add in the onions and cook for another 5 minutes.
Add the ginger garlic paste along with the other spices and cook for another 1 minute, then add in the potatoes, chickpeas and peppers.
Mix in the water along with the tomato puree, stock and lemon juice. Cover, bring to a quick boil, then lower the heat and leave to simmer for 35 minutes or until the potatoes are cooked through.
Serve with rice and fresh coriander. Enjoy!