Coffee Vanilla Tarts (Vegan & Gluten-free)
Creamy mini tarts filled with coffee and vanilla flavoured cream. A simple recipe that calls for few ingredients, but results in something so delicious and aesthetically-pleasing!
I'm one of those people who probably loves coffee desserts more than actually drinking coffee. Don't get me wrong, I do love a good cup of milky coffee, but there's something special about a coffee dessert. Like chocolate desserts, I like how the bitter taste of the coffee complements the sweetness of a dessert. They're especially delicious during winter months when you need something more rich, comforting and decadent.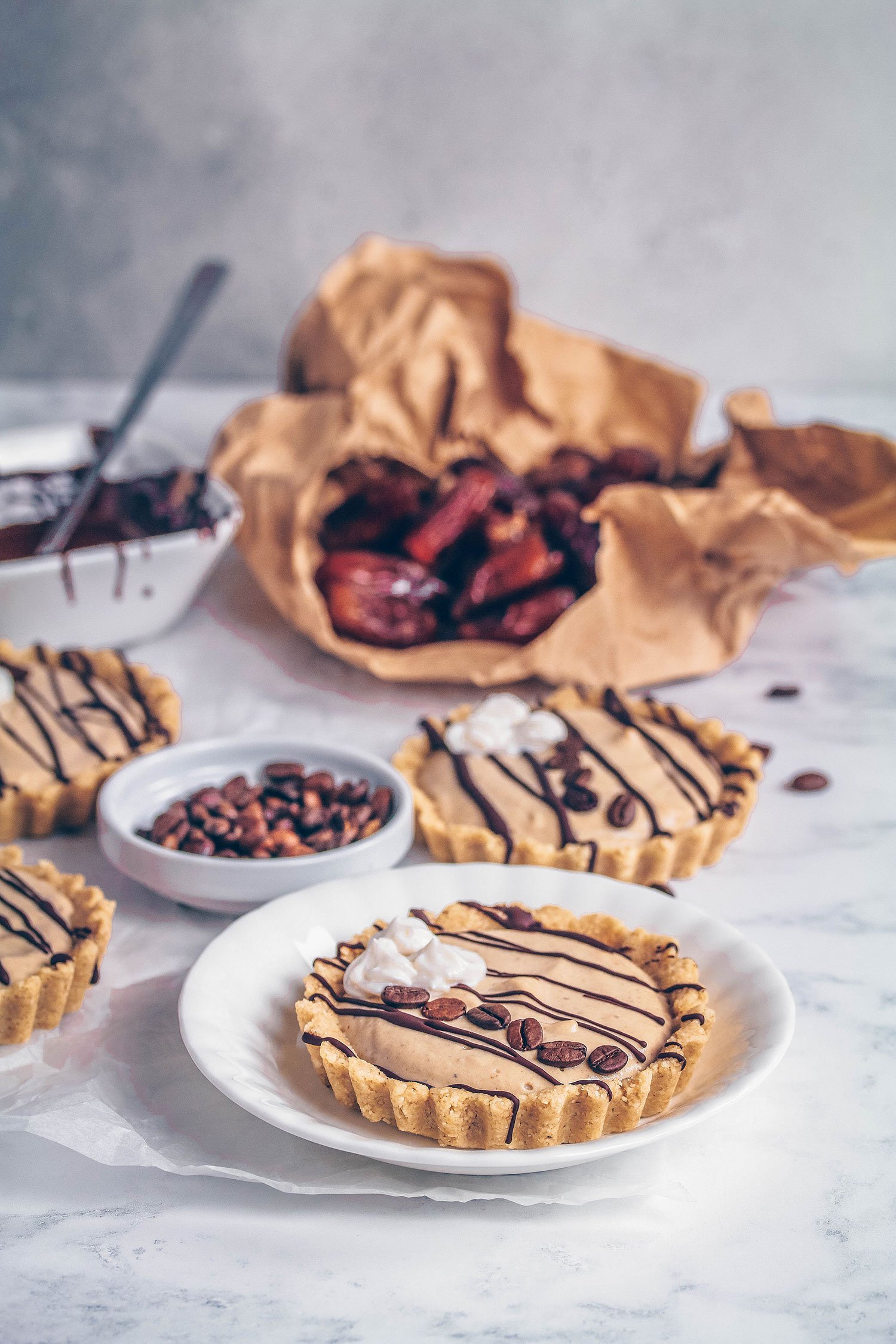 Although I no longer drink coffee, I still like a good coffee dessert. The only reason I avoid coffee and caffeine in general is because it makes my anxieties 10 times worse, so I avoid it as much as possible. However, when it comes to coffee desserts, the amount of coffee per serving is usually so small that the caffeine just doesn't have the same effect on me.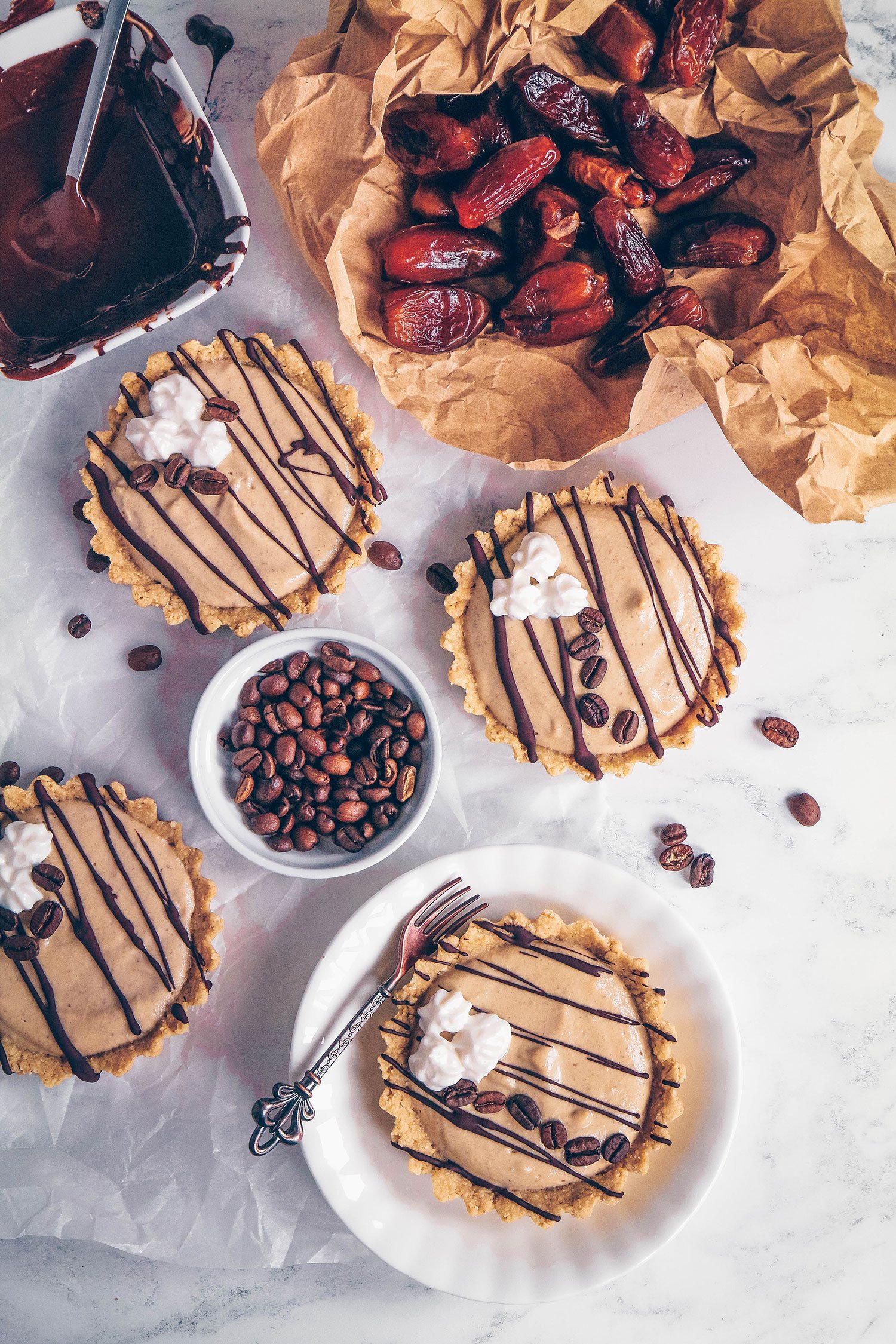 I'm working with KoRo on another recipe, this time using their soft dates, cashews and vanilla coffee. When I saw the coffee on their website, I knew I HAD to try it in a dessert recipe.
I'm really enjoying playing around with their ingredients. They just have so many products that I still want to try! Next time I'll be making homemade vegan and gluten-free Bourbon cookies! I'm so excited to share that recipe with you, so watch this space!
KoRo have kindly offered my blog readers and followers a 5% discount code on every order you make. If you would like to try any of their healthy goodies, just head over to their website use the code KOROLICIOUS at the checkout.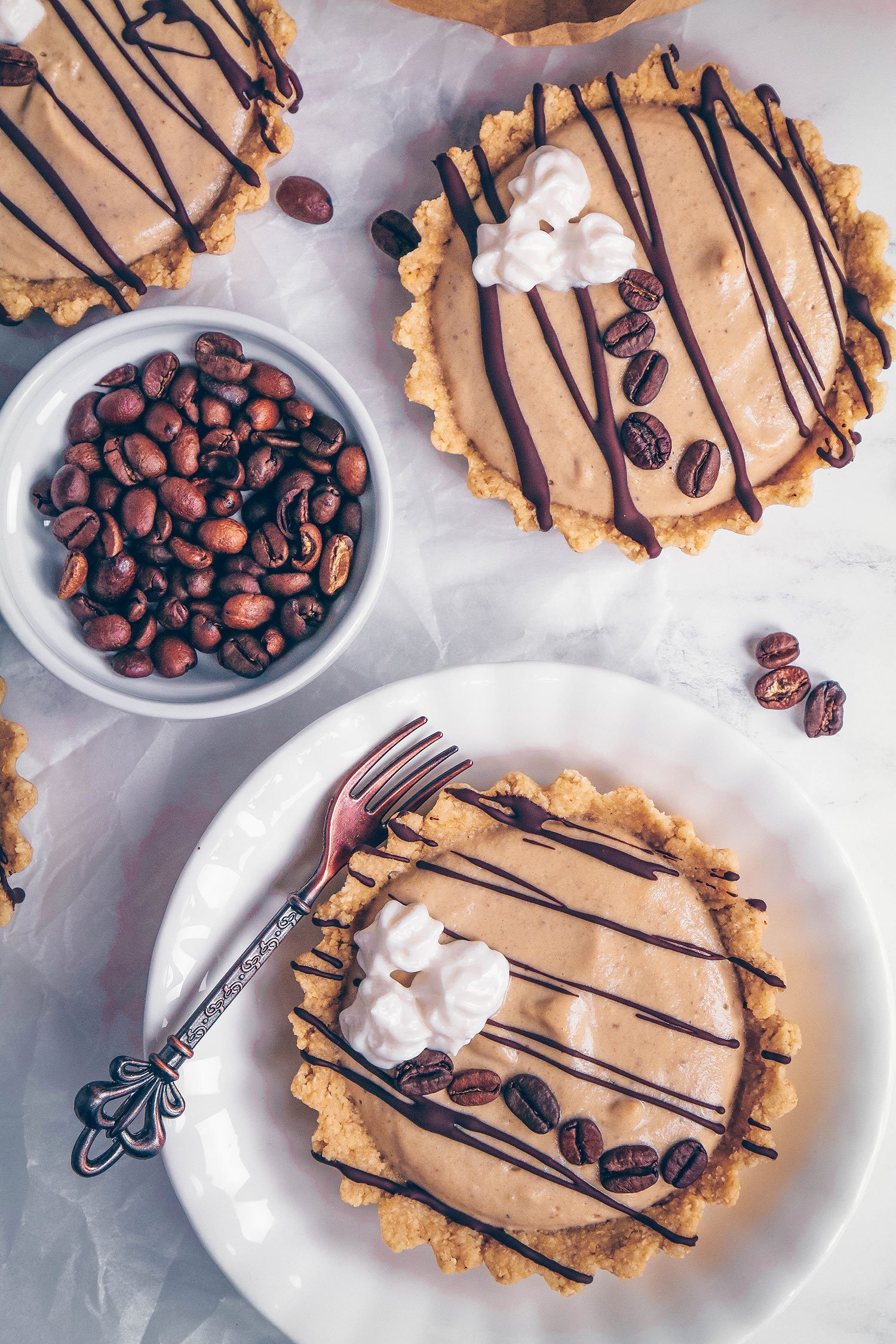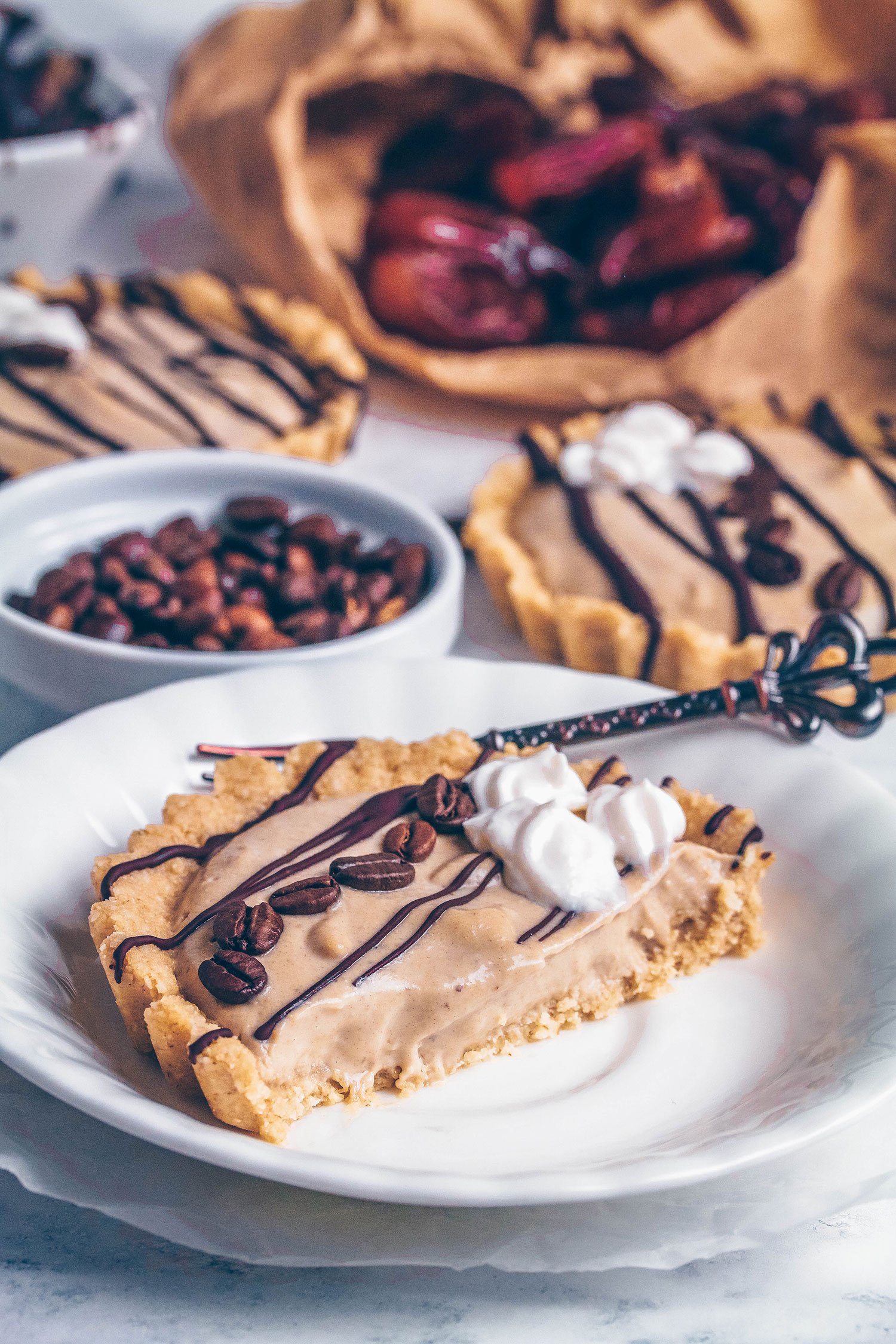 The base is made of oats, ground almonds and a bit of coconut oil and maple syrup to help the mixture hold together. The filling is made of tofu, cashews, whole dates and brewed coffee resulting in a velvety, smooth and creamy coffee goodness!
As you can see, the ingredients are fairly healthy, but just like with most of my treats, they're meant to be enjoyed in moderation. Just because they're vegan, gluten-free and contain ingredients that have some health benefits doesn't mean you should eat them everyday and definitely doesn't mean they're low in sugar, calories and fat, but that's ok! Because if you're eating well most of the time, you can indulge in a treat like this every now and then.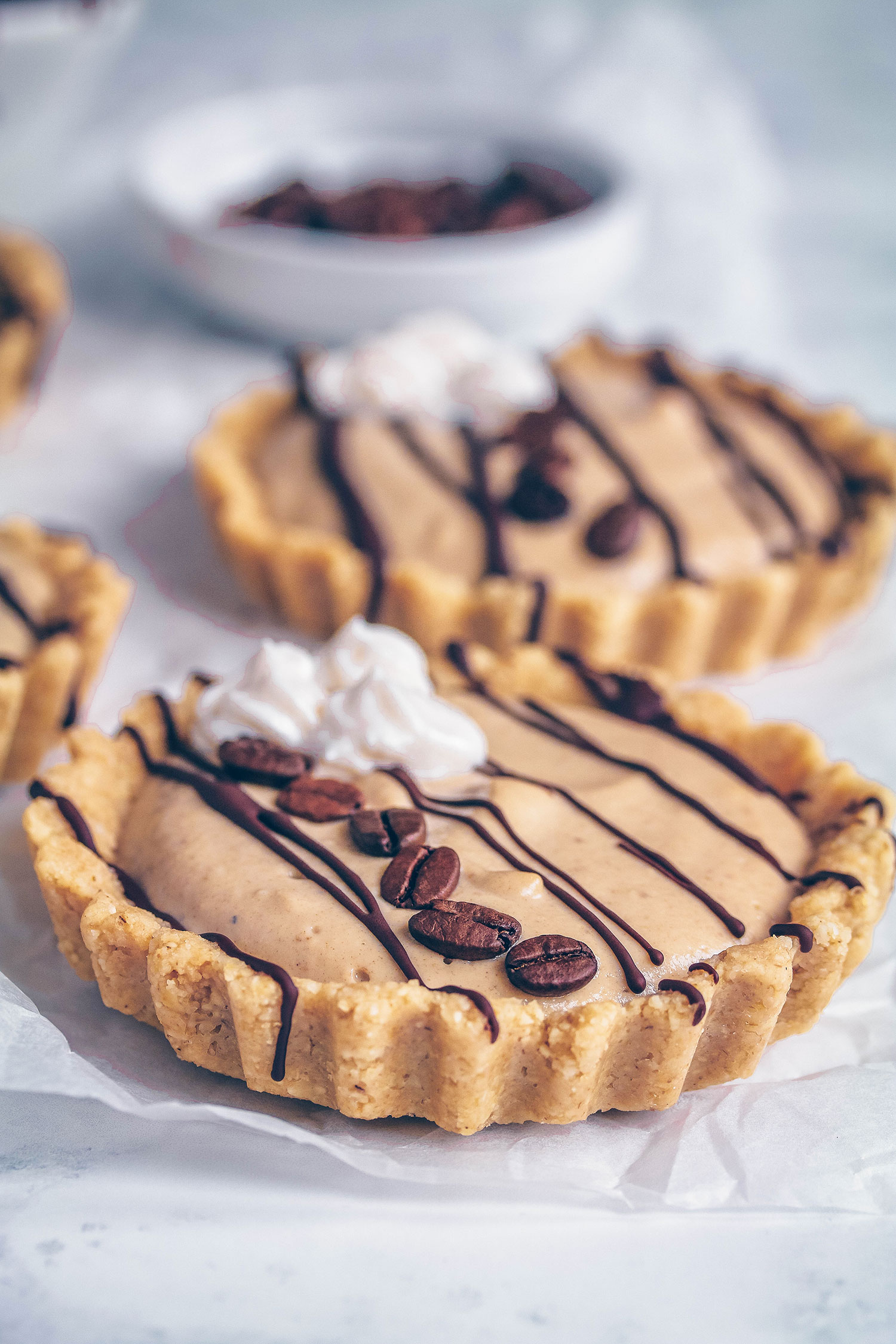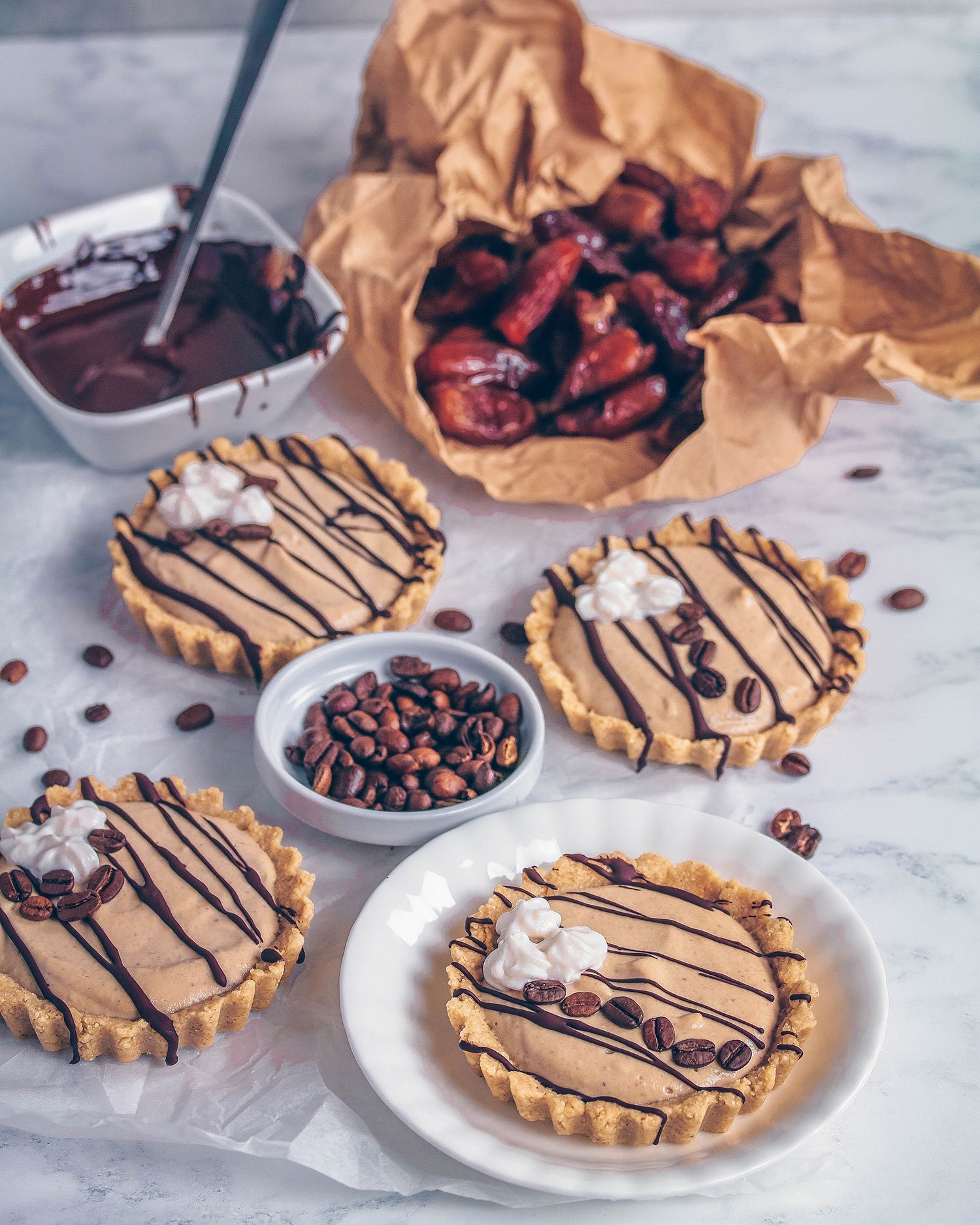 These coffee vanilla tarts would make a great after dinner treat when you have guests over. Or you could halve the recipe and make two portions for yourself (have one on the day and save the other for the next day ;))
And even though the recipe is really REALLY simple as it is, you can make it even easier by leaving out the base and simply serving the coffee cream as a mousse in dessert glasses! That's a 4 ingredient dessert for you!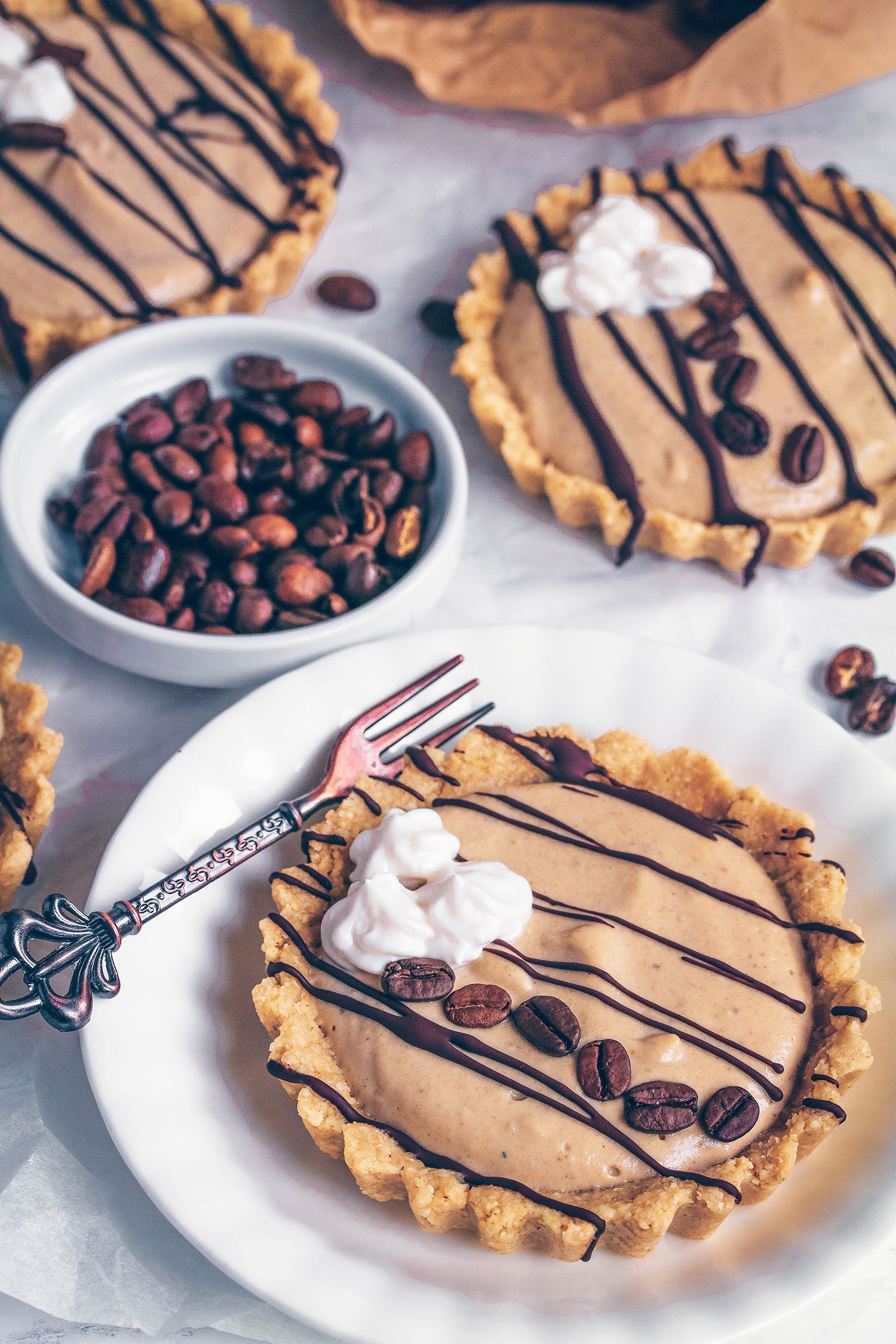 ---
Coffee Vanilla Tarts (Vegan & Gluten-free)
Makes: 4
Ingredients
1 cup (110g) oat flour
1/2 cup (50g) ground almonds
1/4 tsp salt
3.5 tbsp coconut oil
1 tbsp maple syrup
150g silken tofu
1/2 cup (70g) KoRo cashews
10 KoRo dates
1/2 tbsp KoRo vanilla coffee brewed in 1/2 cup boiling water
Method
Mix the oat flour, ground almonds and salt in a bowl, then pour over the melted coconut oil and maple syrup.
Press the mixture into mini tart tins. Freeze for 1 hour.
To make the coffee cream filling – add the tofu, cashews, dates and brewed vanilla coffee in the blender until smooth.
Take the tart cases out of the freezer and pour in the filling. Refrigerate until set (1-2 hours).
Decorate with melted chocolate, dairy-free whipping cream (optional) and whole coffee beans.
Enjoy!
---
تورتة القهوة النباتية
١ كوب دقيق الشوفان
١/٢ كوب لوز مطحون
١/٤ ملعقة صغيرة ملح
ثلاث و نصف ملاعق كبيرة زيت جوز الهند مذابة
١ ملعقة كبيرة شراب القيقب او عسل
١٥٠غم توفو سيلكين
١/٢ كوب كاجو
١٠ حبات تمر
١/٢ كوب قهوة قوية
الطريقة
امزج دقيق الشوفان واللوز المطحون والملح في وعاء، ثم ضف زيت جوز الهند المذاب وشراب القيقب.
ضع المزيج في قوالب تورتة صغيرة. جمد لمدة ساعة.
إضف التوفو، الكاجو، التمر والقهوة في الخلاط.
صب في قوالب التورتة ثم ضع في الثلاجةلمدة ١–٢ ساعات
زين مع الشوكولاته مذابة خالية من الألبان و كريمة نباتية (اختياري)
الف عافية
---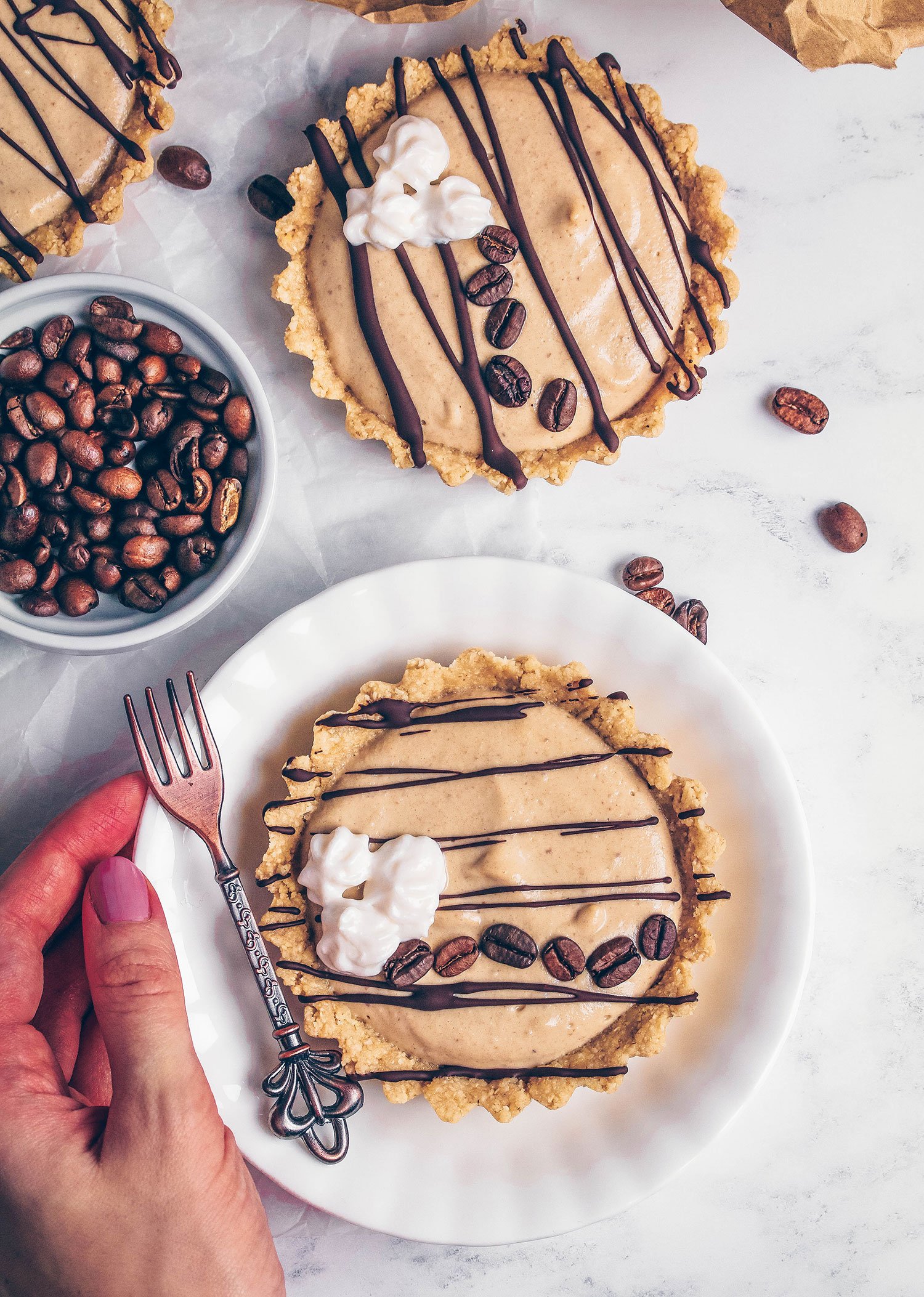 Thanks to KoRo for sponsoring this post. Commissioned posts is how I'm able to continue working on the blog and creating recipes and recipe videos for you. As always, all opinions are my own.
Share This Post