Chocolate Crumpets Vegan & Gluten-free with Salted Caramel Spread
Crumpets are such a quintessential British tea time treat. Griddle cakes that look like pancakes and cooked like pancakes only they're thicker, spongier/chewier and full of holes!
You'll find this treat in many British households, usually shop bought as the idea of making homemade crumpets seems so daunting and definitely a lot of work. That's what I thought anyway until I tried them myself. You do have to wait for the dough to rise, like with any homemade yeasted bread, but once that's done there isn't much to it!
I know you can now buy gluten-free crumpets, but they're not vegan. I wanted to create a version that both vegans and anyone with a gluten allergy can enjoy.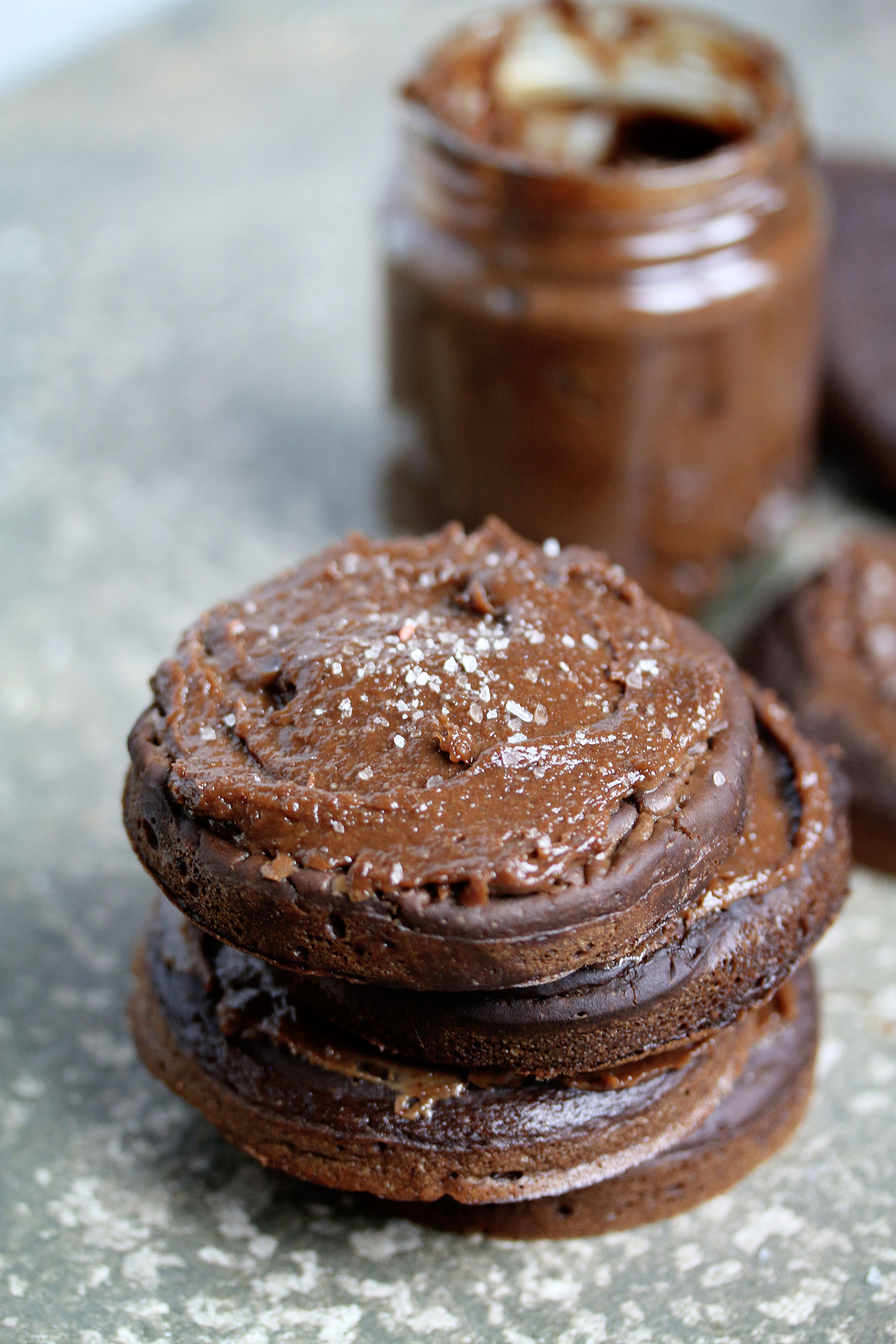 Even if you prefer buying your crumpets to save time and hassle (and because you can literally get them anywhere!), chocolate crumpets are definitely not readily available. So if you want one, you need to make one, but trust me when I say it's worth the effort! Crumpets are delicious the way they are, but adding chocolate to the batter only makes them that more delicious, no question about it! Top it off with a generous layer of homemade salted caramel spread and you have yourself one heck of a treat 😀
I used Love Cocoa Sea Salt Dairy-free Organic Chocolate in the batter as well as some cocoa powder to make them extra chocolaty! Their Sea Salt bar was a perfect way to add a hint of saltiness to complement the salted caramel spread I made to go with the crumpets. Chocolate + salted caramel really is such a decadent combination!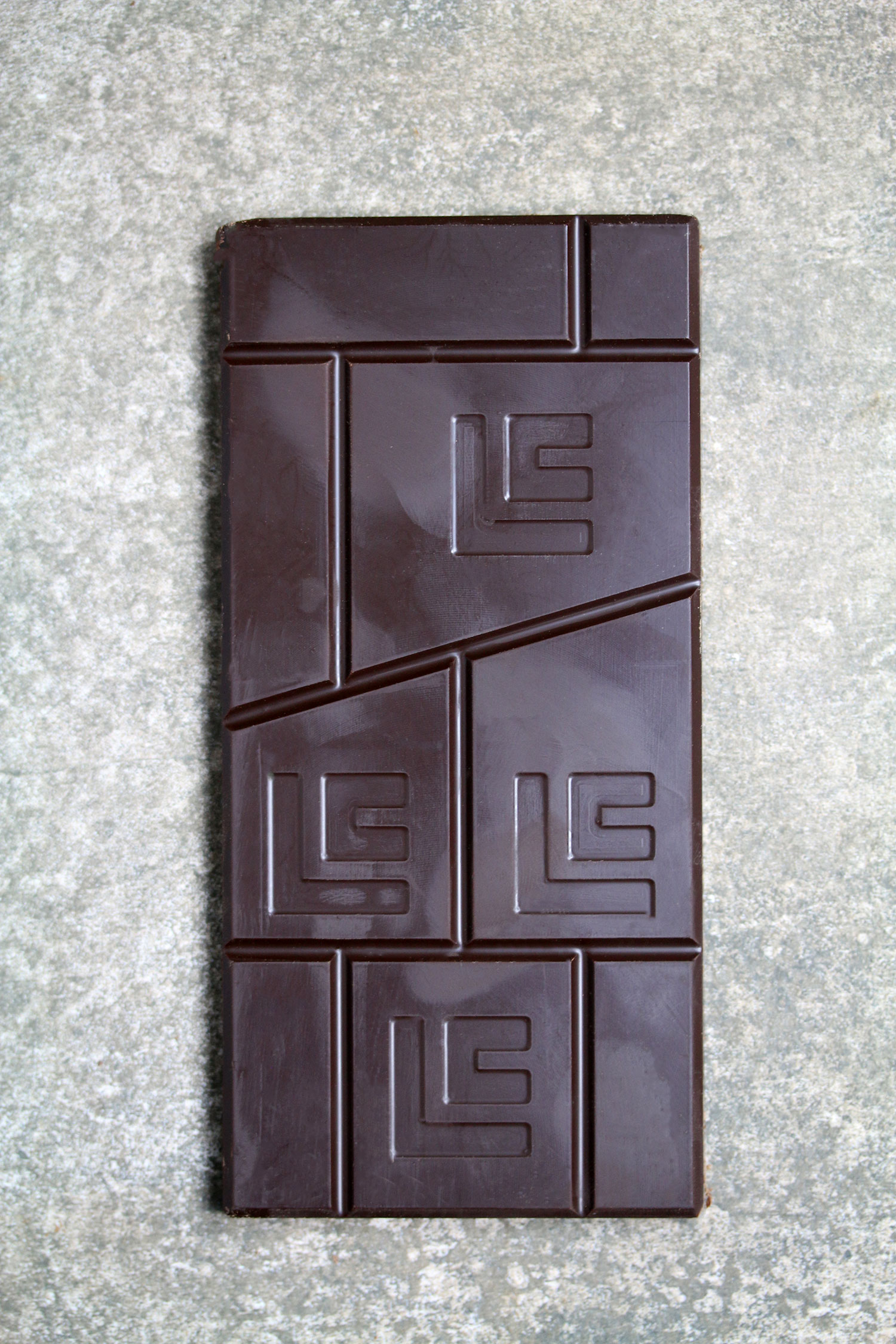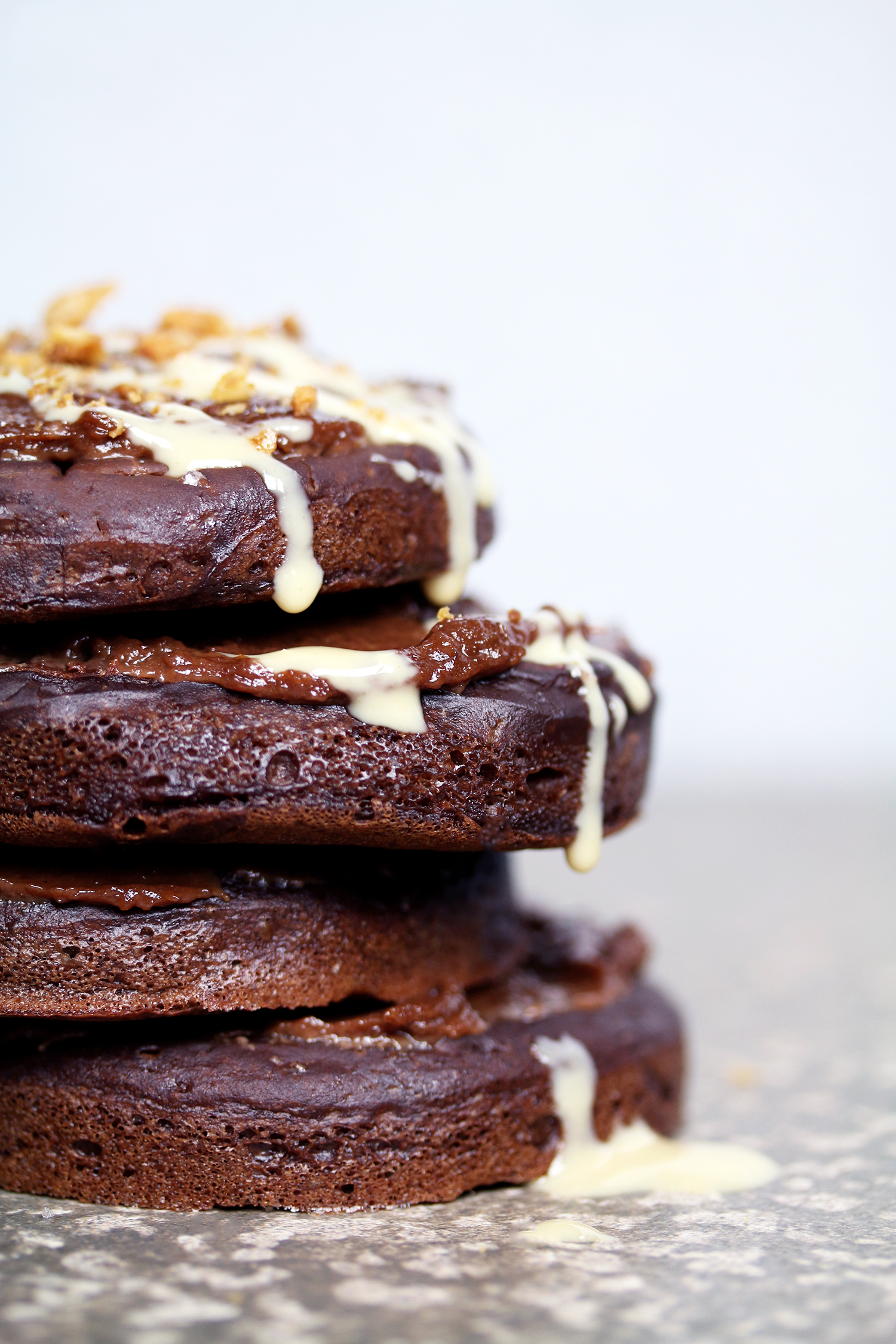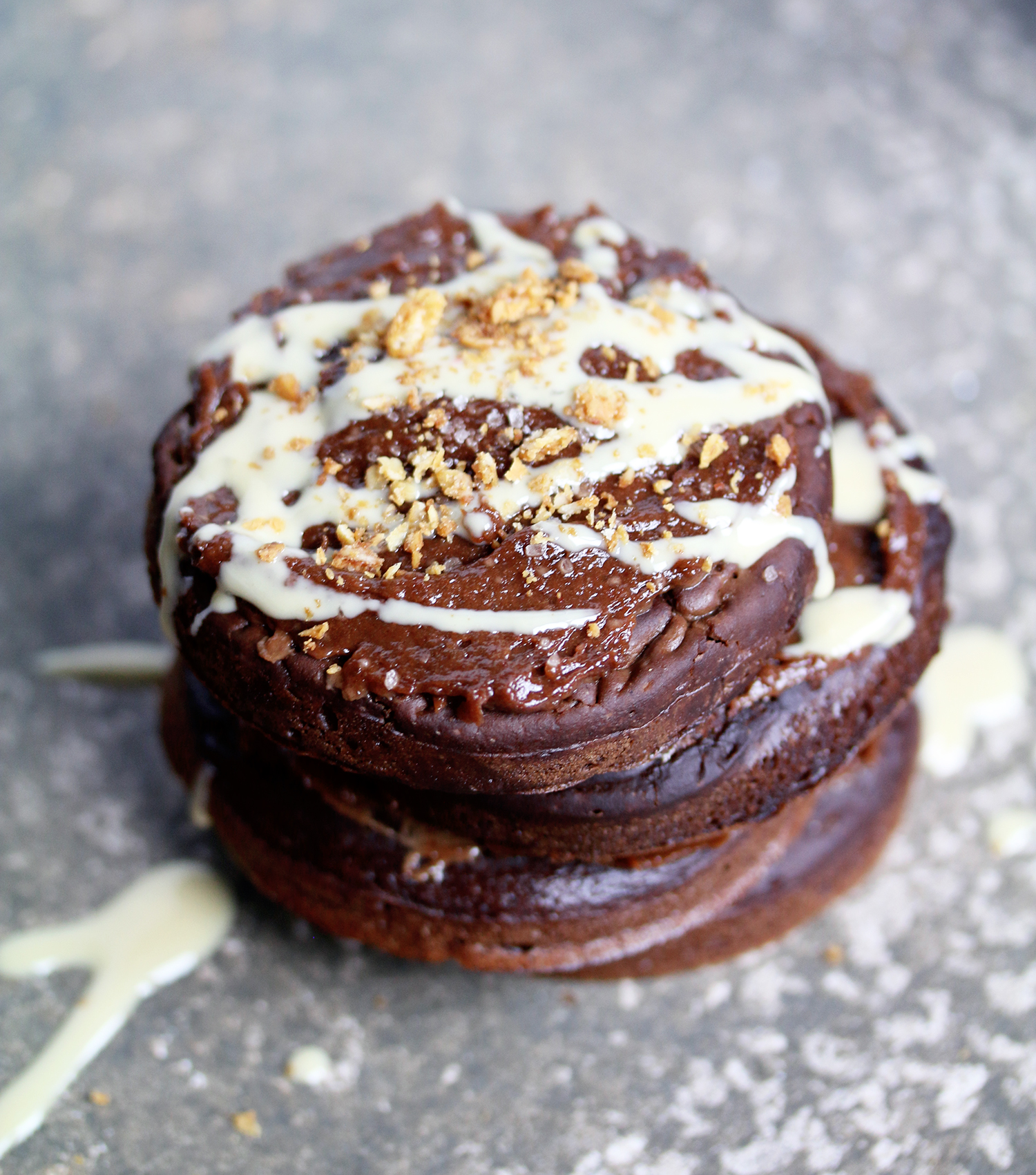 The only thing these vegan & gluten-free chocolate crumpets are missing are those classic pores, which to be honest I never liked! I've always been fascinated and somewhat disgusted by clusters of little holes. I'm not sure why, but I can stare at them for ages with mixed emotion. I don't like the look of them but I don't want to stop looking at them. Yes, I'm weird like that. Don't judge me! 😛
Luckily for me, but not so lucky if you like the classic crumpet look, my version didn't end up having those trademark pores. The combination of them being vegan and gluten-free meant they didn't have that traditional crumpet look. The taste and texture however is spot on!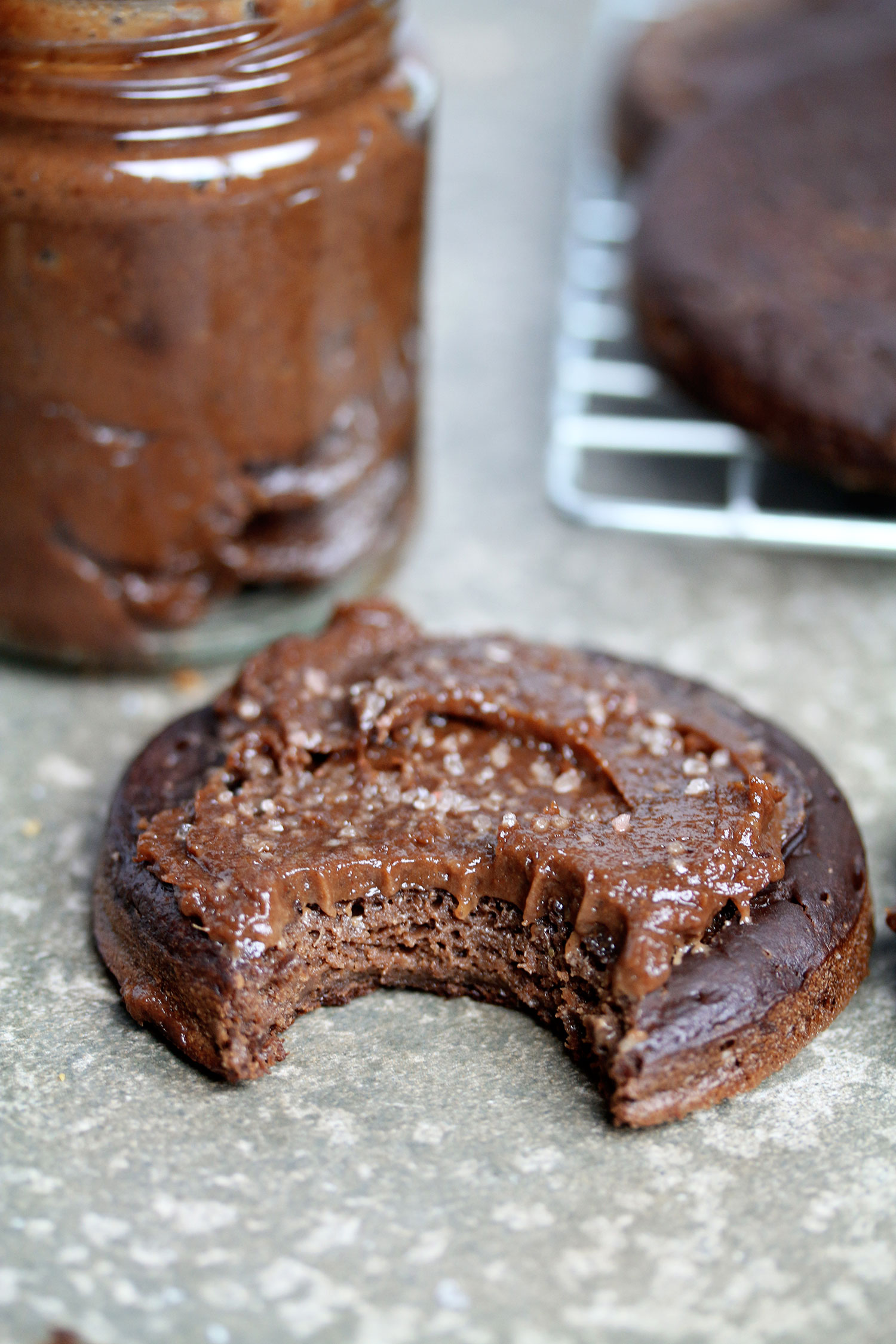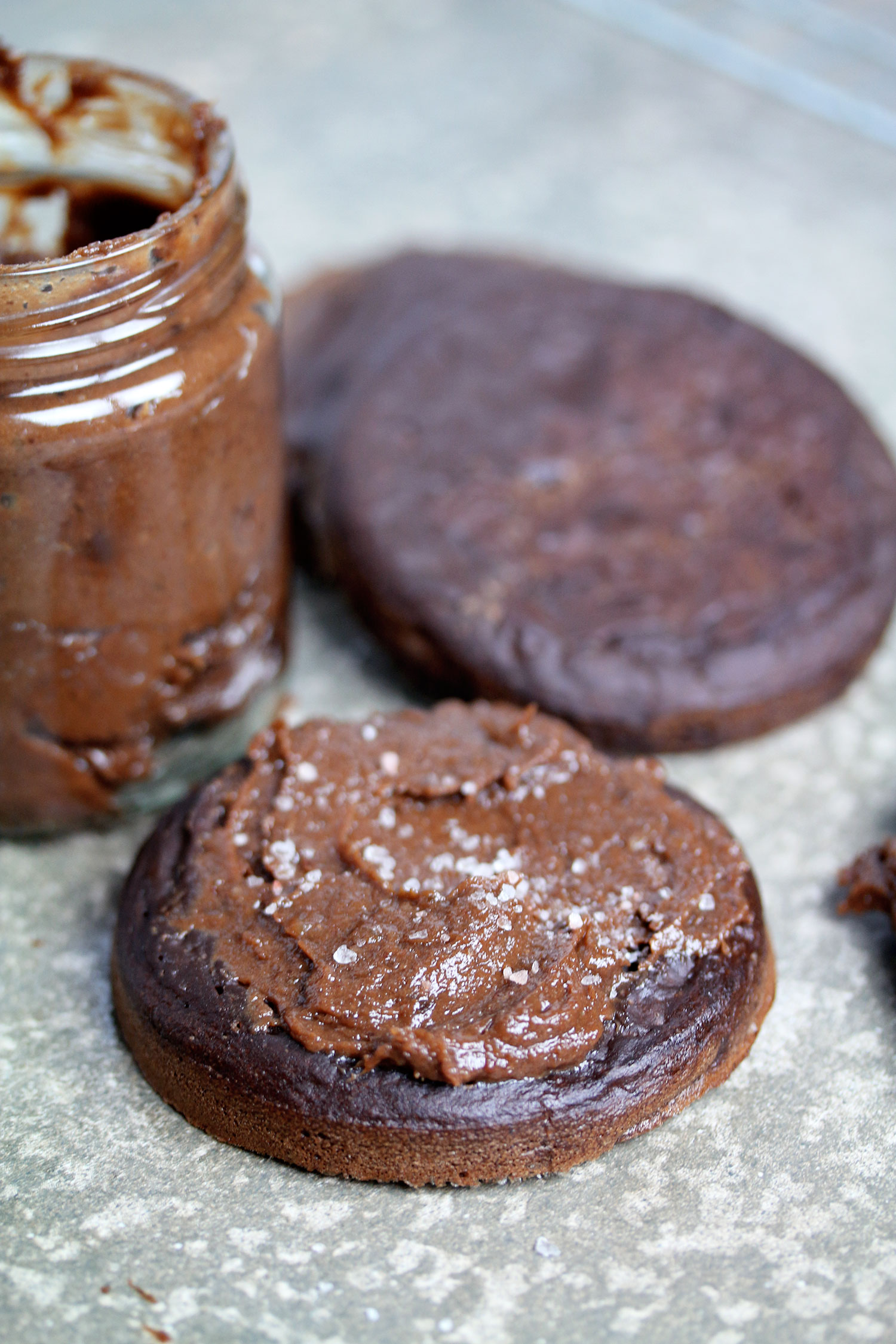 ---
Chocolate Crumpets Vegan & Gluten-free with Salted Caramel Spread
Chocolate Salted Caramel Crumpets:

Ingredients:
100g Gluten-free Bread Flour*
5 tsp cocoa powder
¼ tsp baking powder
¼ tsp xanthan gum
¼ tsp salt
½ tsp fast action dried yeast
1 tbsp sugar (don't use a sugar-free alternative as the yeast needs it to help the batter rise)
1 tbsp oil
250ml milk of choice, warmed
30g Love Cocoa sea salt dark chocolate
Method:
In a bowl, sift in the flour, cocoa, baking powder, xanthan gum and salt.
Add in the sugar and yeast. Mix to combine.
Pour in the oil and start adding in the warm milk slowly while mixing. Make sure there are no lumps of flour in the batter.
Cover with cling film and a towel. Leave to rise overnight in a warm place.
Heat a little bit of oil in a frying pan over a low/medium heat and lightly oil crumpet rings.
Place the crumpet rings in the pan and add about 2 tbsp of the batter into each of the rings. Cook for 10 minutes, flip and continue cooking for another 1 minute. Transfer onto a cooling rack.
For the salted caramel spread:
140g soft dates
4 tbsp almond butter (you can also use cashew butter)
50g Love Cocoa sea salt dark chocolate
65ml milk of choice
Blend all the ingredients together until smooth.
*If you don't have a problem with gluten, you can substitute the gluten-free flour with plain flour and leave out the xanthan gum.
---

This post was commissioned by Love Cocoa, however; all opinions are my own.