Cherry Chocolate Ice Cream Sandwiches
This is my first ice cream recipe this summer. Can you believe it?! Why has it taken me so long to finally get my act together and create an ice-cream recipe? I guess it's because the weather has been so up and down, one day it's glorious and sunny, the next it's rainy and gloomy.
I love ice cream, but do you know what I love even more than ice cream? ICE CREAM SANDWICHES! I love balancing out the smooth, silkiness of ice cream with the more solid texture of a 'cookie'. I say cookie but the base for these cookie sandwiches are basically made out of dates, cashews and cocoa powder. No baking required!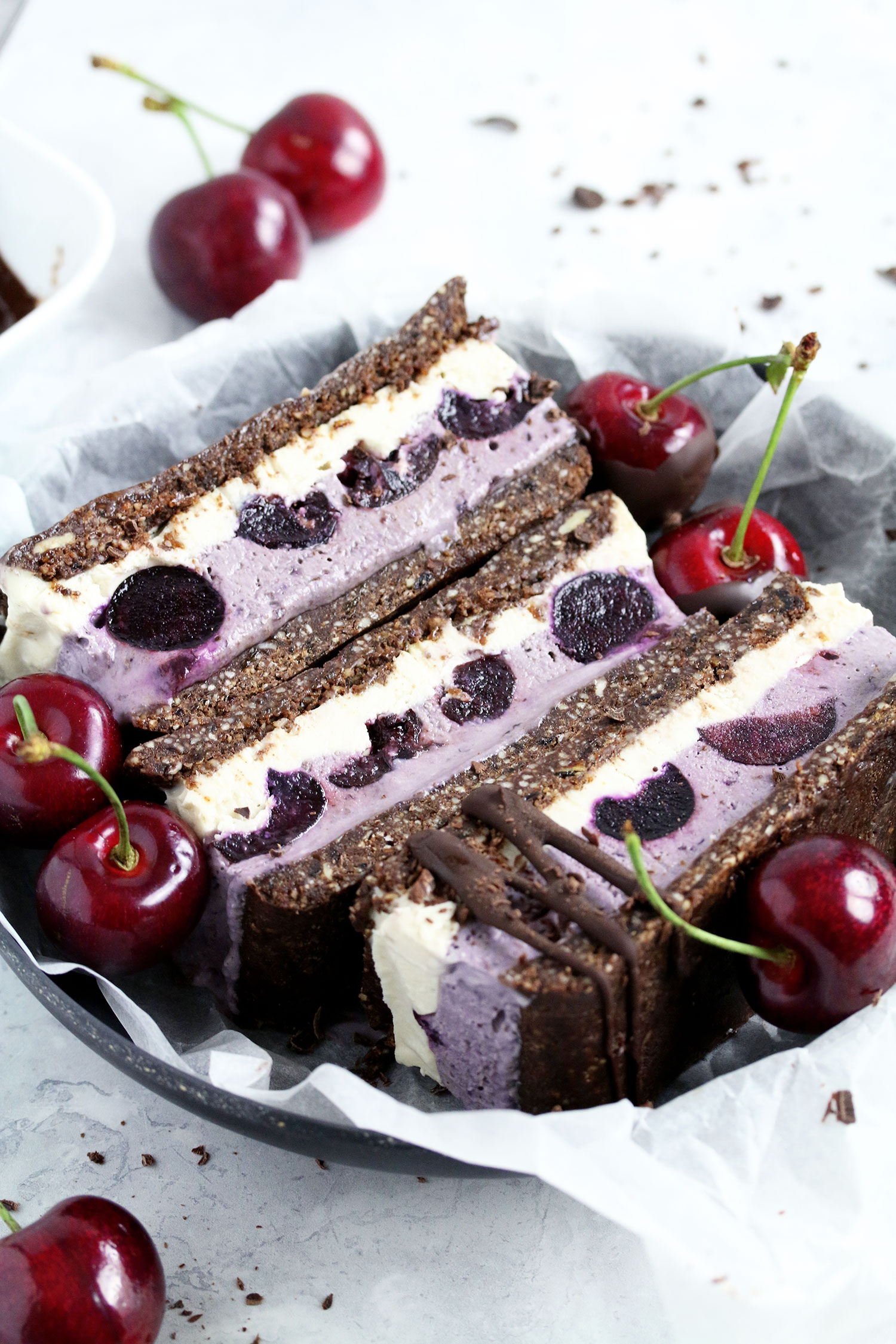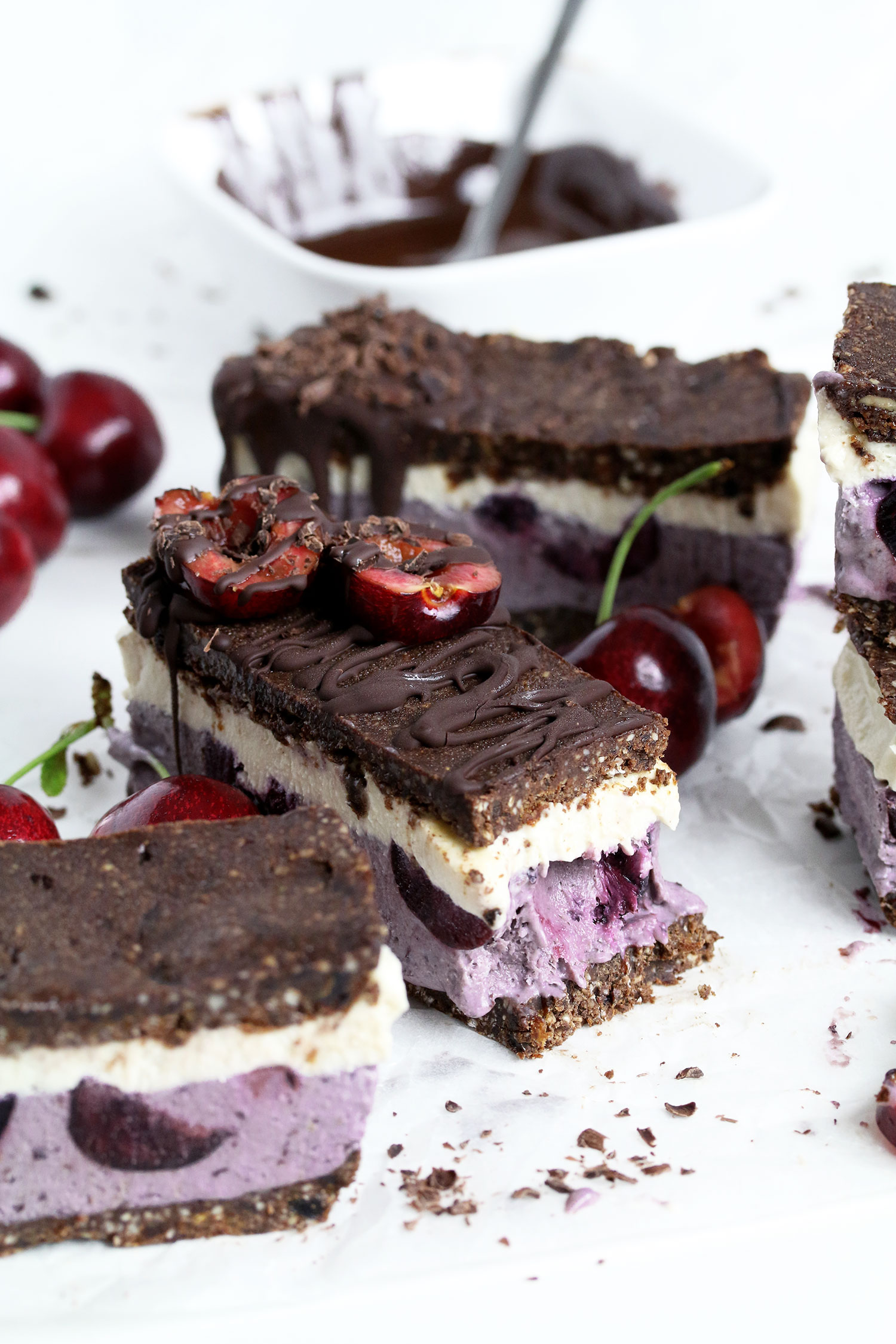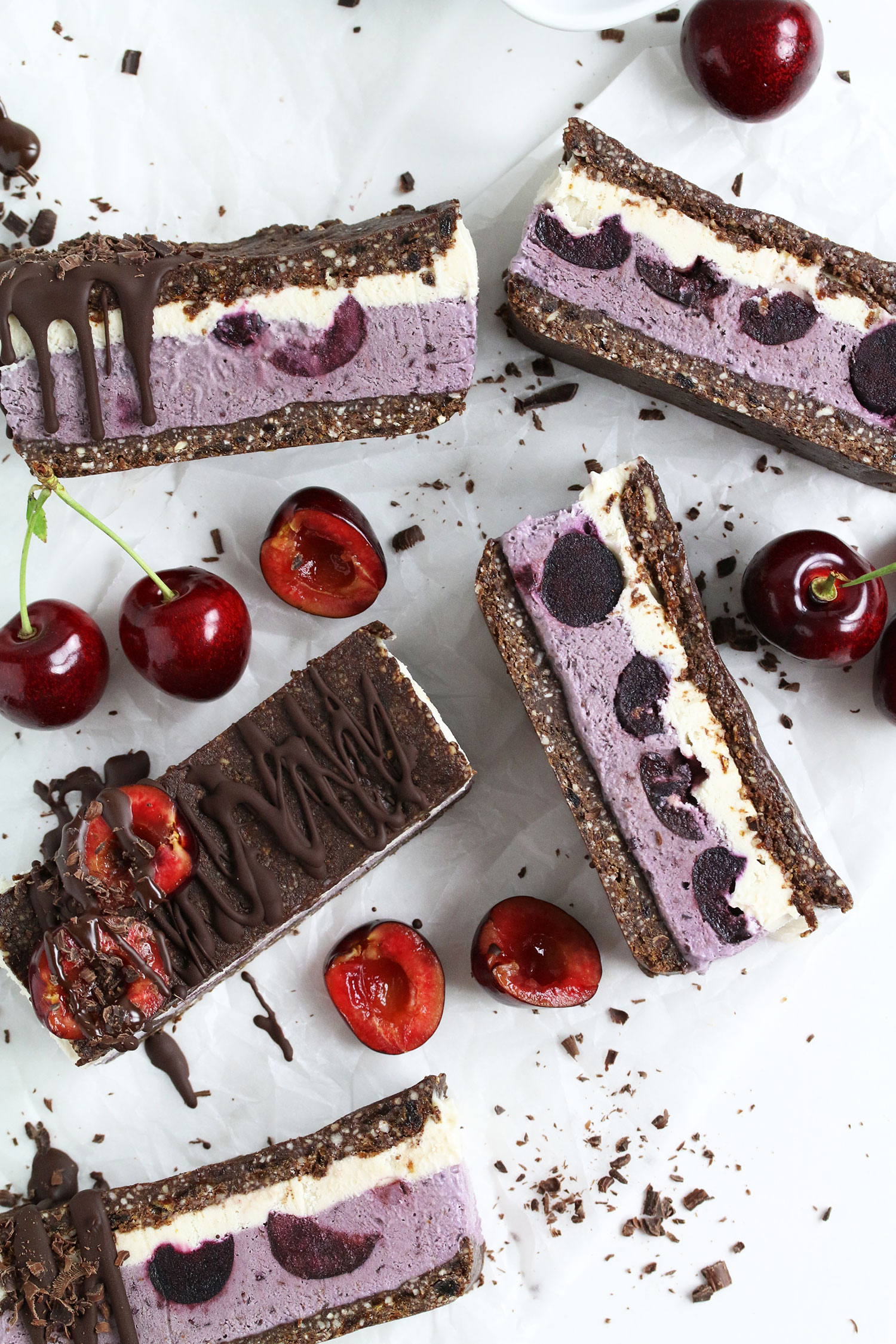 I've teamed up with Waitrose to create a summer recipe using their cherries. They're the perfect ingredient for a summer treat in my opinion since cherries are now in season and at their best. Also because of the fact that I'm REALLY into cherries at the moment. They're definitely my favourite berry 😀
Waitrose are the only supermarket to guarantee that all their fruit and vegetable growers are LEAF Marque certified to ensure strong environmental standards. LEAF stands for Linking Environment And Farming and is a guarantee that the producer operates in an environmentally responsible way.
Certified growers employ responsible farming techniques, including crop rotation, wildlife habitat creation, such as leaving the edges of fields and hedgerows wild and limiting the use of chemical fertilisers and pesticides.
I'm all for using wholesome, affordable ingredients that are produced to environmentally and socially responsible standards!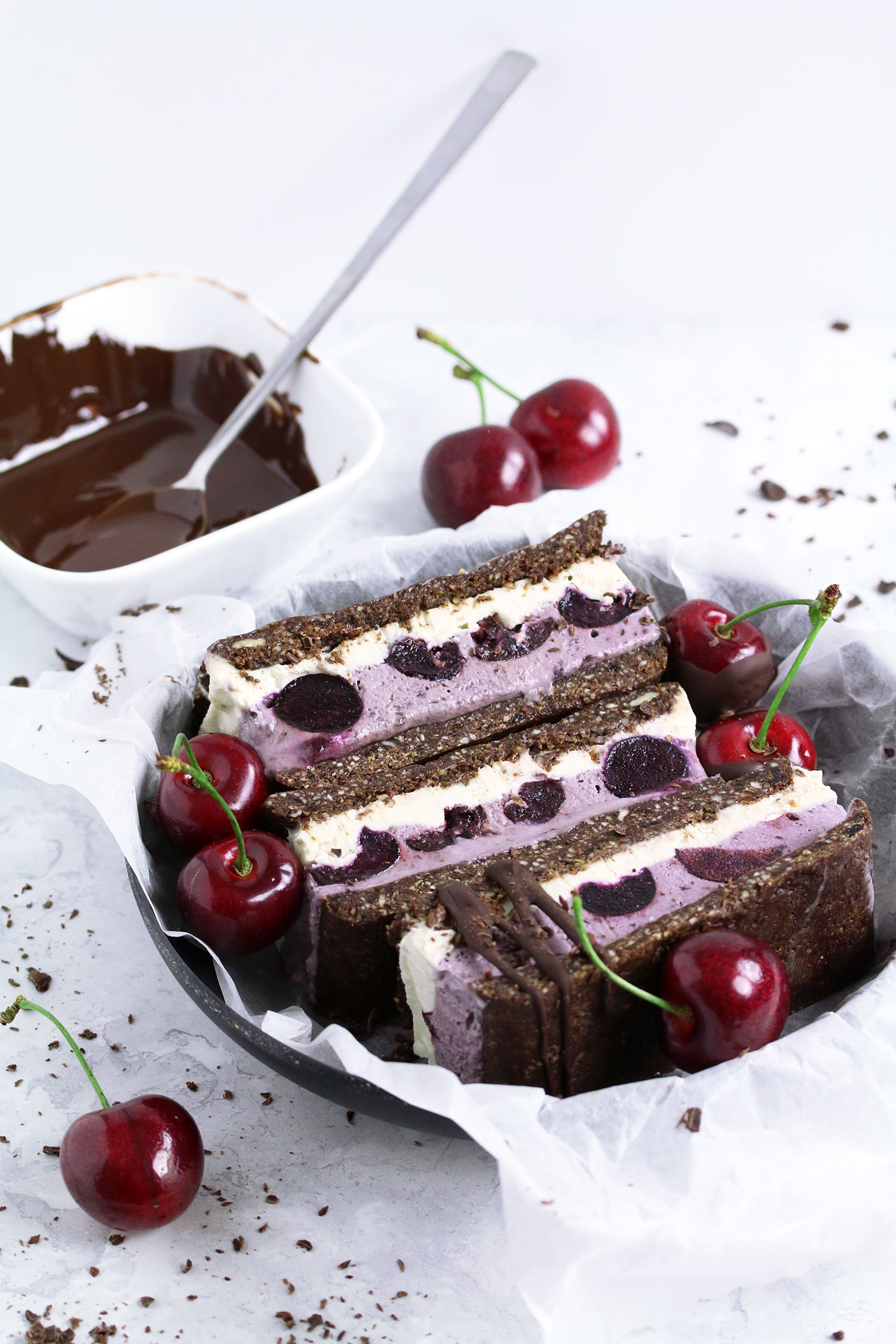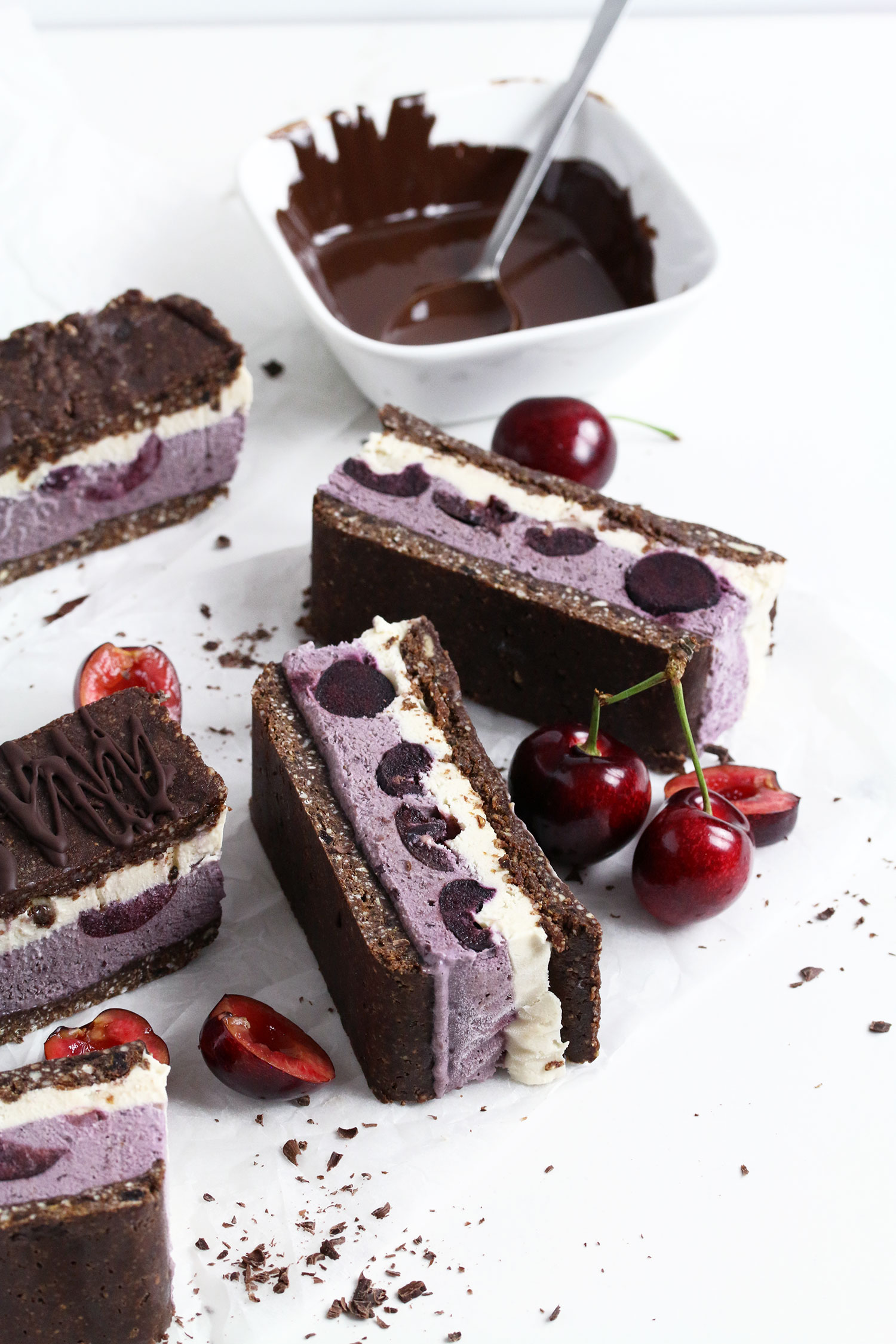 The first thing that comes to my mind when thinking of cherry recipes is the urge to pair it with chocolate. Cherries go so well with chocolate. Black forest gateau is a great example of the perfect union between those two complex flavours. I could have gone for the obvious option and created a gateau, but I wanted to create a chocolate cherry recipe with a twist. Something that I hadn't tried before. A treat for the eyes and the flavour buds.
So here I present to you…my cherry chocolate ice cream sandwiches!
Two layers of ice cream, one cherry and one vanilla, sandwiches between two slabs of chocolaty goodness. All vegan, gluten-free and super easy to make! No baking or churning involved. All you need is a blender and a loaf tin.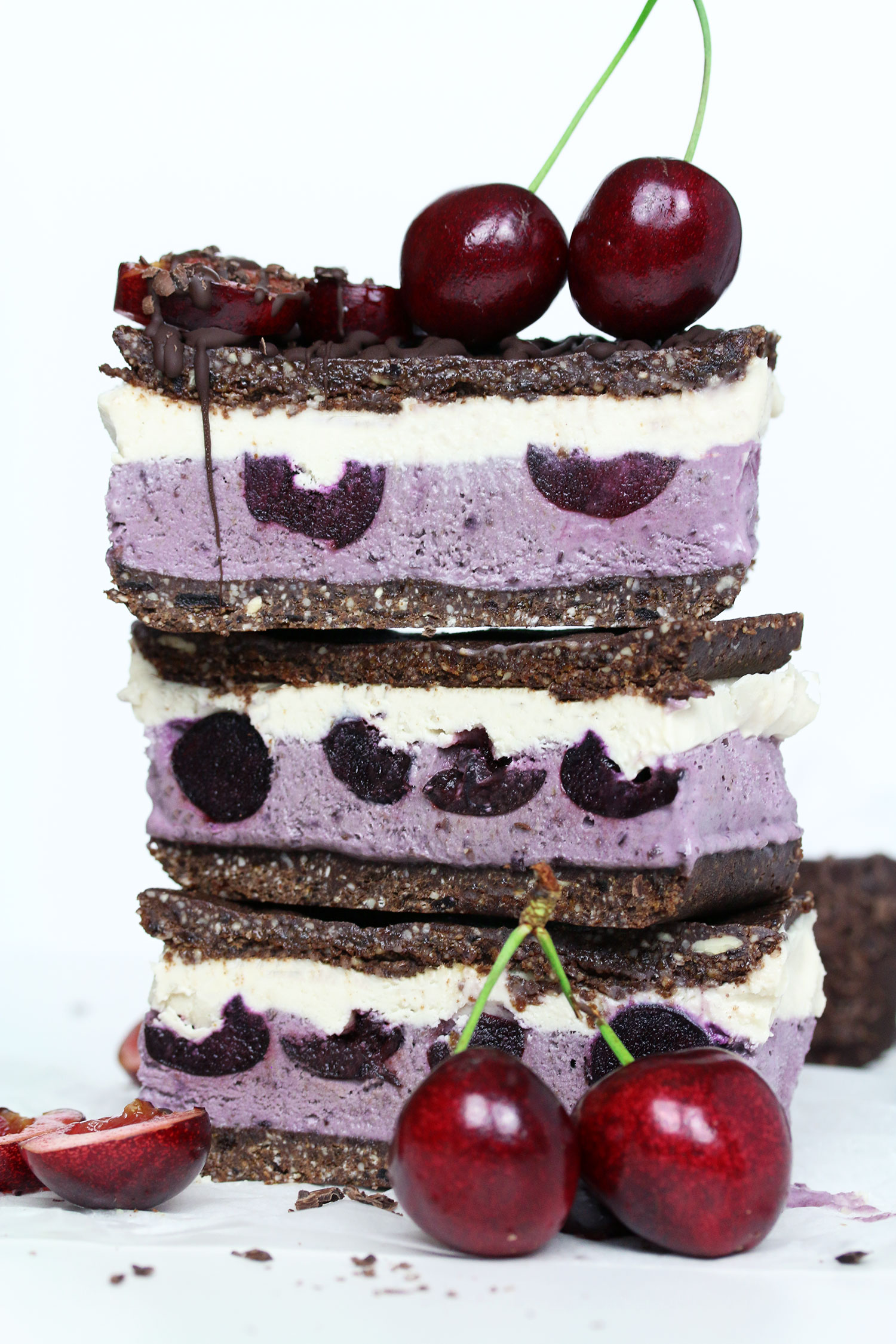 ---
Cherry Chocolate Ice Cream Sandwiches
Makes: 8
Ingredients:
For the chocolate cookie layer
1 cup (140g) soft dates
1 cup (130g) cashews
3 tbsp cocoa powder
1/4 tsp salt
2 tbsp coconut oil
For the ice cream layer
1 x 400 can full fat coconut milk refrigerated overnight – use the solid part of the coconut milk only
1 cup (130g) cashews
1 cup (140g) Waitrose cherries, halved + another handful
4 tbsp maple syrup
1/2 tsp vanilla paste or extract
Method
Blend all the cookie ingredients together until you have a dough consistency. I find it easier to blend the dates first, and then the cashews separately first before adding them together and blending again with the rest of the ingredients to combine.
Divide into 2 equal halves. Press one half into the base of a 22×12 cm loaf tin lined with parchment paper. Remove and leave to the side (this will be used to top the ice cream sandwiches). Repeat this step using the other half of the dough, but this time don't remove it from the bottom of the tin.
Scoop out the solid part of the coconut milk and discard the liquid. Add to your blender together with the cashews and maple syrup. Blend until smooth.
Pour half the mixture into a bowl and mix in the vanilla paste/extract. This will make the vanilla layer. Set to the side while you make the cherry layer.
Add the cherries to the blender and blend until smooth.
Pour the cherry mixture into the pan and top with a handful of cherry halves. Place in the freezer for an hour to set.
Take out and spread the vanilla layer on top. Gently place the second half of the cookie layer on top. Return to the freezer and allow to set for 4 hours.
Using a hot knife (carefully pour a little bit of boiling water onto the knife blade), slice into sandwiches.
Enjoy!
---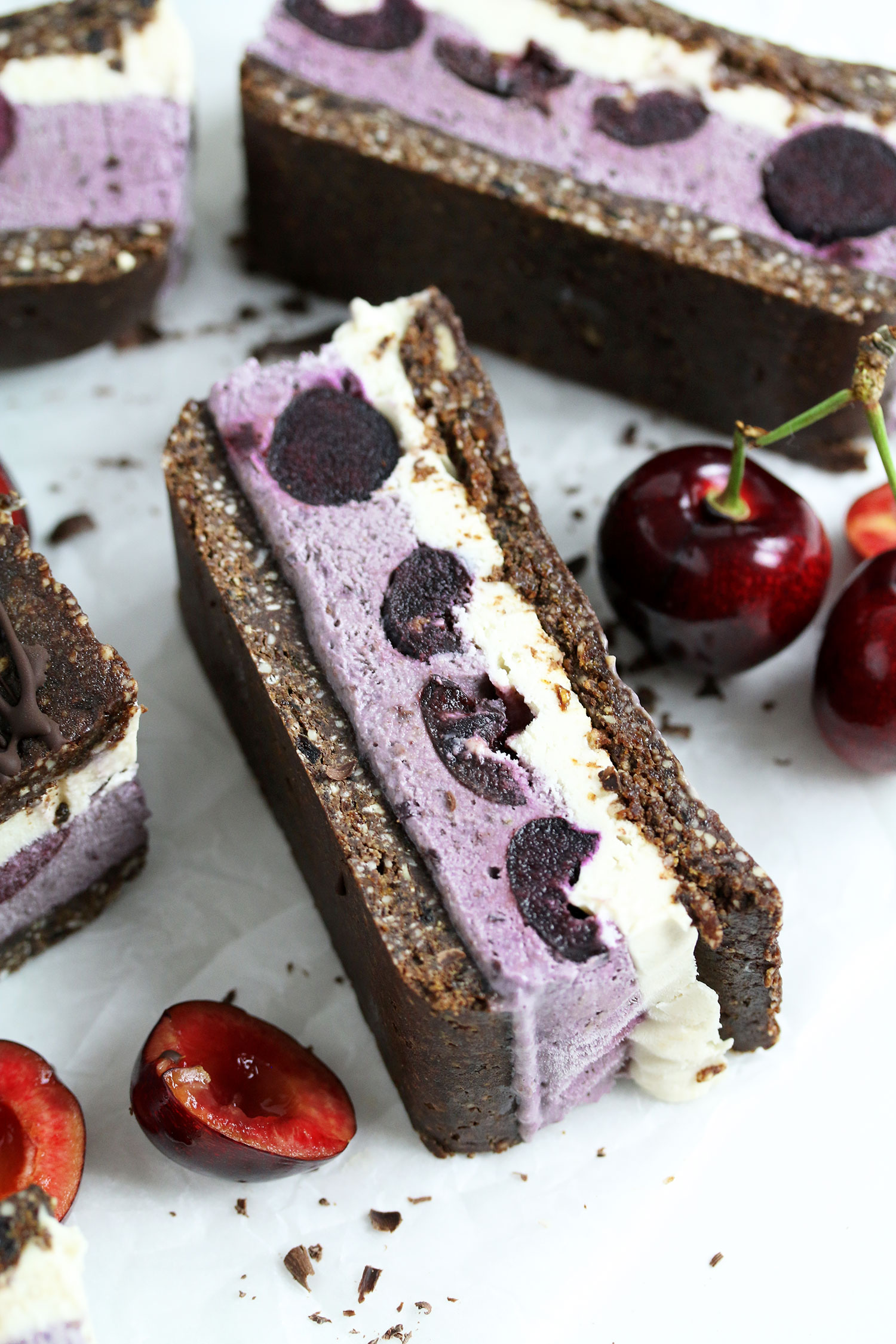 Thanks to Waitrose for sponsoring this post. Commissioned posts is how I'm able to continue working on the blog and creating recipes and recipe videos for you. As always, all opinions are my own.