California Walnut Tomato & Tofu Quiche
A delicious and filling California walnut tomato & tofu quiche in a crumbly oat & walnut crust topped with beautiful orange, yellow and red baby tomatoes. If you're looking to impress vegans and meat-eaters alike with a scrumptious dish that's completely plant base, you NEED to make this!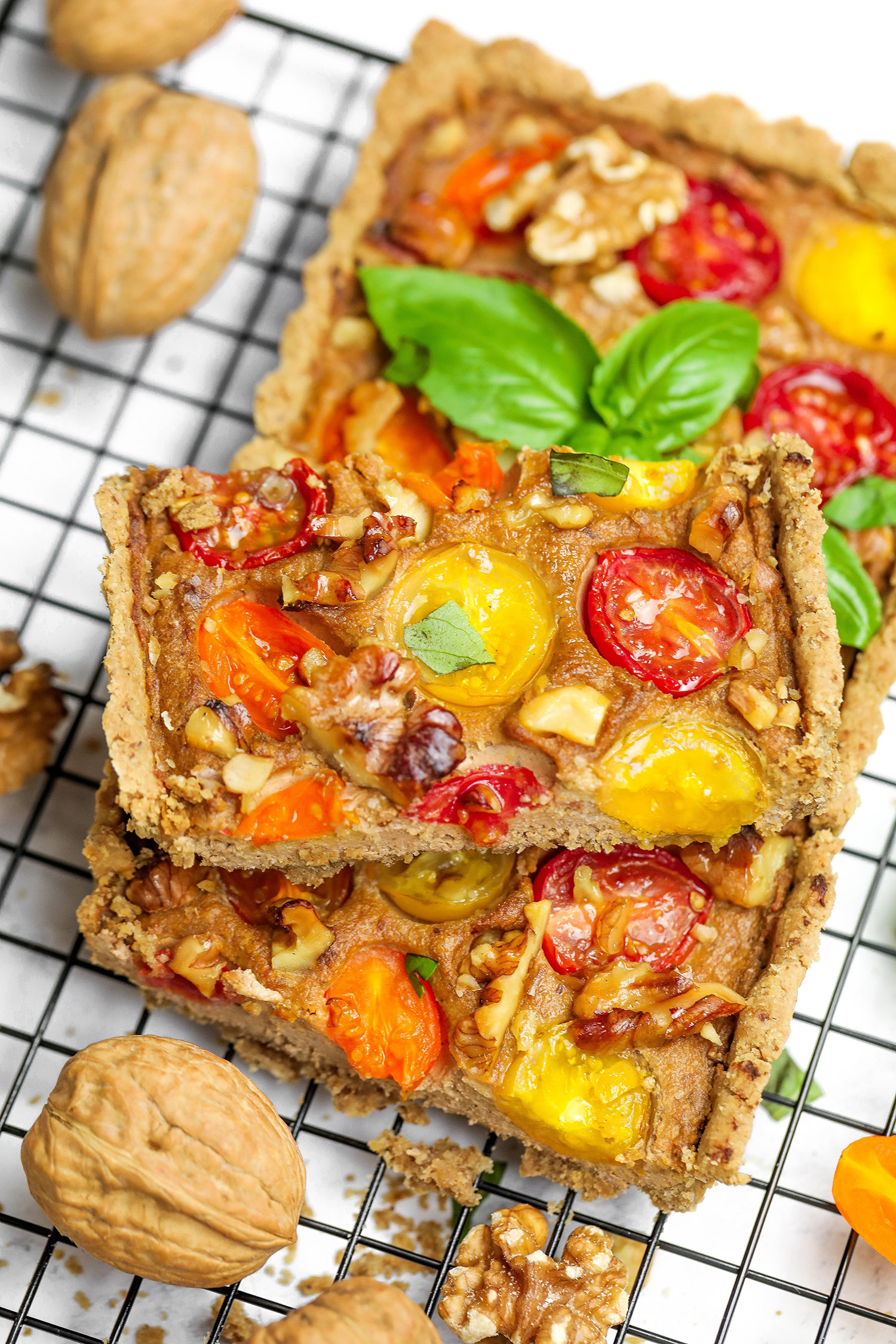 Now that the weather is getting cooler and the days are becoming shorter, I'm turning to baking for a source of comfort. I've also been inspired to bake more because of the Great British Bake Off. If you're a fan of baking you will most likely be following along and would have seen that last week was the first ever vegan week on the show. It was really exciting to watch and I was so intrigued to see what the bakers came up with, especially since none of them seemed to be familiar with vegan baking. The signature challenge was to create vegan short crust pastry and a couple of the bakers opted to use tofu as a filling. It's amazing to see more and more people becoming interested in plant-based food and generally cutting down on animal products. Definitely a move in the right direction.
I'm really enjoying experimenting with walnuts at the moment. Last week I created this walnut soda bread, and this week I'm sticking to the savoury theme and making a delicious egg-free quiche. Completely plant based, high in protein and packed with healthy fats.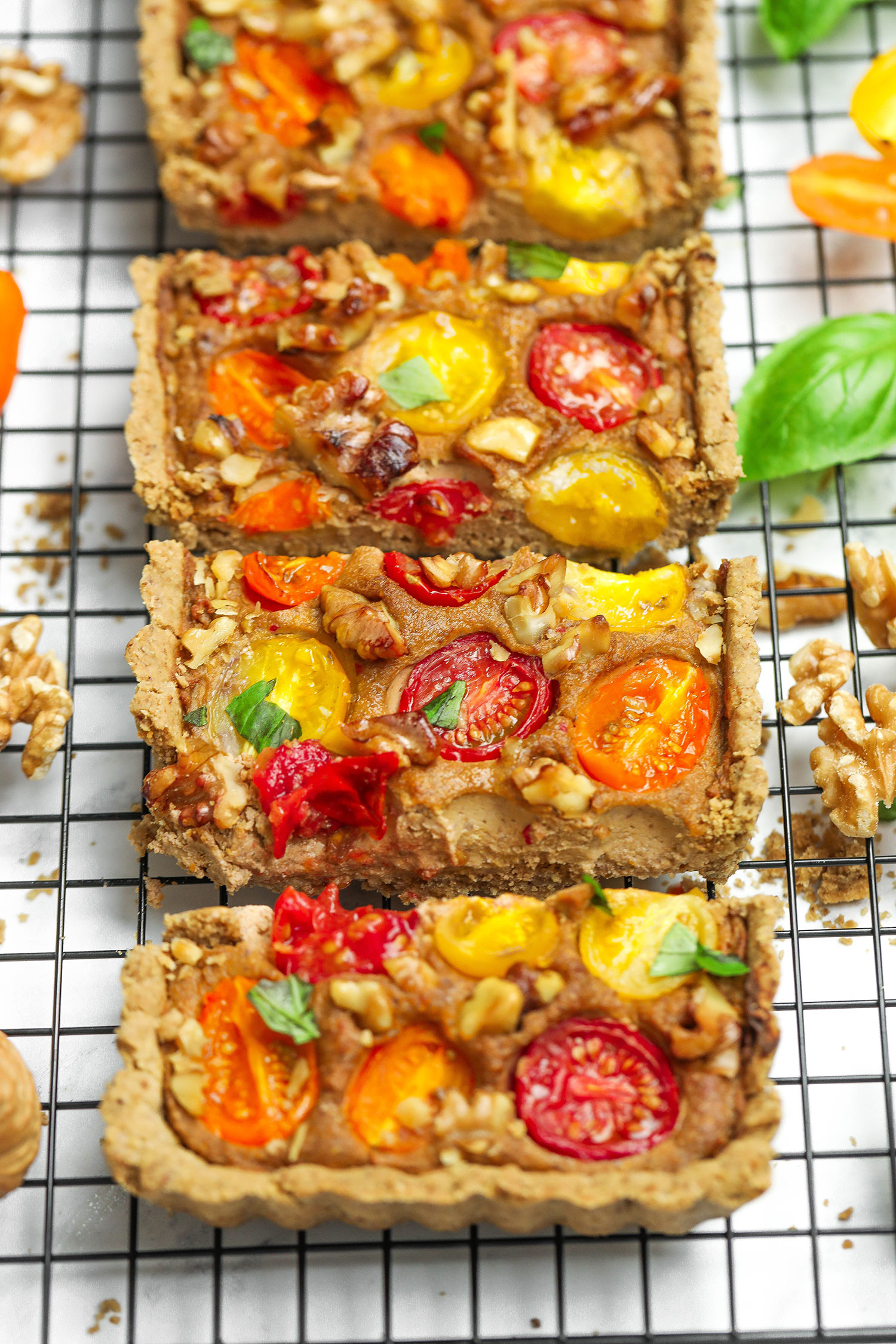 I've teamed up with California walnuts to show how versatile walnuts can be and how they can easily be incorporated into everyday savoury and sweet baked recipes. I must admit that even though I include walnuts in my daily diet, I haven't really used walnuts much in my baking recipes. I'm not quite sure why that is! Walnuts are so much more than just a topping your porridge and smoothie bowls. It's such a delicious nut that can be added to so many fun recipes. Walnuts add the loveliest crunch and the most delicious light and creamy flavour.
What makes California walnuts stand out from others is that they're so tasty, incredibly fresh and deliciously pure. All thanks to being exposed to the California sunshine all year round!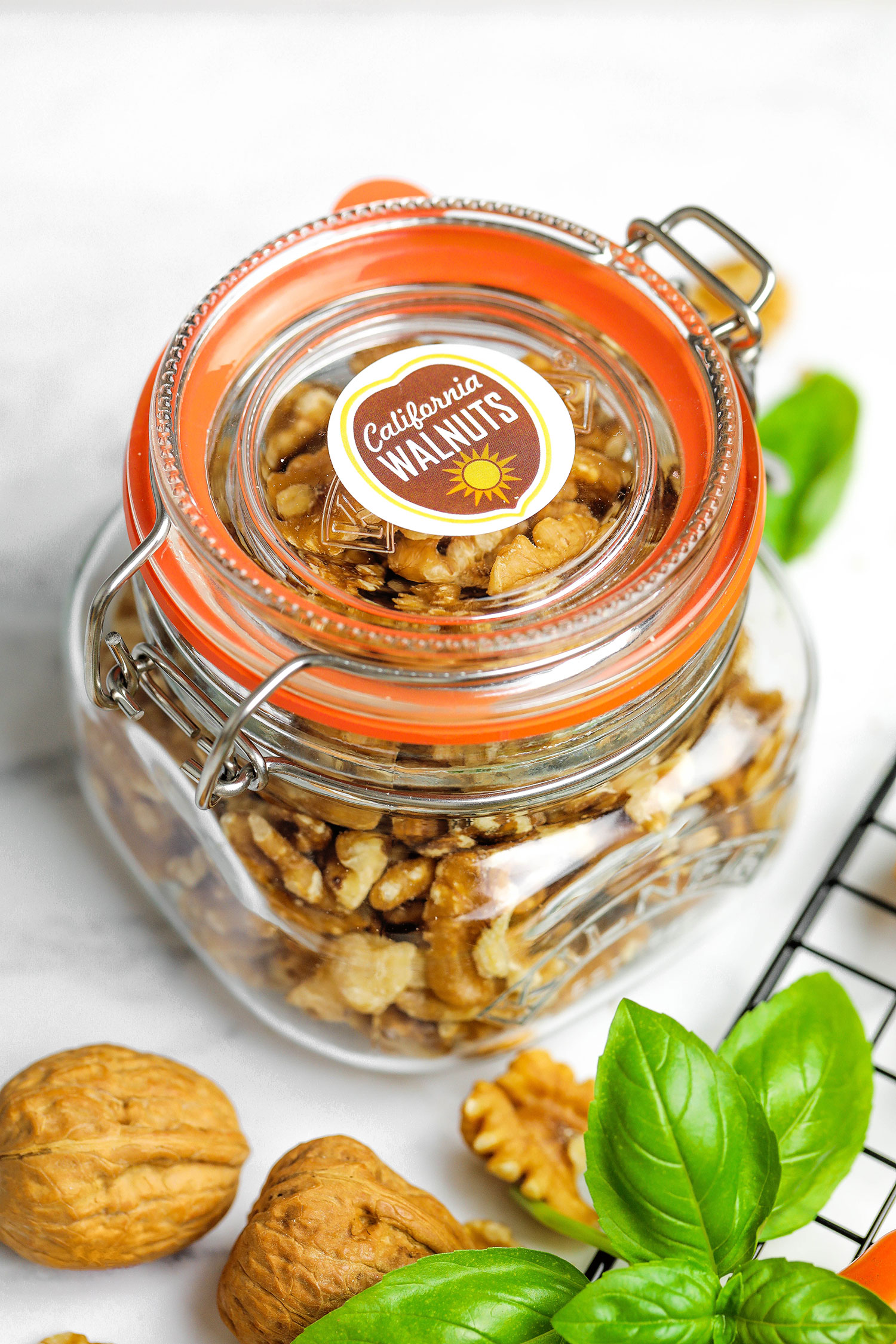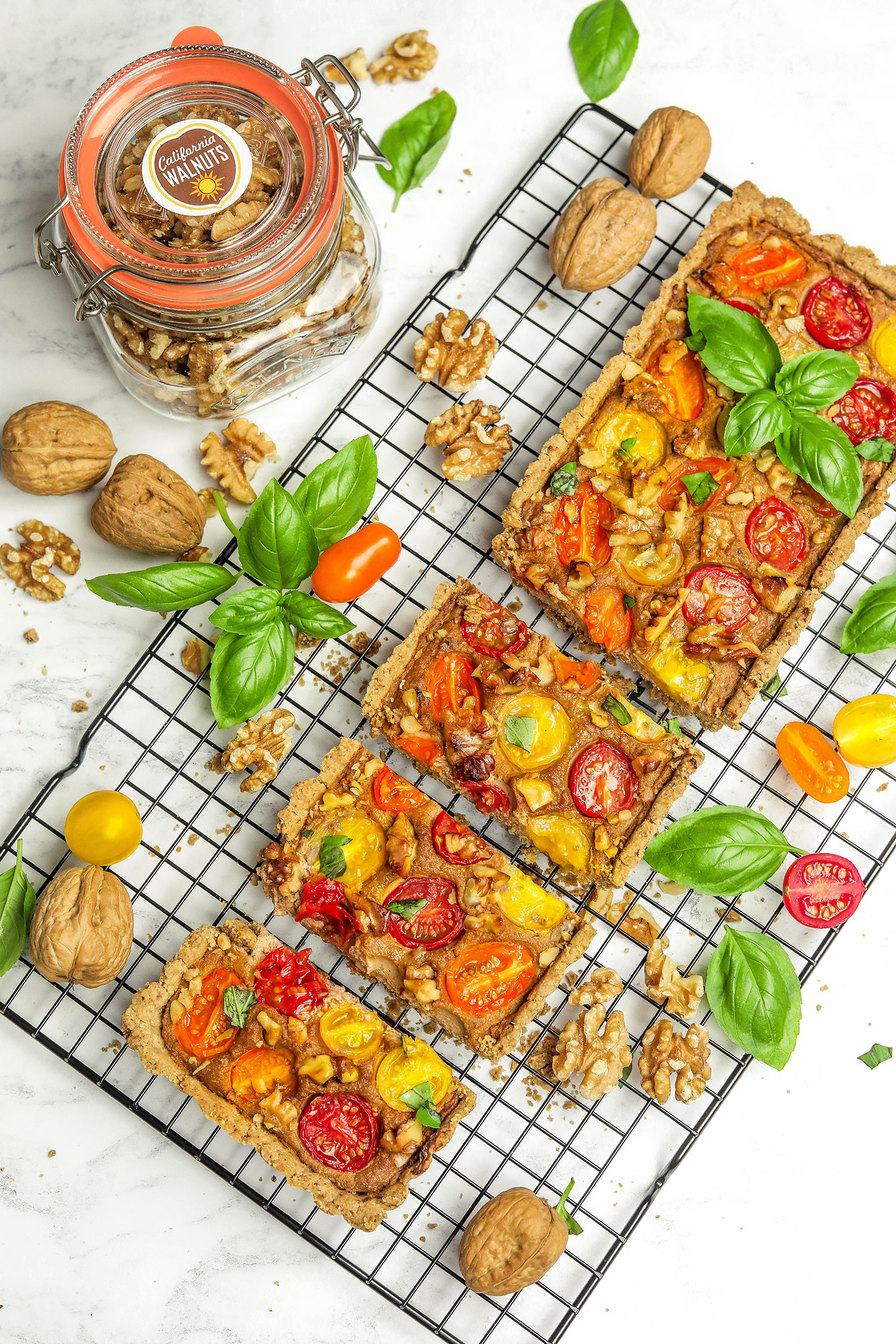 You can enjoy this California walnut tomato & tofu quiche in so many different ways. Perfect as a healthy lunch or dinner, and you can even eat the leftovers for breakfast the next morning. You can also pop a slice or two in tupperware and take it with you to work, school or college as a health on-the-go lunch.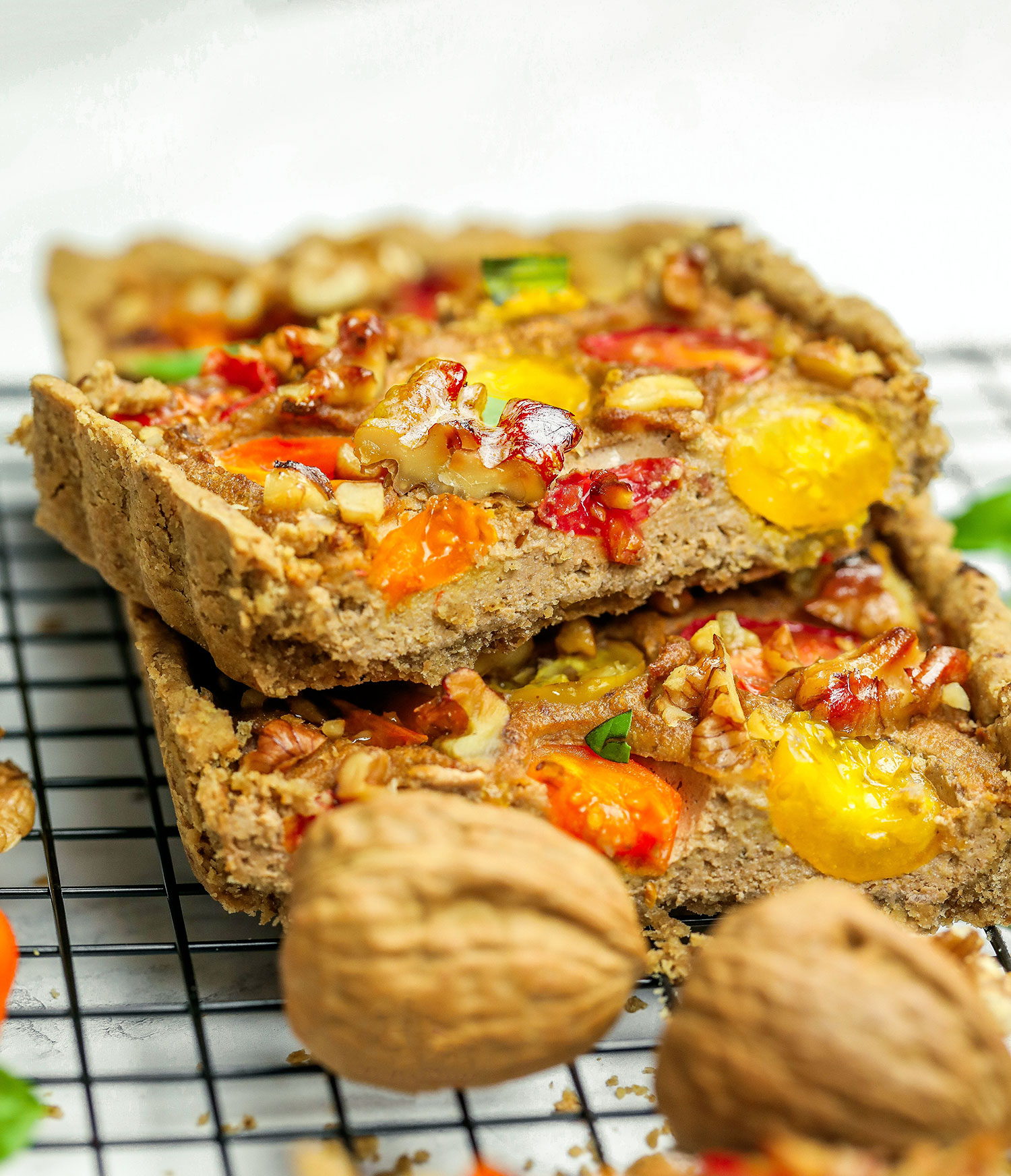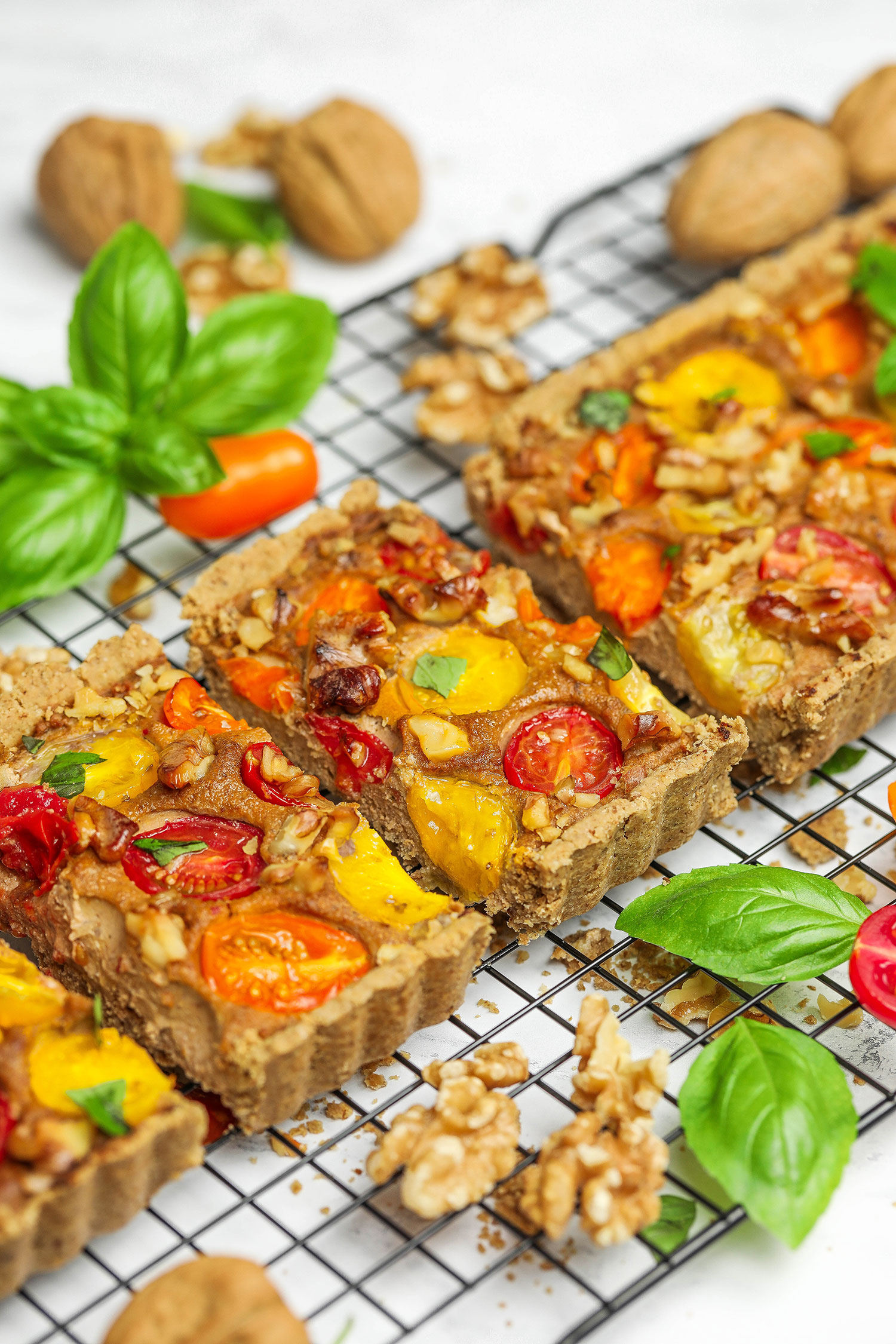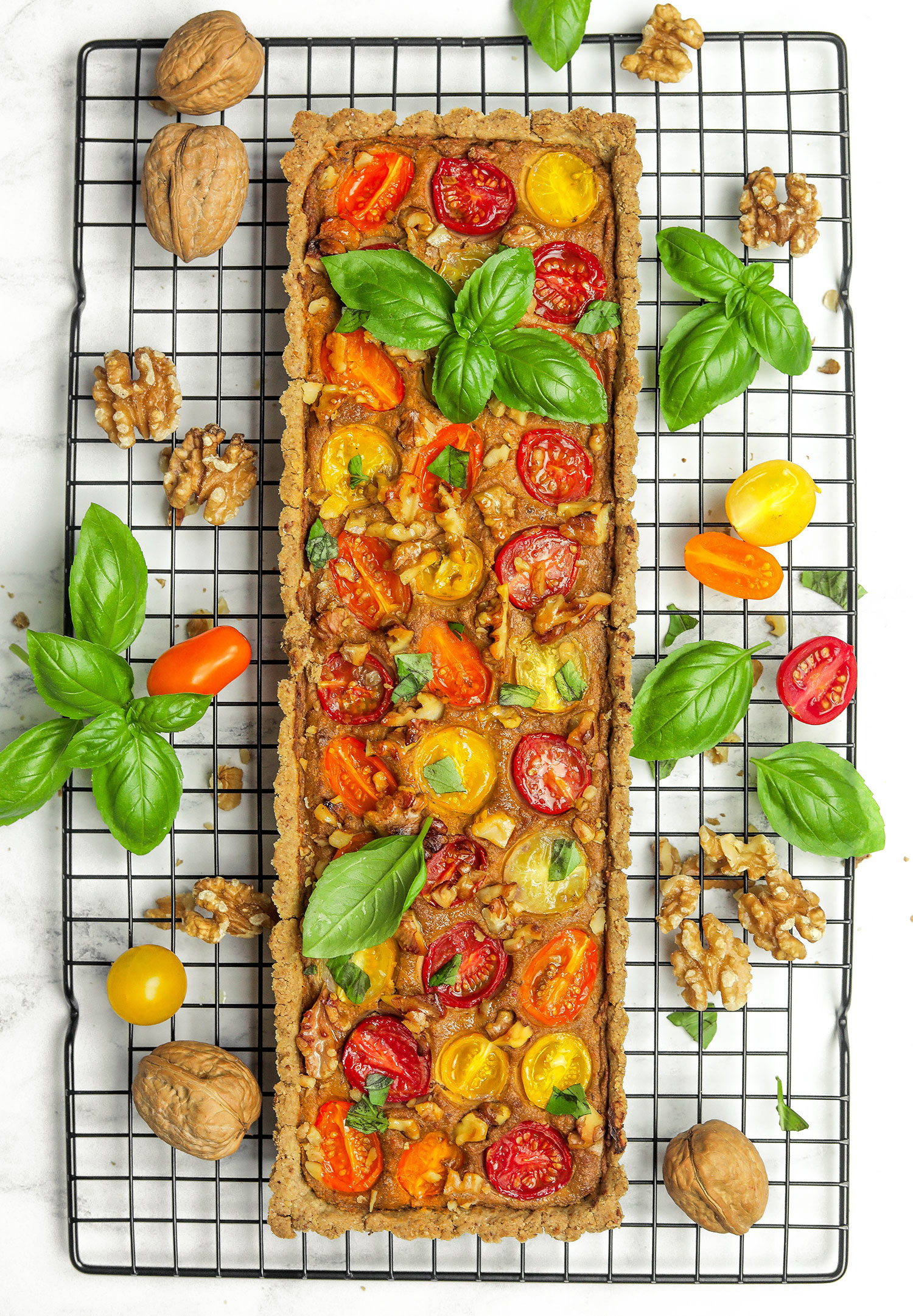 ---
California Walnut Tomato & Tofu Quiche
For the crust
100g oat flour – plain oats blended into a flour in the food processor. Use gluten-free oats if allergic/intolerant
70g California walnuts, ground
50g buckwheat flour
¼ tsp salt
4 tbsp dairy-free spread, melted
2-3 tbsp cold water
For the filling
250g firm tofu
3 tbsp nutritional yeast
¼ tsp salt
1/4 onion, chopped
1 clove of garlic
4 tbsp vegan red pesto
Juice of 1 lemon
2 tbsp dairy-free milk
200g mixed baby tomatoes, halved
50g California walnuts, ground + 40g roughly chopped (to use as topping)
Small handful of fresh basil for decoration
Method
Preheat your oven to 200C/180C fan/400F
To make the crust – Mix together the oat flour, ground walnuts, buckwheat flour and salt. Pour in the melted butter and 2 tbsp of cold water and mix. You should end up with a crumbly dough that holds together when pressing between your fingers. Add more water if needed – one tbsp at a time.
Press the dough into a lightly oiled non-stick tart pan (I used a 36 x 12cm rectangular pan, but you can use a round tart pan) ensuring you press up the sides of the pan. Bake for 10 minutes.
To make the quiche filling – place the tofu into a nut milk bag/cheesecloth (or a fine absorbent towel) and squeeze to remove excess liquid.
Transfer to a food processor and add in the ground walnuts, nutritional yeast, salt, garlic, onion, pesto, lemon juice, and water. Blend until smooth.
Spread the filling into the crust and top with the halved tomatoes and chopped walnuts. Bake again for 25-30 minutes.
Top with fresh basil. Enjoy!
---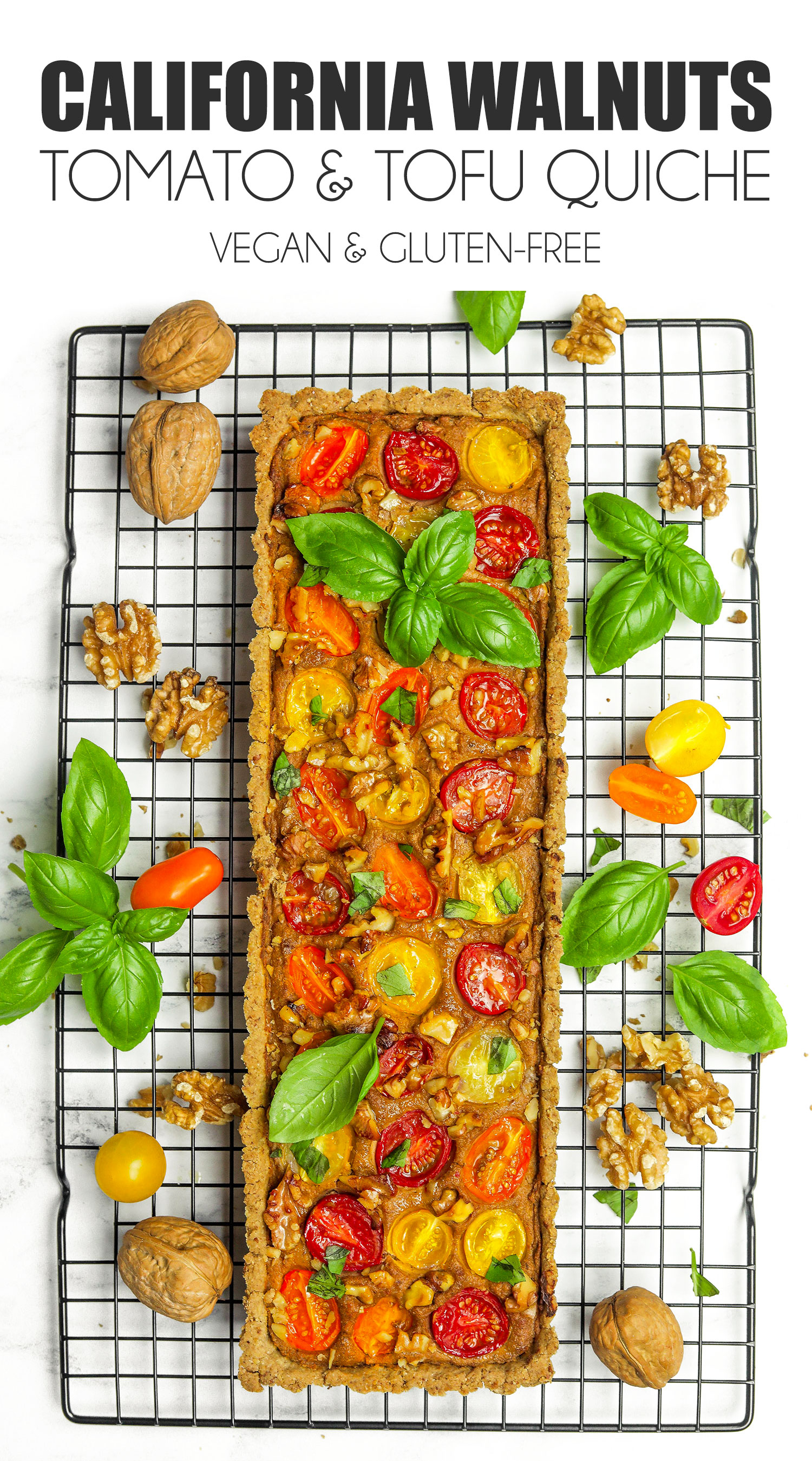 Share This Post